Special auction Sept 5, 2015 - Dolls & Toy Museum Heissl, Gmunden
Special auction Sept 5, 2015 - Dolls & Toy Museum Heissl, Gmunden - Page 9 / 9
Complete catalog (430 items)
---
---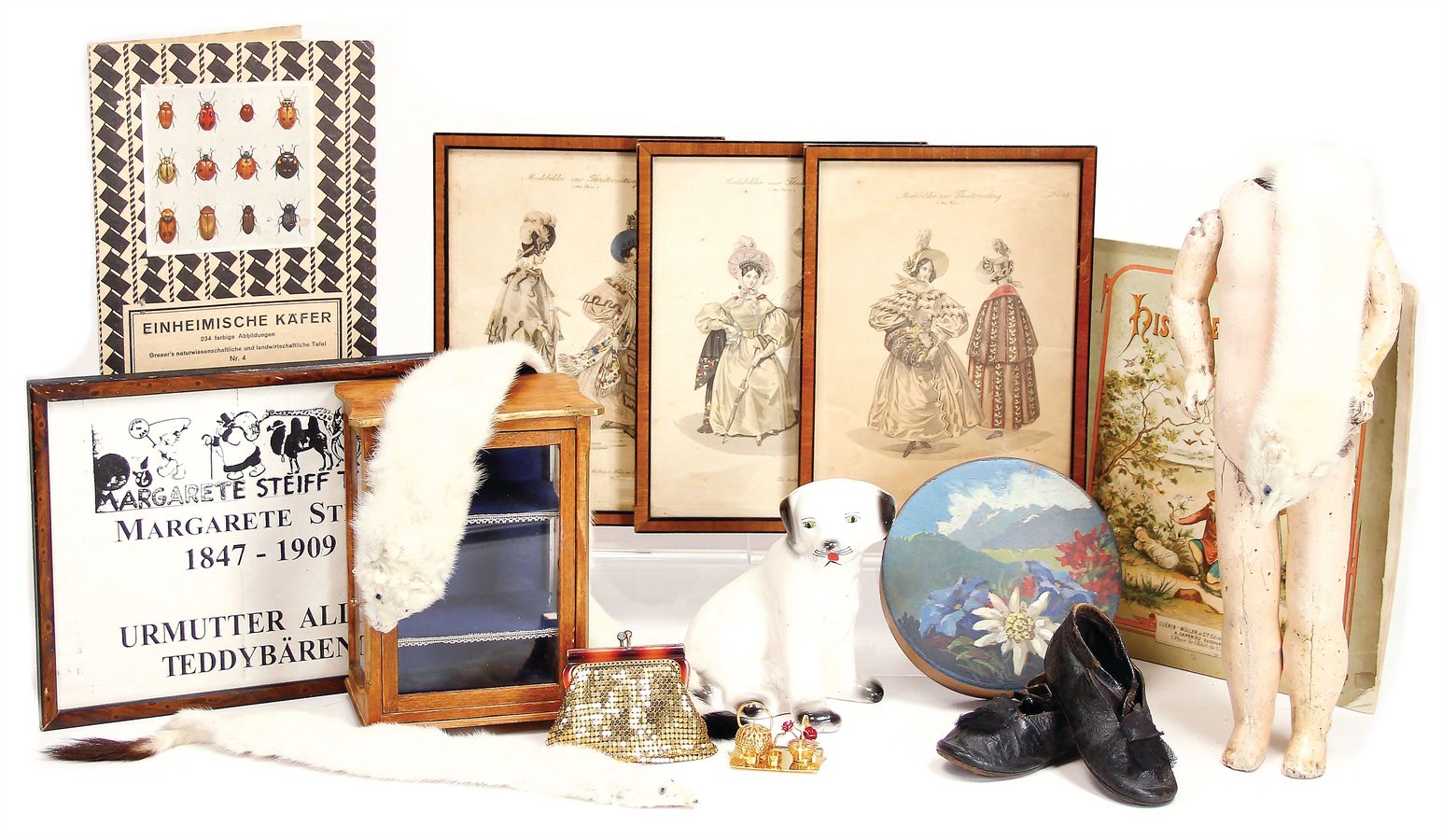 treasure chest, glass cabinet, wood, 21 cm, doll, simple standing mass body, France, 1 pair of children's shoes, 3 engravings, fashion from the Biedermeier, colored by hand, etc.

---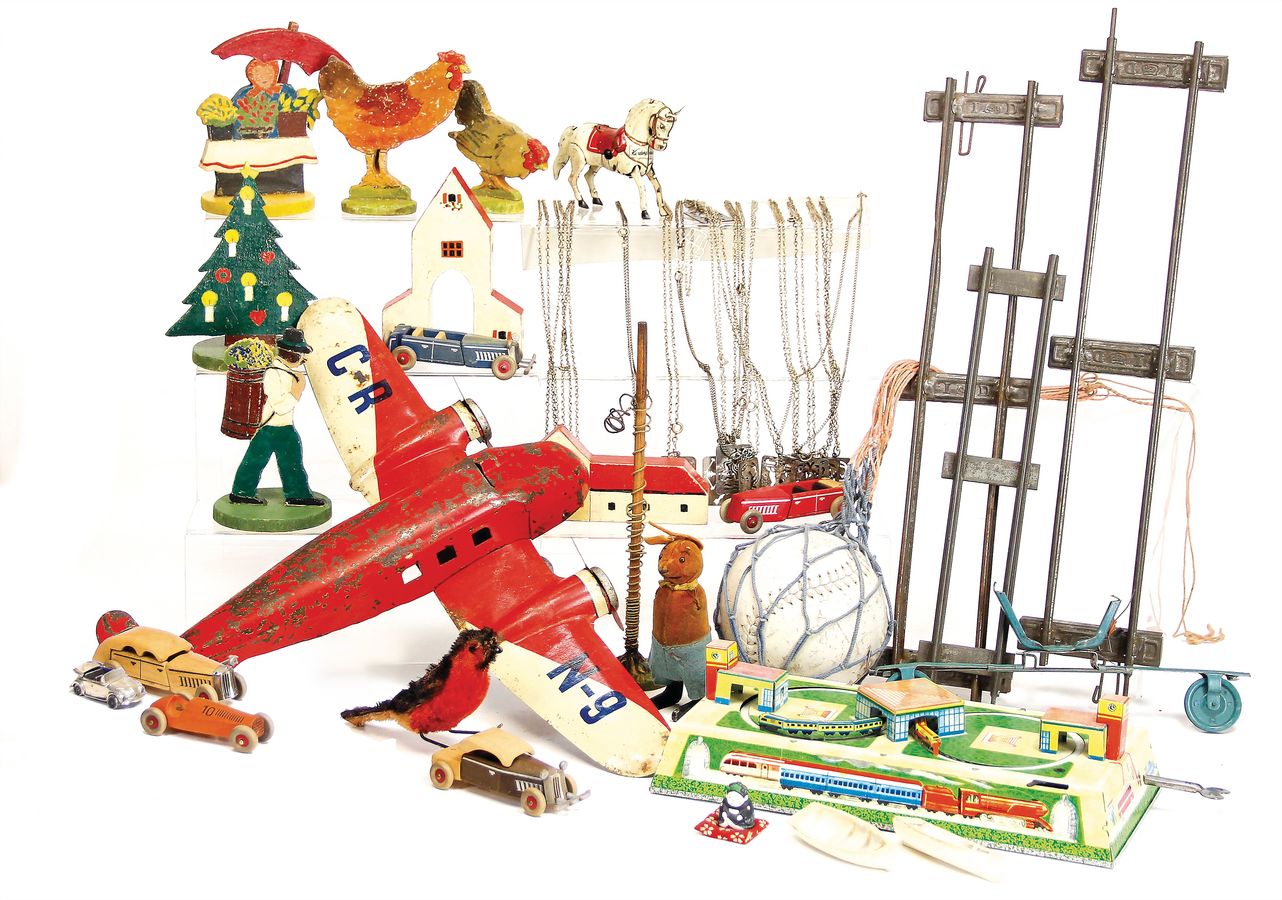 mixed lot of sheet metal and wooden toys, '50s-'70s, red sheet metal plane by the French firm Charles Rossignol, signed "C R", with stronger scratches on the paintwork, Schuco Vogel, wooden houses, etc.

---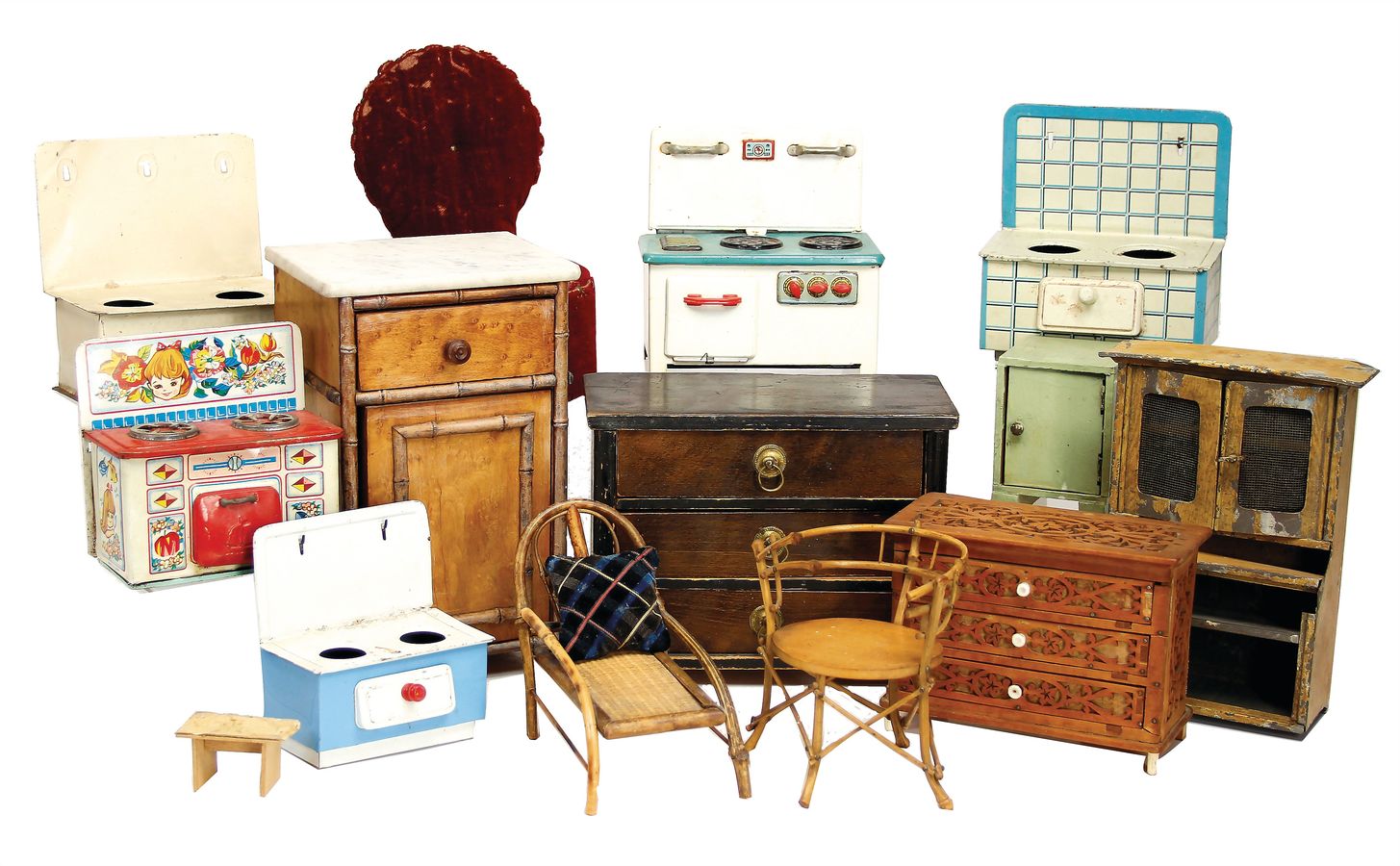 treasure chest, some horses, '30s-'50s, Bing store cupboard, sheet metal, not complete, 1 wood chest of drawers, beside locker with marble top, chair, 1 chest of drawers is a fretwork

---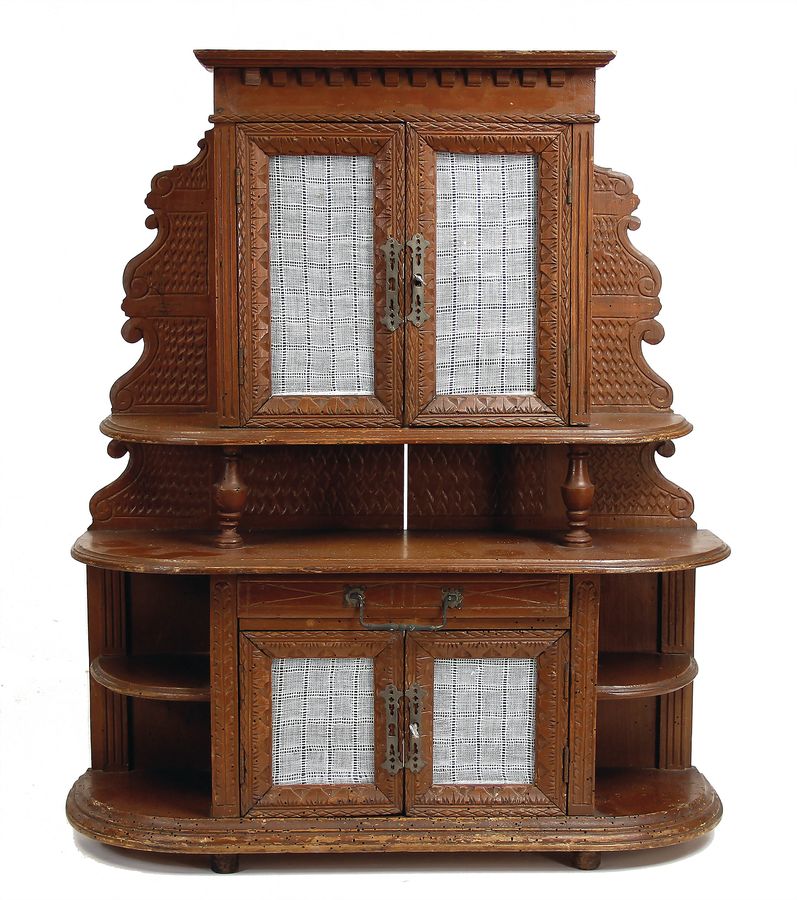 doll's cupboard, height : 60 cm, around 1900, nice decoration

---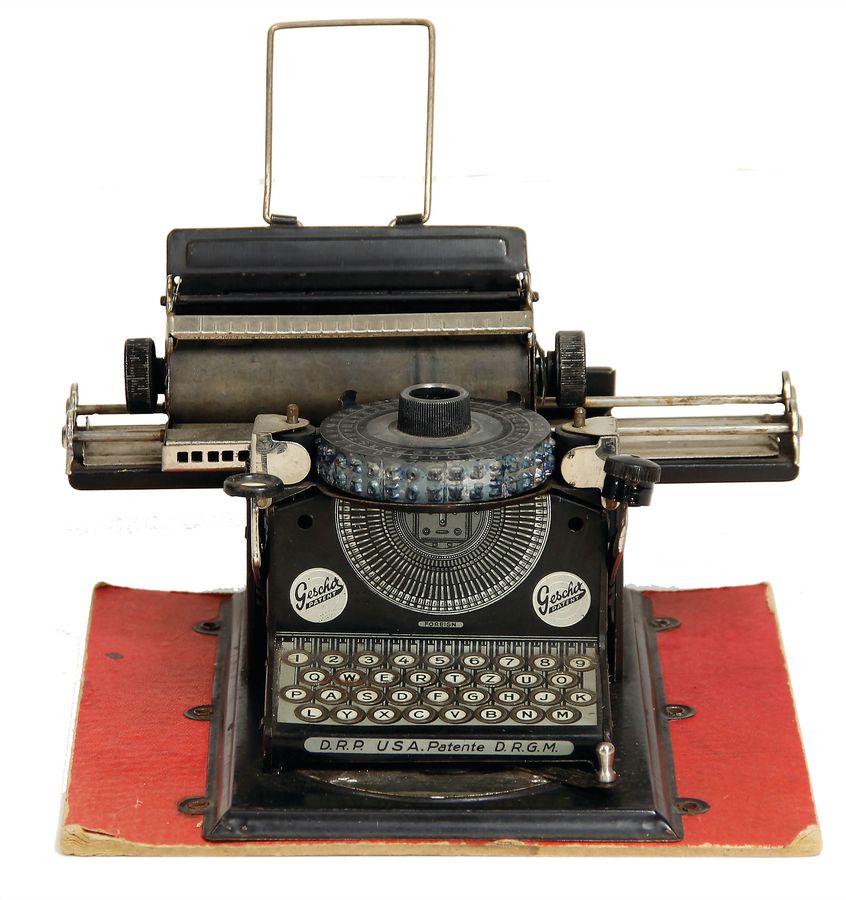 GESCHA
children's typewriter, sheet metal, '30s, width : 20 cm

---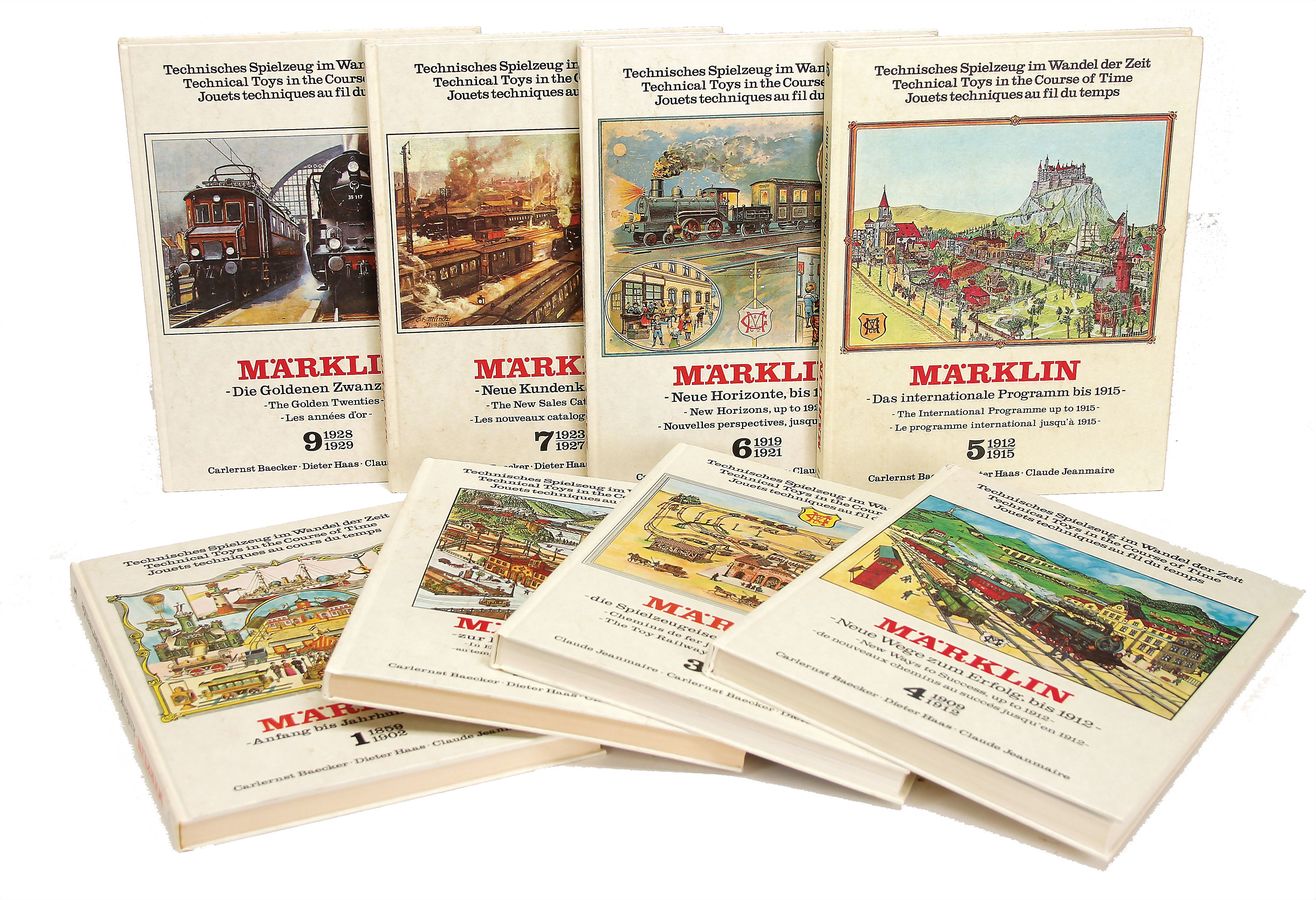 mixed lot of books, "Technisches Spielzeug im Wandel der Zeit", volume 1-7 and also volume 9, "Märklin 1859-1929", condition 1-2

---
mixed lot of books, "Nürnberger Spielzeug" J. Schönner, "Märklin, die großen Spurweiten 1919-1954", "Gebrüder Bing Spielwaren 1898", "Bing Metallspielwaren", "Deutsches Spielzeug zur Kriegszeit 1915", "Gebrüder Bing Mechanische, optische elektrische Spielwaren Lehrmittel 1912-1915", "Gebrüder Bing im Jugendstil, internationaler Händlerkatalog 1909", condition 1-2

---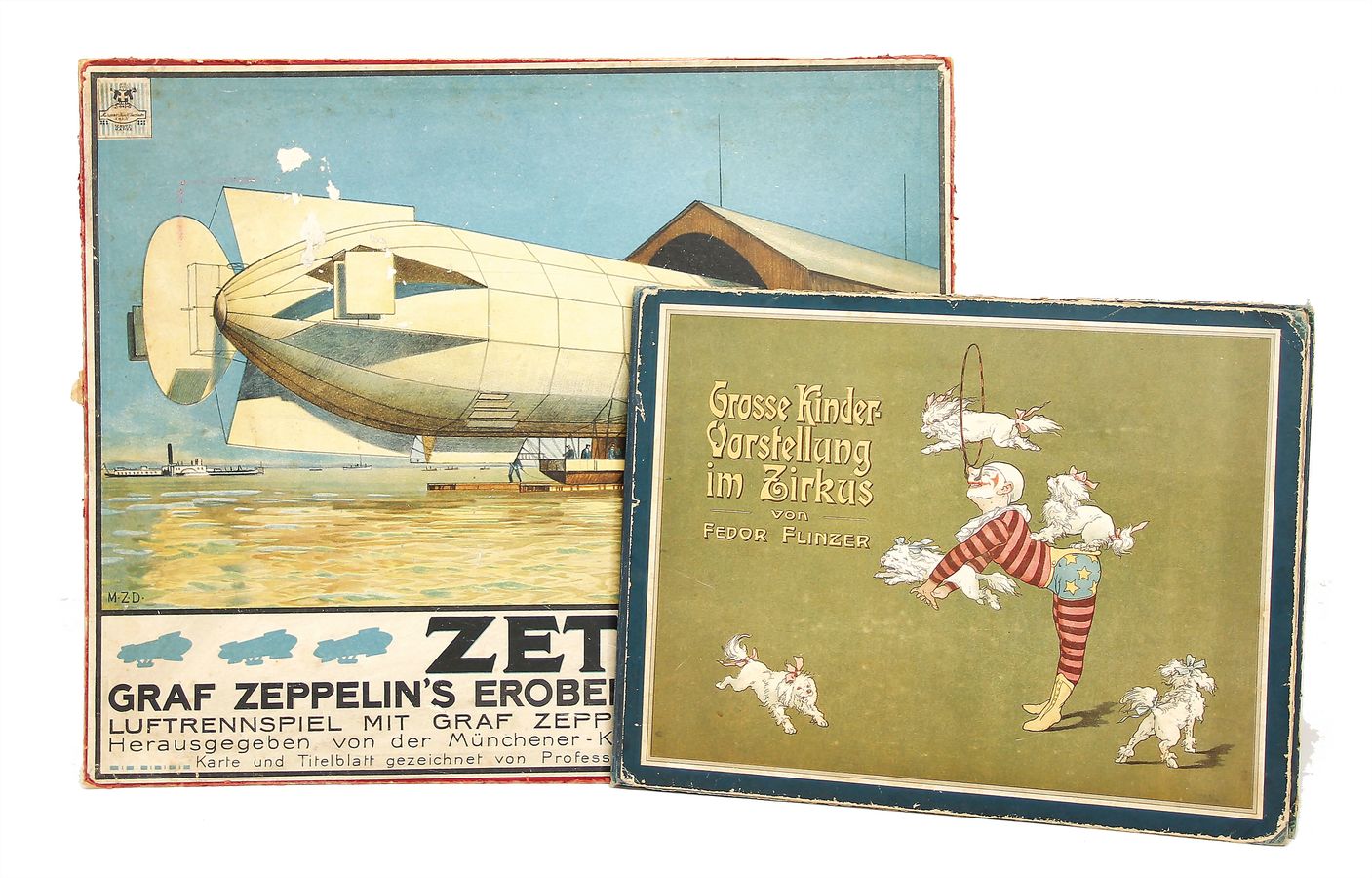 picture book, "Große. Kindervorstellung im Zirkus" by Fedor Flinzer, is falling apart, condition 2-3, with cover picture of an original box, "Graf Zeppelins Eroberung der Luft, Luftspiel mit Graf Zeppelins Luftschiffen"

---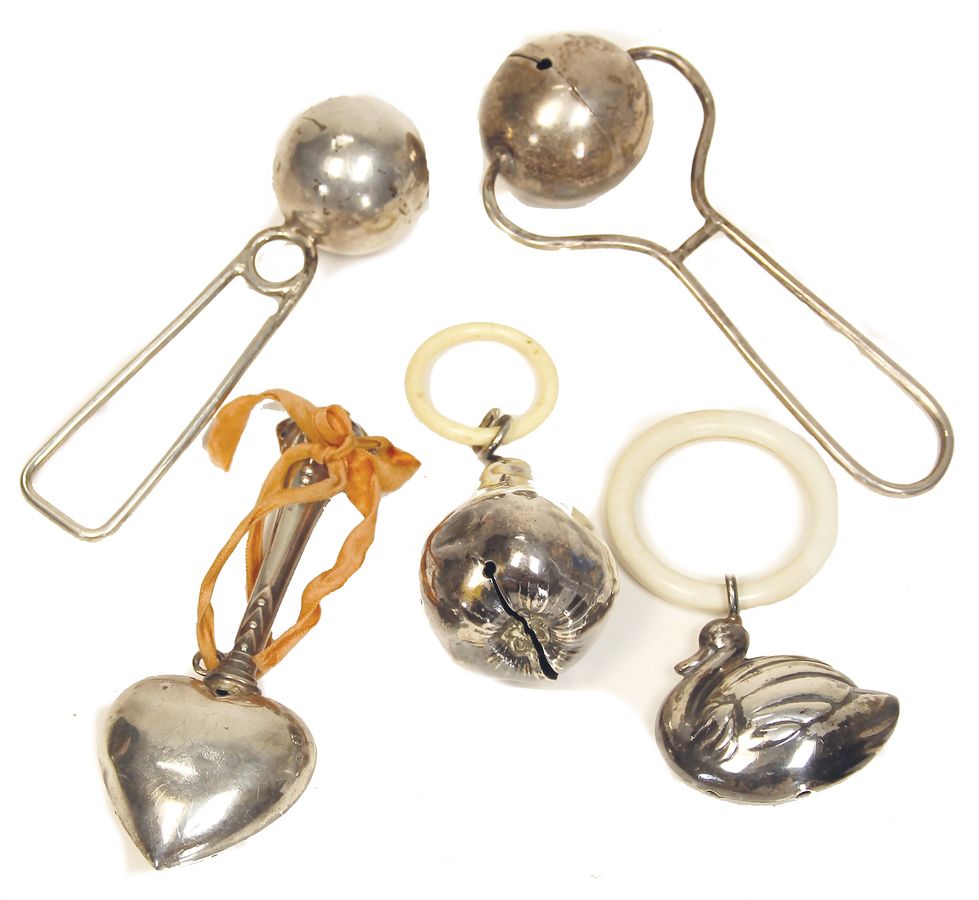 5 silver rattles, with different motifs, swan, pear/bulb, ball, good condition

---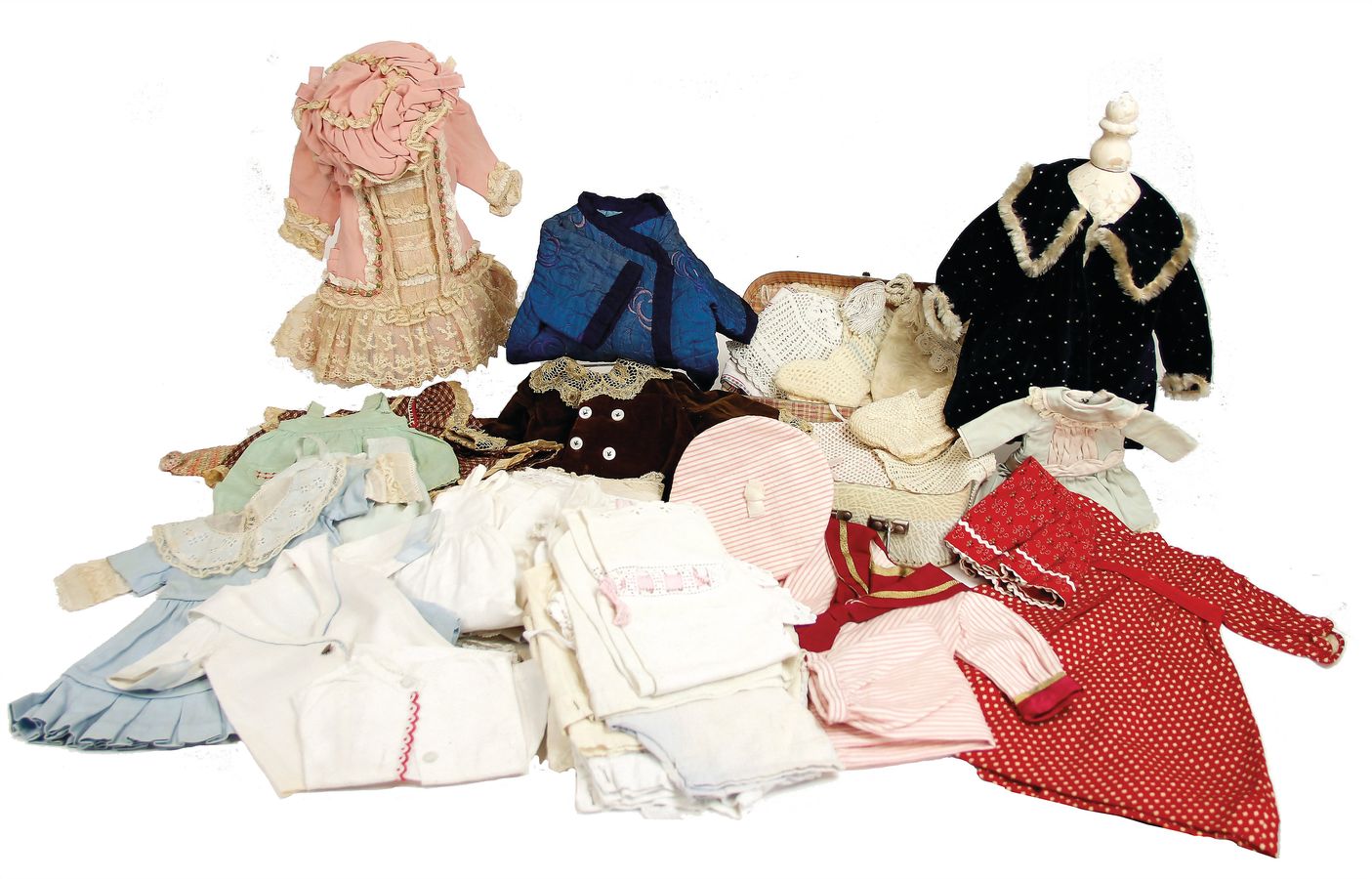 large mixed lot doll clothes, hoods, white laundry, dresses, 1900-1920, please have a look at it

---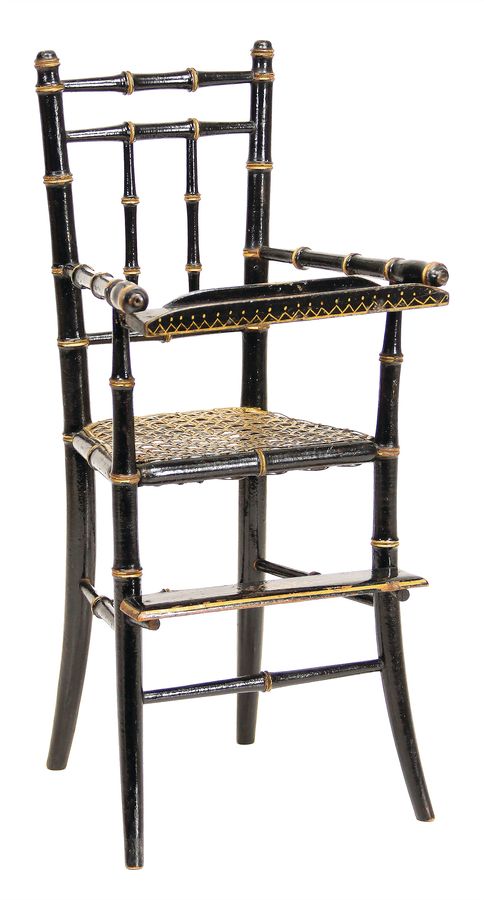 doll stool, c. 1890, 42 cm, black varnished, with golden decor, exquisite version from France, extremely rare

---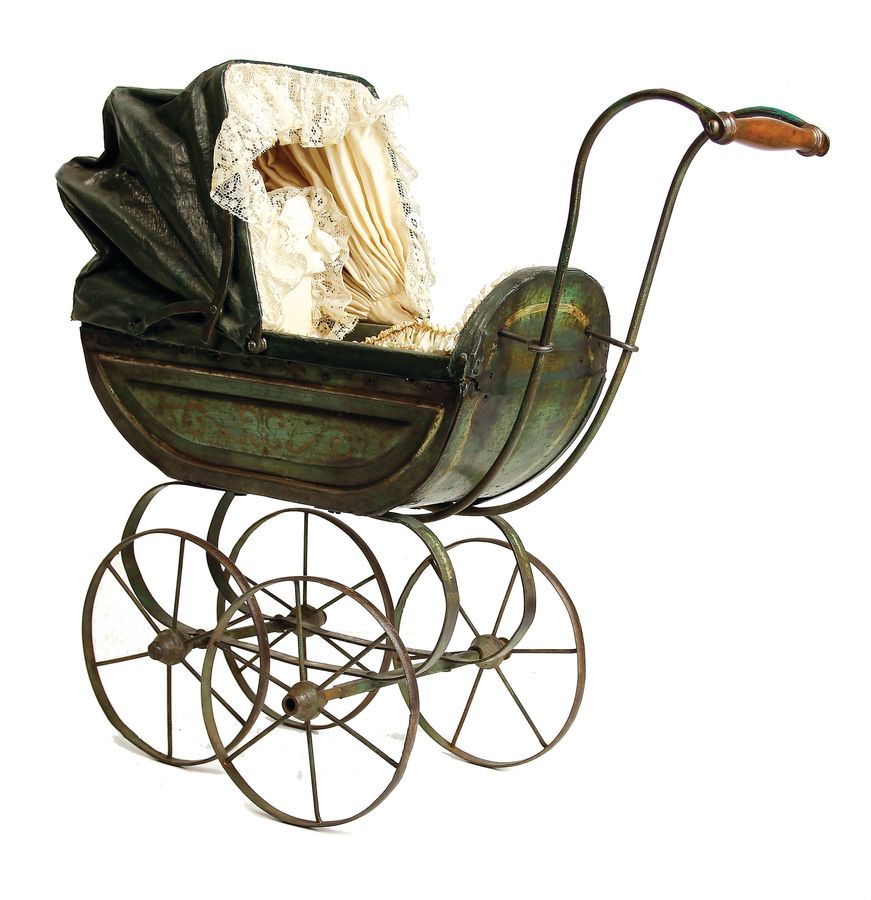 doll's pram, 55 cm, France, nice tin construction, nice size, original conceal, old painting, handle is made of turned wood

---
doll bed, c. 1910, varnished sheet metal, 56 cm, with old bedclothes

---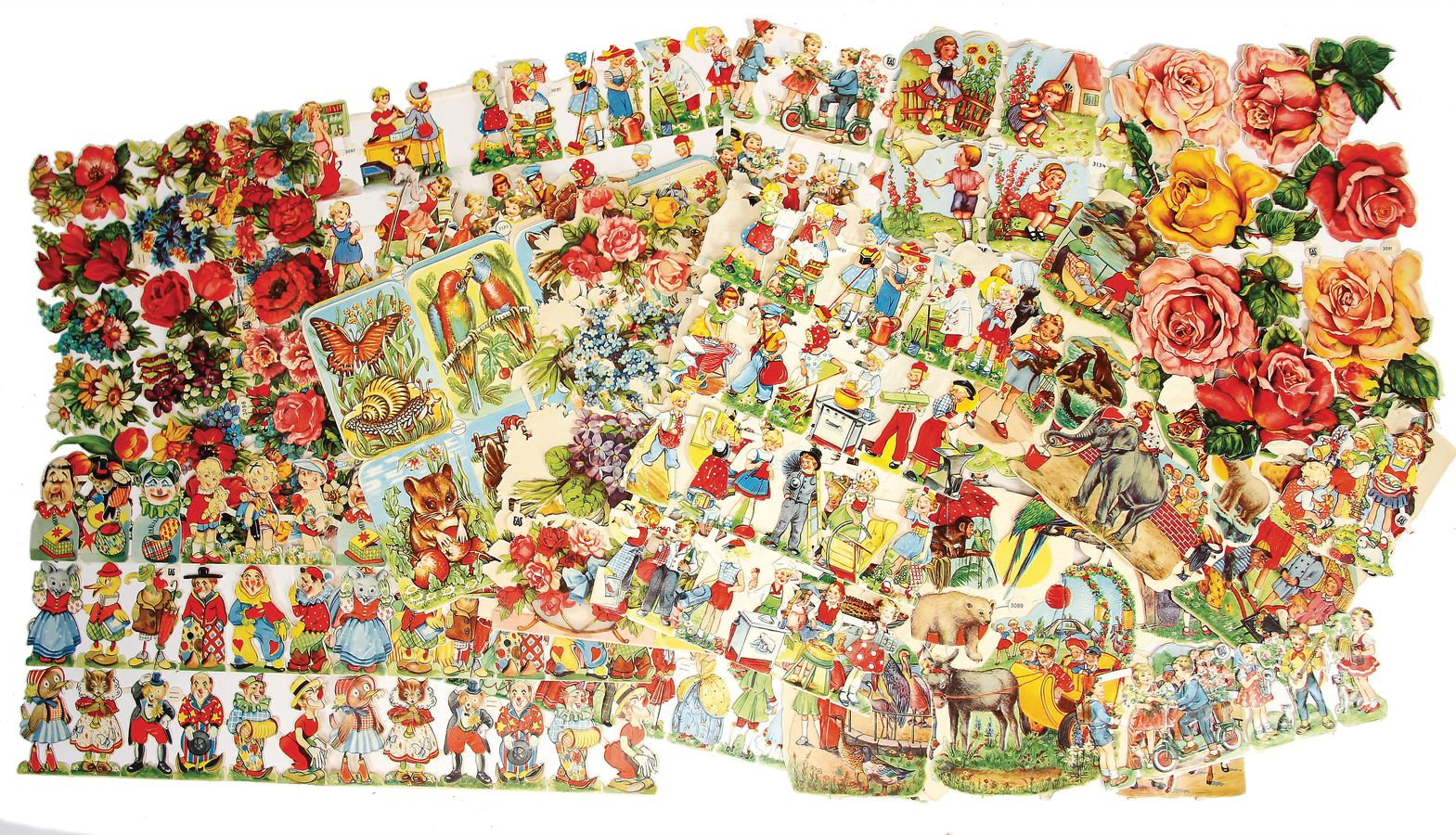 large mixed lot of wafer pictures, partially older, partially more recent, different representations

---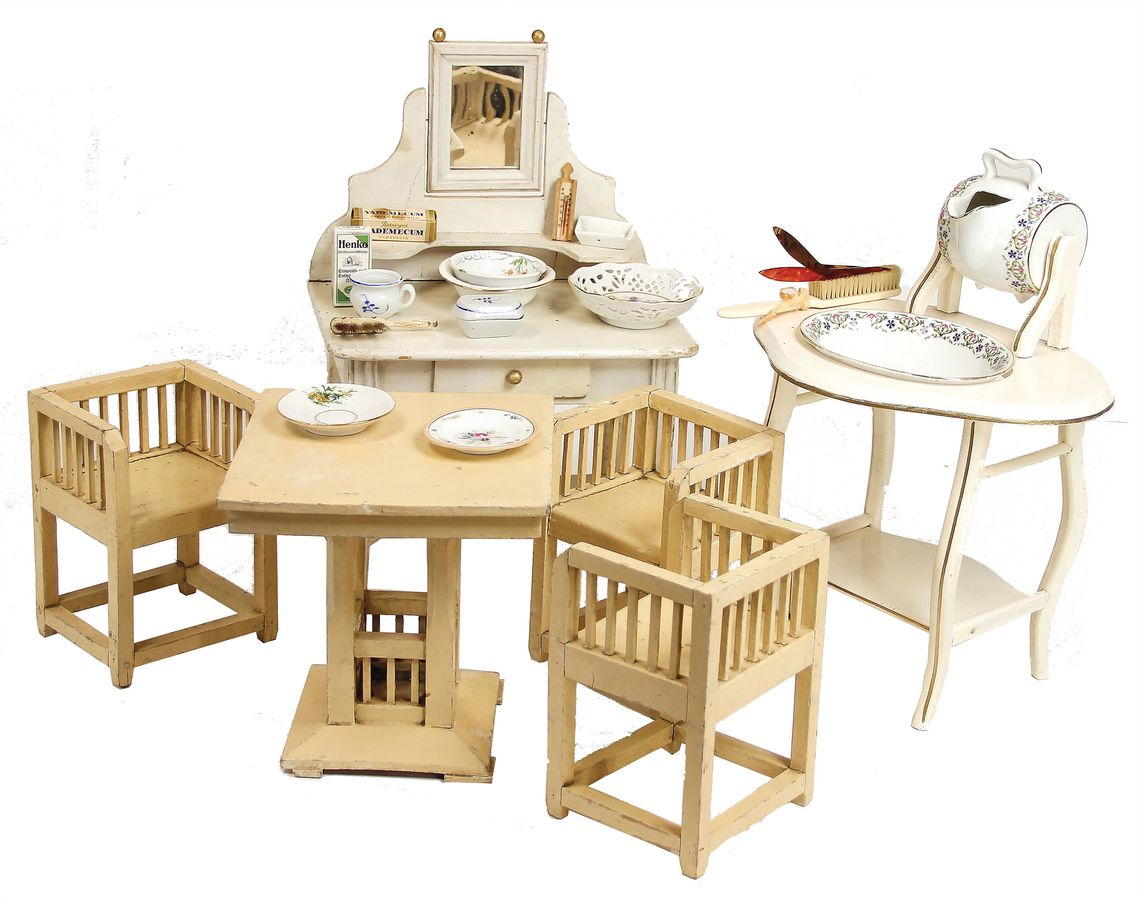 washstand, wood varnished, height : 46 cm, with swinging porcelain pot, soap dish, accessories, along with it 1 living-room suite, wood

---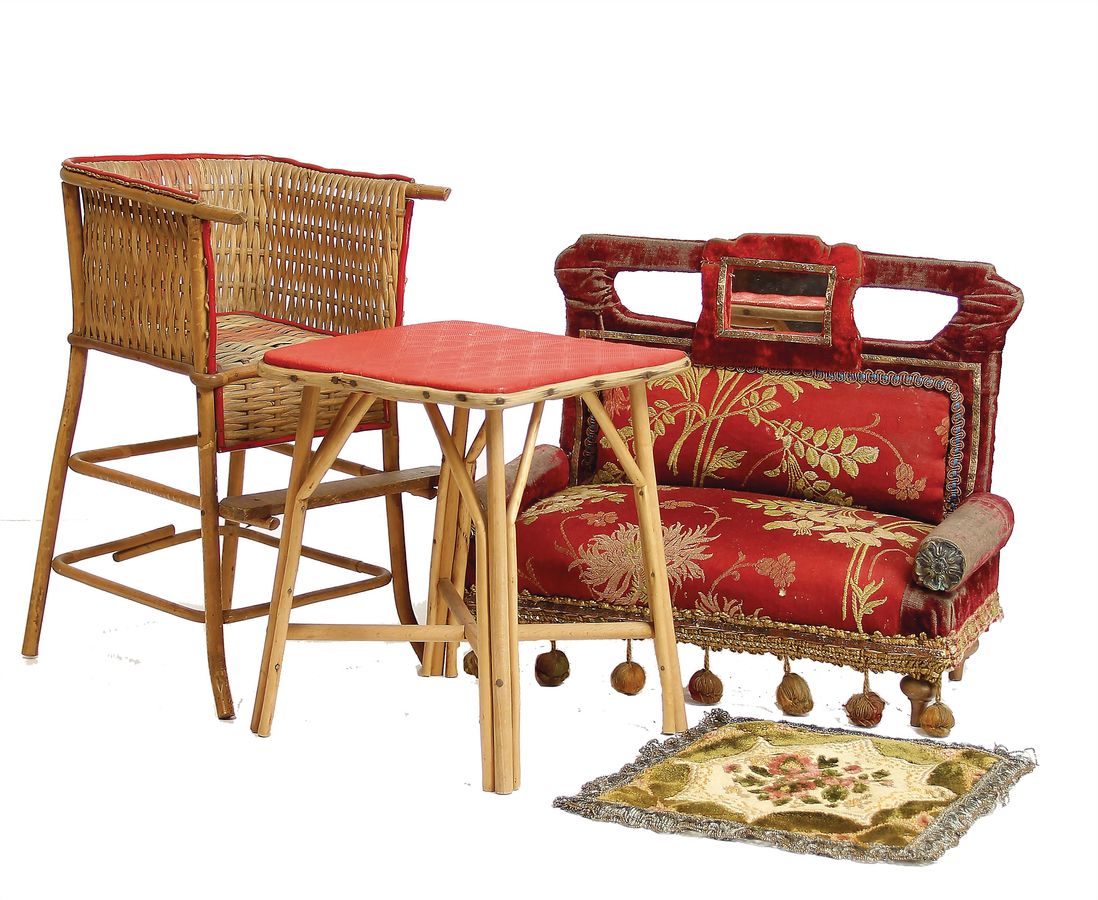 mixed lot of doll furniture, chair, 33 cm, '20s/'30s, along with it 1 table, 1 sofa, art nouveau, width : 34 cm, back is mirrored

---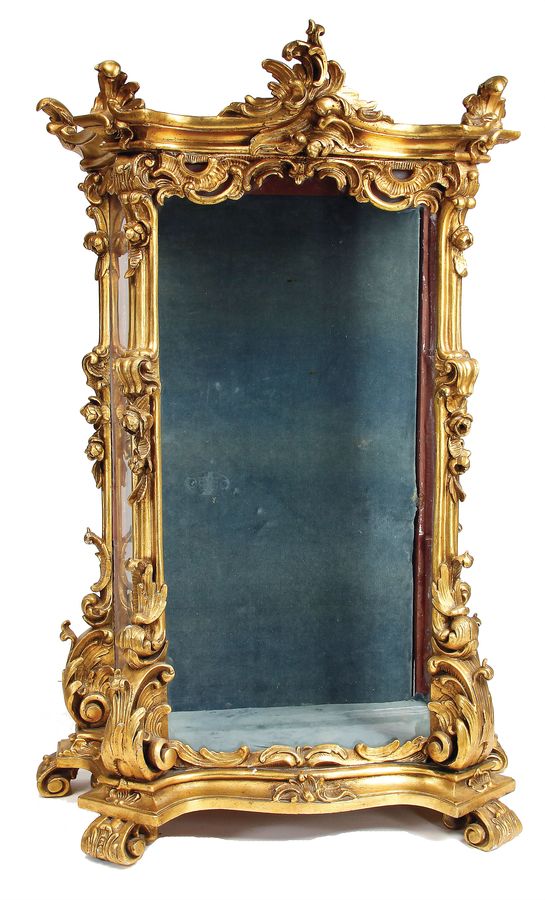 exceptional glass cabinet, gilded wood, 84 cm, nice produced, can be opened in the back, c. 1890

---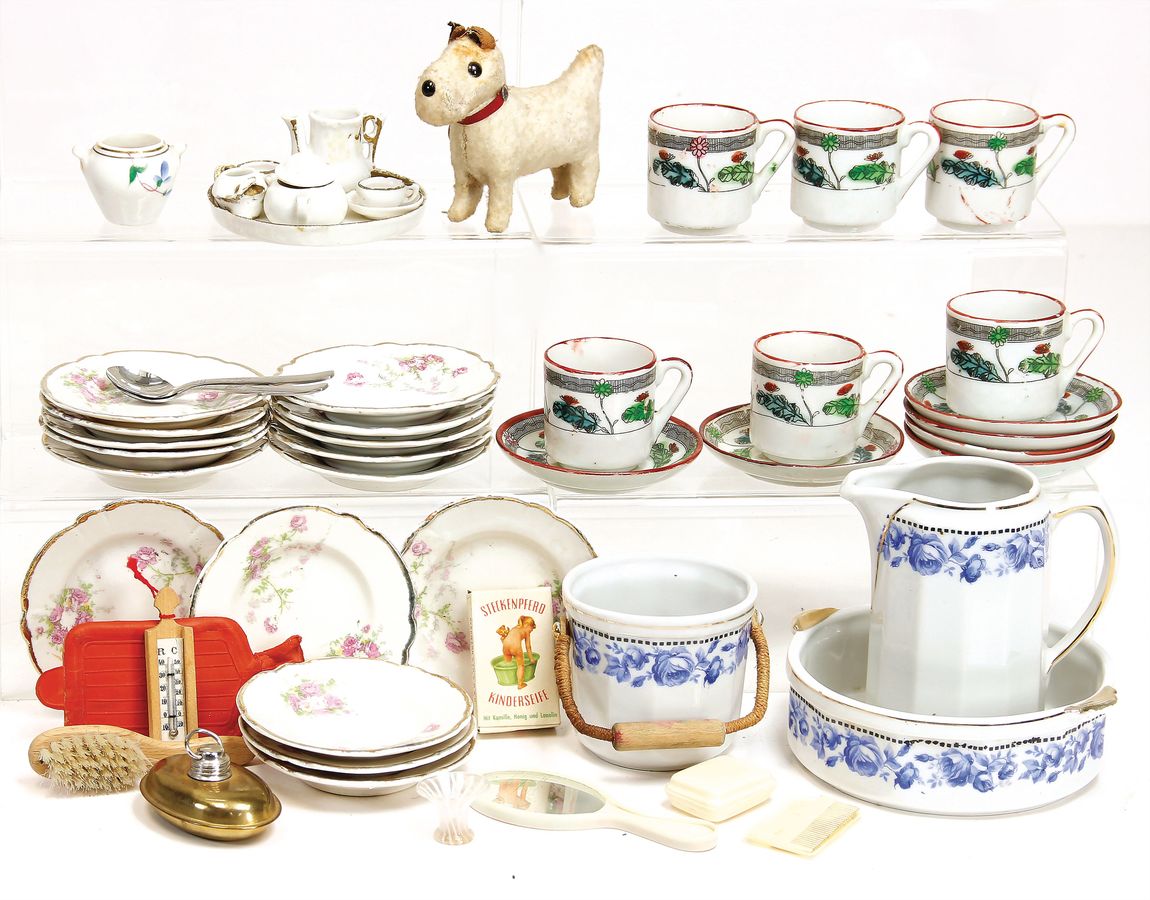 mixed lot of doll's decoration parts, wash set, can, height : 9.5 cm, service pieces, different decors, thermometer, comb and brush, among other things

---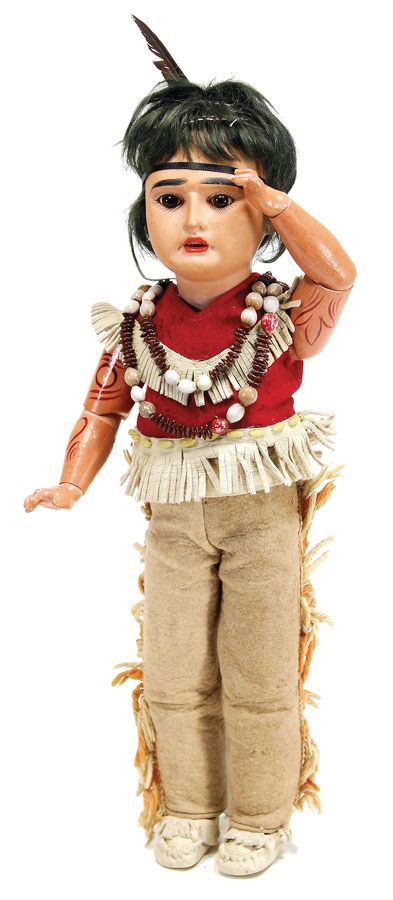 biscuit porcelain head doll, Indian, 38 cm, bisque socket head, brown, fix inset glass eyes, scrubby painted brows, dark toned jointed body, up-painted warpaint at the arms, original mohair wig, original clothes

---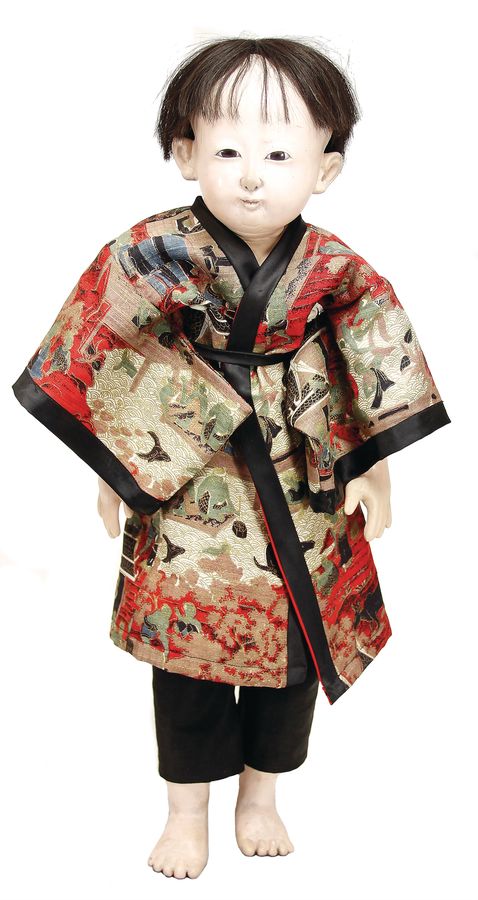 DAKI-NINGYO
extreme large japanese doll in original design, the movable joints are made of fabric, head on breast plate, neck with ball joint, fabric torso with squeak voice, intact, upper arms and thighs are made of fabric, lower arms and legs are made of papier mâché, covered with muschelkalk mass, height : 60 cm, around 1900

---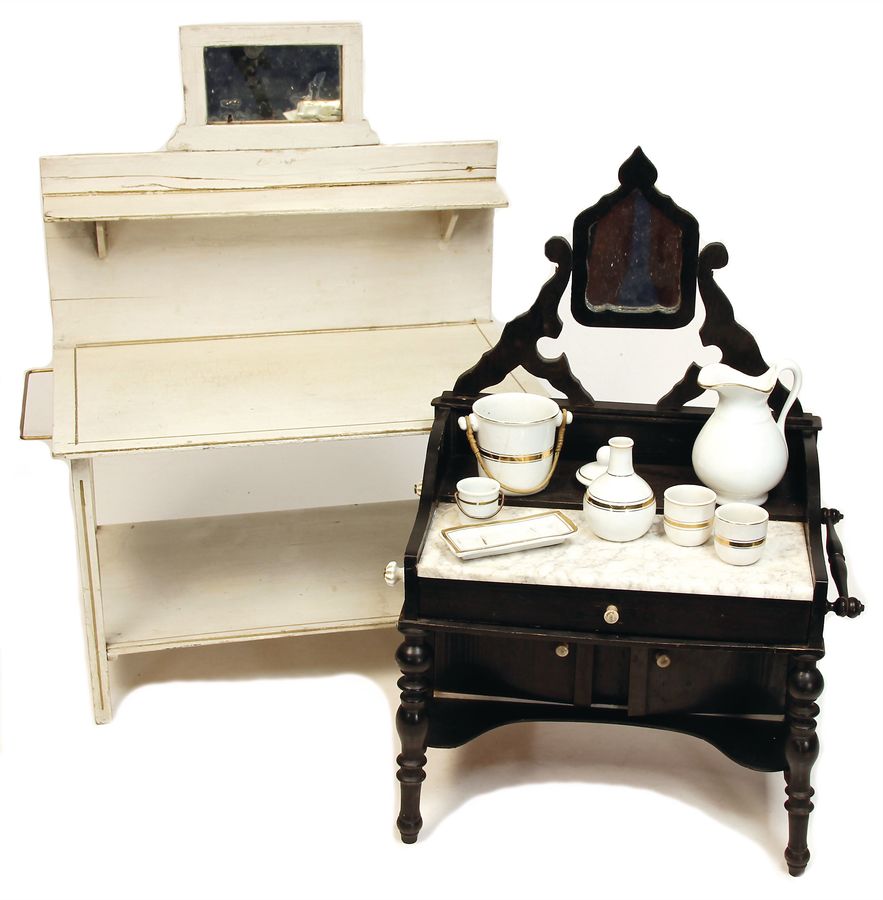 dresser with tiltable mirror and early toilets service made of white porcelain decorated with golden stripes, 28 cm wide, wood with marble top, 1 side pole was supplemented by 2 porcelain knobs, middle course is loosely add, c. 1890, nice decoration for a c. 40 cm tall doll

---

umbrella for stroll, ivory, complex worked handle with lily of the valley decor, 69 cm, lace cover, caused of old age in worn condition


---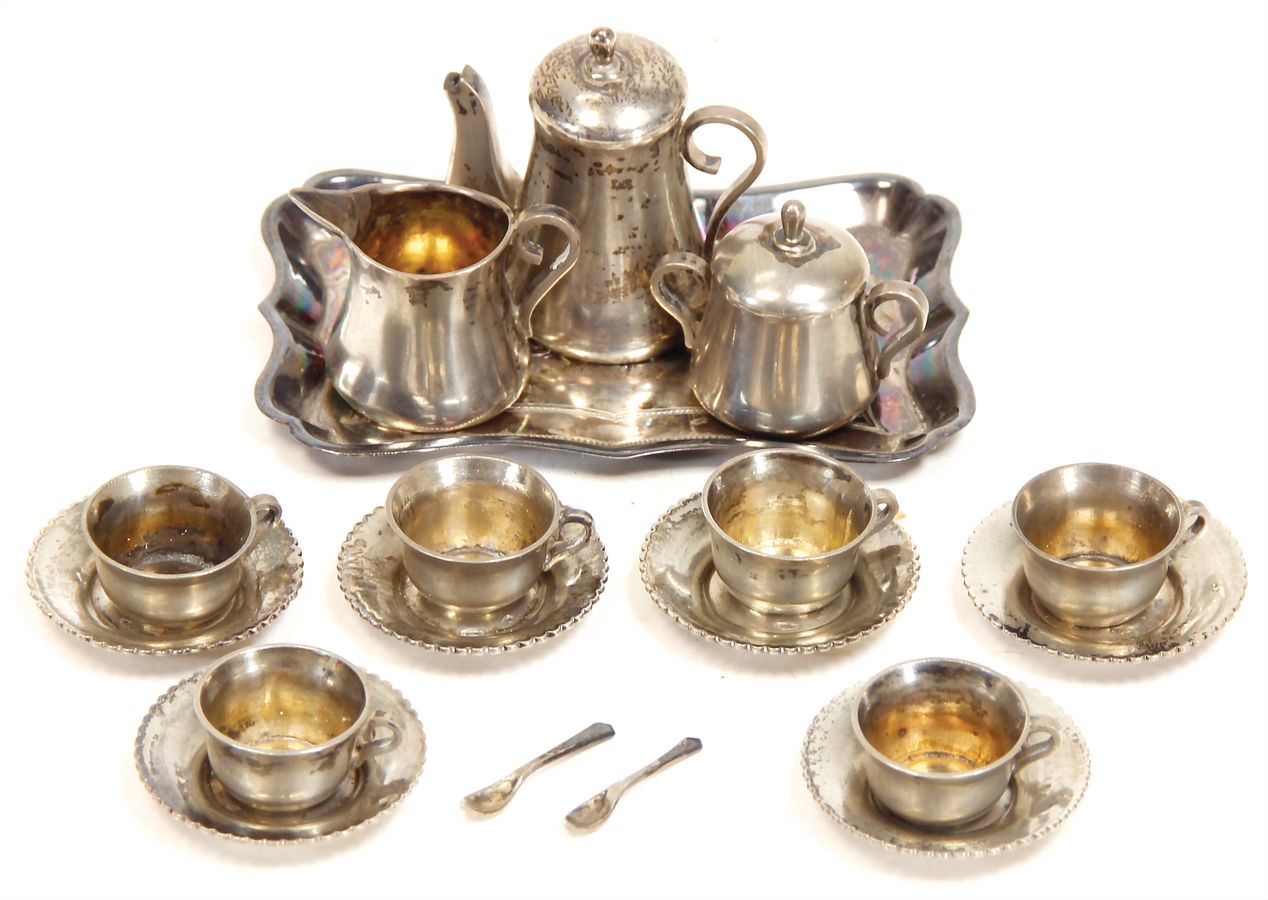 coffee service, silver, height of coffee pot 3.5 cm, sugar bowl, milk can, cups with saucers, inside gilded, with tray, for a stately room

---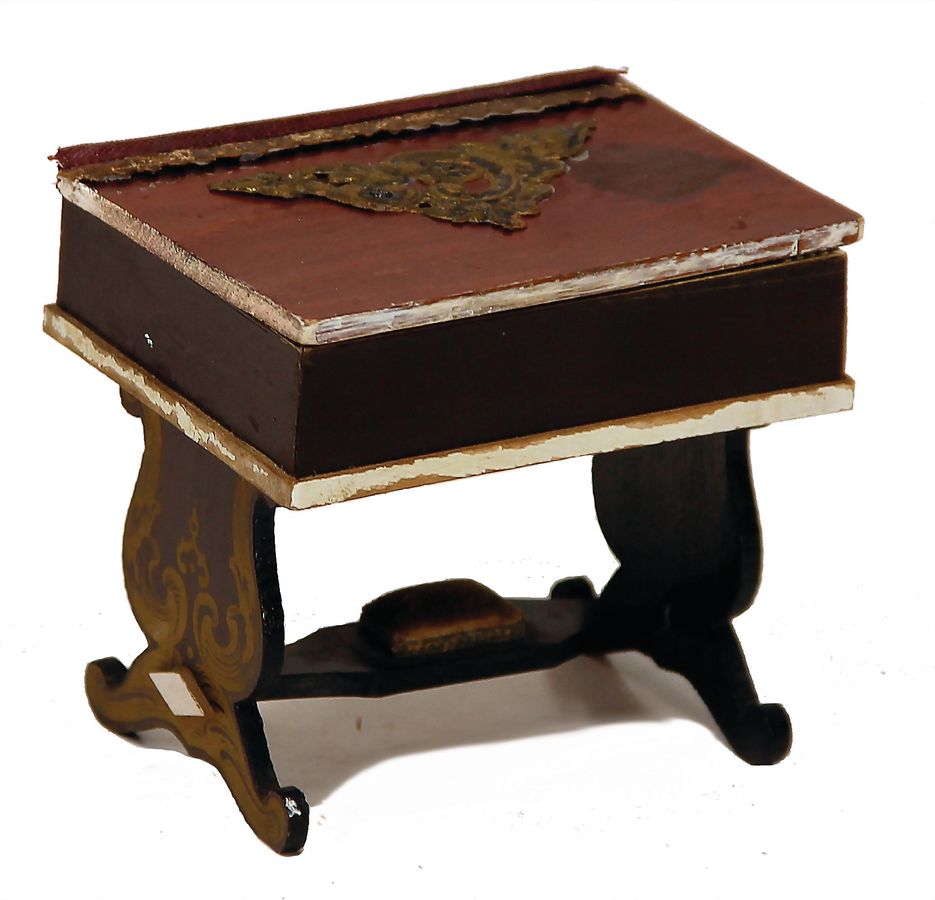 dollhouse sewing table, width : 7.5 cm, at the side with BOULLE-ornaments

---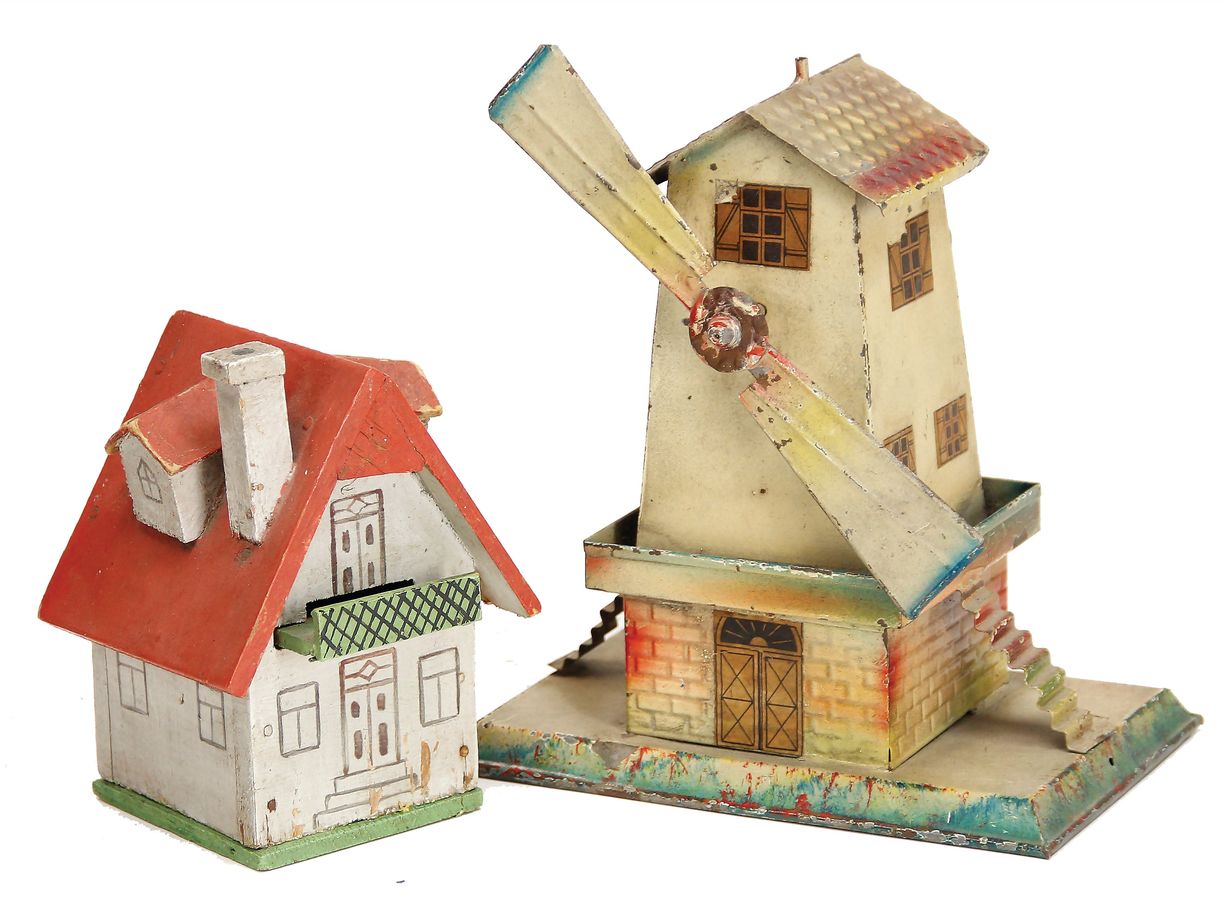 drive model, windmill, one wing is missing, handpainted sheet metal, height : 17 cm, along with it a wooden house, height : 12 cm, worn

---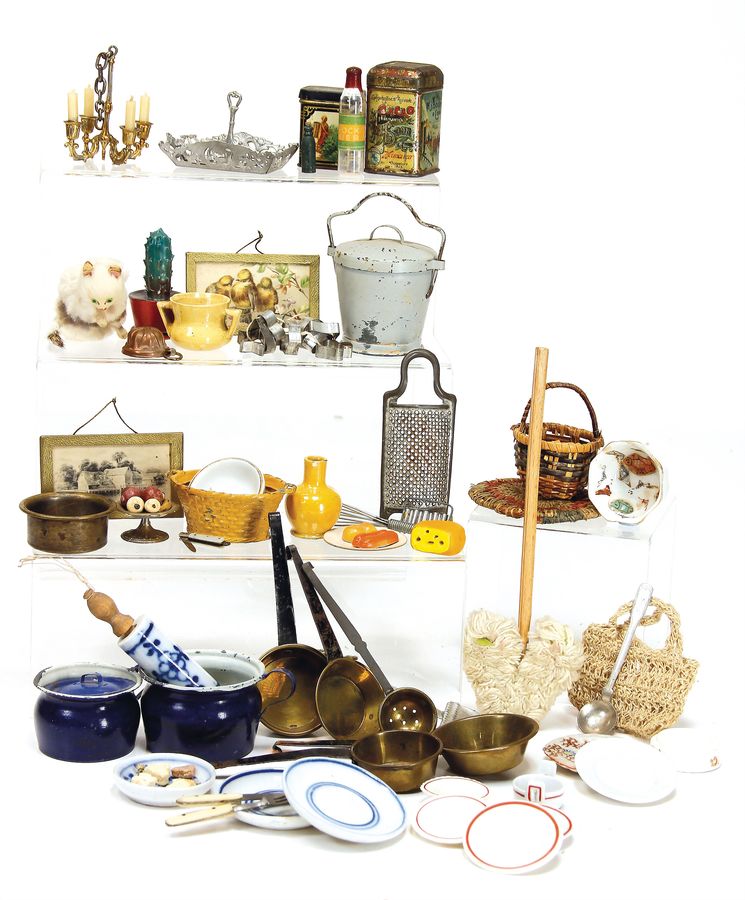 dollhouse decoration pieces, porcelain, rolling pin, 10.5 cm, brass pans, tin cutlery box, tea box, sheet metal, lithographed rubbish bin

---
dollhouse greenhouse, wood and glass parts, around 1900, 63 cm wide, 30 cm tall, can be opened at the top, decorative

---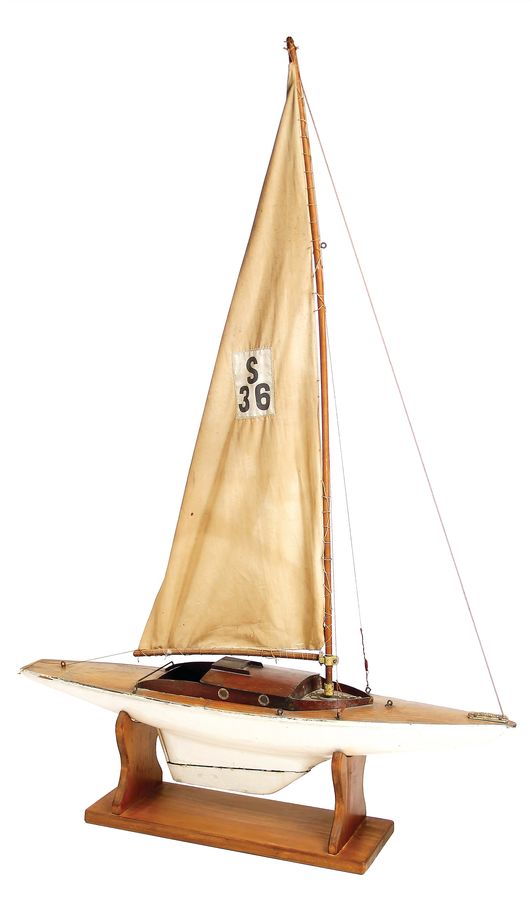 sailing ship, wood, one-masted ship, height : 90 cm, probably from the '30s

---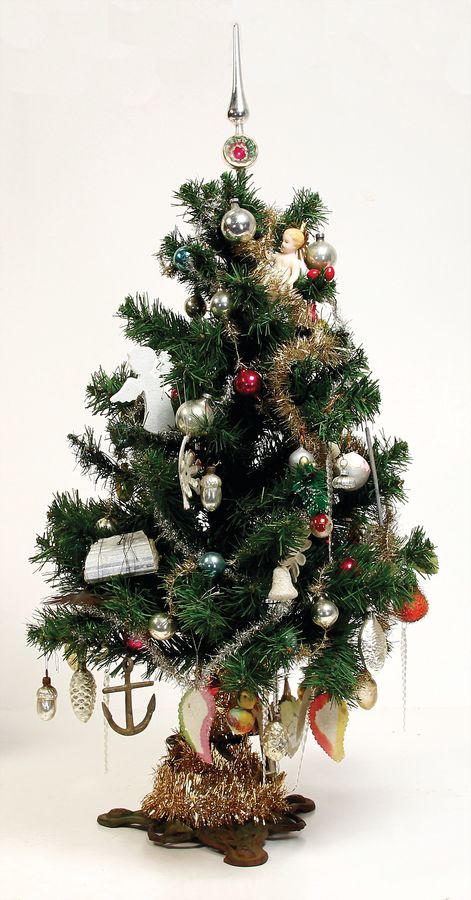 christmas tree, newer production, height : 70 cm, with old casting Christmas tree stand, richly decorated with baubles, glass, cardboard, tinsel garland, a nice decoration piece

---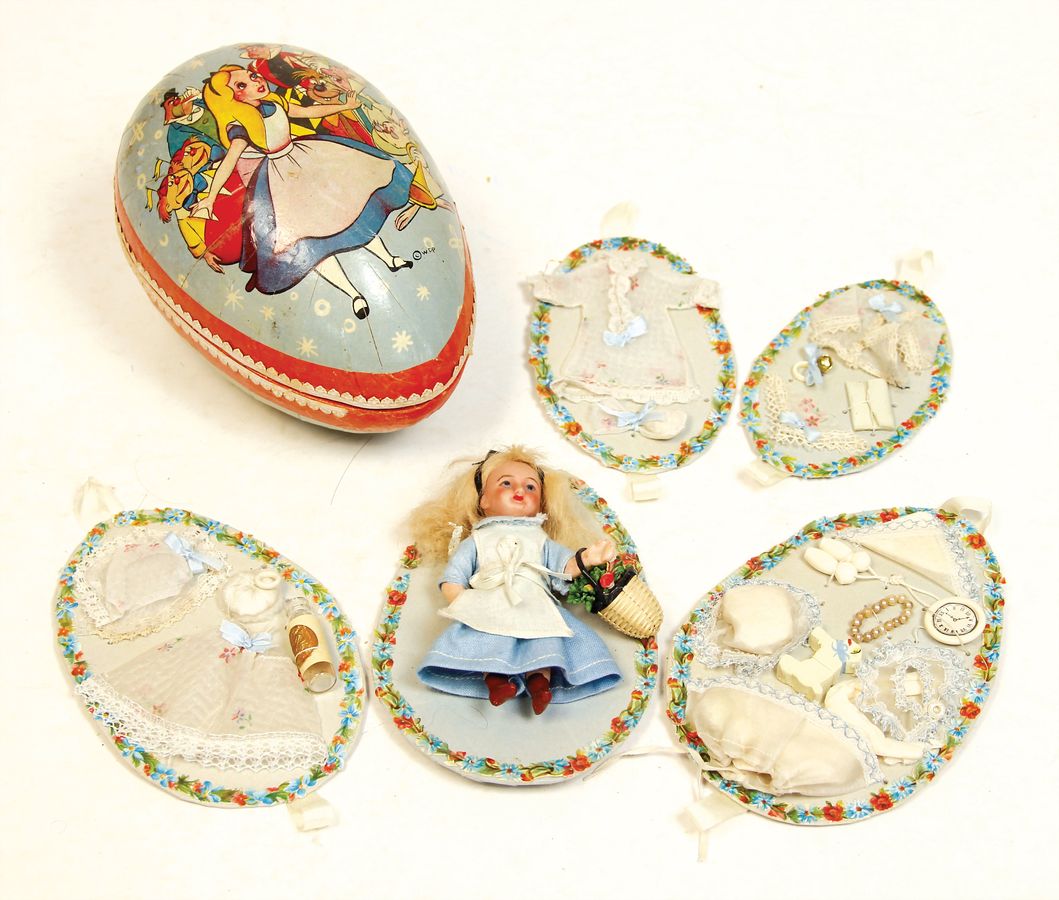 gift egg, papier mâché, lithographed with fairy tales-representation, 14 cm, French Unis France biscuit head-doll "Alice im Wunderland", 10 cm, blond mohair wig, painted features, 5-parts body, blue cotton dress and pinafore, with 4 different big oval inserts with a selection of costumes and accessories for the doll, excellent, unused original-condition, c. 1930

---