Special auction Sept 5, 2015 - Dolls & Toy Museum Heissl, Gmunden
Special auction Sept 5, 2015 - Dolls & Toy Museum Heissl, Gmunden - Page 4 / 9
Complete catalog (430 items)
---
---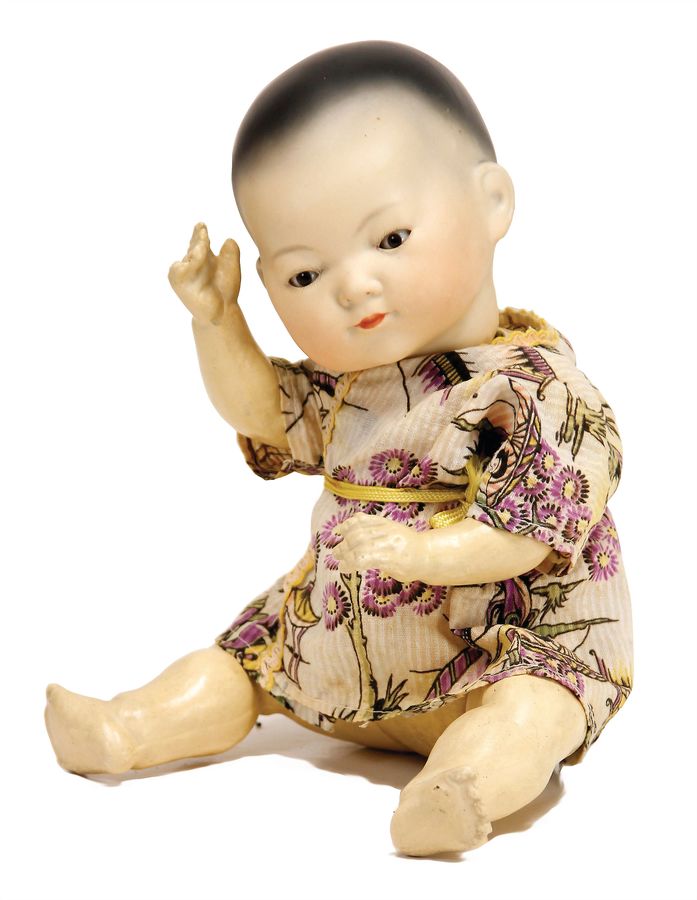 ARMAND MARSEILLE
rare ELLAR (in Star of David)-asiatic biscuit porcelain full head-baby, 30 cm, brown sleepy eyes, closed mouth, please note that it is risky to transport the eye mechanism, sitting baby body

---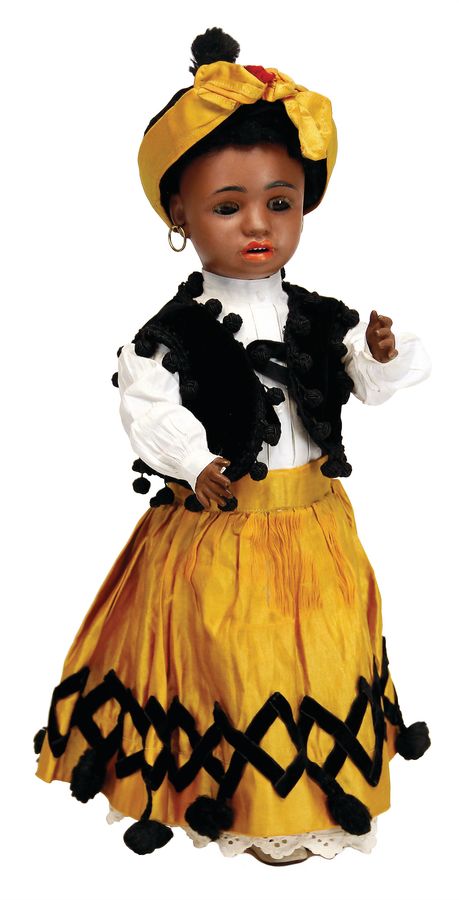 SIMON & HALBIG
character doll 1358, brown biscuit porcelain socket head, marked : 1358 Germany/S & H 5, orange marked opened mouth with 4 upper teeth, rare cross-eyed-mechanism with brown glass eyes, pierced ears with earring, black mohair wig, on a papier mâché head cover, early 10-part jointed body made of wood and mass, nice 3-part costume, silk skirt, blouse and velvet jacket, suitable headpiece, black socks and white shoes by the firm Eugene Alart/Paris with the No. 5, 38.5 cm


---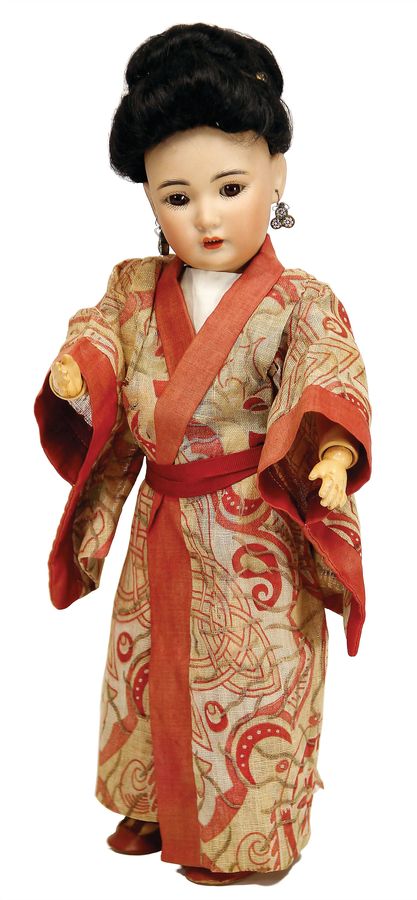 SIMON & HALBIG
Oriental S & H 1329, yellowish colored biscuit porcelain socket head, opened mouth, 4 upper teeth, brown sleepy eyes, eyelash-ring, pierced ears and ear jewellery, on papier mâché head cover is a very decorative and skilful worked black mohair wig, 10-jointed yellow colored jointed body with jointed hands, original kimono with vest, brown leather sandals, the Oriental is completely original and without damage (the fabric of the right sleeve is slightly brittle), 32 cm, around 1910

---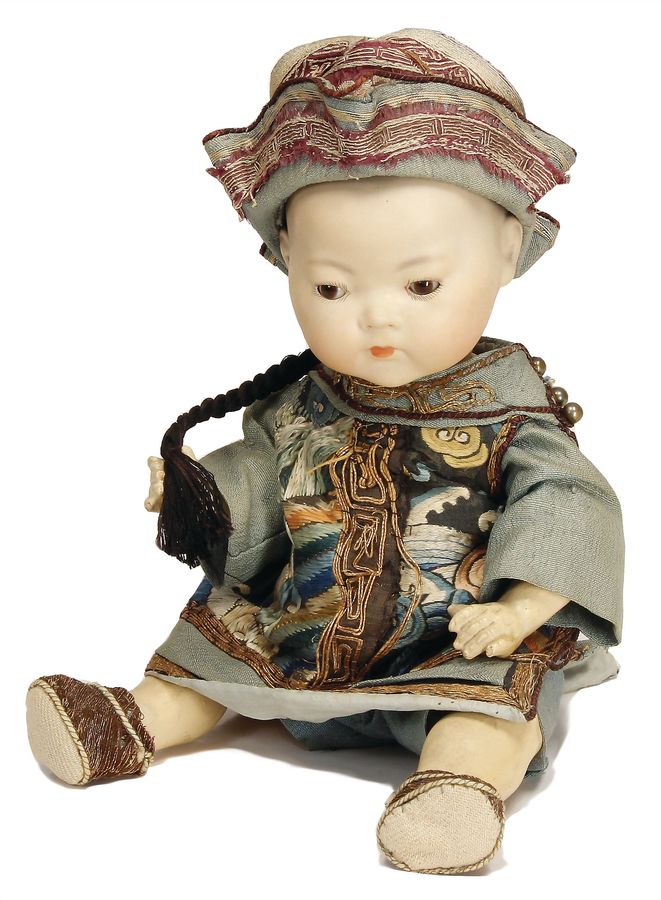 AM
356, biscuit porcelain socket head, yellow toned, brown sleepy eyes, closed mouth, nice original clothes with hat, fabric shoes, toned baby with sitting body, plait wig, 30 cm, around 1920

---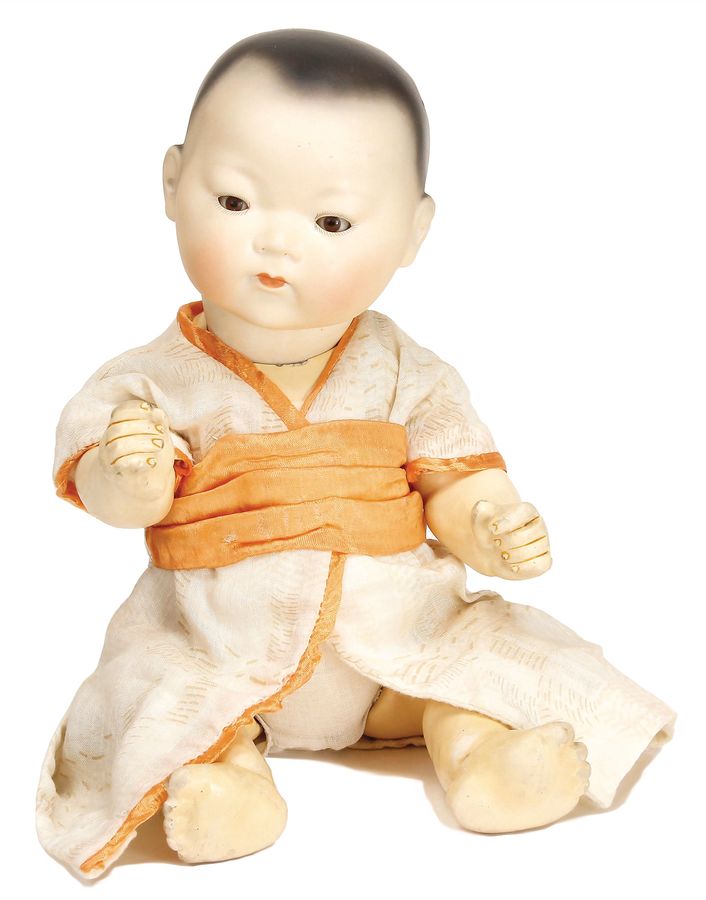 AM
353/3 ½ K, Eastern biscuit porcelain full head baby, 32 cm, socket head, brown sleepy eyes closed mouth, please note that it is risky to transport the eye mechanism, stocky sitting baby body, old clothes

---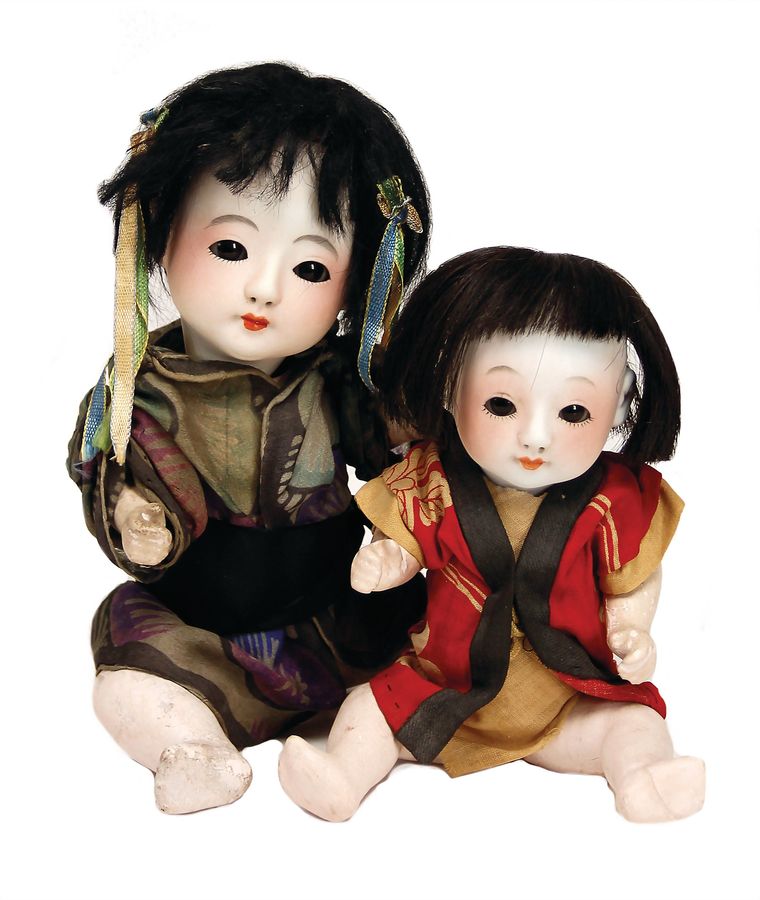 2 dolls, Japan, '20s, biscuit porcelain head, sitting mass baby body, seat height : 16 cm and 20 cm

---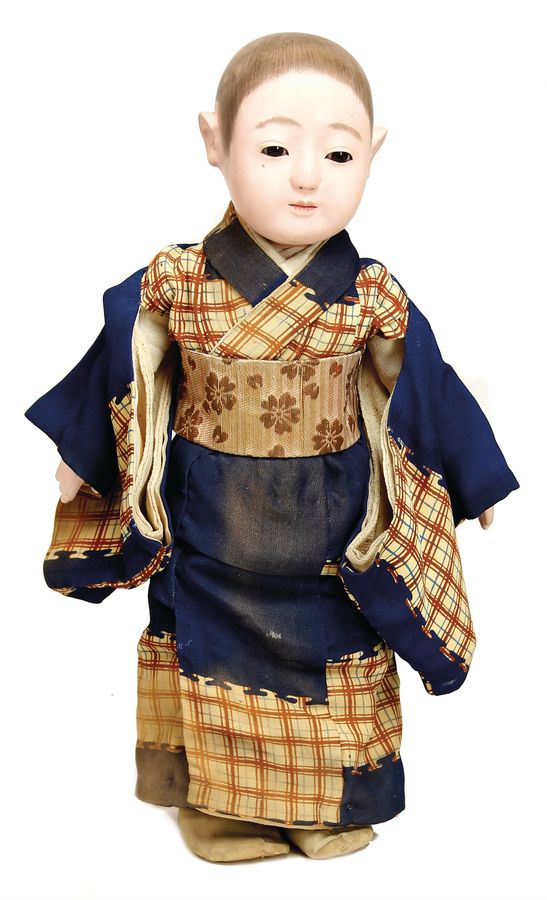 ICHIMATSU-NINGYO
Japanese doll, in very good preserved original design, with movable fabric joints, head and all under-joints were made of muschelkal mass, glass eyes, closed mouth, painted hair and features, Japan kimono with underwear, around 1920, 36 cm

---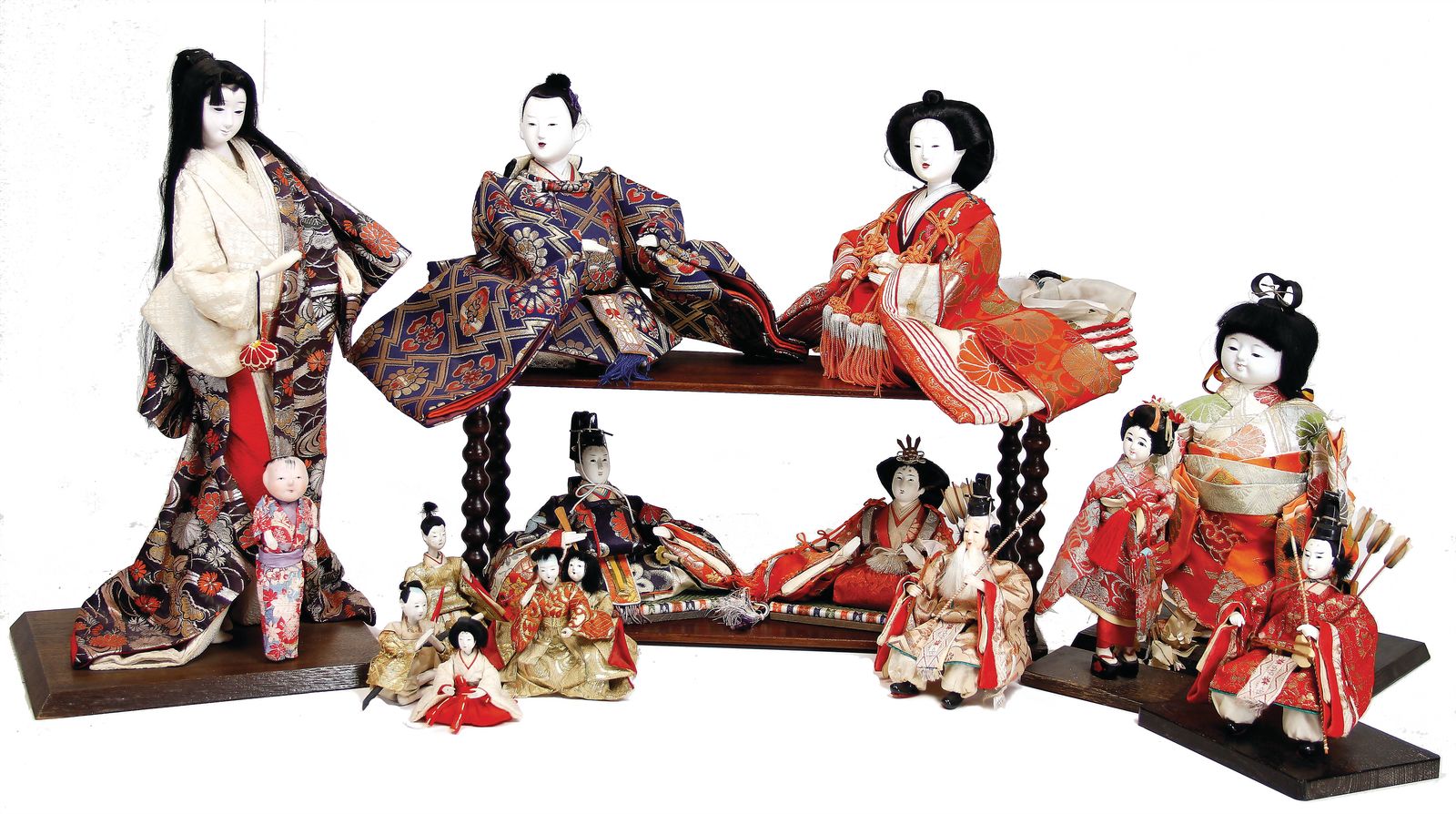 3 Japanese ceremony dolls from c. 1950.SAKURA-NINGYO or so-called "Kirsch-Puppe" (cherry-doll) : dancer or just showing everyday scenes . This is probably the most known and most common one. This doll with its beautiful silk-brocade costumes isn't jointed and therefore only for decoration .HINA-NINGYO or a so-called "Festtags-Puppe" (festive day doll) : that dolls were used every year only on certain festive days of the children and were used for the illustration of the national traditions. The Japanese doll festival HINA MATSURI that takes place on March 3rd is today still one of the most popular festivals in Japan .The most beautifull figure of this festival is of course the DAIRI-HINA, the figures of emperor and empress. They are sitting on the top of a group of 15 . YAMATO-NINGYO or so-called "schweigsamer Botschafter" (silent messenger), Japanese game-doll . These dolls are representing children in the national costume and were mostly made of fabric and muschelkalk mass . The dolls were originally used as gifts for Royal honored guests. At a later time such dolls were sent to other countries as "Botschafter der Freundschaft" (friendship ambassadors).

---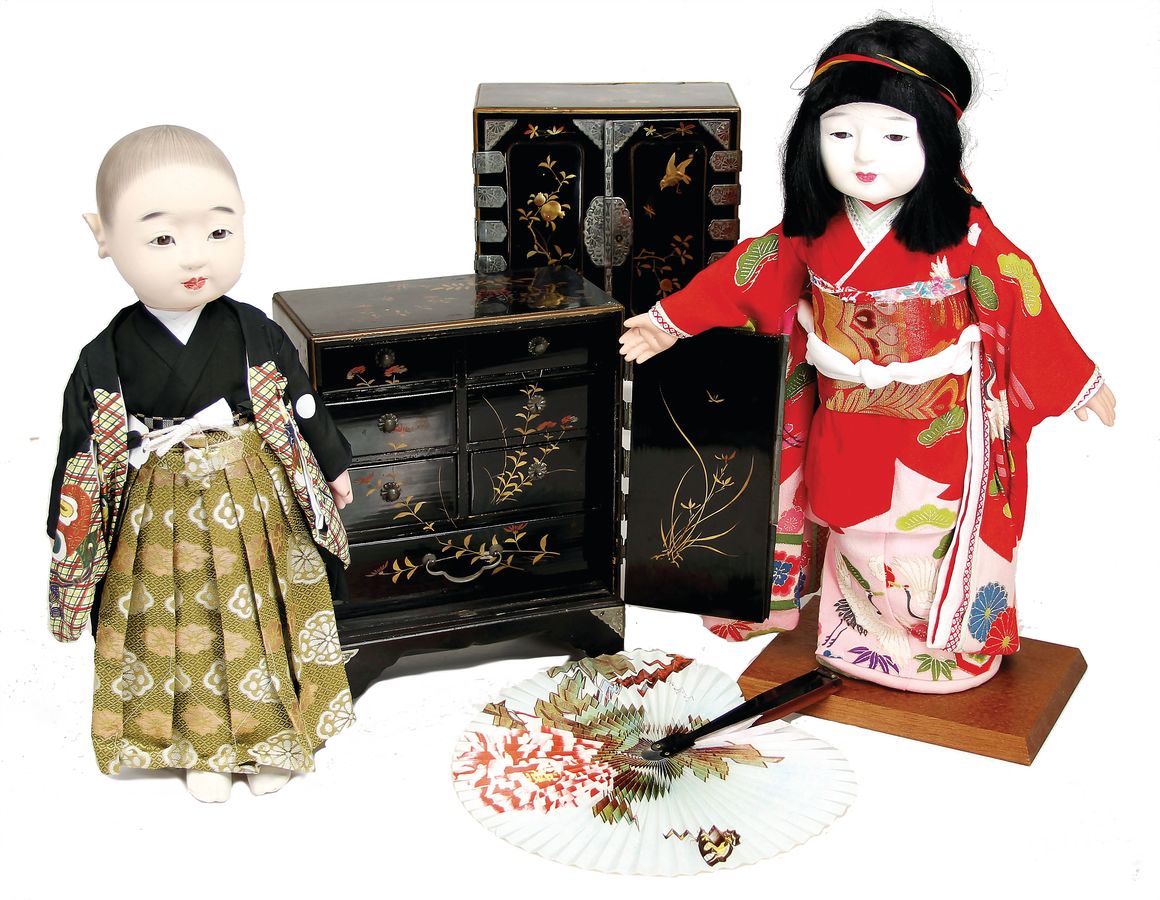 2 muschelkalk dolls, Japan, girl, 43 cm, boy, 41 cm, along with it 2 cupboards, 20.5 cm and 25.5 cm, wood is varnished and painted, with metal fittings

---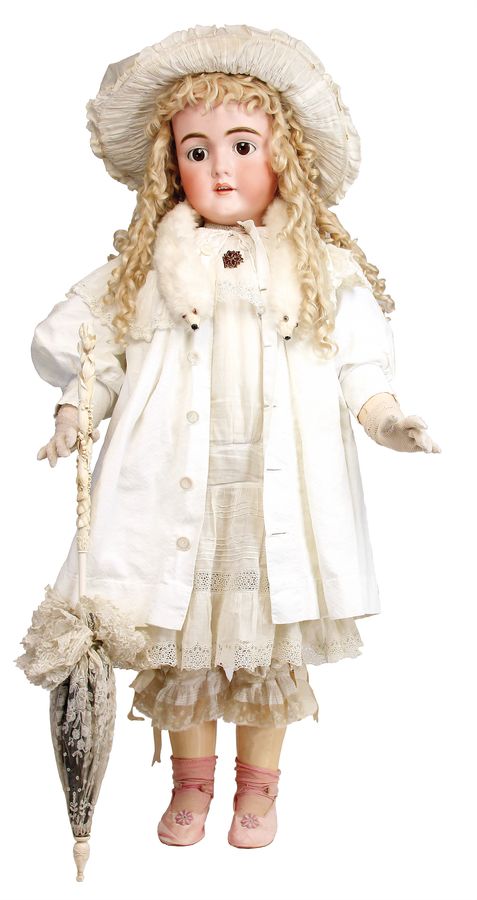 KLEY & HAHN
"Walküre" very large jointed doll with the neck mark 4 "Walküre/Germany" .an impressive biscuit porcelain socket head, manufactured by at the Fa.J.D.Kestner/Ohrdruf-on a unused jointed body with brand stamp at the hip, opened mouth with upper teeth, tasteful face painting, brown sleepy eyes, eyelash-ring and pierced ears . gorgeous, ample mohair wig with shoulder-length curls. In the stomach area two cords for the mum/dad voice, complex worked white clothes, pompous headpiece, gloves and pink silk shoes. references : J.u.M.Cieslik "LEXIKON d. deutschen Puppen-Ind ." around 1910, 106 cm, umbrella will be separate auctioneered


---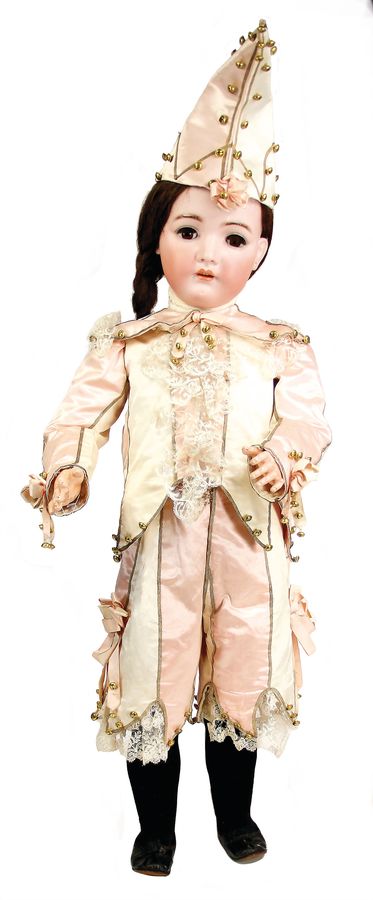 KÄMMER & REINHARDT
biscuit porcelain socket head by the firm Simon&Halbig with the neck mark : K&R SIMON&HALBIG 100. The head has brown sleepy eyes with long lashes made of real hair, opened mouth with 4 upper porcelain teeth, very beautiful complexion, feathered brows, dark, shoulder-length real hair wig. The huge jointed body is a typical Kämmer & Reinhardt body all body parts were extremely nice modelled, especially the hands and fingers, very nice and best preserved pink/ivory colered Polichinelle-silk suit decorated with gold ribbons, sundry laces and a wealth of appliquéd brass bells, suitable headpiece, black socks, black leather shoes, 100 cm


---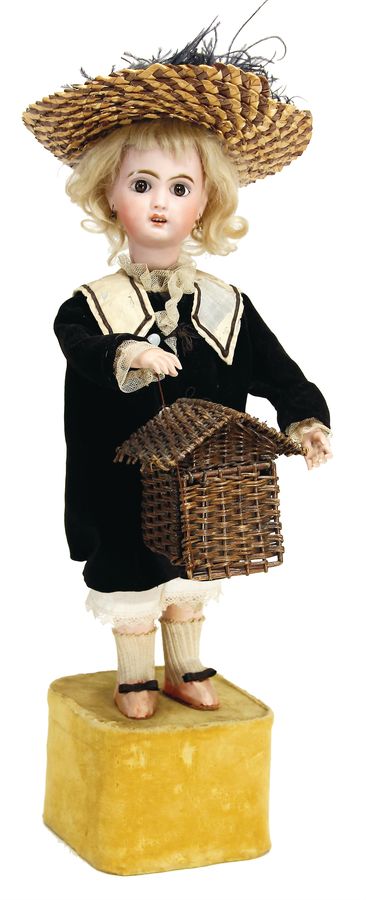 music machine by the firm L.B./Paris for Leopold Lambert, "Das Mädchen mit dem Vogelkäfig", head by the firm Jumeau/Paris, biscuit porcelain machine head, fix inset brown Paperweight eyes, pierced ears with rhinestone earrings, opened mouth, upper teeth, machine body, forearms made of biscuit porcelain, legs made of wood, original clothes with straw hat and ostrich feathers, pink satin shoes, birdcage made of mesh with pigeon made of celluloid (is moving and pecking), if clock mechanism with mechanism in operating, music and 3 motions, 50 cm with base, without 40 cm, around 1890


---

machine by the firm Leopold Lambert/Paris, so-called "Bébé Russe", (It.dam. catalog), wind up mechanism and play mechanism are intact, biscuit porcelain machine head by the firm SFBJ/Paris, opened mouth, upper teeth, brown glass eyes, machine body with forearms and hands made of biscuit porcelain, in the left hand it is holding a coffee service with tray, with the right hand the girl is pour in with the coffee pot, tray and service are made of red painted wood, original clothes and-"LB", key, for motion, plays music, heigth : 52 cm, around 1905


---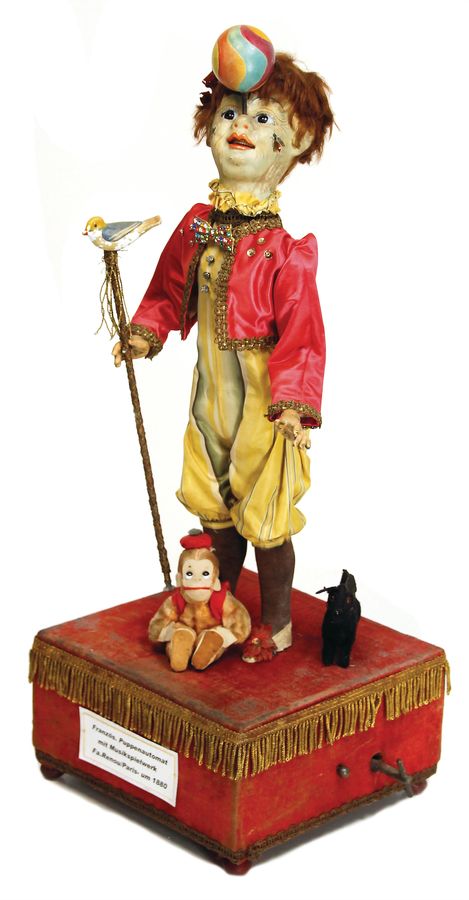 RENOU/Paris
machine "Der Clown mit dem Ball", with original key, ball is turning on the nose of the clowns, the clown is moving the hands and therefore the conjurer's wand with the bird, head and hands are made of mass, fix brown glass eyes, opened/closed mouth, upper teeth, nice painting, costume consists of two parts, red/yellow striped silk with red jacket, with sequins and golden braid, necklace, good condition, 56 cm, around 1890



---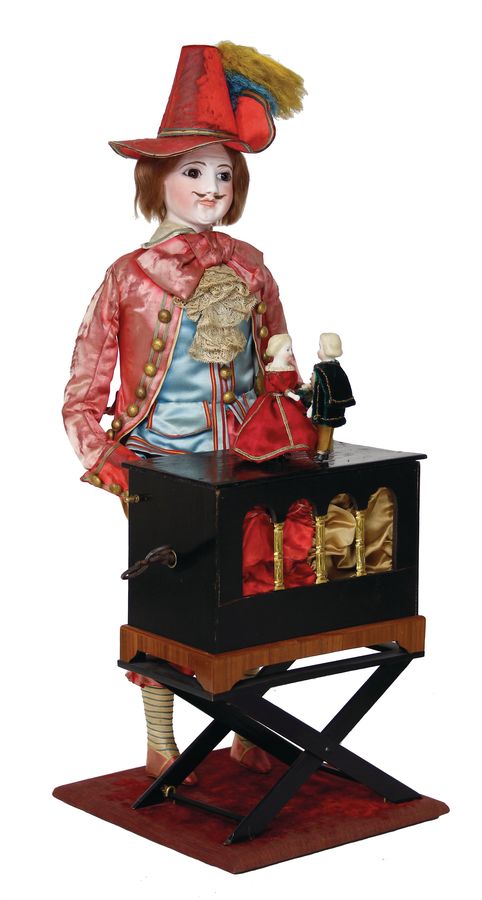 VICHY
music doll machine by the company Gustav Vichy, Paris, around 1880, "Der Dreh-Orgelspieler" with 2 melodies, with this original equipment ! are only few original copies known world-wide, height with hat: 63 cm, according to experts The bisque portrait machine head was especially by BRU produced for this Vichy machine and is therefore extremely rare to find. A man with opened/closed mouth, painted teeth, modelled moustach, expression lines, brown paperweight eyes, eye shadow, and feathered brows. The porcelain head has a unremarkable, minimal hairline crack from the left ear to the eye. The wig was not removed. He is standing behind a custom-made barrel organ that is made of precious wood species and has pillars that are decorated with gold leaves and a red/golden silk lining . He is still wearing his original silk clothes with raspberry-colored tailcoat with brass knobs, blue waistcoat, lace jabot and with the suitable cusp cap. The clockwork and the rolling mechanism, that can play 2 melodies and makes the motions, are hidden in the case . After the manual winding with the key and after pulling the stop knob the doll is turning the crank with the right metal hand, is looking to the right and to the left and is nodding, the dancing couple is turning in the meantime . references : Christian Bailly, "Automata, The Golden Age", page 85




---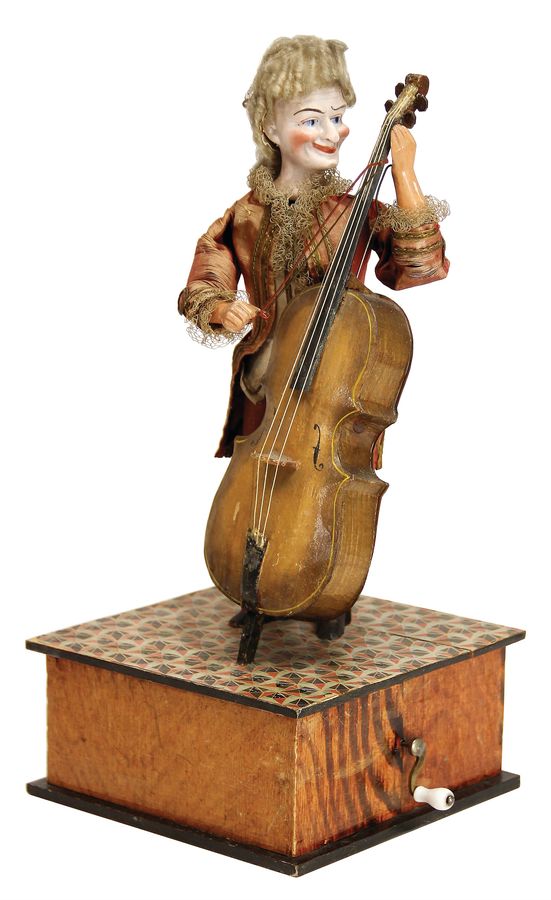 semi-automatic machine "Der Kontrabass-Spieler", original mechanical toy that were producec in German y, the machine has a expressive character head thta is made of biscuit porcelain and has a closed smiling mouth, painted features, blond mohair wig, silk costume, with decorated with lace, nice contrabass with bow, 3 motions and music, base : 15x15 cm, height : 38 cm

---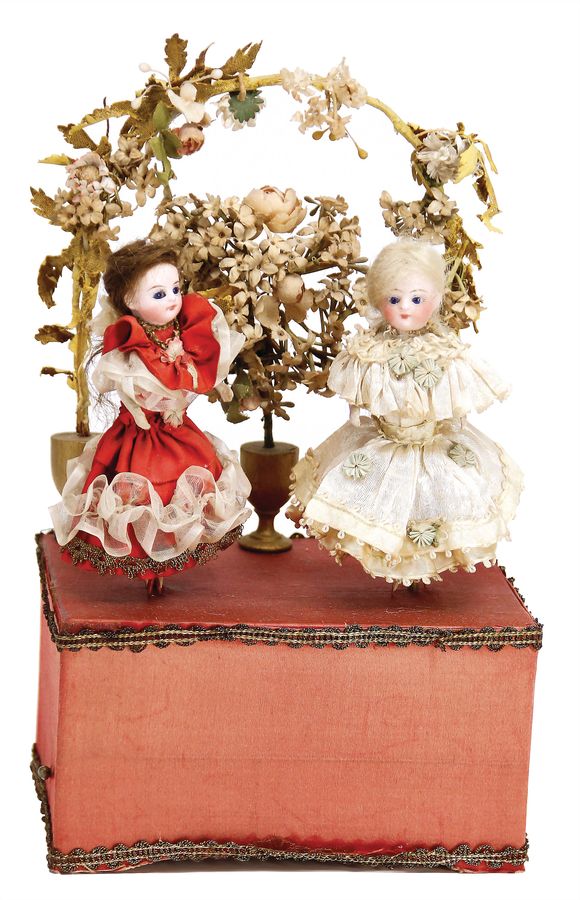 machine, France, 2x Mignonette, as ballet dancers, bisque heads, fix inset glass eyes, closed mouth, bisque arms, thin wooden legs, with up-painted shoes, original clothes, music mechanism is intact, height : 24 cm, c. 1890

---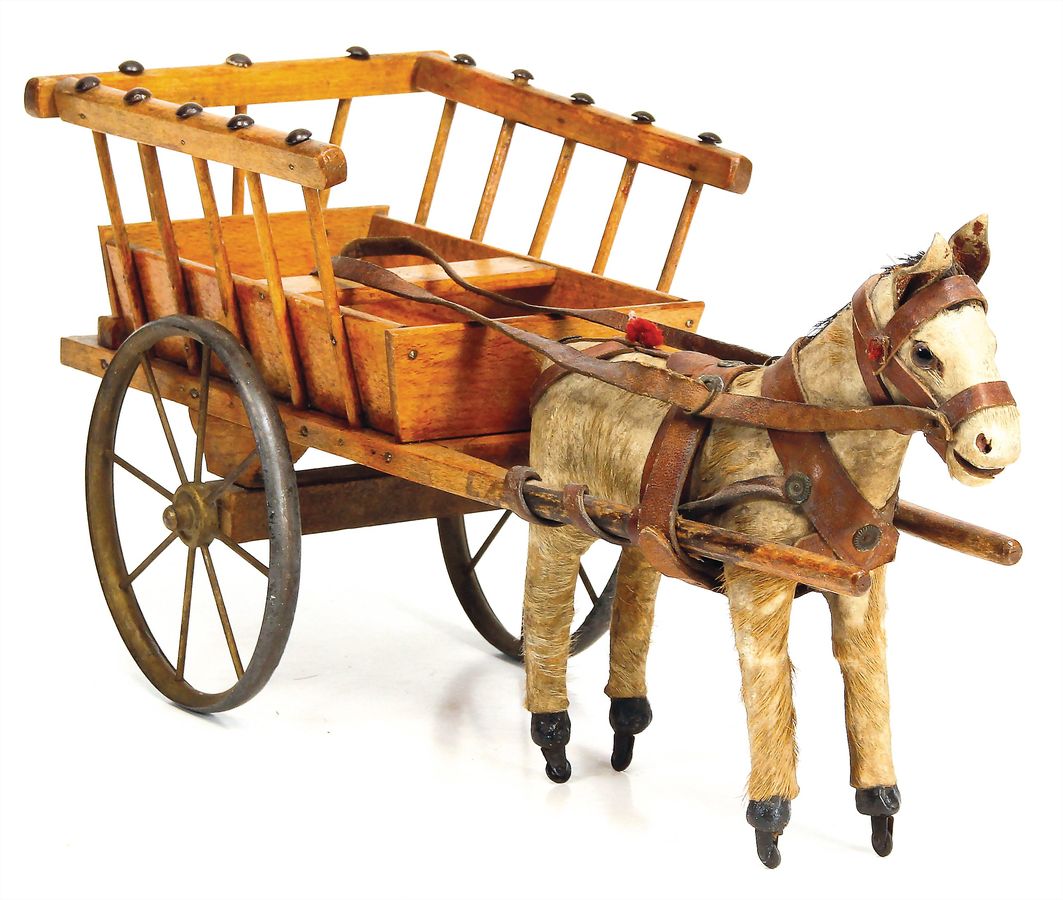 car with draft horse, 38 cm, horse is covered with pelt, glass eyes, car is made of wood, cast spoke wheels, around 1900

---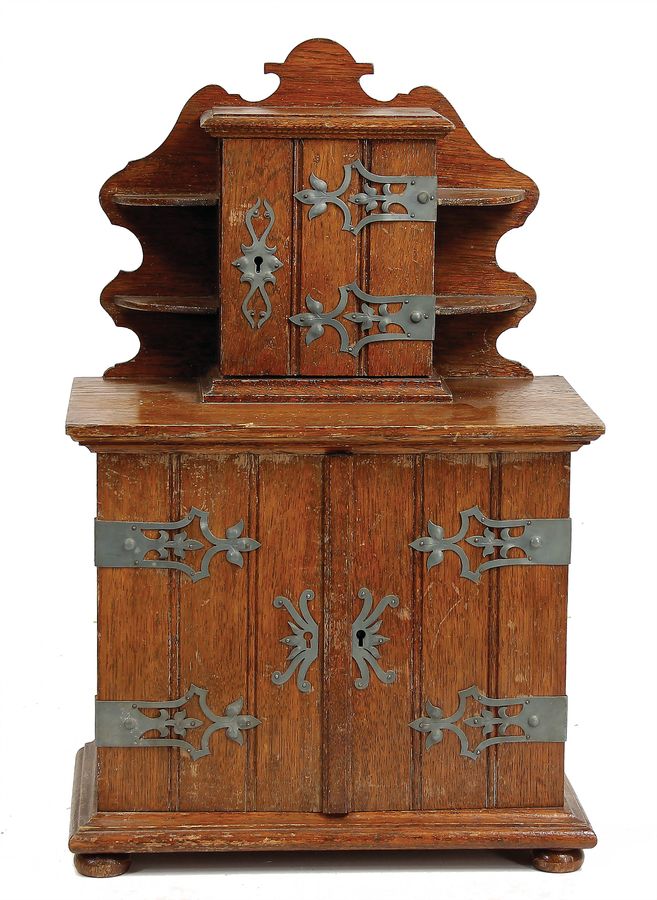 doll's cupboard, oak natural, 45 cm, with kitchen accessories, glass, porcelain, sheet metal

---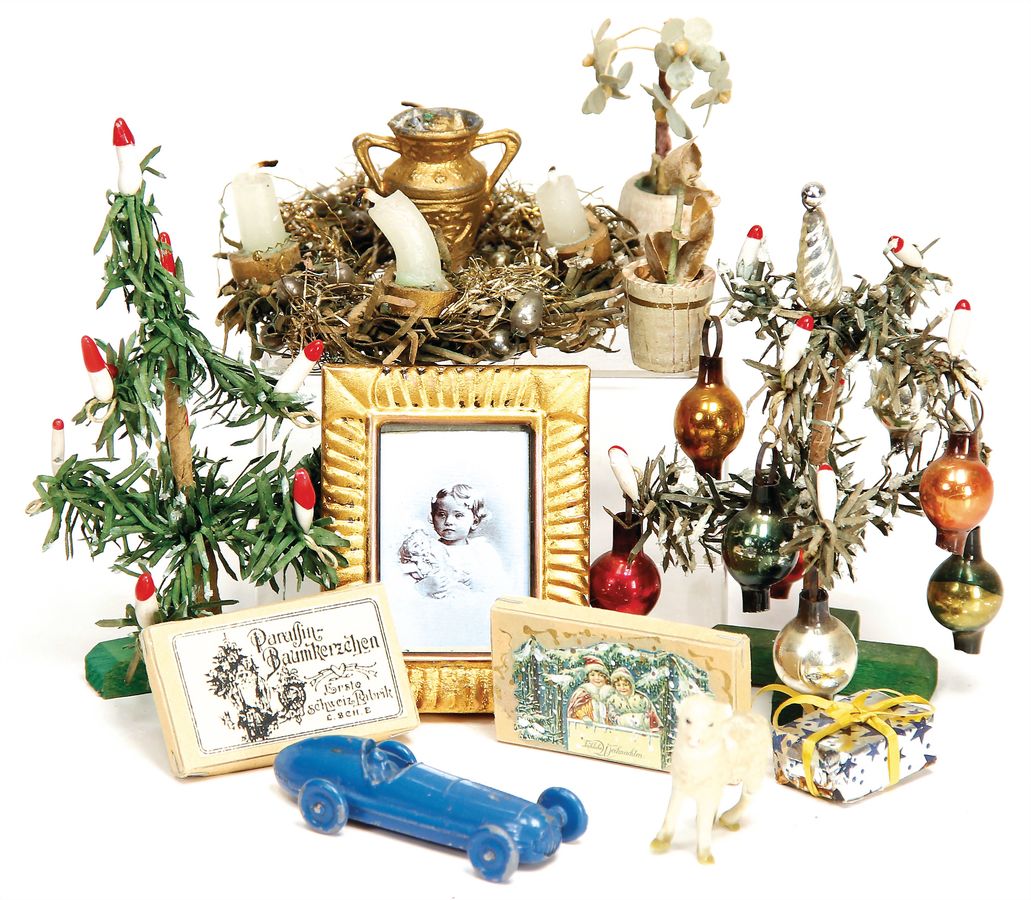 mixed lot of dollhouse accessories, 2 miniature Christmas trees, 10 cm, tin carafe, Christmas garland, etc.

---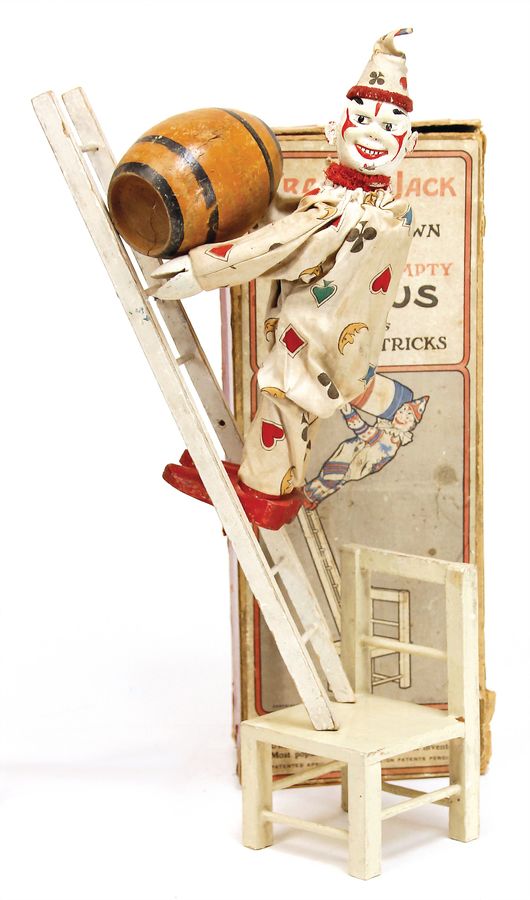 SCHÖNHUT
Humpty Dumpty, Crackaer Jack The clever Clown from the Humpty Dumpty Circus in his 1001 new Tricks, in original box, with multicolored lithographed cover picture, ladder, chair, barrel and figure, very nice original-ondition, 1 side strap at the box is missing

---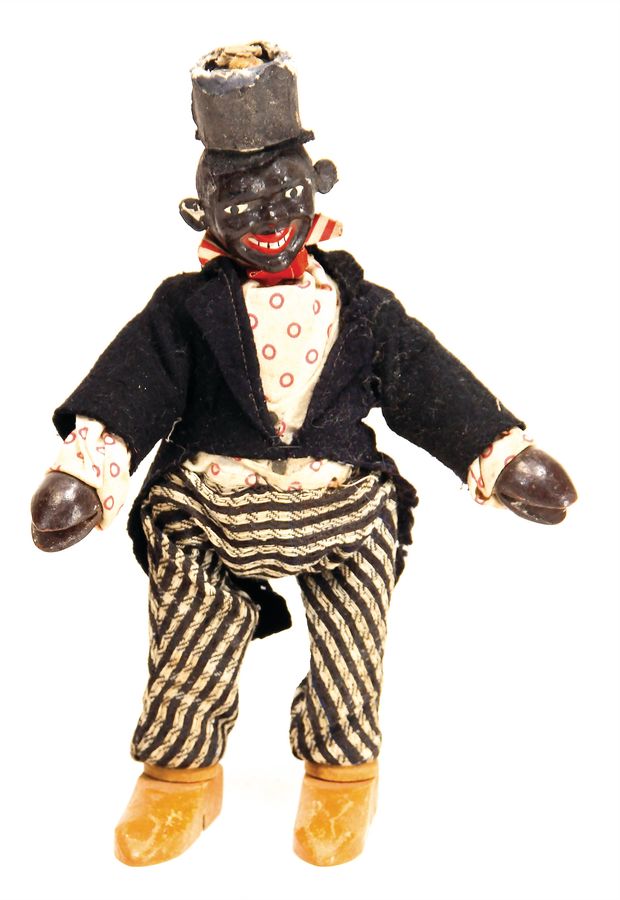 SCHÖNHUT
Humpty Dumpty, colored animal trainer, 22 cm, large series, original clothes, hat is a little bit worn, otherwise good condition

---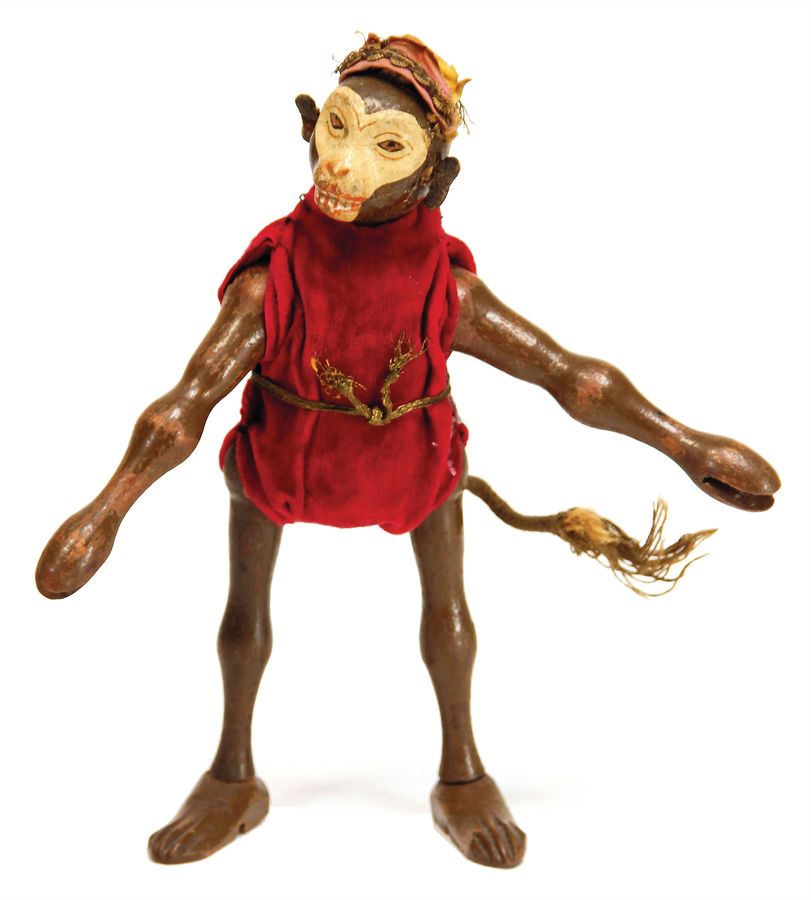 SCHÖNHUT
Humpty Dumpty, Monkey, 20 cm, large series, original condition

---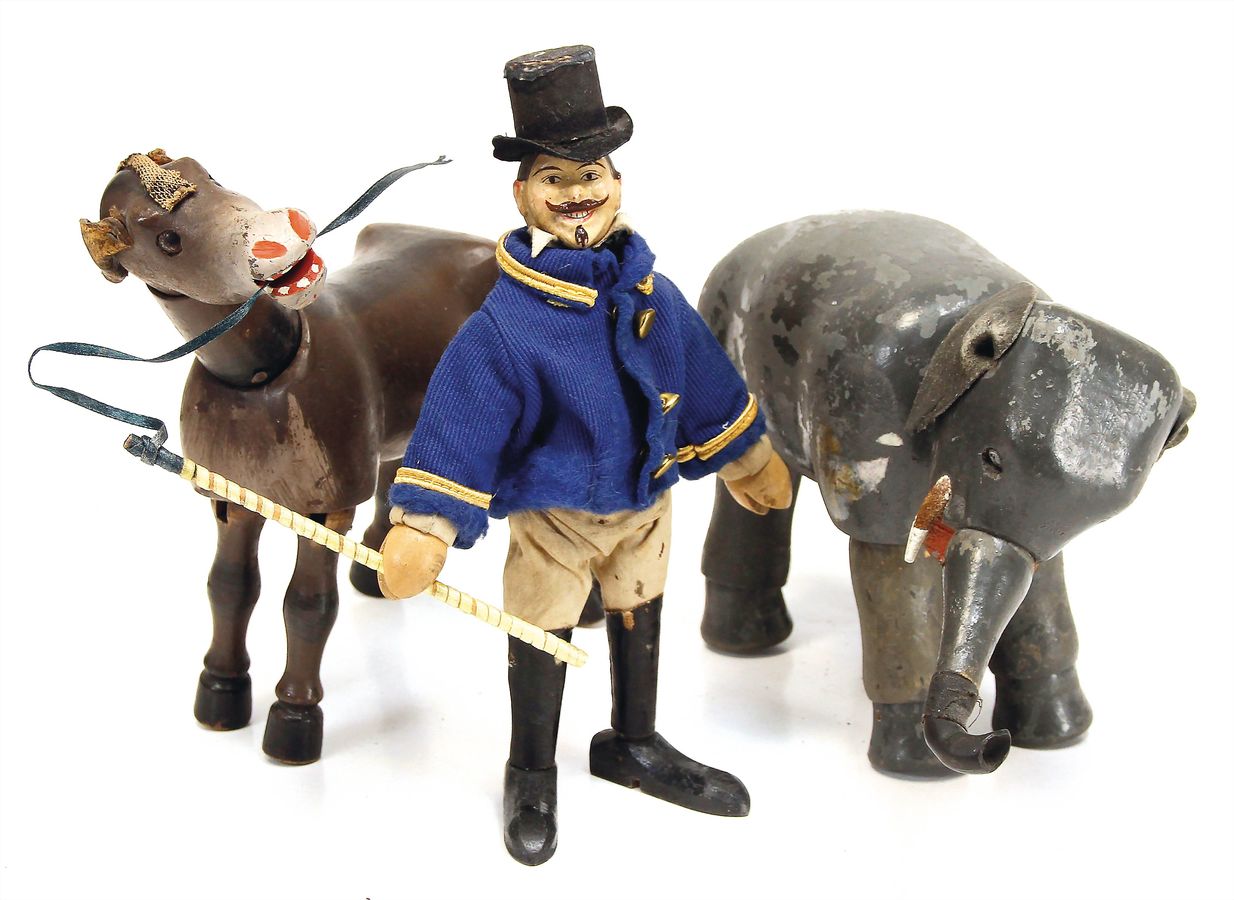 SCHÖNHUT
Humpty Dumpty, circus animal trainer, 22 cm, large series, original clothes, original condition, along with it a elephant and donkey, worn, the scratches on the paintwork are caused of old age

---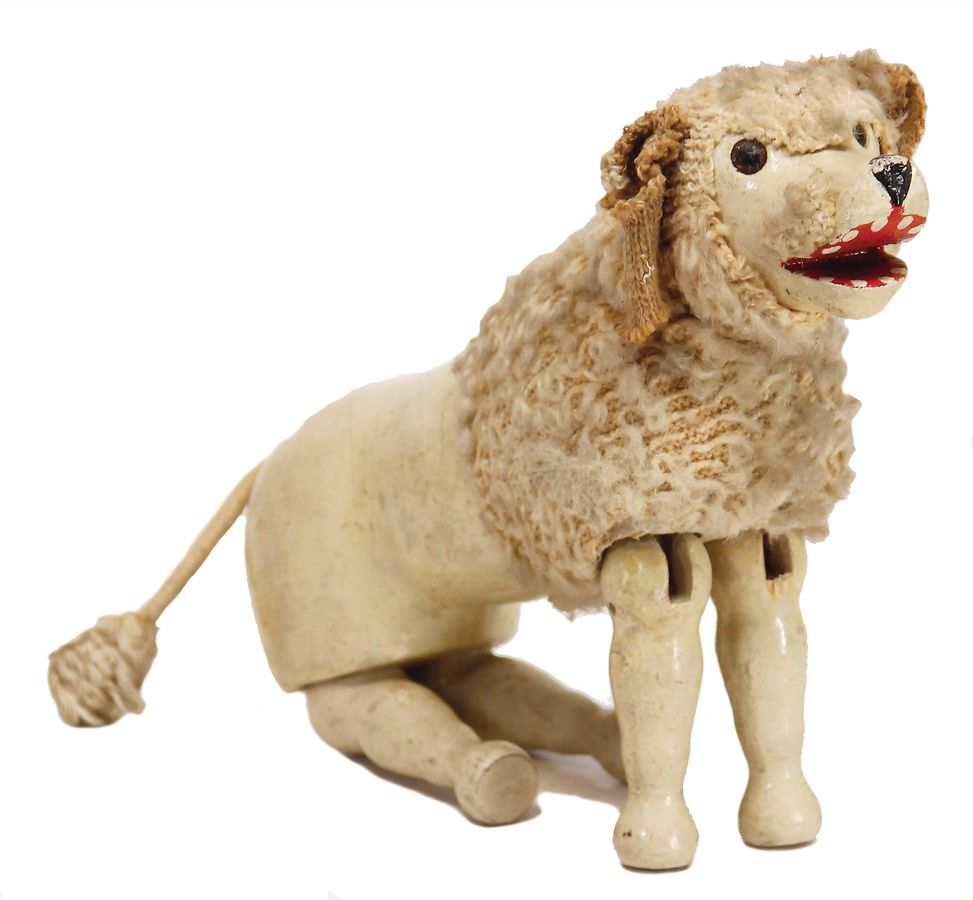 SCHÖNHUT
Humpty Dumpty, dog, 20 cm, glass eyes, large series, pelt is a little bit worn, original condition

---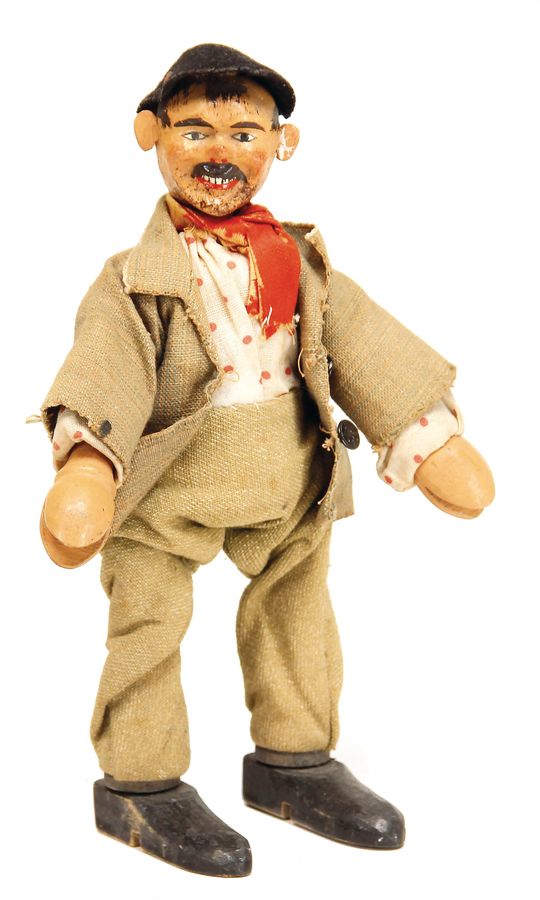 SCHÖNHUT
Humpty Dumpty, August, 20 cm, large series, nice original condition, original clothes

---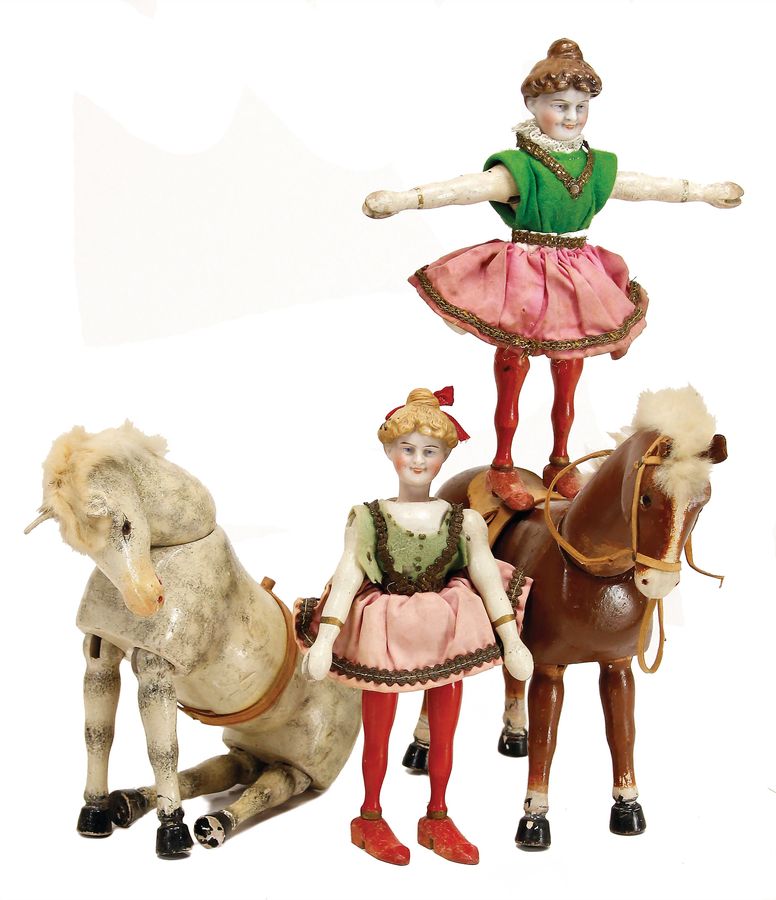 SCHÖNHUT
Humpty Dumpty, 2 dancers, 20 cm, big series, porcelain heads, brunette and blond, original condition original clothes, along with it 2 horses, glass eyes, big series



---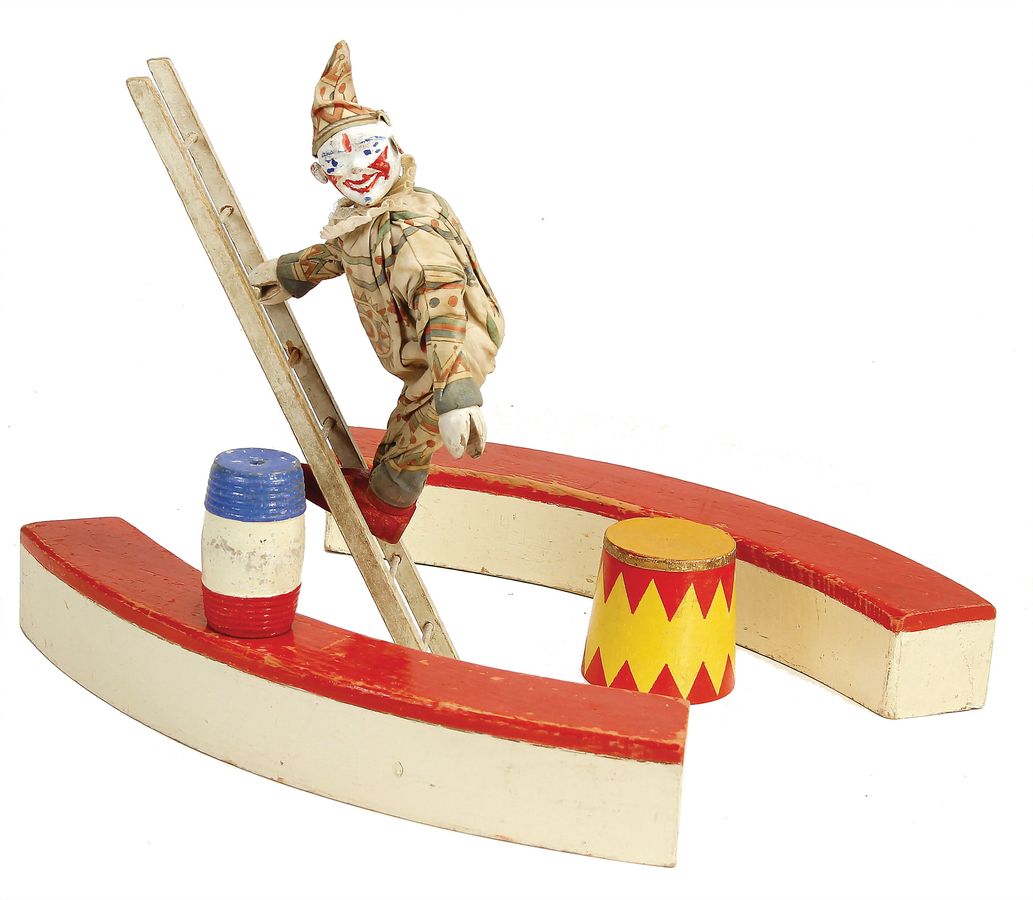 SCHOENHUT
Humpty Dumpty, clown, 22 cm, large series, face painting was retouched, original clothes, 2 wall parts for a circus ring, 2 barrels, ladder

---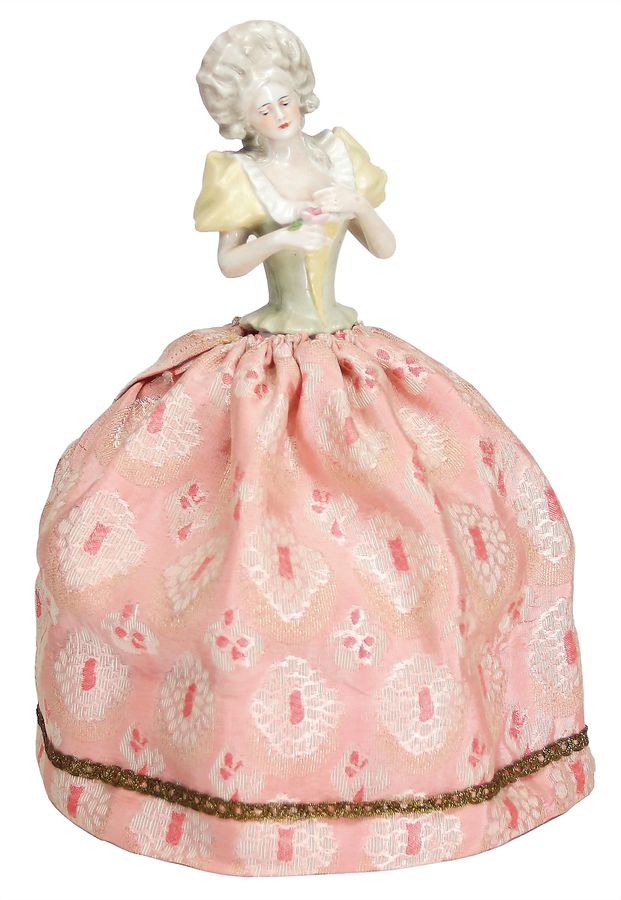 tea doll, height : upper part 12 cm, enameled porcelain, lady with rose

---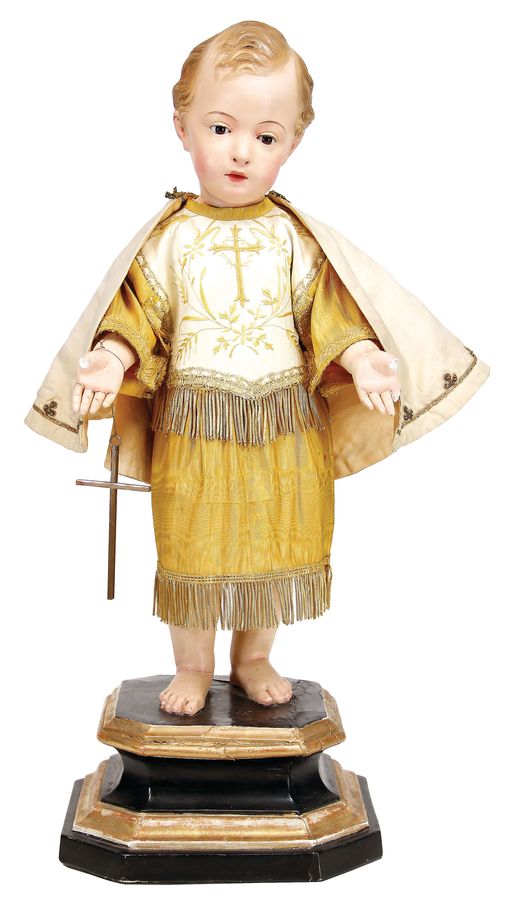 the child Jesus, mass, 63 cm, fine modelled hair, fix inset brown glass eyes, mounted on a wood base, old clothes, 1 fingers and also both thumb s were glued, otherwise nice original condition, c. 1890

---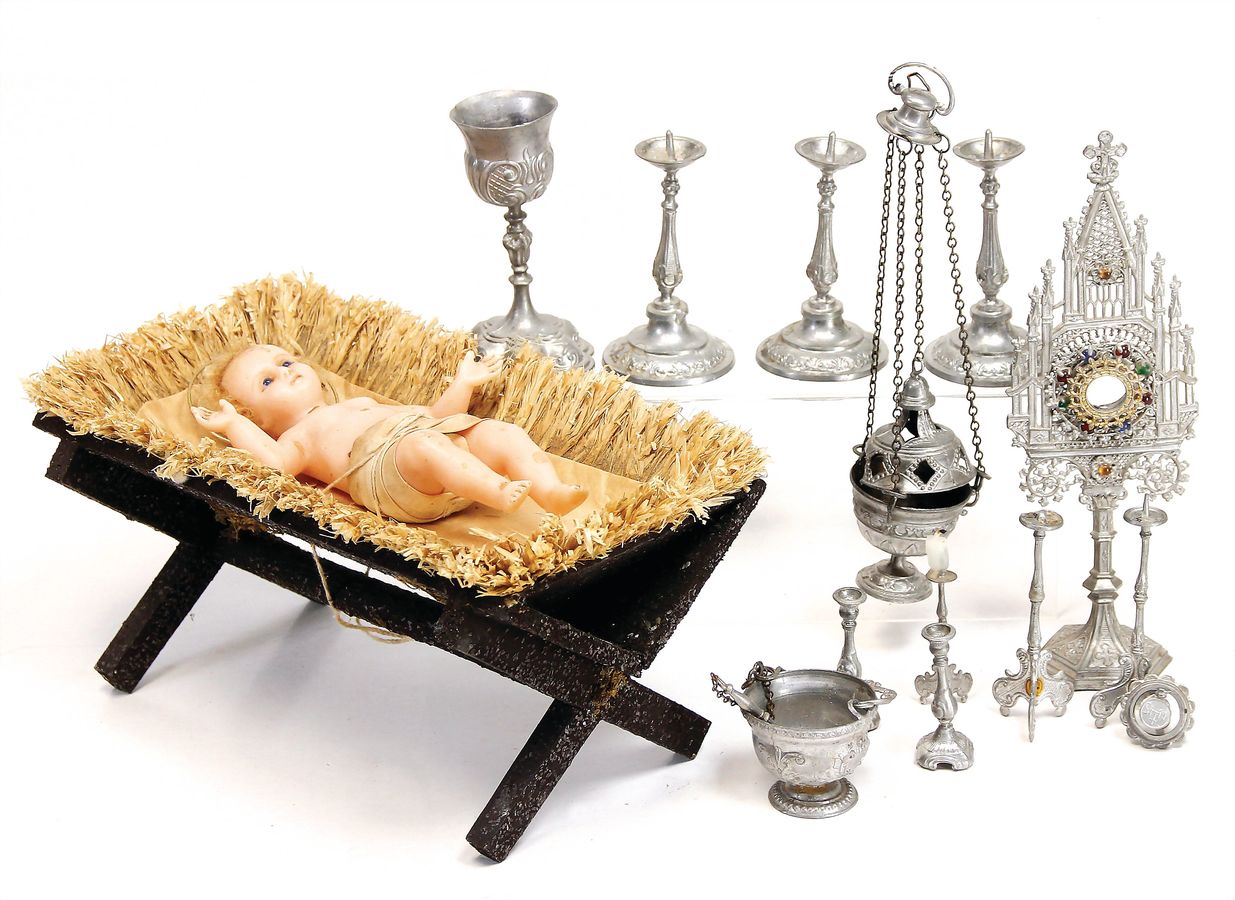 mixed lot the child Jesus made of wax in a crib, 15.5 cm, crib 21 cm, along with it some sacred tin parts

---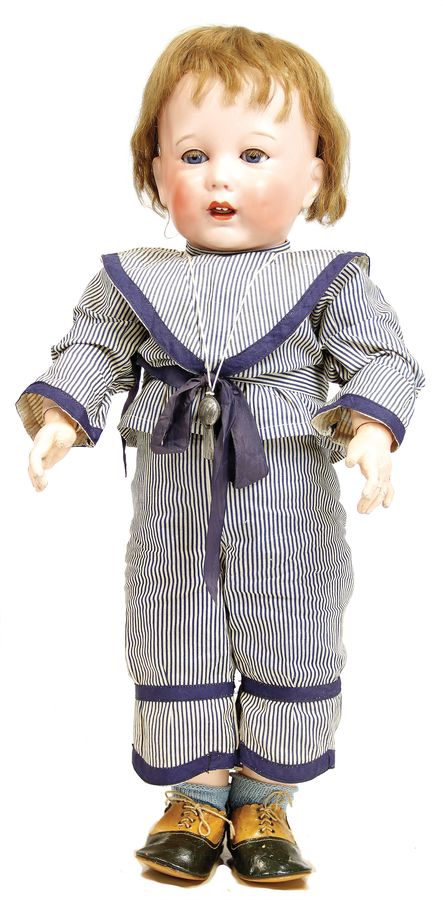 SFBJ/PARIS
character doll, series 251, distinct character head with strongly modelled features, biscuit porcelain, socket head, opened mouth, wobbling tongue and 2 teeth in upper jaw, blue sleepy eyes with lashes made of real hair, painted lower lashes, colored brows, boy hairstyle with brown real hair wig on papier mâché head cover, stocky, slightly used SFBJ-toddler body with 10 joints, nice 2-part baby sailor suit, whistle, shoes made of oilcloth, marked 21 SFBJ 251 Paris 11, around 1913, 60 cm

---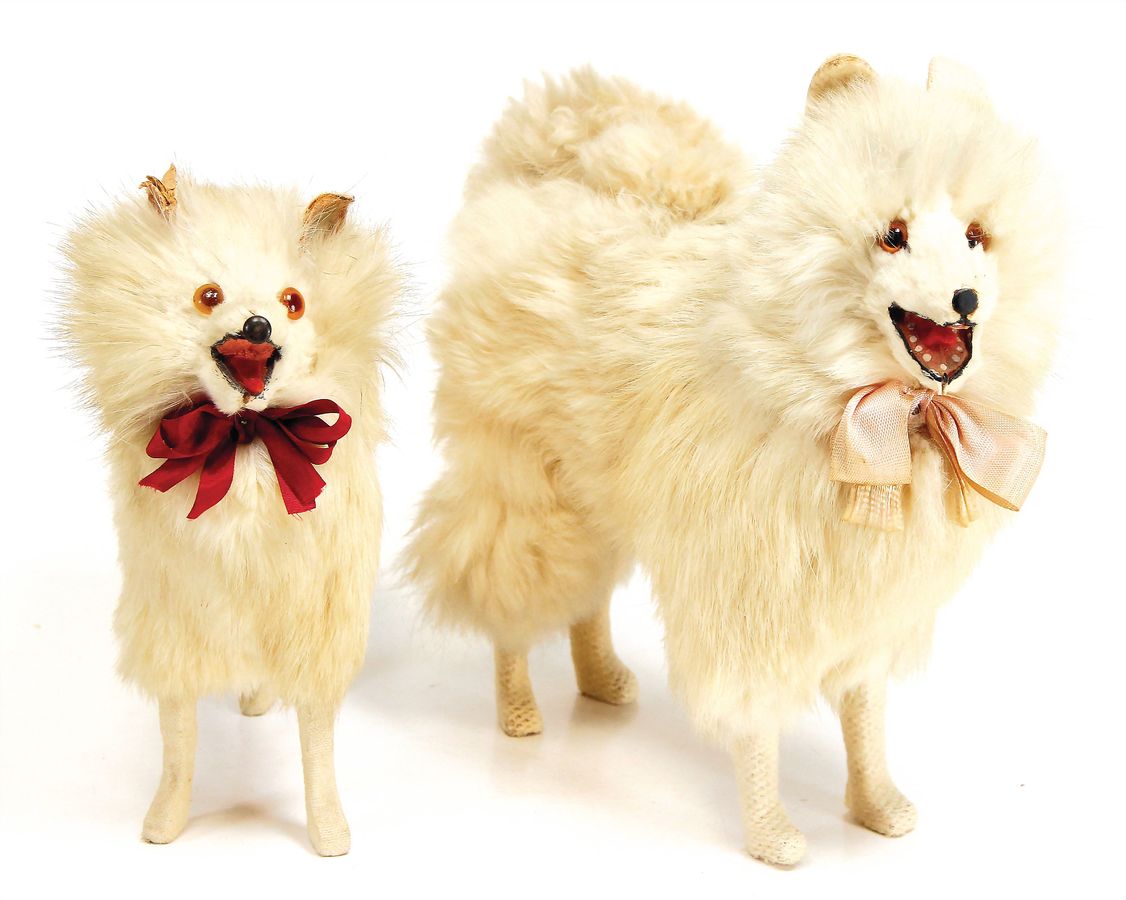 2 skin dogs, 20 cm and 22 cm, glass eyes, good condition

---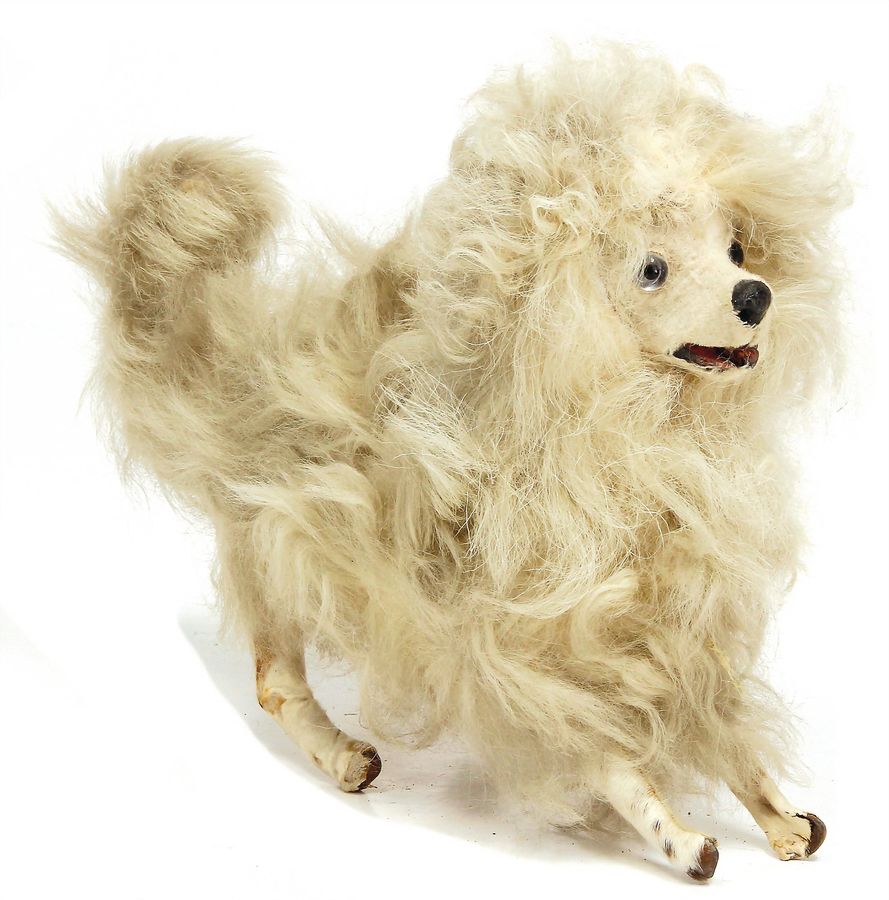 ELIE MARTIN / PARIS
skin dog-machine based on patent from 10/4/1879, wind up mechanism with fixed key at stomach of the dog, glass eyes, body and metal legs with pelt coated, mechanism intact, H:17 cm, L: 23 cm, after 1880

---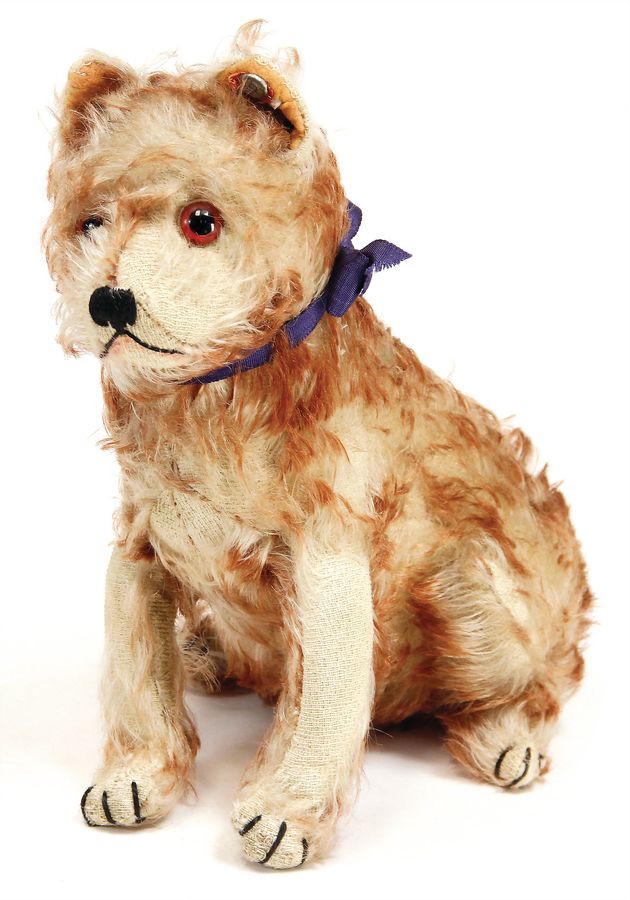 STEIFF
Steiff dog, pre-war era, 21 cm, ear tipped with button, rests of the red cloth tag label, partially worned

---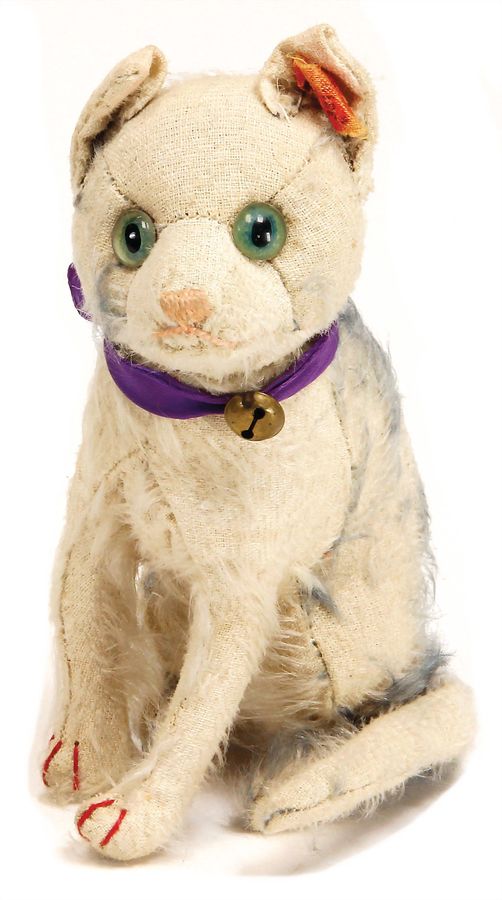 STEIFF
Steiff cat, pre-war era, height : 18 cm, swivel head, with button and cloth tag label, red felt 318 last numeral is weakly visible, is stronger worned

---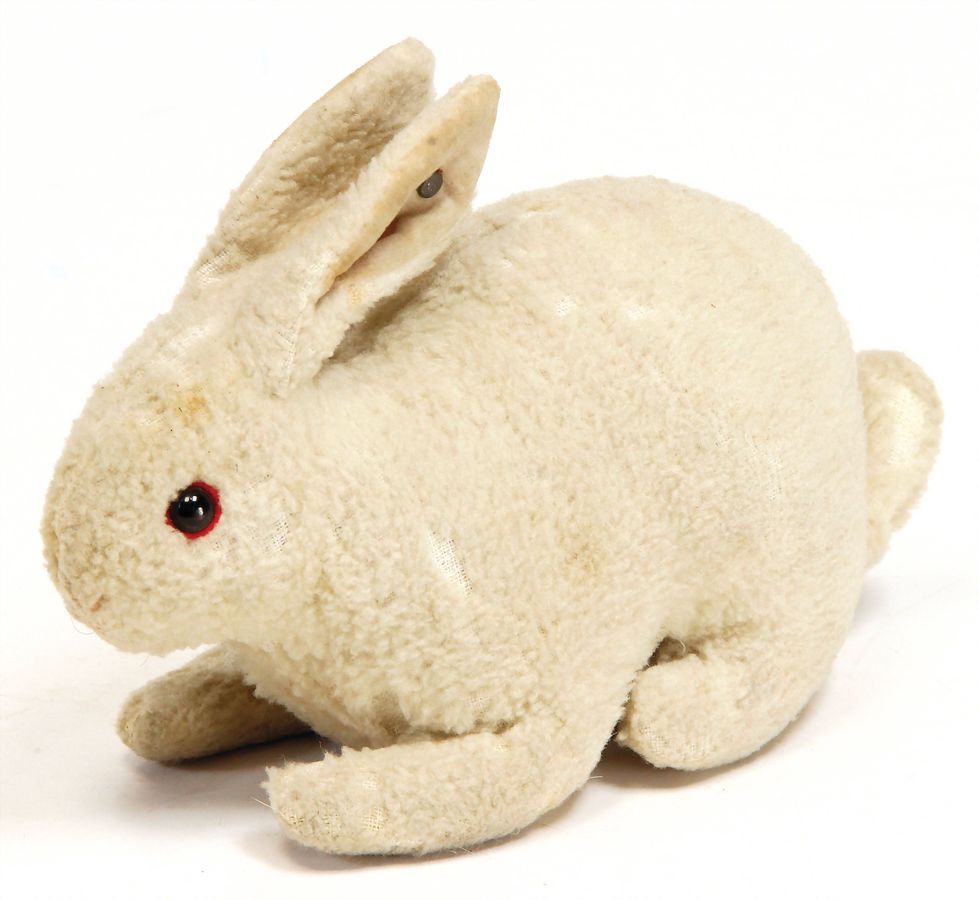 STEIFF
Steiff hare, pre-war era, height : 18 cm, the dark shoe button eyes are underlaid with red felt, button with long stretched F, some places with mohair loss

---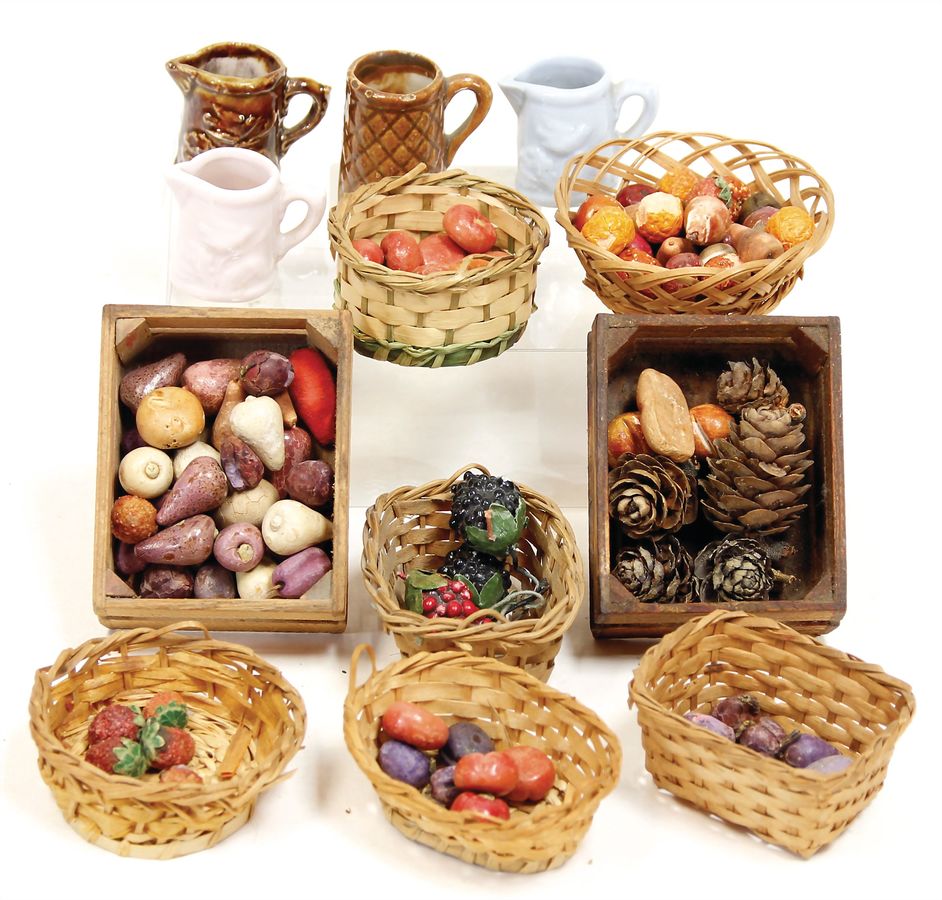 8 baskets with bread and fruits, good condition

---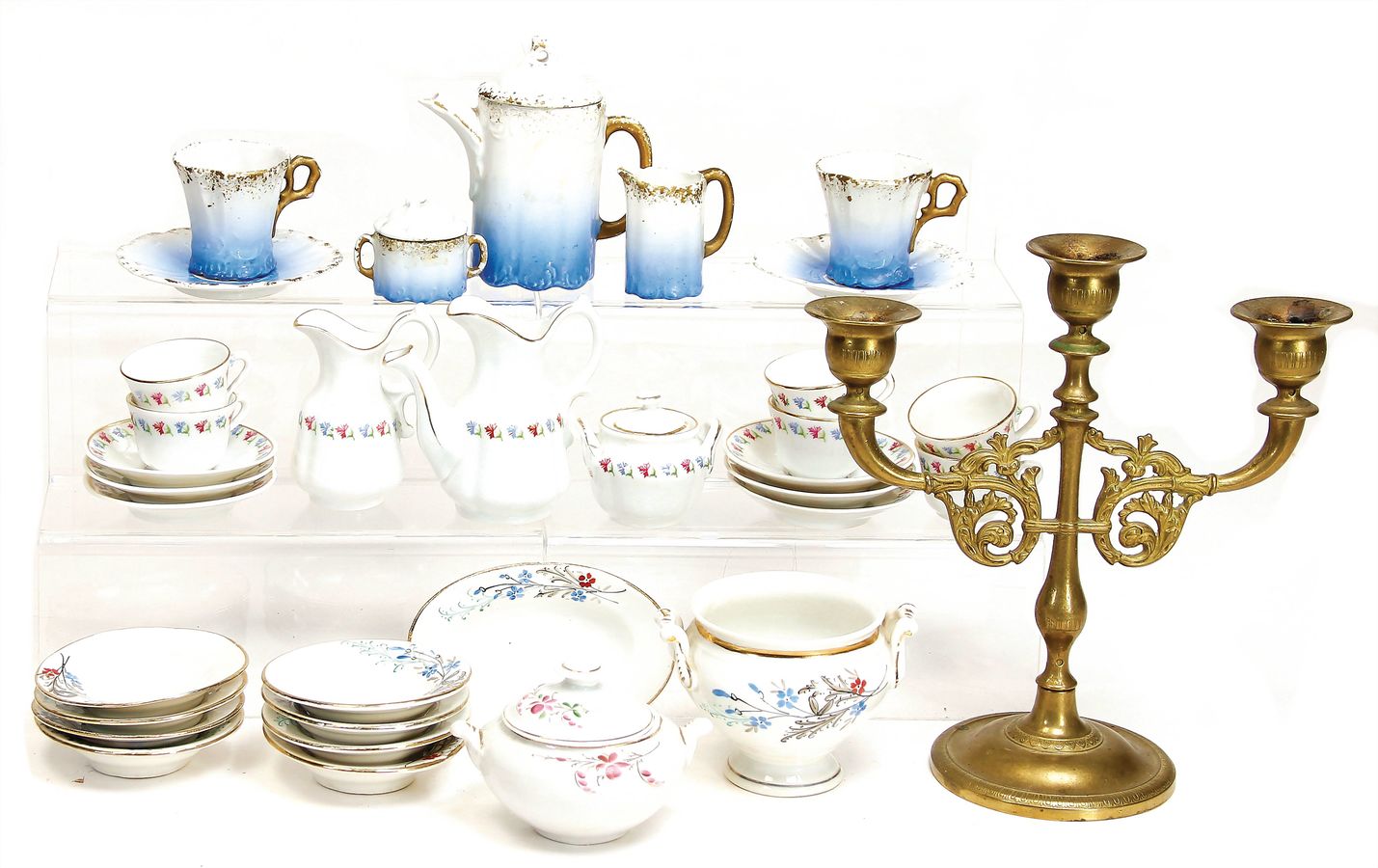 mixed lot of porcelain service parts, dinner service, flower decor, plates with a diameter of 8 cm, not complete, 2 coffee services, 1 lamp, brass, 3-armed, 22 cm

---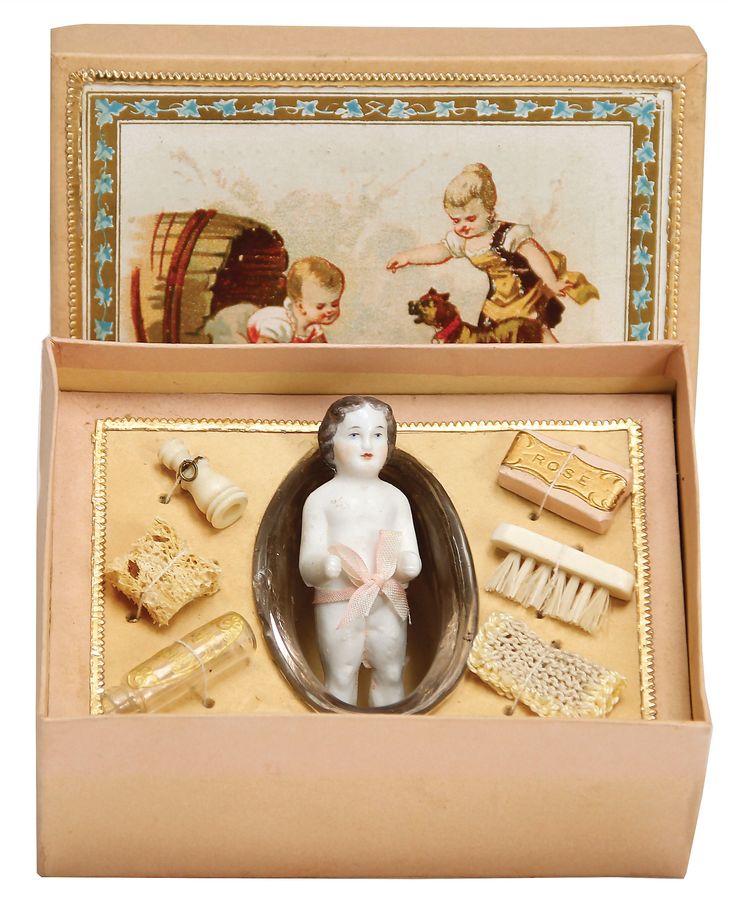 doll's wash set with a small all-bisque doll, 6.5 cm, glass bathtub, ivory accessories, in original box, with multicolored lithographed cover picture

---
mixed lot of Christmas decoration, 4 trees, 18-30 cm, sledge with angel and reindeer, 23 cm, 1 the child Jesus made of wax, 1 set of glitter balls with point, in original box, for a smaller tree, height : with point 10 cm

---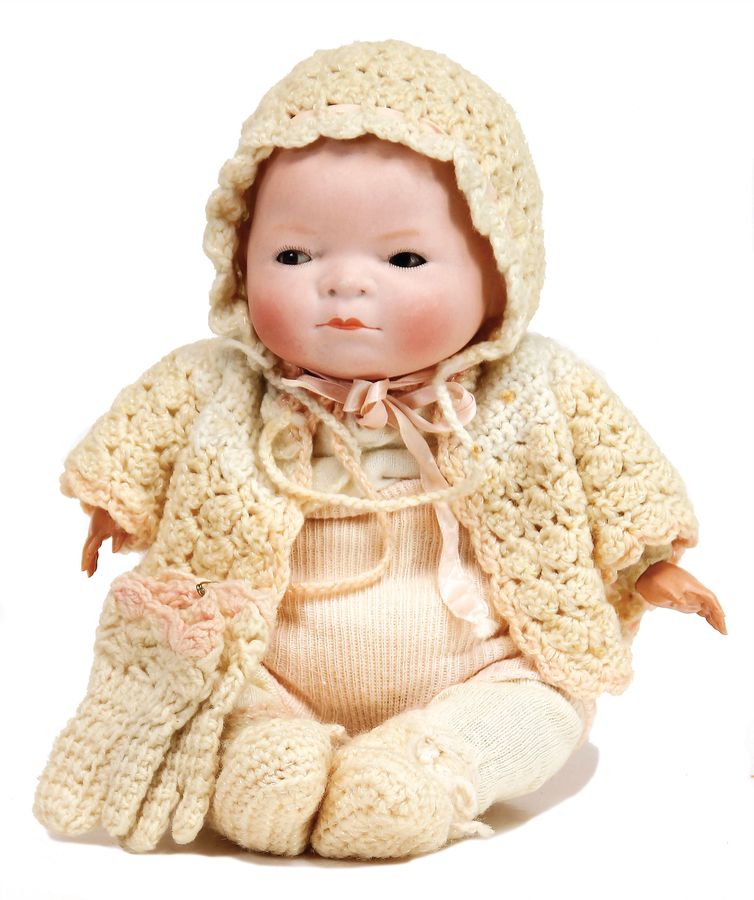 Bye Lo baby, Grace S. Putnam, Made in Germany, bisque head with flange neck, brown sleepy eyes, eye mechanism is sitting a little bit deep, closed mouth, fabric body, celluloid hands, old clothes, please note that it is risky to transport the eye mechanism

---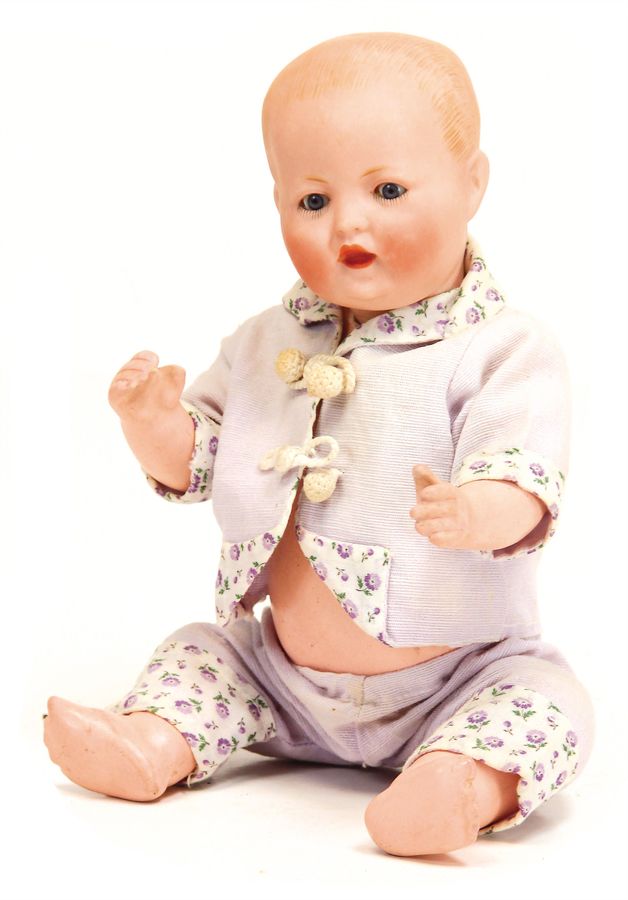 biscuit porcelain character baby, marked C.P. 202 28, 27 cm, full head, painted hair, blue sleepy eyes, opened/closed mouth, dimple, please note that it is risky to transport the eye mechanism, sitting baby body, with different postures of hands, slightly sticky-out toe

---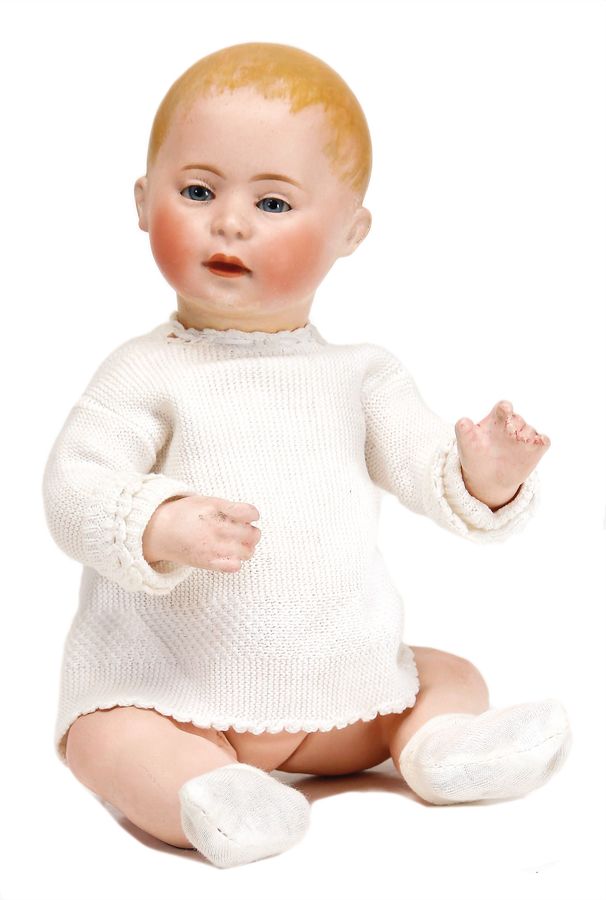 biscuit porcelain character baby, 30 cm, socket head, blue sleepy eyes, opened/closed mouth, head was restored, sitting baby body, please note that it is risky to transport the eye mechanism

---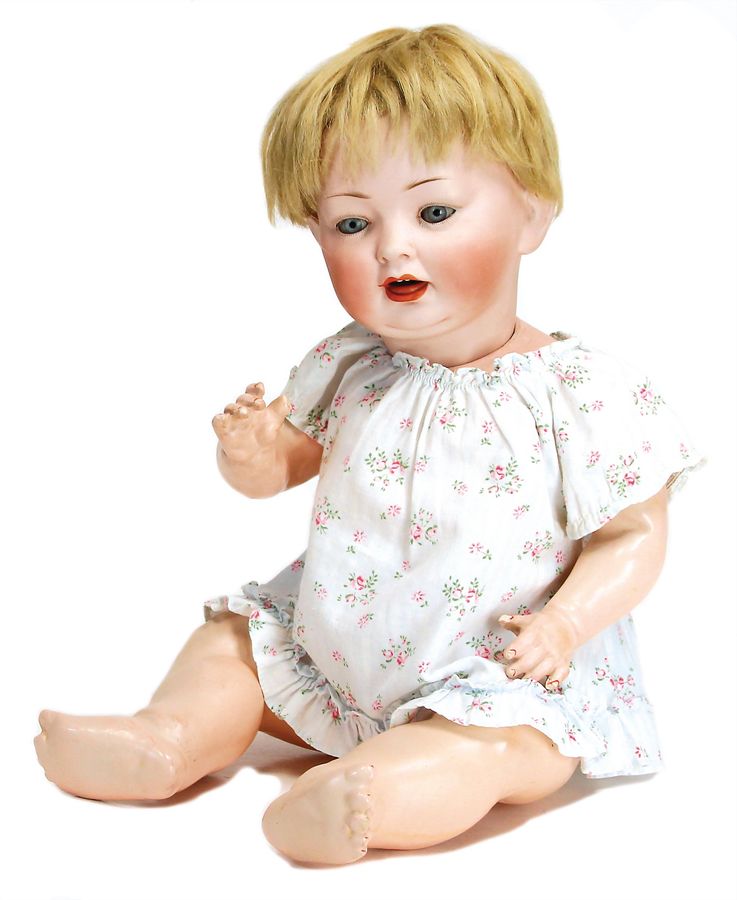 HERTEL SCHWAB & CO.
biscuit porcelain character baby, 152 10, 44 cm, blue sleepy eyes, opened mouth, upper teeth, intimitated tongue, sitting baby body, slightly sticky-out toe, old clothes, old mohair wig

---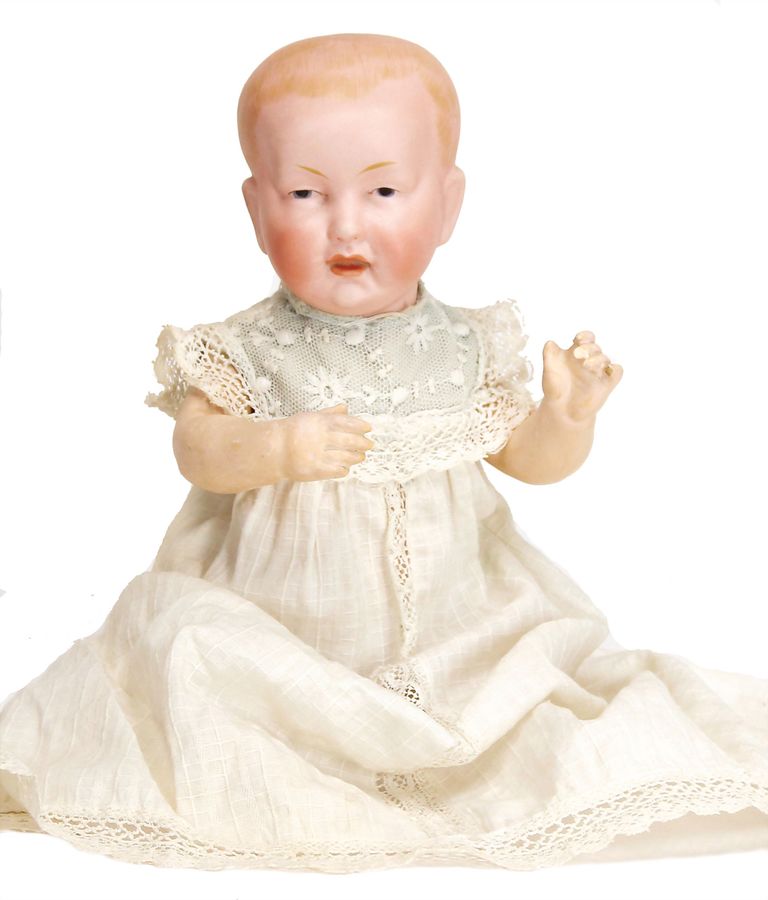 biscuit porcelain character baby, marked B 2/0 Germany, 26 cm, bisque socket head, painted hair, blue painted eyes, opened/closed mouth, sitting baby body, with different postures of hands, slightly sticky-out toe

---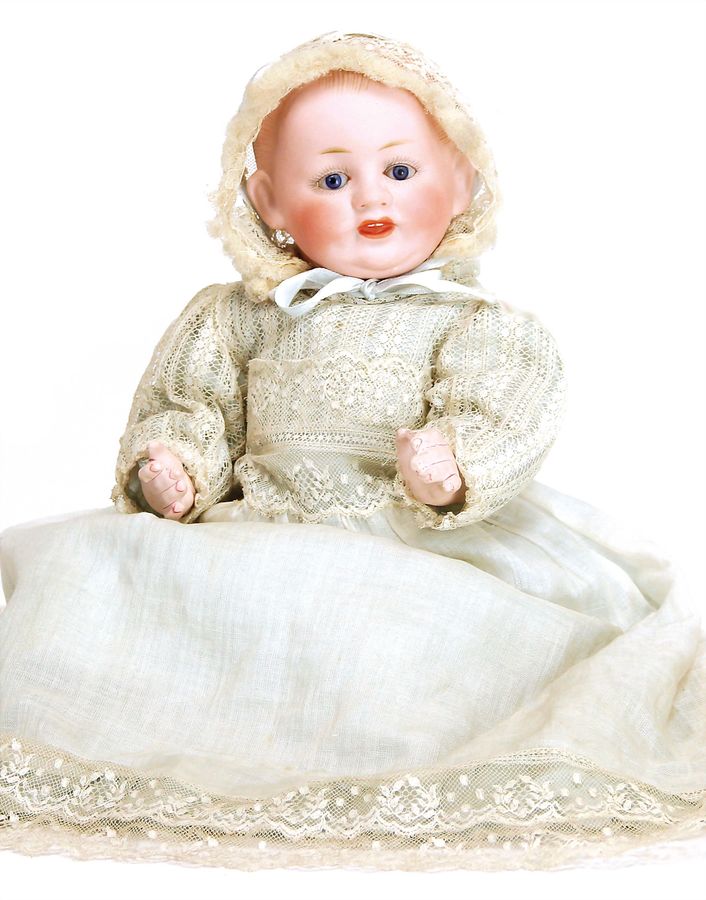 FRANZ SCHMITT & CO.
1271/25, biscuit porcelain character doll, 25 cm, socket head, painted hair, blue sleepy eyes, opened/closed mouth, intimitated teeth and tongue, sitting baby body, nice old clothes, nice size

---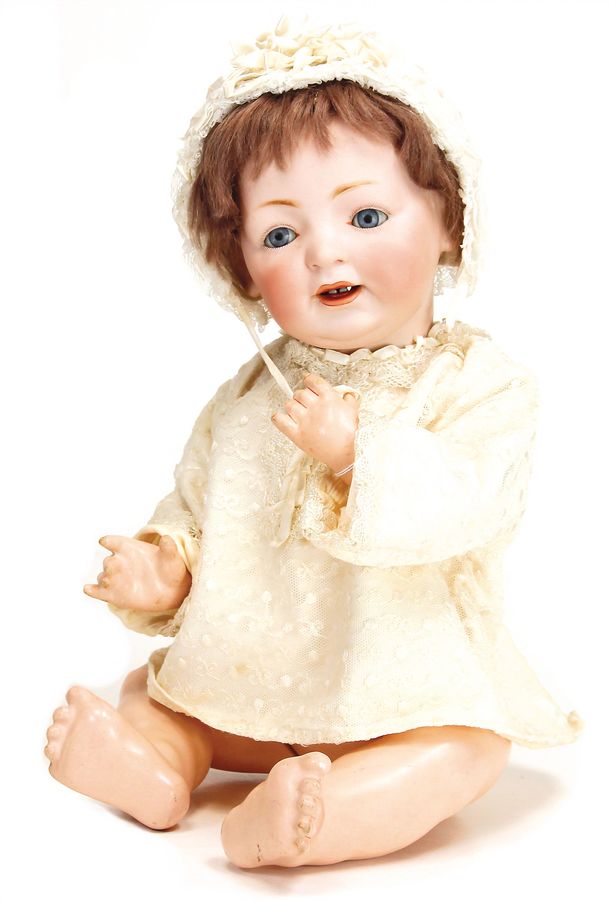 JDK KESTNER
226, biscuit porcelain character baby, 44 cm, blue sleepy eyes, opened mouth, upper teeth, old mohair wig, old jointed body, with different postures of hands, slightly sticky-out toe, the original plaster cover was n't removed, please note that it is risky to transport the eye mechanism, rare with orig. clothes and hood

---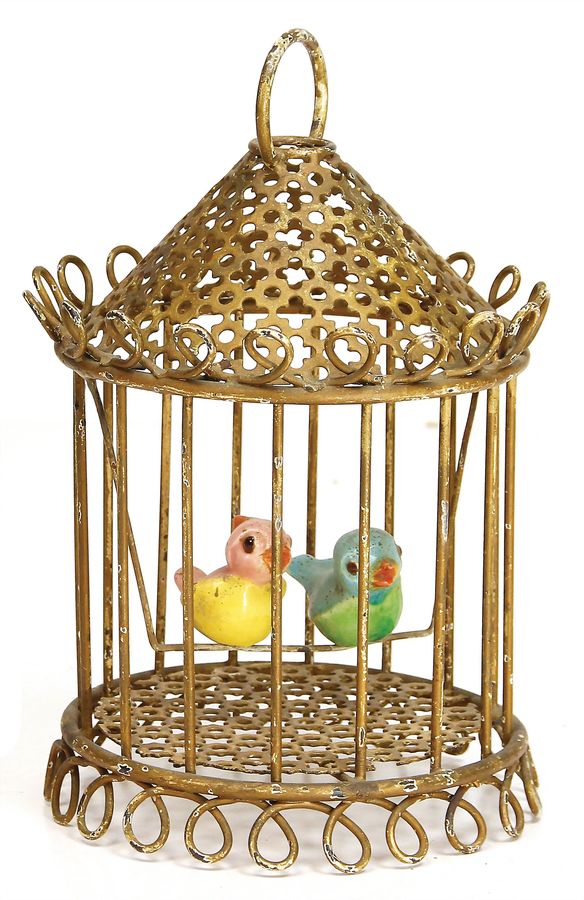 birdcage, sheet metal, wire, 24 cm, 2 wooden birds, good condition

---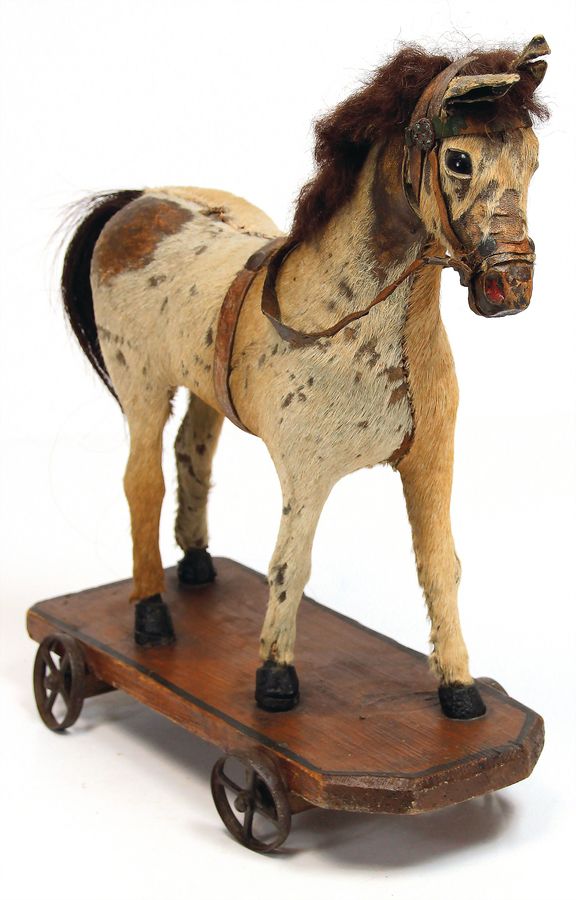 draft horse, pelt covered, mounted on a wooden board, with cast spoke wheels, around 1900, glass eyes, 33 cm, pelt is caused of old age at some places worn

---