Summerauction - Online - Vol. 1
Online Catalog
Complete catalog (1249 items)
---
---
No. 713
Summerauction - Online - Vol. 1
Limit: 0 €
music boxes, 6 pieces, sheet metal, stuck with lithographed paper, lithography partially with abrasion, with hand crank, clock mechanism is intact, with a diameter of : 6.5 - 8 cm

---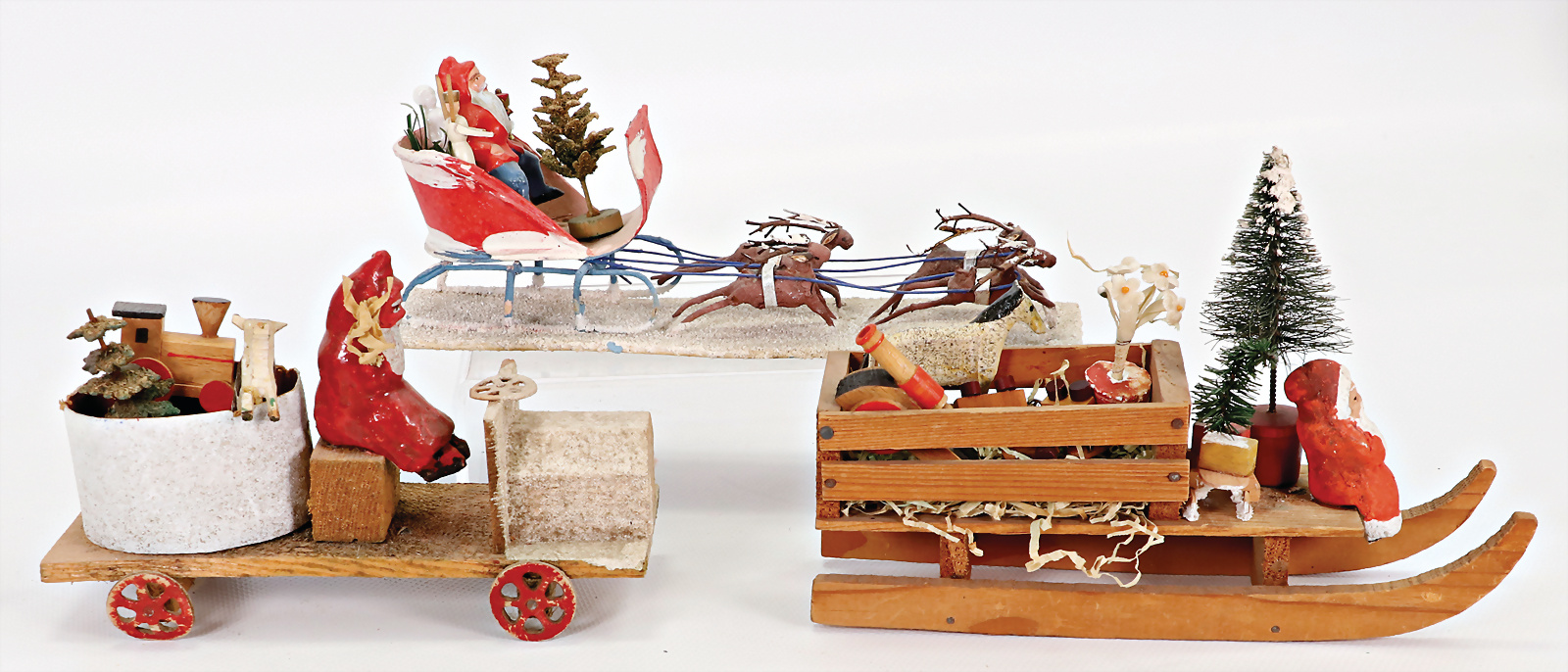 No. 714
Summerauction - Online - Vol. 1
Limit: 0 €
Christmas tree decoration, Santa Claus automobile, 16.5 cm, sledge with Santa Claus, sledge with reindeer, 22 cm

---

No. 715
Summerauction - Online - Vol. 1
Limit: 0 €
Christmas tree decoration, candy container, cardboard cone, early, crepe paper at the top is missing, 14 cm

---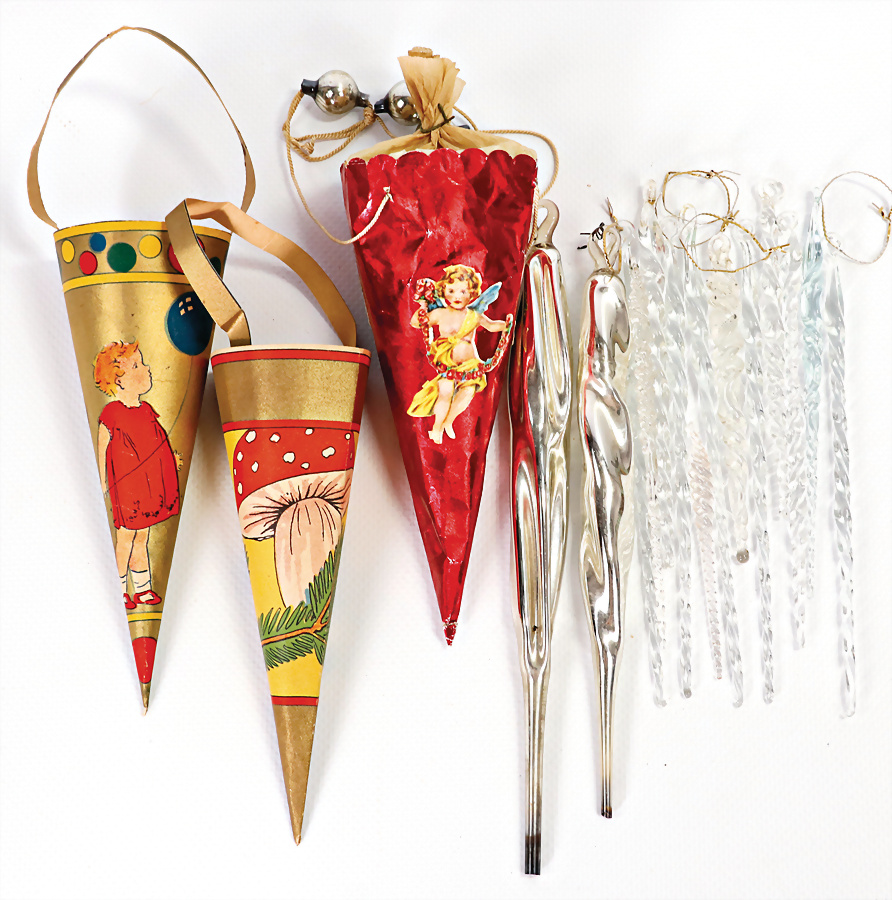 No. 716
Summerauction - Online - Vol. 1
Limit: 0 €
Christmas tree decoration, 3 pieces, school cones, candy container, some cone

---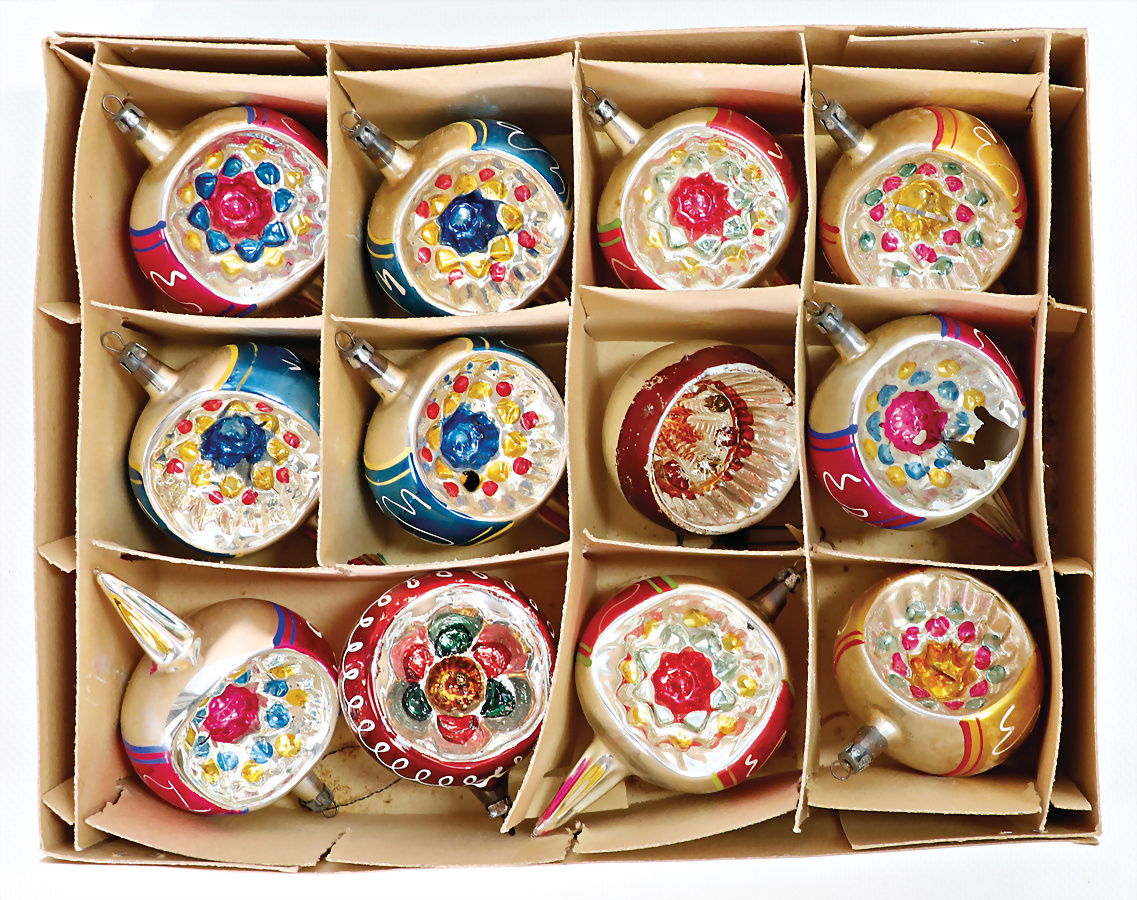 No. 717
Summerauction - Online - Vol. 1
Limit: 0 €
Christmas tree decoration, mirror glass, reflector balls, height: 5.5-10 cm

---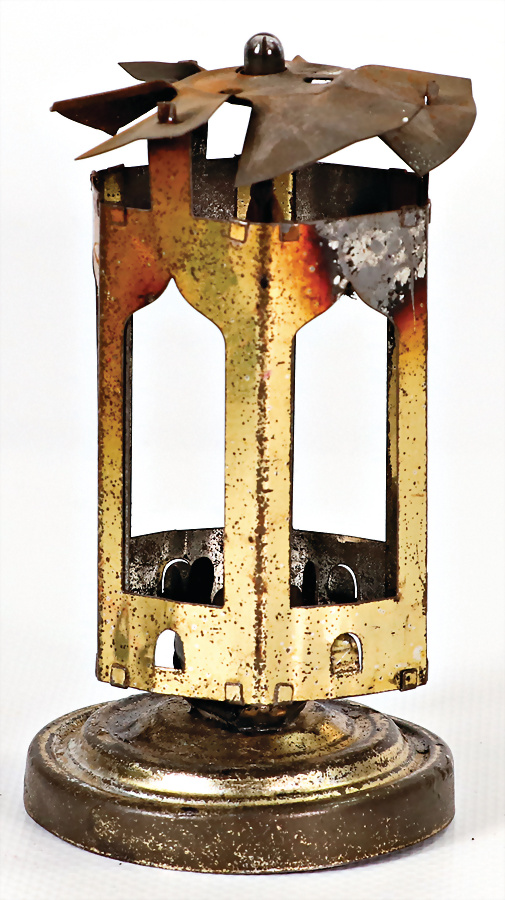 No. 719
Summerauction - Online - Vol. 1
Limit: 0 €
Christmas tree decoration, candlestick, sheet metal, light up with candles, with updraft windmill, height: 11 cm

---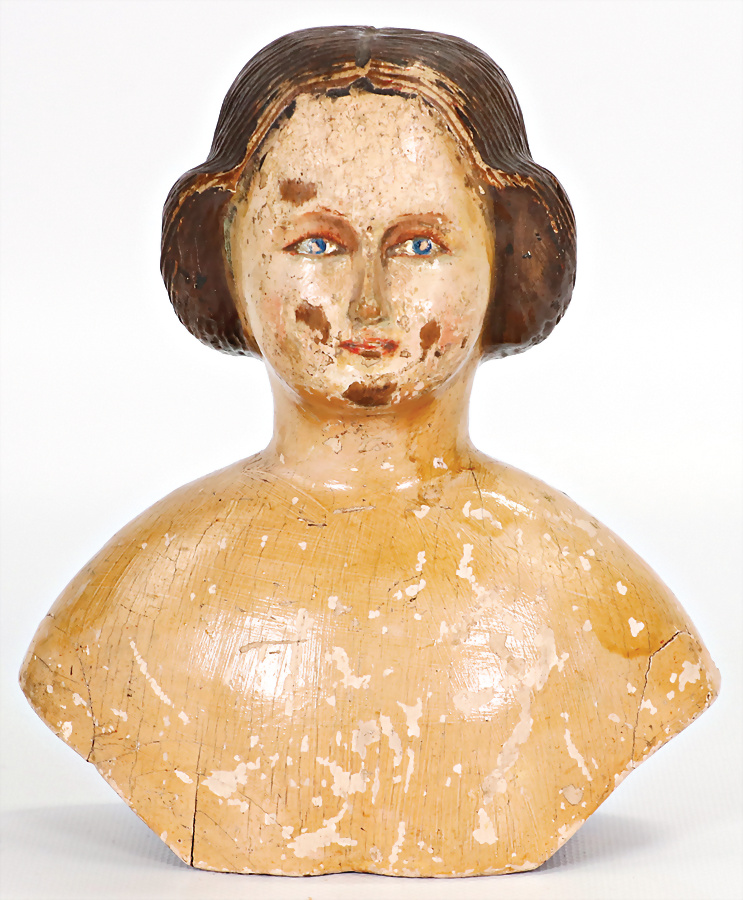 No. 720
Summerauction - Online - Vol. 1
Limit: 0 €
doll's shoulder headed doll, wood, colored, height: 17 cm, c. 1860, painted eyes, carved hair, back for put on a hairpiece, caused of old age the color is wear down

---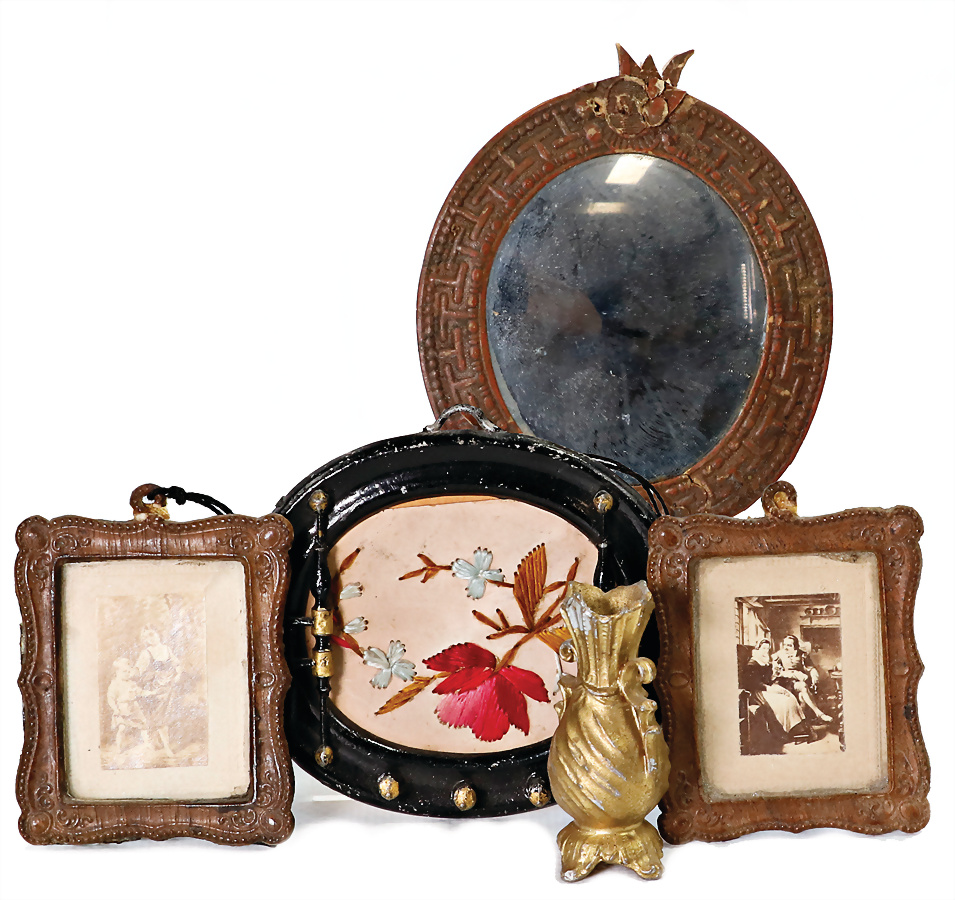 No. 721
Summerauction - Online - Vol. 1
Limit: 0 €
dollhouse decoration pieces, coatrack holder, with embroidery picture, 8 cm, temple at the side can be foldout, 2 pictures, tin vase

---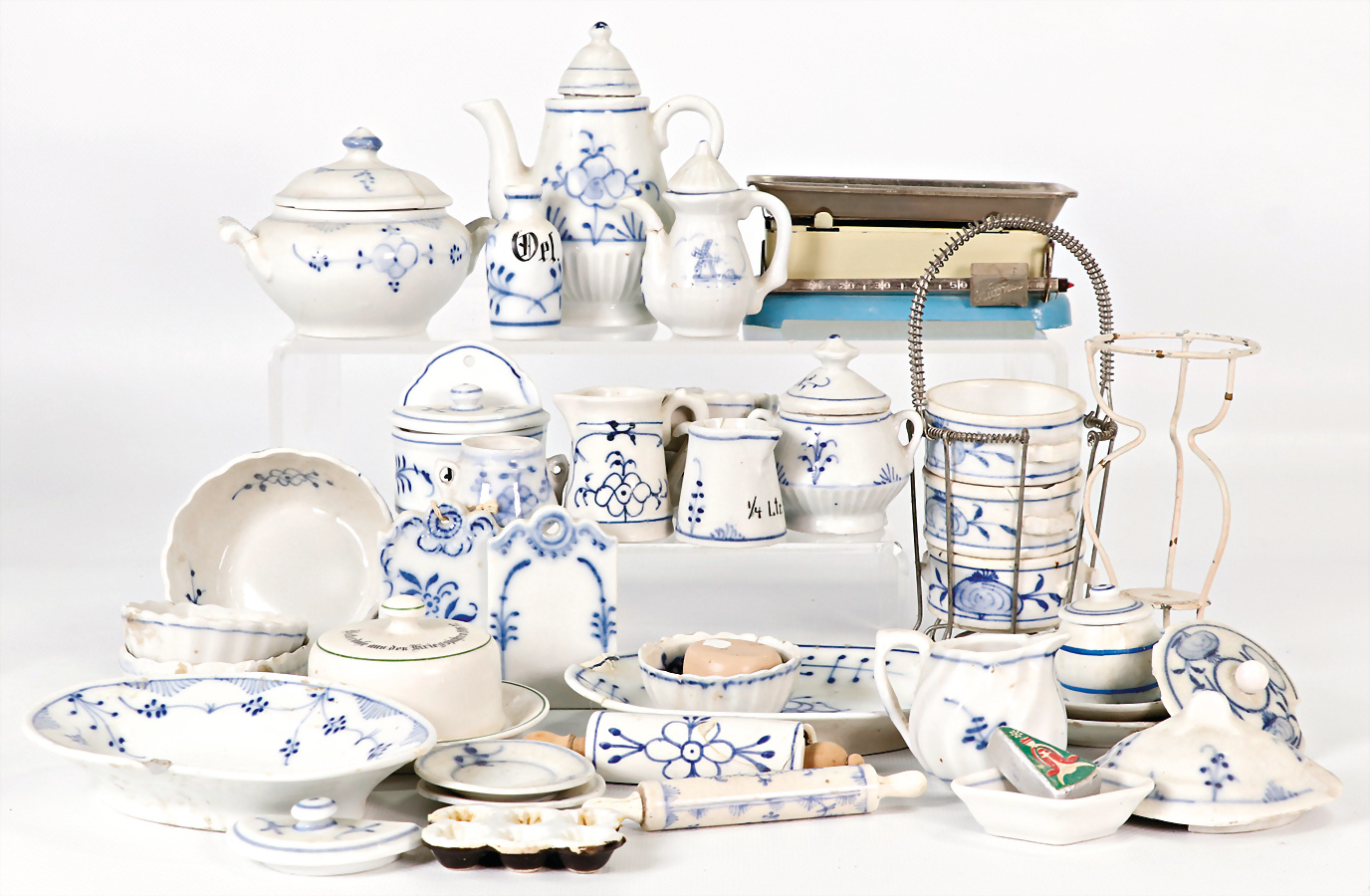 No. 722
Summerauction - Online - Vol. 1
Limit: 0 €
mixed lot of dollhouse decoration pieces, porcelain, blue/white, jugs, spice doses, boards, jar, meal carrier, partially good, partially damaged, 1 butter dish, small scales

---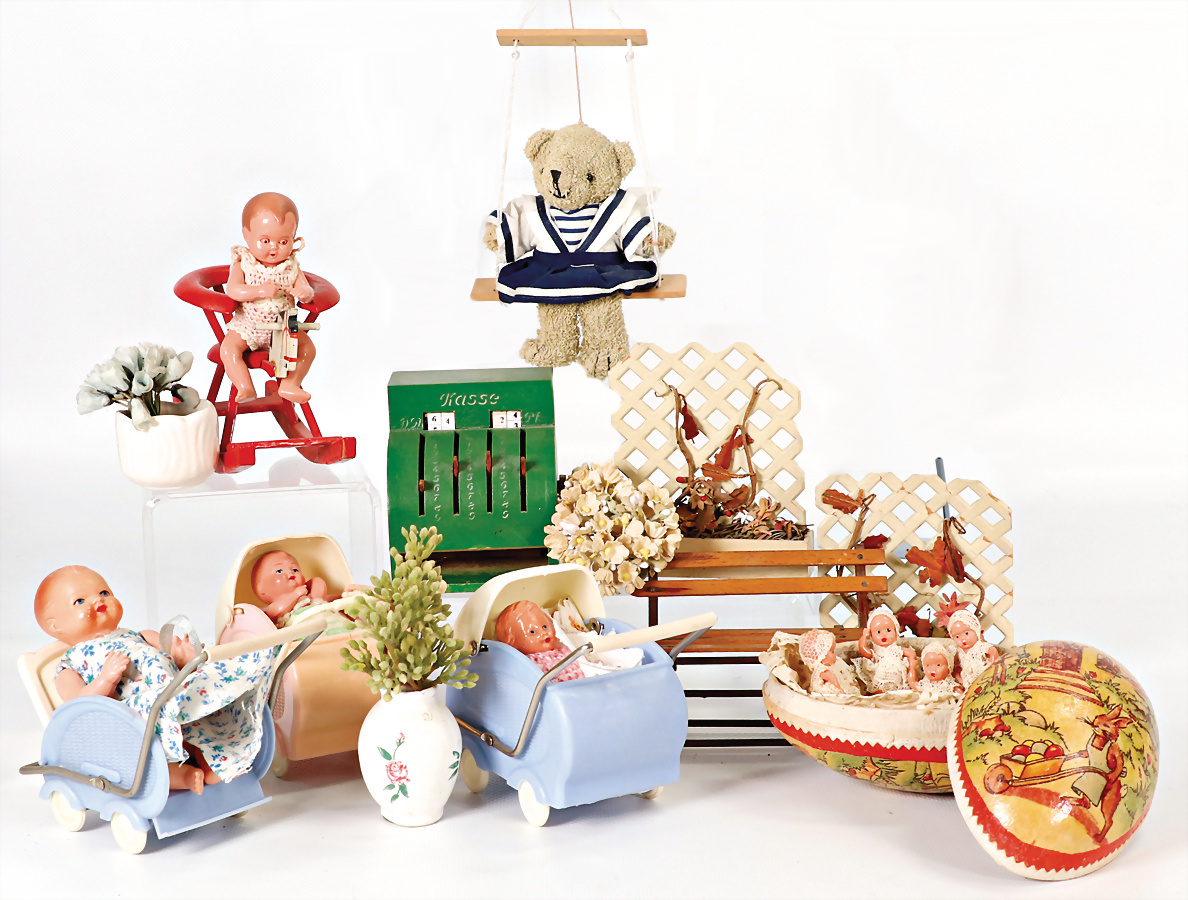 No. 723
Summerauction - Online - Vol. 1
Limit: 0 €
treasure chest, small celluloid dolls, rocking horse, pram, till, cardboard egg, small parts

---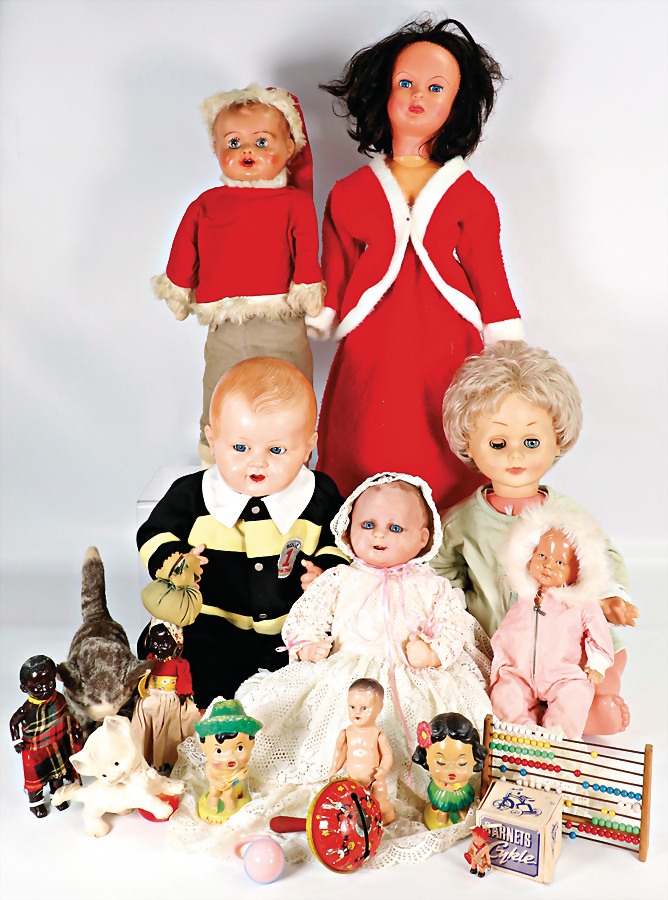 No. 724
Summerauction - Online - Vol. 1
Limit: 0 €
treasure chest, dolls, different sizes, among it KÄMMER & REINHARDT, character head with flange neck baby, impish eyes, fabric body, celluloid arms and legs, some plastic dolls, small parts, please note that it is risky to transport the eye mechanism

---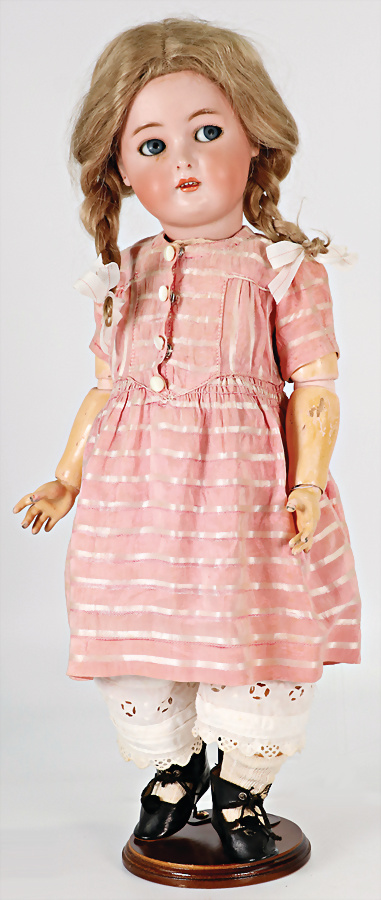 No. 725
Summerauction - Online - Vol. 1
Limit: 0 €
SIMON & HALBIG / KÄMMER & REINHARDT
bisque porcelain head doll, front marked with W, 48 cm, socket head, blue impish eyes, opened mouth, upper teeth, pierced ears, jointed body, legs were retouched, old mohair wig, rubbers are a bit loosely
---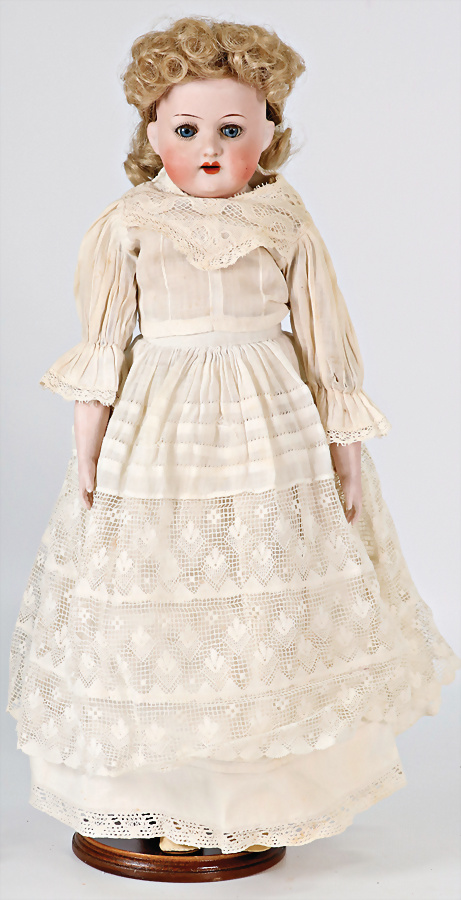 No. 726
Summerauction - Online - Vol. 1
Limit: 0 €
bisque porcelain shoulder headed doll, marked 275 9-0, 42 cm, blue sleepy eyes, opened mouth, upper teeth, dimple at chin, oilcloth body, porcelain forearms, old clothes, wig is more recent

---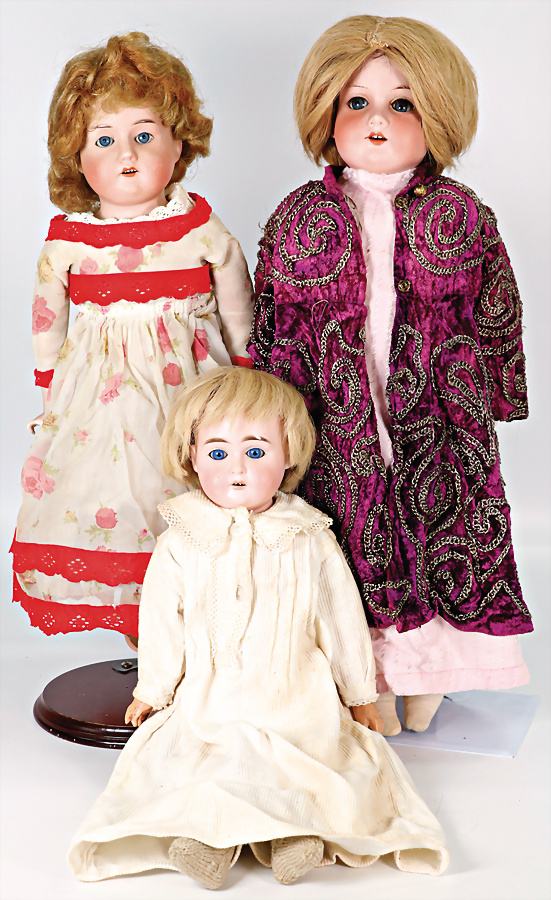 No. 727
Summerauction - Online - Vol. 1
Limit: 0 €
3 pieces, bisque porcelain shoulder headed doll, 50 cm, marked MARBEL Germany, the glass eyes were afterwards fix inset, opened mouth, upper teeth, 2 teeth were supplemented, fabric body, porcelain forearms, ARMAND MARSEILLE 370, 50 cm, blue sleepy eyes, opened mouth, upper teeth, dimple at chin, leather body, bisque forearms, fabric legs, real hair wig, a bit too big, ARMAND MARSEILLE 3200, 43 cm, blue sleepy eyes, opened mouth, upper teeth, dimple at chin, tear on the forehead, fabric body with some patches with flaws

---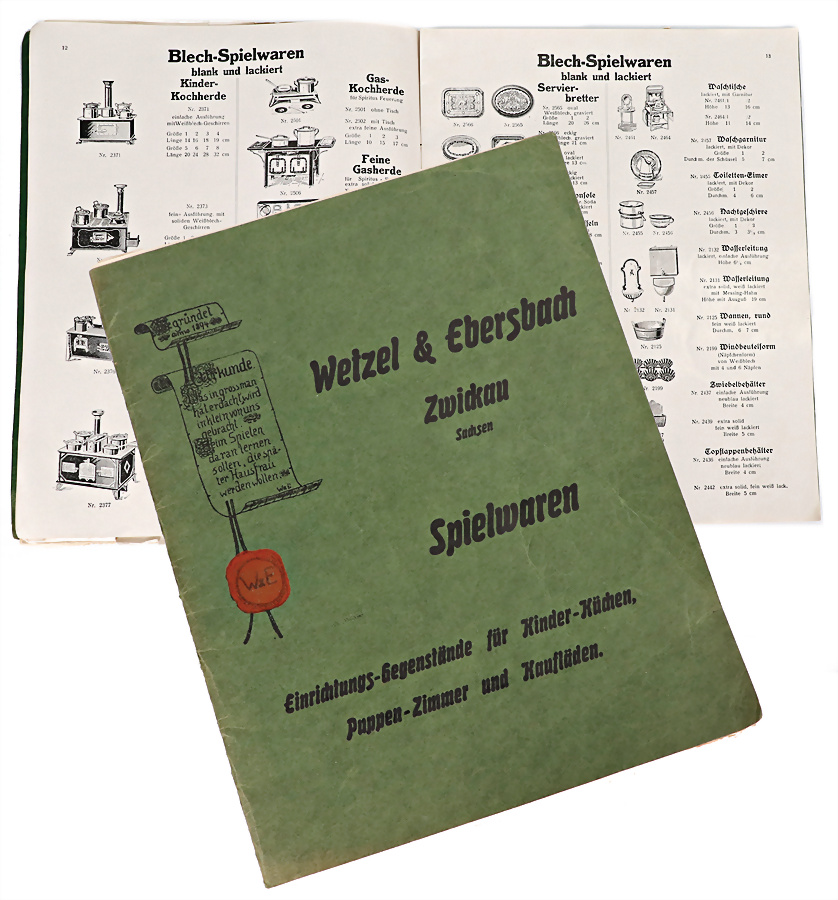 No. 728
Summerauction - Online - Vol. 1
Limit: 0 €
WEITZEL & EBERSBACH
Zwickau / Saxony, illustrated main catalog, edition spring 1930, children's kitchenware, with price list, wooden toys, porcelain toys, 42 pages
---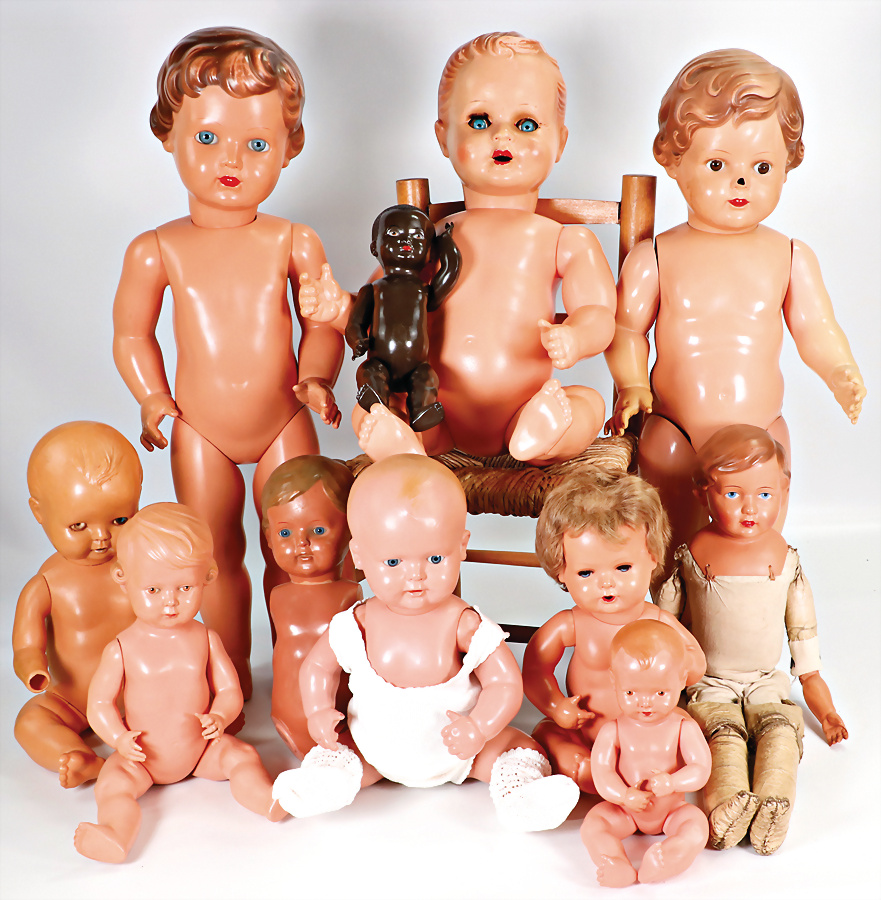 No. 729
Summerauction - Online - Vol. 1
Limit: 0 €
mostly SCHILDKRÖT
mixed lot celluloid and Tortulon, among it Ursel, 64 cm, Strampelchen, Inge, shoulder headed doll, partially patches with flaws, small colored doll, 27½ cm, Christel, sun tan, without arms and legs, please note that it is risky to transport the celluloid
---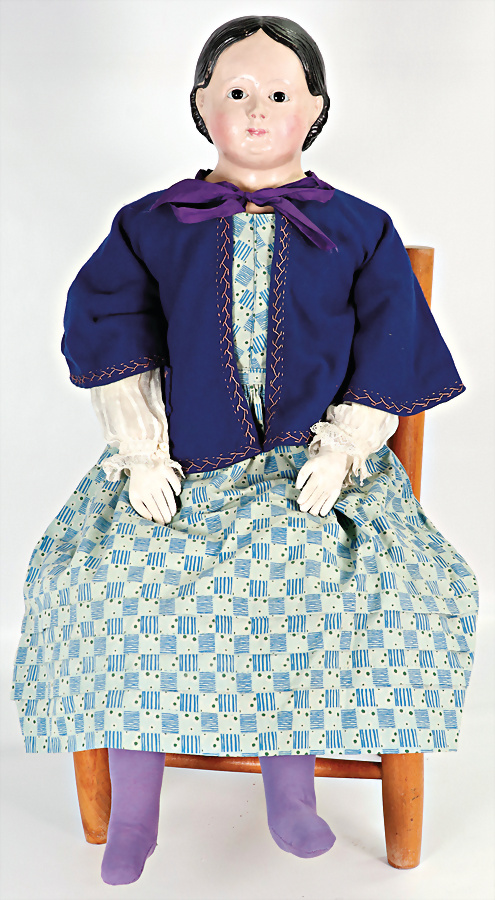 No. 730
Summerauction - Online - Vol. 1
Limit: 0 €
papier mâché shoulder headed doll, 71 cm, exceptional size, dark, without pupil, fix inset glass eyes, fine modelled hair, visible ears, fabric body, body is partially worn, the leather arms were supplemented, head was retouched

---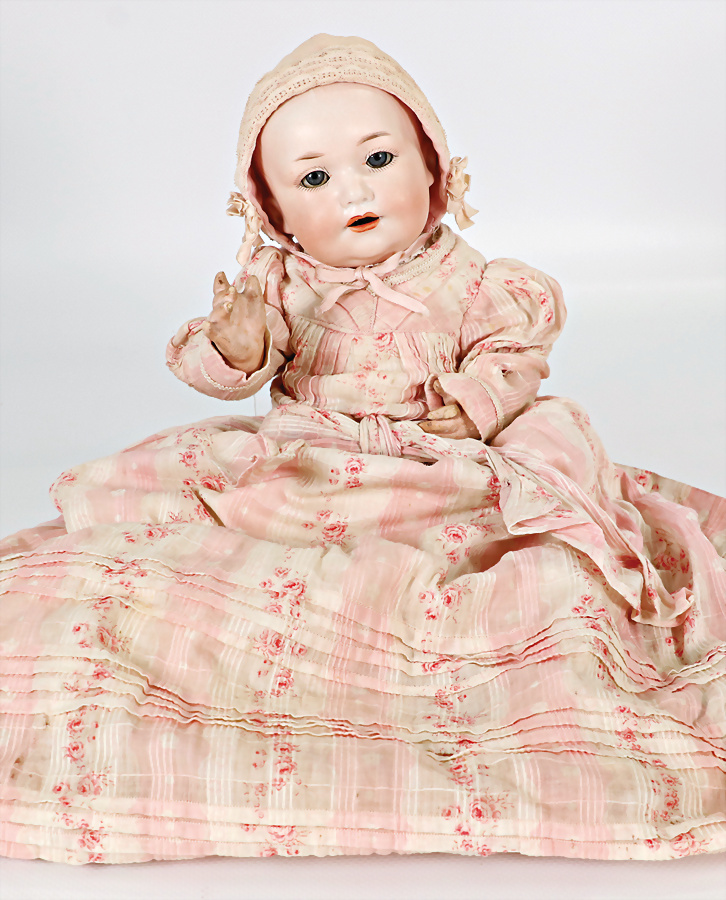 No. 731
Summerauction - Online - Vol. 1
Limit: 0 €
ARMAND MARSEILLE
970, bisque porcelain full head baby, 28 cm, blue sleepy eyes, opened mouth, upper teeth, baby with sitting body with different postures of hands and slightly stick-out toe, please note that it is risky to transport the eye mechanism
---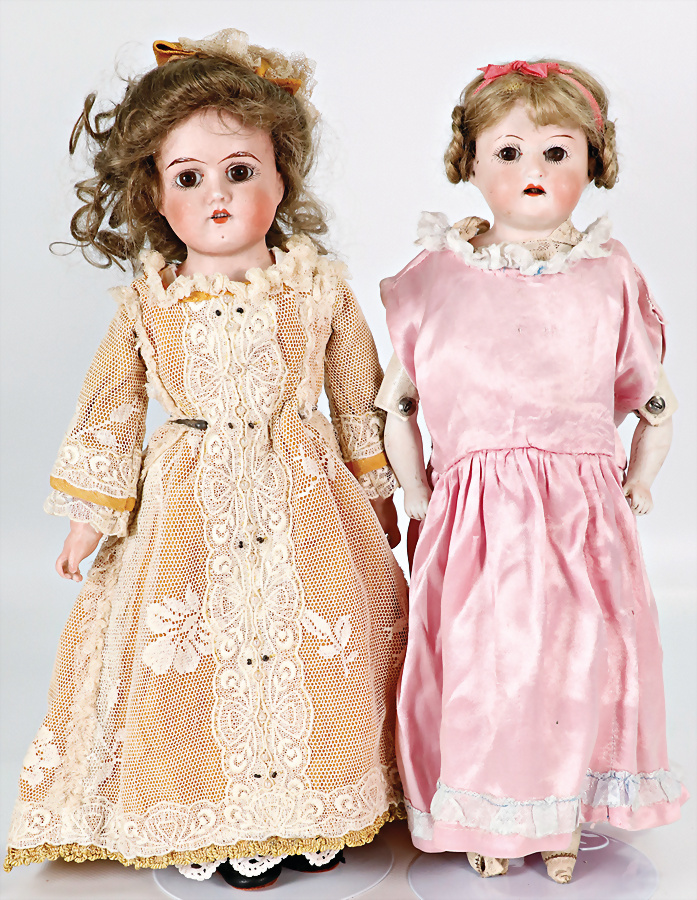 No. 732
Summerauction - Online - Vol. 1
Limit: 0 €
2 pieces, bisque porcelain shoulder headed dolls, 35 cm, fix inset brown glass eyes, opened mouth, upper teeth, dimple at chin, mohair wig, more recent, fix glued on, from outside are no flaws visible, jointed body, porcelain forearms, bisque porcelain head doll, marked 275, 36 cm, the glass eyes were afterwards fix inset, opened mouth, upper teeth, mohair wig, leather body, porcelain forearms, 1 tiptoe, filling is missing

---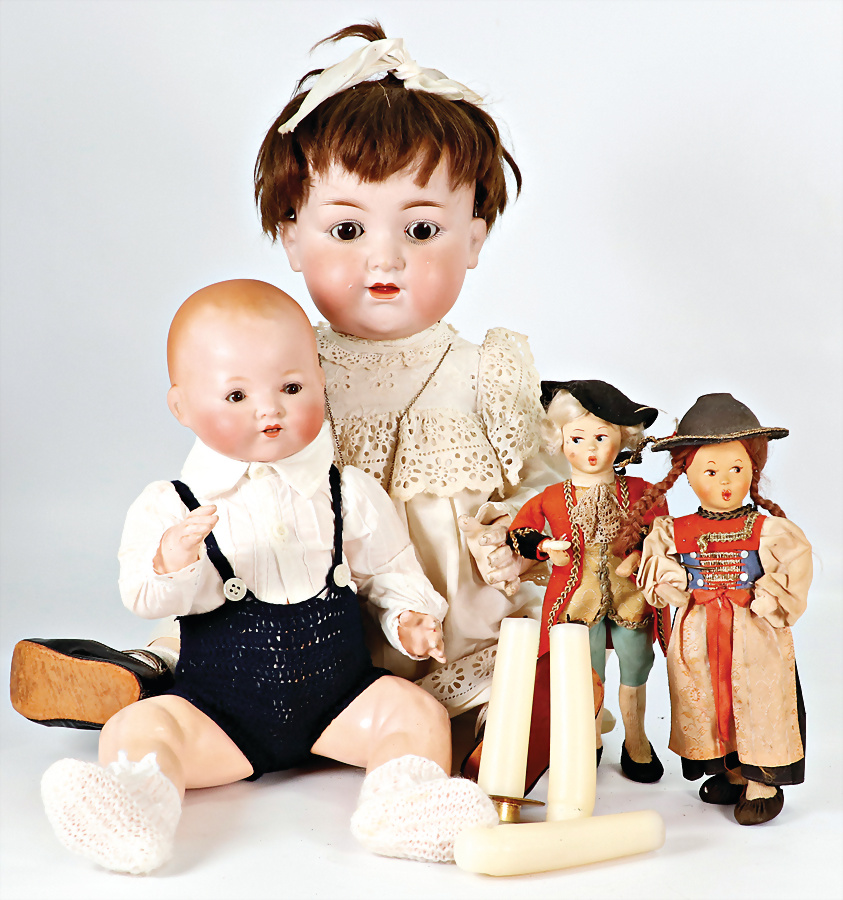 No. 733
Summerauction - Online - Vol. 1
Limit: 0 €
mixed lot of dolls, ARMAND MARSEILLE, 351 - 3½, full head, brown sleepy eyes, opened mouth, upper teeth, baby with sitting body, 41 cm, please note that it is risky to transport the eye mechanism, ARMAND MARSEILLE, 990, size 30, 55 cm, the brown glass eyes were afterwards fix inset, opened mouth, teeth and tongue, baby with sitting body, 1 doll made of plastic

---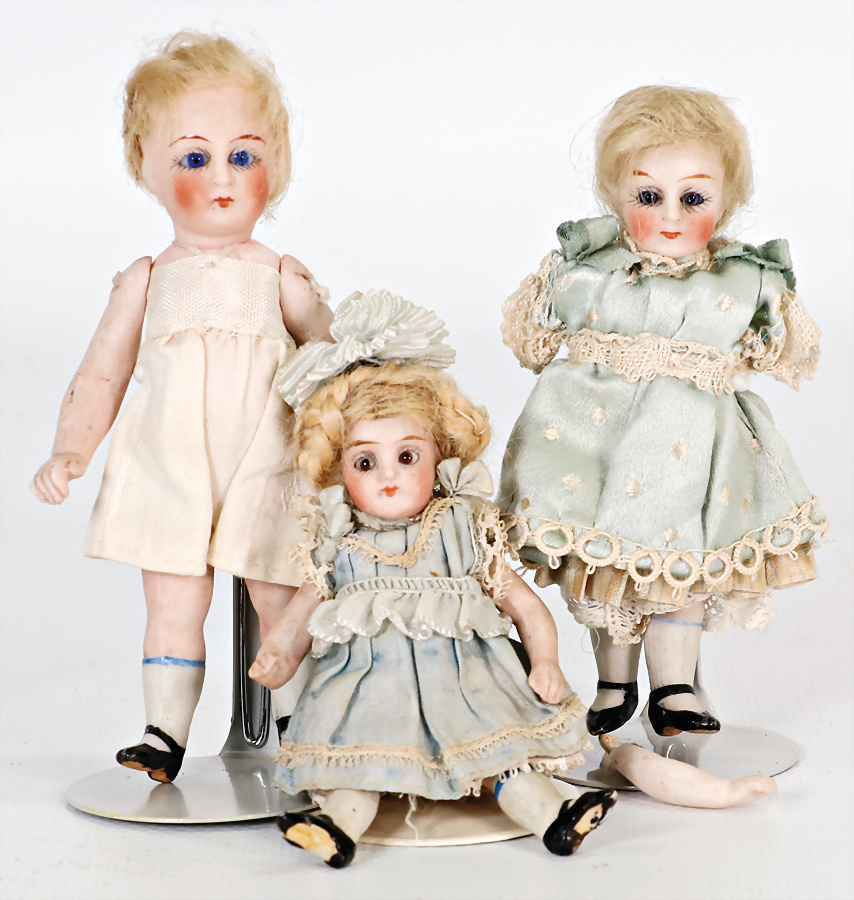 No. 734
Summerauction - Online - Vol. 1
Limit: 0 €
3 pieces, bisque porcelain head dolls, all-bisque, 11.5 cm, socket head, fix inset blue glass eyes, arms were supplemented, 9.5 cm, fix head, fix inset glass eyes, jointed arms and legs, good condition, 10 cm, fix head, fix inset blue glass eyes, 1 arm is missing, 1 arm is loose add

---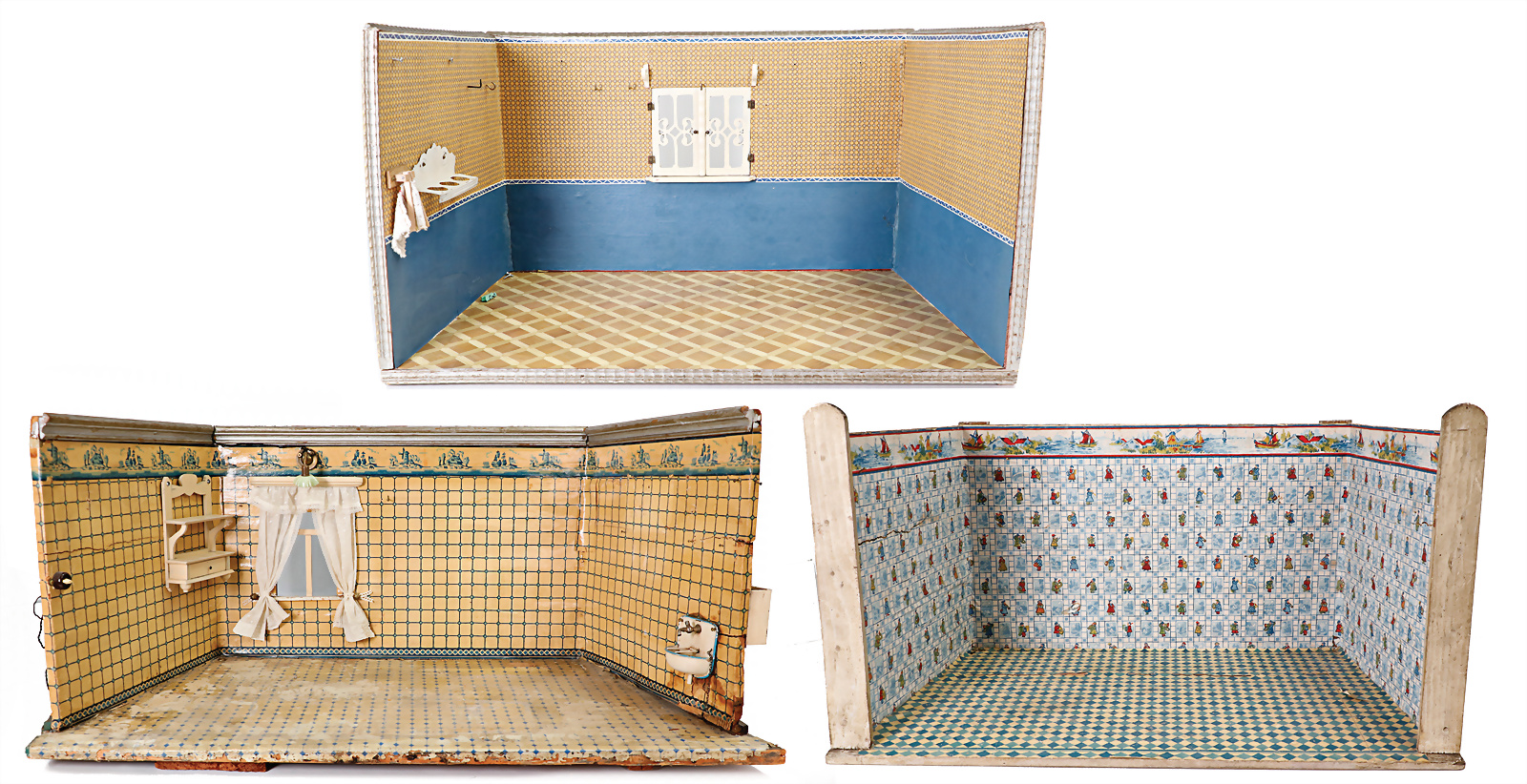 No. 735
Summerauction - Online - Vol. 1
Limit: 0 €
3 pieces, dollhouse casing, kitchen, Delft tile pattern, width: 78 cm, height: 37 cm, 1 windows, Delft tile pattern, 1 washbasin, 1 kitchen, width: 58 cm, height: 33 cm, old wallpaper, 1 kitchen, width: 65 cm, height: 36 cm, please note the transport expenditure, rather for collection by the customer

---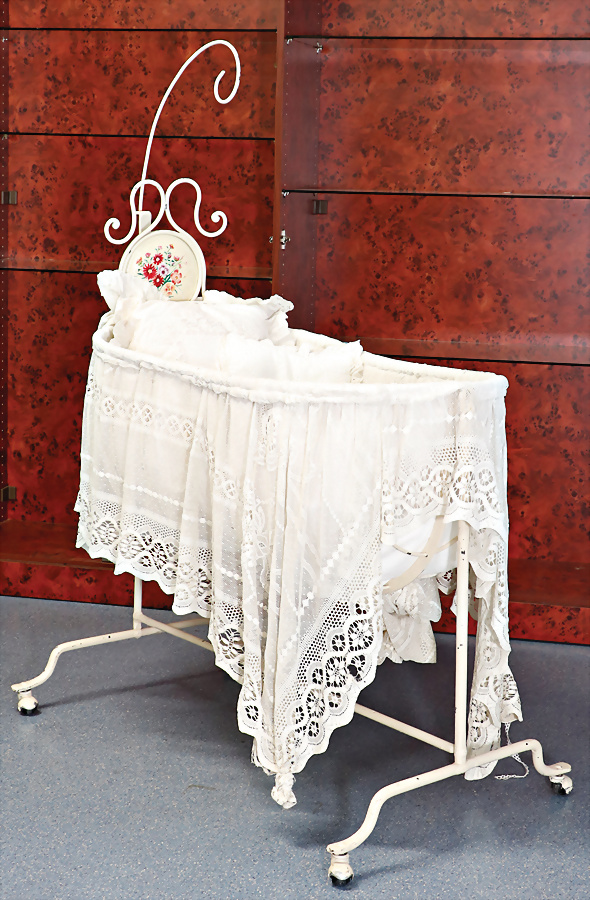 No. 736
Summerauction - Online - Vol. 1
Limit: 0 €
big cradle, wrought iron , height: 140 cm, white painted over, only for collection by the customer

---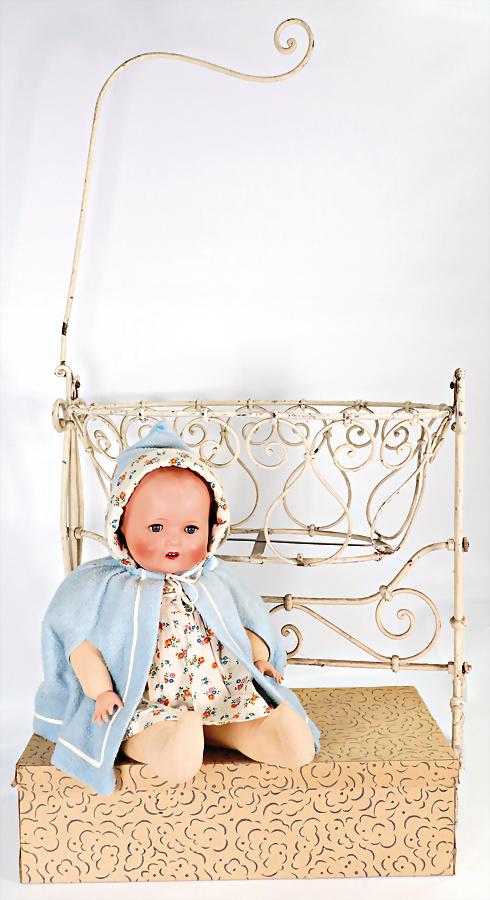 No. 737
Summerauction - Online - Vol. 1
Limit: 0 €
doll cradle, wrought iron, height: 100 cm, width: 55 cm, scratches on the paintwork, with 1 baby doll, SONNEBERG in original box, please note that it is risky to transport the eye mechanism, please note the transport expenditure

---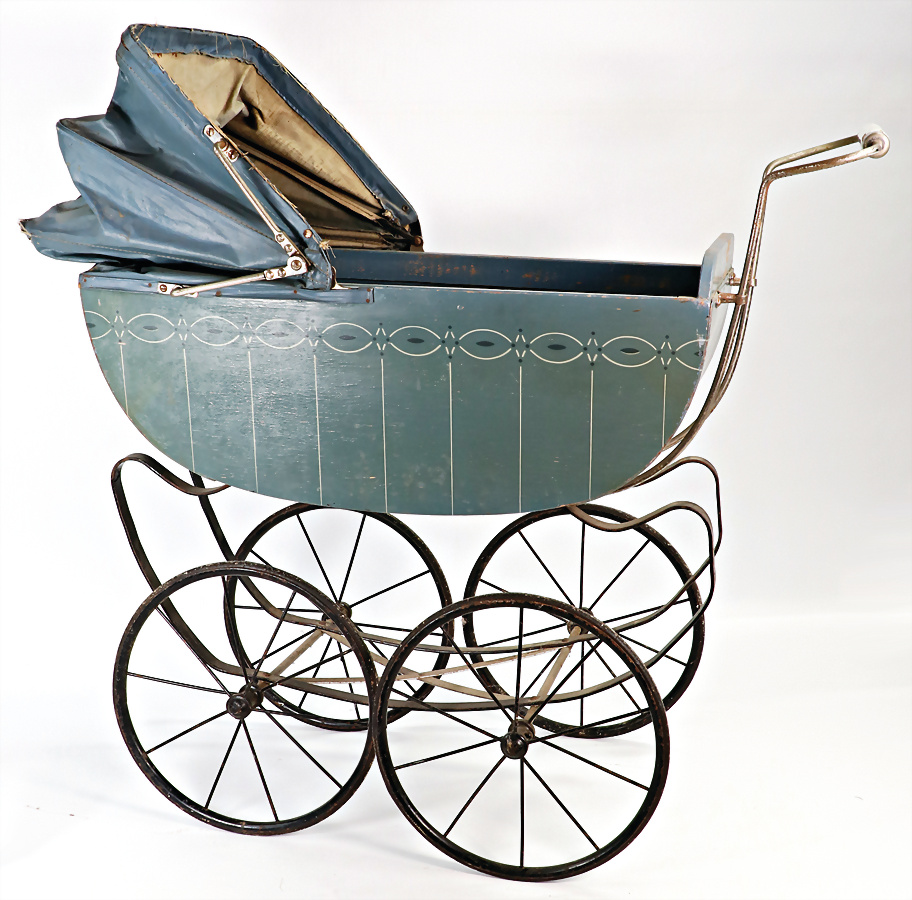 No. 738
Summerauction - Online - Vol. 1
Limit: 0 €
doll's pram, lenght: 70 cm, original hood, original painting, worn, swith cratches on the paintwork, please note the transport expenditure

---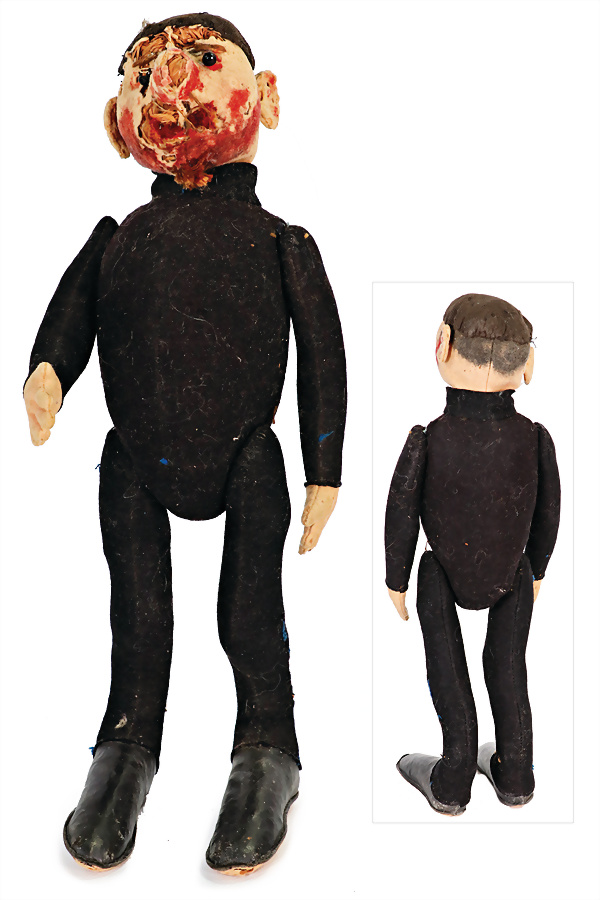 No. 739
Summerauction - Online - Vol. 1
Limit: 0 €
STEIFF
felt-figure, black felt-clothes, long, slim leather shoes, 5-fold jointed, red discolorations in face, headpiece over sewed, single patched up places, strongly used condition, 35 cm, in need of restoration
---
No. 740
Summerauction - Online - Vol. 1
Limit: 0 €
STEIFF
caricature figure, probably '20s, man with hat, fabric, wire body, wooden legs, 35 cm, felt, button eyes, without button, strong felt damages in face, small felt damages, hand and body
---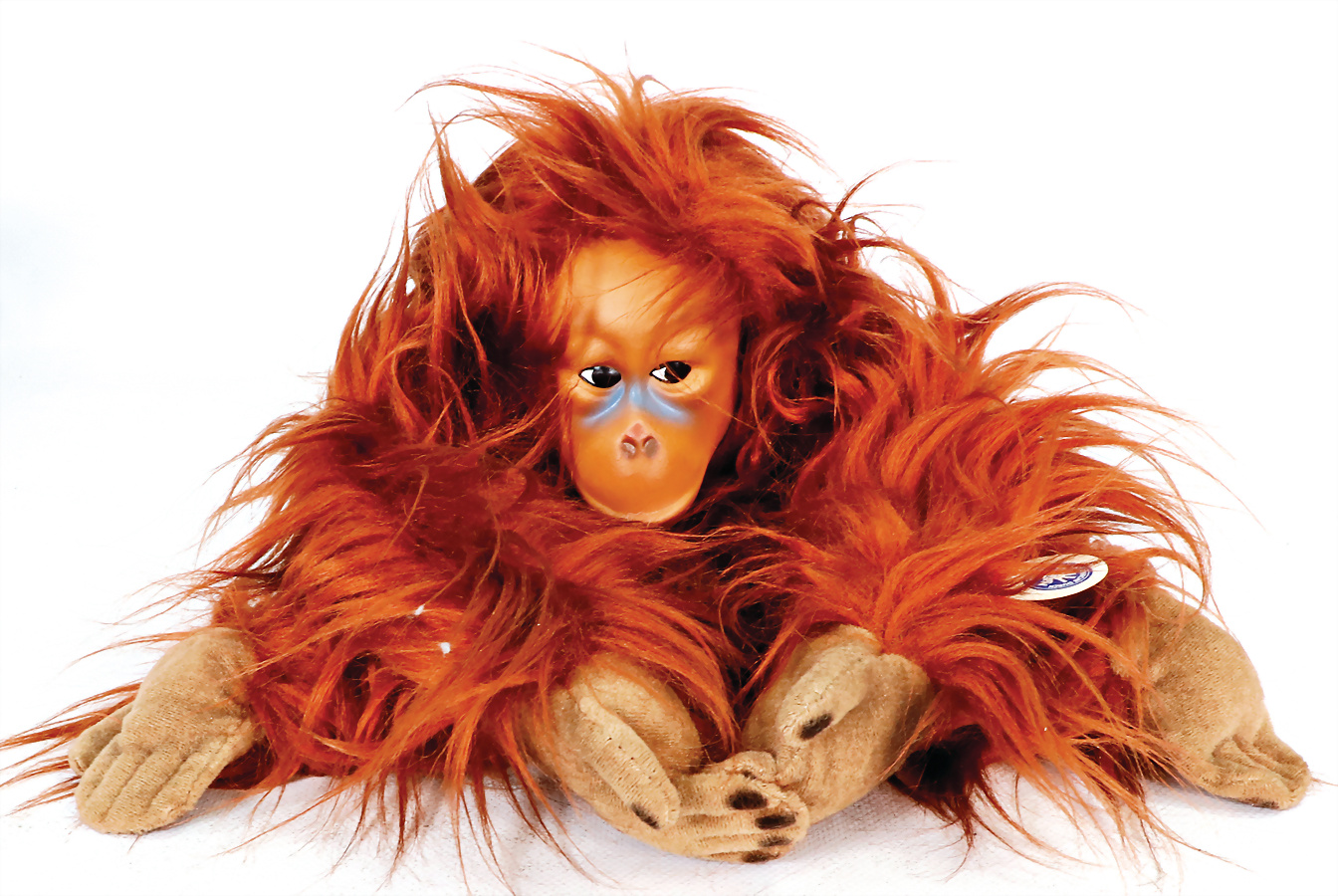 No. 741
Summerauction - Online - Vol. 1
Limit: 0 €
STEIFF
orangutan, complete, No. 0060/30, very good condition

---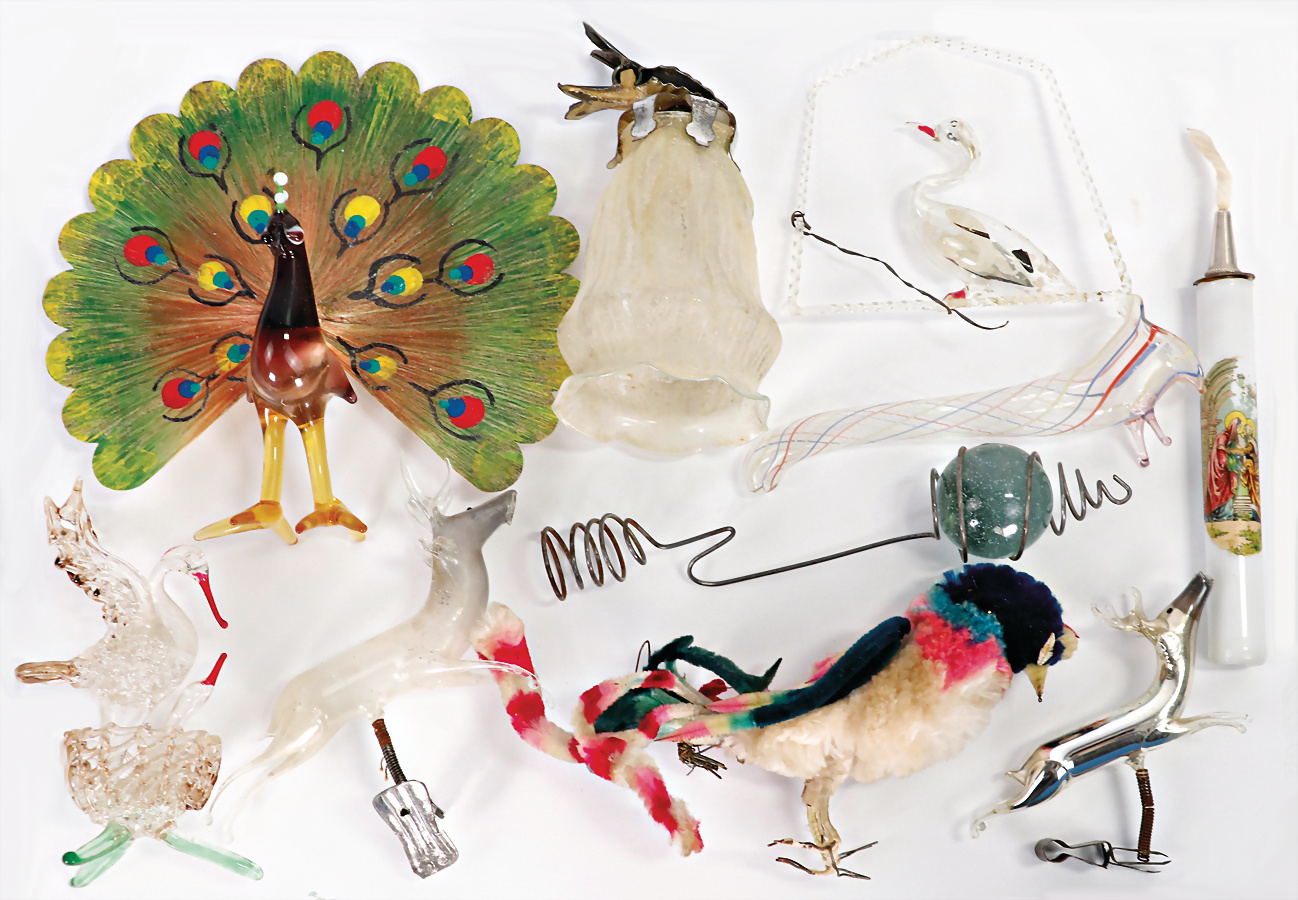 No. 742
Summerauction - Online - Vol. 1
Limit: 0 €
Christmas tree decoration, mixed lot of glass, LAUSCHA, bird, jumping stag with clamp, 1 peacock, 1 candle, glass, candle holder with glass weight, glass blossom, stork's net with stork, height: 8.5 cm, bird, pipe cleaner

---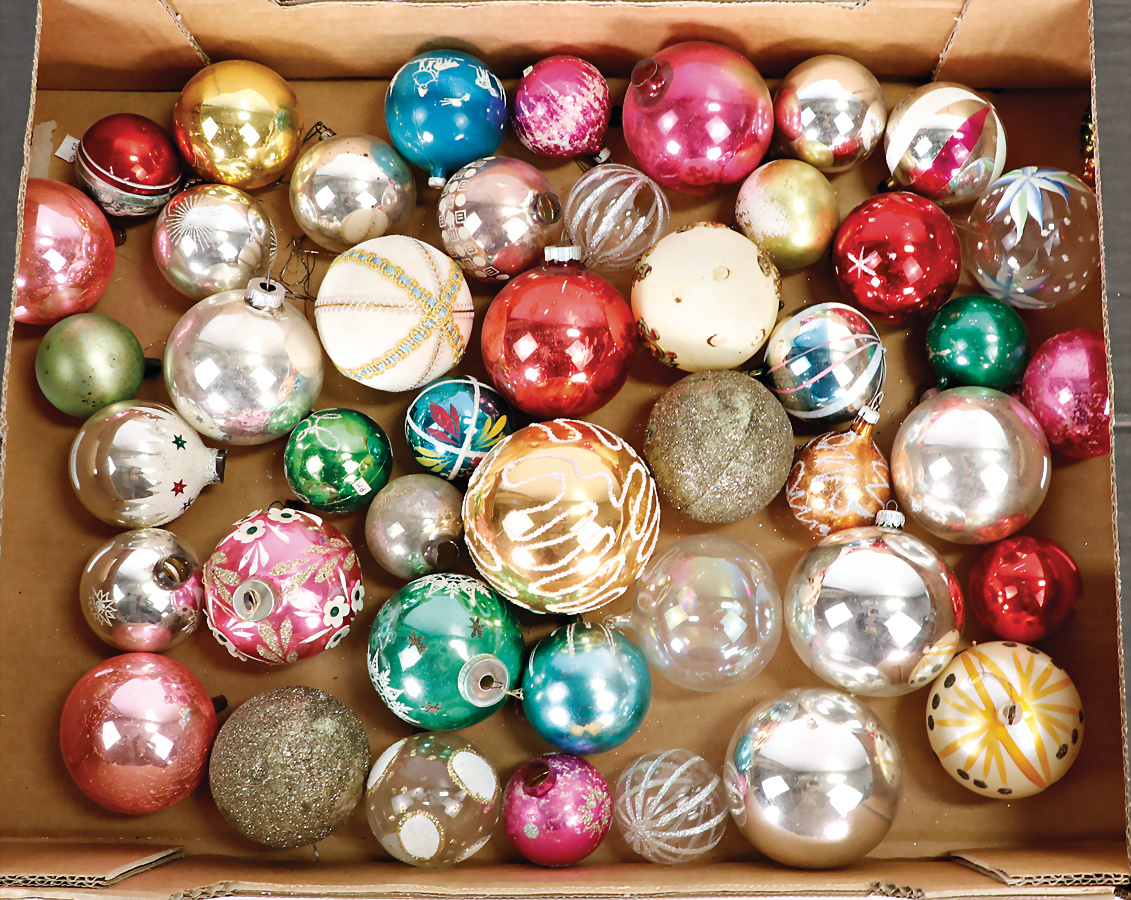 No. 743
Summerauction - Online - Vol. 1
Limit: 0 €
mixed lot of Christmas tree decoration, mirror glass, balls, different sizes, mostly good, fixations are partially missing

---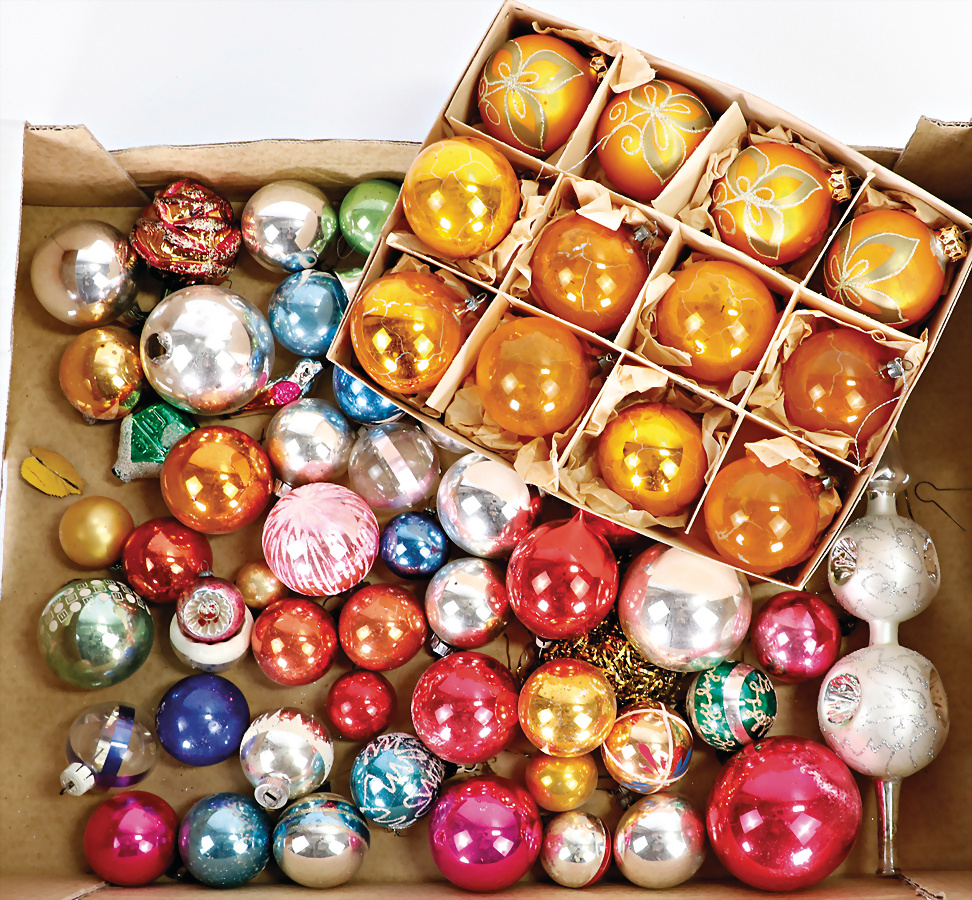 No. 744
Summerauction - Online - Vol. 1
Limit: 0 €
mixed lot of Christmas tree decoration, glass, balls, bell, 1 tree topper, 39 cm, mostly good condition

---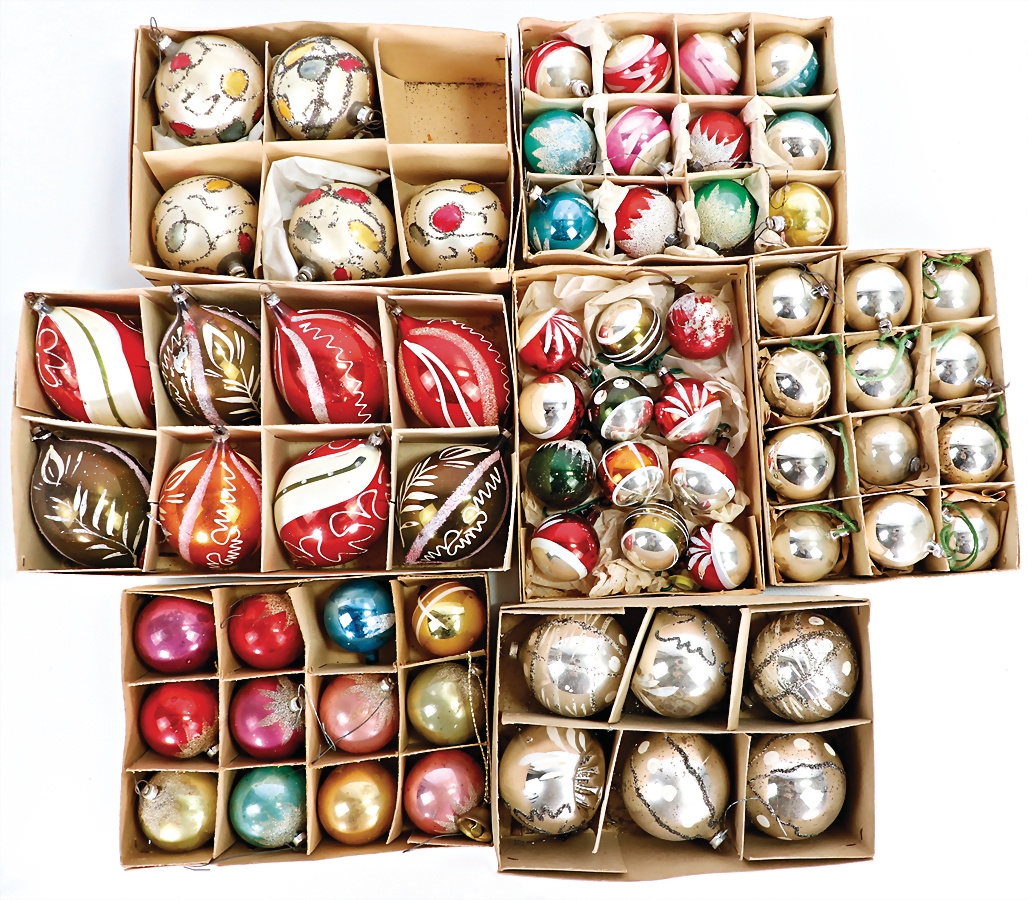 No. 745
Summerauction - Online - Vol. 1
Limit: 0 €
mixed lot of Christmas tree decoration, balls, reflector balls, probably '50s, partially in the original box

---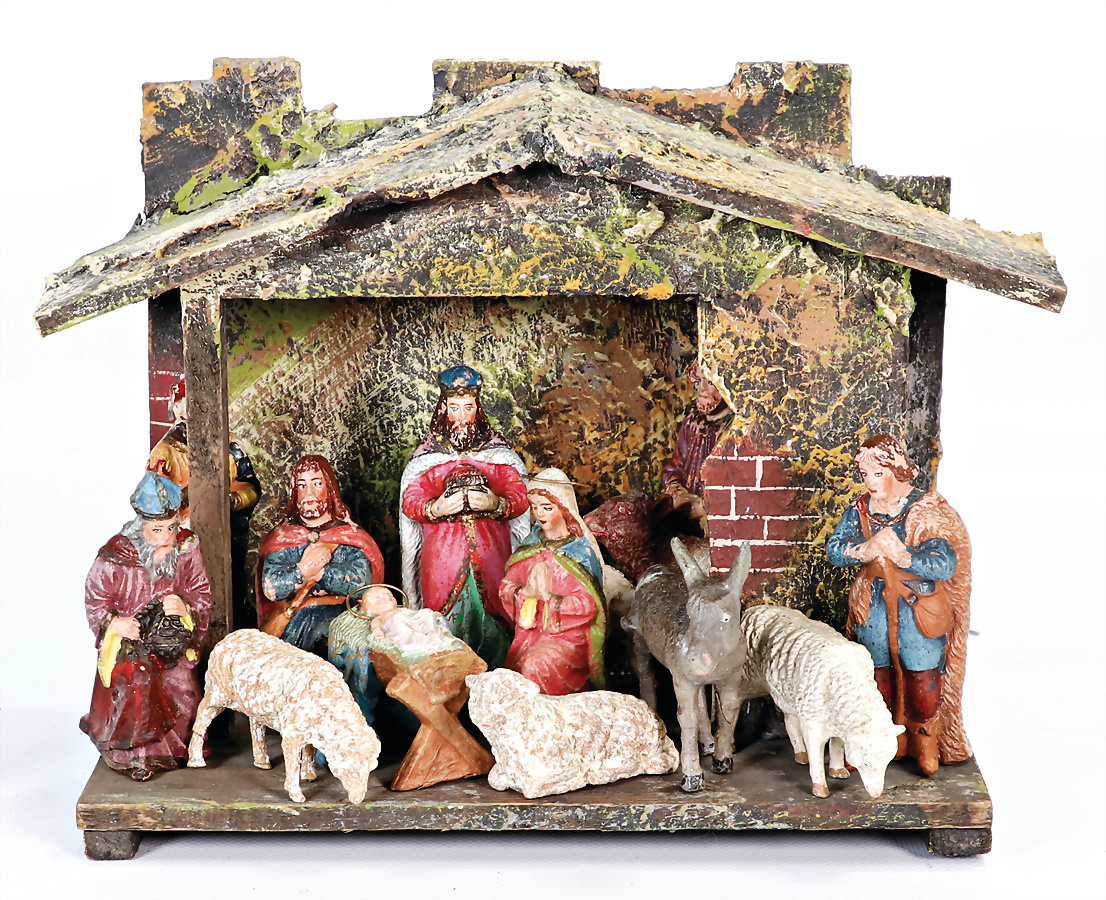 No. 746
Summerauction - Online - Vol. 1
Limit: 0 €
wood/mass, height of the figures: 10.5 cm, height of the building: 21 cm

---
No. 747
Summerauction - Online - Vol. 1
Limit: 0 €
mixed lot of dollhouse decoration pieces, among it many receptacles for pharmacy, with a diameter of: 3-4.5 cm, some cover

---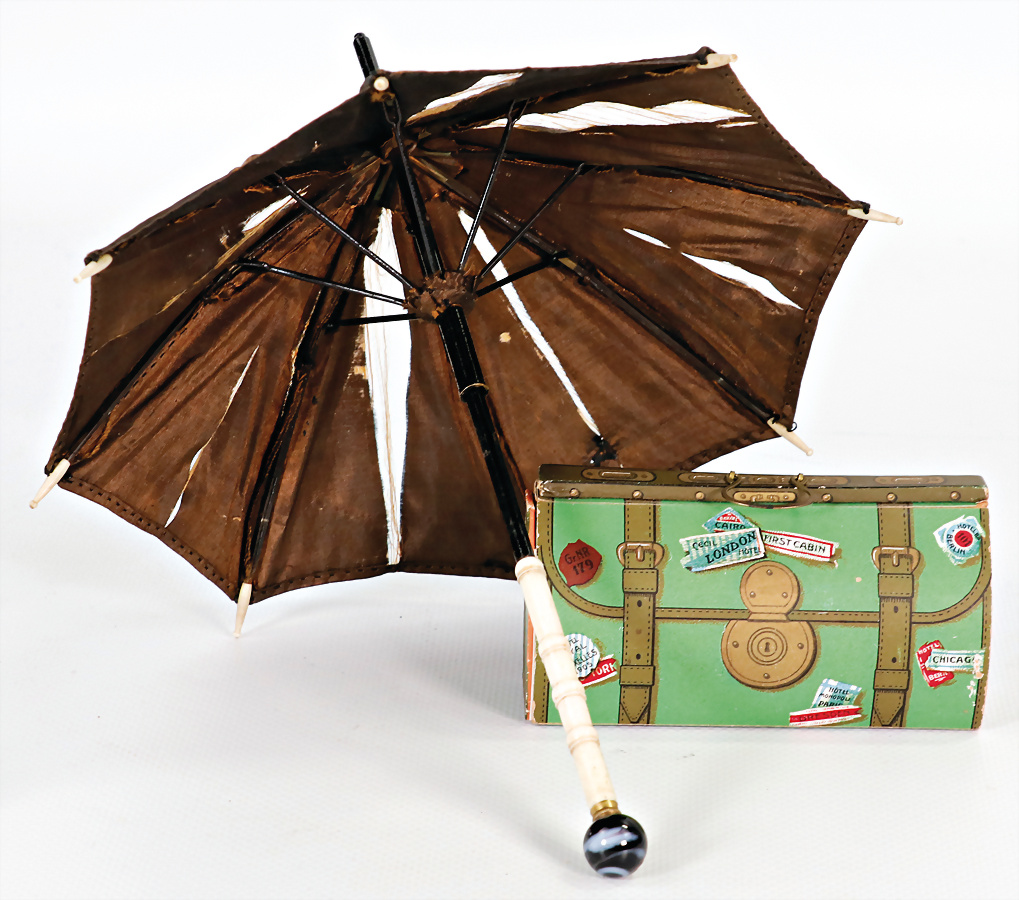 No. 748
Summerauction - Online - Vol. 1
Limit: 0 €
doll umbrella, around 1900, silk covering is worn, 22.5 cm, 1 doll bag, candy container

---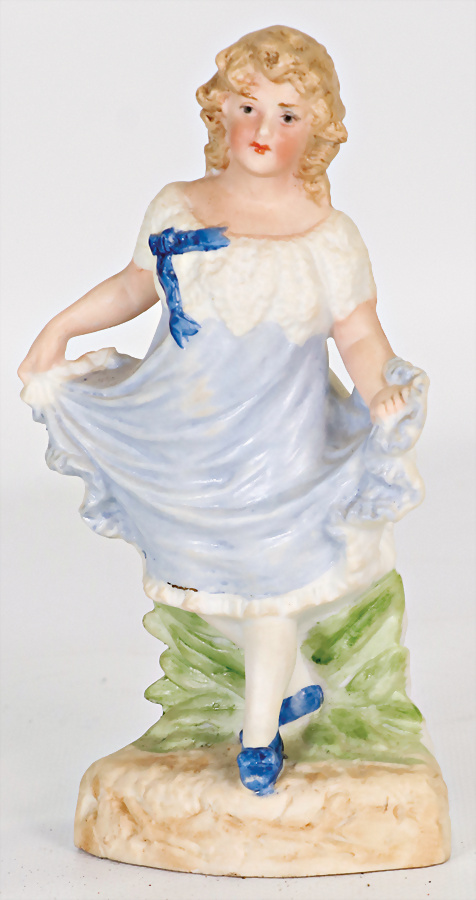 No. 749
Summerauction - Online - Vol. 1
Limit: 0 €
HEUBACH
sun, bisque porcelain figure, girl, 16.5 cm

---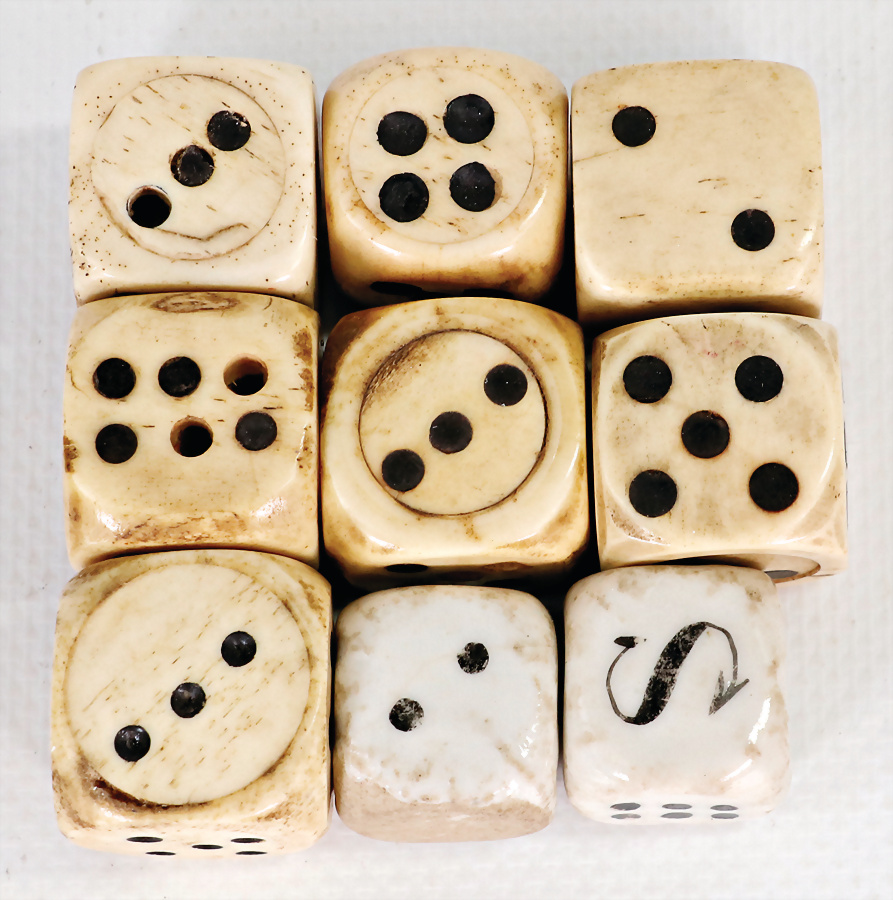 No. 750
Summerauction - Online - Vol. 1
Limit: 0 €
7 pieces, early cubes, horn, black inserted dots, missing partially 2x2 cm, 2 cubes with numbers and letters, early

---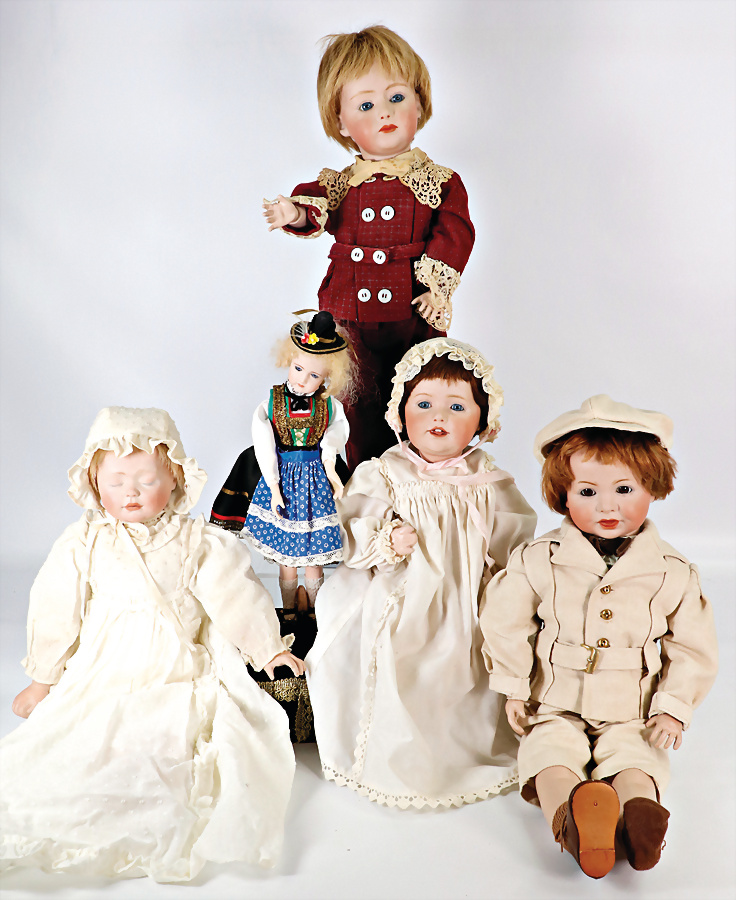 No. 751
Summerauction - Online - Vol. 1
Limit: 0 €
mixed lot of replica, HEUBACH Pouty, KESTNER type Hilda, KÄMMER & REINHARD, 116-A, baby-doll, with 1 machine, 40 cm, more recent production

---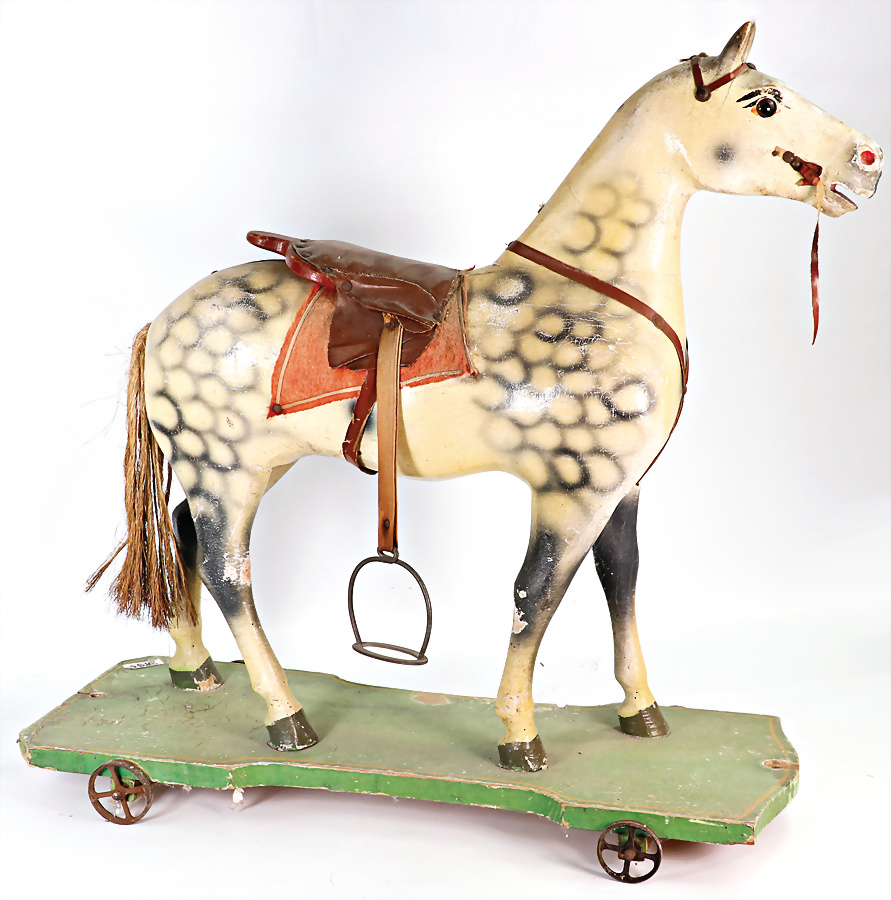 No. 752
Summerauction - Online - Vol. 1
Limit: 0 €
early horse, on casting-wheels with spokes, wood, original version, with paint defects that are caused of old age, glass eyes, saddle, 1 stirrup is missing, height: 71 cm, pleas note the transport expenditure, early, nice original condition

---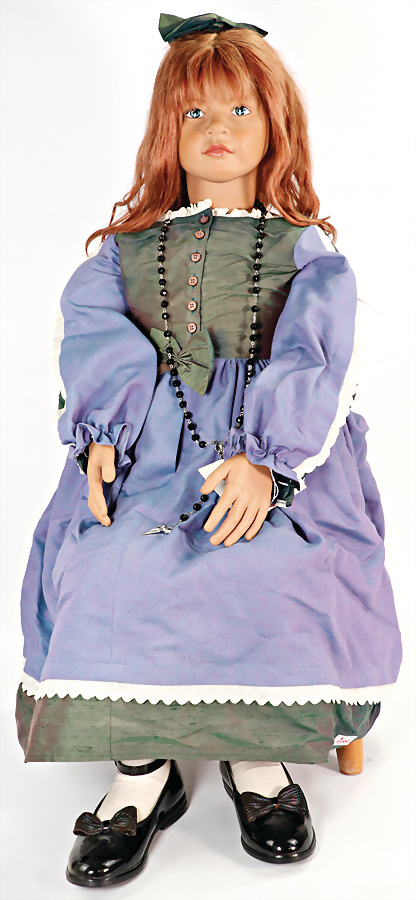 No. 753
Summerauction - Online - Vol. 1
Limit: 0 €
SIGIKID
doll, 108 cm, vinyl-head, artist doll, J. Wippler, edition 50 copies, No. 37 of 50, exceptional size with certificate
---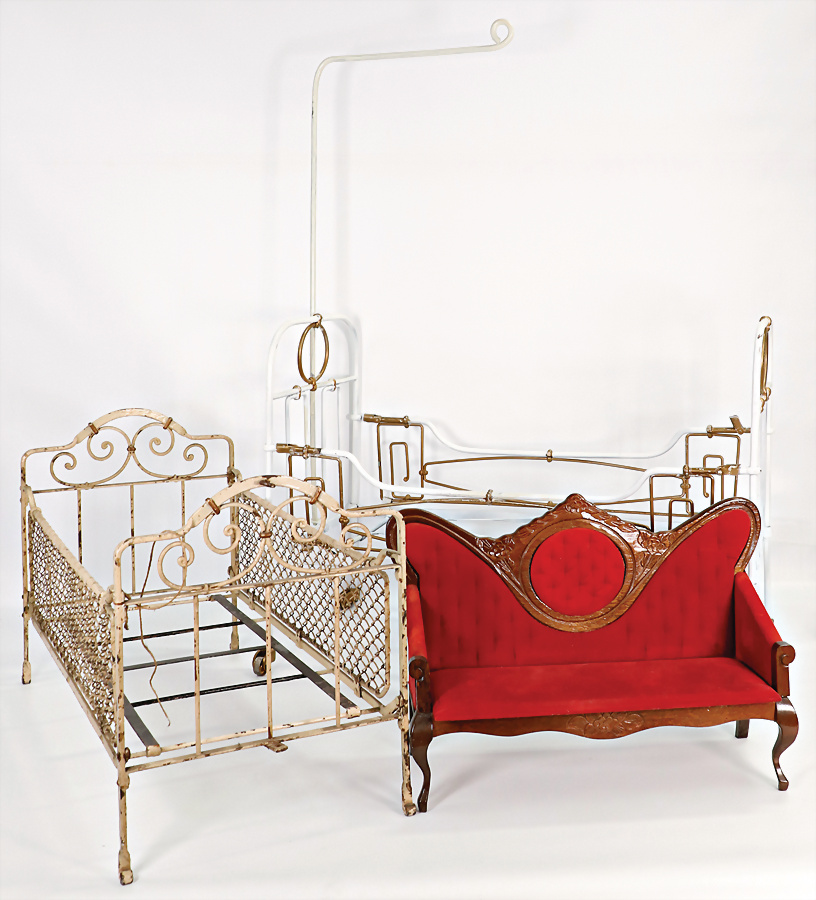 No. 754
Summerauction - Online - Vol. 1
Limit: 0 €
2 beds, wrought iron , one of it with canopy rod, with 1 doll bench, more recent production, width: 61 cm, please note the transport expenditure

---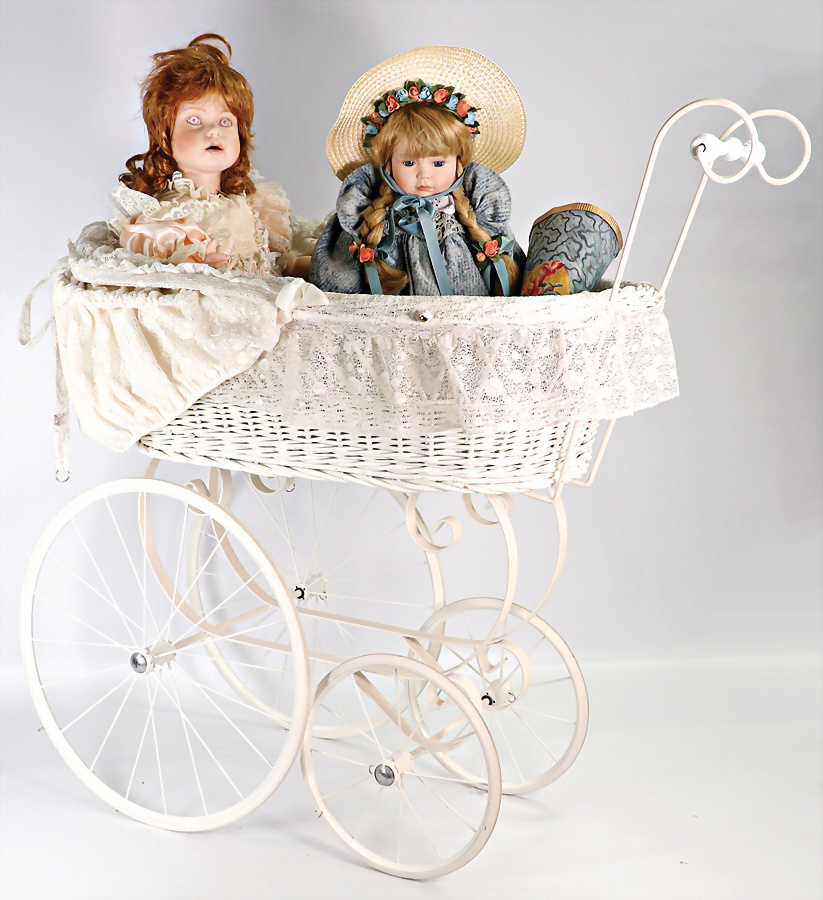 No. 755
Summerauction - Online - Vol. 1
Limit: 0 €
pram, manufactured in old style, with 2 dolls, SCHILDKRLÖT, doll with traditional costume, celluloid, 29 cm, original clothes, with some pieces of doll clothes

---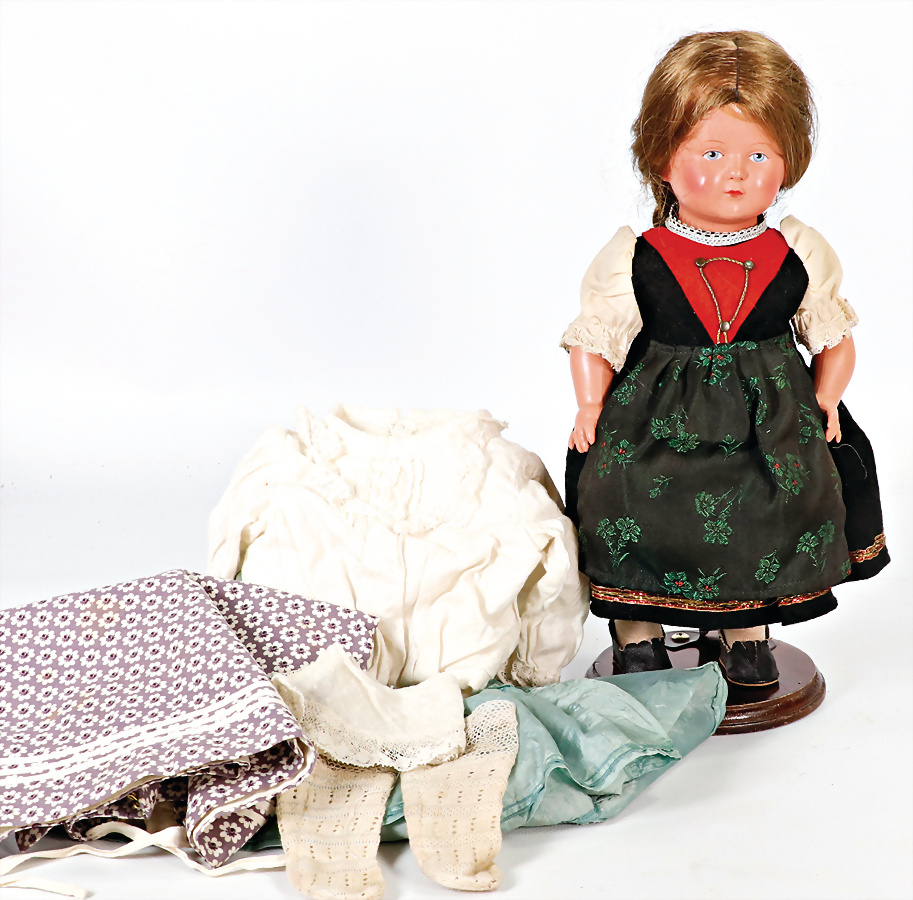 No. 756
Summerauction - Online - Vol. 1
Limit: 0 €
SCHILDKRÖT
celluloid, Inge, 29 cm, with clothes, please note that it is risky to transport the celluloid
---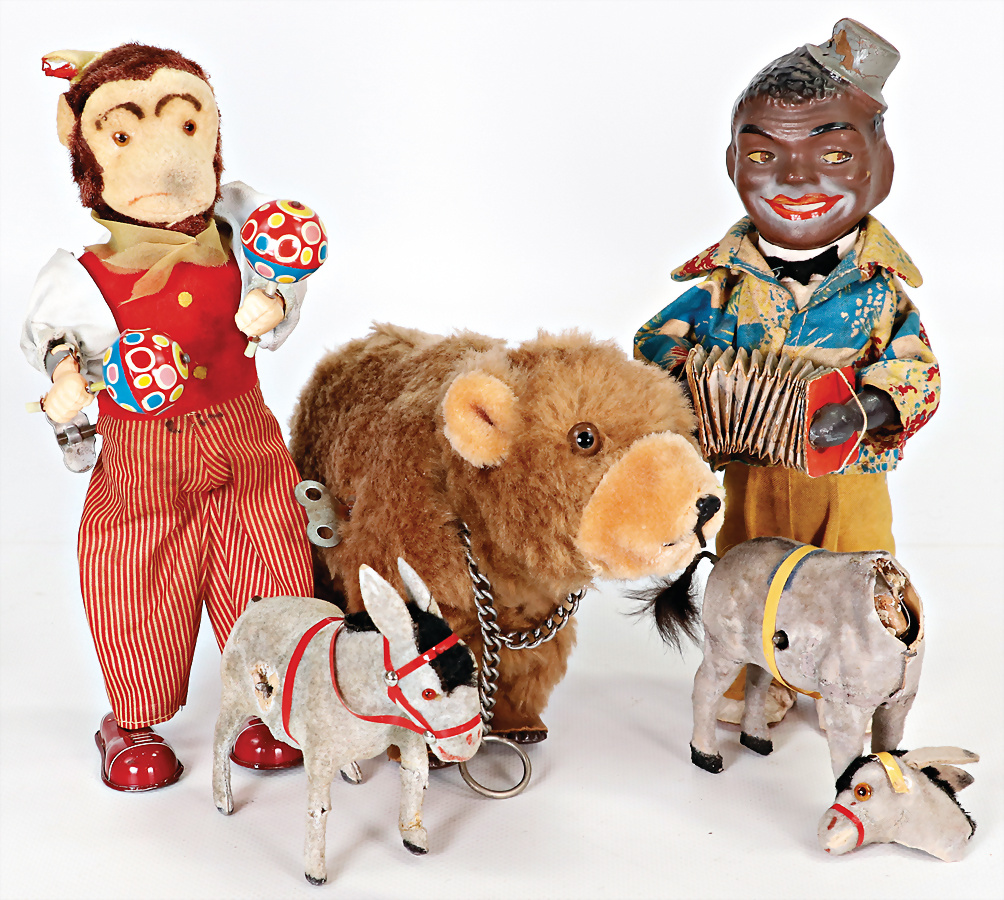 No. 757
Summerauction - Online - Vol. 1
Limit: 0 €
mixed lot of dance toy, among it 1x dancer, 22 cm, with accordion, papier mâchéhead, looking to the side, without key, 23 cm, with 2x donkey, without key, 1 head is break off, 1 dancing bear on 4 paws, height: 14 cm, lenght: 22 cm, clock mechanism is intact, 1x dance monkey, height: 22 cm, a nice lot

---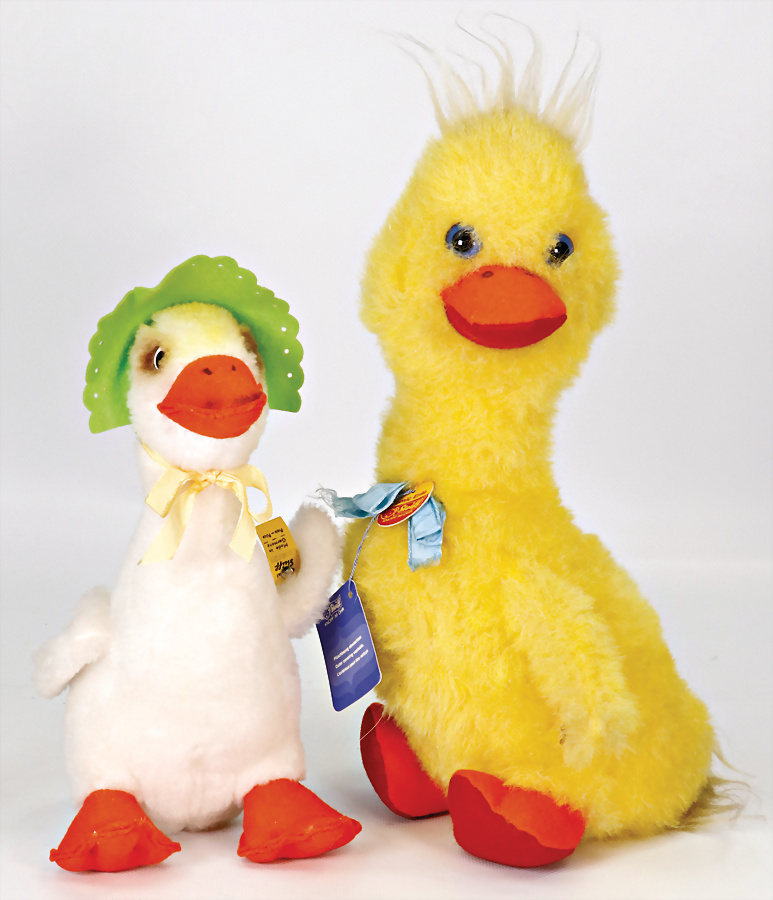 No. 758
Summerauction - Online - Vol. 1
Limit: 30 €
STEIFF
2 pieces, 1x comic duck, with breast sign and Dralon chest label, button and cloth tag label, 36 cm, 1x goose with felt hood, with button and yellow cloth tag label, No. 4908/25, 27 cm
---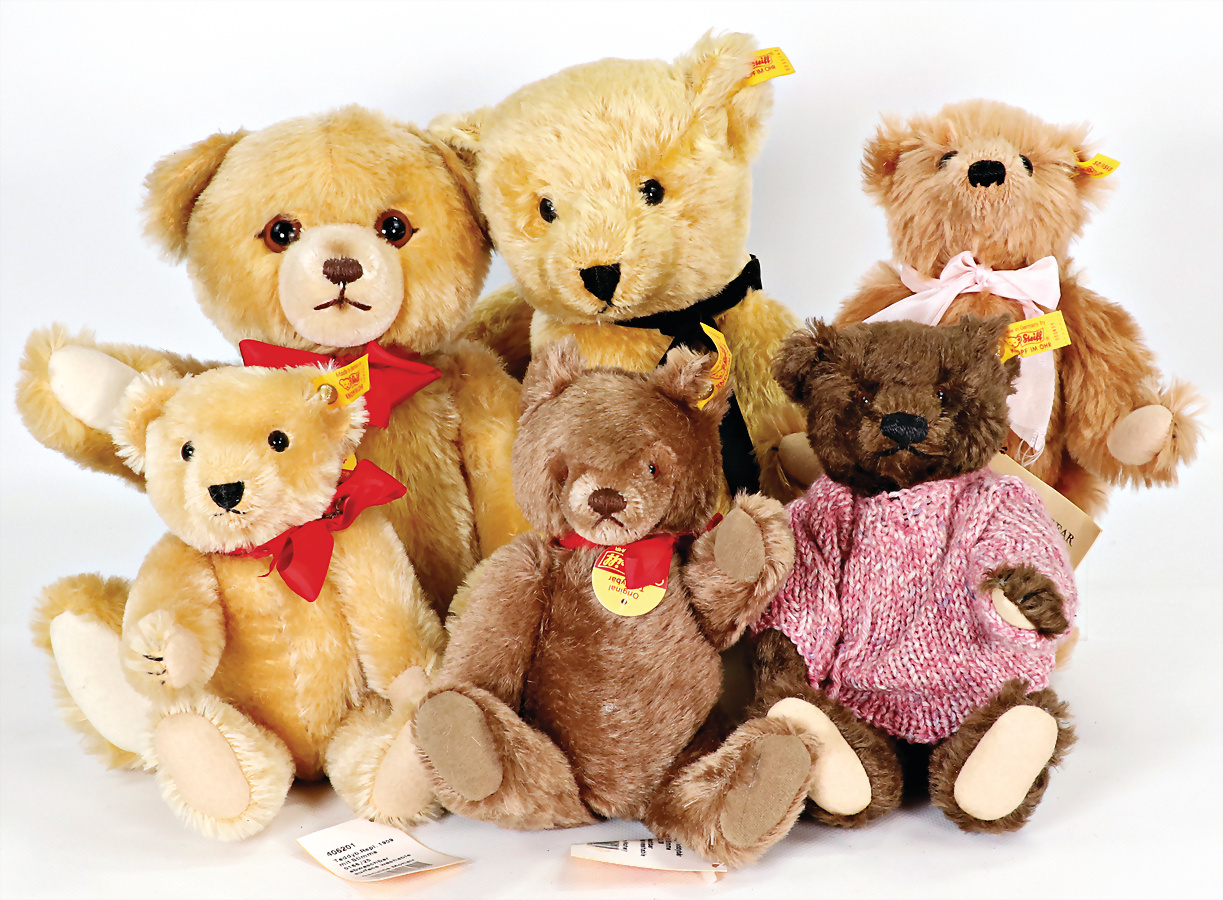 No. 759
Summerauction - Online - Vol. 1
Limit: 50 €
STEIFF
mixed lot of bears, replicas, 6 pieces, good - very good condition, please have a look at it
---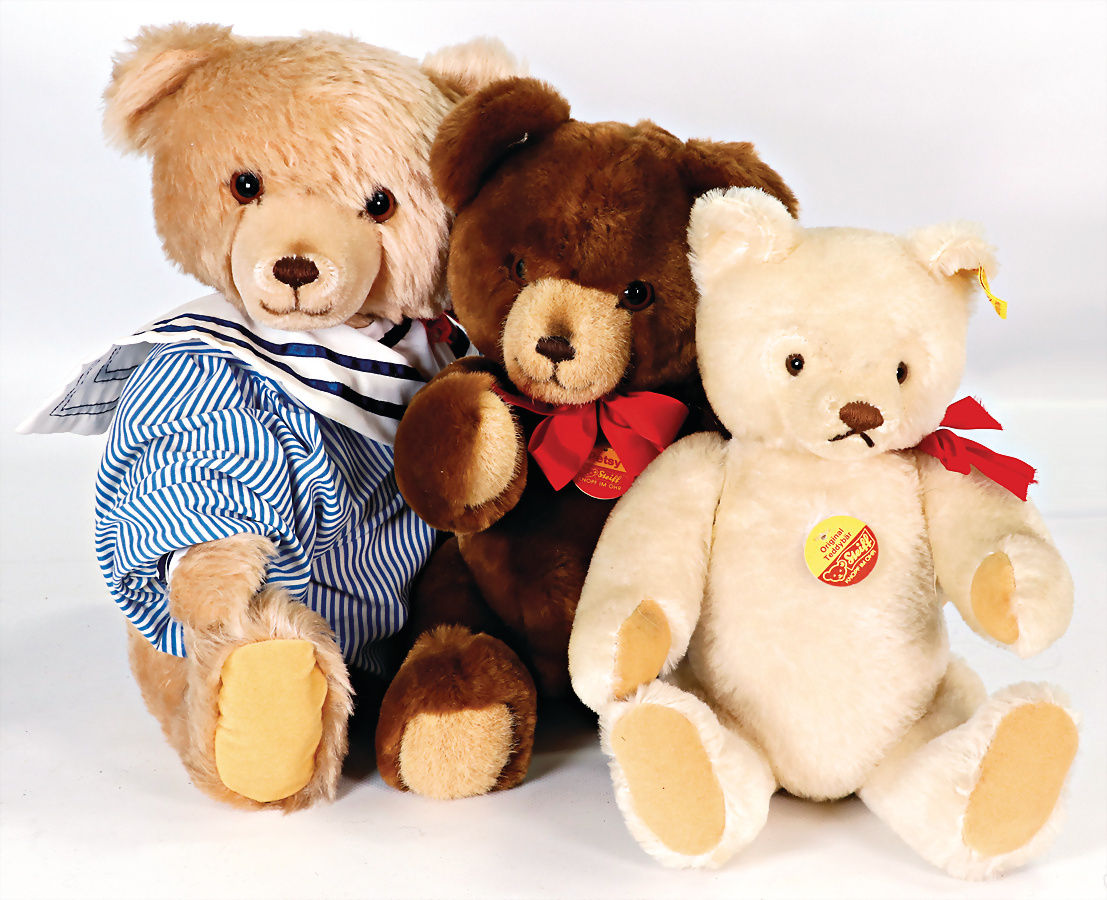 No. 760
Summerauction - Online - Vol. 1
Limit: 40 €
STEIFF
3 pieces, among it replica, Petsy, mask bear, Petsy-Soft-teddy, with voice, used - good condition
---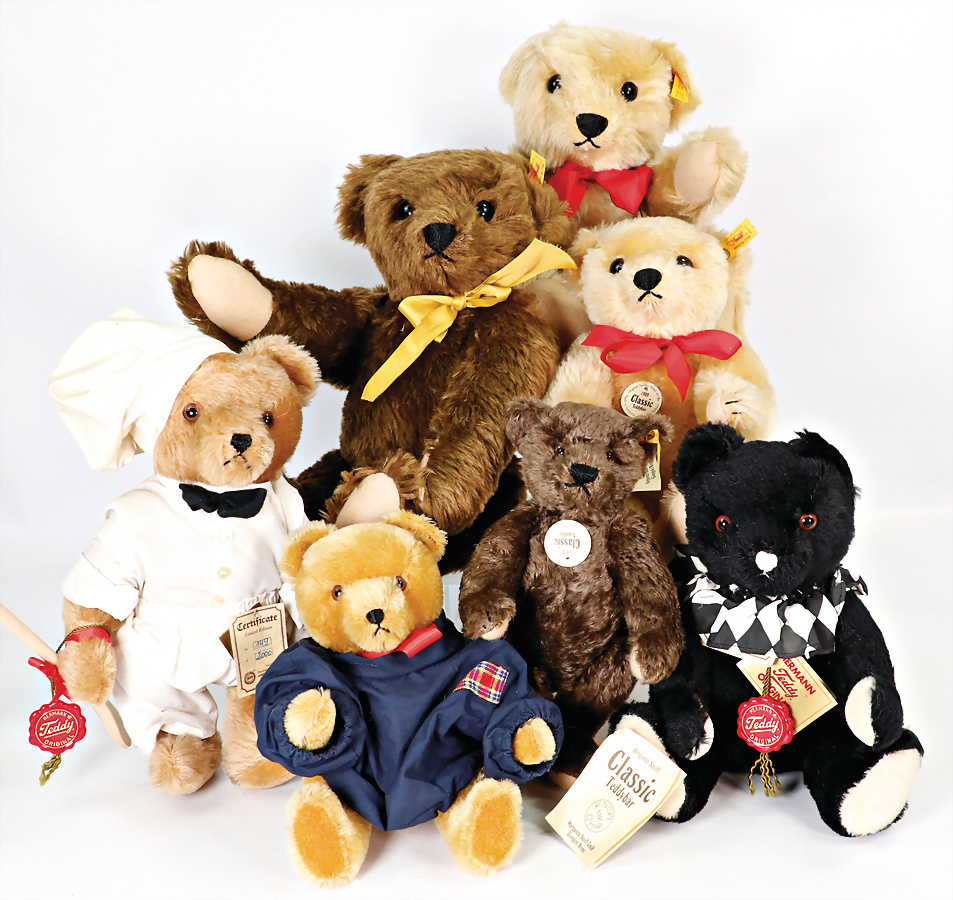 No. 761
Summerauction - Online - Vol. 1
Limit: 40 €
STEIFF
big mixed lot with 7 pieces, replicas, STEIFF teddies, among it Classic-Teddy, 1909, and HERMANN bears, good - very good condition
---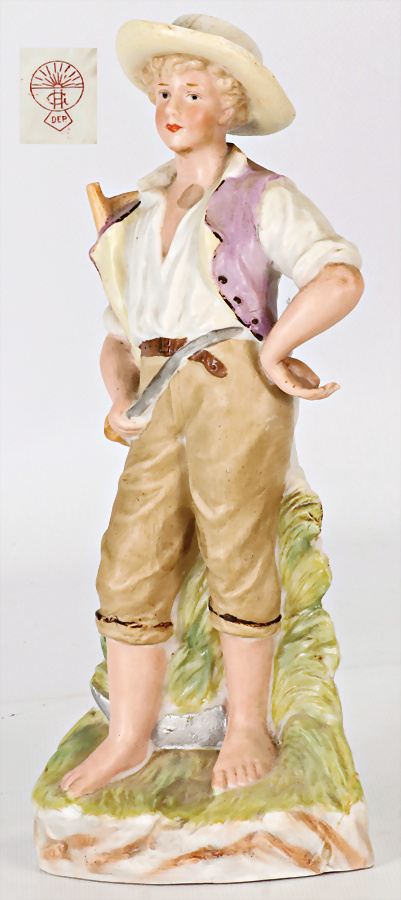 No. 762
Summerauction - Online - Vol. 1
Limit: 10 €
bisque porcelain figure, boy, with bag, height: 25 cm, not marked, discoloration on the chest, age?

---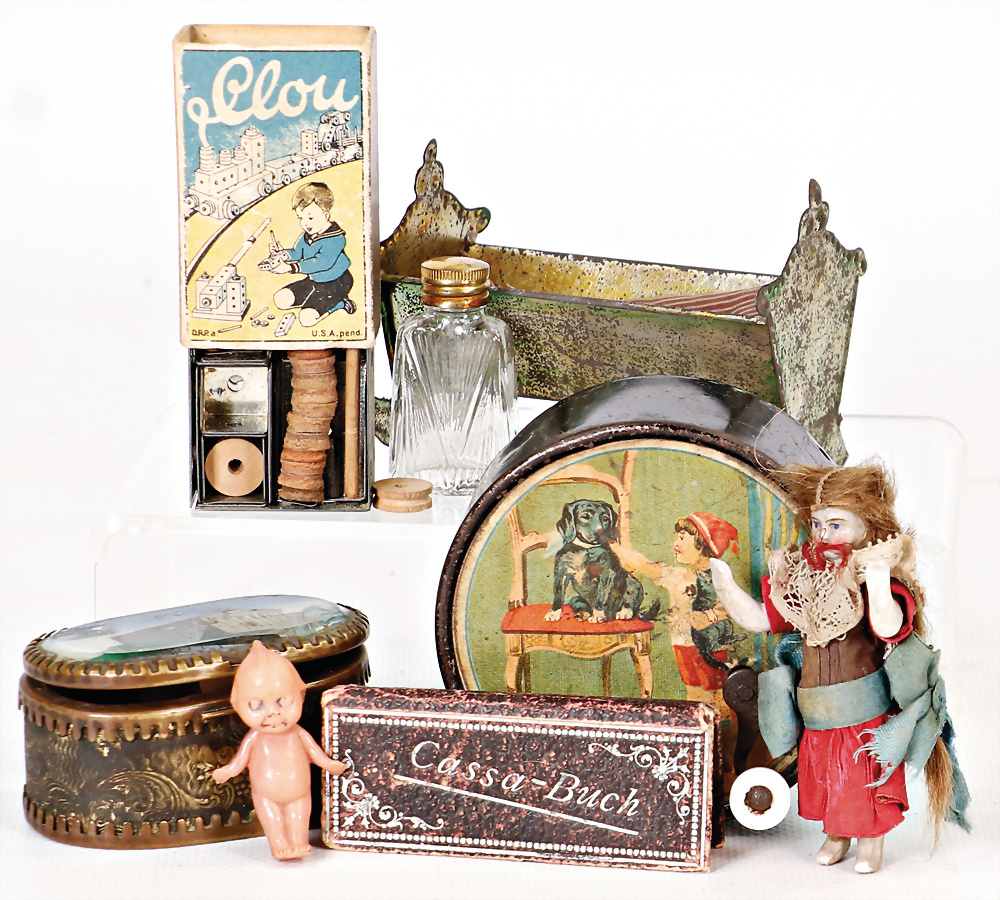 No. 763
Summerauction - Online - Vol. 1
Limit: 30 €
treasure chest, 1x music playing box, with knob made of porcelain, mechanism is intact, with a diameter of: 8 cm, with 1x joke articles, matchbox, construction kit, 6.5 cm, 1 dollhouse doll's tin cradle, 9 cm, 1 perfume bottle with polished glass, "Cassa-Buch"

---