Autumn Auction 2020
Autumn Auction 2020 - Page 1 / 4
Special Auction Collection from Austria (197 items)
---
---

pompous rattle, massive, silver handle, elaborate, heavy handiwork, probably England, 3 bells, originally probably 6 on a complex ornament, handle with the company logo, height: 18 cm, 1930-40

---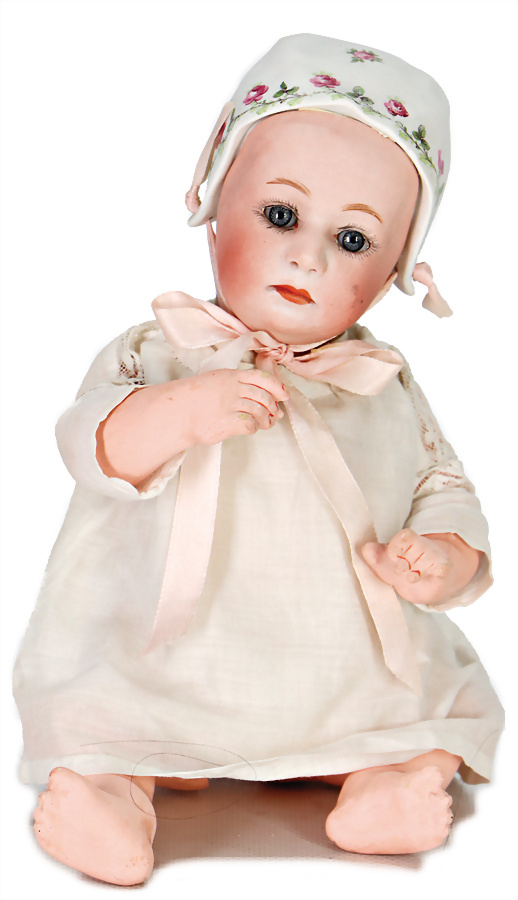 GEBR. HEUBACH
baby Stewart, the so-called hood doll, is because of her removable hood very rare, around 1912, cut out bisque porcelain socket head for placing  the extra cast hood, in the hood are 2 holes for the ribbon for fixing, closed mouth, blue sleepy eyes, very detailed roses painting, and facial contours, marked HEUBACH Sonne, 79753 Germany, 5-part baby mass body with different leg postures, original christening robe, around 1912, height: 28 cm, small chip at the hood
---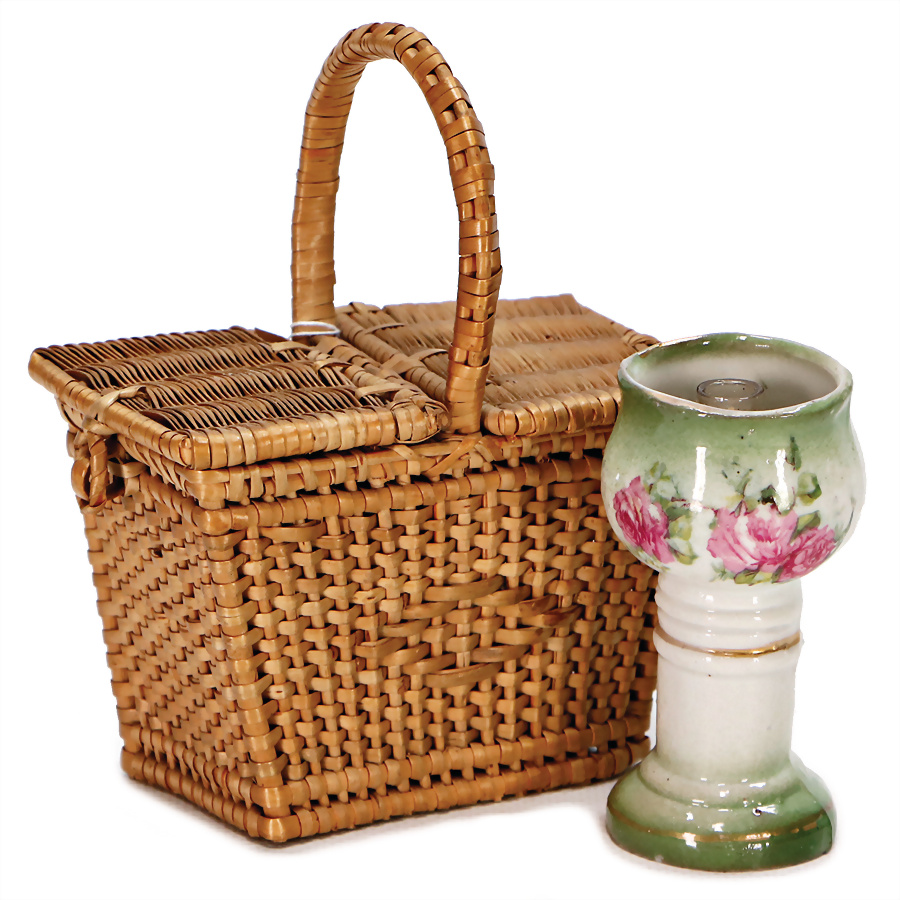 early picnic basket, France, the 2 covers can be open, with clasp, 1 circular handle, nice basket-work, sizes without handle: lenght: 11 cm, width: 7 cm, height: 7 cm

---

umbrella for stroll, for dolls, France around 1870, for ladies or for big dolls, ribs and handle, fine carved, printed silk covering, with small traces of usage, resp. 1 patch, otherwise very nice condition, height: 58 cm, 1x white silk shoes by the company Emille Jumeau, Bienenmarke around Paris, Deposé No. 10,in the light brown leather sole, 2 metal buttons, very good condition

---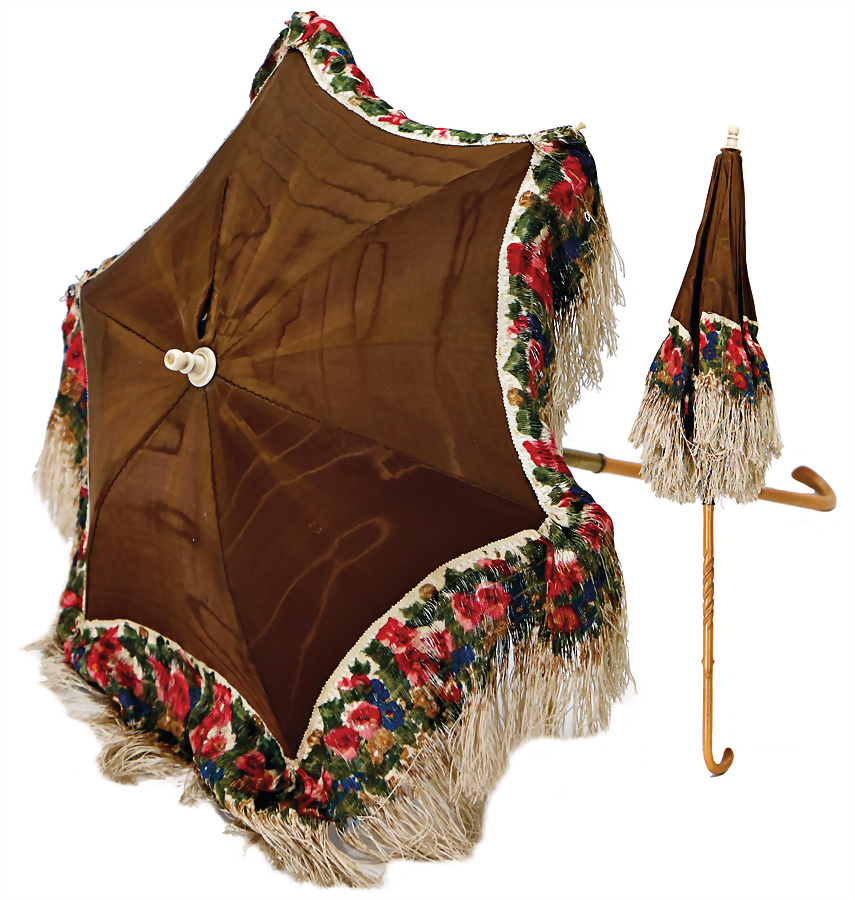 doll's umbrella for stroll, around 1870, very decorative folding umbrella for a multicolored Trousseau or an early Bébé from the 19th century, wood linkage with lace, metal linkage, brown silk moiré cover, inside  silk lining, colored silk fibers, very good condition, 48 cm

---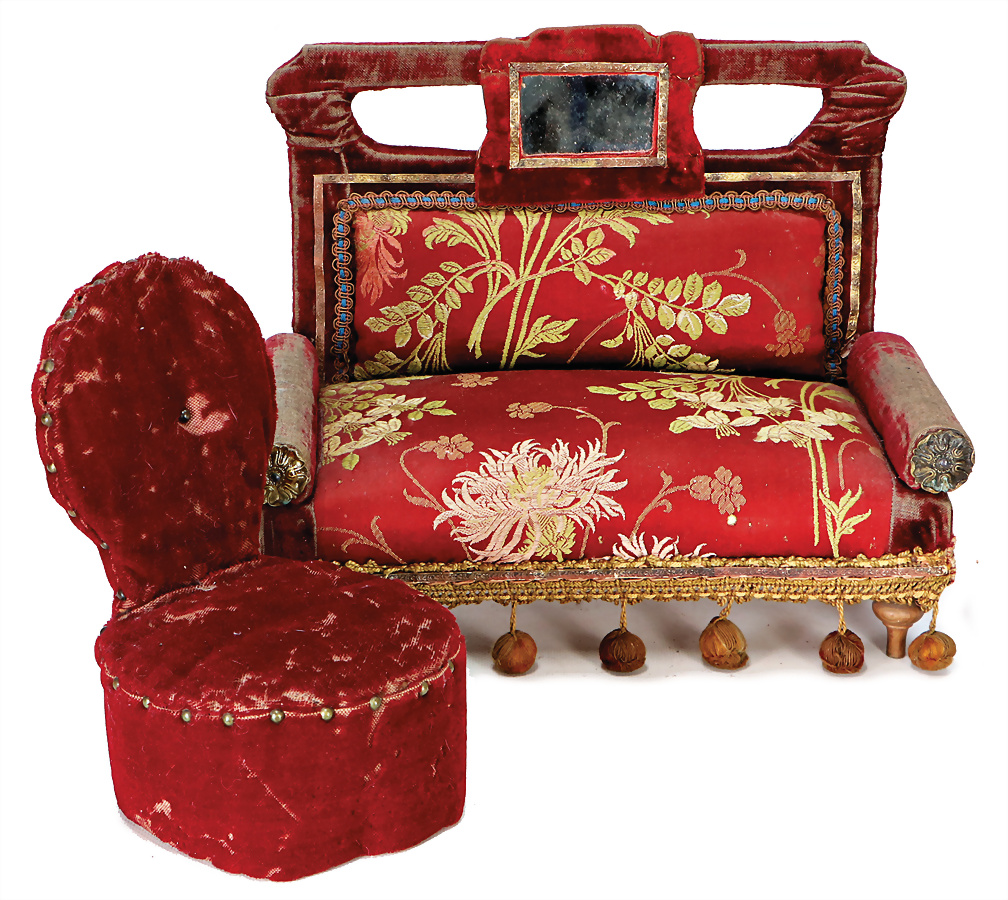 art nouveau-sofa and velvet chair on a softwood body, around 1910, wine-red silk-velvet-cover, partially slightly used, back is partially mirrored, pillow rolls with metal applications, unusual, lenght: 32 cm, height: 27 cm, chair height: 22 cm, decorative

---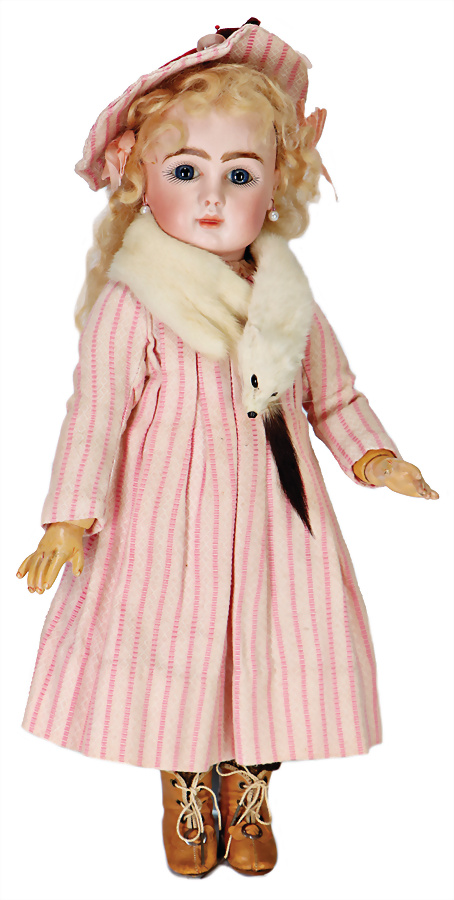 JULES NICOLAS STEINER
Bébé, Paris, around 1890, bisque porcelain socket head, marked J. STEINER B.W. te, F.D.G. Paris, Fre A 11, closed mouth, fix, blue paperweight eyes, pierced ears, original papier mâché cork cover, with reddish blond mohair wig, jointed body with jointed wrists, marked STEINER ink stamp in the hip, rose striped original cotton dress with hat, and monogrammed underwear, original, brown mesh socks, brown French "CP" marked leather boot, 46 cm



---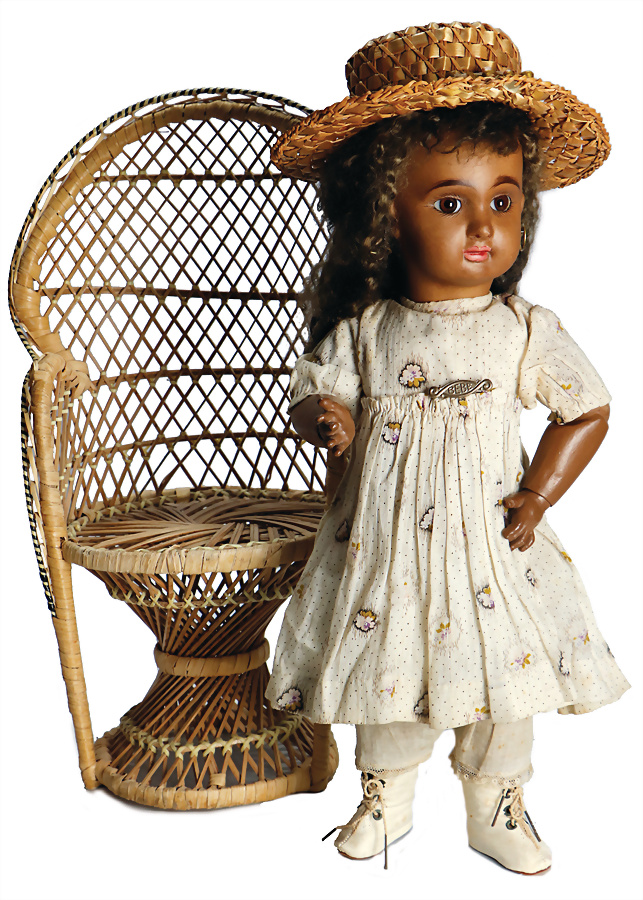 DANEL & CIE
Paris, Bébé, around 1891, brown bisque porcelain socket head, engraving Bébé Tête Deposé, underneath No. 6 1891, produced by the company DANEL & CIE as so called Bébé Solei, closed coral-red mouth, with contour lines, brown paperweight eyes, gentle eyelash-ring, feathered black brows, burn defect at of the top of head, original cork cover, removable, type-specific curly mohair wig, pierced ears with ear jewellery, body with original metal spring drive, fixture of the head is made of turned wood, jointed body  without damage and with jointed wrists, stamped  at the back with the Eiffel Tower, only weakly recognizable, clothes with underwear, Bébé-brooch and white leather boots, height: 38 cm (the original-DANEL-Bébé was from 1891 only for 2 years manufactured, after that by Emille Jumeau)






---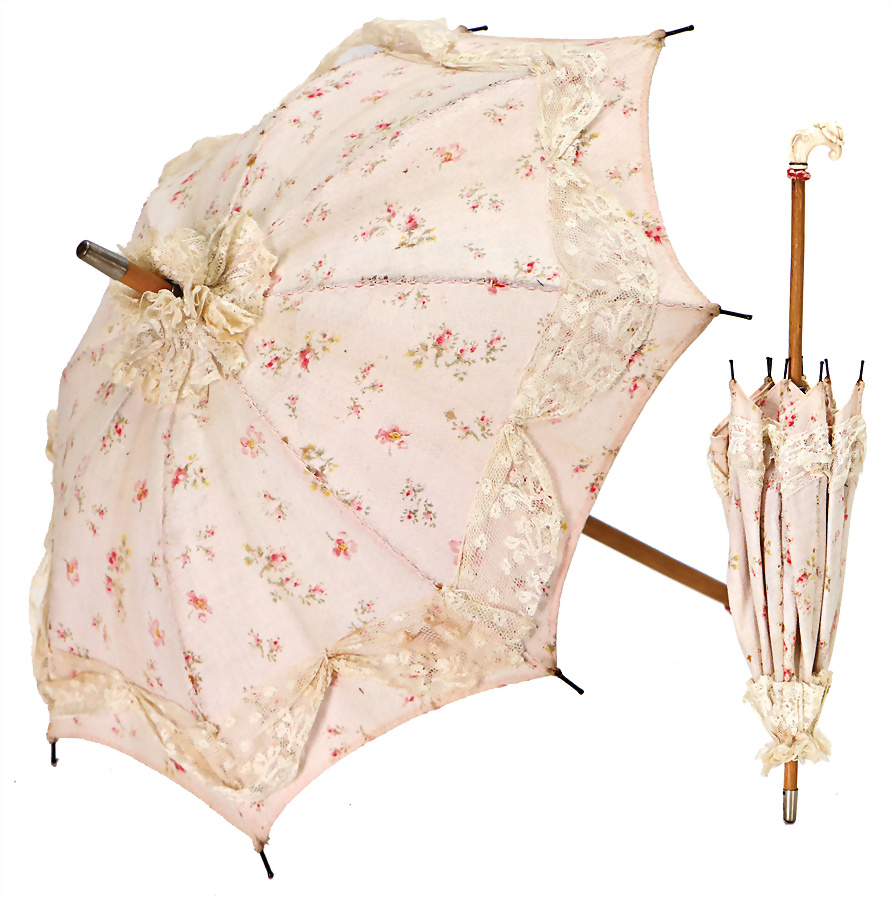 doll's umbrella for stroll, France around 1880-90, metal point on a wood stick, knob is skilful carved, with rose petal ornament, probably glued, cotton printed with roses , cover with lace, height: 38 cm

---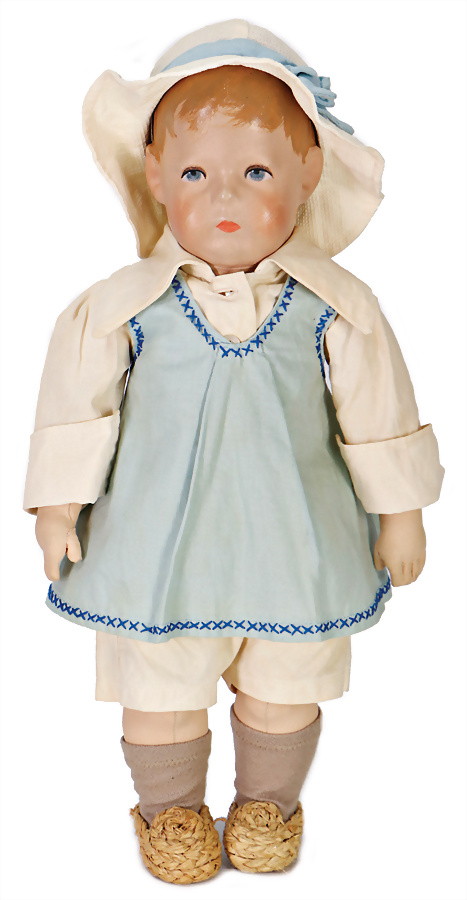 KÄTHE KRUSE
doll No. 1, around 1915-20, early fabric head with 3 clearly visible seams at the back of the head, painted blond hairstyle, painted blue eyes, with points of light, black eyelid line and iris, original linen body, loosely stitched down arms, separate sewed on thumb, broad hip, under the left foot, sole is blue stamped, KÄTHE KRUSE and pencil written No. H714, original clothes, little hat, unrestored, top preserved original condition, 43 cm, at head with glue rests, with orig. ball



---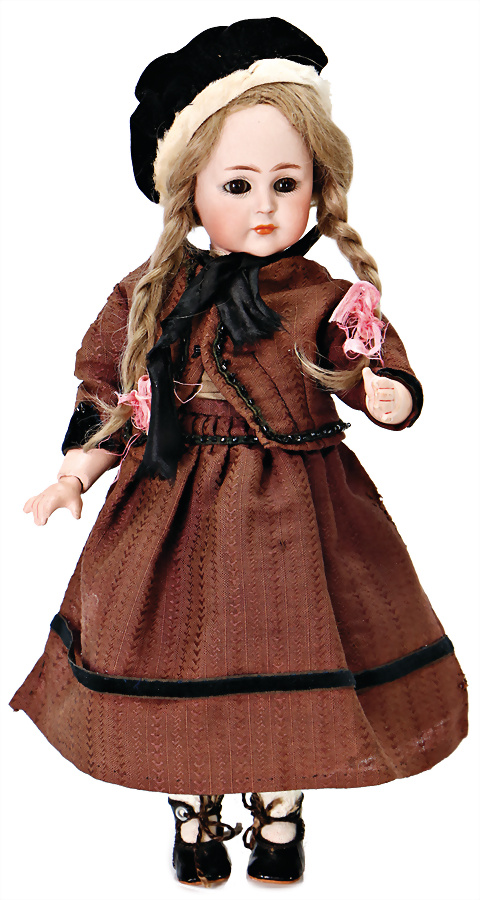 KÄMMER & REINHARDT - WALTERHAUSEN
bisque porcelain socket head, marked K * R, Simon & HALBIG, below it 117 30, around 1911, closed mouth, brown sleepy eyes with real hair lashes, plait wig made of blond mohair on cardboard, K&R jointed body with jointed wrists, probably original clothes, black velvet with glass beads ornament, underwear, suitable hood, very nice original condition, 30 cm

---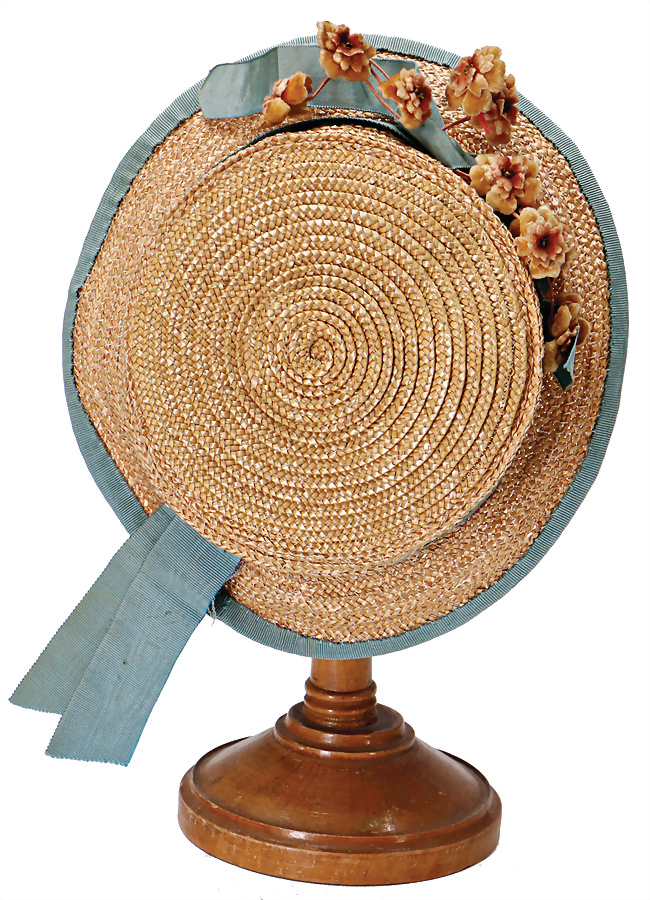 doll's straw hat with flower-velvet-decor, elegant flat straw hat, with appliquéd blue silk rep and fabric flowers, diameter: 20 cm, around 1900

---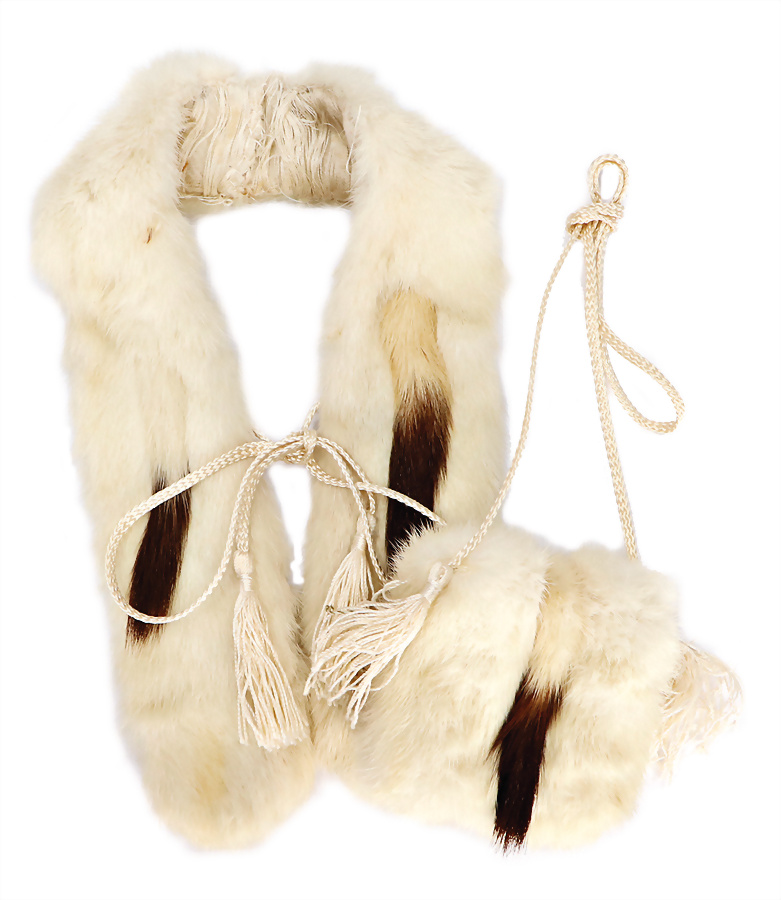 ermine set, for a French Bébé or for a Fashion-Doll with suitable muff, around 1890, inside lining made of silk, caused of old age partially worn, , original silk cords, 6x6 cm, cape 20 cm

---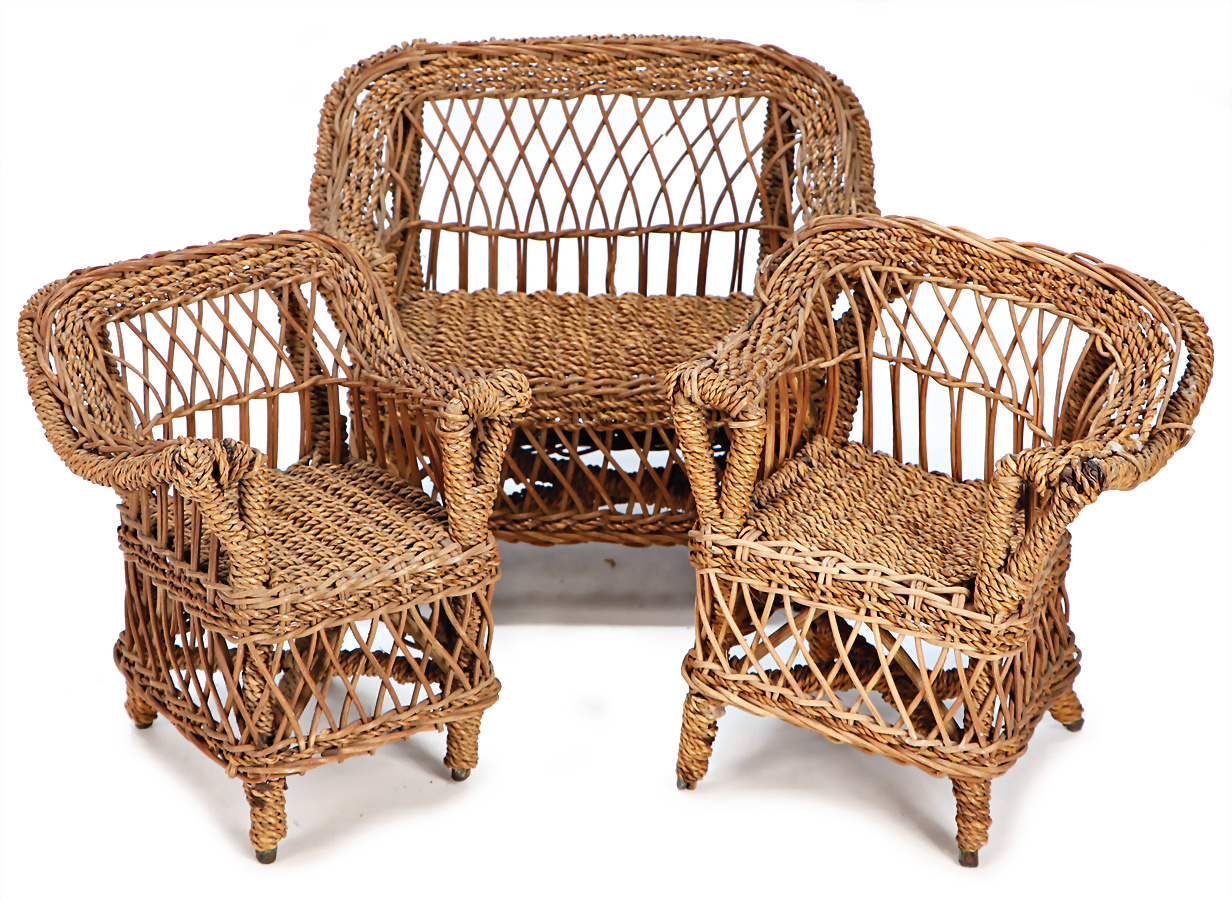 French living-room suite made of decorative mesh, 2 chairs, 1 bench, manufacturing work, accessories for a middle sized Bébé or for a fashion doll, around 1860 - 90, detailed, "En Miniature", partially slightly used, seat height: 10 cm, bench width: 23 cm, width of chair 15 cm

---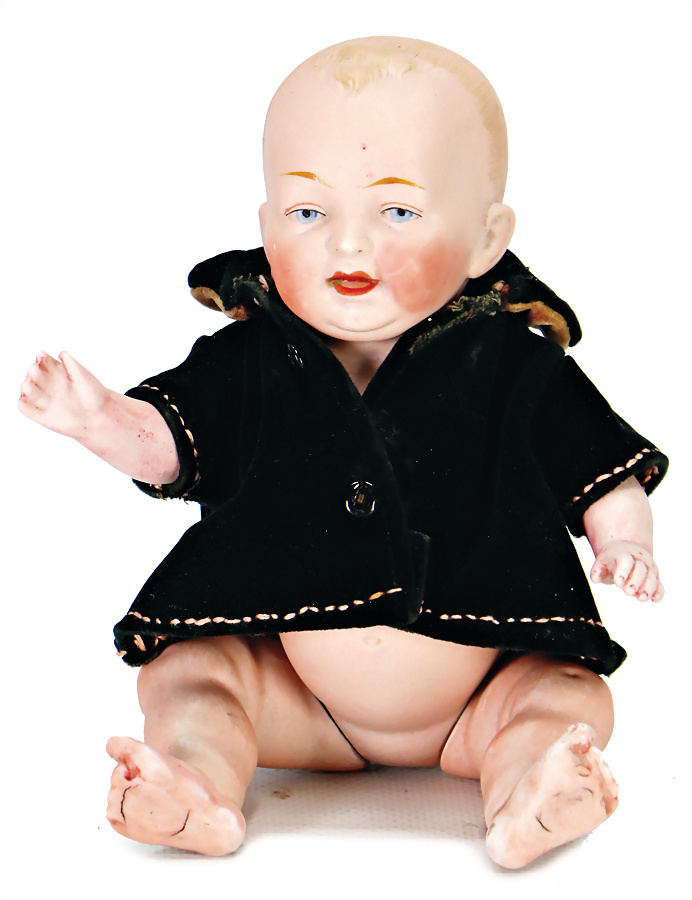 PROBABLY KESTNER
bisque porcelain character-baby, all-bisque porcelain, jointed arms and legs, different leg posture, opened/closed mouth, painted, blue eyes, nice face painting, left thighs with small flake off parts, height: 20 cm, around 1912
---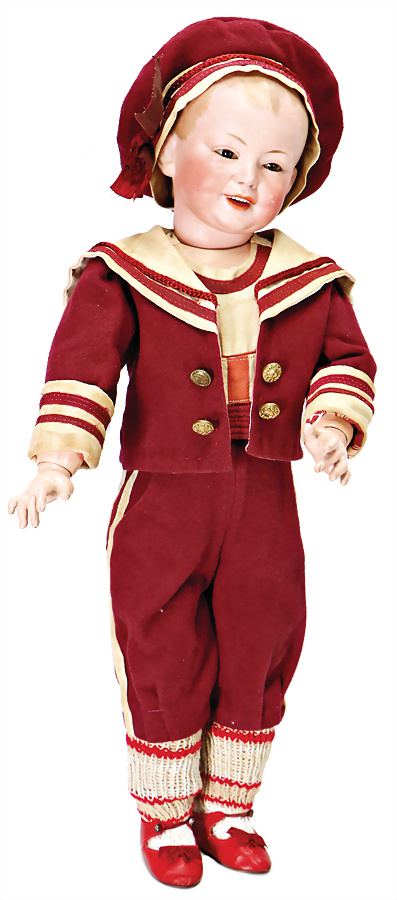 SFBJ
227-Societe Frabrication de Bébé & Jouets, from 1910, bisque porcelain crank full head, with slightly modeled and painted hair, opened mouth, with 6 upper teeth, very expressive modelled face, smiling character boy, fix blue diamond eyes in thin eye sockets, marked SFBJ 227 Paris 8, unused SFBJ jointed body, with 10 joints and jointed hands, white original boy's underwear, original multicolored sailors ensemble, with cap, knitted stripy socks, leather shoes, 55 cm
---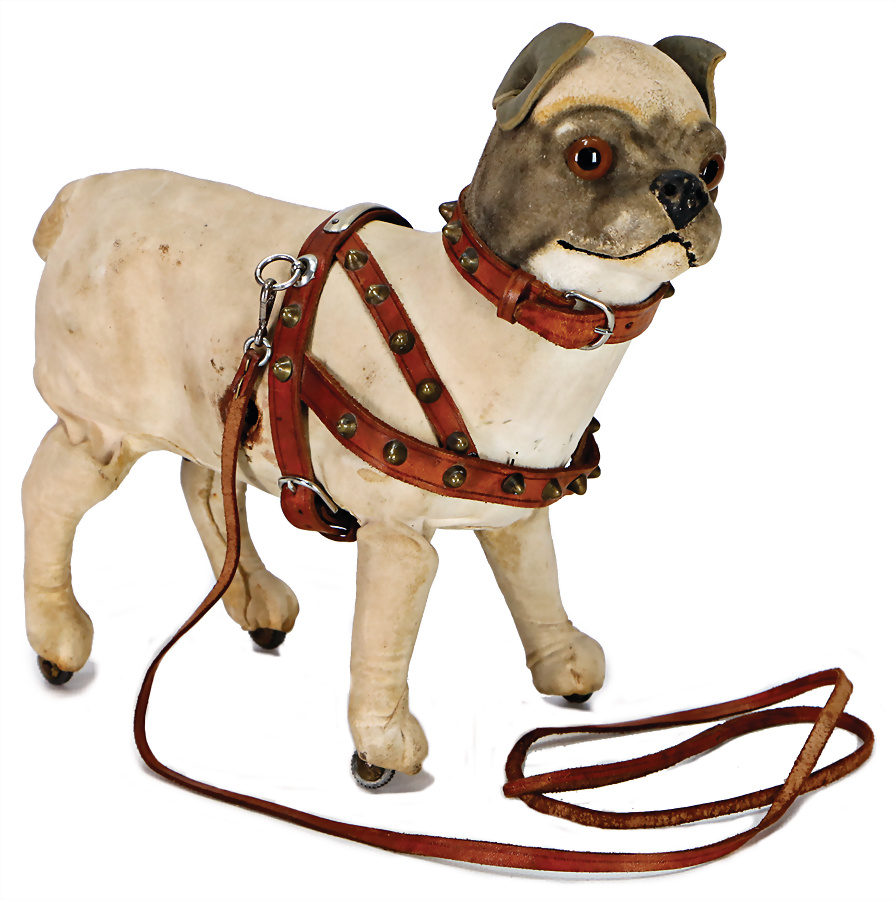 ROULLET & DECAMPS
Bulldog, machine, metal body with spring drive, drawn up the French Bulldog is turning the head from left and to the right and the legs with the metal rolls are walking forward, 2-colored suede leather cover, slightly used, leather collar and chest harness decorated with metal, in original condition, brown glass eyes, wind-up key is available,the mechanism was strongly drawn up, that is why it doesn't run at the moment, lenght: 27 cm, height: 22 cm,
---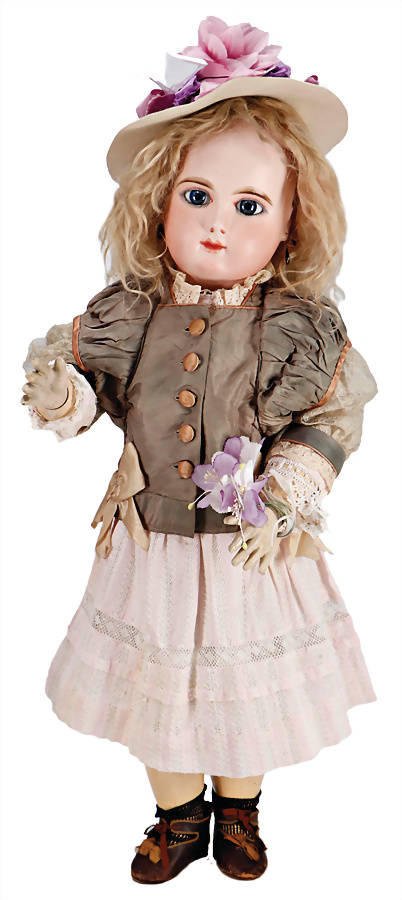 A. MAY FREIRES & CIE
Bébé MASCOTTE L, Paris around 1890, pressed bisque porcelain-socket head with signature in the neck MASCOTTE 11, at the back of the head, fix inset blue almond-shaped paperweight eyes, fine tint at the eyelids, slight dimple at chin, closed mouth, with sweeping contour, pierced ears, blond original mohair wig, cork cover, chinless, original jointed body with jointed wrists, at the loins red signed with Bébé MASCOTTE Paris, nice old clothes, socks and old leather shoes, size 12 with Jumeau brand, hat and colored   feather ornaments, 70 cm, very expressive




---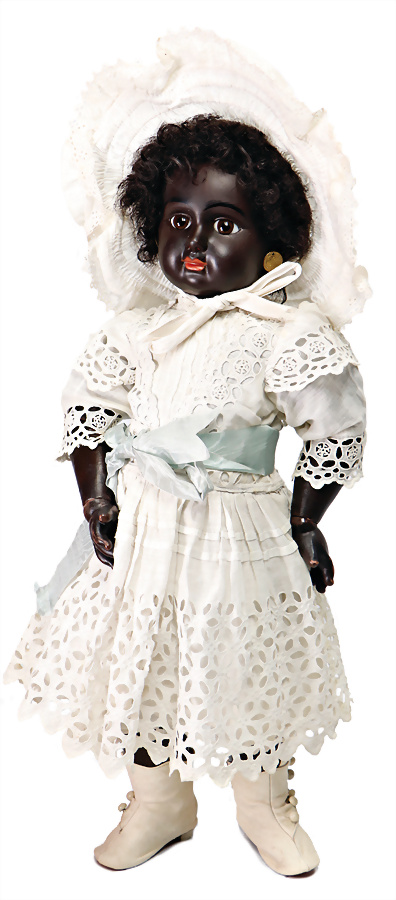 DANEL & CIE
French, dark-skinned, Paris, Bébé, around 1891, black bisque porcelain socket head, with engraving Bébé Tête Deposé 10, was in 1891 produced in Paris by the  company DANEL & CIE, as so called Bébé-Solei, Sep 9th 1891 by Guepratte Jean-Marie, manager of the production, registered, the especialness of this Bébés is  the jointed body, that was manufactured  of wood, with movable hands, closed mouth, brown, almond-shaped paperweight eyes, pierced ears, coral-red lips, and slightly reddish nostrils, black, more recent frizz mohair-wig, on the original cork cover, several old clothes and original box with the No. 10, very rare and a highlight of the collection that was arranged with love, 55 cm







---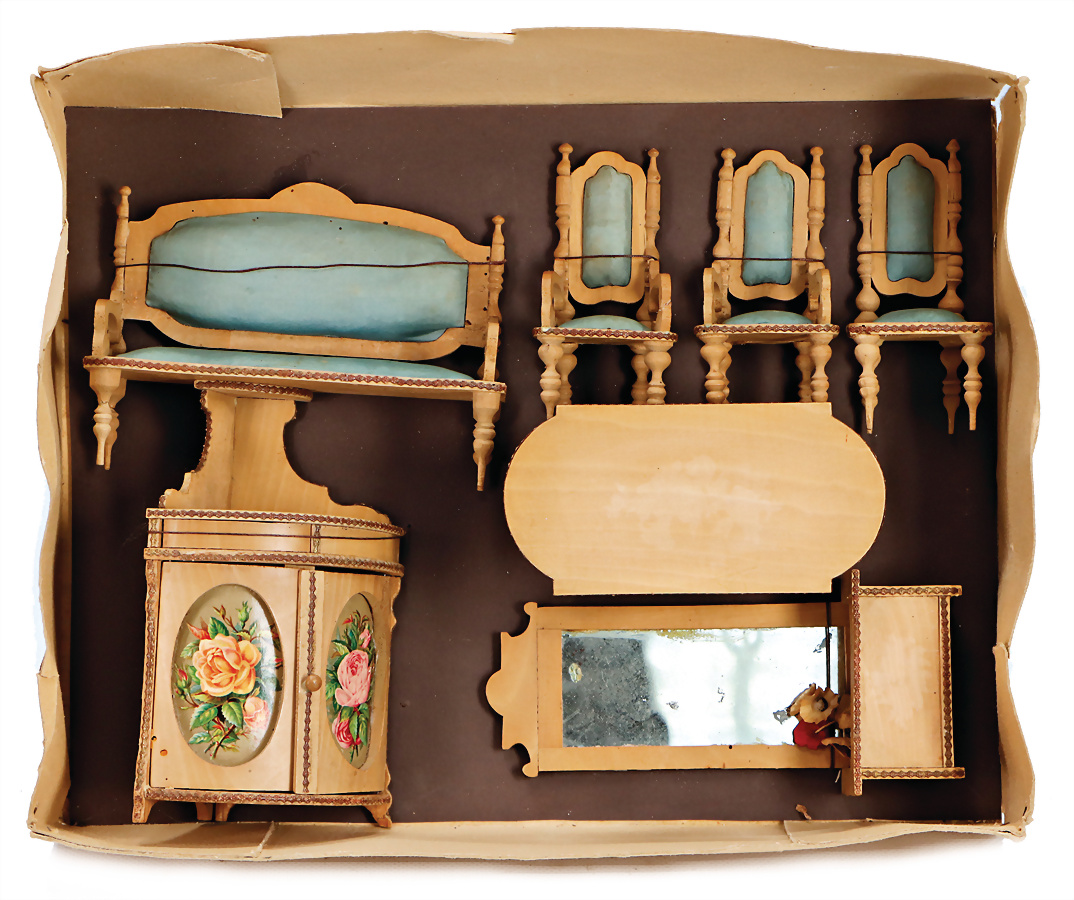 SCHNEEGASS D. & SÖHNE K.G.
from 1909 the company SCHNEEGASS in Waltershausen was beside jointed dolls  also interested in the production of doll's furniture, fine living room made of light cherrywood, very nice turnery, gold edging ornament, painted doors at the corner cabinet, without damage, in original box, mirrored wardrobe height: 17 cm, and the corner cabinet 16 cm, sofa, lenght: 14 cm, chairs and sofa are upholstered with gentle turquoise silk
---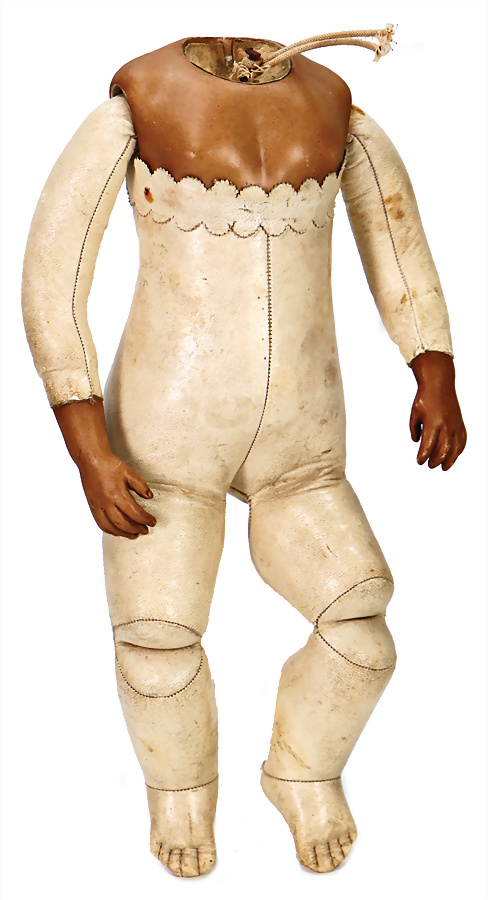 LEON CASIMIR BRU
Circle Dot, French Bébé, Paris, around 1880, complete, original kid leather body with brown colored breast plate and hands made of bisque porcelain, for an ethnic dark Circle Dot BRUE, with the size engraving 4, on the height  of the left arm hole and Deposé at the lower front edge of the breast plate, of the company L.C. BRU, only produced  from 1879 -till 1883, this extremely rare item is in best condition, height: 32 cm, neck pan diameter: 4 cm



---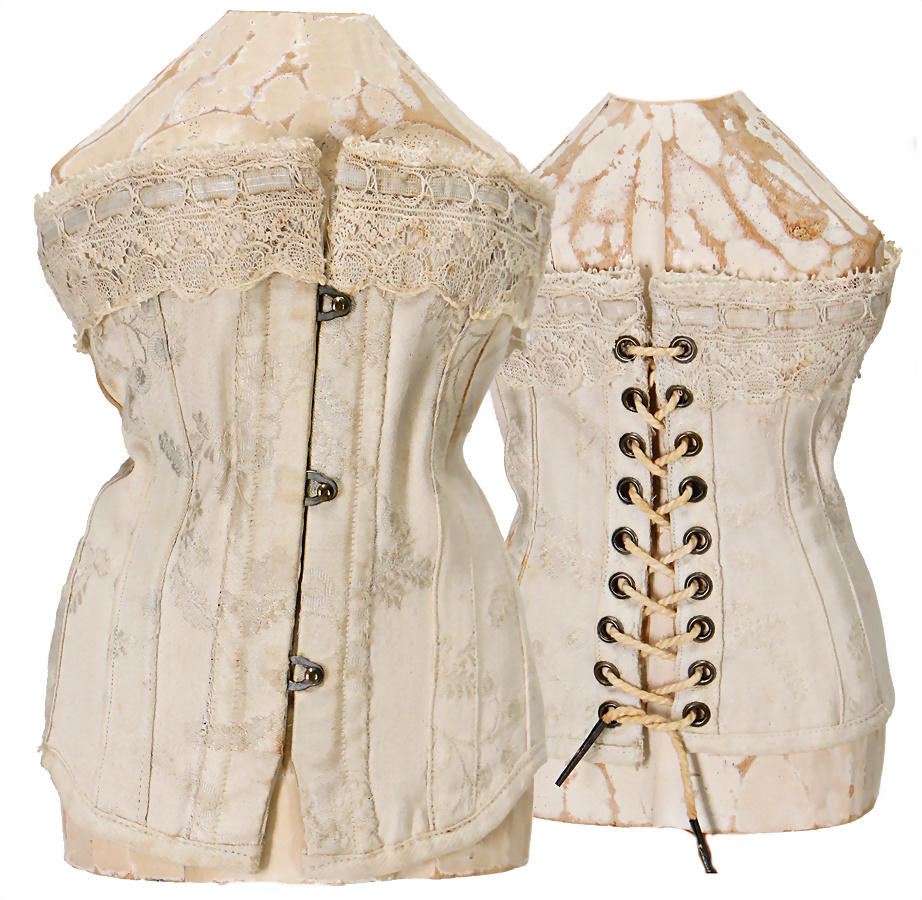 doll bodice, France, around 1880, detail-faithful miniature, production one of the Ladies' bodice from the Parisian era between 1860 and 1860, as well as fabric, lace, metal, eyes and metal back rail are faithful, height: c. 16 cm, width: 14 cm, diameter: 12 cm

---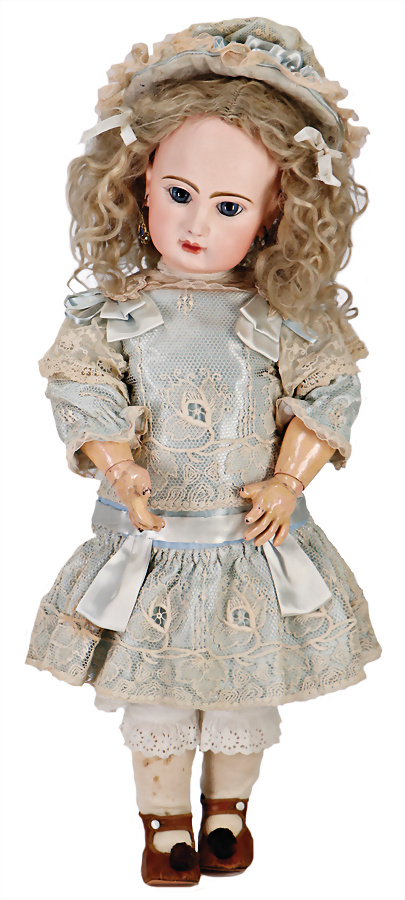 JUMEAU
Paris, around 1885, bisque porcelain socket head, Tête Jumeau, with the red stamp signature Déposé Tête Jumeau, Wte. F.G.D.G. 10, at the back of the head, closed mouth with subtle space, fine face painting, fix, blue paperweight eyes, pierced ears with ear jewellery, original, blond, mohair wig, on a cork cover, JUEMAU jointed body with jointed wrists, gem, medal D´Or Paris, at the back, very good preserved dress made of old silk with lace and the corresponding little Bébé hat, three layer underwear with lace and embroydery, knee socks and with leather shoes signed with the girls-brand , beautiful condition, 54 cm, very expressive




---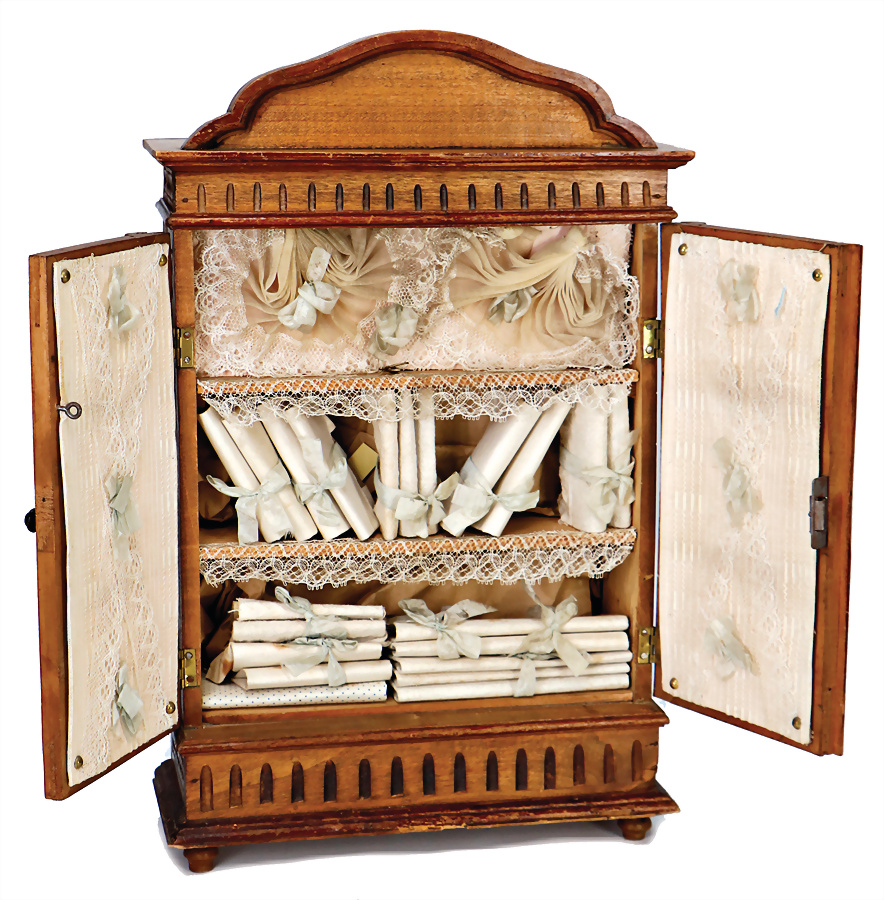 Petite Amoire, equipment for a French Bébé, around 1900, lovely cabinet made of wood, richly decorated with handcarved ornaments, 2 doors can be open, with decorative fabrics, equipped with lace and garlands, original bale of cloth, height: 40 cm, width: 26 cm

---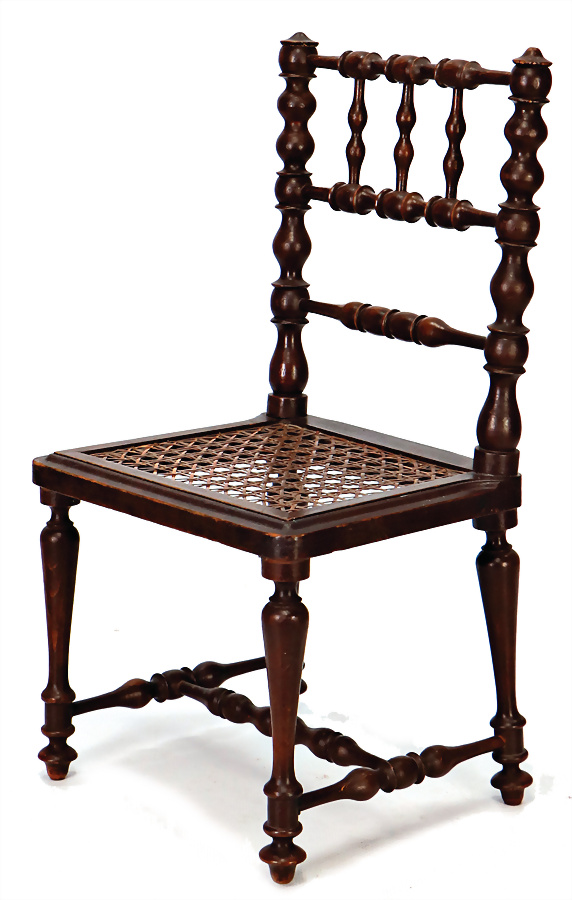 doll chair, France, around 1880-1890, chair made of turned hardwood, with wicker as seat, very good condition, mesh not damaged, ideal as accessory for a middle sized Bébé, height: 35 cm

---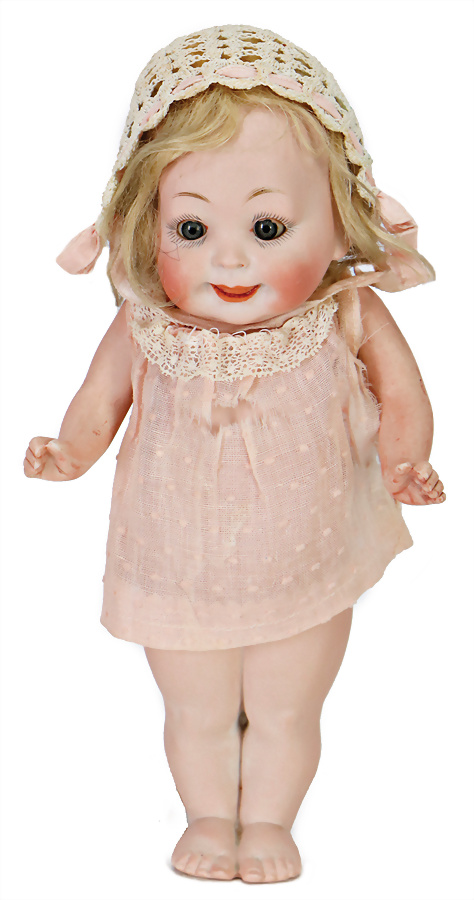 HERTEL, SCHWAB & CO. - STUTZHAUS
around 1915, Our Fairy, all-bisque-dolls, for company Louis Wolf, especially manufactured for the American market, fix head, body and closed legs, in 1 piece, jointed arms, at back marked 2222 22, opened/closed mouth, fine modeled cheeks, with 2 modeled upper teeth, blue sleepy eyes, funny expression, original blond mohair wig, original dress with knitted hood, original condition, 22 cm, very expressive
---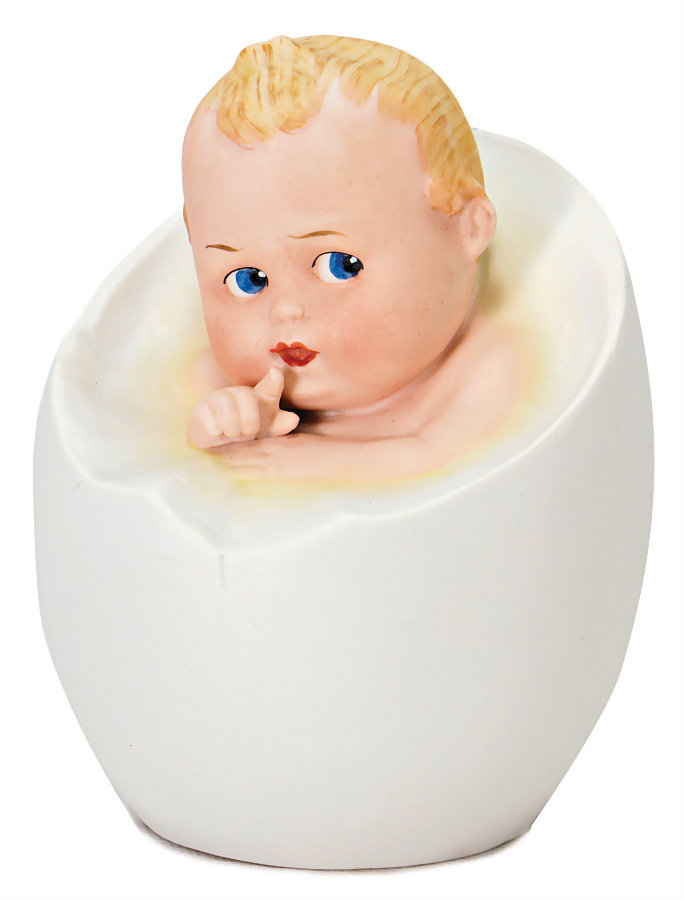 PROBABLY GEBR. HEUBACH
all-bisque baby, in a egg, bisque porcelain baby, head and neck stick out of the egg, only the right hand with the extended forefinger is visible, lovely expression with opened/closed mouth, Intaglio-eyes, blue painted, with points of light, modelled blond dyed hair, opened reverse as candy-container (usable as secret compartment), height: 16 cm, diameter: 12 cm, around 1915
---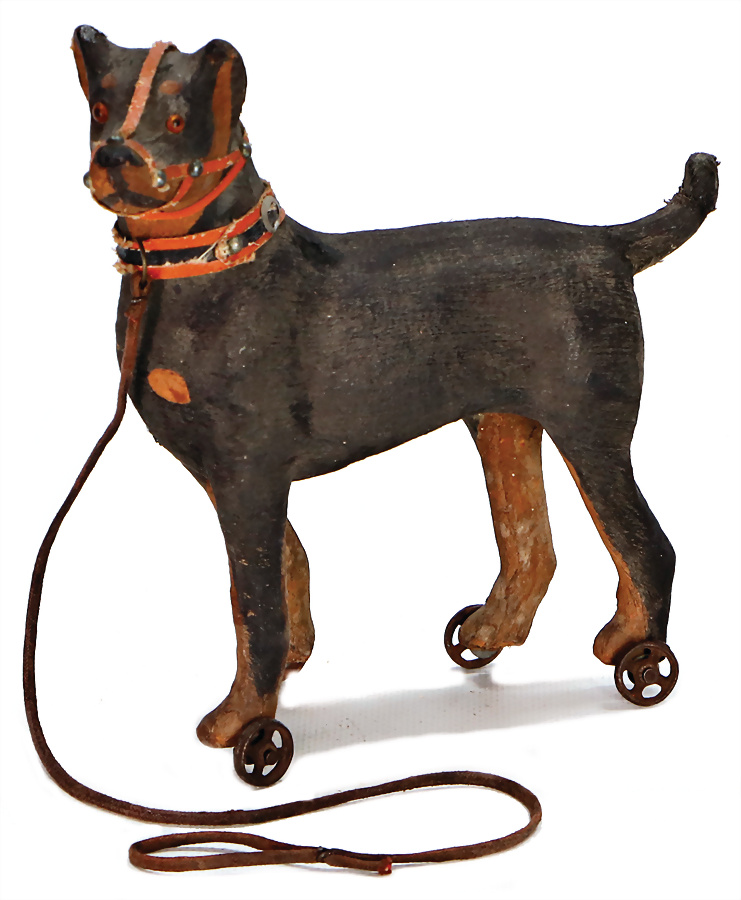 Doberman as pull game and doll's accessory, fix body is made of papier mâché with skin look, in dark and light brown, decoration at head and neck made of leather and metal, and leather lead and 4 wheels with metal spokes at the legs, 17 x 17 cm, c. around 1880

---
miniature library, 36 volumes by W. Shakespeare, library made of wood, extra made for 36 miniature volumes by W. Shakespeare, publisher of this complete edition in English was Elliot Newspapers, London, printed in Scotland, around 1900, original and without damage, site: 22.5 x 20 x 7 cm, volume 5x3.5

---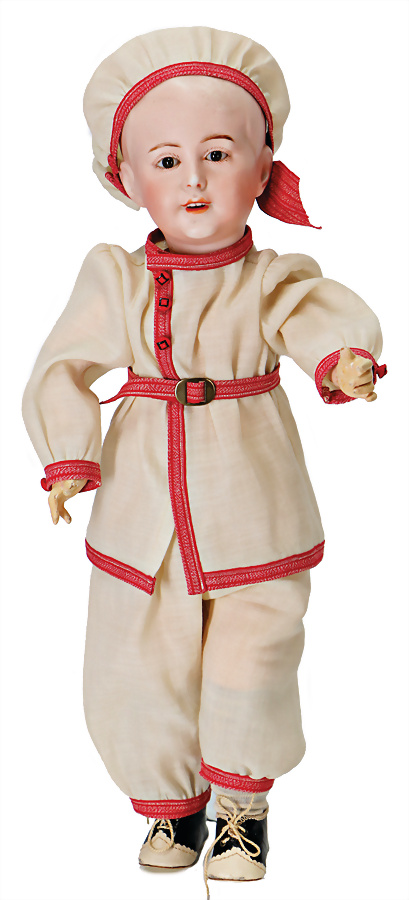 SFBJ
Paris, around 1913, character boy, bisque porcelain socket head, full head with engraving SFBJ 237 Paris 4, opened mouth, with 4 upper teeth , fix, brown so called diamond eyes, modeled hair, 10-fold jointed Toddler-body, with jointed hands, 2-part outfit, probably slightly more recent, oilcloth shoes, 32 cm, head with a little bit dust, little colorwise worn place on the tip of the nose, and at the right hand, small finger is knocked, colorwise slightly bleached out

---

DANEL & CIE
Jewish Paris Bébé, around 1892, interesting and rare French bisque porcelain socket head doll, at the back of the head with a red stamped signature Bébé Tête Deposé No. 9, closed mouth, fix, brown paperweight eyes, firing crack in the corner of the eye right, feathered eyebrows, pierced ears, dark-brown real hair wig on a cork cover, without damage original DANEL-jointed body, with very nice shaped jointed hands, original clothes and leather shoes, without damage in original condition, in the sales box from 1892, height: 53 cm






---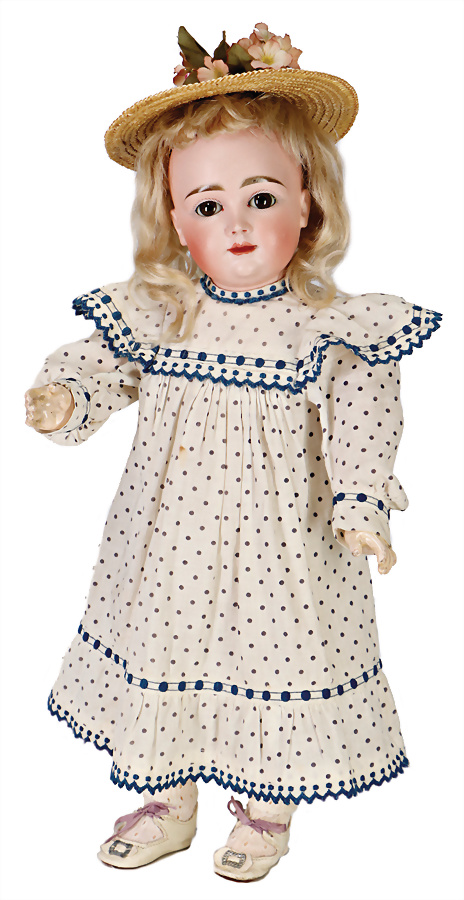 J.D. KESTNER-WALTERSHAUSEN -AT
around 1885, the marking AT is caused by the similarity to the head of a French Bébé, A. Thuillier, bright bisque porcelain socket head, with engraving number 9 at back of the head, slightly opened/closed mouth with contours, brown sleepy eyes, plaster cover, original blond mohair wig, original early KESTNER jointed body with loose balls and fix wrists, very good preserved, white/blue spotted cotton dress, underwear and leather shoes, very nice original condition, 37 cm

---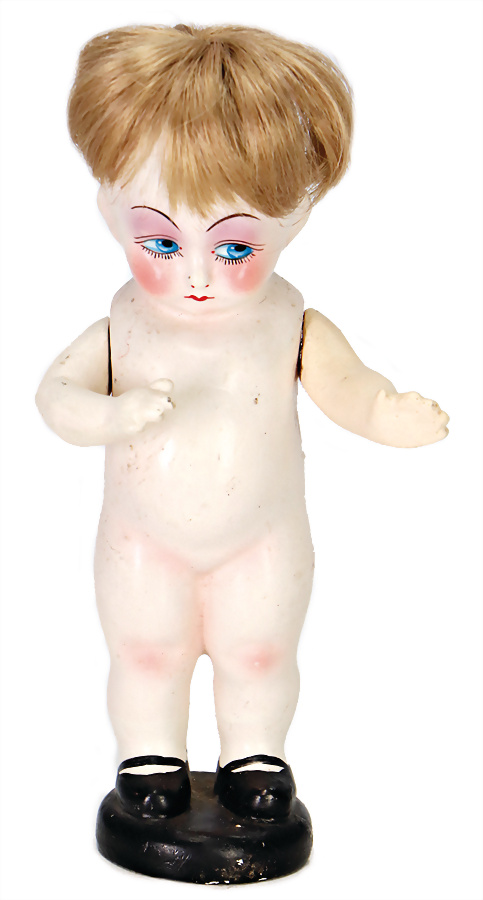 Googly, solid wax, with wig, stiff jointed head and -body, painted features, blue to the side looking eyes, with real hair-wig on a full head, arms are moveable by anelastic band , painted shoes, standing on a platform, 18 cm

---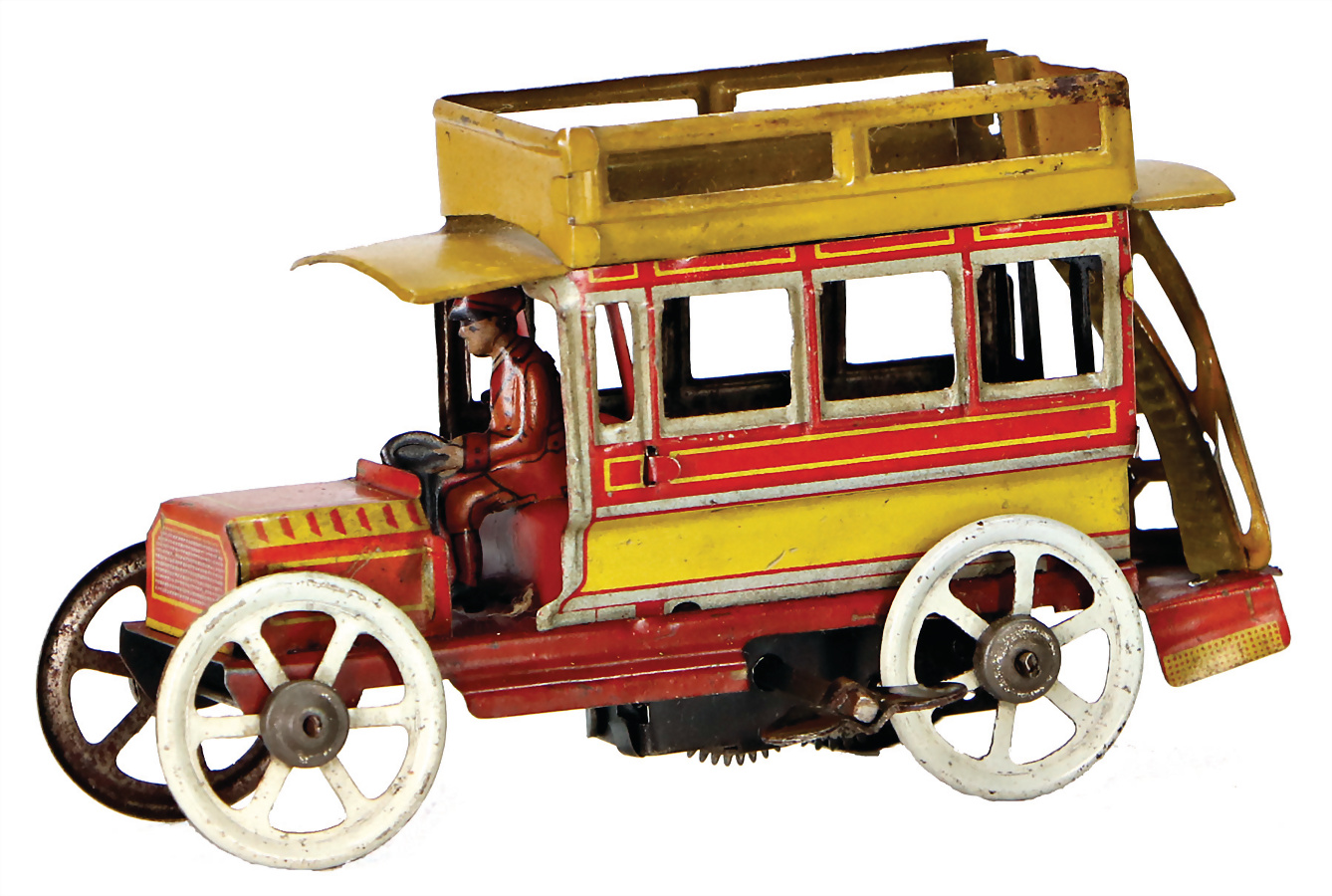 DISTLER
Peny-Toy, double-decker bus, c. 1910, 11.5 cm, lithographed sheet metal, with driver figure, clock mechanism is intact, good condition
---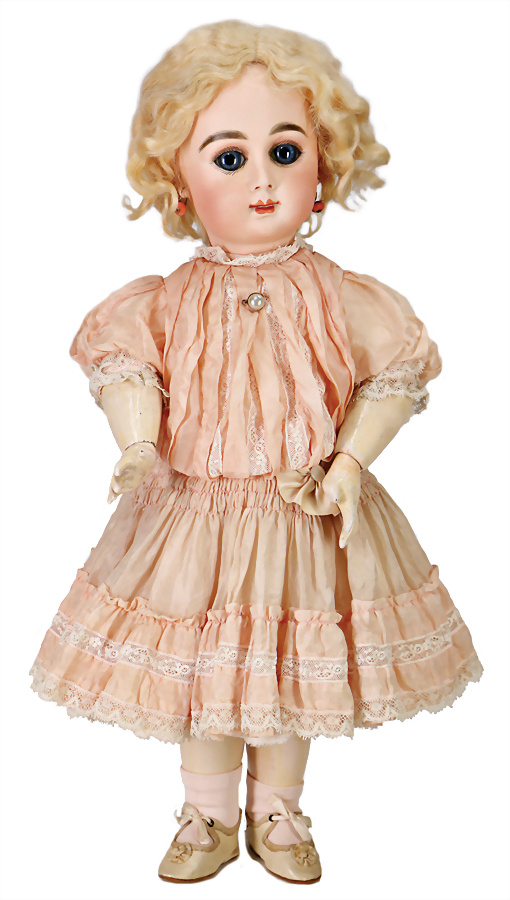 DELCROIX HENRI
French Bébé, Paris around 1887, bisque porcelain socket head, marked Paris No. 8 as size declaration, below it this Bébé with the very big eye sockets for the sparkling blue paperweight eyes, closed mouth, with suggested line of upper teeth, slightly violet eye shadow, eyes are extremely expressive, dark-brown brows, pierced ears, light blonde mohair wig on an original cork cover, very good preserved French jointed body with jointed wrists, original clothes, apricot-colored, set with lace, many underwear, bright leather shoes, 48 cm, with Paris Bébé box, long fine swung fingers





---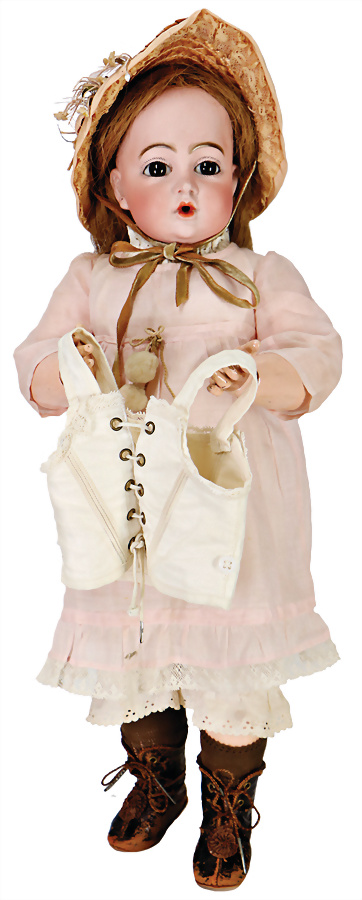 BRU TÊTEUR
French Bébé, Paris, around 1890, bisque porcelain socket head, marked BRU JEUNE 8, at theb back of the head, with suction mechanism, mounted on a Jumeau jointed body with jointed wrists, o-shaped mouth opening, for drinking, fix inset brown  paperweight eyes, pierced ears, light brown real hair wig, fine, bright porcelain, very nice modeled, laced boots made of leather, 48 cm




---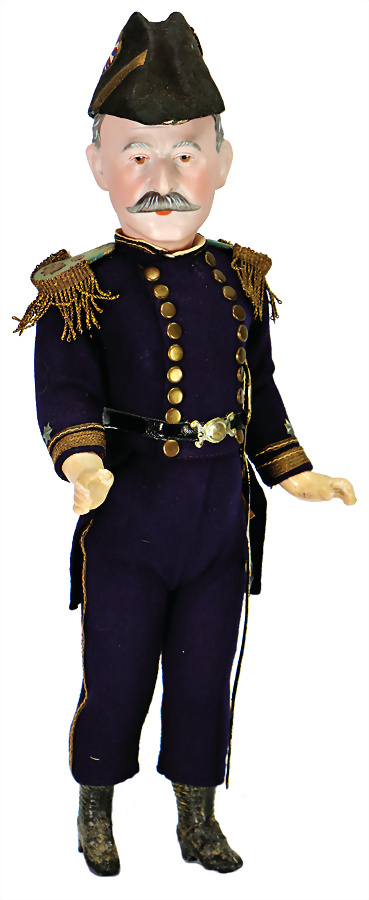 SIMON & HALBIG FOR CUNO OTTO DRESSEL
unusual portrait doll, bisque porcelai -full head, modelled nose, brown Intaglio-eyes, schnauzer, very nice fine modelled, SONNEBERG, around 1898, Admiral Dewey, the victorious commander of the US-Navy fleet in the Japanese / Spanish sea war in front of Manila, at this time he was so famous that a portrait doll for the American market was produced in Germany, 5-part complete jointed body, excellent preserved, officer uniform  made of black felt, with metal buttons, belt, sword, suitable headpiece, 36 cm, rare, unusual

---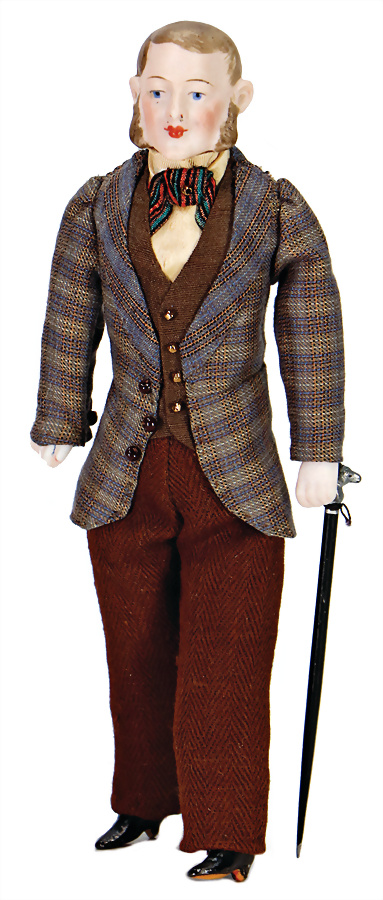 dollhouse doll, elegant gentleman with walking cane, around 1890, bisque porcelain shoulder headed doll, with modeled hair and sideburns, painted features, fabric body, arms and legs bisque, modelled boots, tailcoat, stick with horse knob, made of tin, height: 16.5 cm

---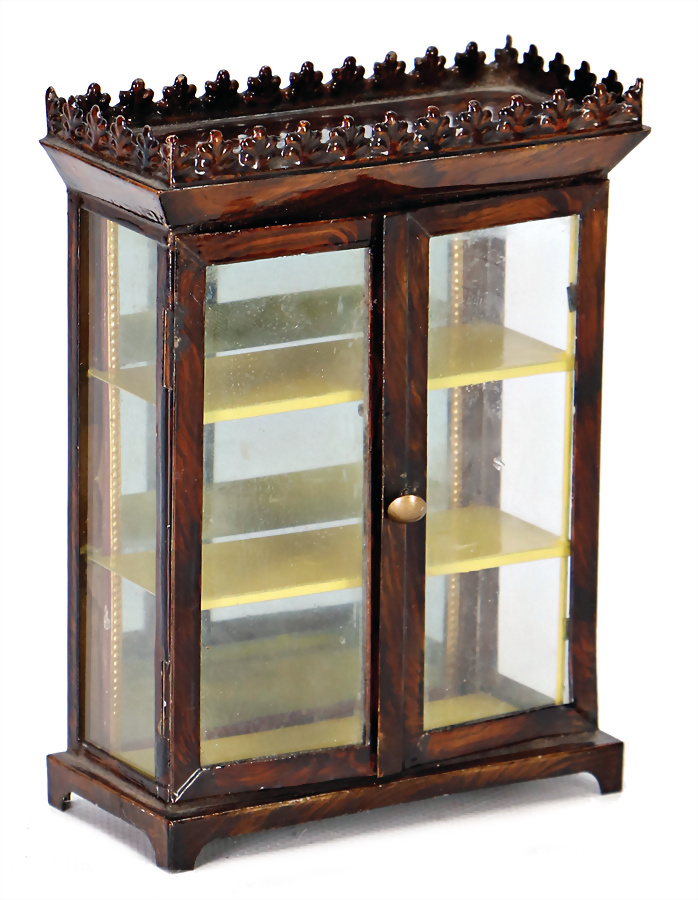 SKIRT & GRANER
glass cabinet, Biberacher sheet metal, around 1860, 2 doors can be open, nice original condition, height 15 cm, reverse is mirrored, very good condition
---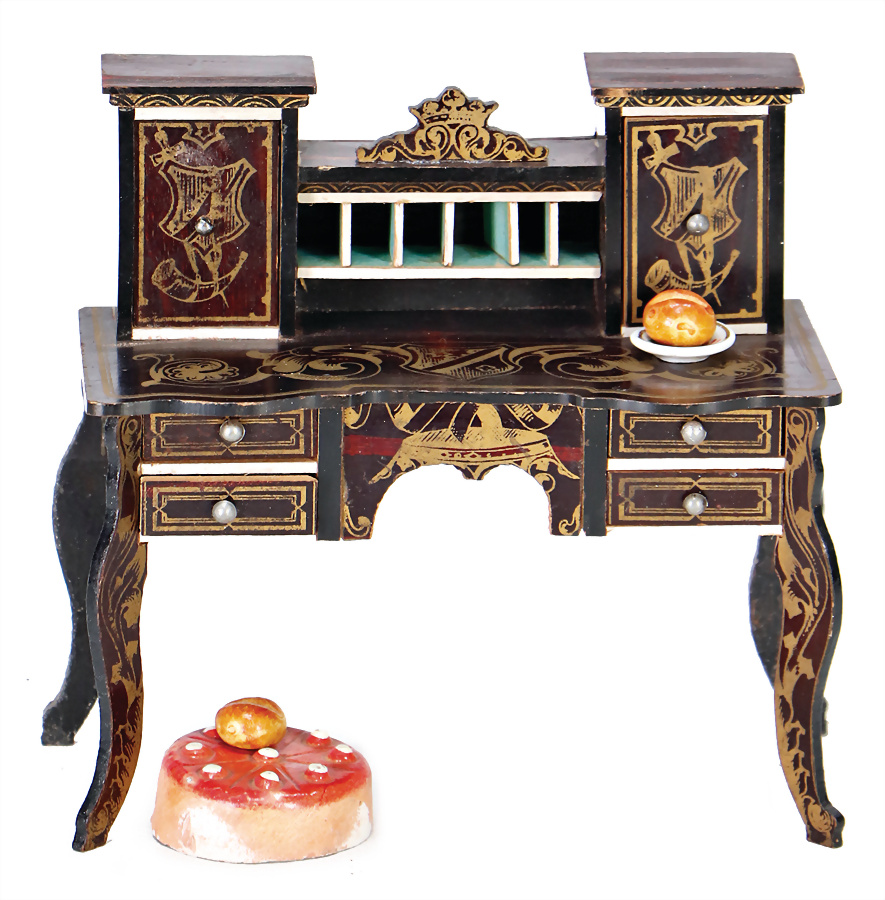 Boulle dollhouse secretary, around 1900, with golden Boulle ornaments, top with doors and fan, writing desk with drawers that can be open, very nice original condition, 11.5 x 12 cm

---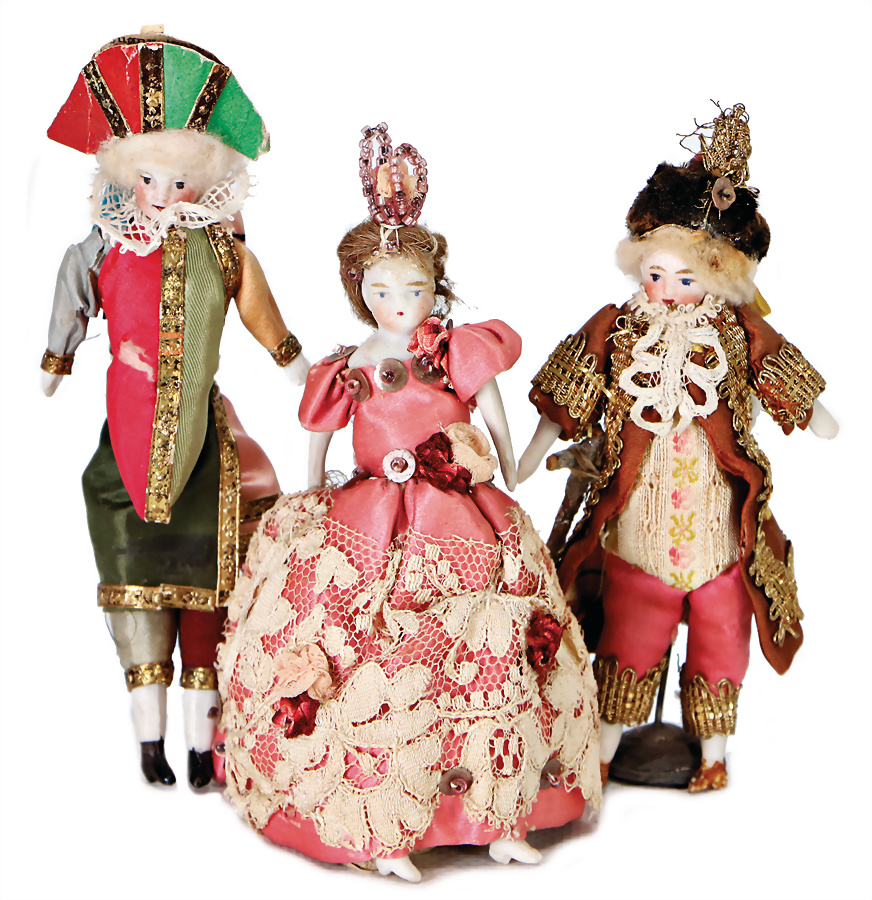 CHARLES KELLER
miniature theater figures, Paris, around 1877, very popular Parisian miniature theater figures, shoulder headed doll, arms and legs, bisque porcelain, mohair wig, pompous dresses, velvet, silk, 10-12 cm, 3 pieces
---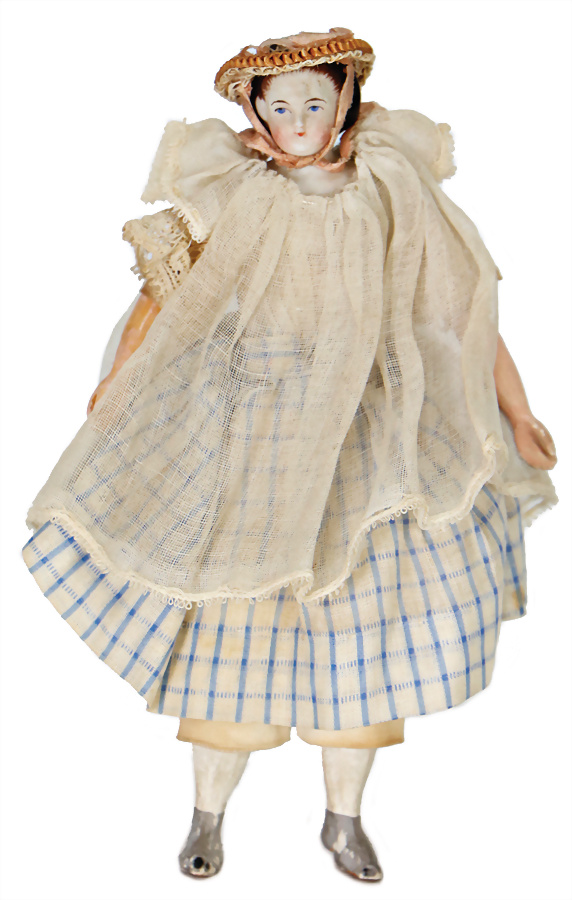 dollhouse lady, early, lady with bisque porcelain shoulder head, on a fabric body, carved wood joints, multilayered original clothes, with little hat, 13 cm, modelled brown hair, blue painted eyes, very fine

---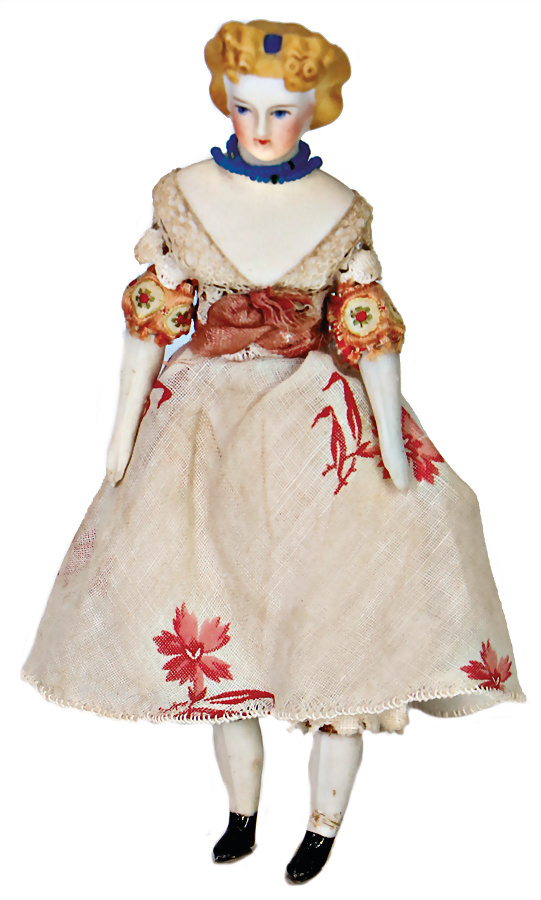 dollhouse-lady, early, petite dollhouse shoulder headed doll, painted features, blond hair, fabric body, bisque arms and legs, modelled shoes and socks, 1 lower leg was glued, blue painted eyes, fine modelled, blond hairstyle, print silk dress, probably original, rare, height: 13 cm

---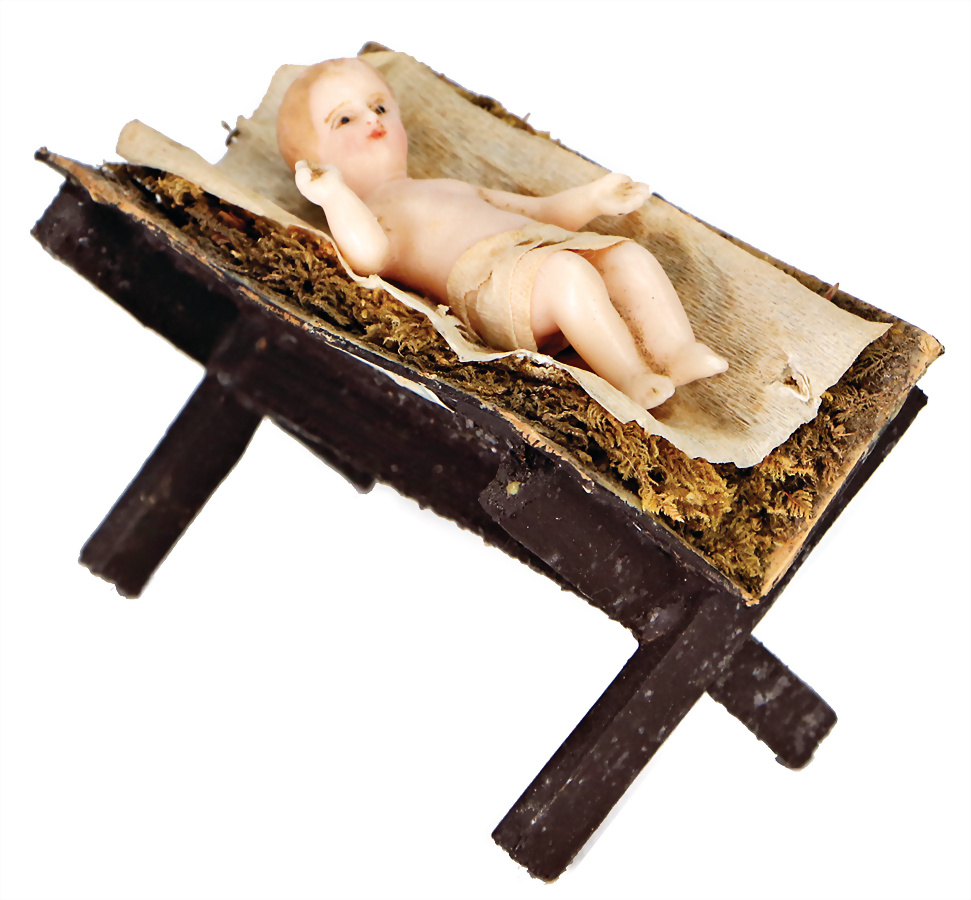 the child Jesus, made of wax in the wood crib, the child Jesus is made of solid wax, tiny glass eyes, tasteful face painting, in a moss bed, 11 cm

---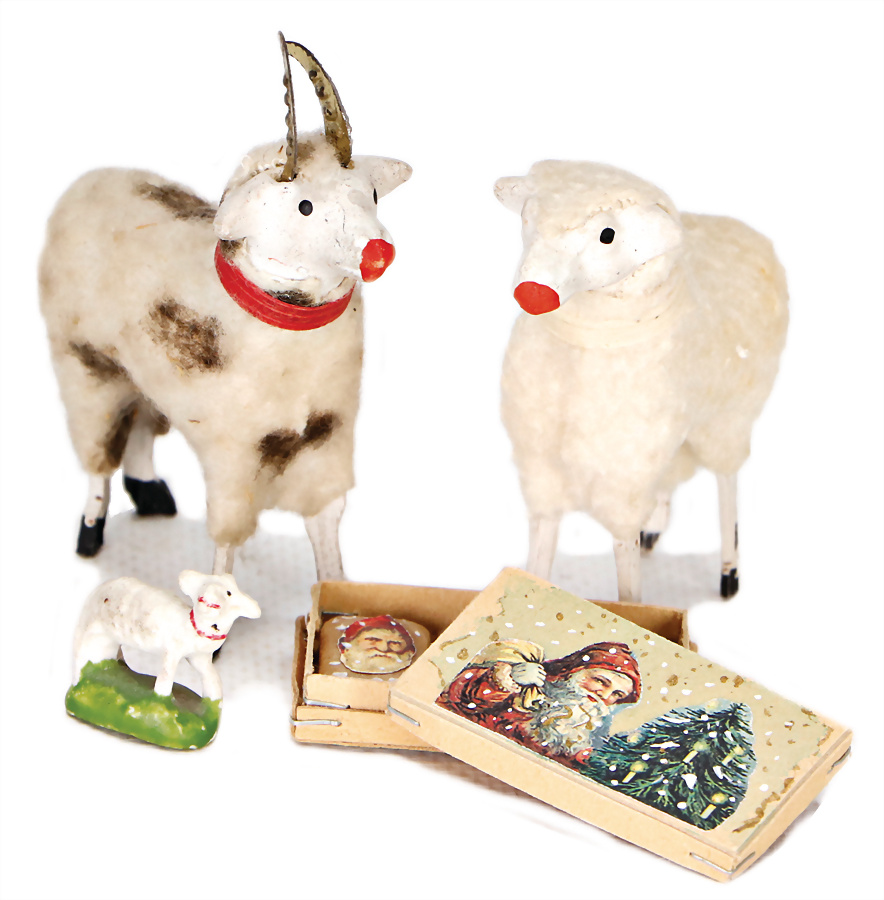 3 sheeps with mini gingerbread set, 2 pieces wool sheeps, 1x ram with sheet metal horns, 6 cm, 1x bisque sheep, 2 cm, 1 piece gingerbread set in a lithographed paper box, filigree produced, 4x 2.5 cm

---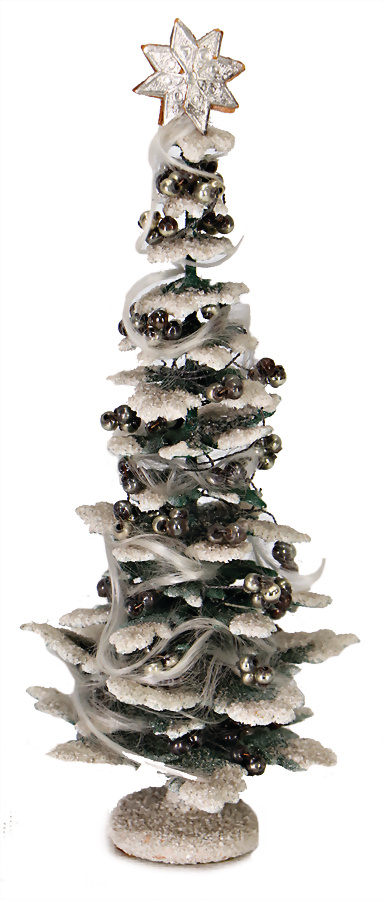 dollhouse decoration part, christmas tree, with snow, rare small tree made of green pressed cardboard, with artificial snow, small mirror glass balls with wire fixation and fairy hair and DRESDEN silver stond, tree topper, 20 cm

---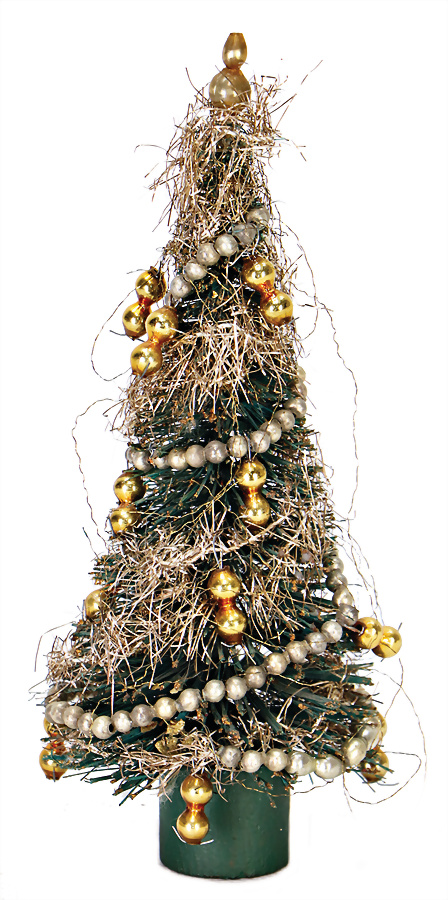 dollhouse christmas tree with leonic wires, green pressed cardboard, base made of pressed wood, mirror glass, leonic wires, decoration, 18.5 cm

---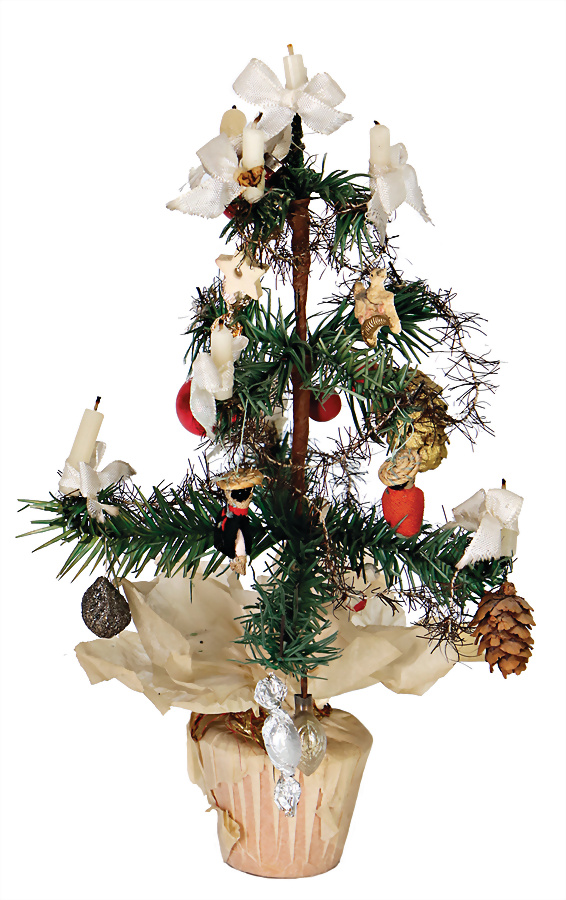 christmas tree on a wood base, dollhouse decoration part, Christmas tree decoration made of wax candles, mirror glass balls, toy, leonic wires, 25 cm

---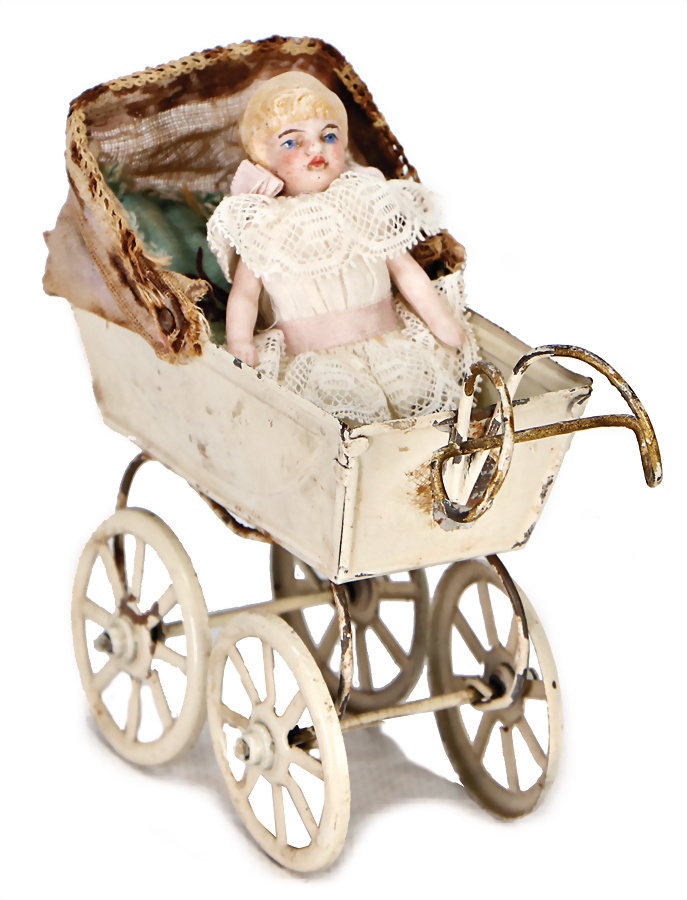 PROBABLY BING
small dollhouse pram, around 1910, tin car with 4 tin wheels, painted, conceal made of fabric, inner padding, turned handle, 7.5 cm, all-bisque dolls, dressed, good condition, nice accessory for a big dollhouse, lenght: 12 cm, convertible top with patches of rust
---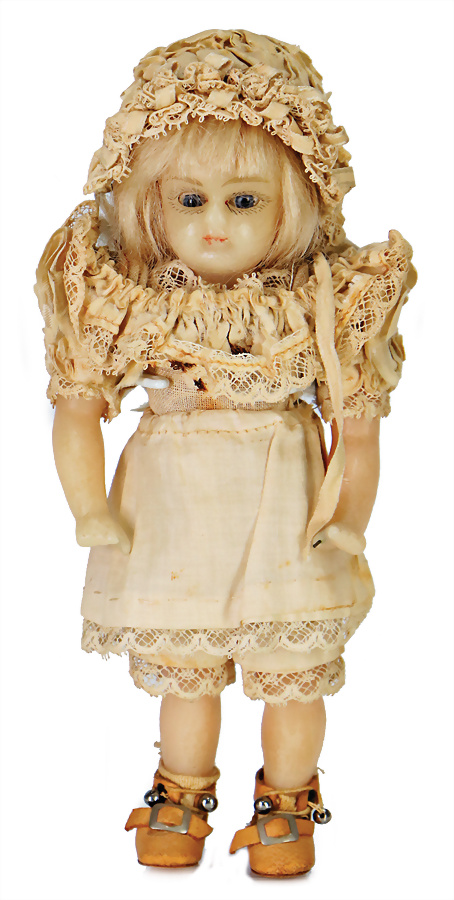 wax doll, around 1875, rare miniature wax doll, from a German production, wax shoulder headed doll with closed mouth, fix glass eyes, light blonde mohair wig, fabric body, solid wax arms, fingers are break off, fabric body, solid wax legs, socks, leather shoes, height: 18 cm, tip of the nose is caused of old age in worn condition, old clothes

---