Summer-Auction June 2016
Toy auction June 10/11, 2016 - Page 4 / 37
Complete catalog (1841 items)
---
---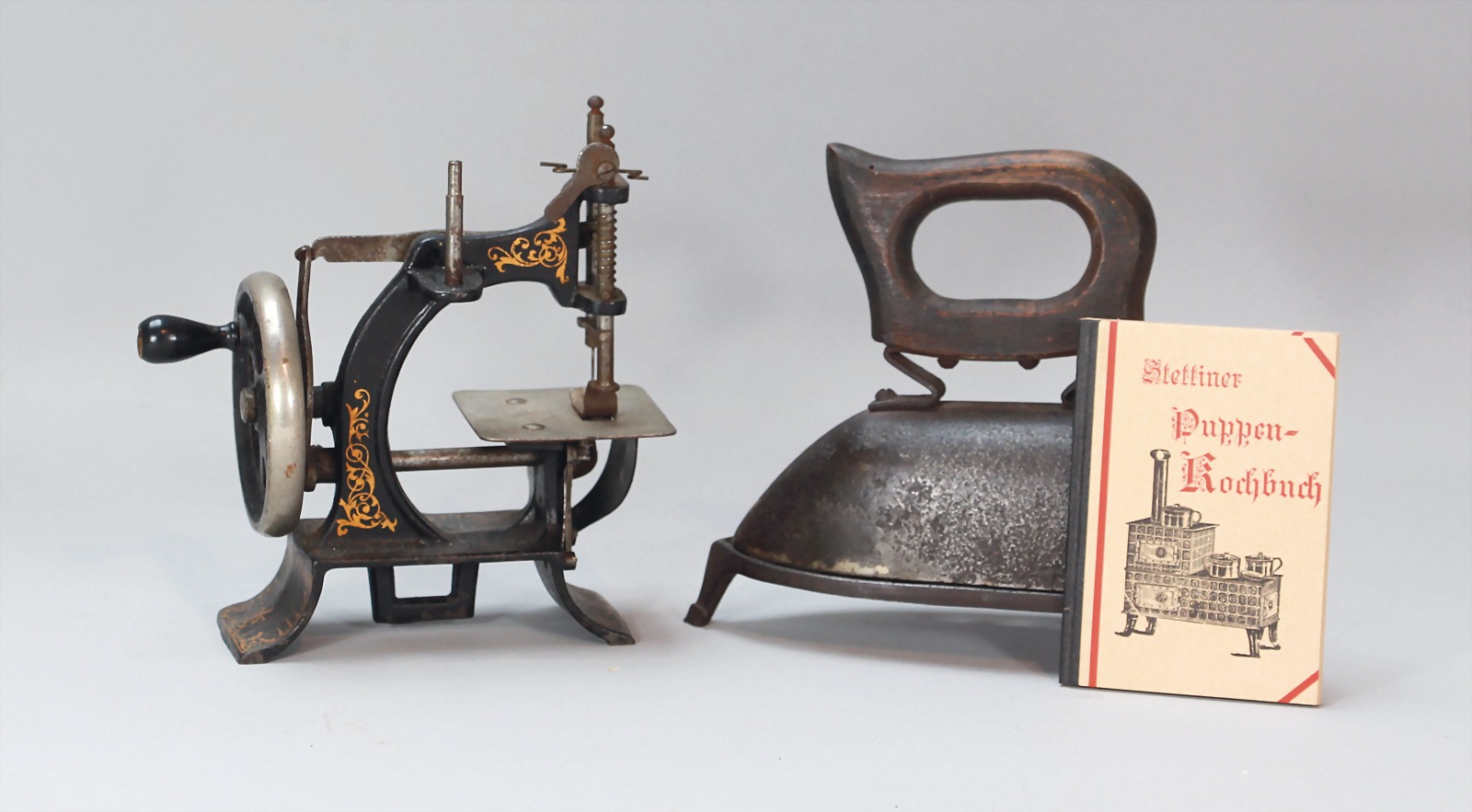 Kindernähmaschine, Guss, stärker bespielt, mit Orig.-Kart., dazu 1 altes Gussbügeleisen, mit Ablage, und kl. Puppenkochbuch

---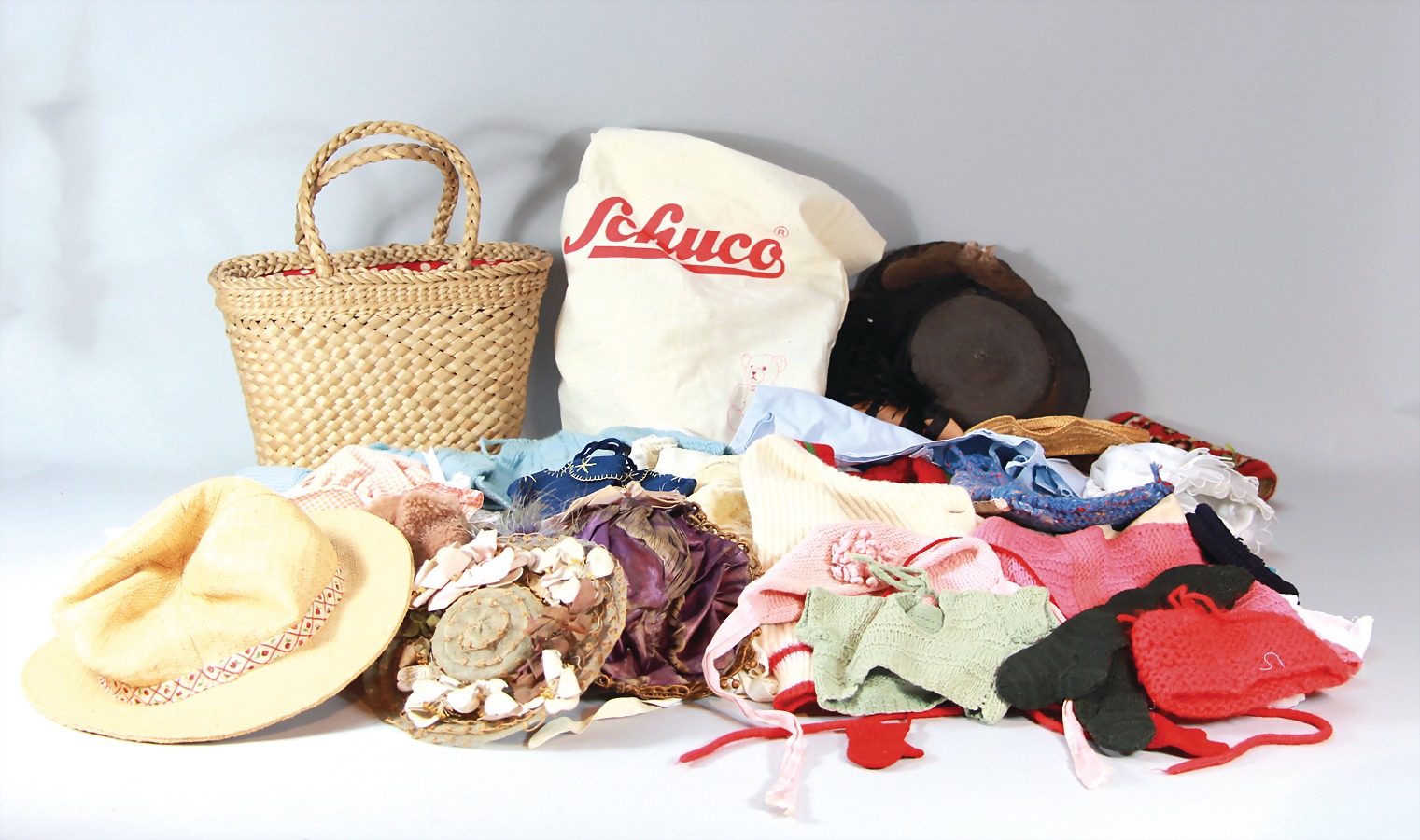 Gr. Konv. Puppenkleidung, versch. Größen u. Materialien, einige Perücken, Kleinteile u. Accessoires, bitte besichtigen

---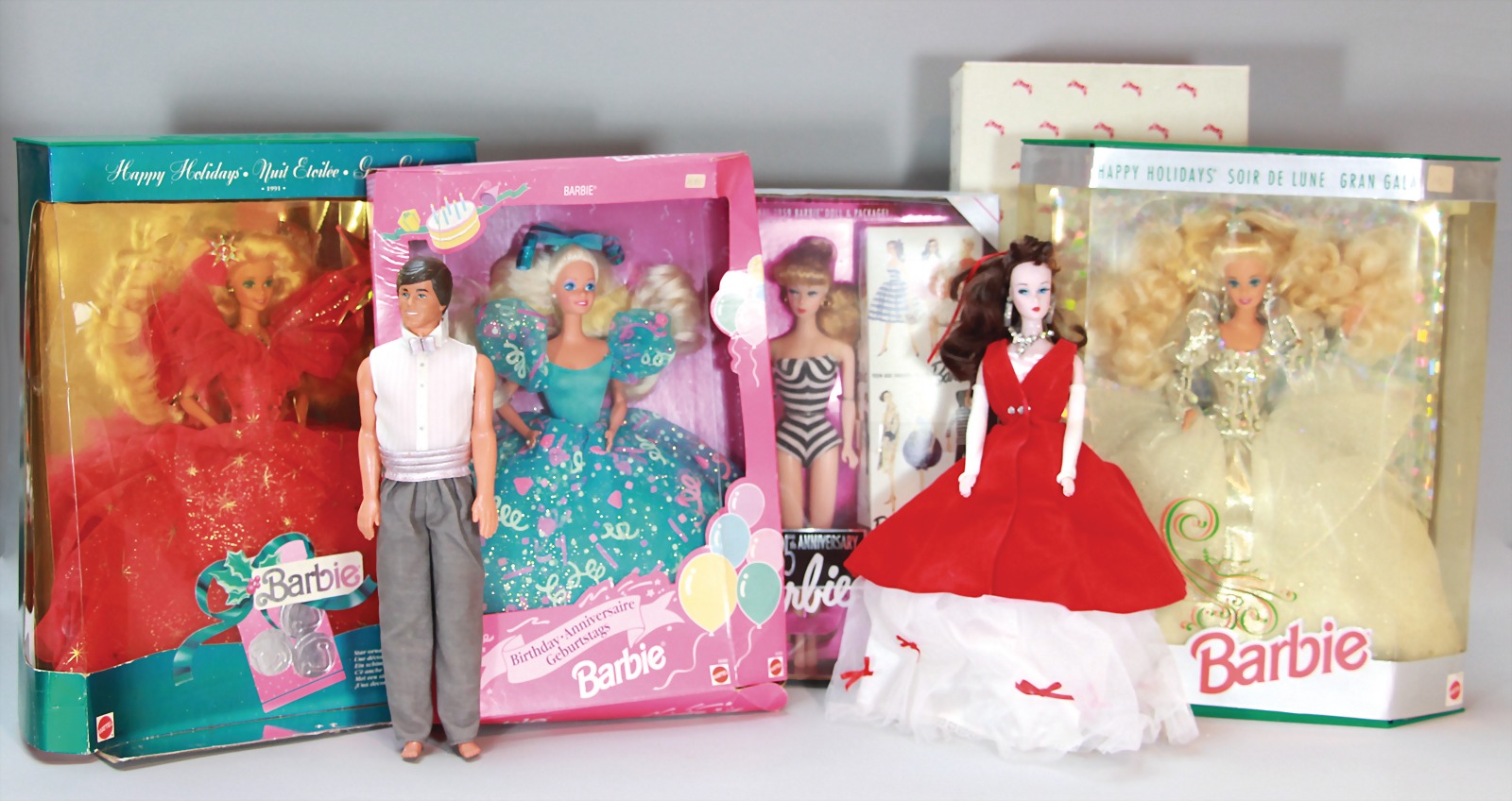 MATELL
Konv. 5 Barbie- Puppen, neuer, in Orig.-Kart., dazu 1 Ken
---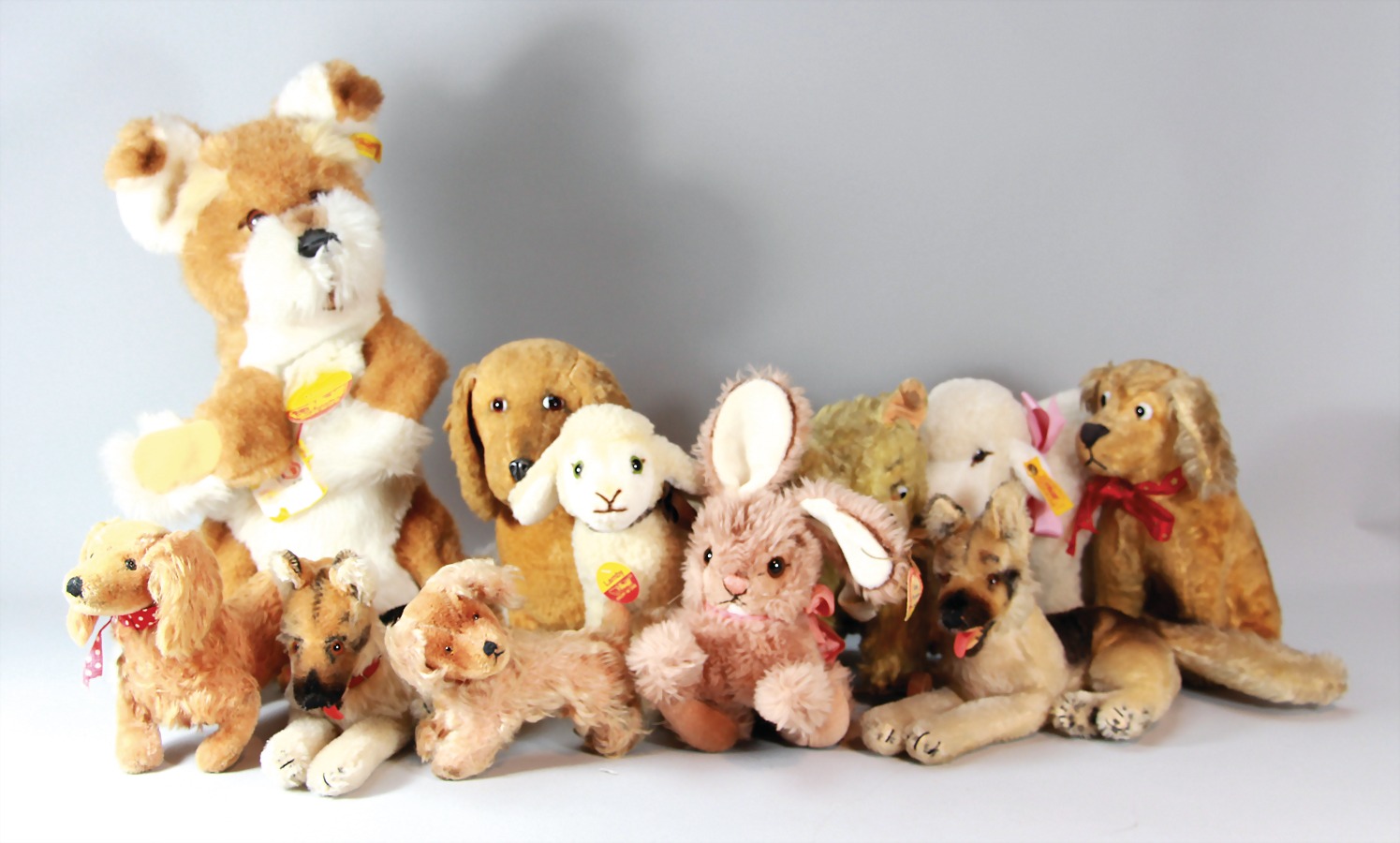 Konv. Plüschtiere, darunter auch STEIFF, Hunde, Handspielpuppe "Mimic", 2 Lämmer mit Knopf, Schild und Fahne u.a.

---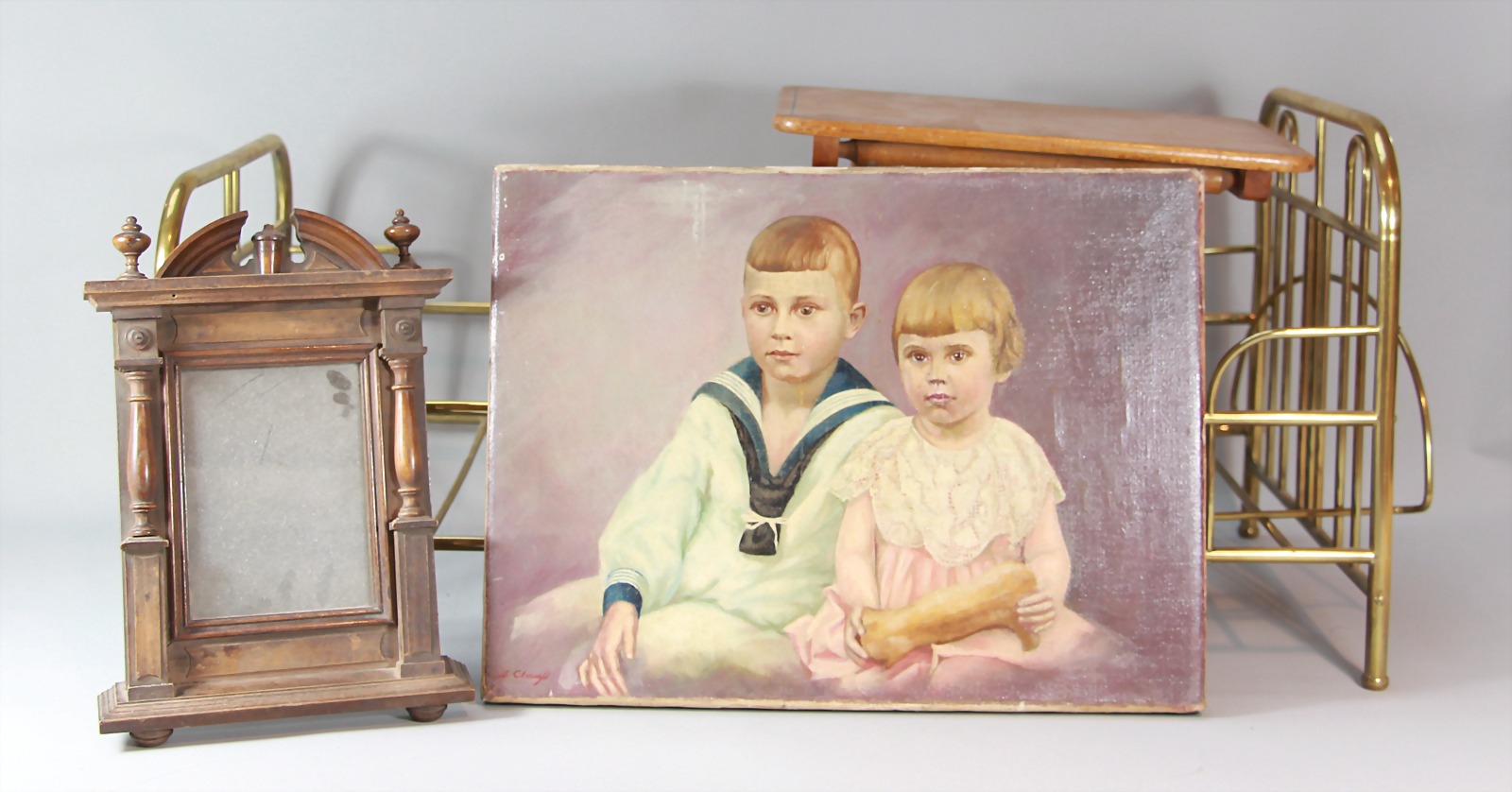 Puppen-Gitterbett , Messing, mit Himmel, L: 70 cm, dazu, 1 Klapptisch, 25,5 cm, 1 Spiegel, Holz gerahmt, 30 cm, 1 Ölgemälde, Geschwisterpaar, 39 cm x 30 cm, A.Clauz

---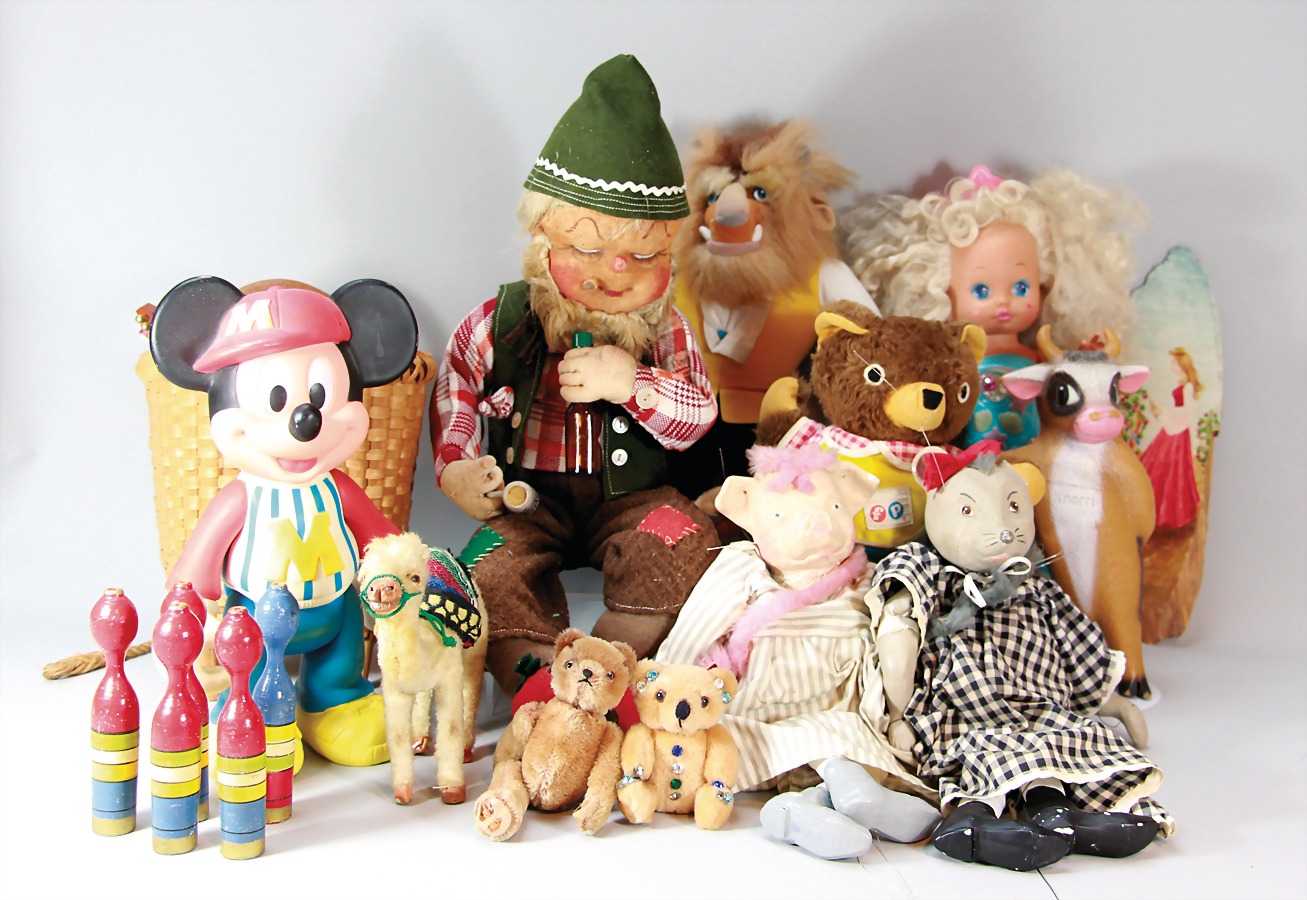 Fundkiste, 2 Keramik- Marionetten, 1 Ohr weggebrochen, kl. Teddy, Vinyl Mickey Mouse u. Figur von Knorr, Plüschtiere, 1 Karrikatur- Puppe, Stoffbezogen, sitzend, ca. 46 cm u.a

---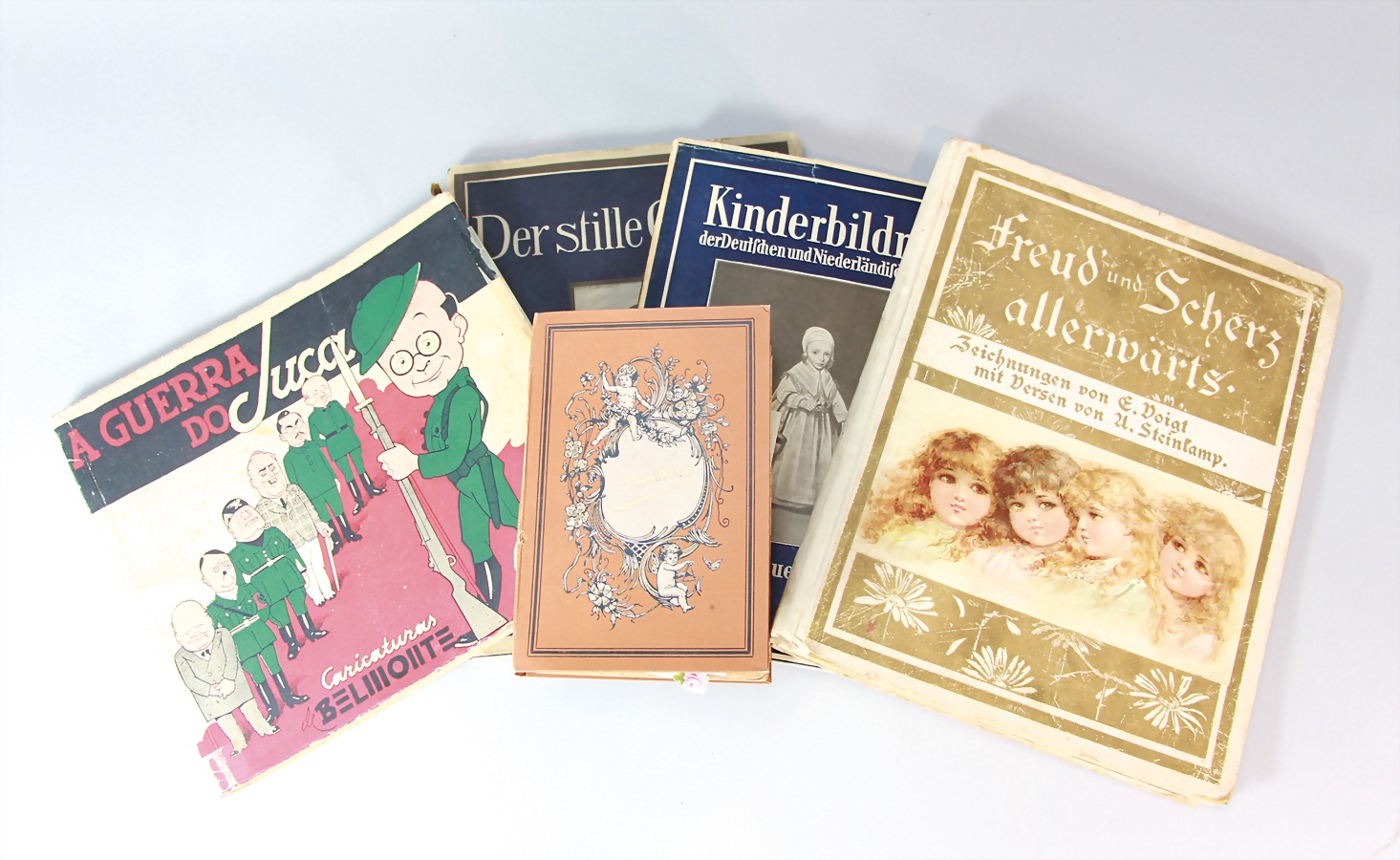 Konv. Bücher, darunter " Der stille Garten", Kinderbildnisse, aus 5 Jahrhunderten der deutschen u. niederl. Malerei, 1 Karikatur- Buch in Spanisch, Aufschrift: Aguerra Do Juca, dazu 1 Postkartenalbum, einige Glückwunschkarten

---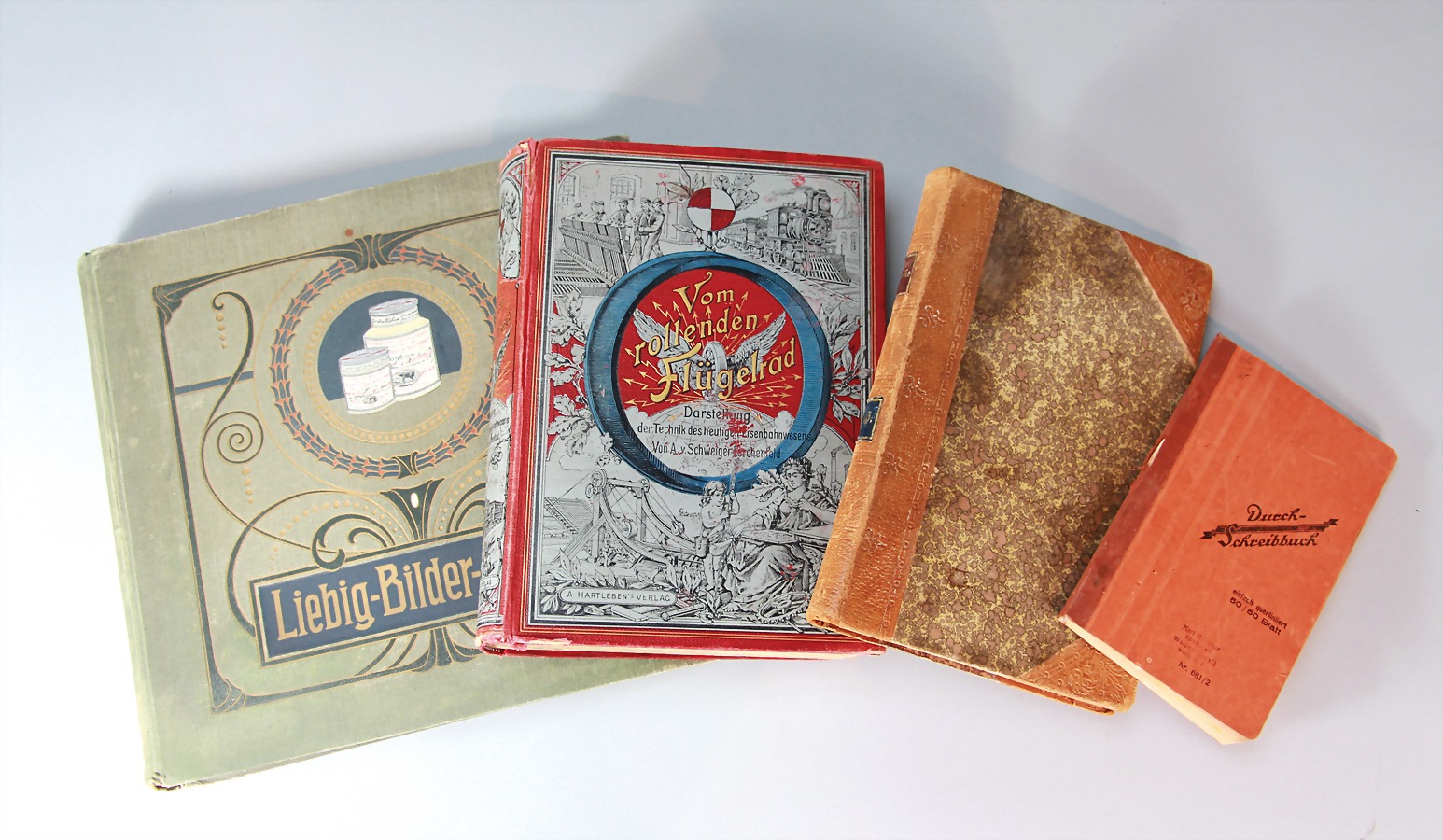 Liebig Bilder-Album, kompl. mit Szenen u. Bilder aus aller Welt, kl. Buch mit ein paar Widmungen aus 1885, kl. Büchlein mit einigen Oblaten Bildern u. "vom Rollenden Flügelrad", Darstellung der Technik des heutigen Eisenbahnwesens

---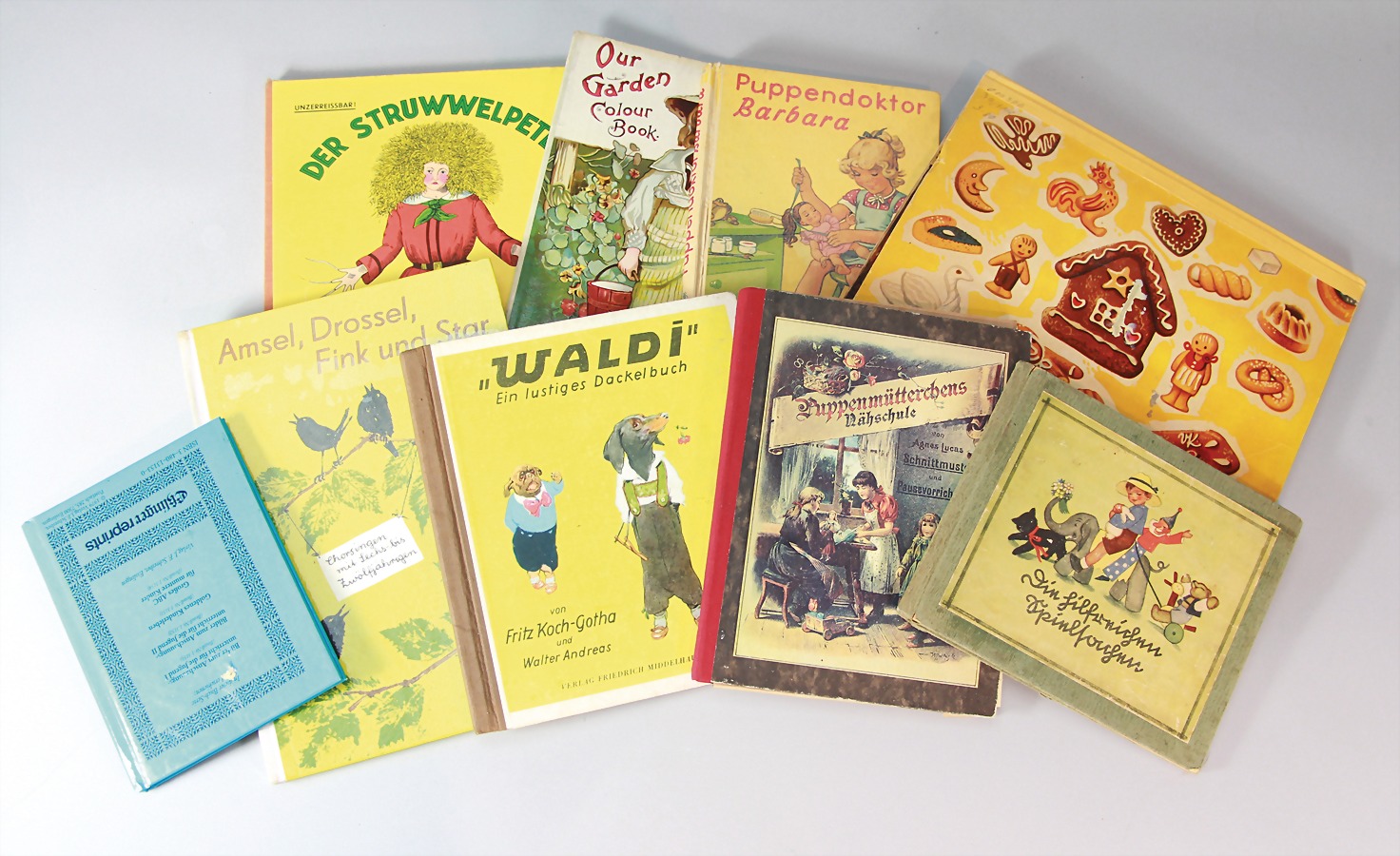 Konv. Kinderbücher, darunter "Puppenmütterchens Nähschule," Replika, "Die hilfreichen Spielsachen", "Waldi, ein lustiges Dackelbuch", "Hänsel u. Gretel", u.a.

---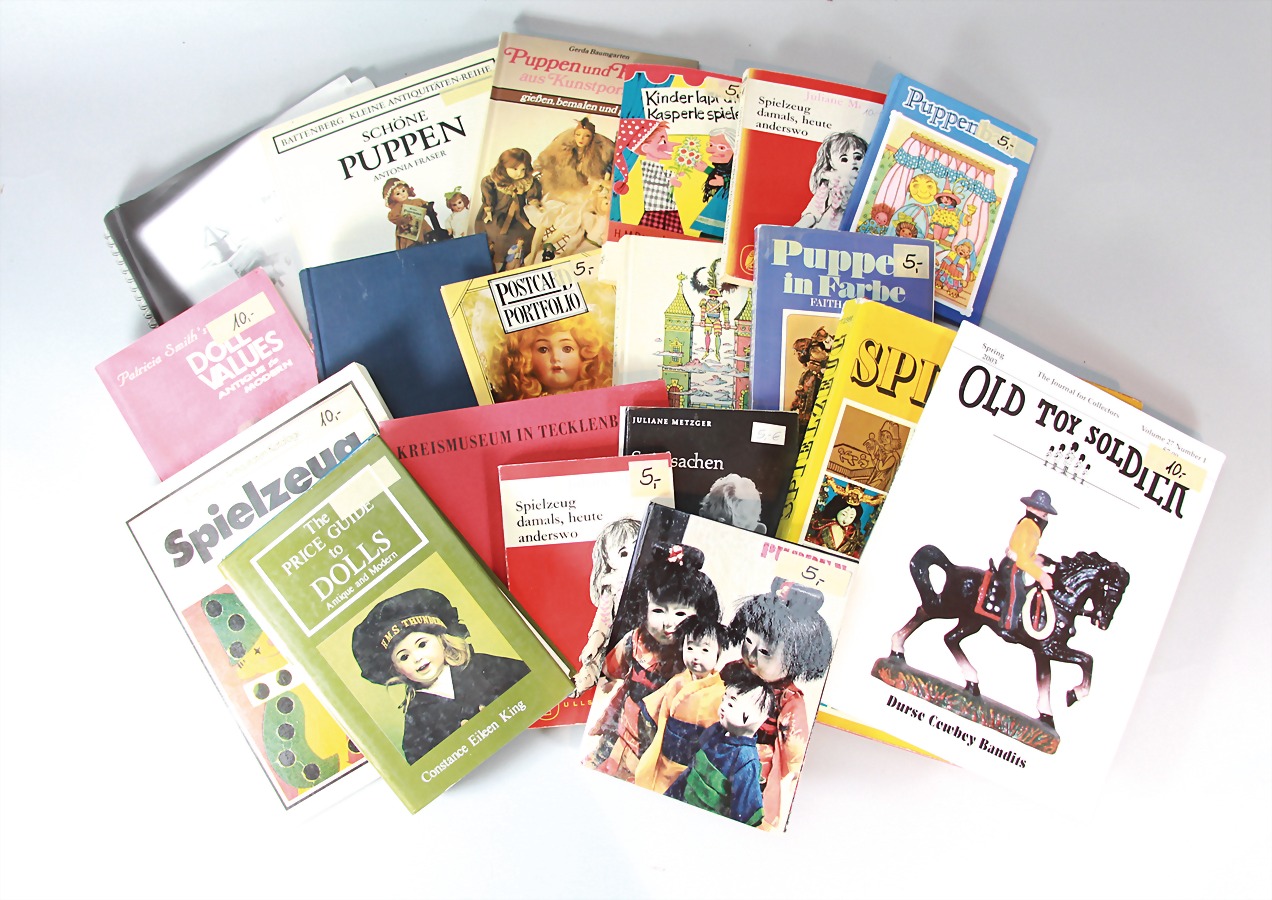 Konv. Fachliteratur für Spielzeugpuppen, in versch. Sprachen

---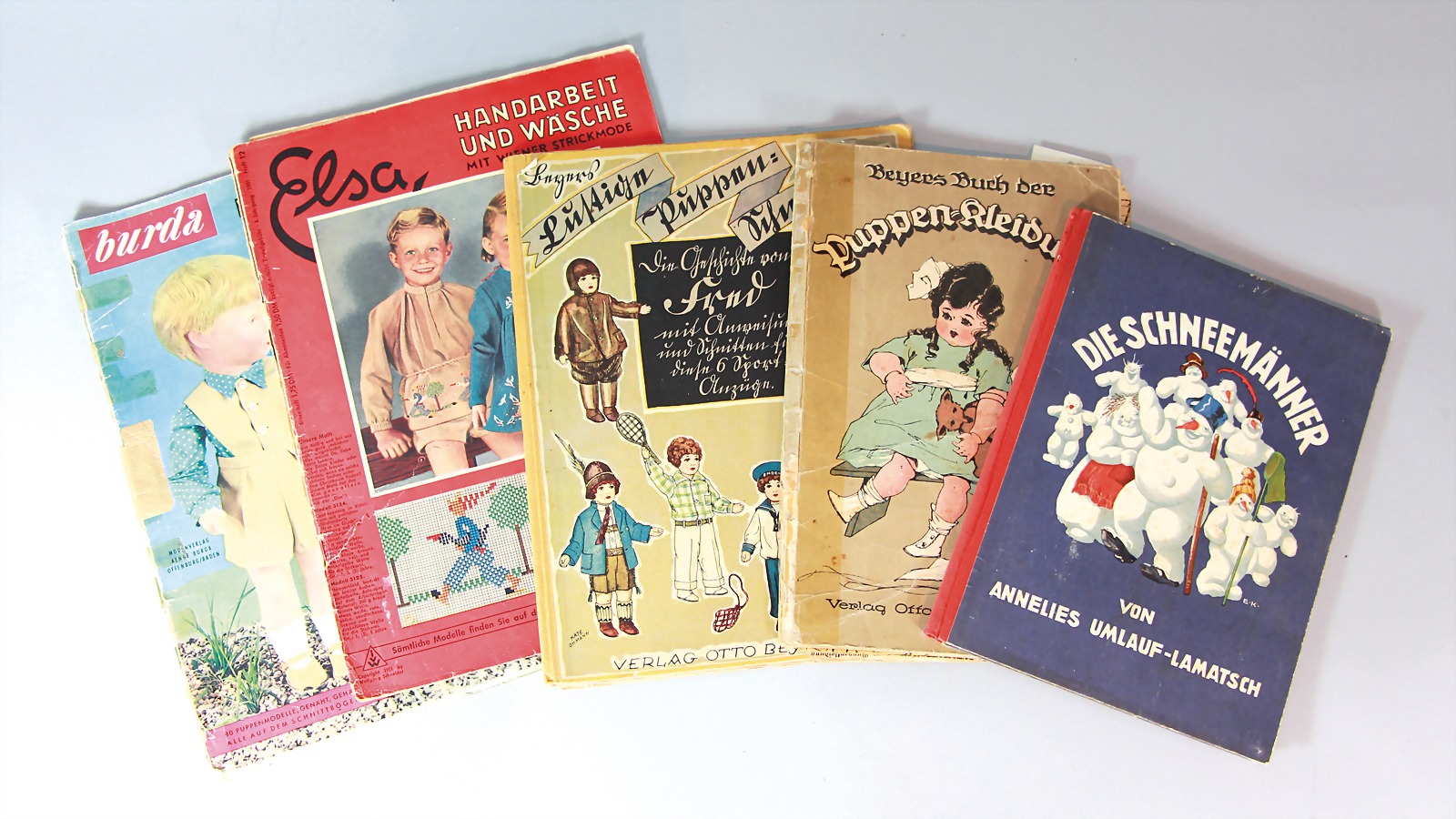 Konv. Puppenkleidung, mit Musterbögen u.a. Verlag Beyer Leipzig, Neue Puppenmoden, Elsa Handarbeit in Wäsche, Strickmode, 1951 u. 1 Kinderbuch "Die Schneemänner" von Annelise Umlauf-Lamatsch

---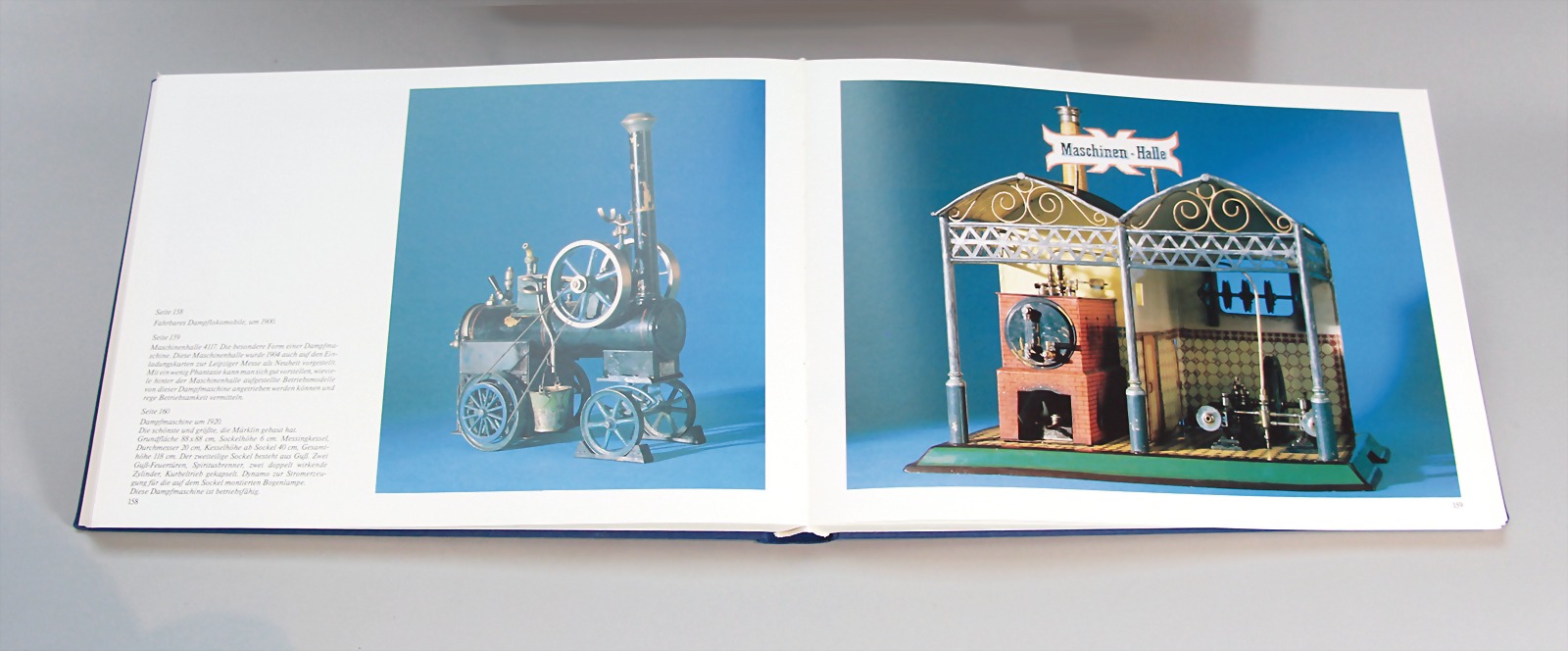 Familiengeschichte, "Buch der Fam. Märklin", Leinen gebunden

---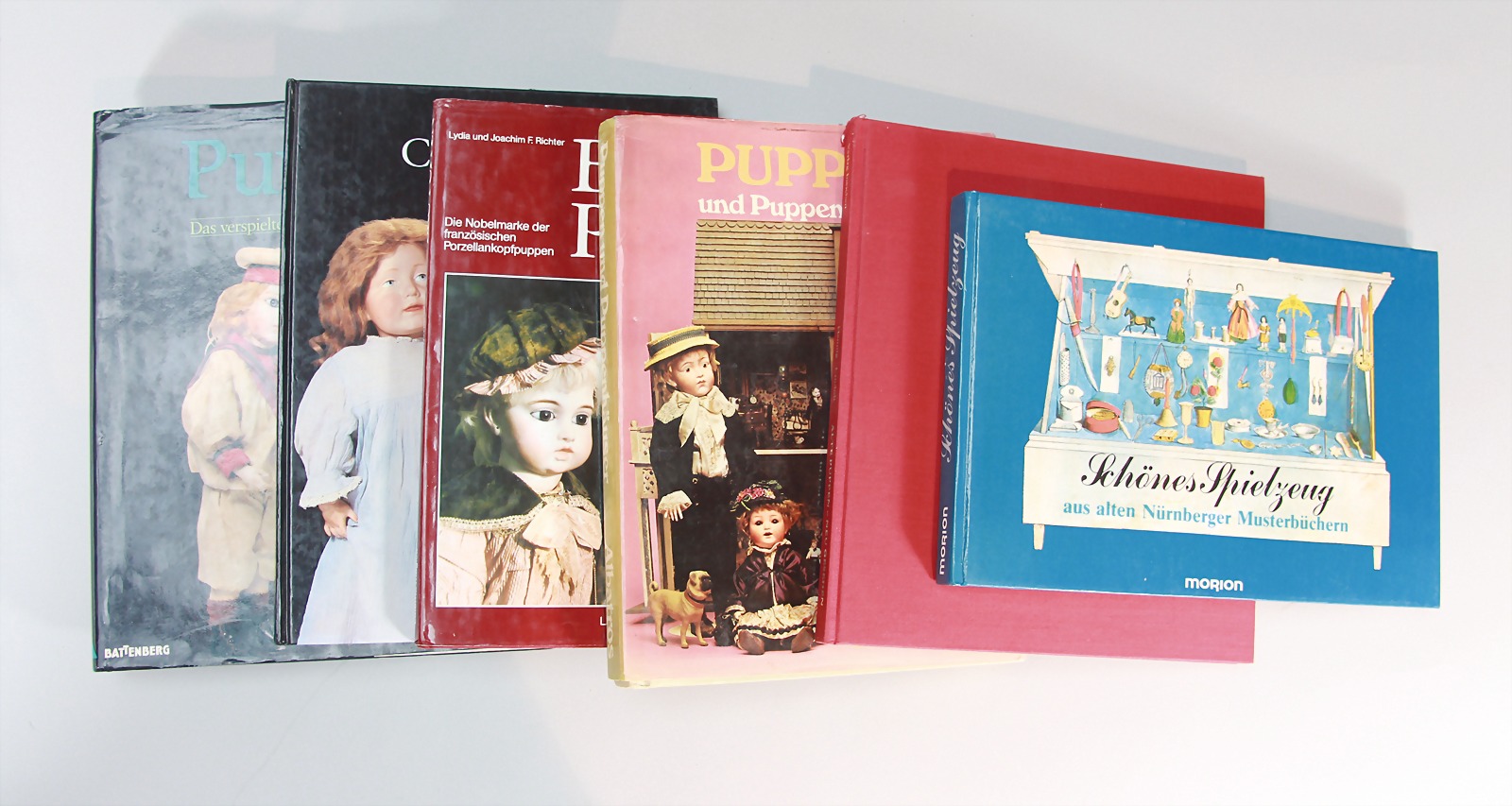 3 x Fachliteratur Puppen u. Puppenhäuser, 1 x schönes Spielzeug aus alten Nürnberger Musterbüchern

---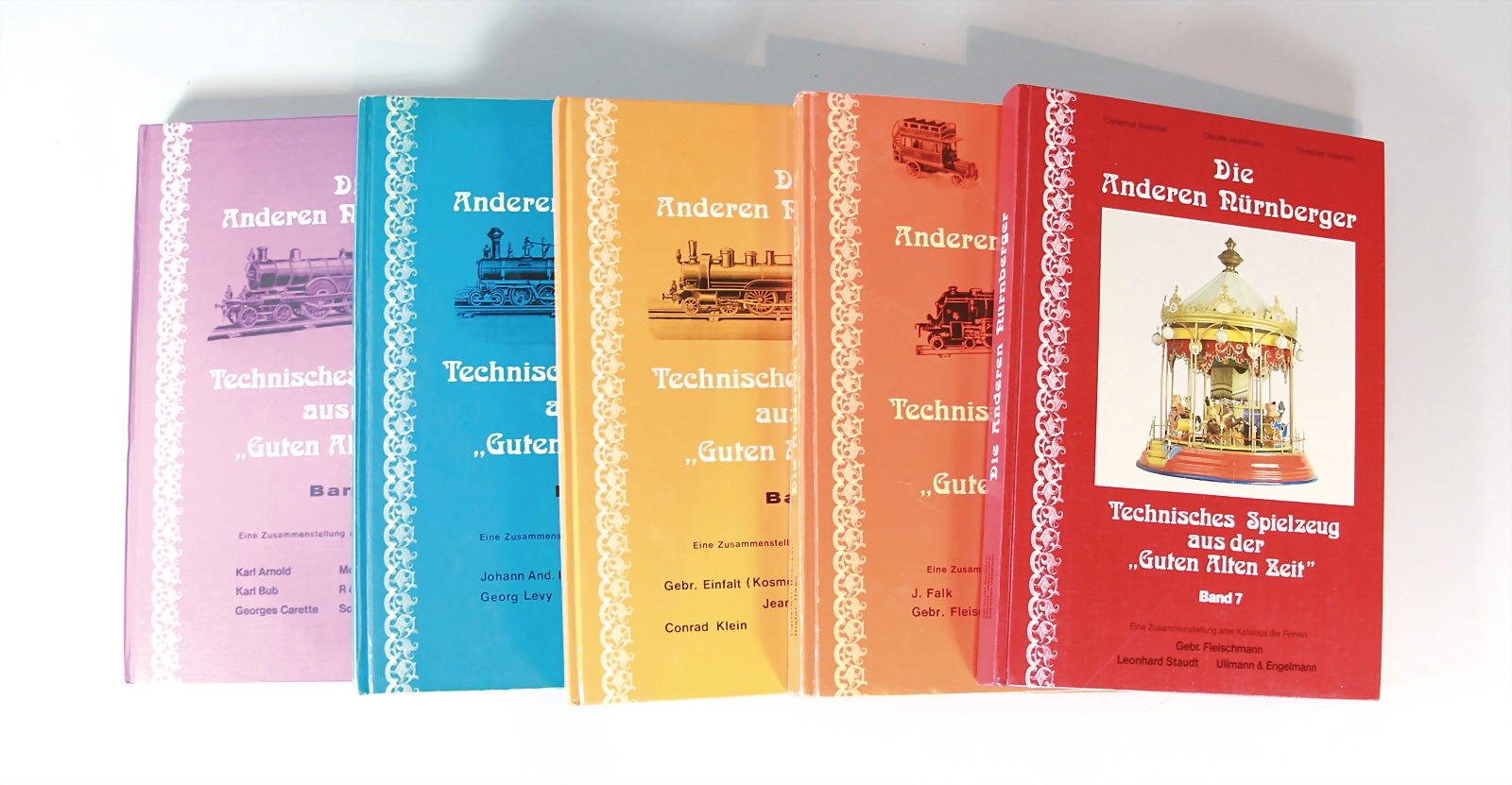 5 x Fachliteratur, Die anderen Nürnberger, tech. Spielzeug aus der guten alten Zeit Band 2, 3, 4, 5, 7

---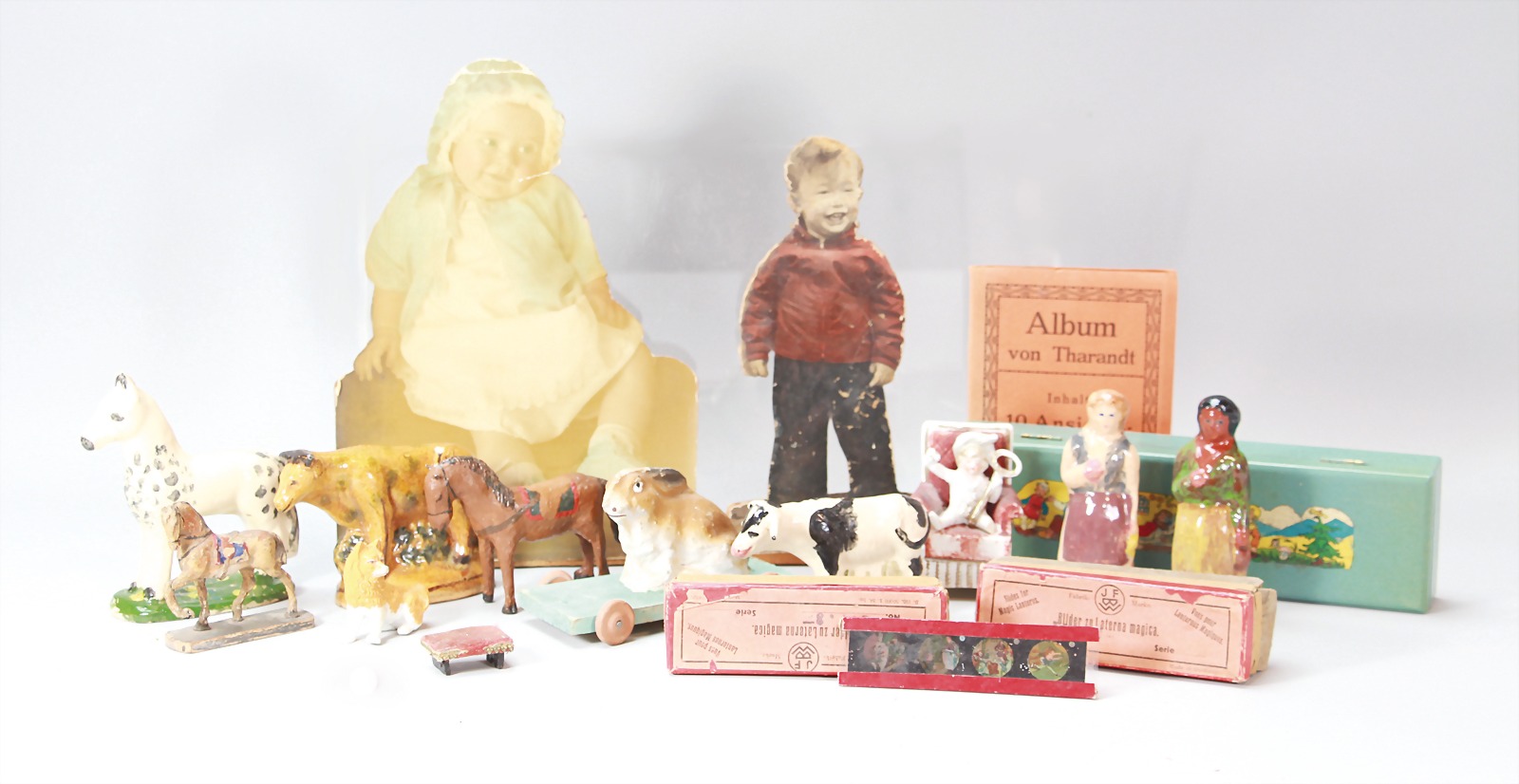 Fundkiste, einige Keramiktiere, lasiert, einige Bildplatten, 2 Aufstellbilder, u.a

---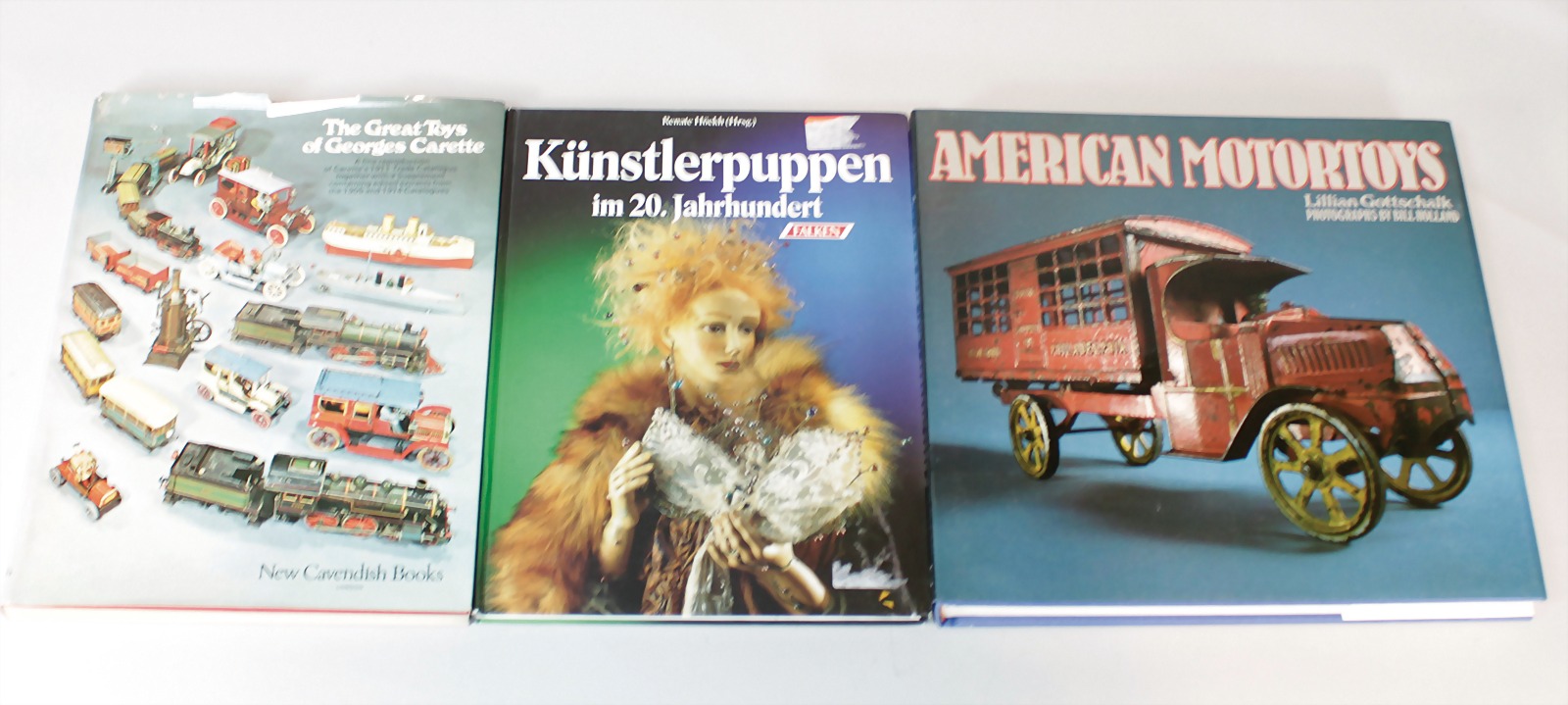 3 x Fachliteratur Amercan Motor Toys von Lilien Gottschalk, The great Toys of Gorge Carette u. Künstlerpuppen im 20 Jhd. Von Renate Höckh

---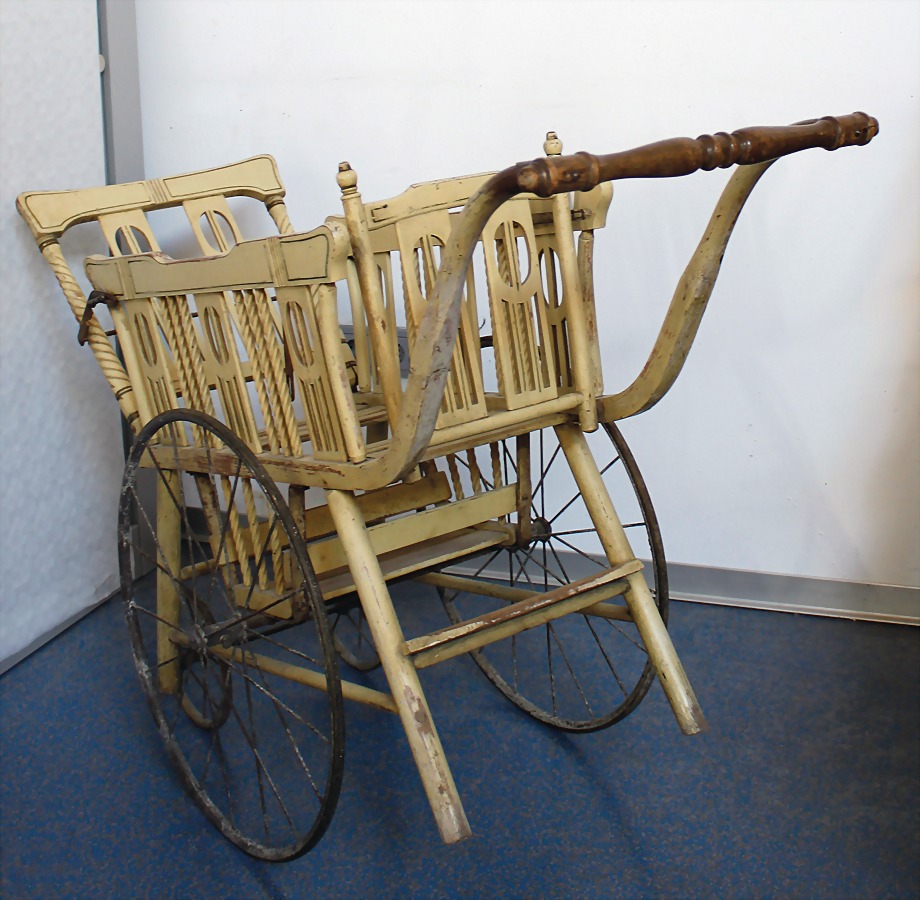 schöne alte Kinder-Holzkarre, Guss-Speichenräder, L: 1,16 m, schönes dekoratives Stück

---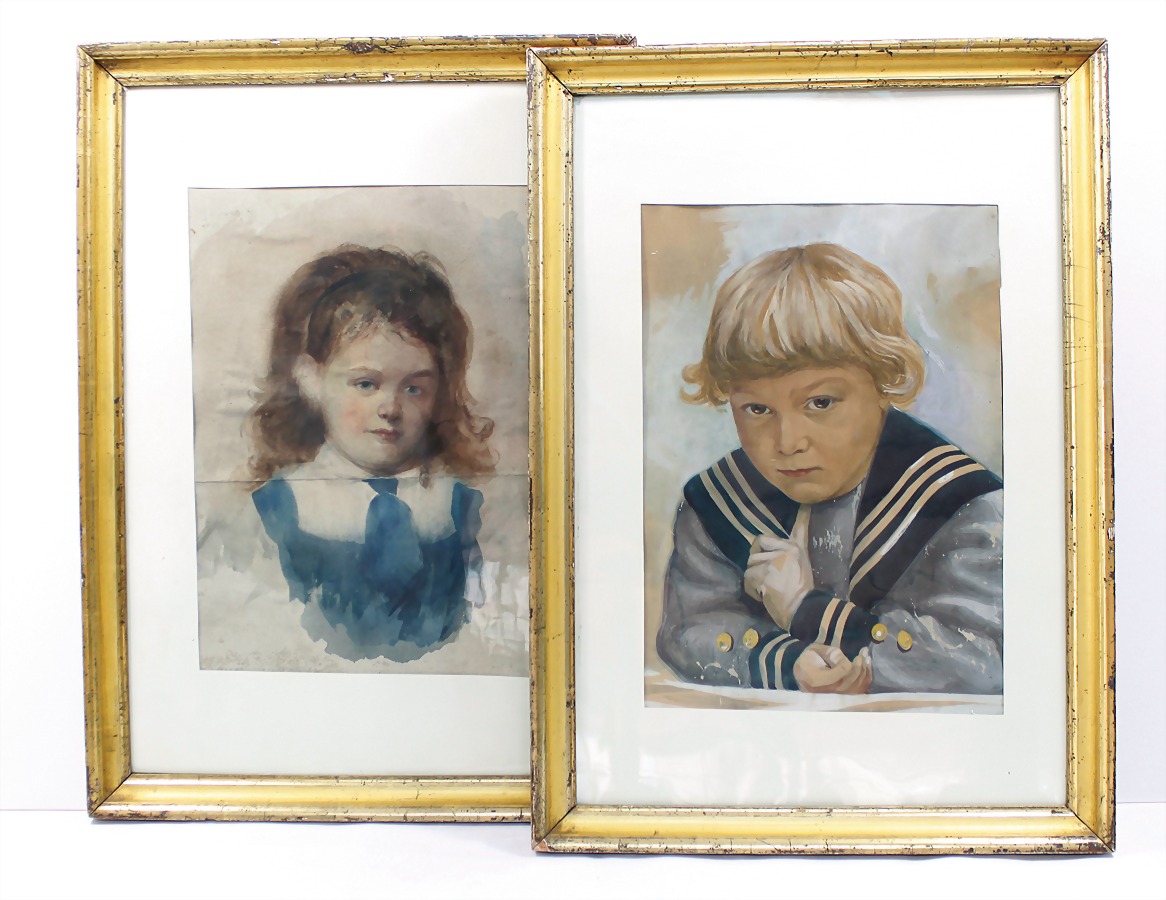 2 gerahmte Aquarelle, Motiv: Junge u. Mädchen, in Holzrahmen, 58 cm x 42 cm

---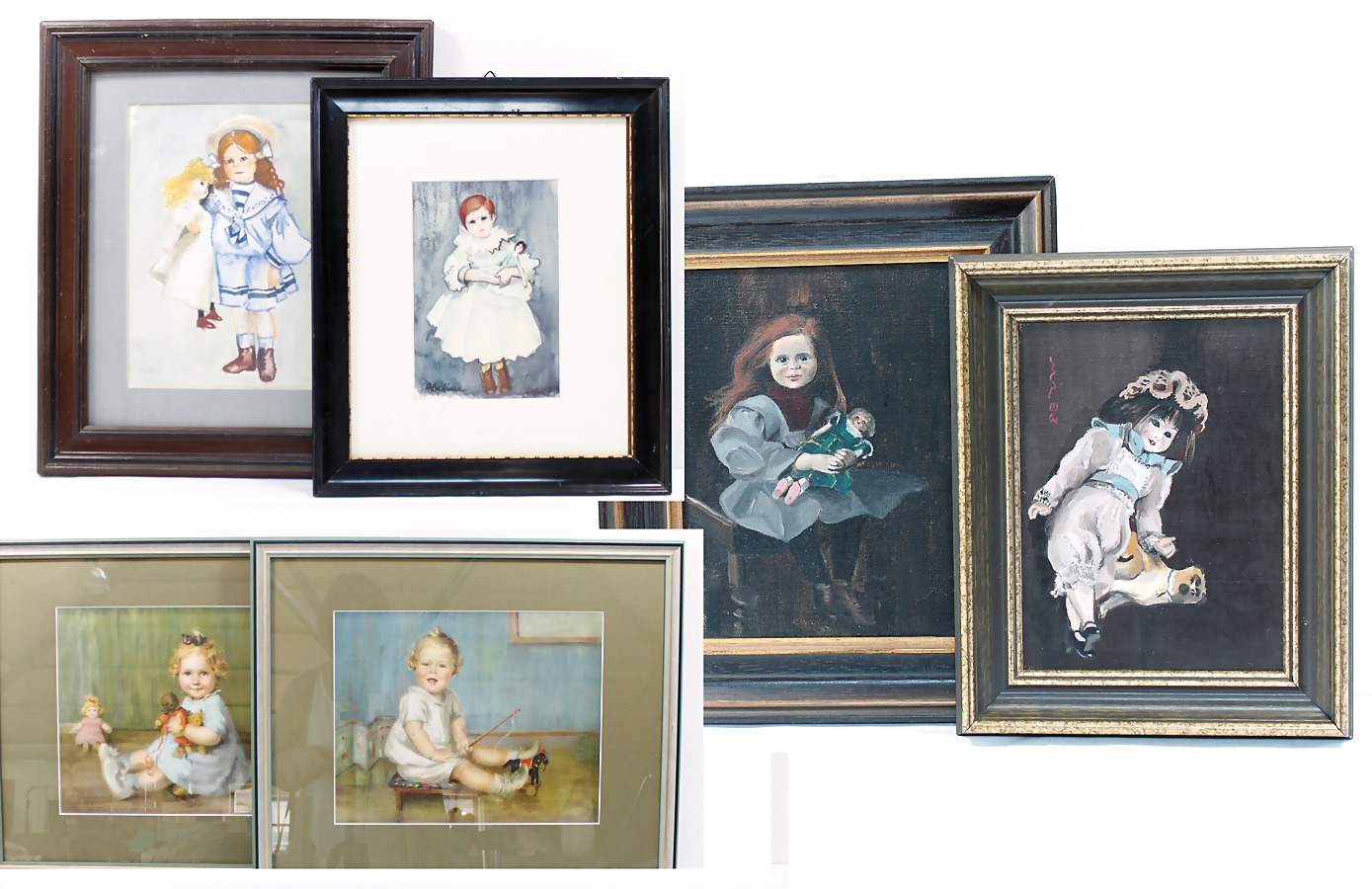 2 Ölgemälde, Motiv: Spielende Kinder, sig. 83, Holzrahmen, 33 cm u. 37 cm, 2 Aquarelle sig. MZ89, in Holzrahmen, 40 cm u. 45 cm u. 2 Drucke gerahmt, Motiv: Spielendes Kind, 44 cm

---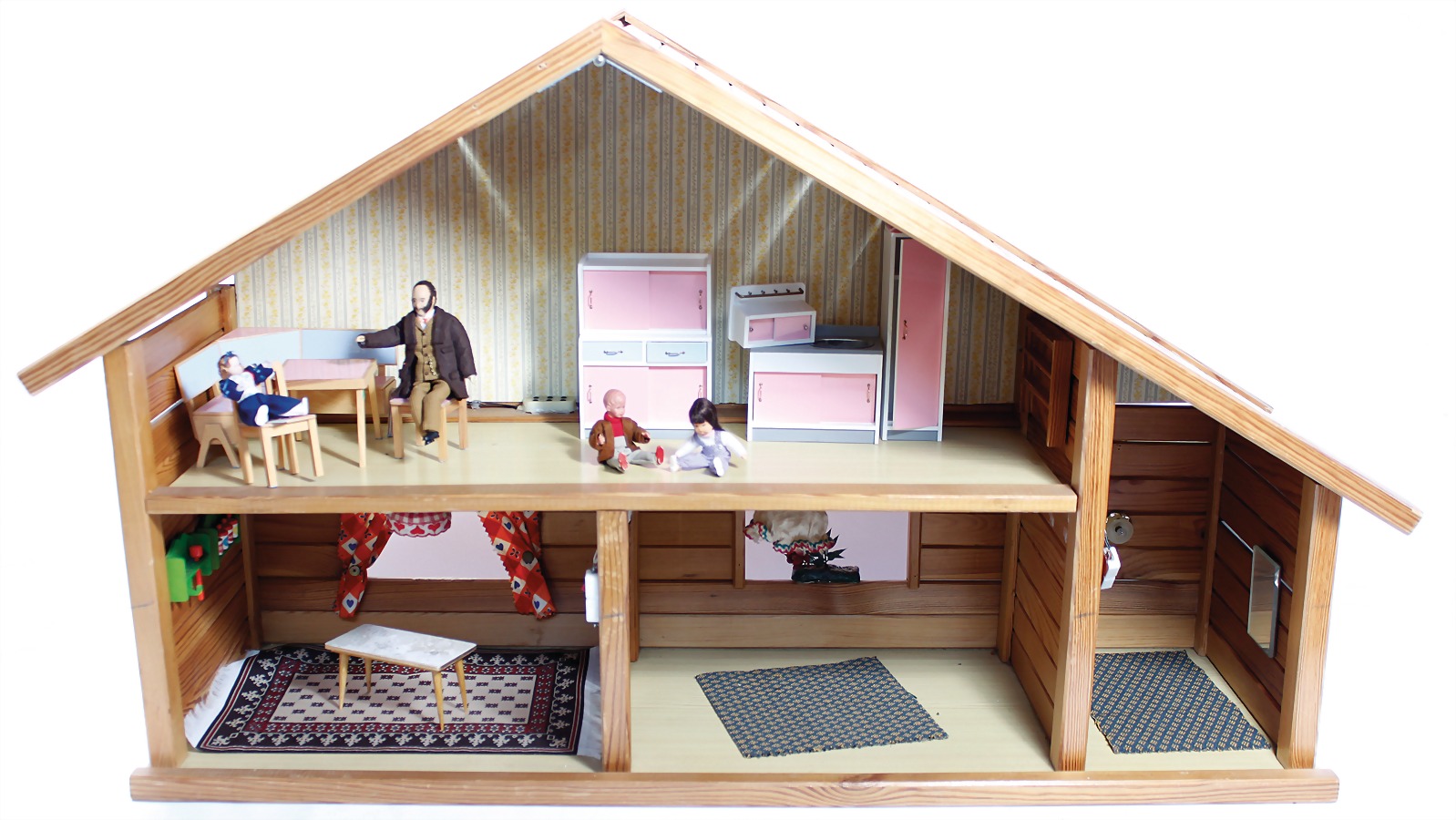 Puppenhaus mit abnehmbarem Dach, 4 Zimmer, 83 x 55 cm, 70er Jahre, Kunststoffmobiliar, 4 Biegepüppchen, eingebaute elektr. Anschlüsse

---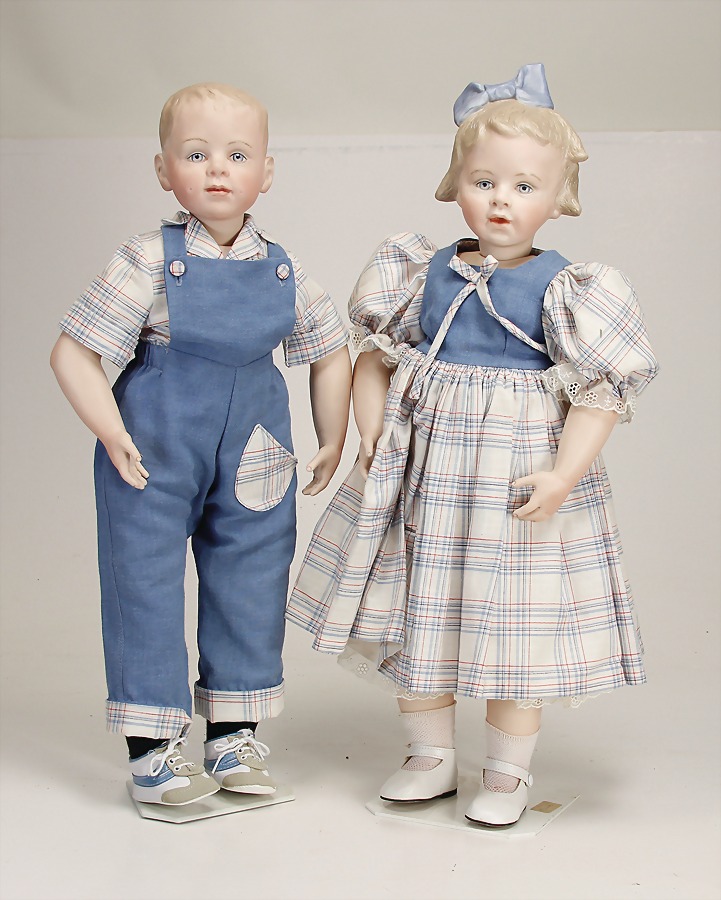 Puppenpaar, Paul u. Polly, Porzellan, von Jayne Elliott USA, Auflage 1959, 2 v. 6 Porzellankurbelkopf mit Brustplatt, schön ausmodellierte Gesichtszüge, Mädchen mit anmodellierter Schleife, gemalte Augen, off./geschl. Mund, Stoffkörper, Porzellan -Arme- u. -Unterschenkel, 58 cm, beide Orig.- Kleidung, guter Zust.

---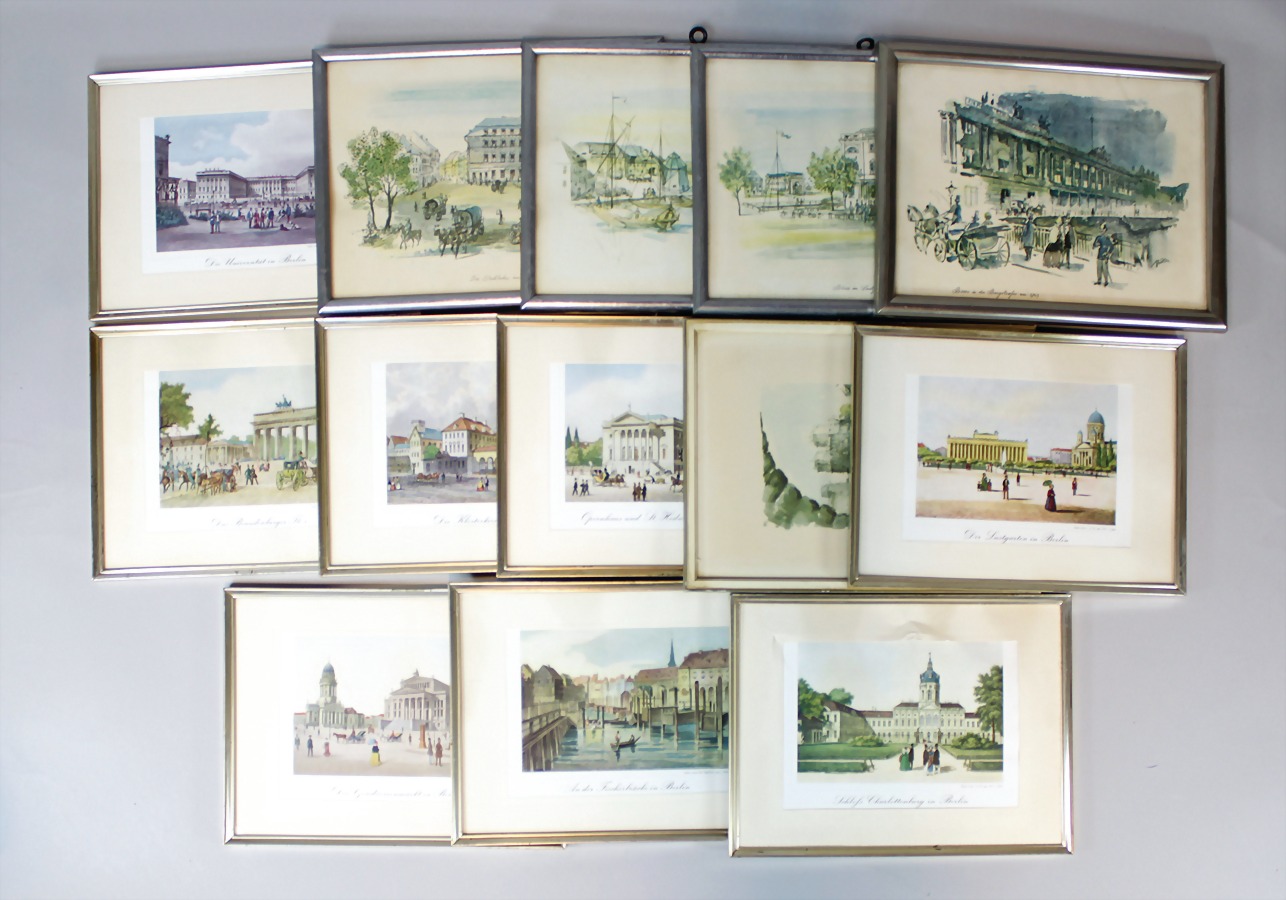 Konv. 13 Drucke, gerahmt, ca. 25 x 18 cm, versch. Motive, meist Berlin

---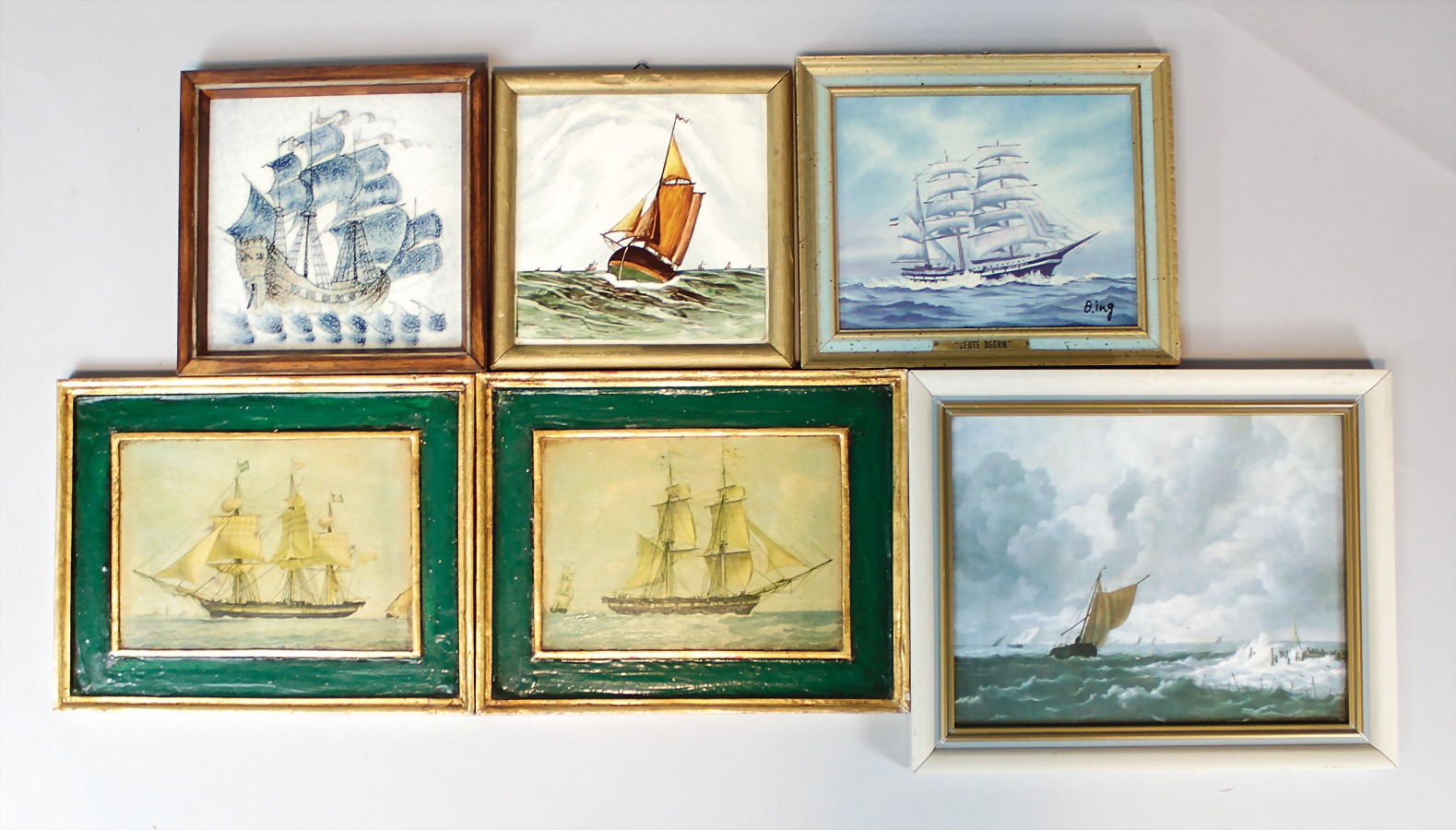 6 Bilder, Motiv: alte Schiffe, davon 2 x bemalte Kacheln, 1 Ölbild auf Leinwand, 3 Drucke

---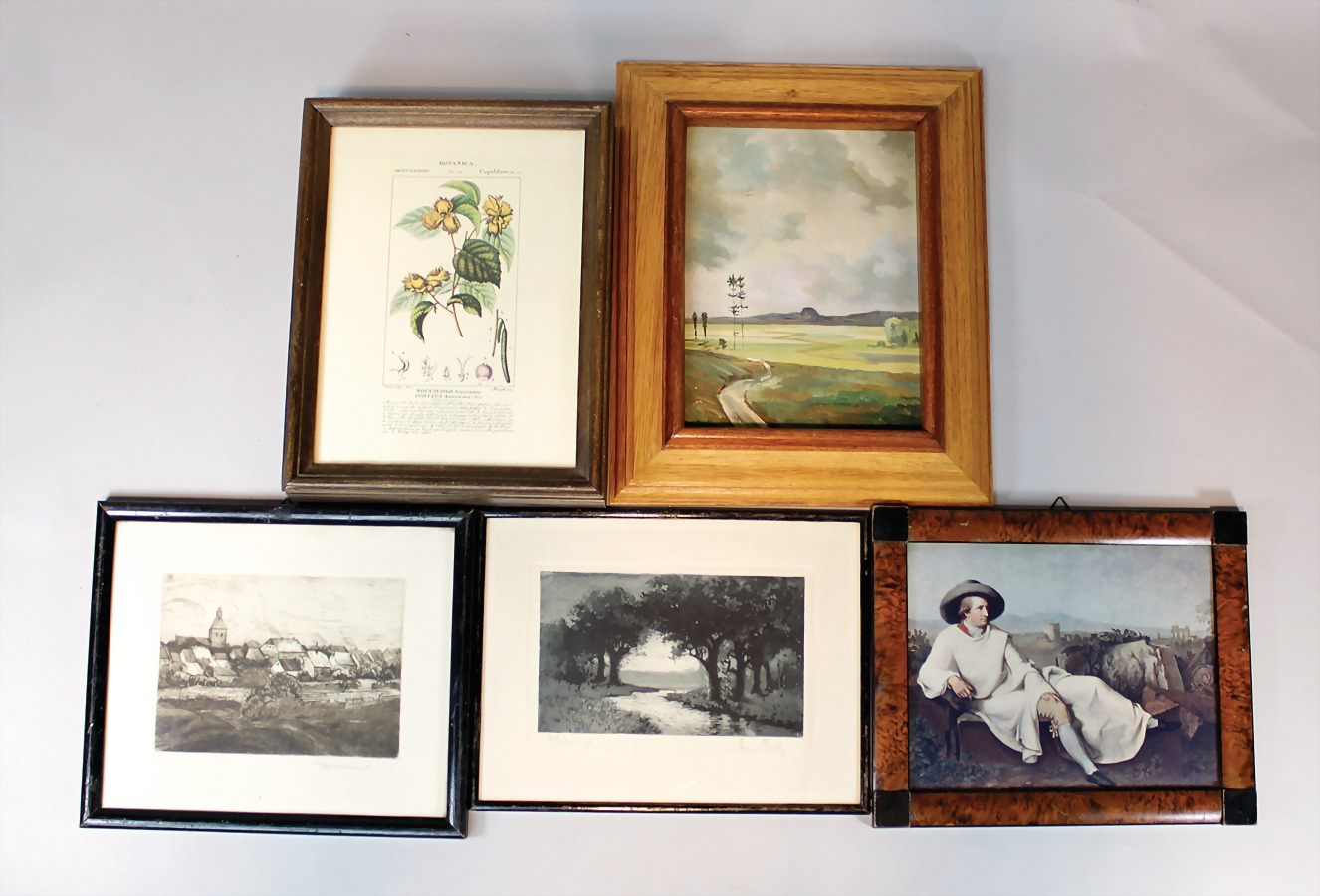 2 Radierungen, gerahmt, 25 x 20 cm, 1 Ölbild mit Landschaftsmotiv, 1 Druck u. 1 Schlüsselkästchen, Holz

---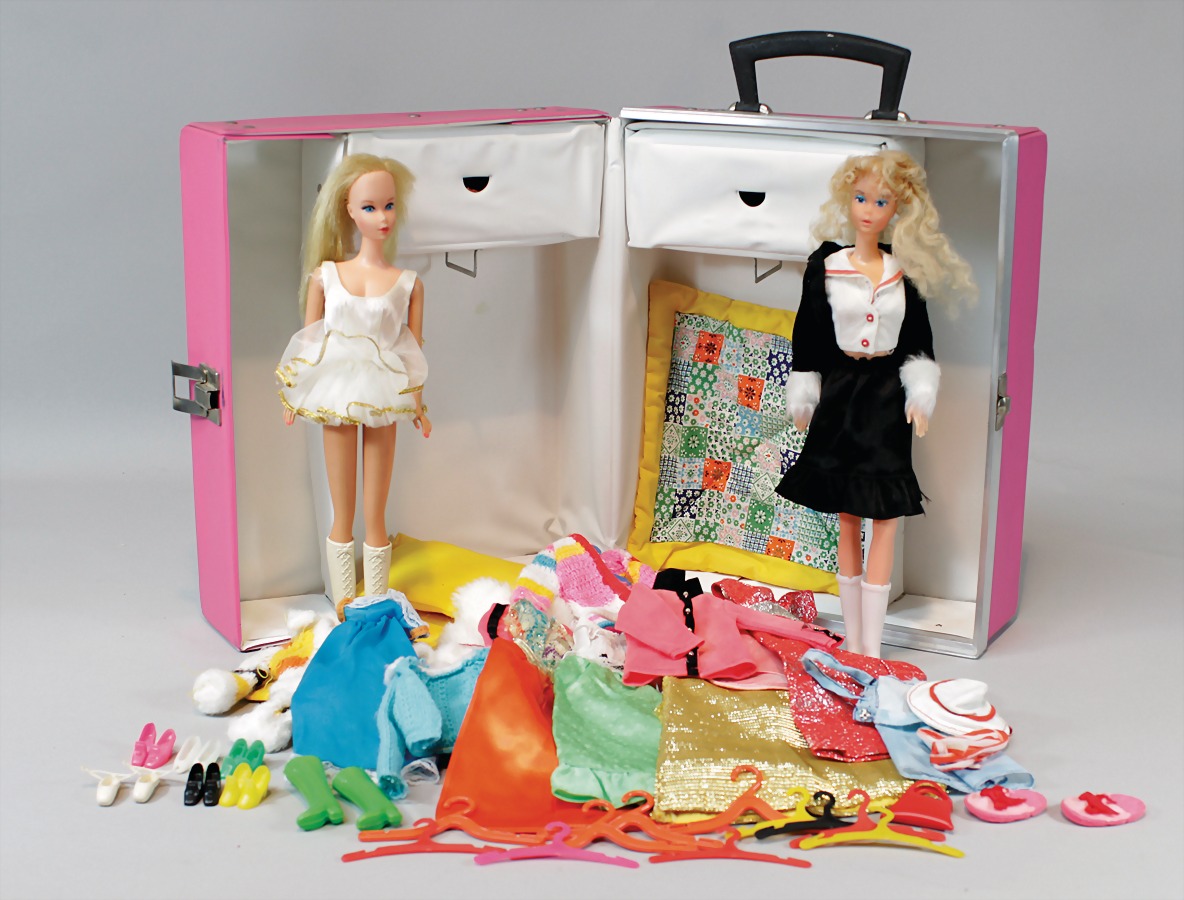 Barbie- Koffer, bespielt, mit einigen Outfits 70er- 90er Jahre, mit 2 Barbies, bespielt

---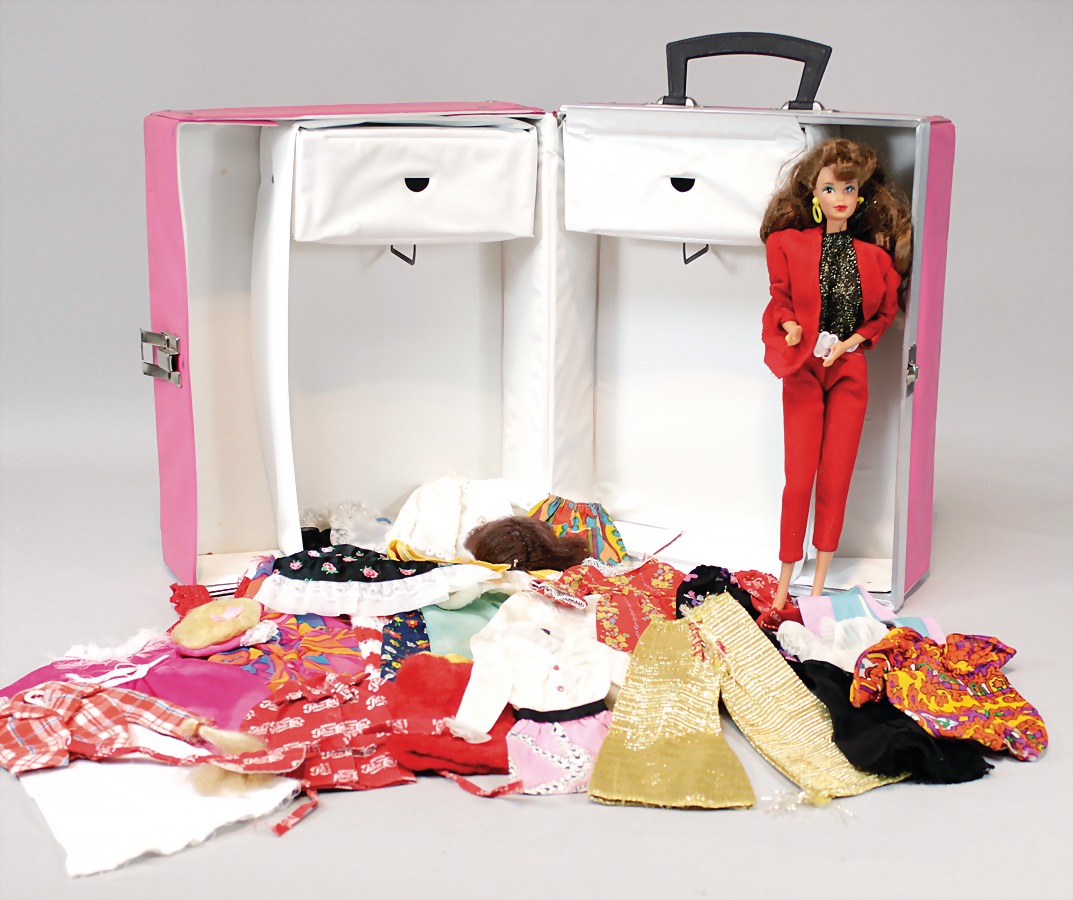 Barbie- Koffer, bespielt, mit einigen Outfits 70er- 90er Jahre, mit Barbie, bespielt

---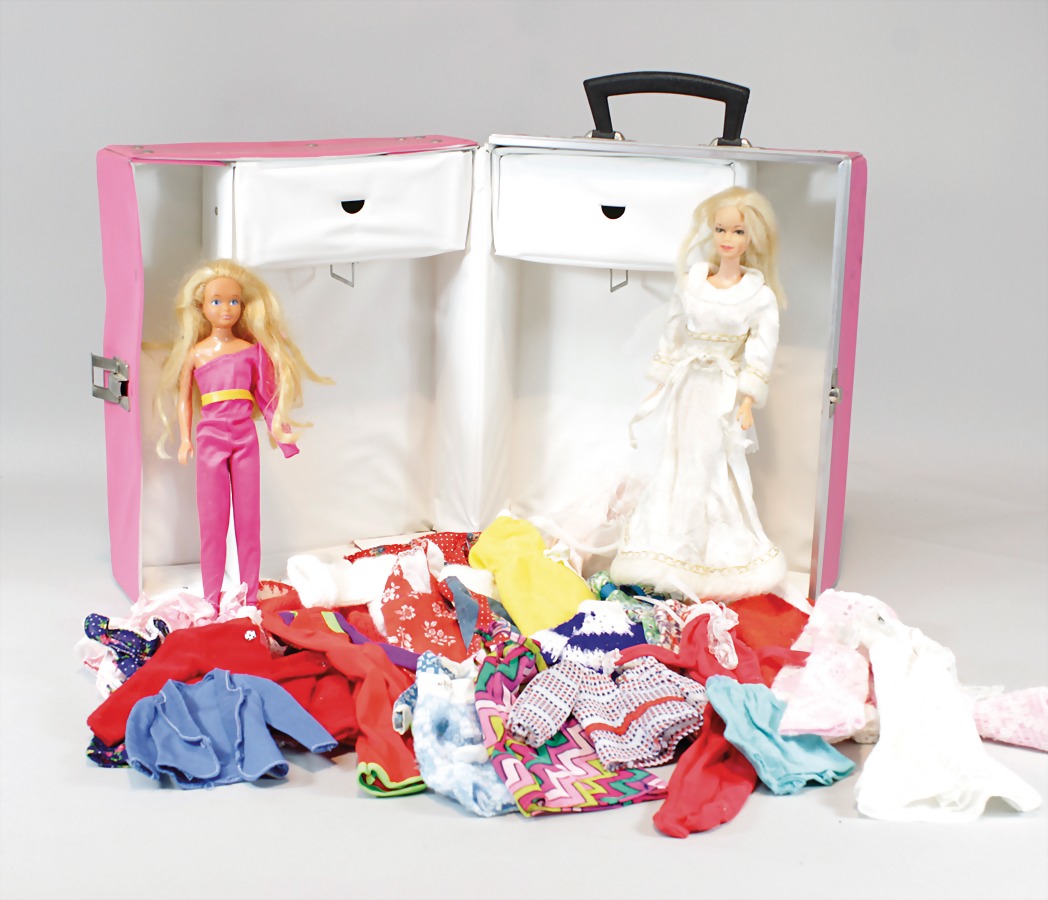 Barbie- Koffer, bespielt, mit einigen Outfits 70er- 90er Jahre, mit 2 Barbies, bespielt

---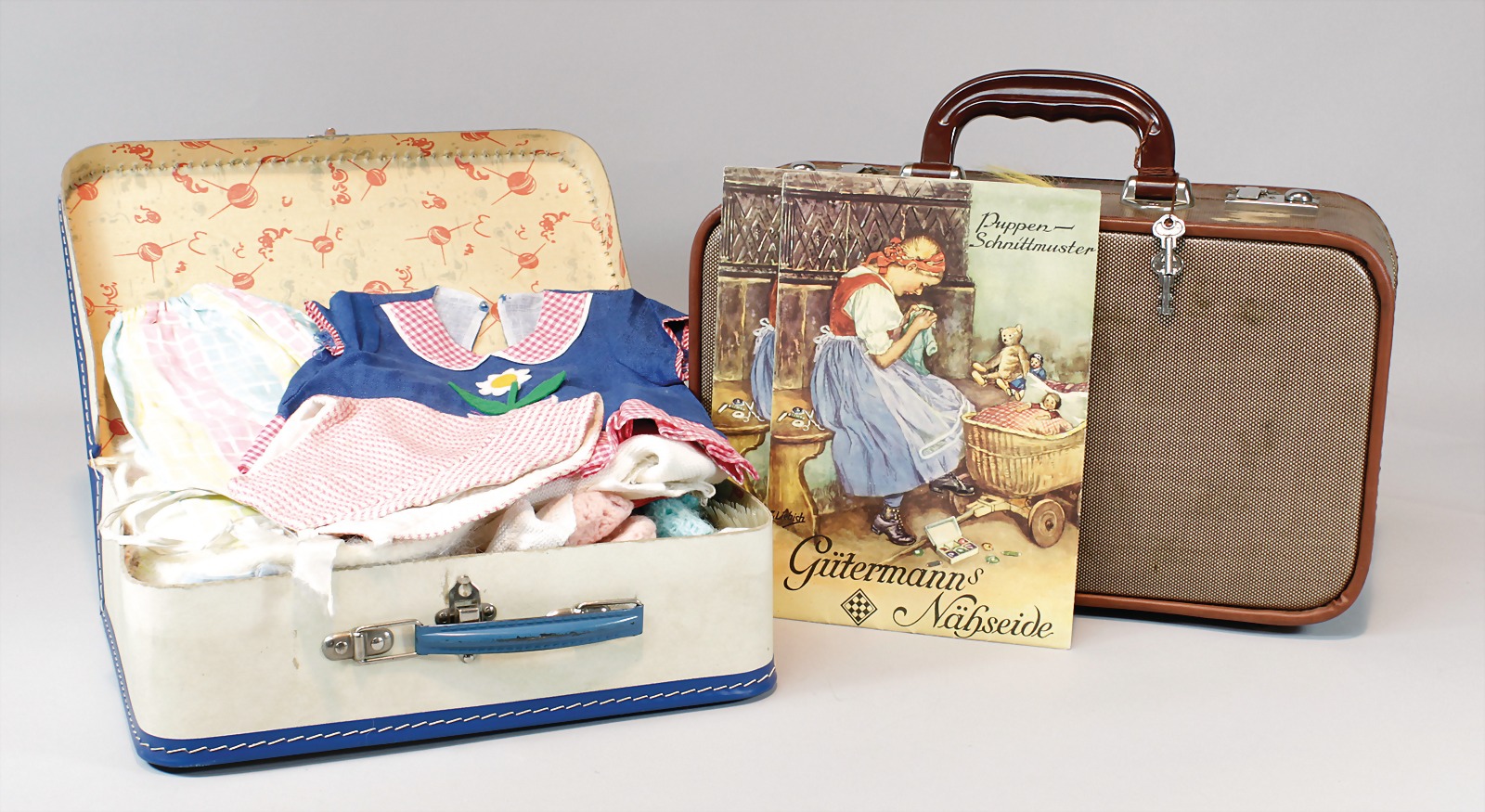 2 Puppen- Koffer, gefüllt mit Puppenkleidung, für mittl. Puppen, meist Hand genäht, dazu einige Barbiepuppen u. andere Hersteller, stark bespielt, einige Teile Kleidung, dazu 2 Puppen Schnittmuster von Gütermann

---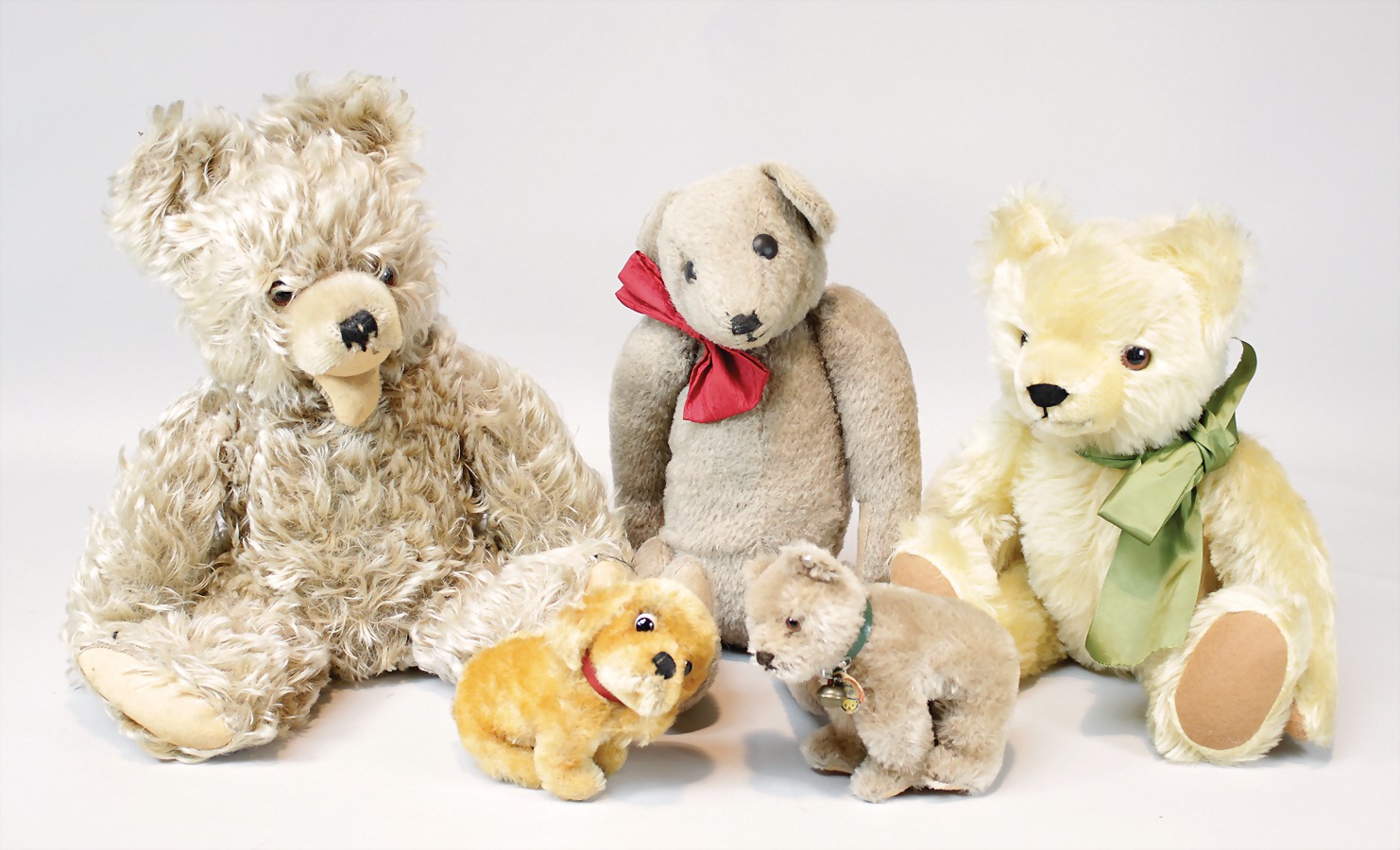 Konv. Plüschtiere, 4 Bären, 1 x STEIFF, mit Knopf u. Schild, mit 4 Pfoten, Stehh.: 10 cm, 3 x Bär zwisch. 32 cm u. 34 cm, darunter Hermann Zotti u. 1 Hund mit Knopf u. Fahne

---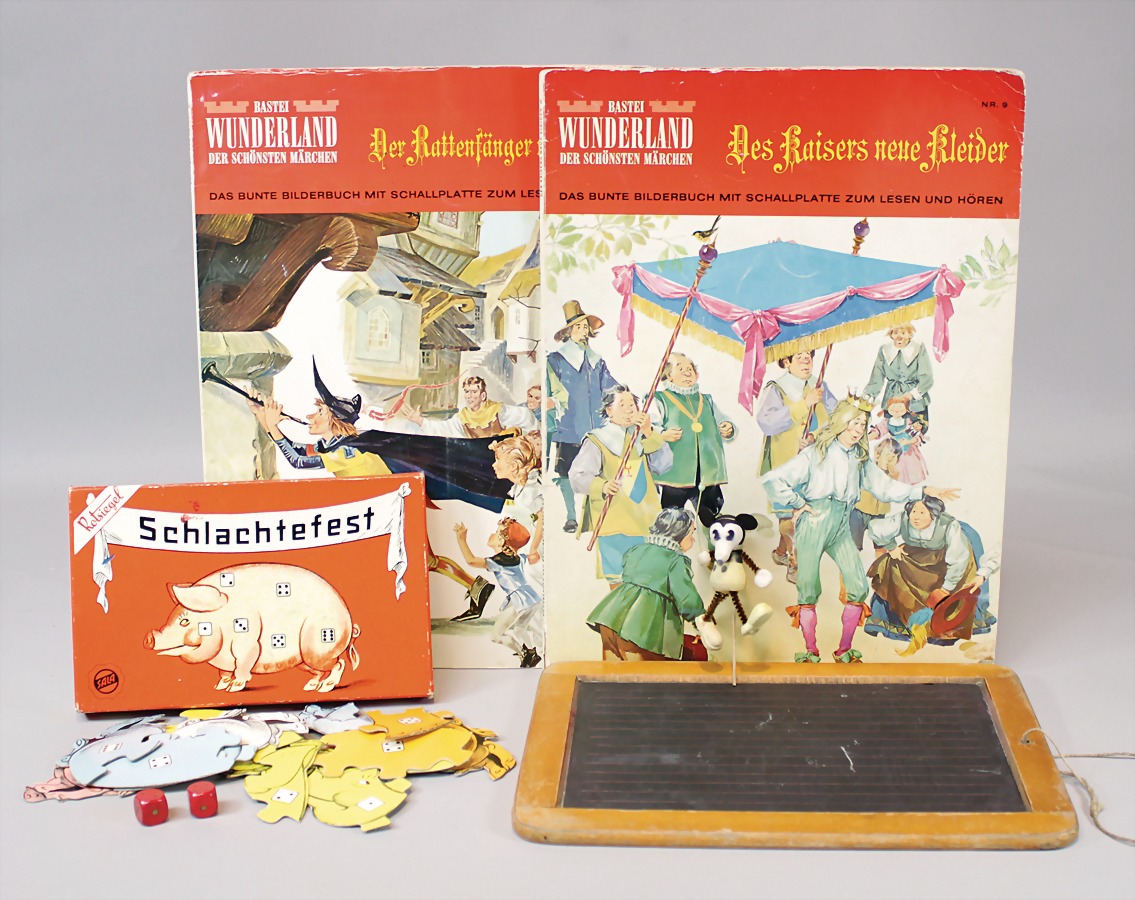 2 Bastei- Bilderbücher, "Wunderland", mit Schallplatte, "Leben u. Hören"(Der Rattenfänger von Hameln) u. "Des Kaisers neue Kleider", dazu Kinderspiel "Schlachtfest" 1 Schiefertafel u. 1 Watte Mickey Mouse

---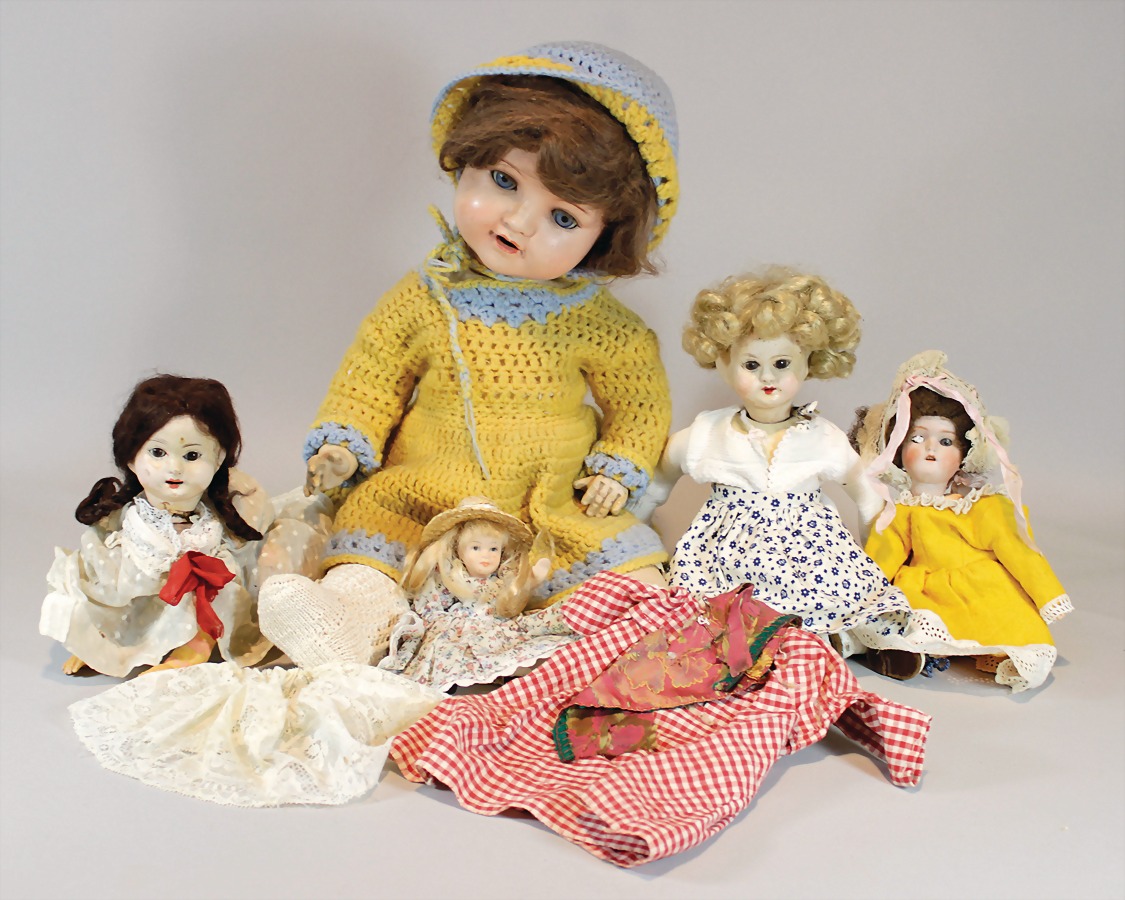 Fundkiste, darin AM Porzellankopf-Puppe, gem.906, blaue Schlafaugen, off. Mund, 2 Zähne oben, Mohairperücke, Masse- Stehkörper, stärker bespielt, 52 cm, Pappmaché-Puppe, braune fest eingesetzte Glasaugen, einfacher Gipskörper, Krabbelbaby, Uhrwerk intakt, kompl. überstrichen, u.a.

---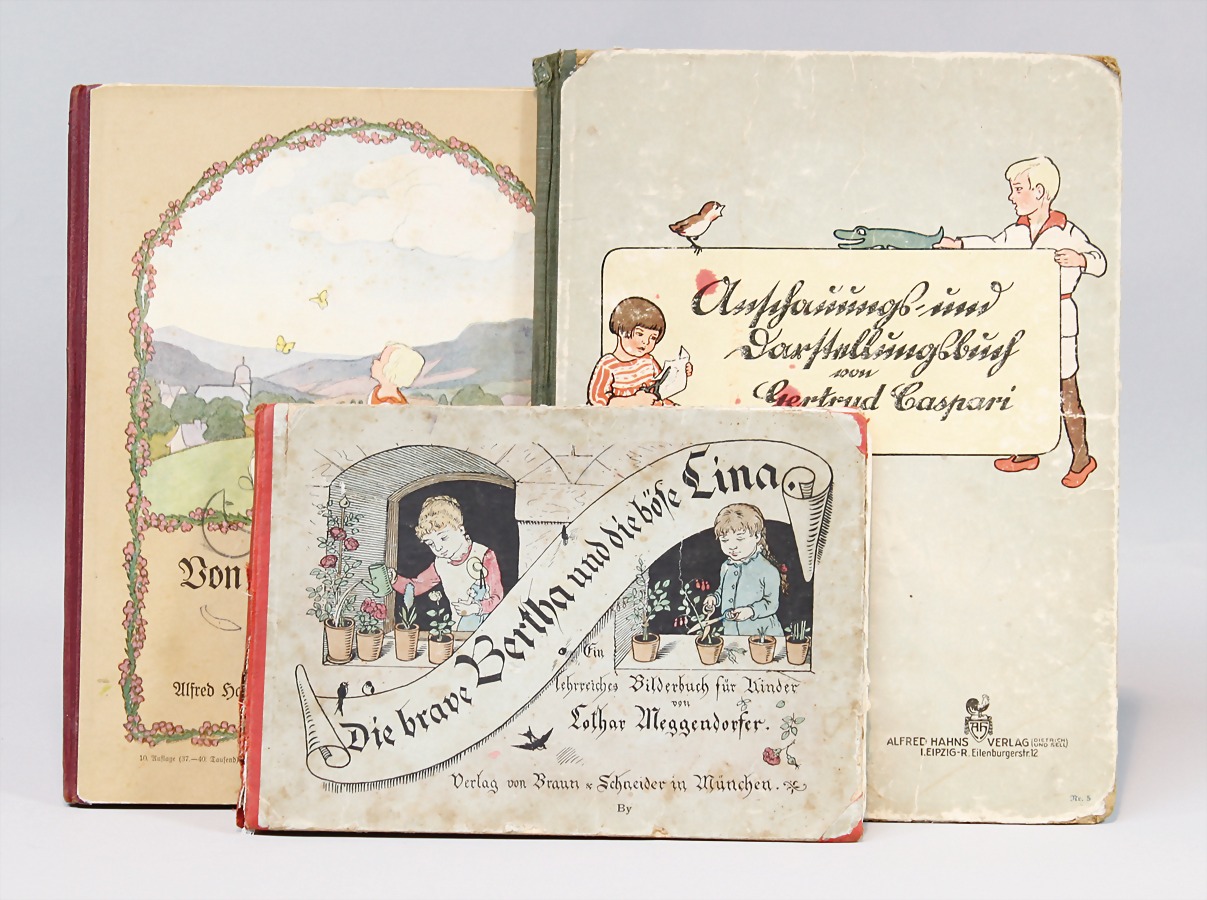 3 Kinderbücher, "Die brave Bertha", "die böse Lina" von L. Meggendorfer, etwas aus dem Leim gegangen, "Von Himmel u. Erde", Anschauungs- u. Darstellungsbuch, beides von Gertrud Caspari, stärker bespielt

---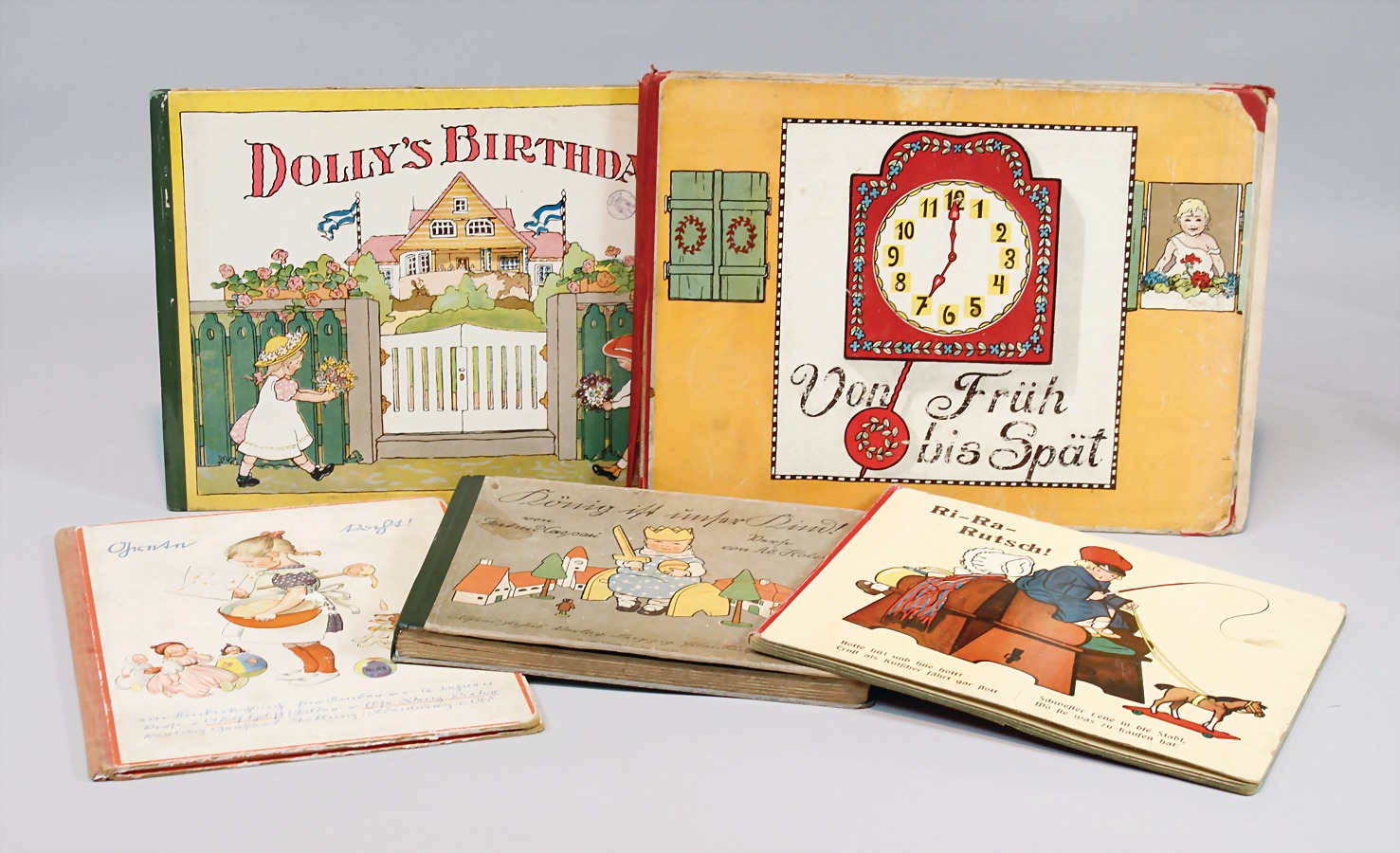 5 Bilderbücher, Ri-Ra-Rutsch, König ist unser Kind in Sütterin geschr., "Von früh bis spät", etwas aus dem Leim gegangen, Kinderkochbuch mit Widmung von 1940, von Adolf Holst, u. "Dolly Birthday" in Englischer Sprache

---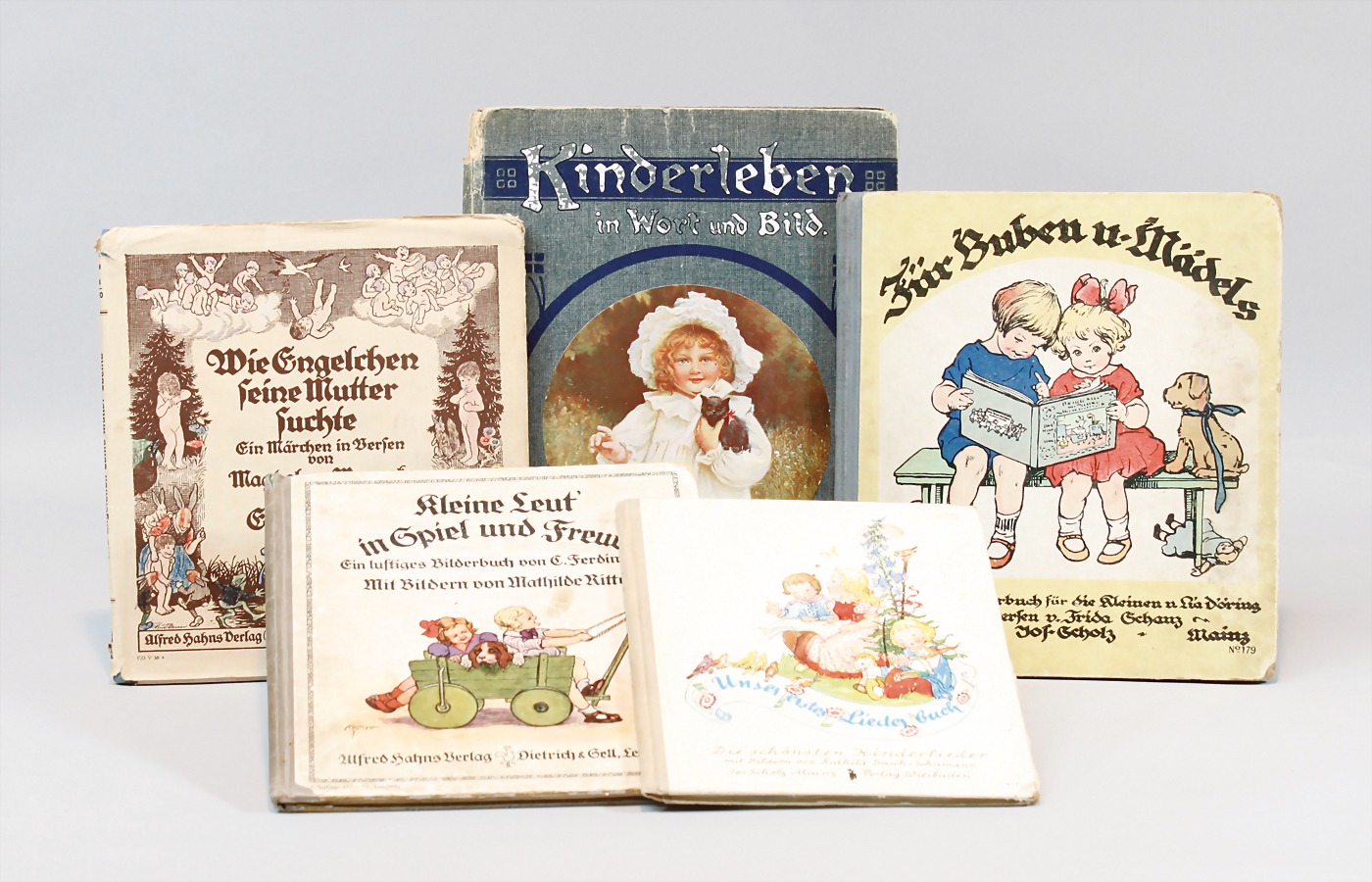 Konv. 5 Kinderbücher, "Wie Engelchen seine Mutter suchte" von M. Wannske, "Kleine Leut in Spiel u. Freud", "Unser erstes Liederbuch" von Busch- Schumann, "Kinderleben in Wort u. Bild" u. für Buben u. Mädels- Bilderbuch, mit Versen von Frida Schauz

---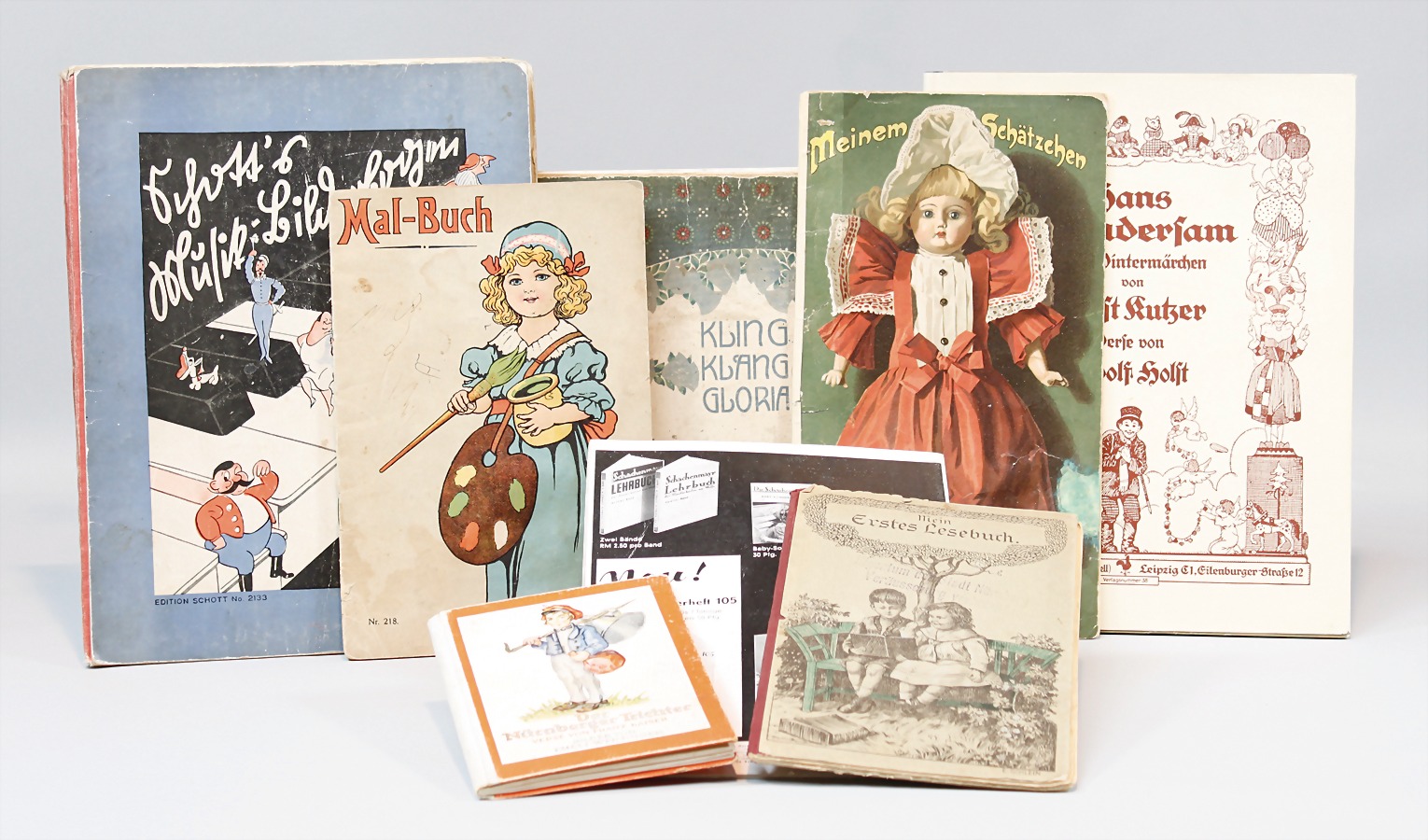 Konv. 8 Kinderbücher/Malbücher, mein erstes Lesebuch von R. Schander, "meinem Schätzchen", der Nürnberger- Trichter, mit Versen von Franz Kaiser, "Kling-Klang-Gloria", deutsche Kinderlieder, 1907, "Hans Wundersam" von Ernst Rutzer, "das lustige Buch", Schott´s Musik- Bilderbuch u. kl. Malbuch u. Handarbeitsheft

---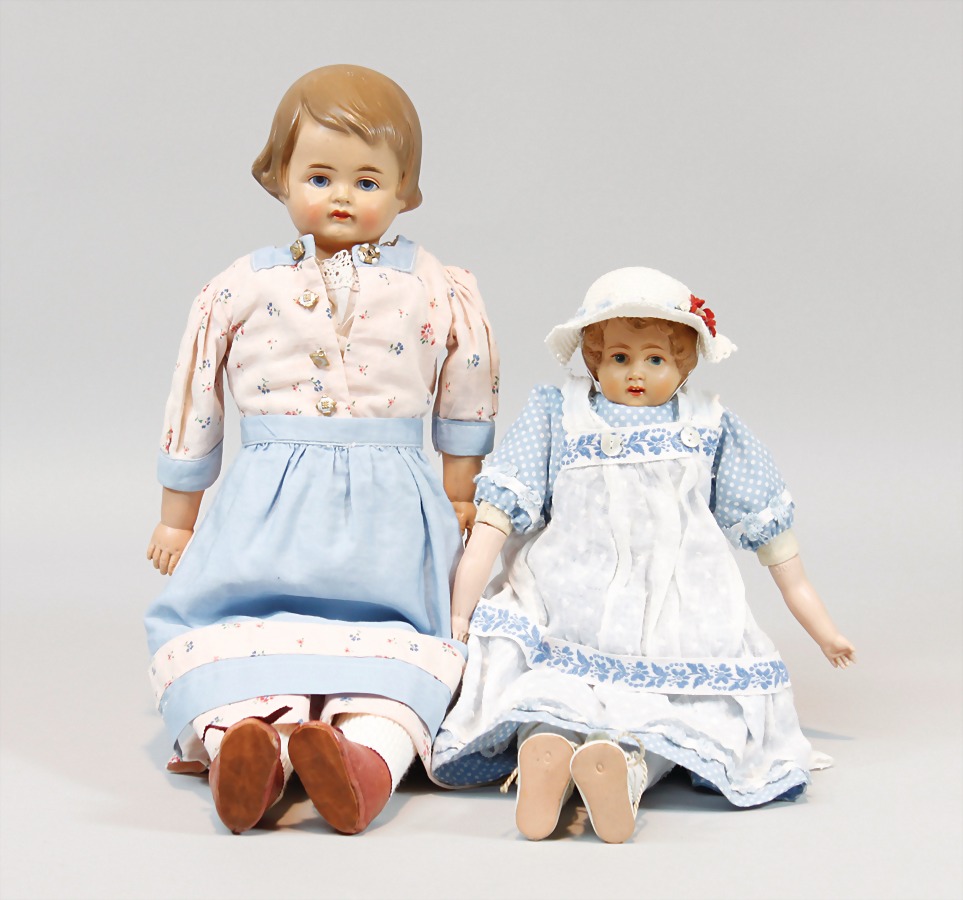 2 Celluloid-Brustblattkopf Puppen, gemalte Augen, modellierte Frisuren, 1 x auf Stoffkörper, Celluloid-Arme, 29 cm u. 1 x Lederkörper, Celluloid-Unterarme, 36 cm

---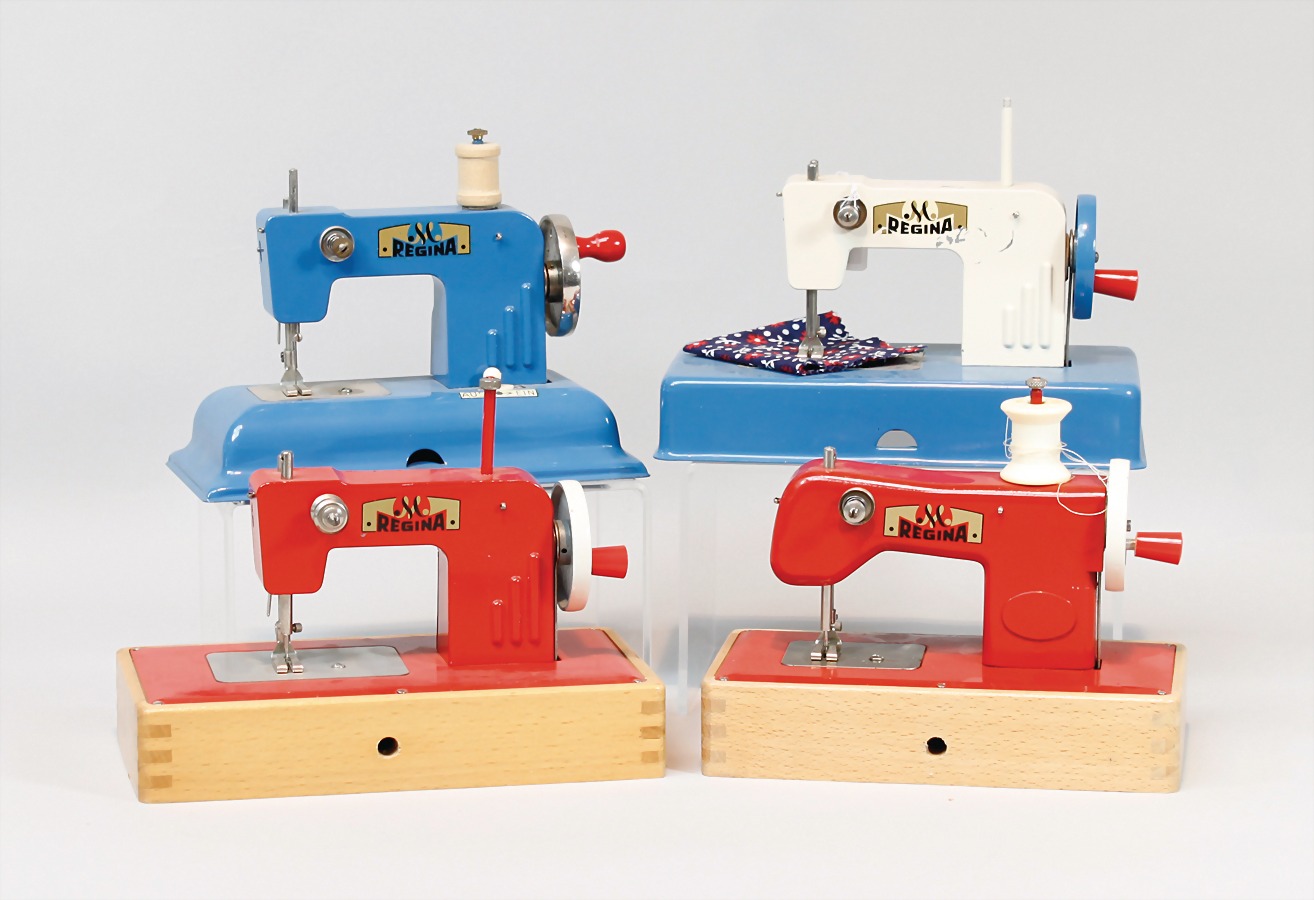 Konv. 4 Kindernähmaschinen, Aufschrift "Regina", 2 x mit Holzsockel u. Kurbelspiel

---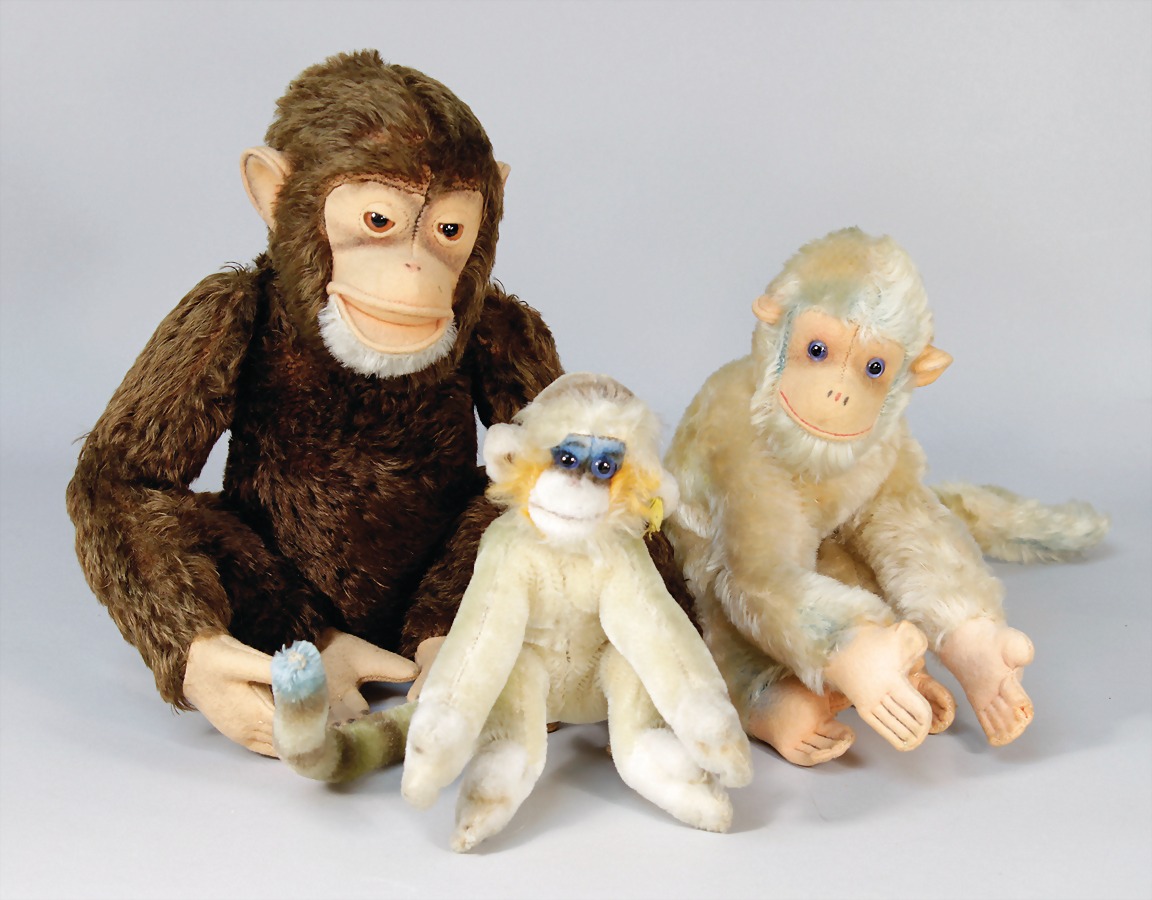 STEIFF
3 Affen; 2 x Schimpanse, 1 x mit Knopf u. Fahne, Nr. 5335,03, 1 x ohne Knopf, Schild u. Fahne, 5 cm, 1 Mungo mit Knopf u. Teilfahne
---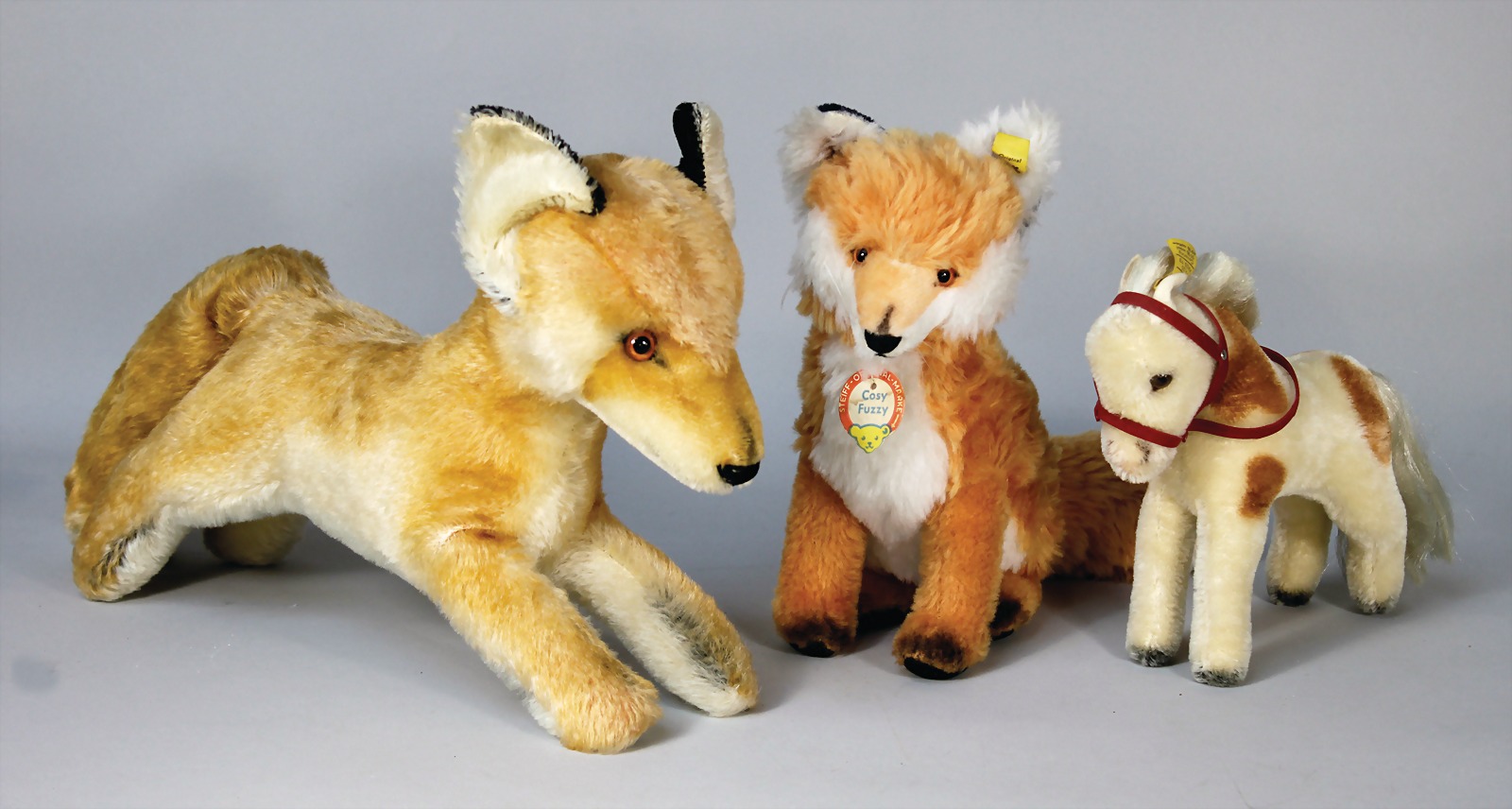 STEIFF
3 Teile, bespielt, 2 x Fuchs, 1 x mit Knopf, 40 cm, 1 x Cosy Fuzy mit Knopf, Schild u. Fahne, Nr. 4900,22 u. 1 Pony mit Knopf u. Fahne, Nr. 3705/17
---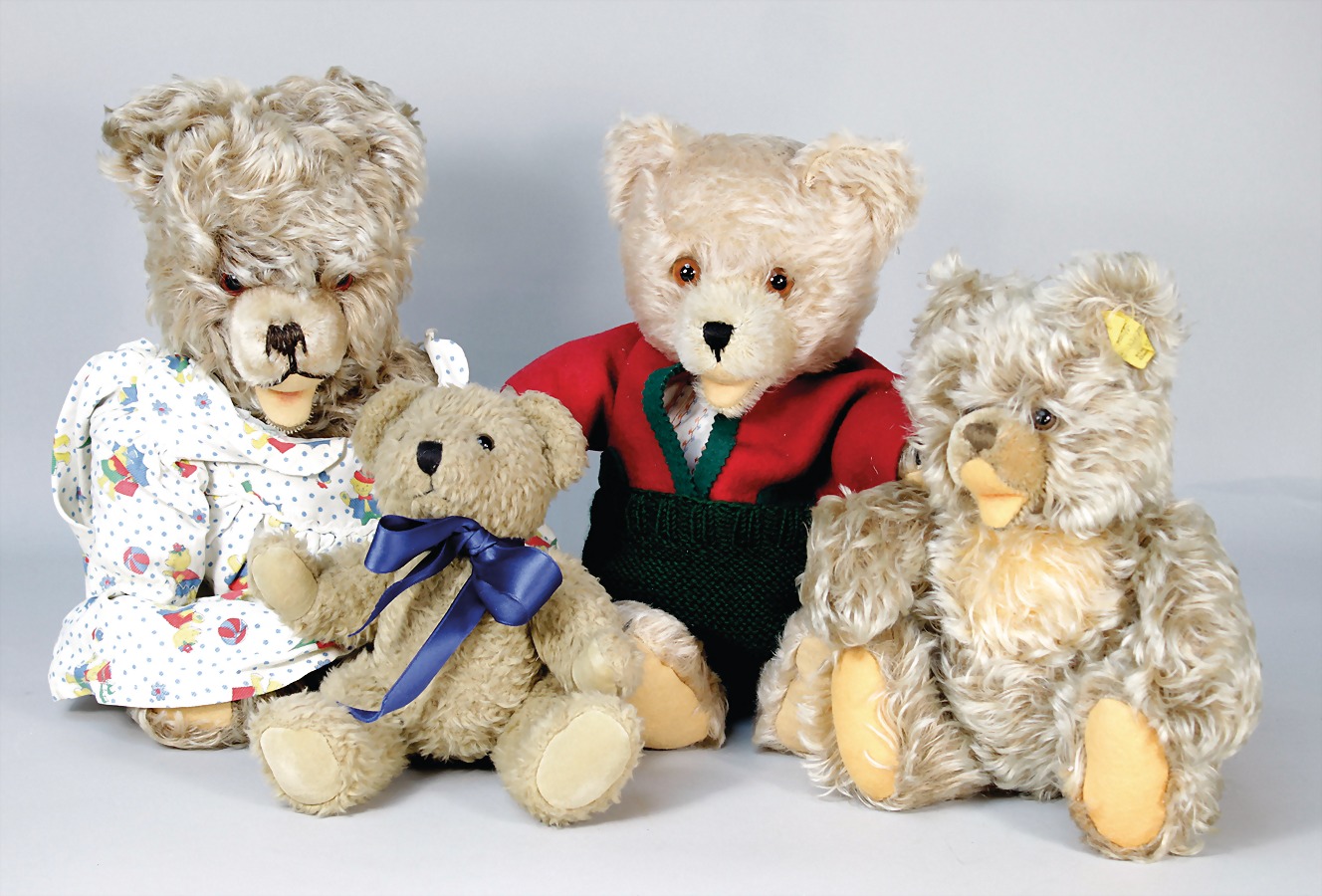 4 Plüschbären, darunter 1 x STEIFF Zotti mit Knopf u. Fahne, Nr. 0300/26, 1 x HERMANN Zotti, bespielt, 35 cm u. 2 Bären

---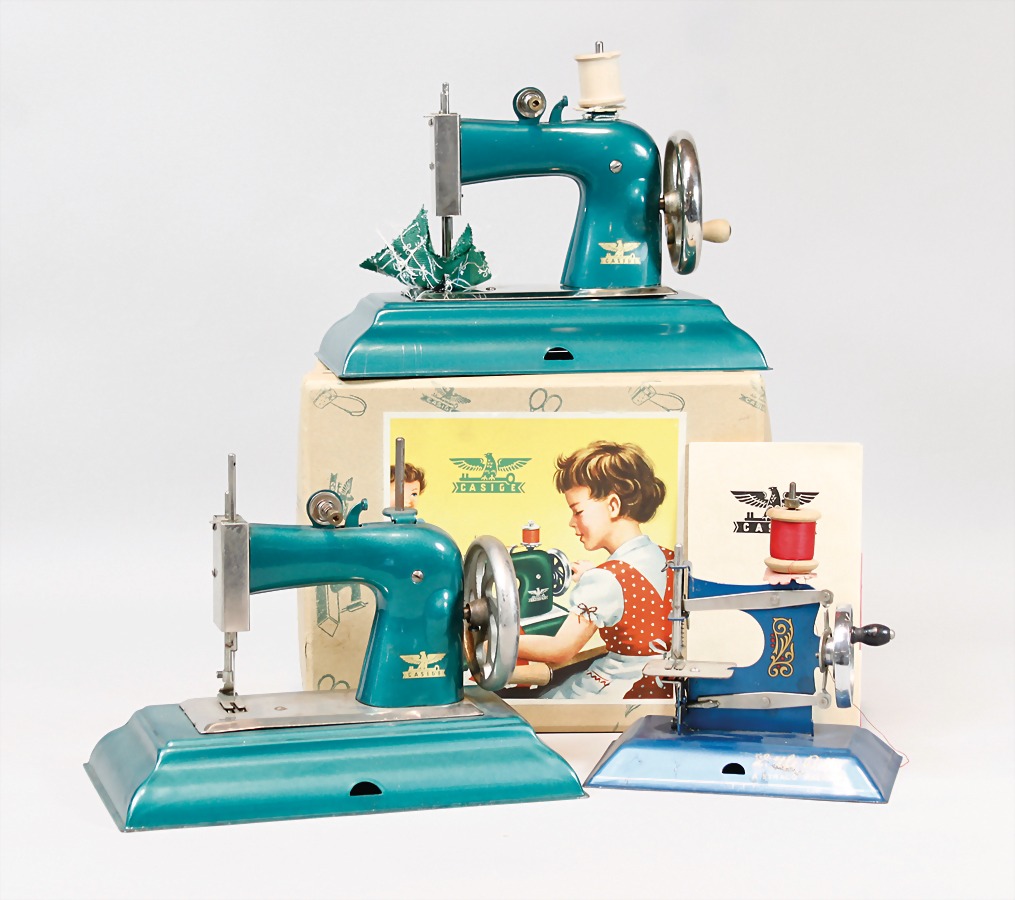 3 Kindernähmaschinen, Blech, 2 x gem. Adler Casige, davon 1 x in Orig.-Kart., mit Anleitung, wohl unbespielt u. 1 kl. Nähmaschine Aufschrift "Little Betty"

---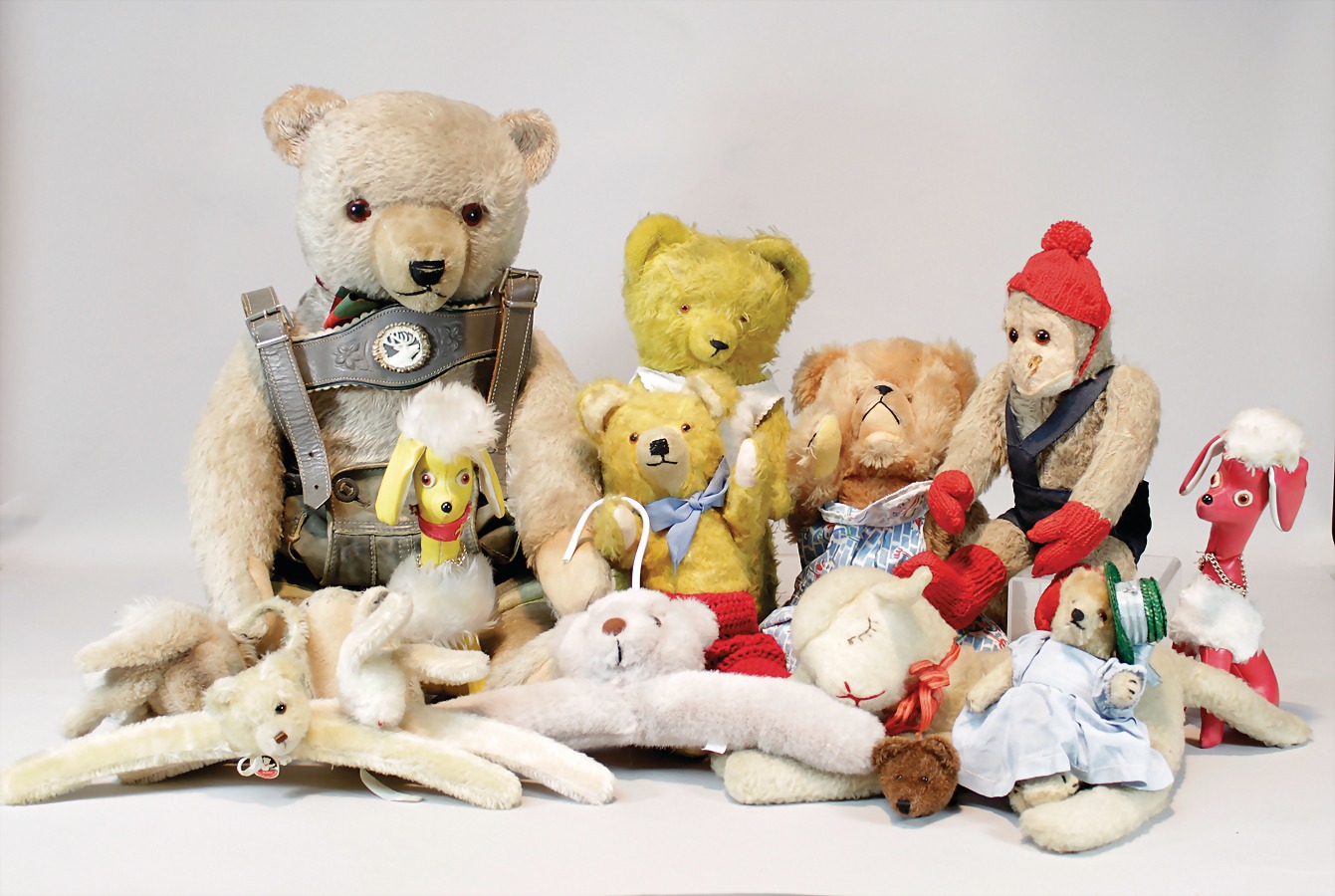 Konv. Plüschtiere, versch. Hersteller, bespielt

---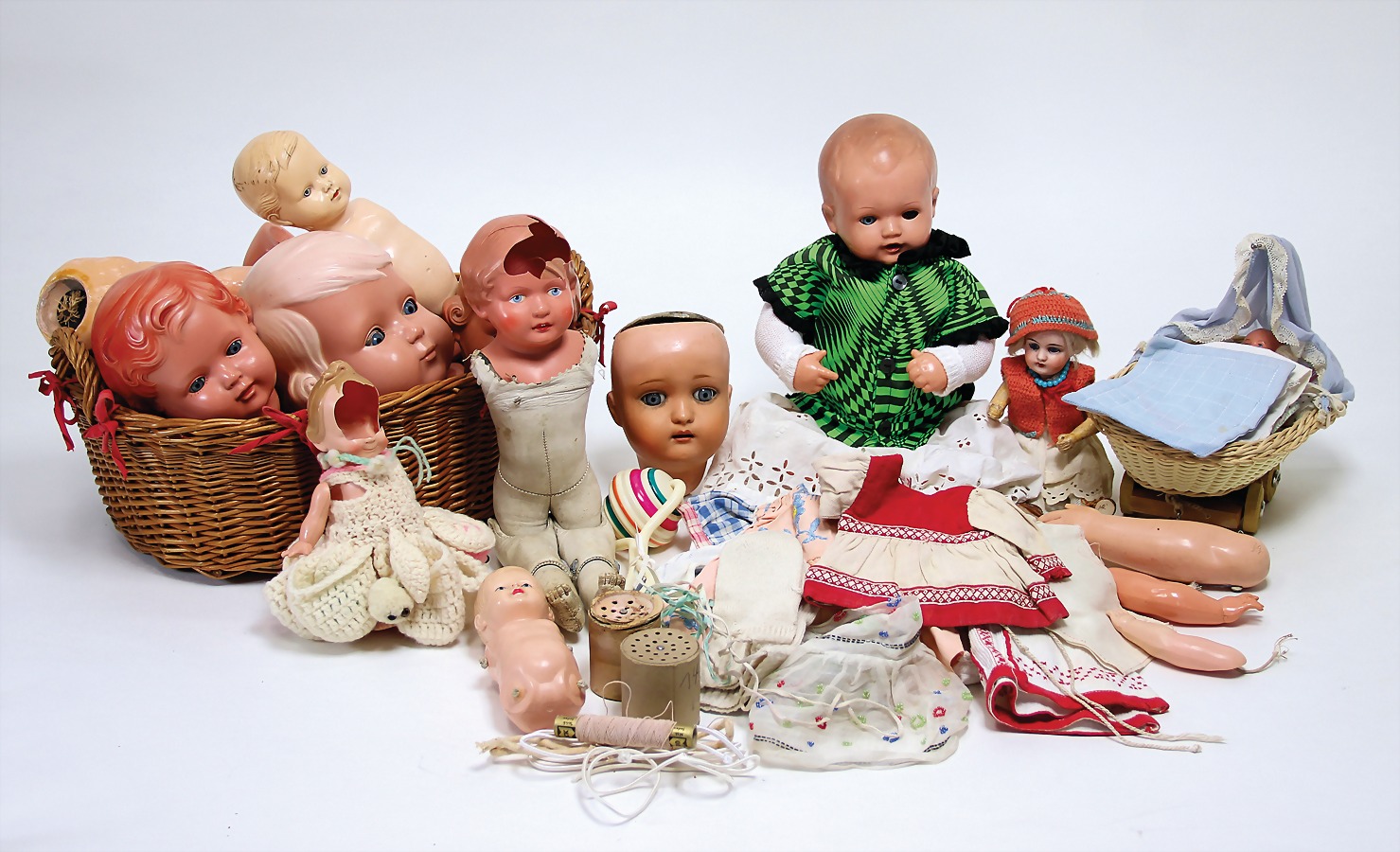 Fundkiste, 1 Porzellankopf-Puppe, fest eingesetzte blaue Glasaugen, Masse-Stehkörper, 25 cm, Konv. Puppenkleidung, für kl. u. mittl. Puppen, kl. Puppenwiege mit Celluloid-Strampelchen, gr. 35, bespielt, einige Celluloid-Ersatzteilspender, u.a. CELBA, einige Arme darunter Schaufelhände gr. 12,

---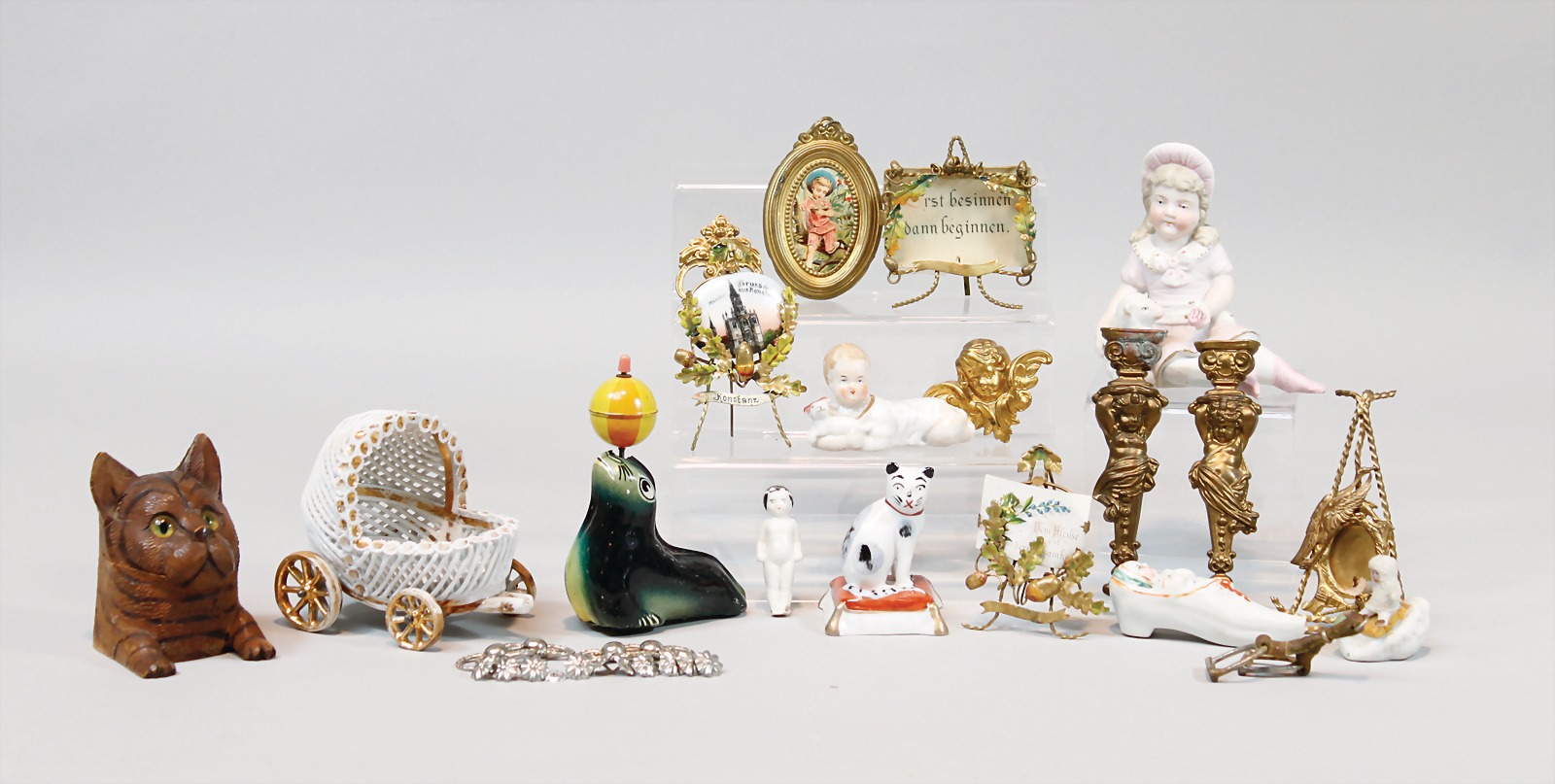 Fundkiste, darin einige Porzellan-Nippesfiguren, einige Stand-Bilderrahmen für Puppenstuben, Blech vergoldet, 1 Katze, Holz geschnitzt, mit Tintenfass, einige Ausschmückungsteile für Puppenstube, Blech vergoldet, Robbe mit Ball, gem. AHA 910

---
2 Kaufladen, Holz, bespielt, 1 x 58 cm, mit Kaufladenwaage, einige Dosen, Bonbongläser u. 1 x 50 cm mit Schaufenster, 2 Schubladen fehlen

---
Fundkiste, darin 2 x Puppenschaukel, Holz, 35 cm u. 56 cm, 1 Puppen-Sonnenliege, 2 Pappmachékopf -Puppen, Stoffkleidung, einige Kasperlepuppen, Stoff u.a.

---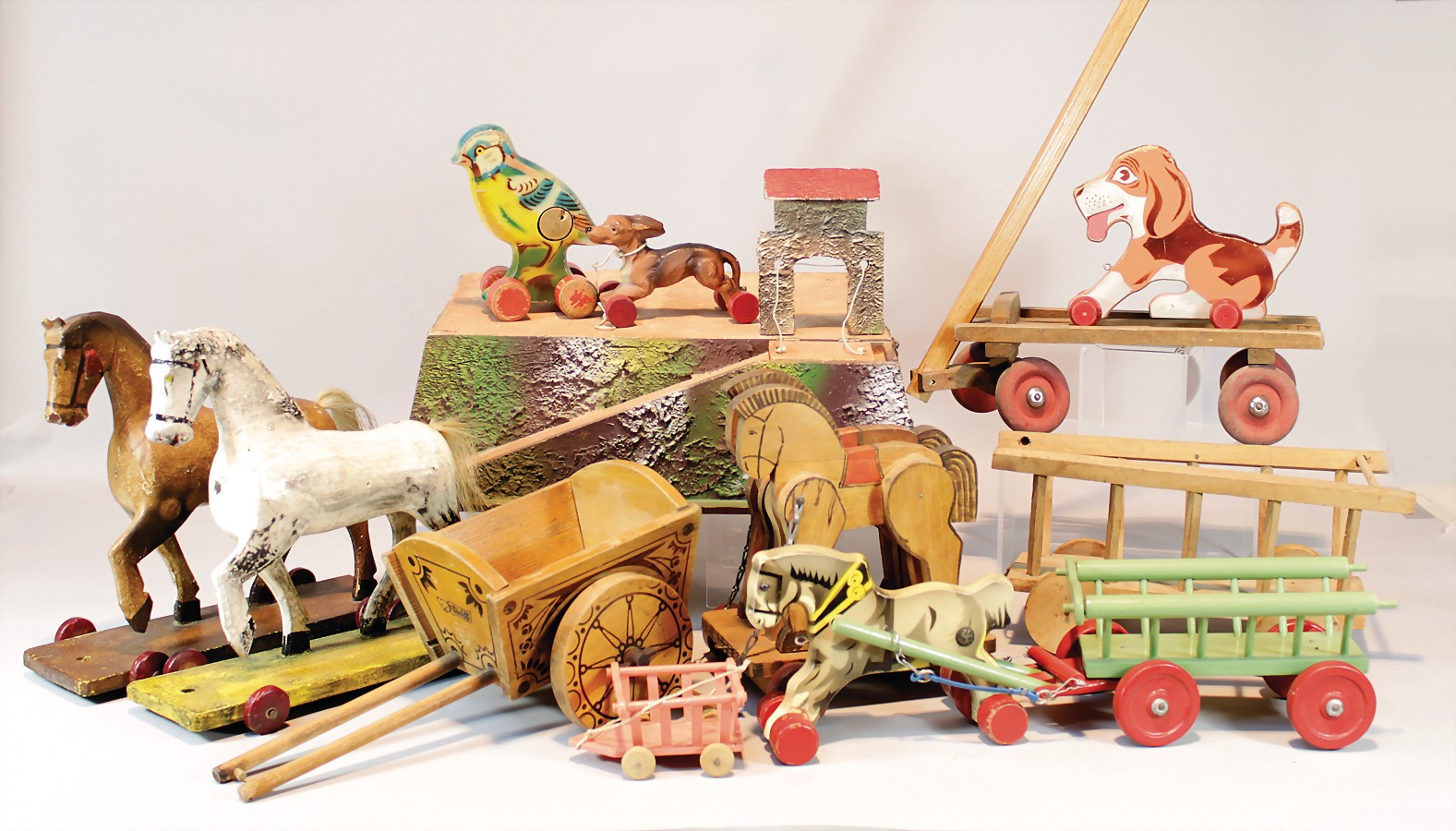 Fundkiste, einige Holzpferde, mit Anhänger, versch. Größen, dazu 1 Ritterburg, 40 cm x 28 cm, ohne Aufbauten u. Figuren

---
UNIS FRANCE
Kinderwagen, Korb, ohne Verdeck, mit Gussspeichenrädern, H: 87 cm, dazu 1 Massepuppe, 601, blaue Schlafaugen, off. Mund, Kunsthaarperücke, auf Masse-Gliederkörper, stark bespielt, 84 cm, dazu 3 Künstlerpuppen, neu, Stoffkörper
---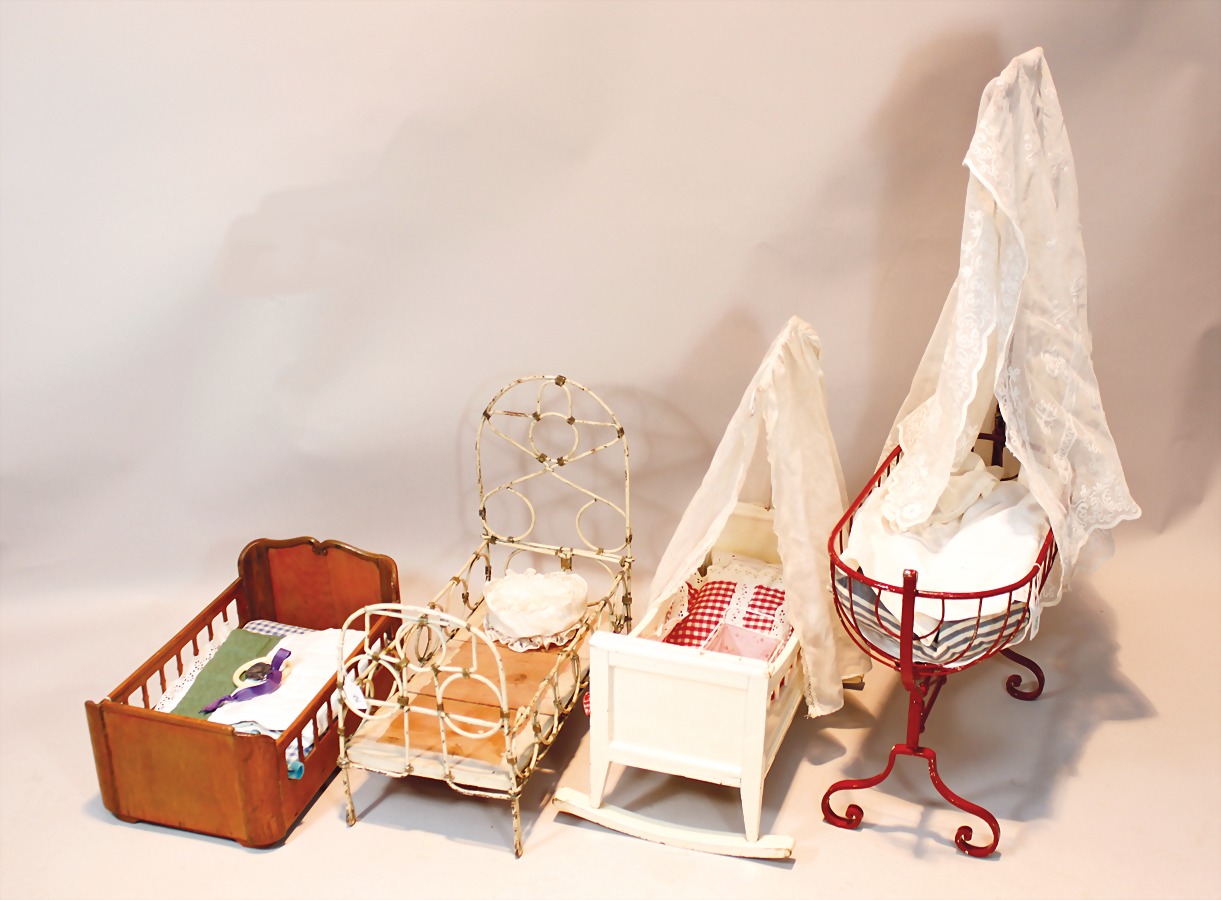 Konv. 3 Puppenbetten u. 1 Wiege mit Himmel, 2 x Holz, ca. 41 cm, 2 x Metall, 47 cm u. 49 cm, teilw. mit Bettzeug, alles bespielt

---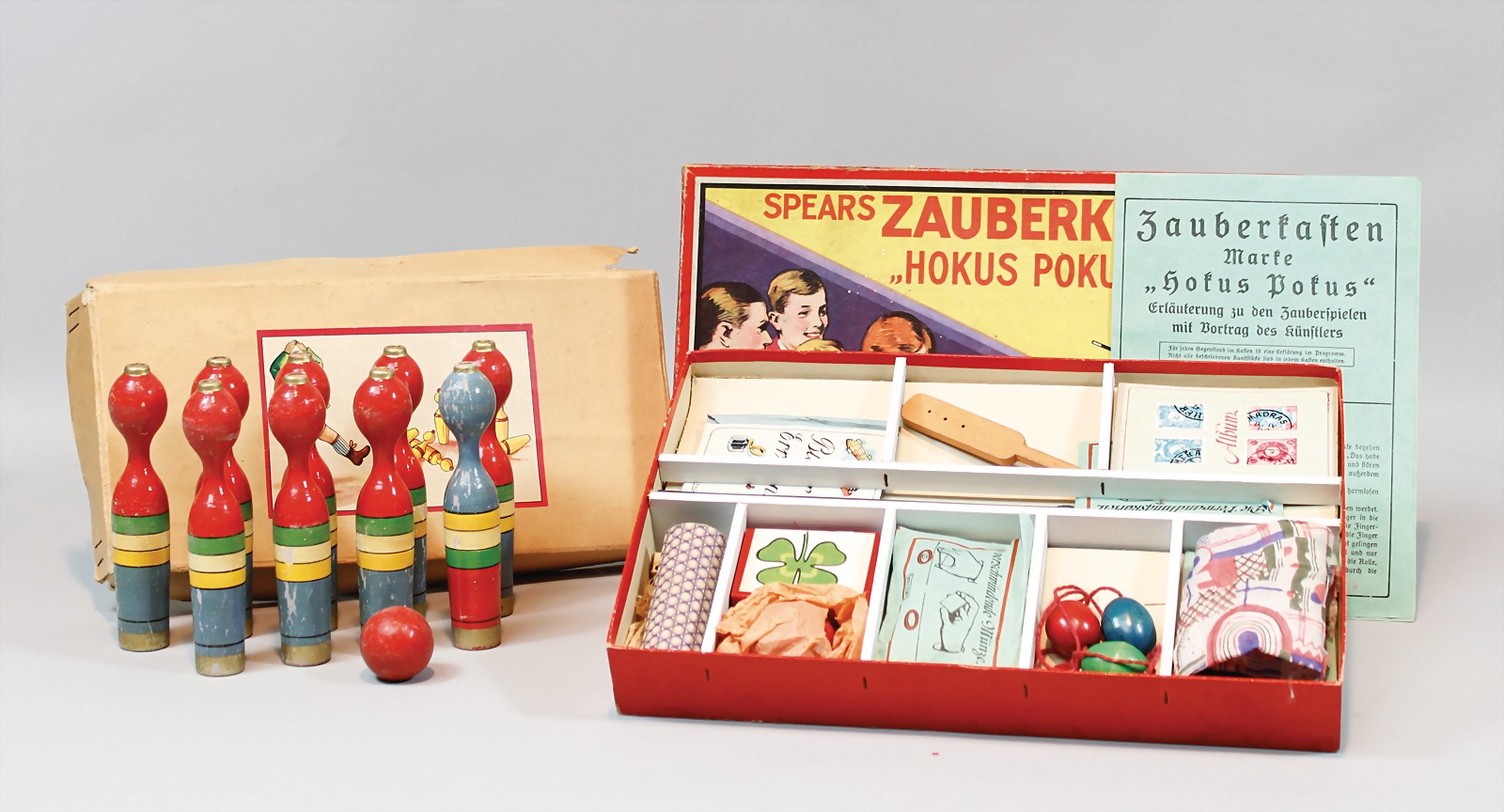 altes Kegelspiel, kompl. im Orig.- Kart., Deckel etwas verschlissen, dazu 1 Zauberkarton, "Hokus Pokus", von Spear, im Orig.-Kart., auf Vollständigkeit nicht geprüft

---