The Depuoz-Collection 30. August 2014
The Depuoz-Collection 30. August 2014 - Page 20 / 20
Complete catalog (998 items)
---
---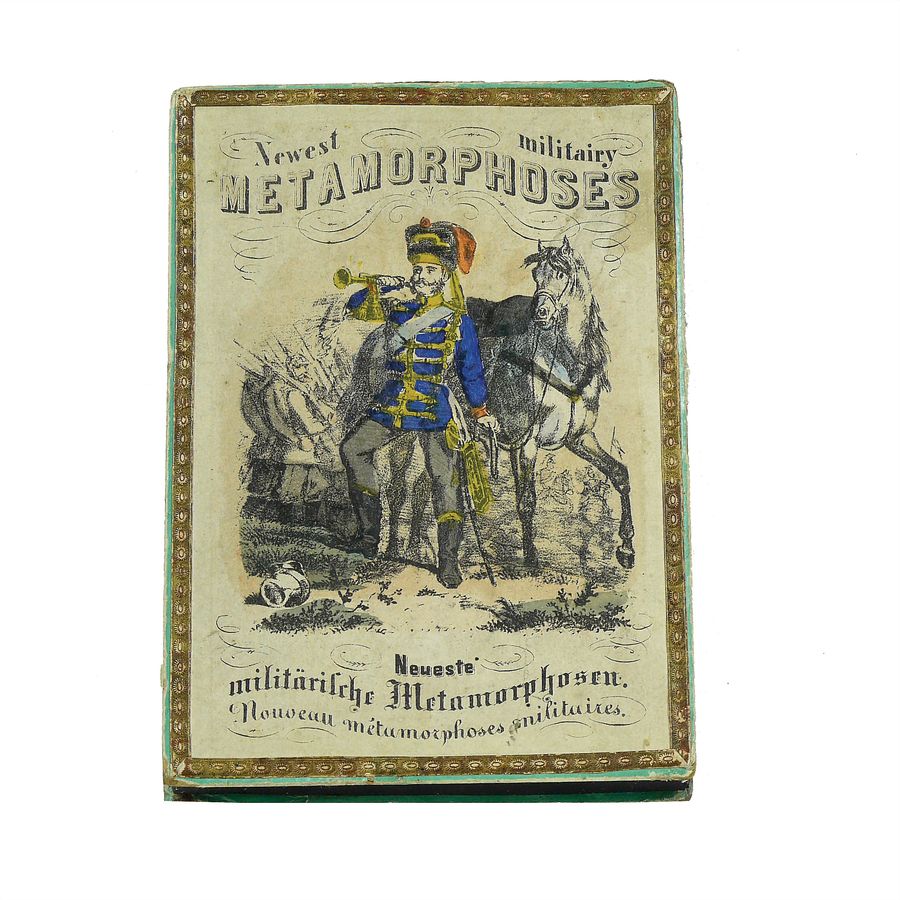 Newest military Metamorphoses. - latest military metamorphoses. - Nouveau métamorphoses militaires. not marked Germany, 1840 - 1850, measurements: 20 x 128 x 188 mm, good general condition, with slight signs of age and traces of usage, edges at cover were professional replaced, probably not complete

---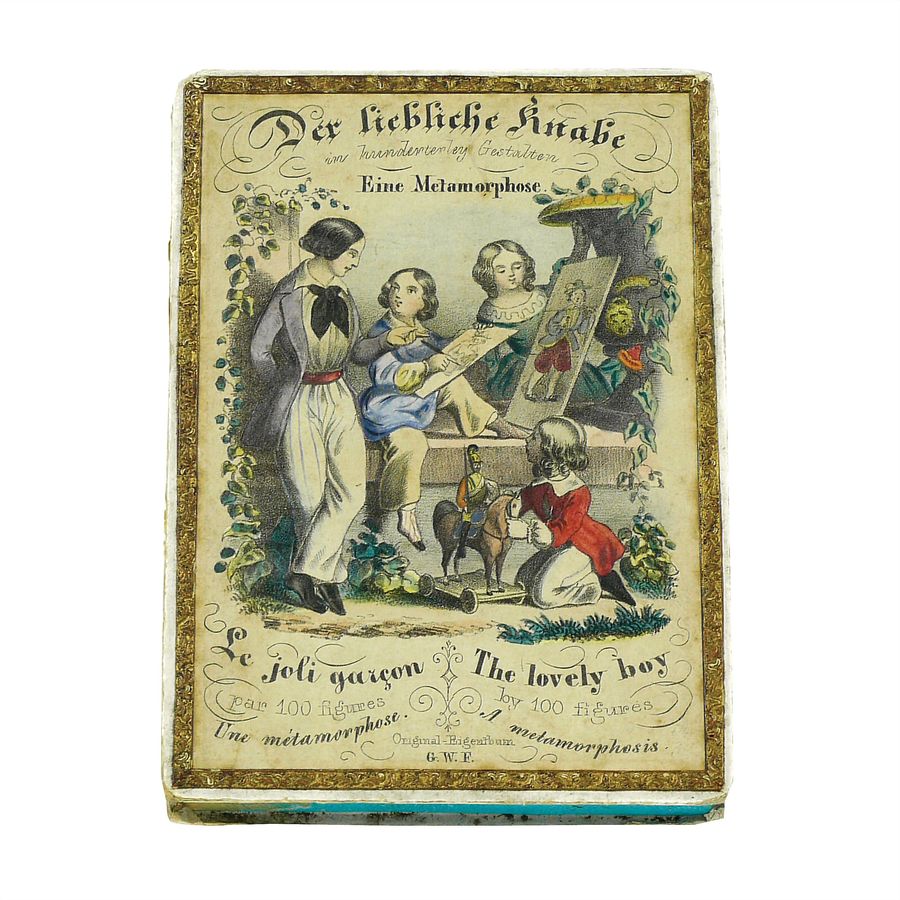 Faber, Georg Wolfgang, "Der liebliche Knabe in hunderterlei Gestalten. Eine Metamorphose" - Le joli garçon par 100 figures. Une métamorphose - The lovely boy Joy 100 figures. A metamorphosis. brand on the cover picture "Verlags Eigenthum G.W.F.", Germany, 1840 - 1850, measurements: 17 x 100 x 145 mm, good general condition, with signs of age and traces of usage, edges of box are worn, 2 corners at the cover were glued, 1 complete set is missing

---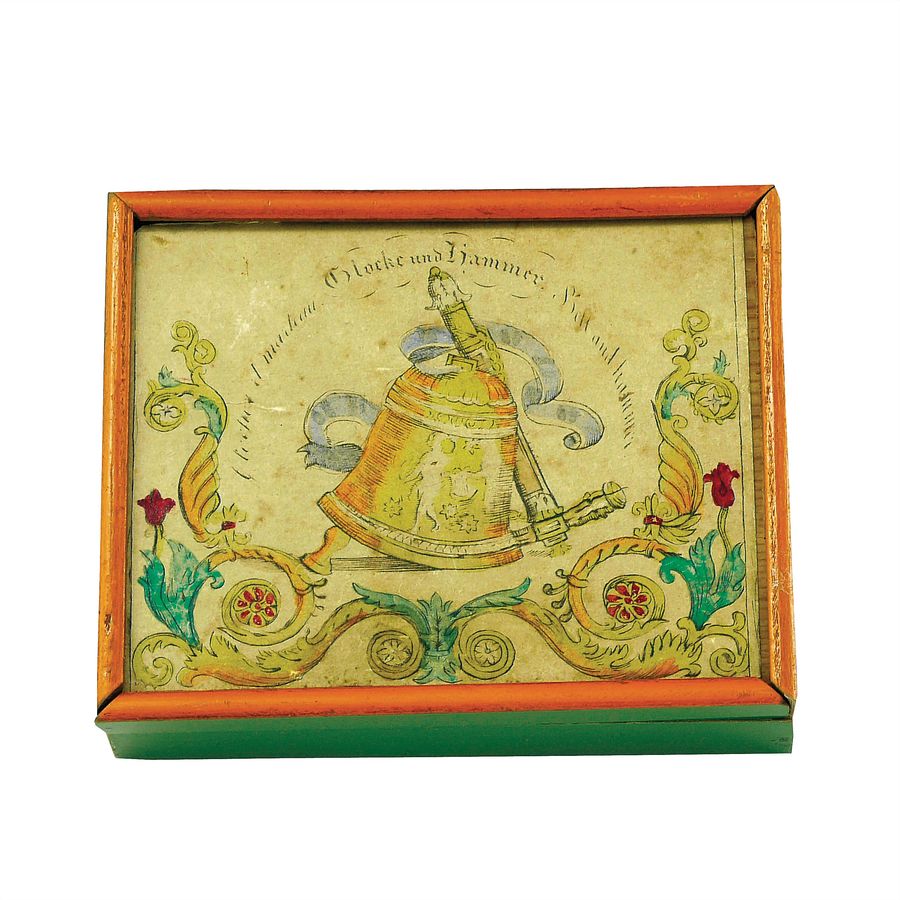 bell and hammer - Cloche et marteau - Bell and hammer, not marked, Germany, 1830 - 1840, measurements: 26 x 120 x 98 mm, good general condition, with slight signs of age and traces of usage, cover is picture a little bit brown and faded, except of the guidance complete

---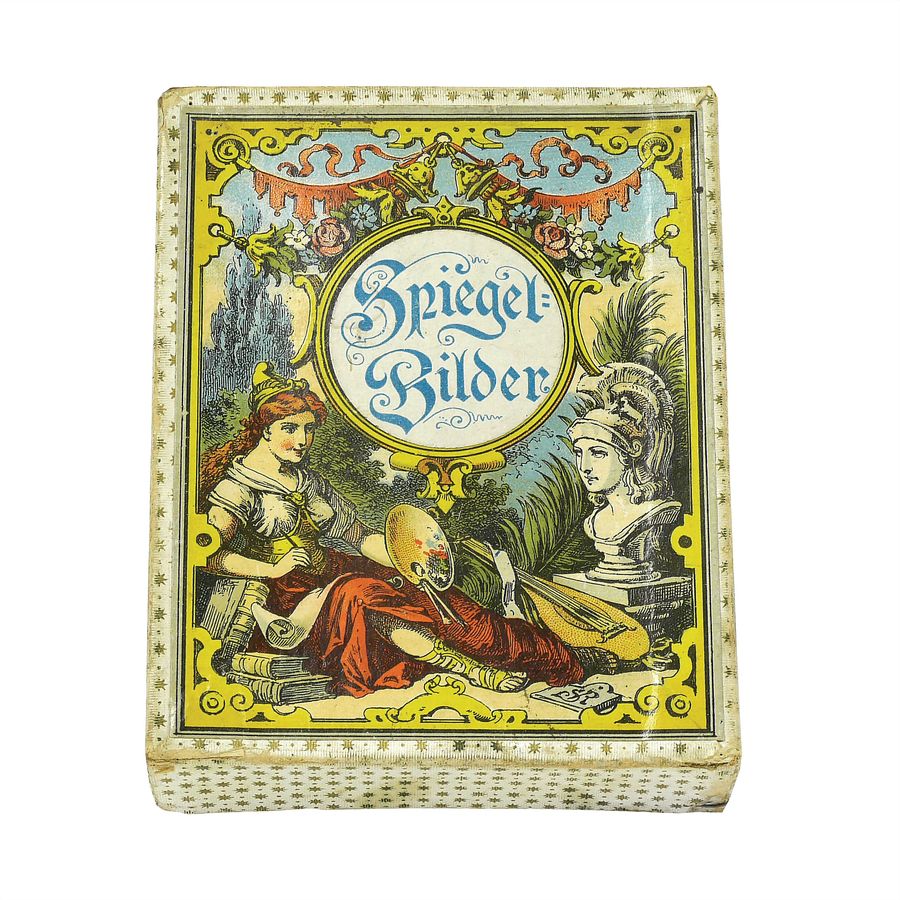 mirror pictures, brand on cover brand "SR", Germany, around 1890, measurements: 33 x 120 x 150 mm, good general condition, traces of usage, complete

---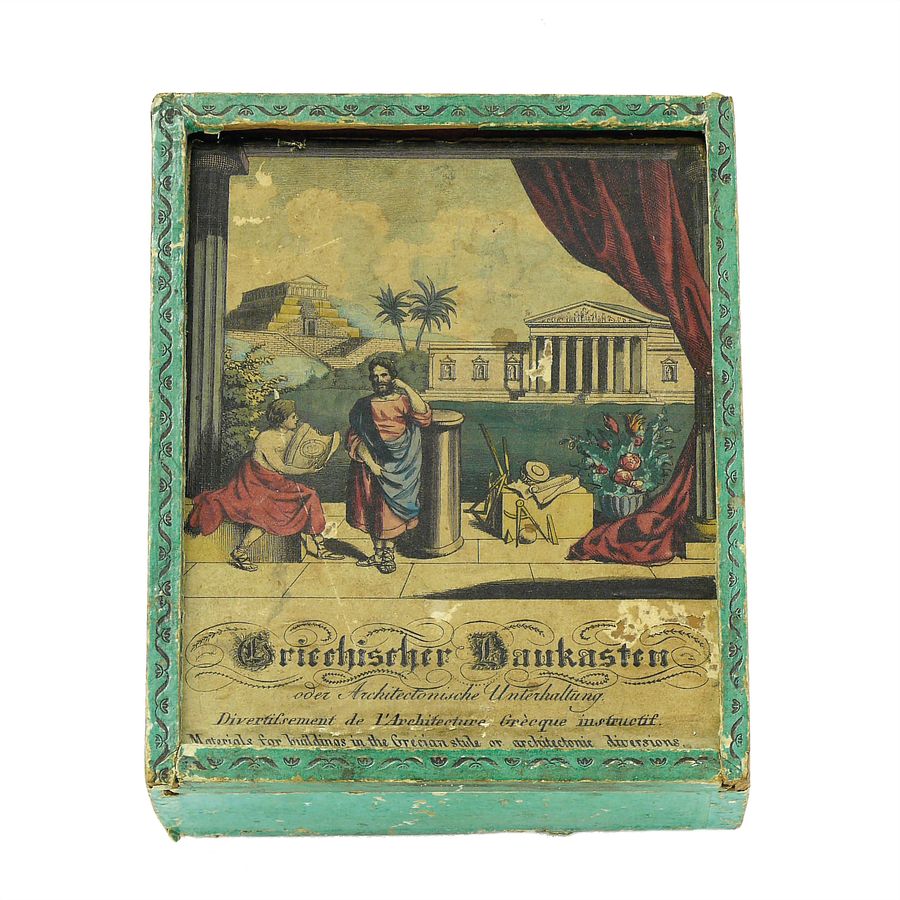 Greek construction kit or architectural entertainment - Divertisement de l'Architecture Grècque instructif. - Materials for buildings in the Grecian style or architectonic diversions, not marked, Germany, around 1840, measurements: 40 x 115 x 145 mm, good general condition, with traces of usage, pattern is missing

---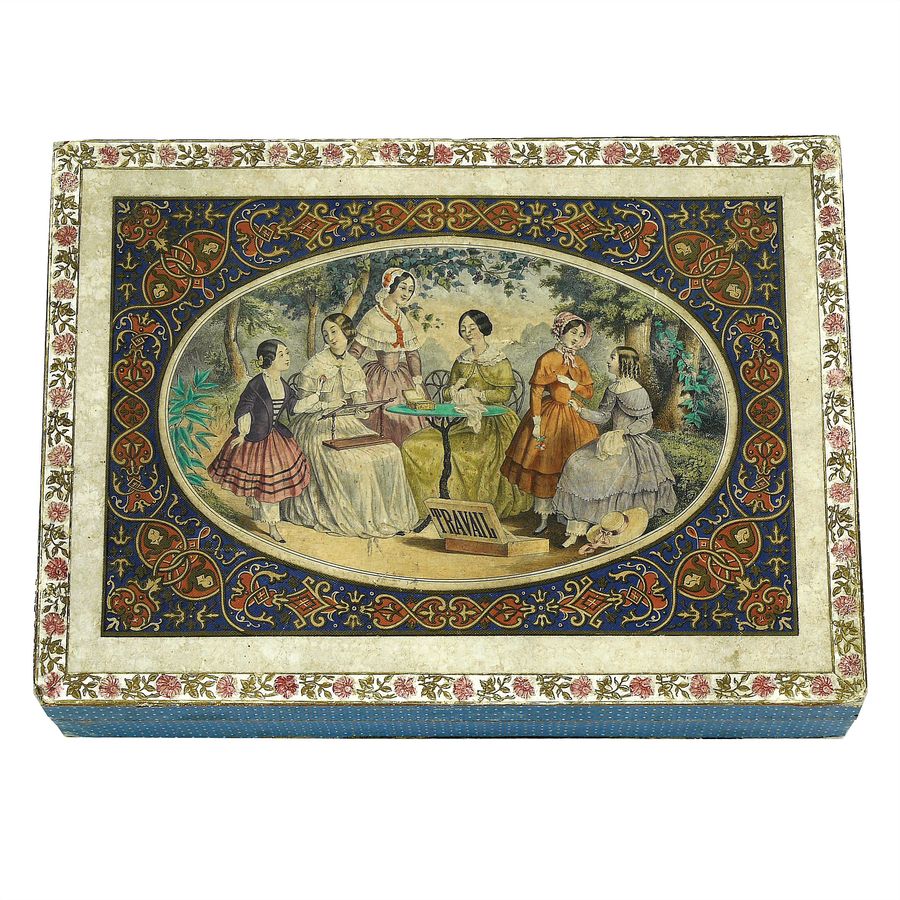 Travail - sewing box, brand on cover is illegible in mirror writing BOURGERIE, France, around 1865, measurements: 85 x 385 x 280 mm, very good general condition, with traces of usage


---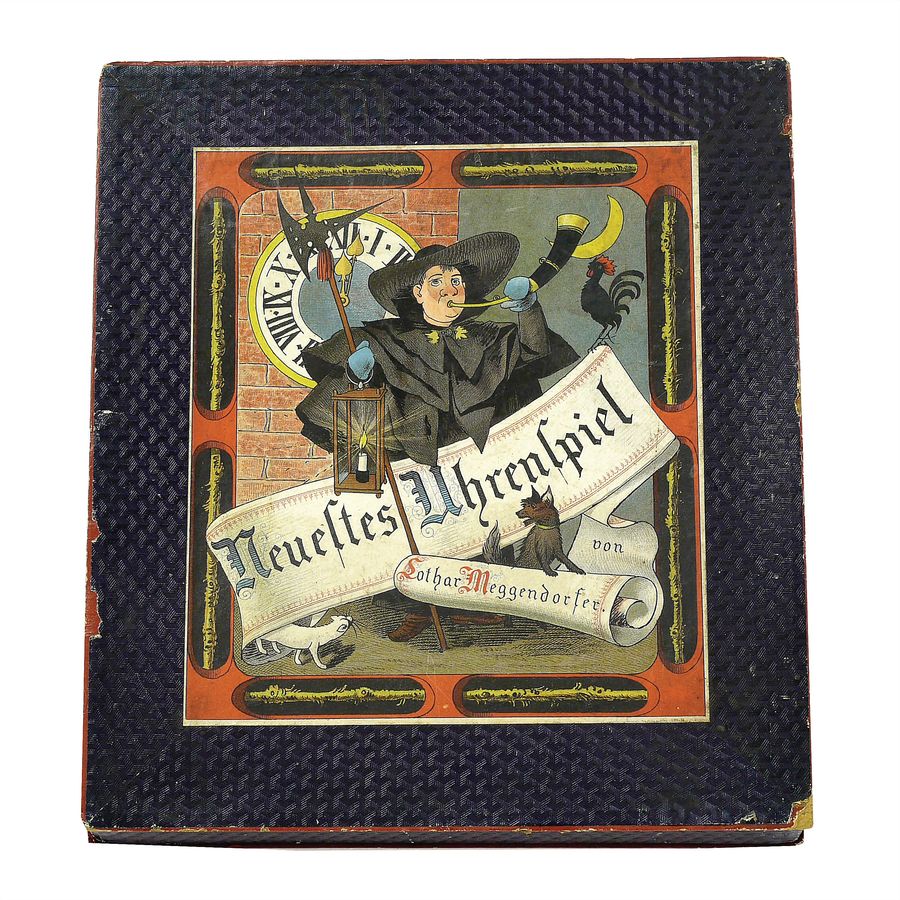 Meggendorfer, Lothar, Maier, Otto publishing house, most recent clock game, Germany, 1890, measurements: 40 x 322 x 368 mm, good general condition, signs of age and traces of usage, 1 clock card and 1 cube are missing

---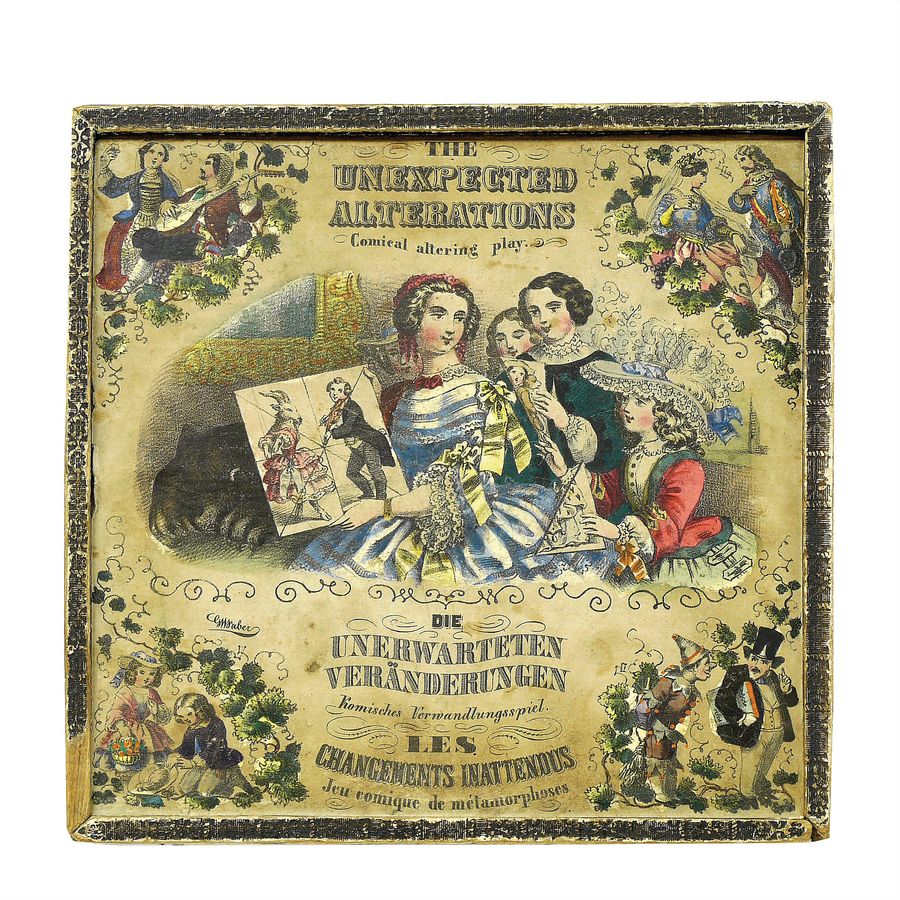 Faber, Georg Wolfgang, The unexpected Alterations - Les changements inattendus, marked brand "GWFaber", Germany, 1840 - 1850, measurements: 35 x 175 x 175 mm, good general condition, with slight signs of age and traces of usage, complete

---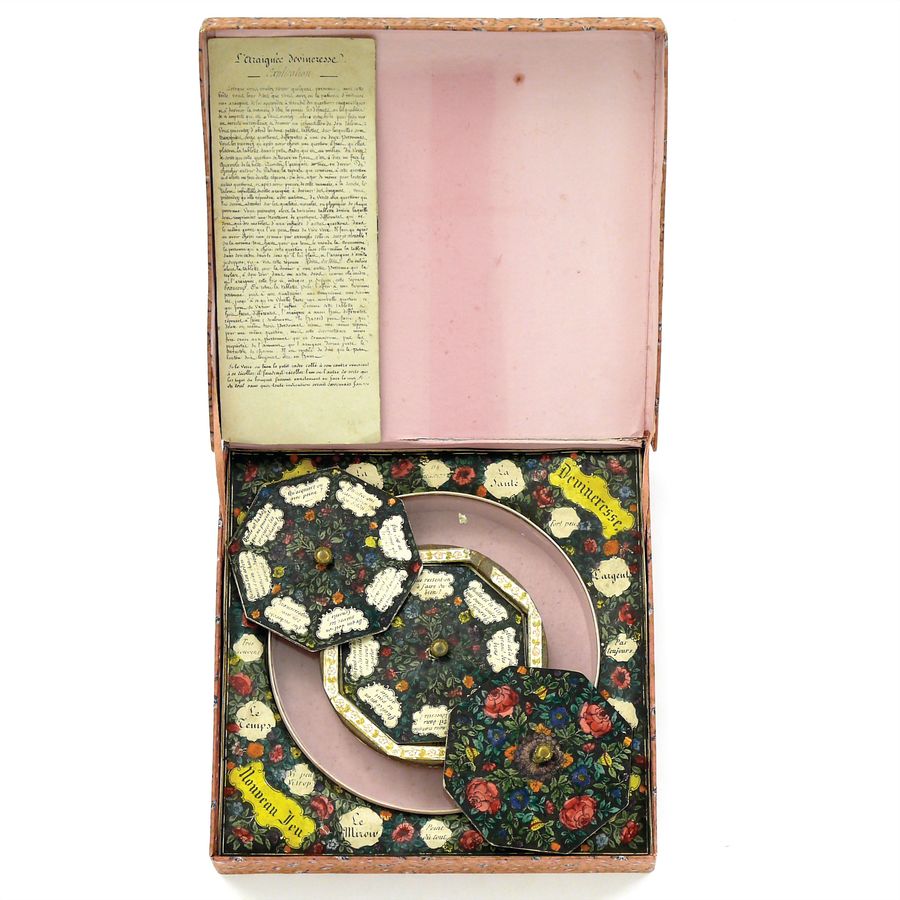 Siès, Victor, L'Araignée devineresse (the visionary spider), marked "V.tor Siès Inv. Edit. / Déposé", France, 1840 - 1850, measurements: 35 x 180 x 180 mm, very good general condition, with slight traces of usage, probably complete, intact

---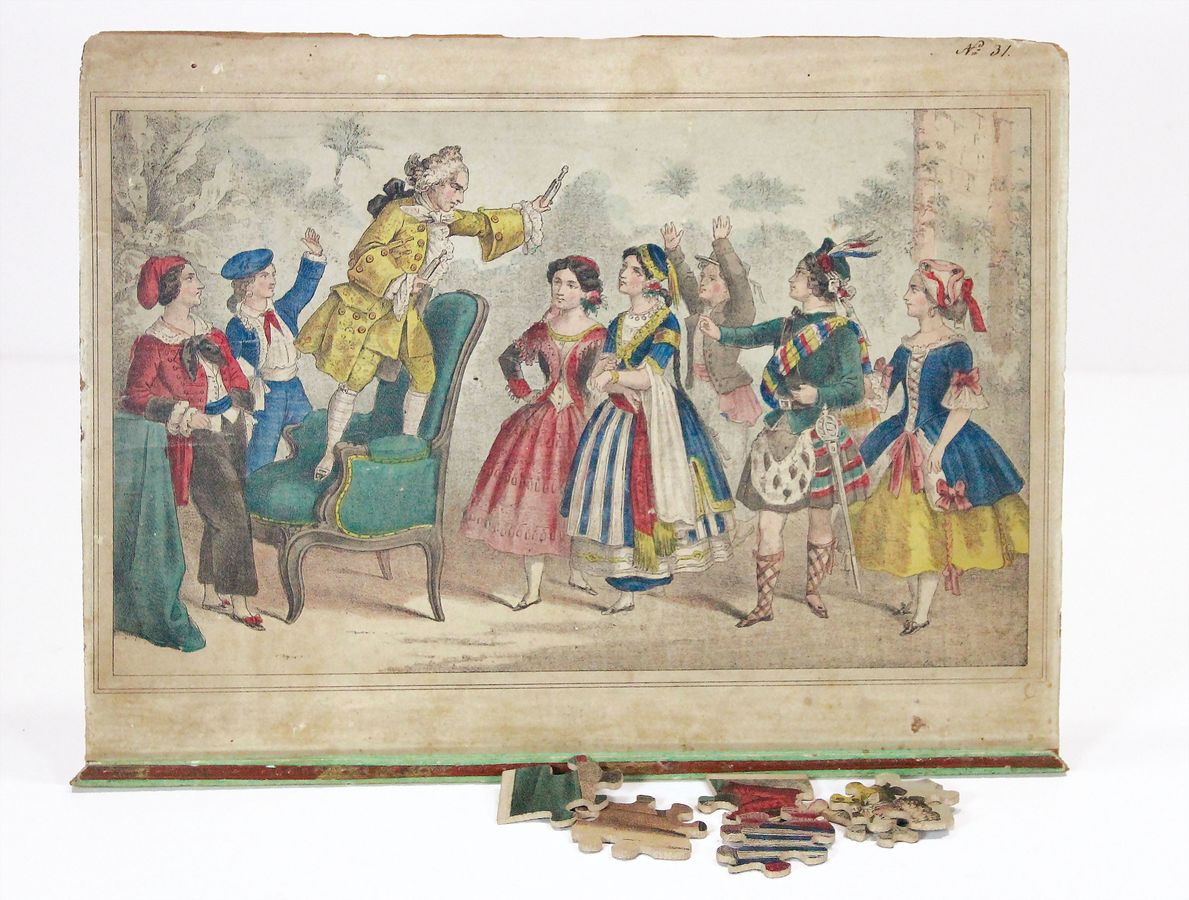 puzzle (Trunk), marked "No.31", Germany, around 1850, measurements: 17 x 295 x 222 mm, good general condition, complete with all pieces of the puzzle, traces of usage- and signs of age, puzzle motif with small paper loss, 4 corners are broken off, paper is partly loosely and wavy

---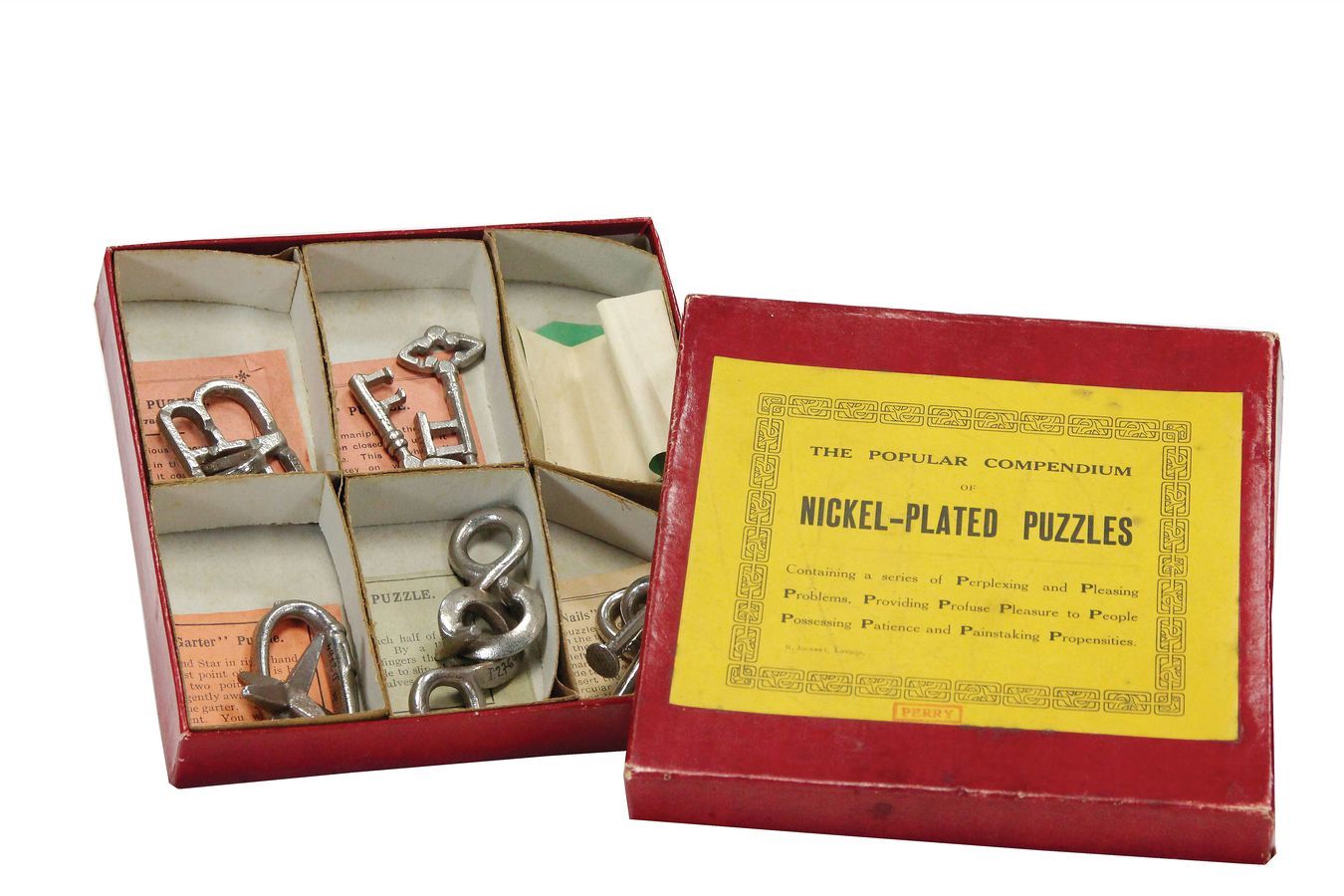 Journet, R., "The Popular Compendium of Nickel-Plated Puzzles", marked "Perry", Reg. No. 577846, England, around 1910, measurements: 30 x 165 x 165 mm, good general condition, with traces of usage- and signs of age

---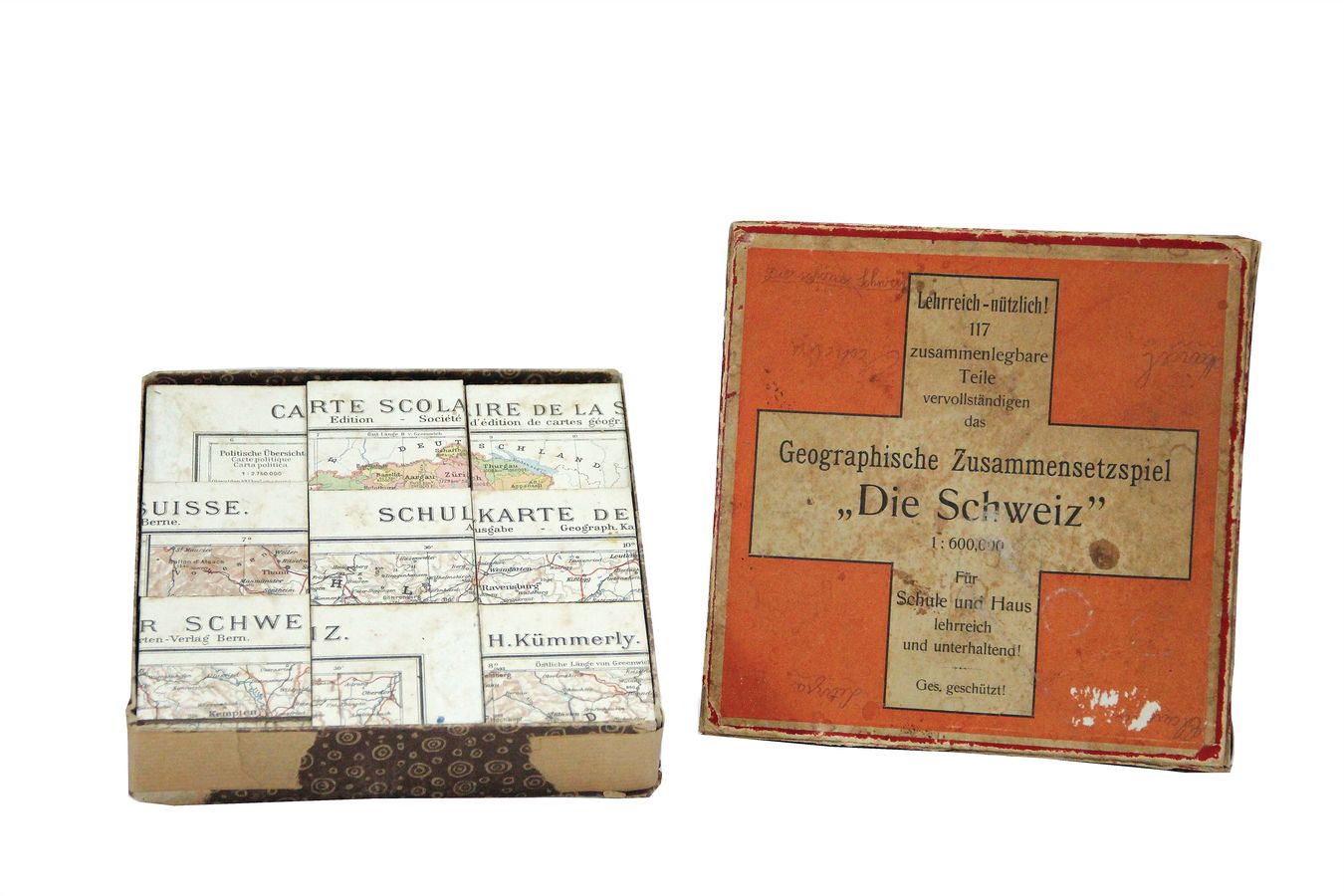 Kümmerly & Frey, geographical game "Die Schweiz", brand at the edge of map "H. Kümmerly / Geograph. Karten-Verlag Bern" - compare D 01301, Switzerland, 1920 - 1930, measurements: 36 x 163 x 163 mm, maps in good general condition, several with torn out paper parts, at the edges and at the back some maps with rests of a blue plastered something, edges of box is torn and partly strengthened with wrapping paper

---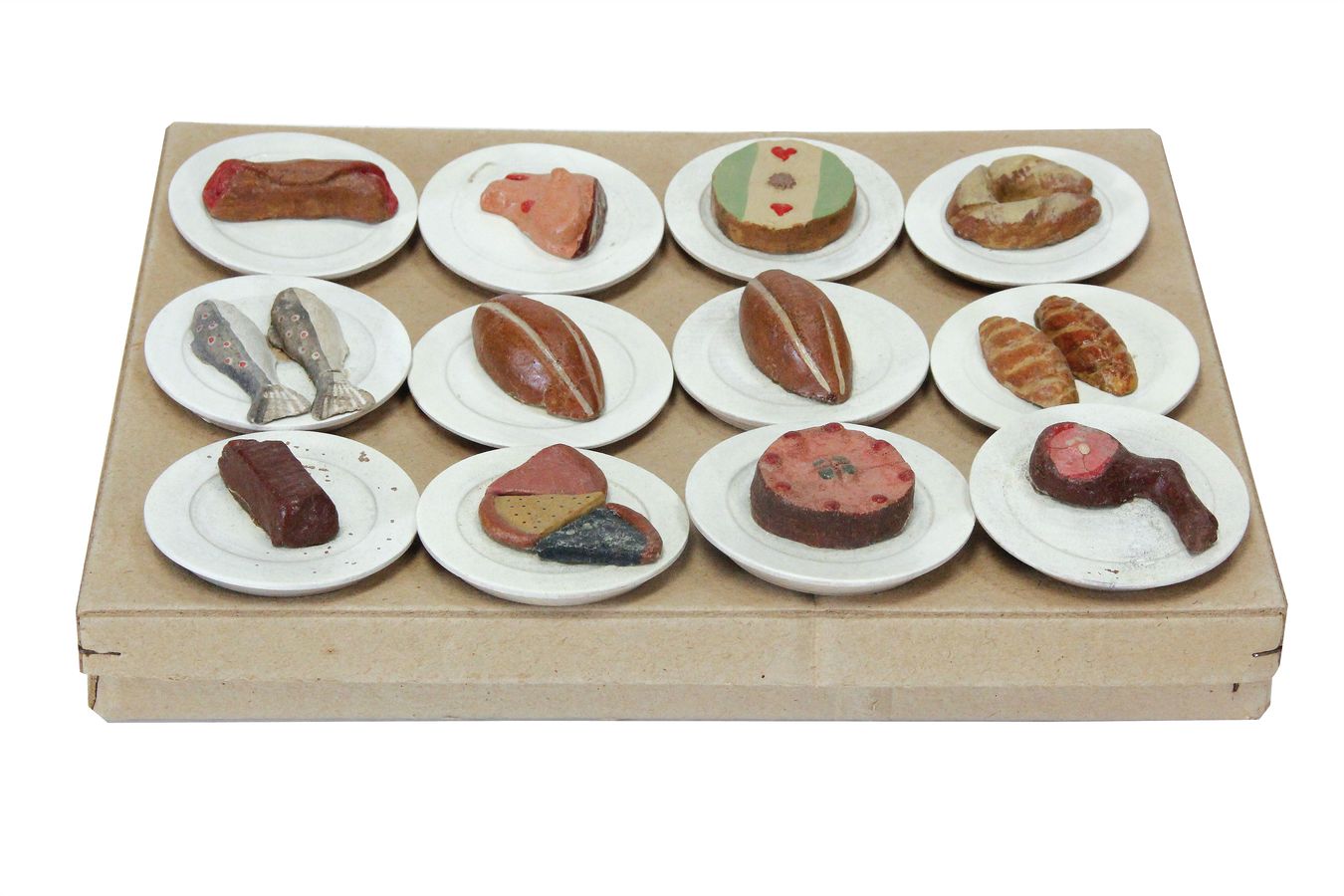 meals, not marked, at one edge a blue stamp "63/710", Germany, 1920 - 1930, with a diameter of: 59 mm, good general condition, with slight signs of age and traces of usage, fine cracks, 1 fish with broken fluke, some parts with old glue traces

---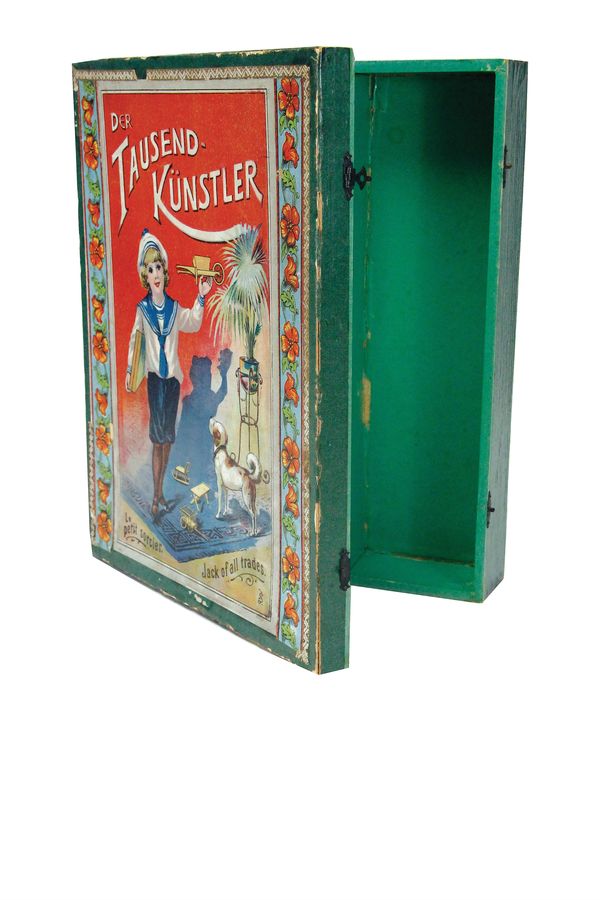 Stief, Julius, the allrounder - Le petit sorcier. - Jack of all trades, marked "JS", Germany, around 1900, measurements: 80 x 280 x 340 mm, good general condition, but without contents, with signs of age and traces of usage, edges of the box with paper loss

---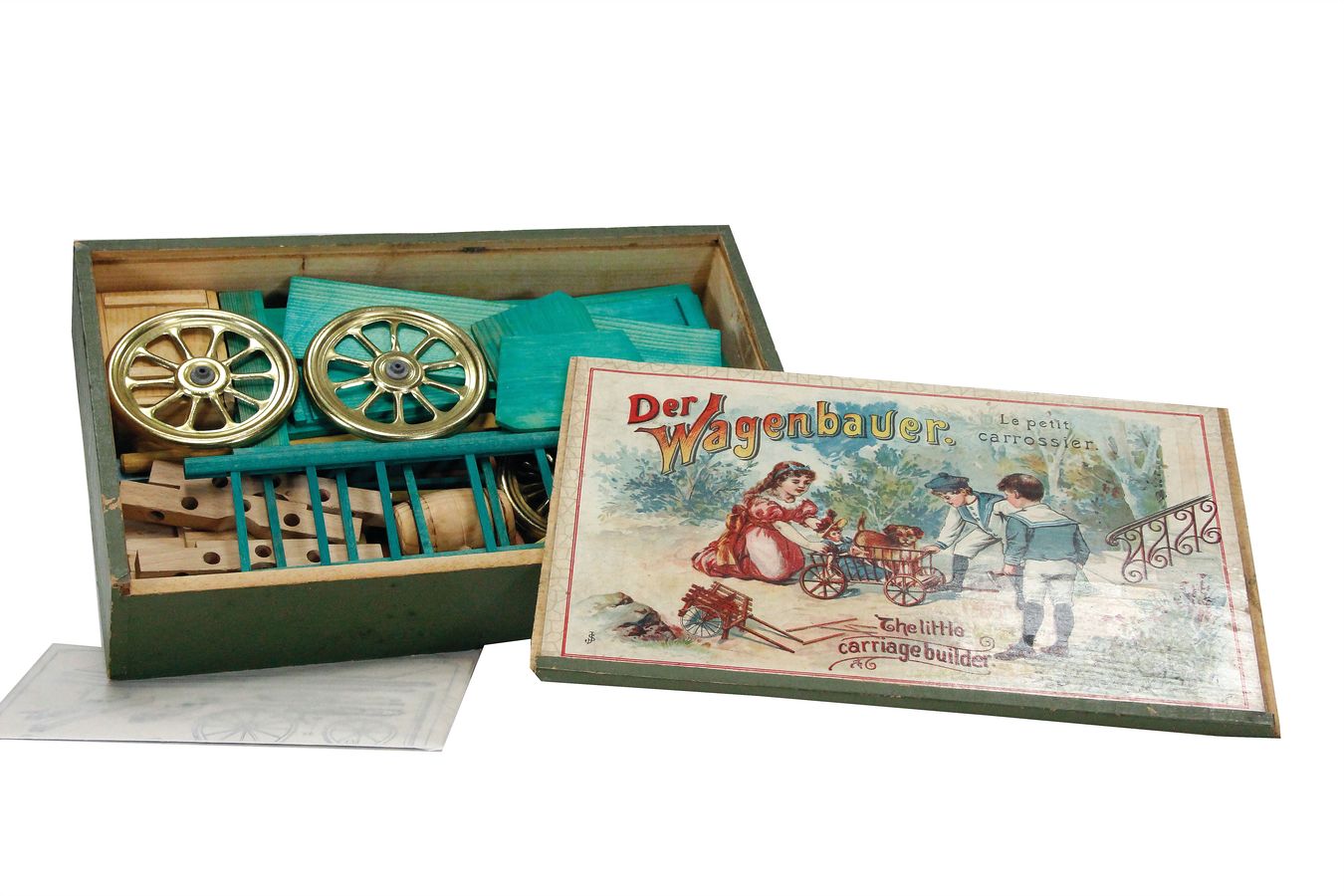 Stief, Julius, the cartwright. - Le petit carossier. - The little carriagebuilder., marked "JS", Germany, 1900 - 1910, measurements: 71 x 330 x 210 mm, good general condition, as far as possible complete, 1 wheel hub is missing

---
the art of Parquetiren. - The Art of Parqueter. -l'art a parqueter, marked "139.", Germany 1860 - 1870, measurements: 32 x 190 x 190 mm, good, complete general condition, with signs of age and traces of usage

---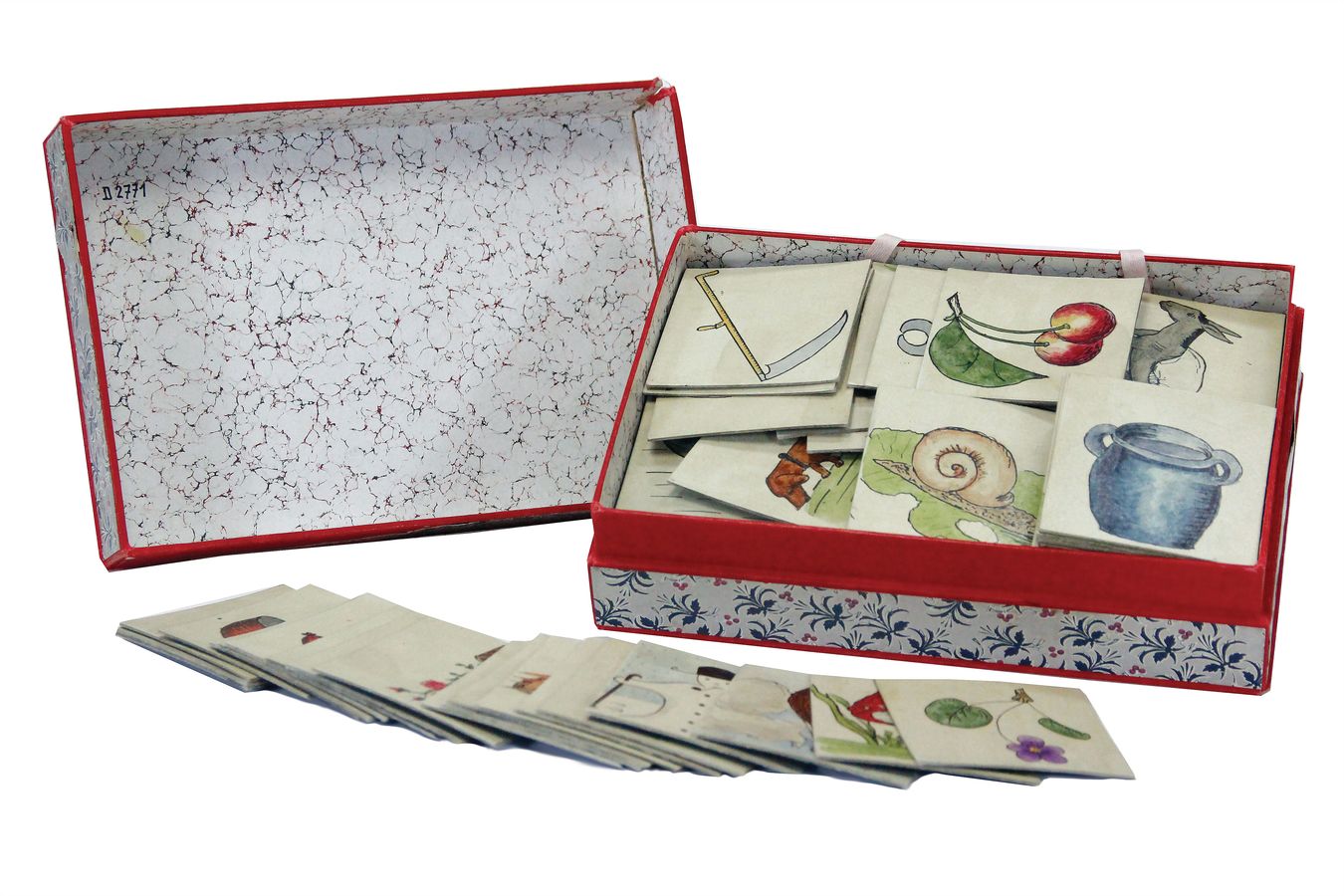 picture lotto (homemade), not marked, Switzerland 1920 - 1925, measurements: 64 x 215 x 150 mm, good, complete general condition, boards and cards are wavy and in places a little bit stained, box insert with small graffitos, 3 side walls with torn out paper parts

---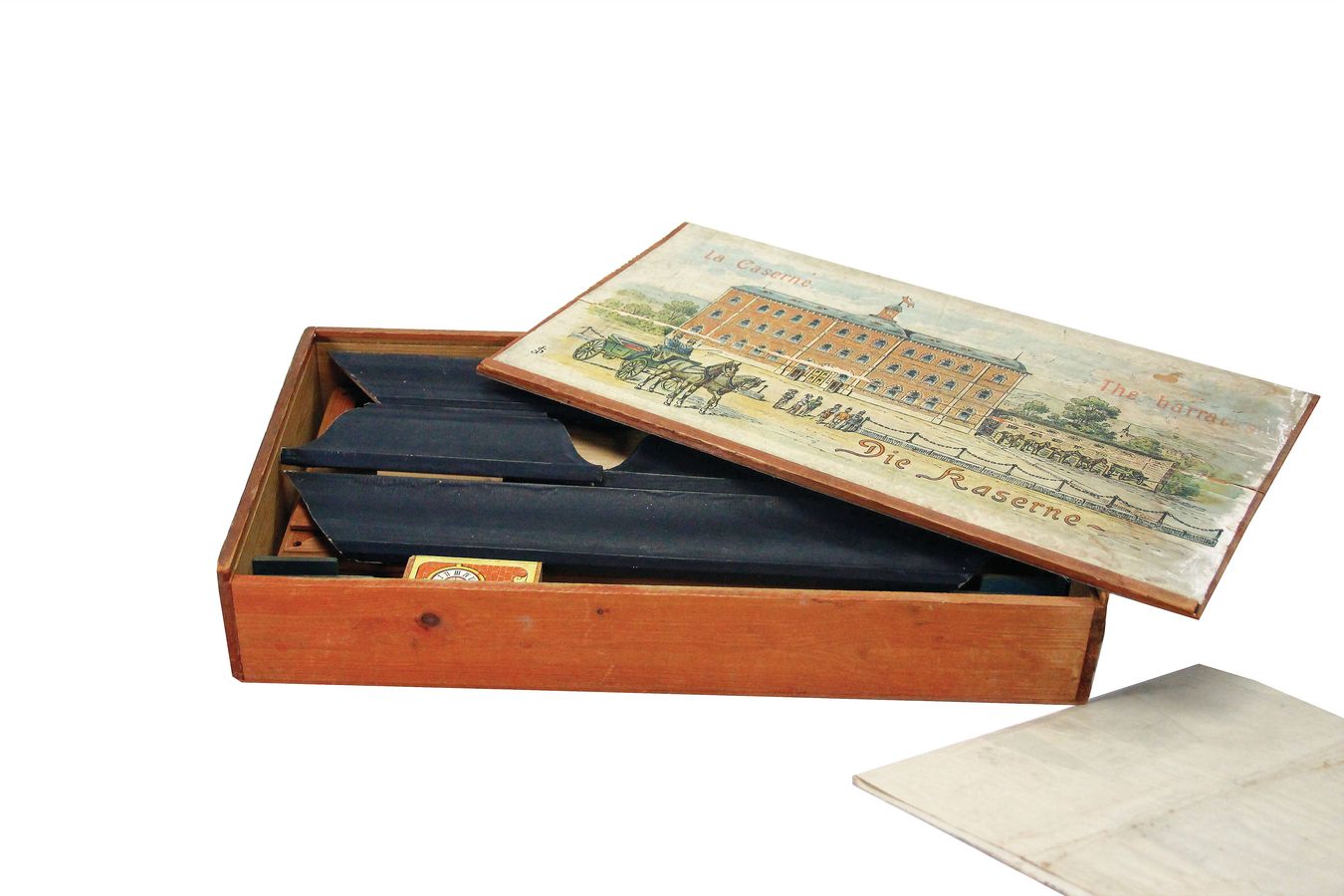 Stief, Julius, the barracks - La Caserne - The barracks, initials "JS", Germany, Nuremberg, 1900 - 1910, measurements: 82 x 493 x 285 mm, good general condition, as far as possible complete, some small articles were replaced

---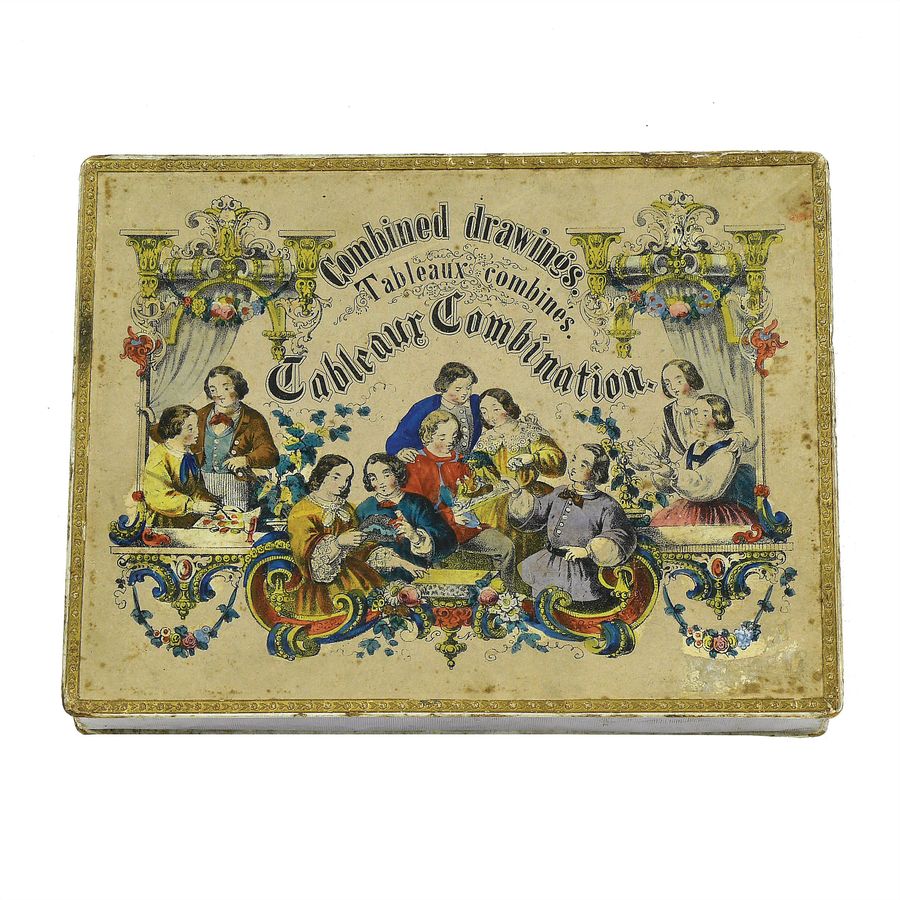 Neiff, Gustav, Tableaux Combination. - Tableaux combinés. - Combined drawings, marked "G.N", Germany, 1865 - 1870, measurements: 32 x 253 x 193 mm, good general condition, with traces of usage, feet / base are missing


---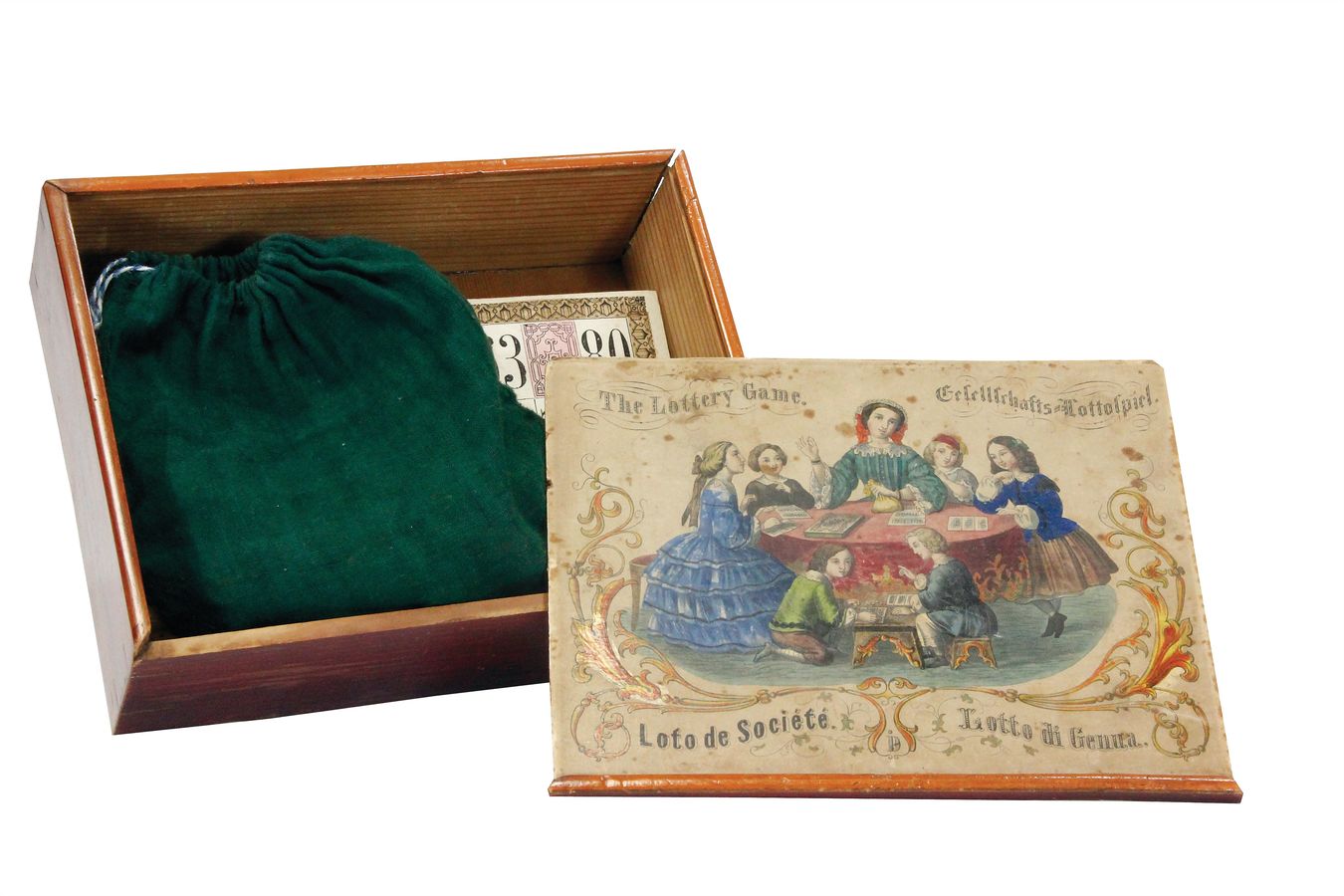 Dreykorn, Johann Paul, The Lottery Game - Loto de Société - lottery di Genua, marked "IPD", Germany, around 1860, measurements: 68 x 217 x 165 mm, good general condition, traces of usage, bottom of the box was at one side strengthened, complete

---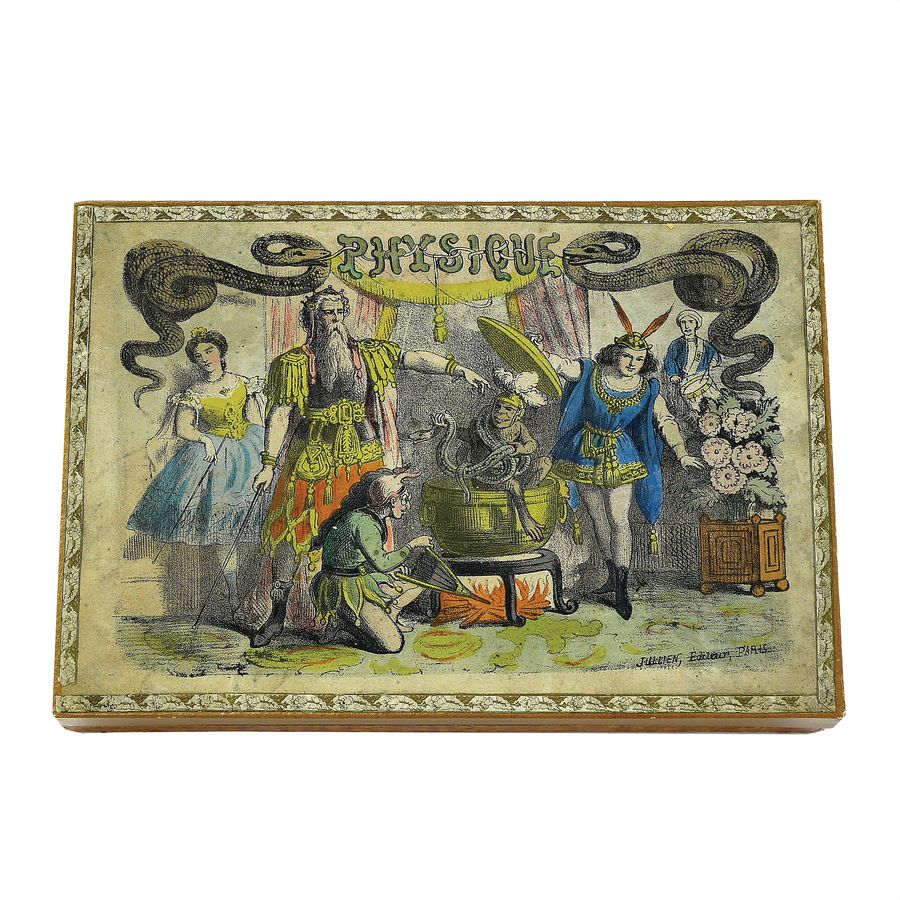 Jullien, Physique (conjuring set),marked "Julien, Editeur, Paris", France, around 1890, measurements: 55 x 290 x 197 mm, good general condition, with slight signs of age and traces of usage, cover was restored


---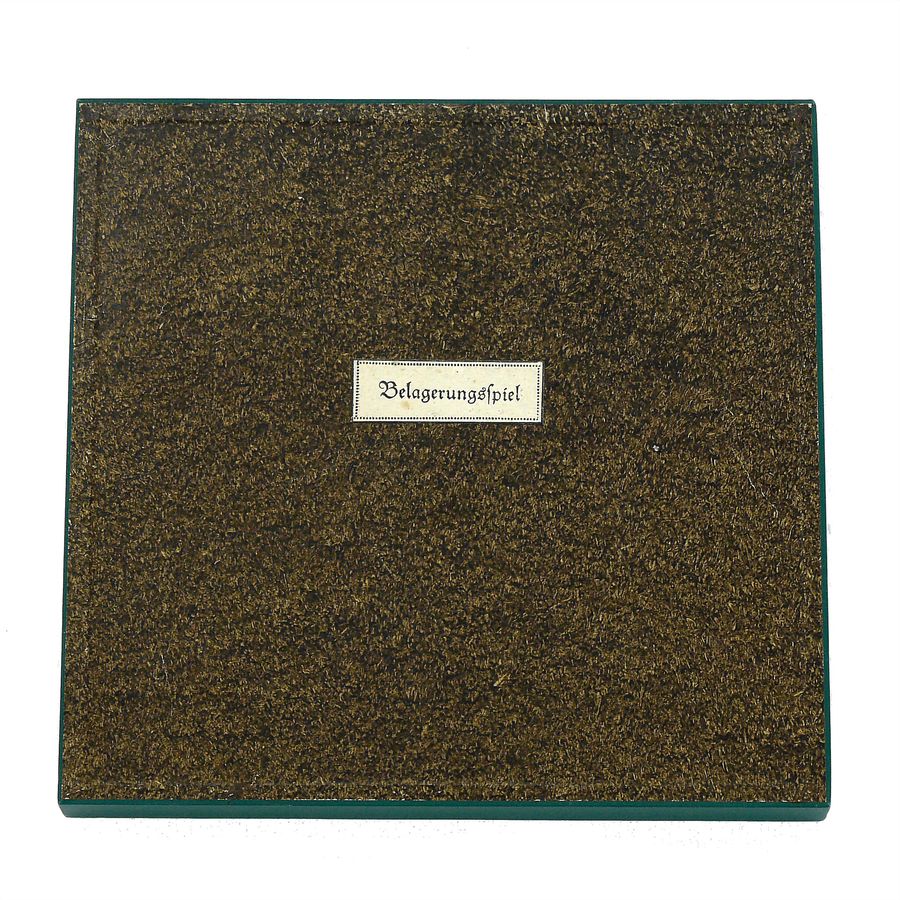 Wald, H., siege game, marked "H. Wald", Germany, around 1840, measurements: 27 x 252 x 242 mm, box restored, game plan was new drawn up, 1 token was probably professional reproduced, 1 token was add, complete


---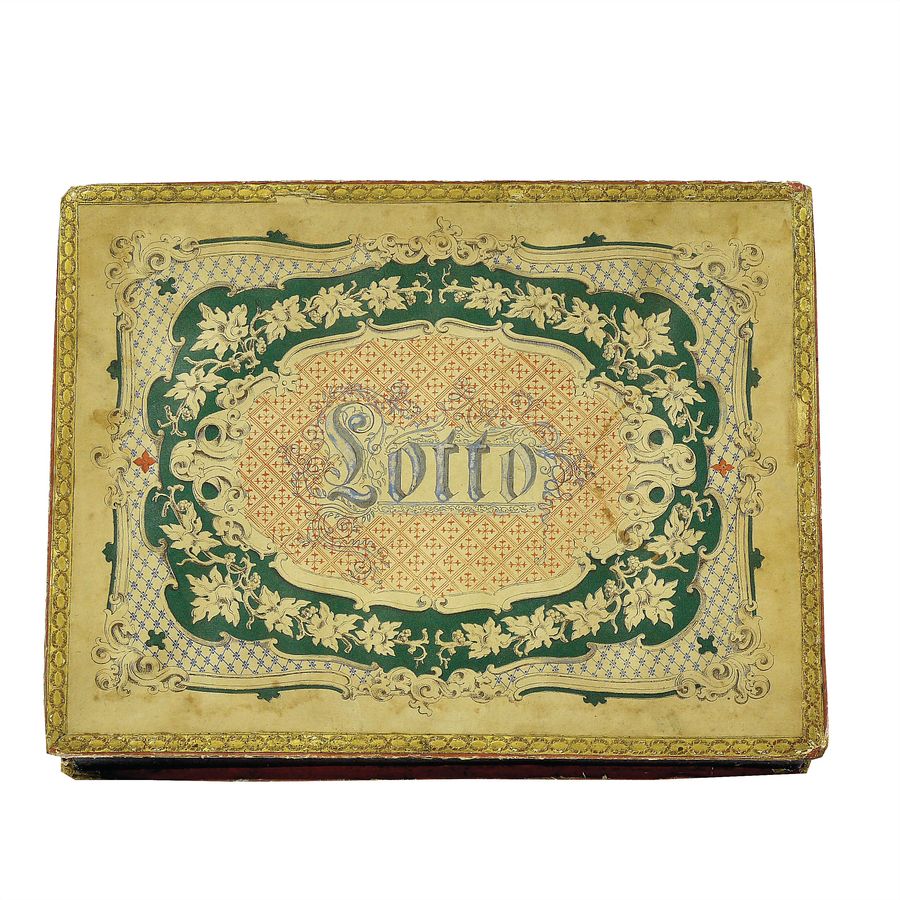 numbers lottery, on the bottom of the box a handwritten note "36", Germany, Nuremberg, 1870, measurements: 50 x 265 x 210 mm, good general condition, with box


---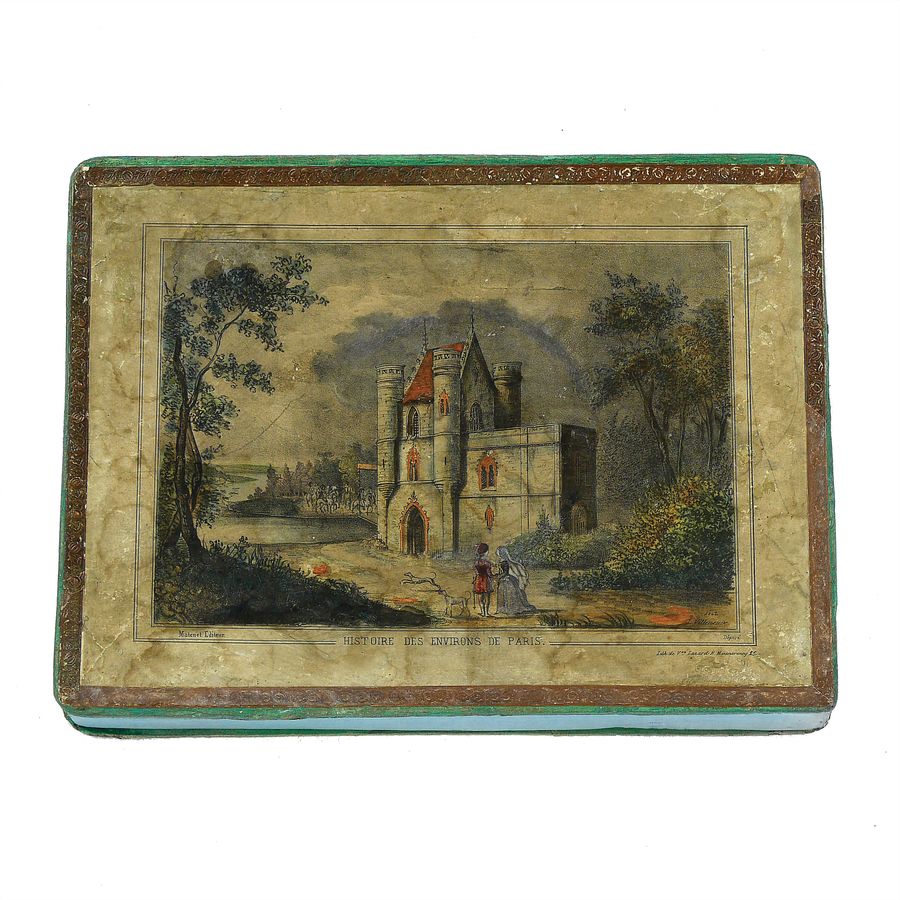 Villeneuve, L, Histoire des Environs de Paris, toy, Paris, brand of the cover illustration "Matenet Editeur", "Lith. de Vve Lazard R. Montmorency 25.", "1842 L.Villeneuve" France, Paris, 1842, measurements: 33 x 270 x 203 mm, number, good general condition


---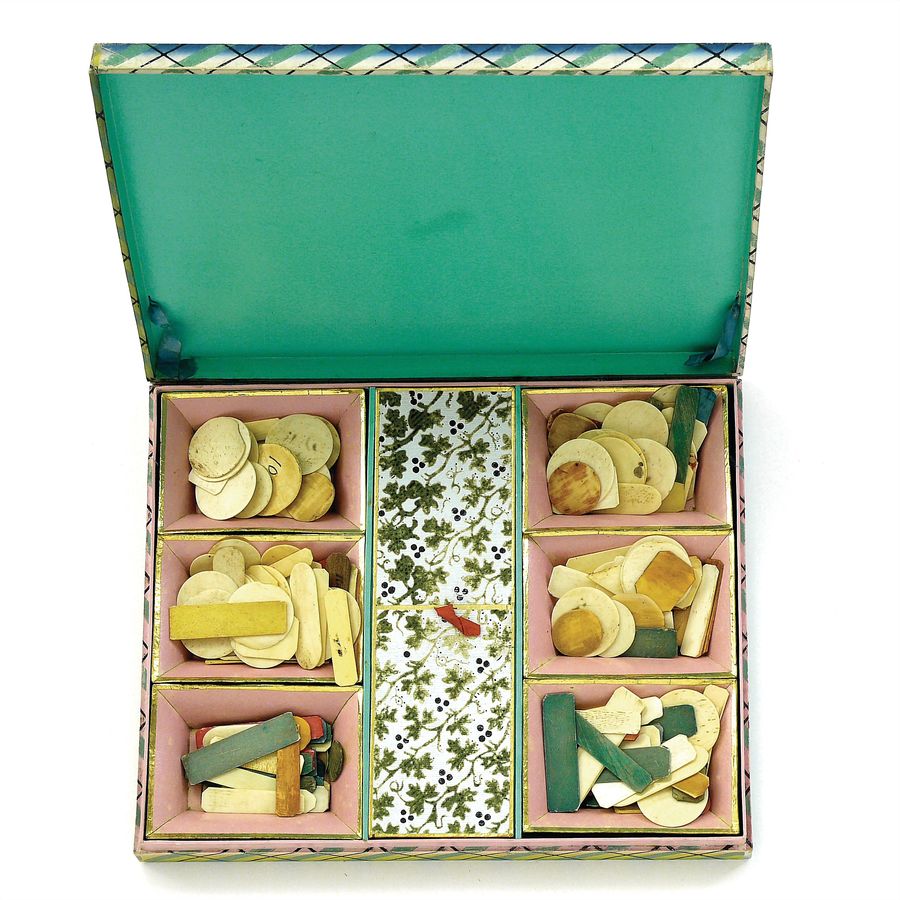 chips in a casket, gambling game, place of manufacture: France, date 1860 - 1870, measurements: 37 x 290 x 230 mm, good general condition

---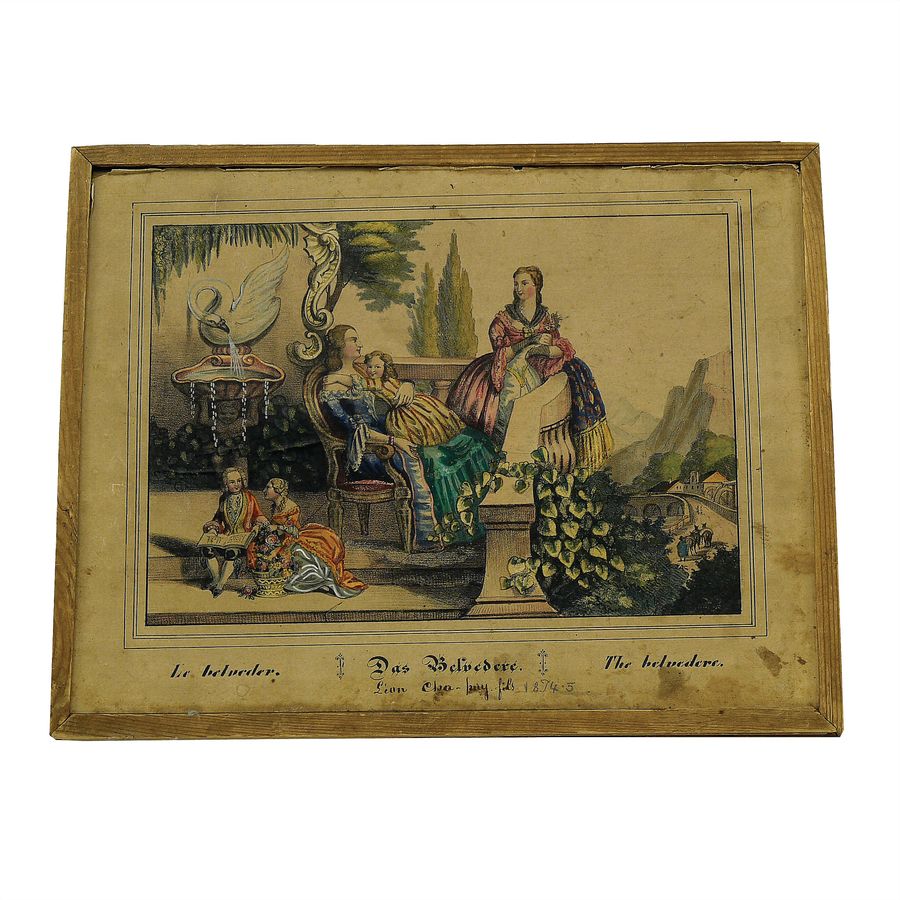 the Belvedere. - Le belveder. - The belvedere, putting game, brand on cover and puzzle with handwritten annotation "Léon Cha-puy, fils 18 J 45", Germany, Nuremberg, 1845, measurements: 16 x 308 x 243 mm, good general condition, complete


---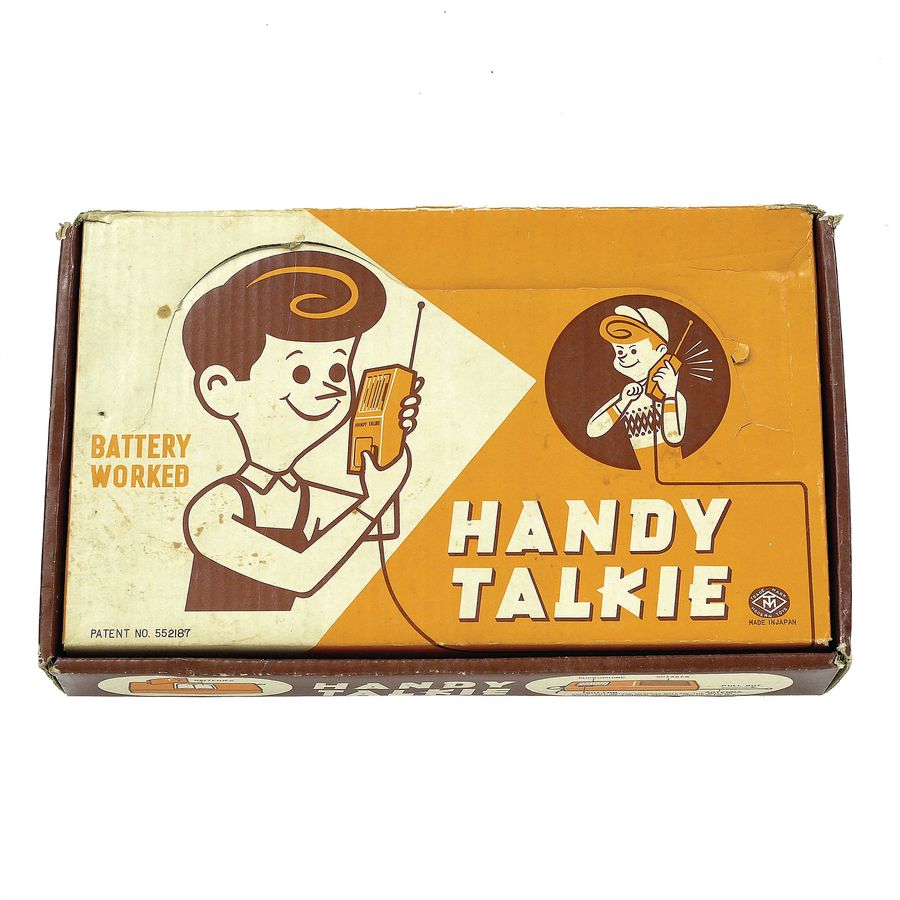 Modern Toys, designation Handy Talkie, communication game, Japan, serial number 3039, patent No. 552187, 1965 measurements: 60 x 355 x 220 mm, traces of usage, iwth a damage that is caused by leaking batteries, function wasn't checked


---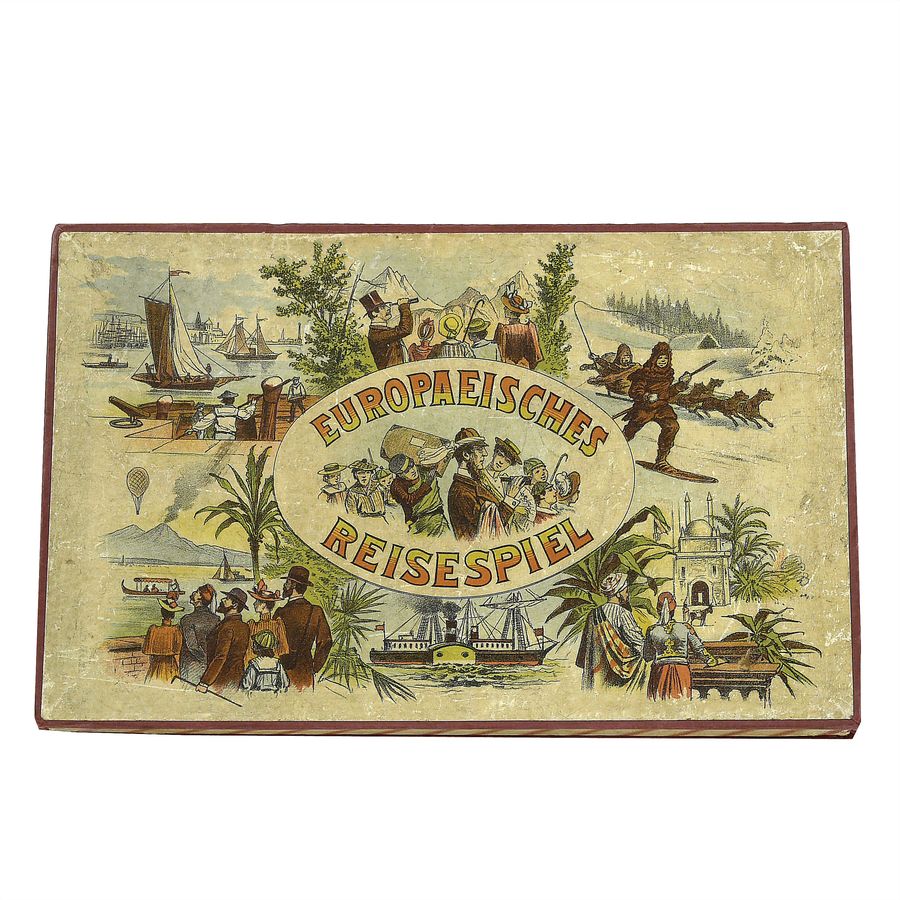 Bloesch, Moritz, European travel game, brand on game plan labeled: "Componirt von Moritz Bloesch", 1892, published by Ernst Kuhn, Switzerland, 1892, measurements: 22 x 318 x 203 mm, good general condition (a part of the cards are missing).

---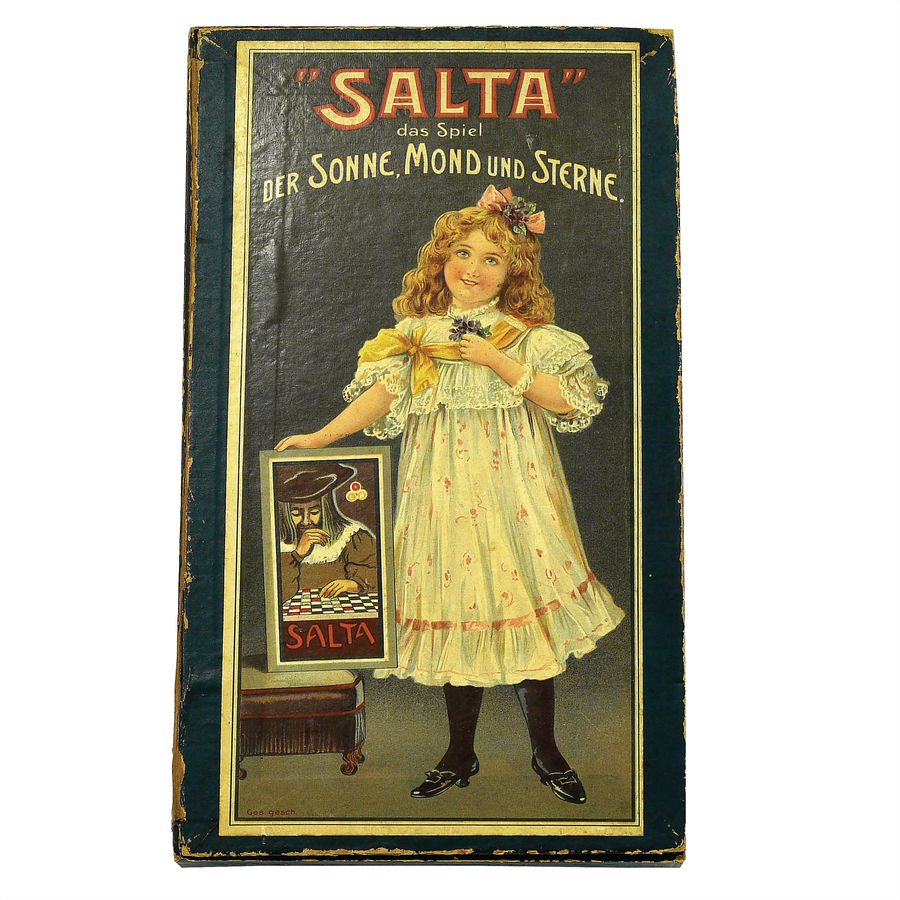 designation Salta, the game of the sun, moon and stars, Germany, Hamburg, 1899, measurements: 24 x 215 x 380 mm, good, complete general condition


---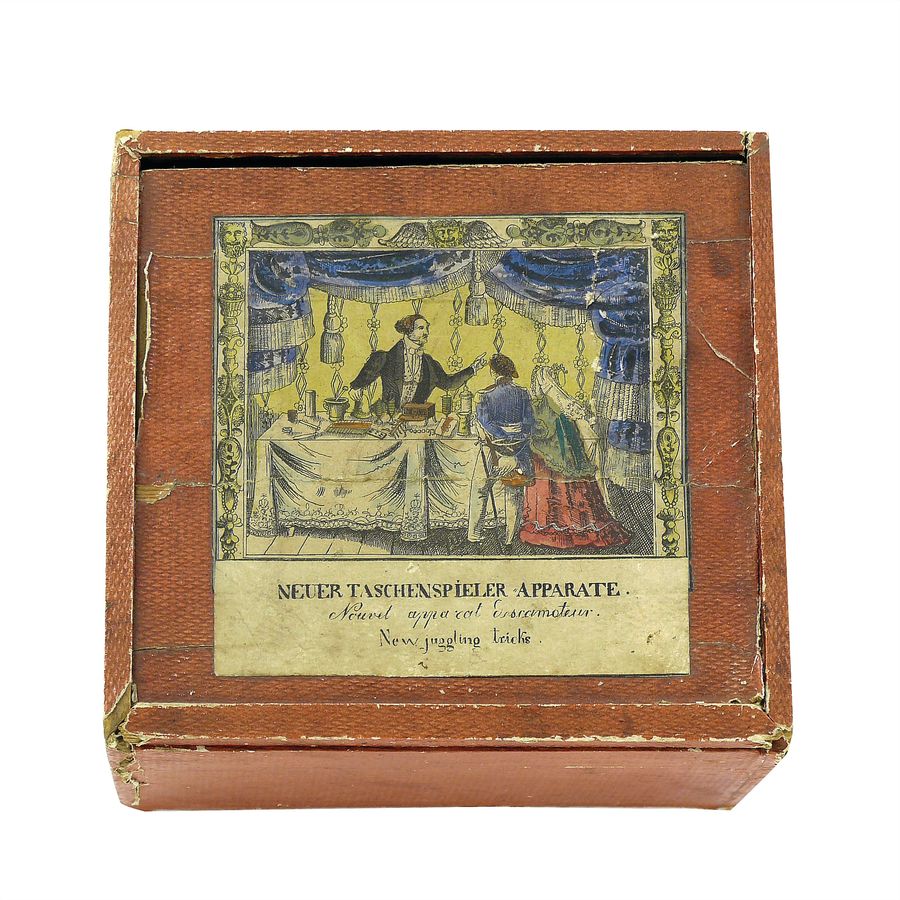 new conjur devices - Nouvel apparatus, conjuring set, Germany, Nuremberg, 1840 (around), measurements: 98 x 172 x 162 mm, good general condition, not complete, without guidance


---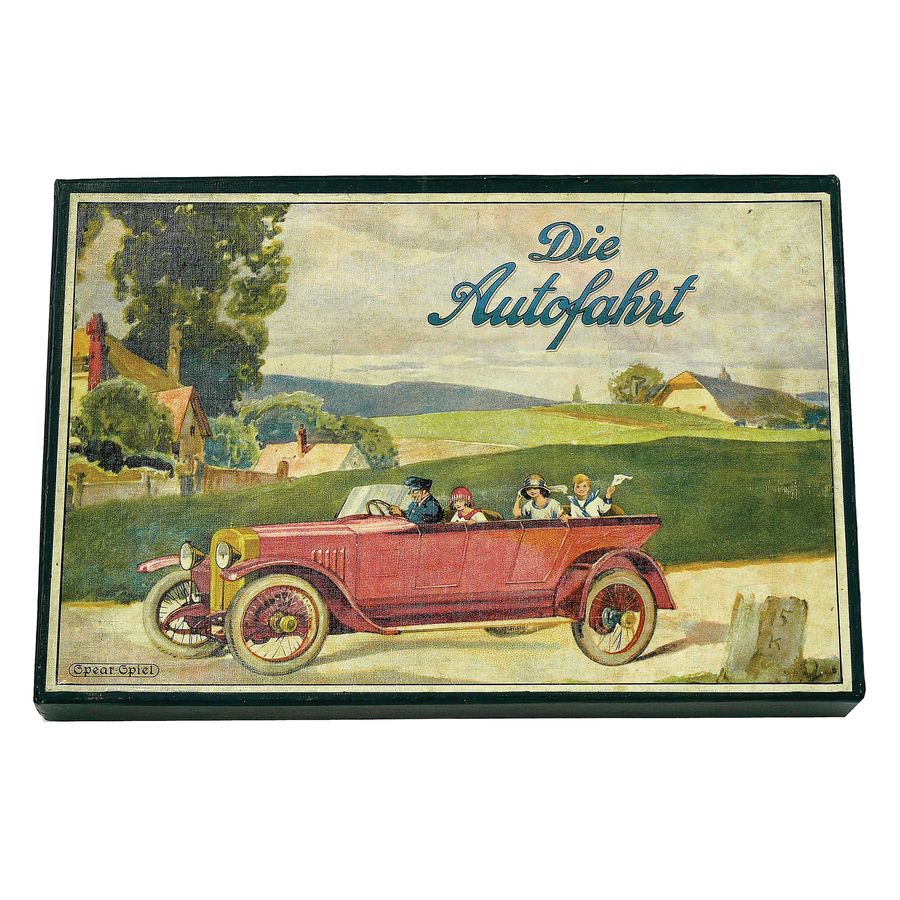 Spear & Söhne, J. W., the drive, board game, labeled on cover "Spear-Spiel", Germany, Nuremberg-Doos, around 1925, measurements: 35 x 385 x 270 mm, good general condition, 1 automobile, 1 red token and playing card No. 2 are missing

---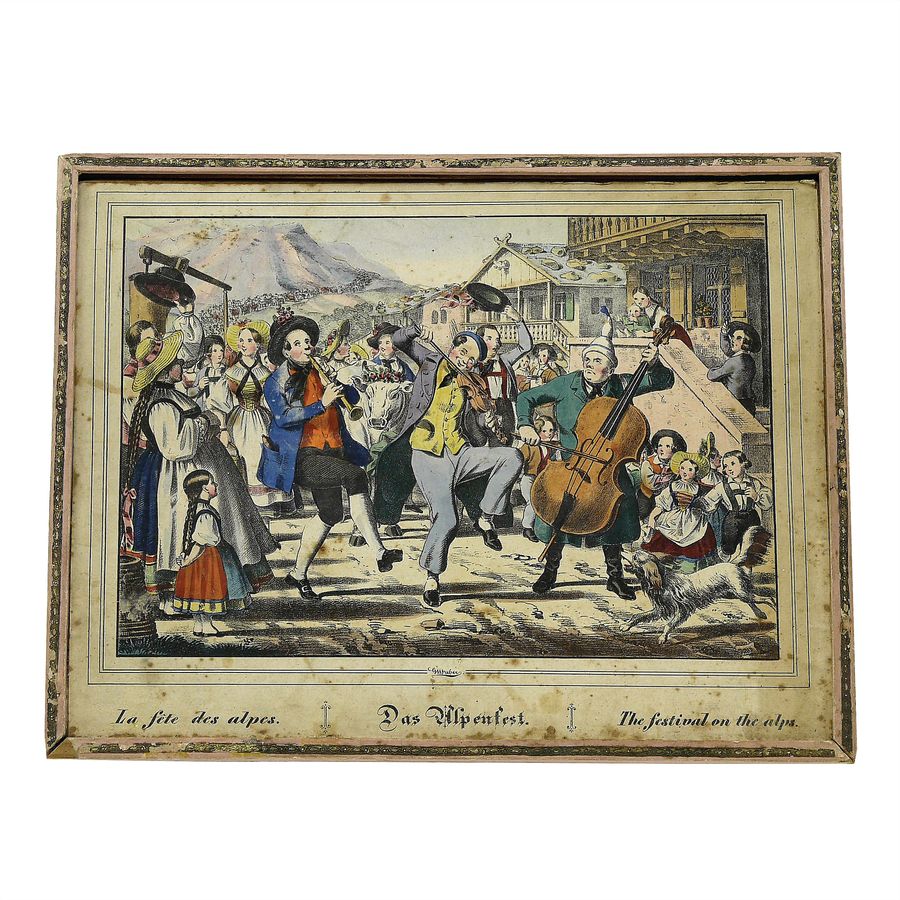 Faber, Georg Wolfgang, the Alpine celebration, La fête of the alpes, puzzle, brand on cover "GW Faber ", Germany, Nuremberg 1840 - 1850, measurements: 20 x 330 x 260 mm, good general condition, complete

---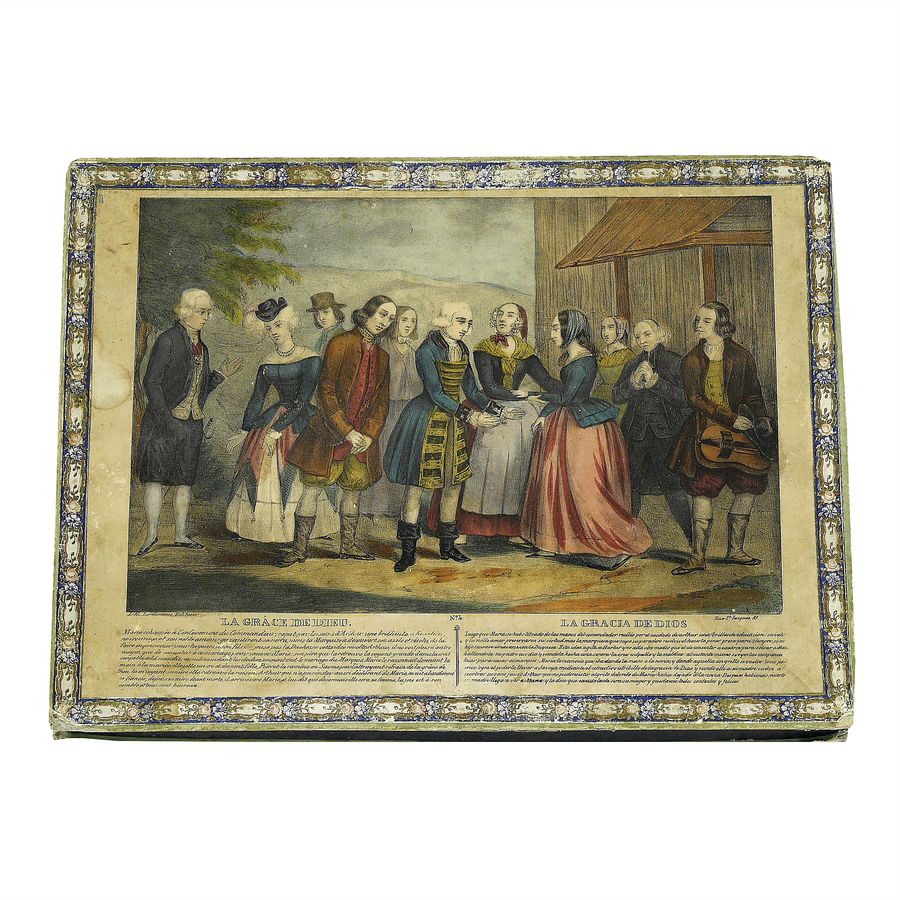 Lordereau, La Grâce de Dieu. La Gracia de Dios, (Gnade Gottes), puzzle, cover picture "Lith. Lordereau, Editeur", France, Paris 1865 measurements: 26 x 360 x 270 mm, nice general condition, probably complete

---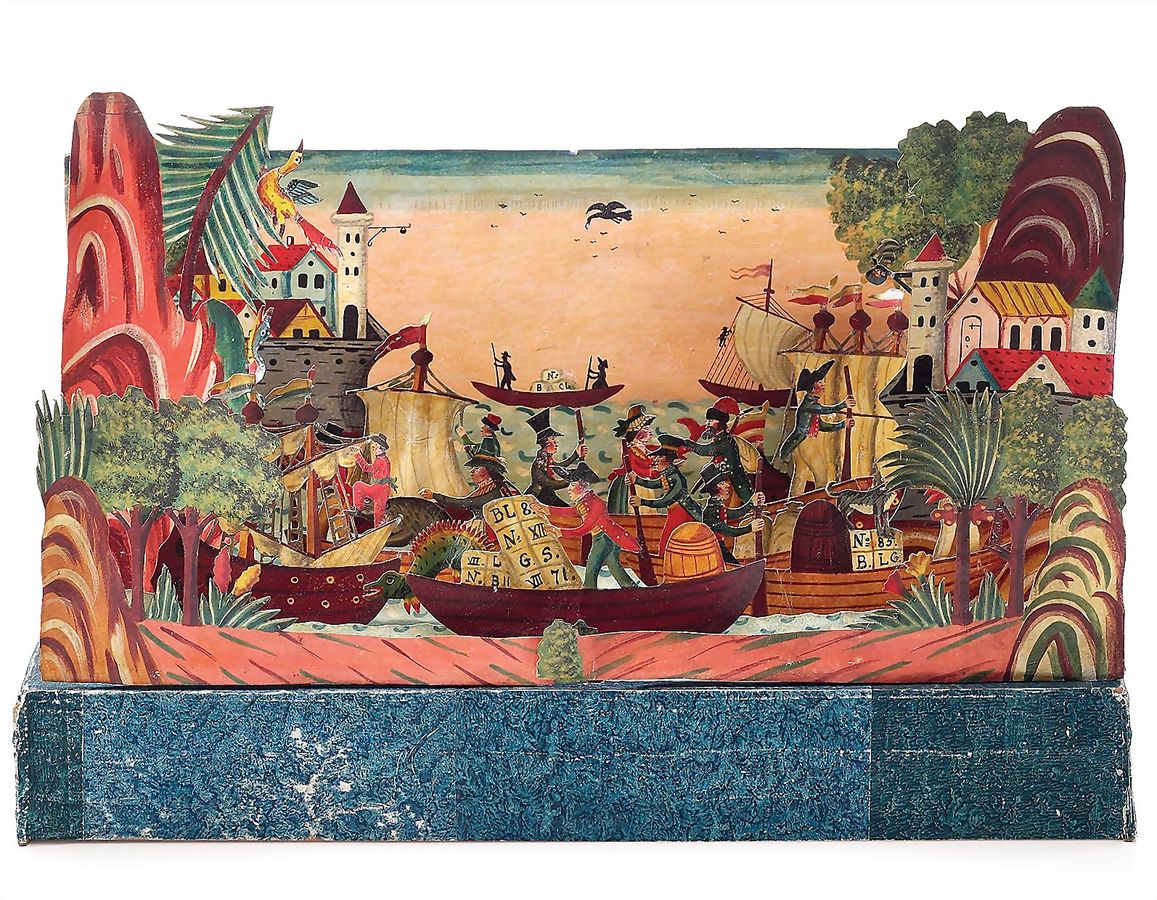 moveable seaport, with miscellaneous letters and numbers marked, (among other things "BL / 8 / Ne / XII / G. / S. / VII / 71"), Germany, Nuremberg room, presumptive date around 1800, measurements: 310 x 455 x 245 mm, very good general condition, intact, complete, unusual pieces, Bestellmeier, the manufacturing work from a period, in which the toys were handmade. That's why every pieces is individual and unique. The copy of a picture by a very similar item in the Bestellmeier-catalog from 1820 is in owr hands. One of the special pieces from the collection Depuoz.

---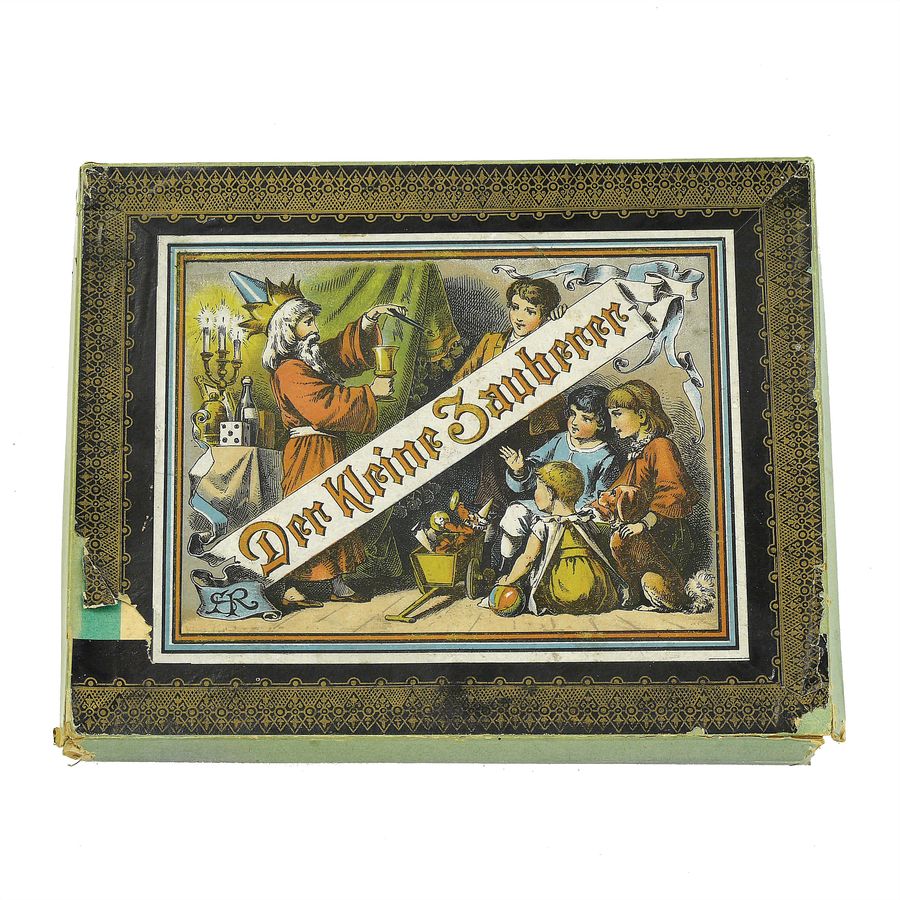 Spear & Söhne, J. W, the small magician (conjuring set), 2 conjuring games, cover brand with the initials "SR" (intricated into one another), Germany, Nuremberg-Doos among others 1910 - 1920, measurements: 40 x 265 x 215 mm, nice original condition

---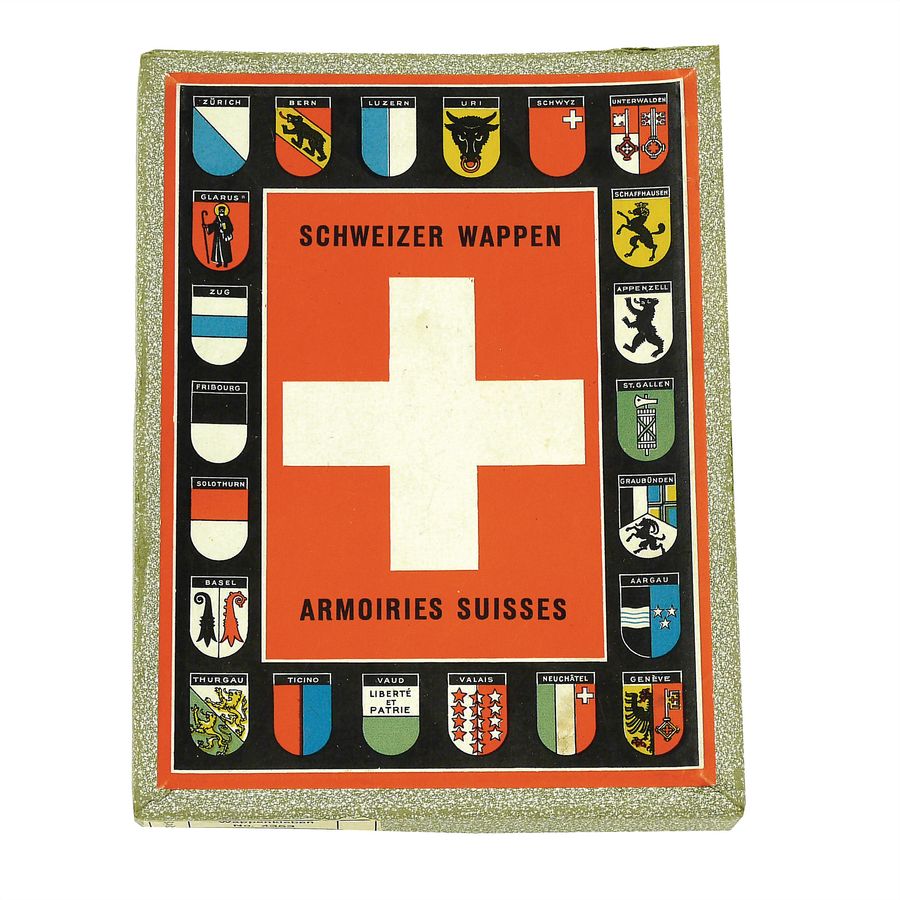 Swiss emblem - Armoiries Suisses, card game, Helvetika, Switzerland, at the edge of cover with the label with the declaration "WSW Wappenkleben, No. 4353", stamp by "Franz Carl Weber", 1930 (around), measurements: 17 x 158 x 210 mm, very good general condition

---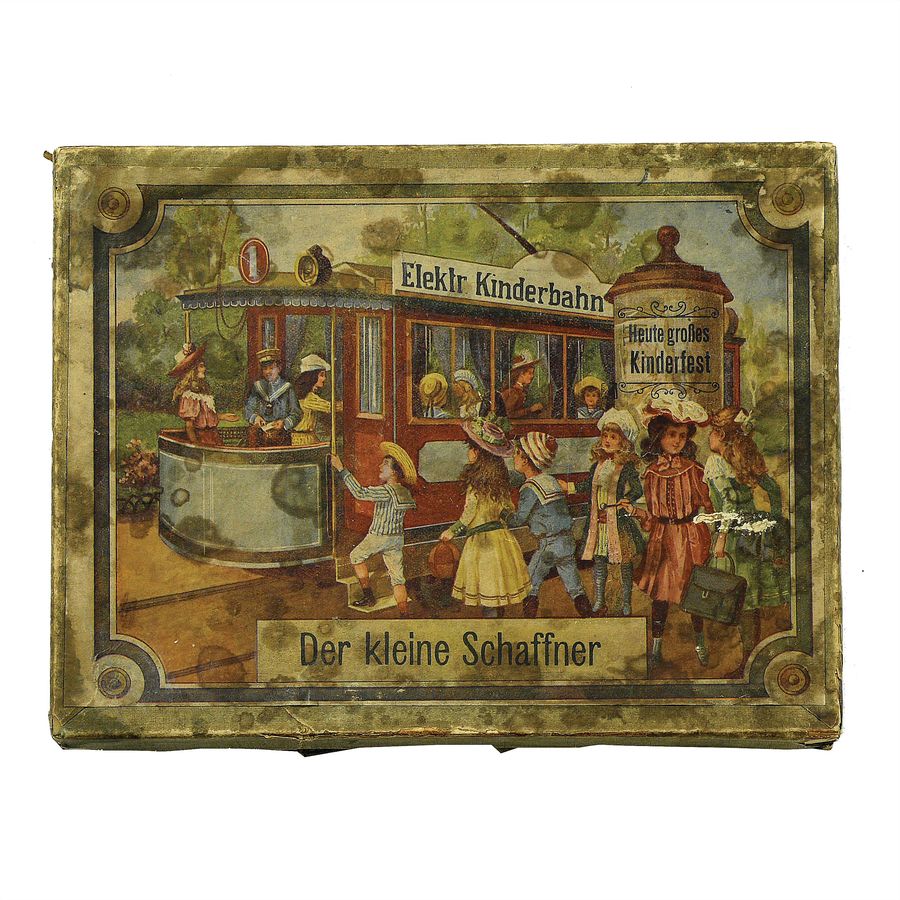 the small conductor, role play, SO.16, on bottom of the box with the stamp Gerhard Hiller, Germany, around 1910, measurements: 18 x 210 x 160 mm, good general condition, box with minimal traces of usage


---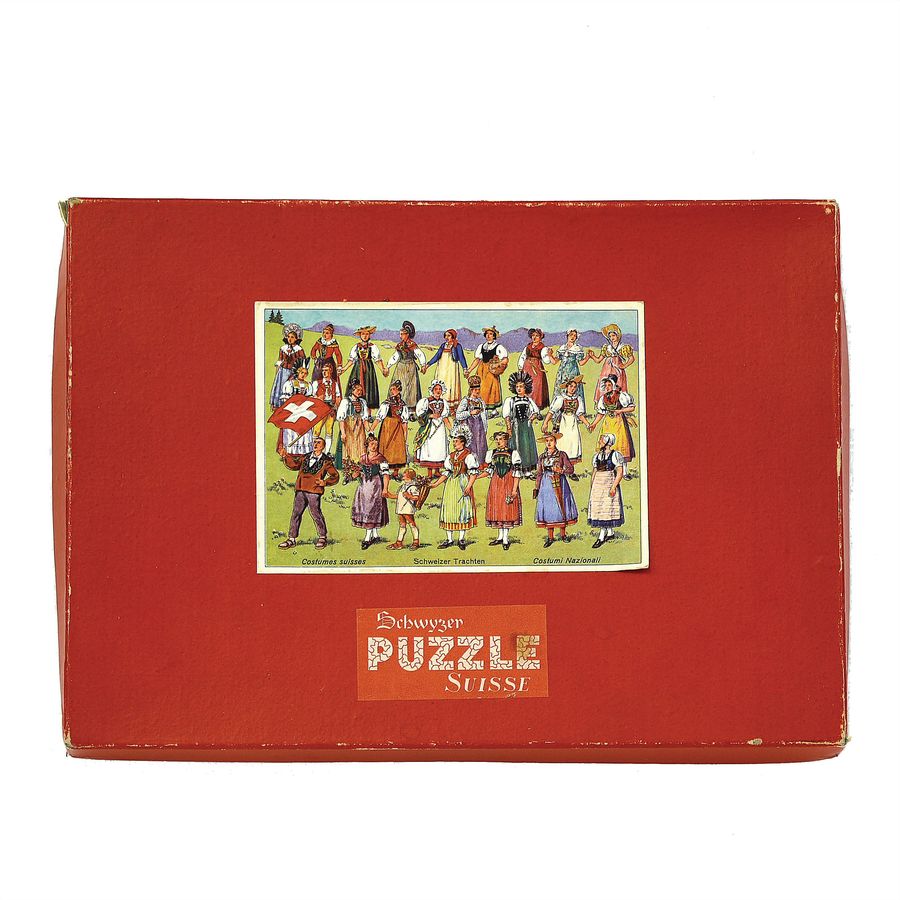 Schwyzer PUZZLE SUISSE, puzzle, folklore, bottom of the box with sales label by Franz Carl Weber, Switzerland, 1930 - 1940, measurements: 25 x 295 x 215 mm, very good general condition, with box


---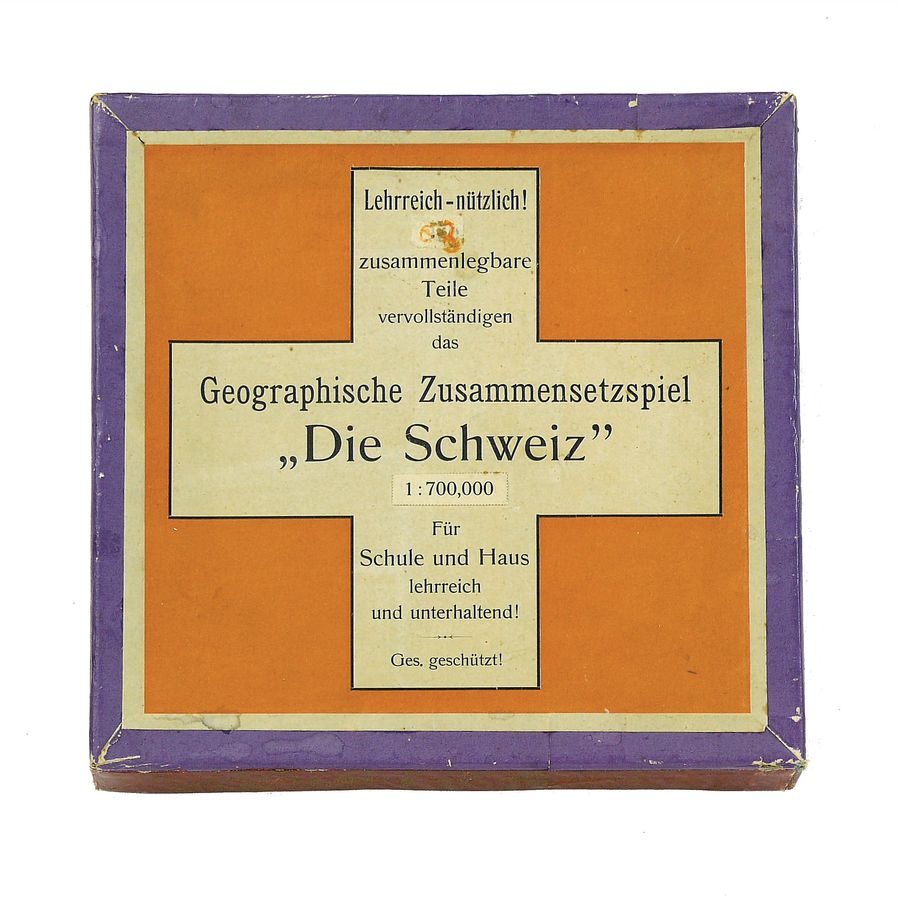 Kümmerly & Frey, geographical game "Die Schweiz" puzzle, Switzerland, Berne, 1930 measurements: 27 x 175 x 175 mm, very good condition , complete general condition


---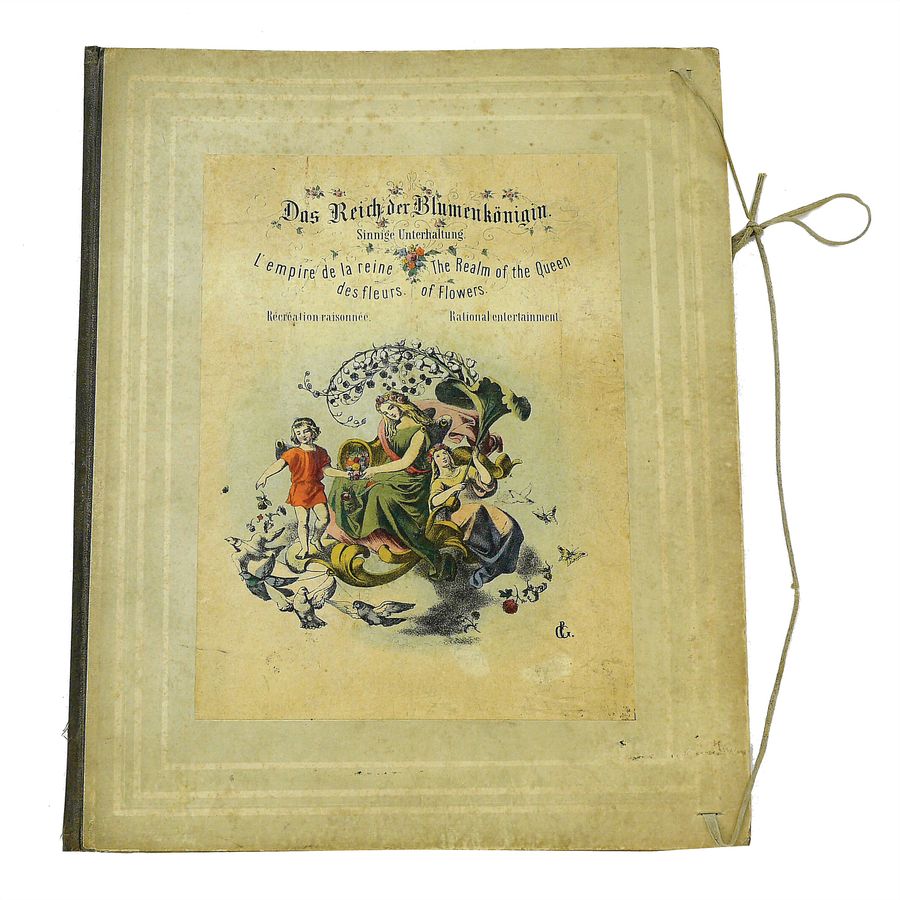 Geissler, Carl Peter, "Das Reich der Blumenkönigin" -l'empire de la, Reine des Fleurs - The Realm of the Queen of Flowers, party game, on the cover picture the intertwined initials "CPG", Germany, Nuremberg, 1860, measurements: 6 x 265 x 335 mm, very nice general condition, complete

---
Jeu de Boston, card game, France, around 1870, measurements: 48 x 293 x 230 mm, good general condition, unusual

---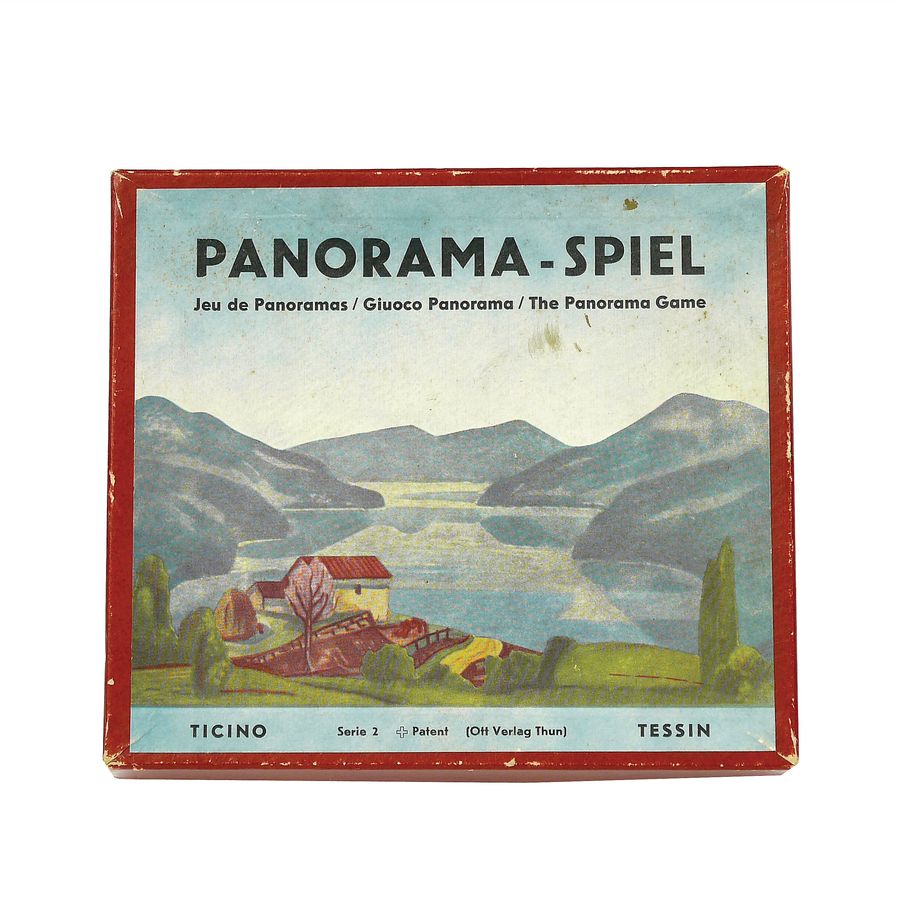 Ott publishing house, designation: panorama-game - Jeu de Panoramas / Giuoco, "Serie 2 Tessin", place Switzerland, Thun, 1930 measurements: 30 x 175 x 115 mm, very good general condition, with box, probably complete

---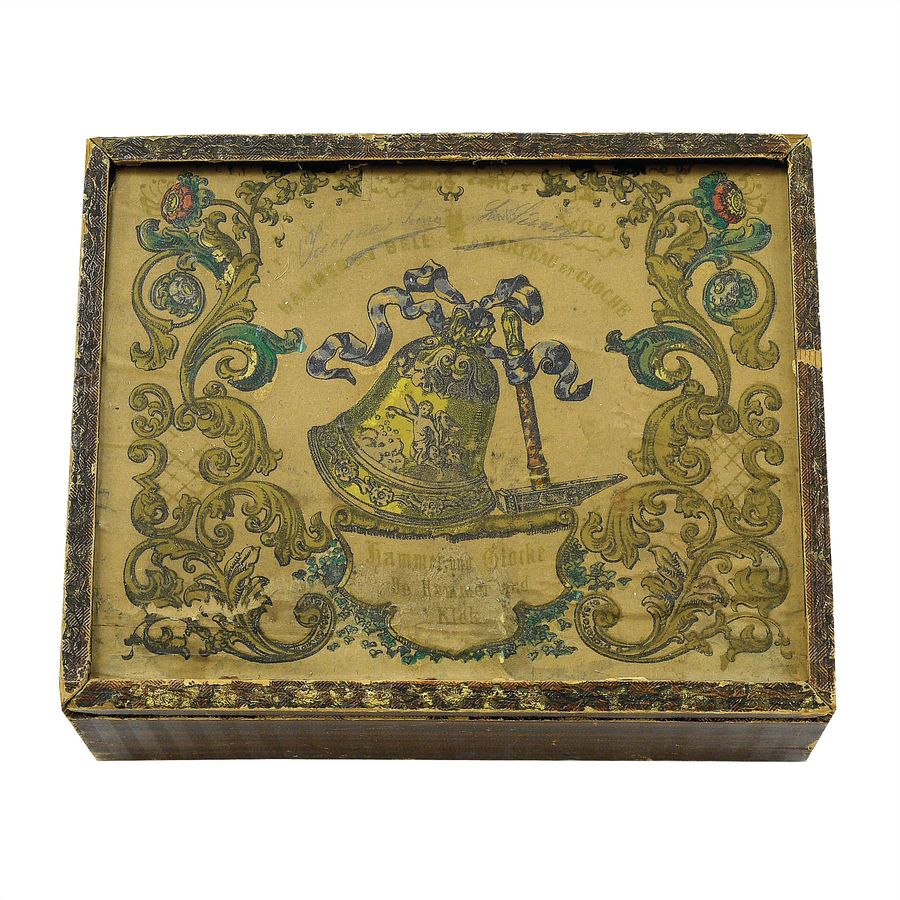 hammer and bell - De Hammer and Klok, Marteau et Cloche, card game, Germany, Nuremberg, 1830 - 1840, measurements: 65 x 192 x 155 mm, nice original condition, complete


---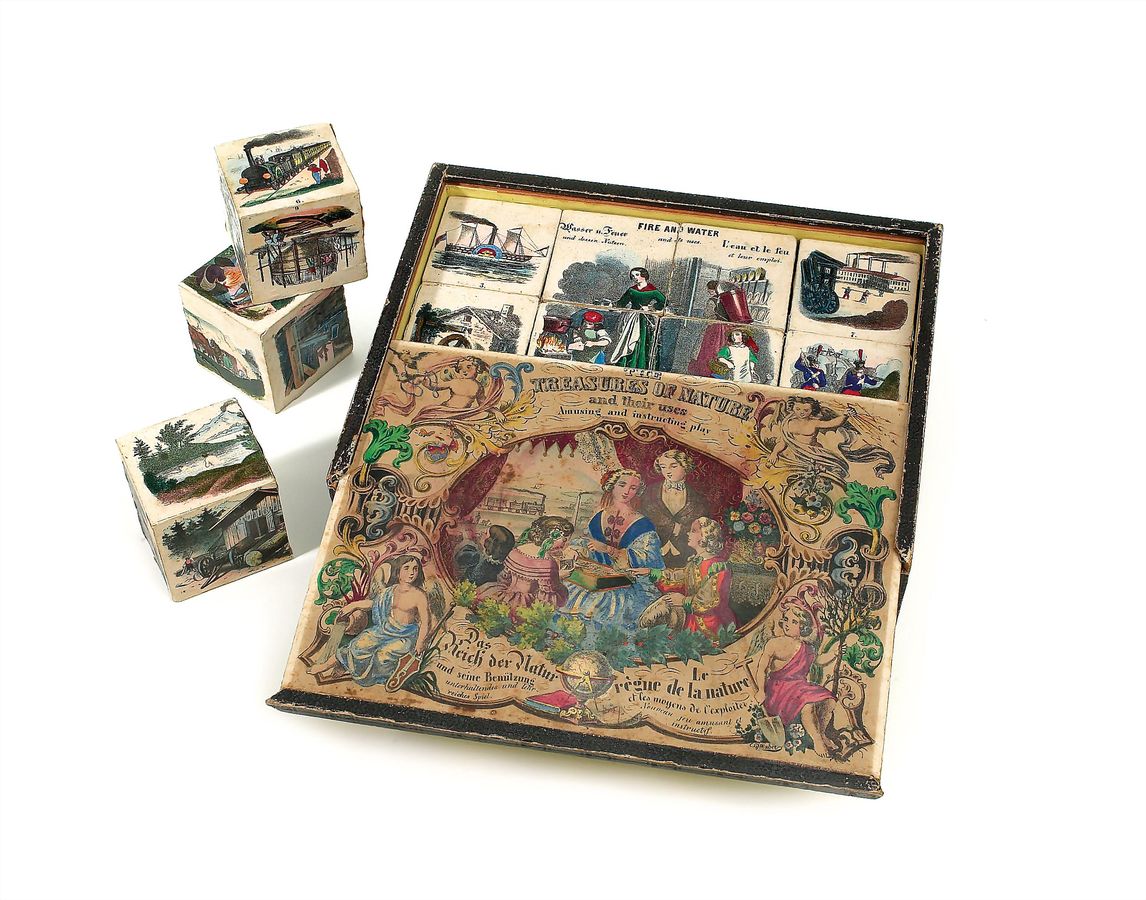 Faber, Georg Wolfgang, the natural world - Treasures of nature - Le règne de la nature, putting game, on cover picture with the declaration "G. Faber", Germany, Nuremberg, 1840 - 1850, measurements: 70 x 233 x 178 mm, nice original general condition, complete

---
New Caricature Portraits - caricatures portraits, putting game, on the bottom of the box an old provenance declaration, "Übergegangen in den Besitz von Elisabeth Bühl", Germany, around 1850, measurements: 43 x 140 x 140 mm, good general condition, without guidance, otherwise complete

---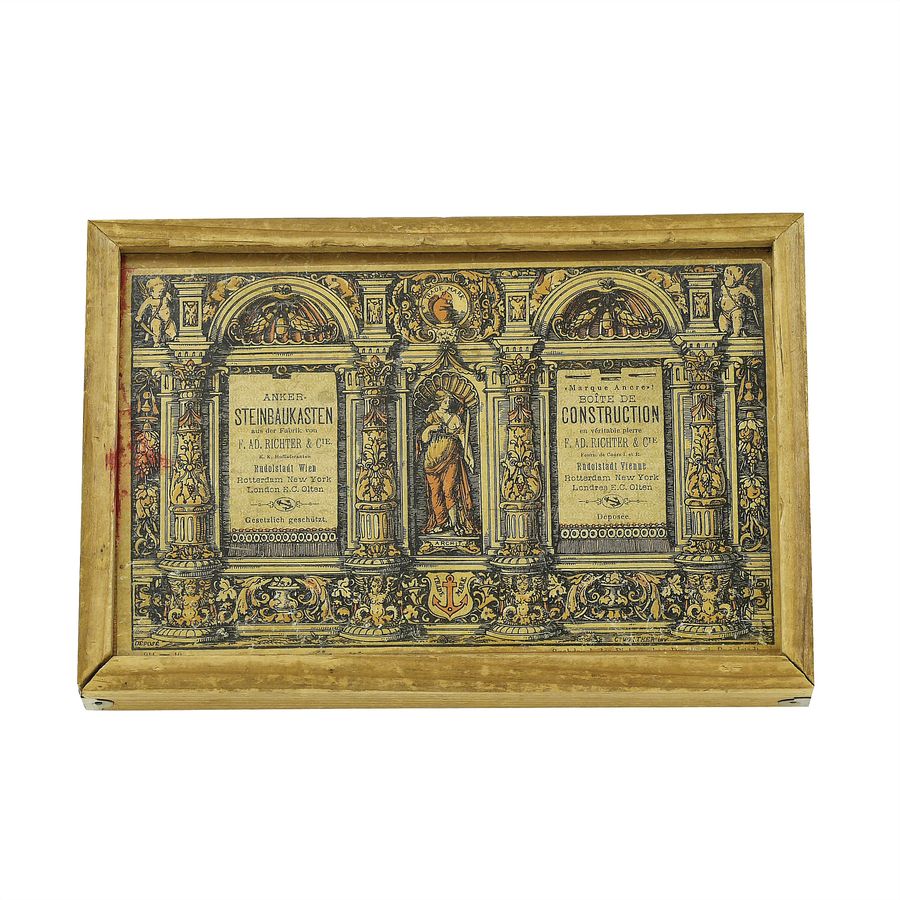 Richter, F. Ad. & Cie. (Anker), 2 pieces Anker box of bricks (No. 4, 5), Germany, Rudolstadt (from Thuringia), around 1910, measurements: 46 x 275 x 175 mm, good general condition, some stones were supplemented /models are not complete


---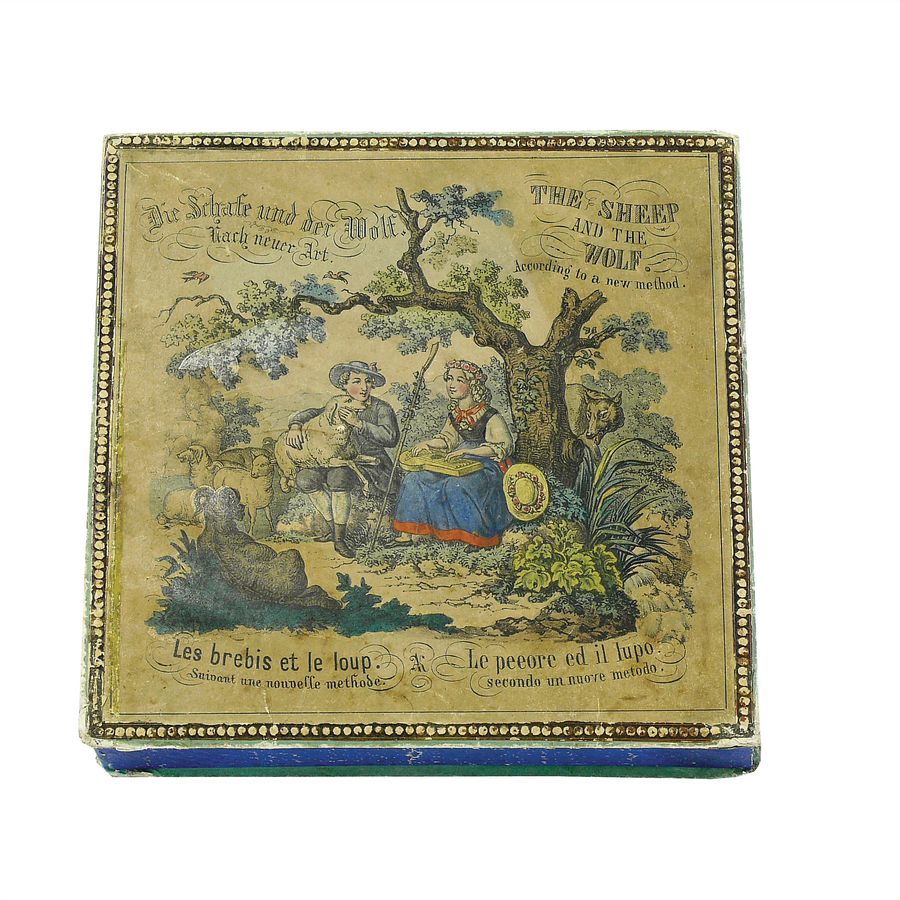 Abel-Klinger, C, the sheeps and the wolf, the new kind, board game, initials "AK", Germany, Nuremberg, around 1860, measurements: 27 x 165 x 165 mm, good general condition

---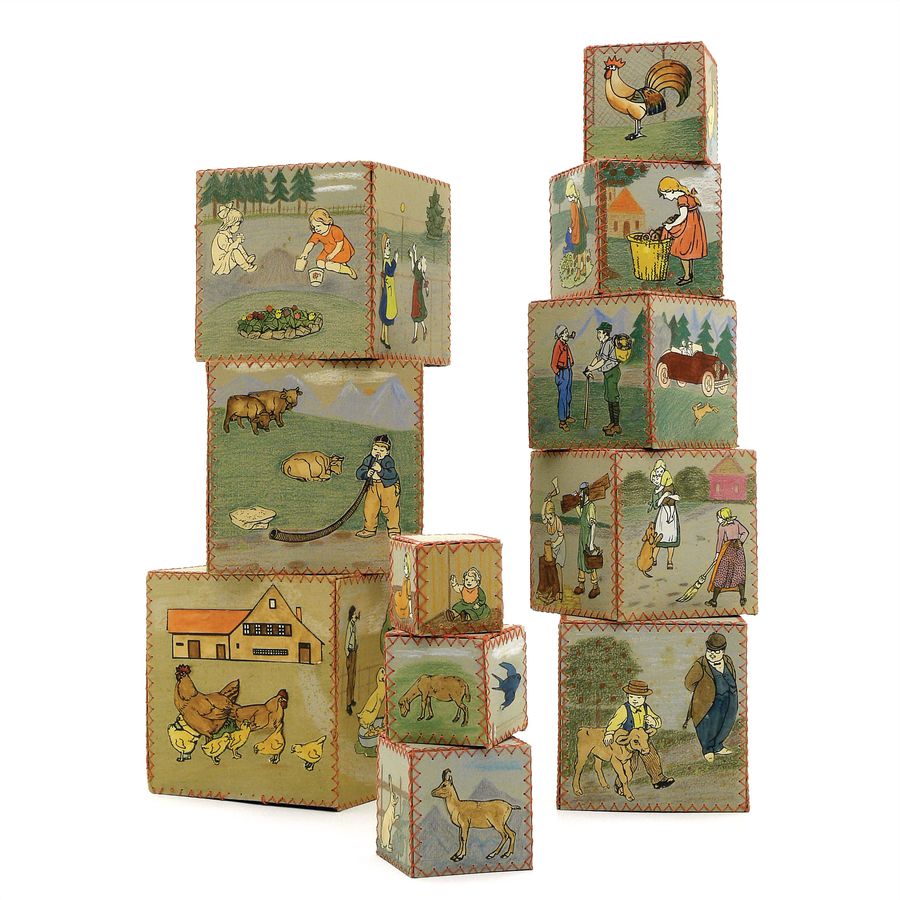 pyramid cube, picture cube, Germany, Nuremberg probably date 1895 - 1900, measurements: 1245 x 150 x 150 mm, good general condition

---