Spring auction on March 30/31, 2012
Online Catalog
Complete catalog (1658 items)
---
---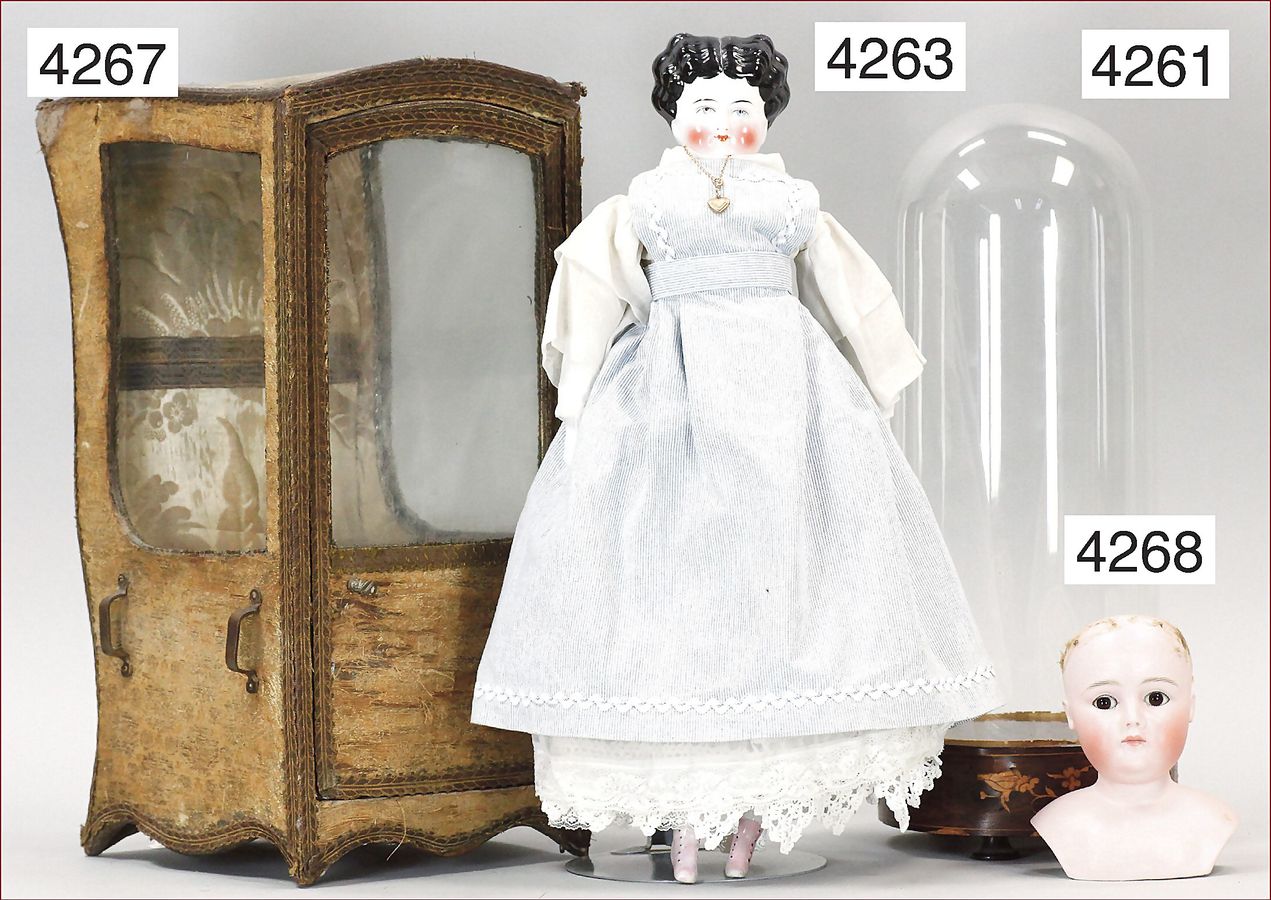 No. 4263
Spring auction on March 30/31, 2012
Limit: 40 €
Biedermeier, China Head, enameled shoulder headed doll, breast plate marked 6, nice modelled black hairstyle, painted eyes, closed mouth, recent fabric body, porcelain forearms, lower leg with modelled boots, clothes were sewed of old fabric

---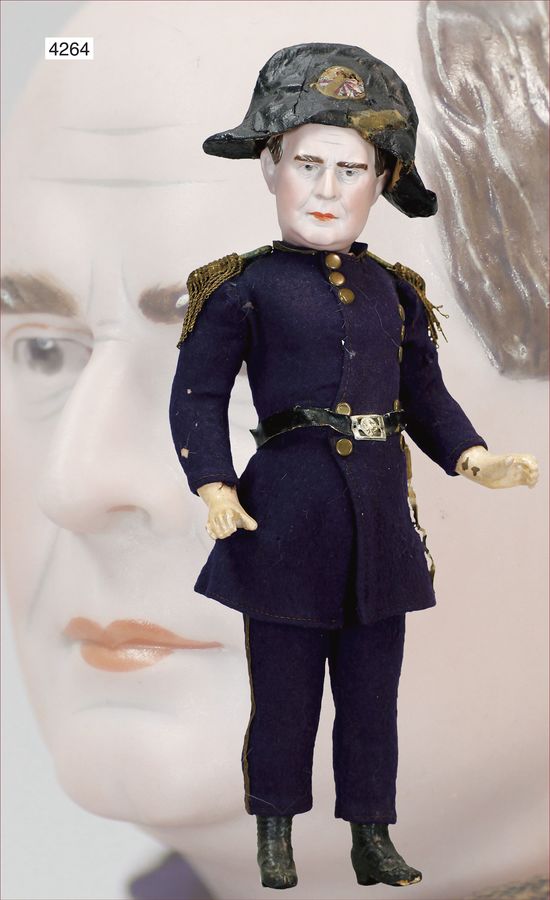 No. 4264
Spring auction on March 30/31, 2012
Limit: 1800 €
probably Simon & Halbig, caricature doll, Napoleon, 36 cm, bisque socket head, blue Intaglio eyes, closed mouth, fine modelled hair, strongly stood out brows, modelled frowning, natural features, standing mass body, original clothes, with hat, unusual

---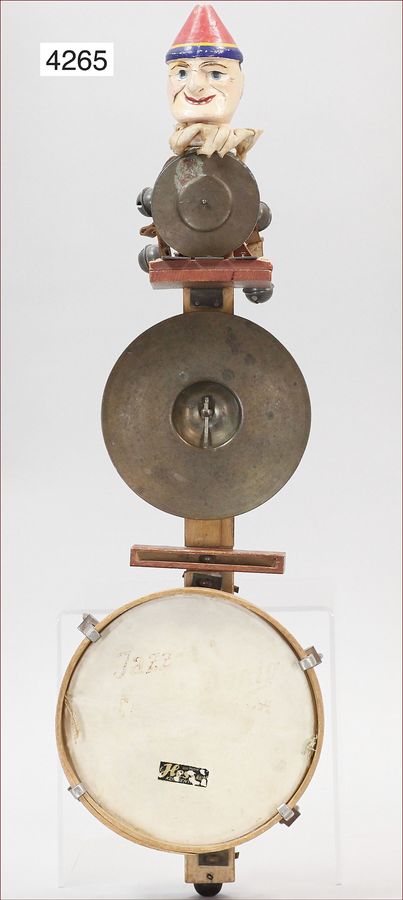 No. 4265
Spring auction on March 30/31, 2012
Limit: 120 €
bell tree, around 1900, 62 cm, wood, clown head, different bells, bells and cylinder, nice original condition, unusual

---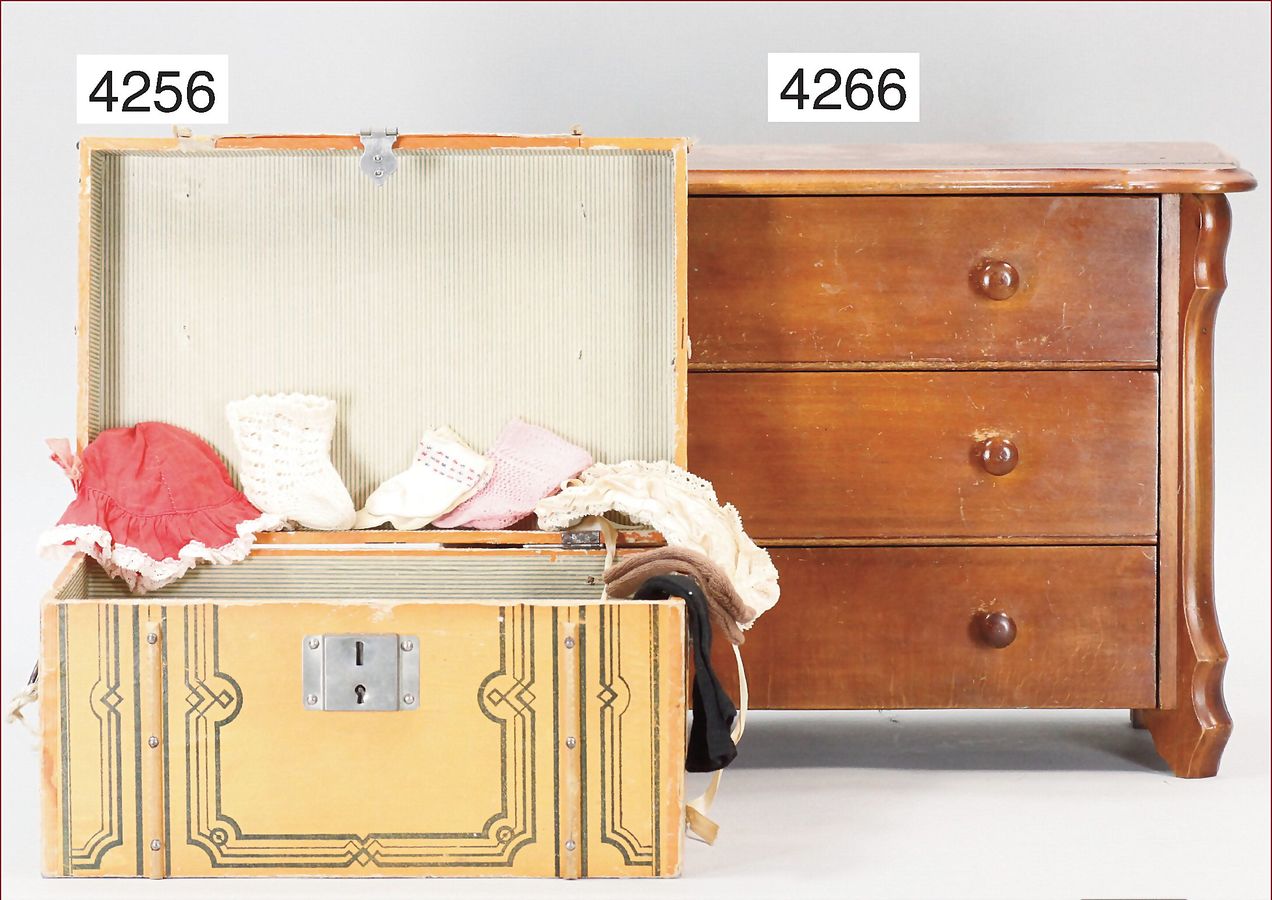 No. 4266
Spring auction on March 30/31, 2012
Limit: 30 €
chest of drawers, wood, with 3 drawers, length 46 cm, height 33 cm, depth 24 cm

---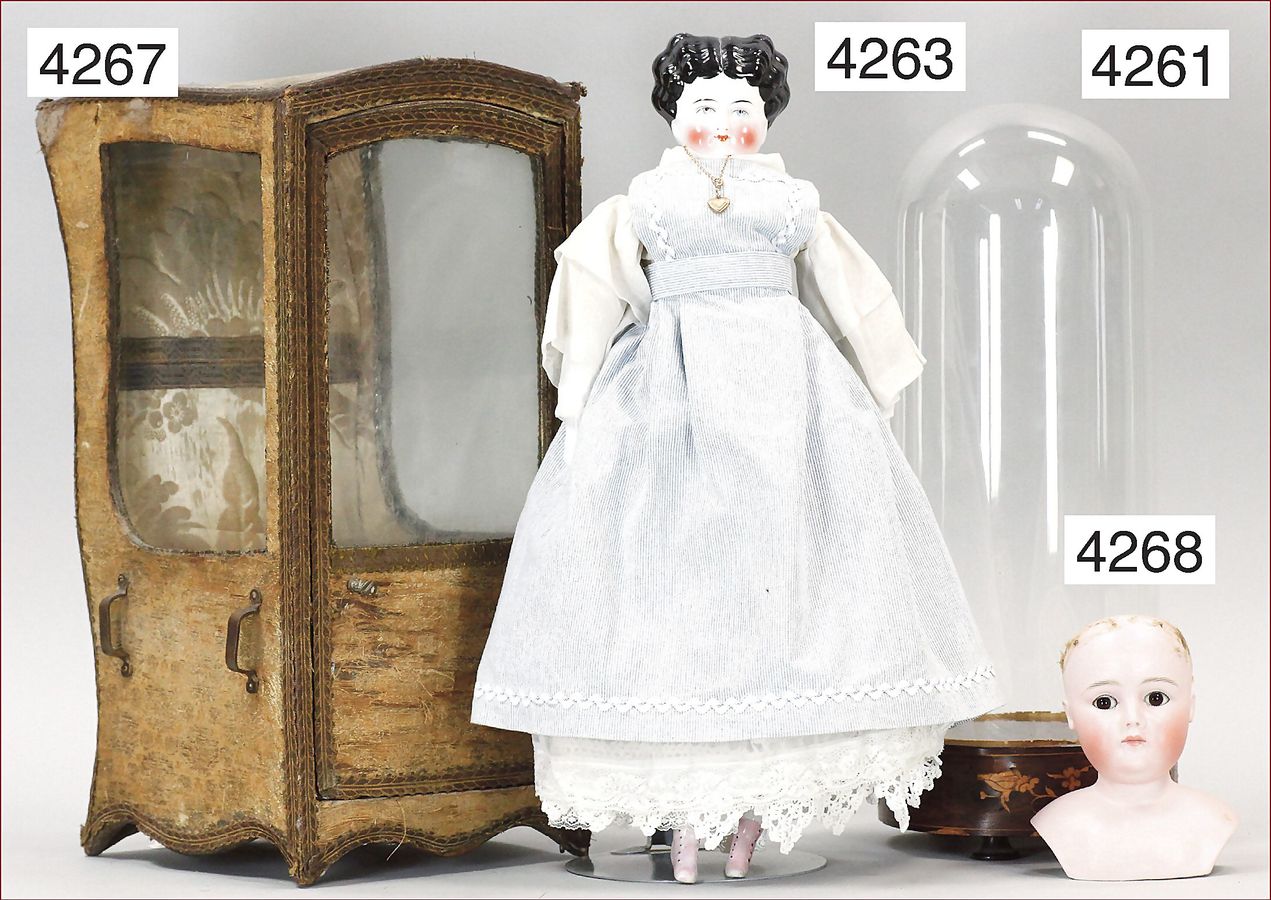 No. 4267
Spring auction on March 30/31, 2012
Limit: 40 €
sedan, France, 46 cm tall, 21 cm wide, nice decoration for a fashion doll, fabric outside is caused of old age in worn condition

---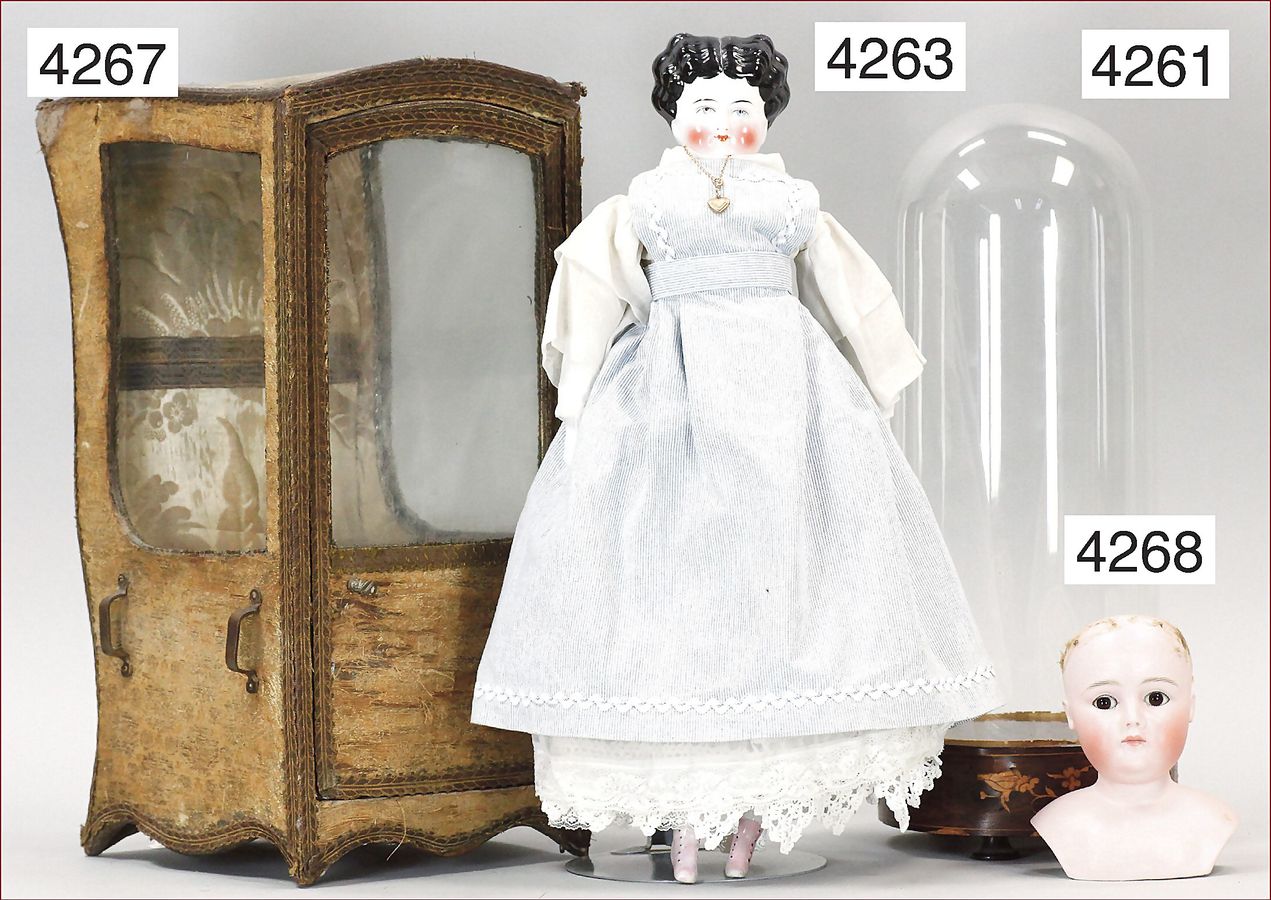 No. 4268
Spring auction on March 30/31, 2012
Limit: 90 €
bisque porcelain shoulder headed doll, width of breast plate 12 cm, closed, mouth, new inset brown glass eyes, not fix, please note that it is risky to transport the eye mechanism, glue rests at the top of head, fine porcelain

---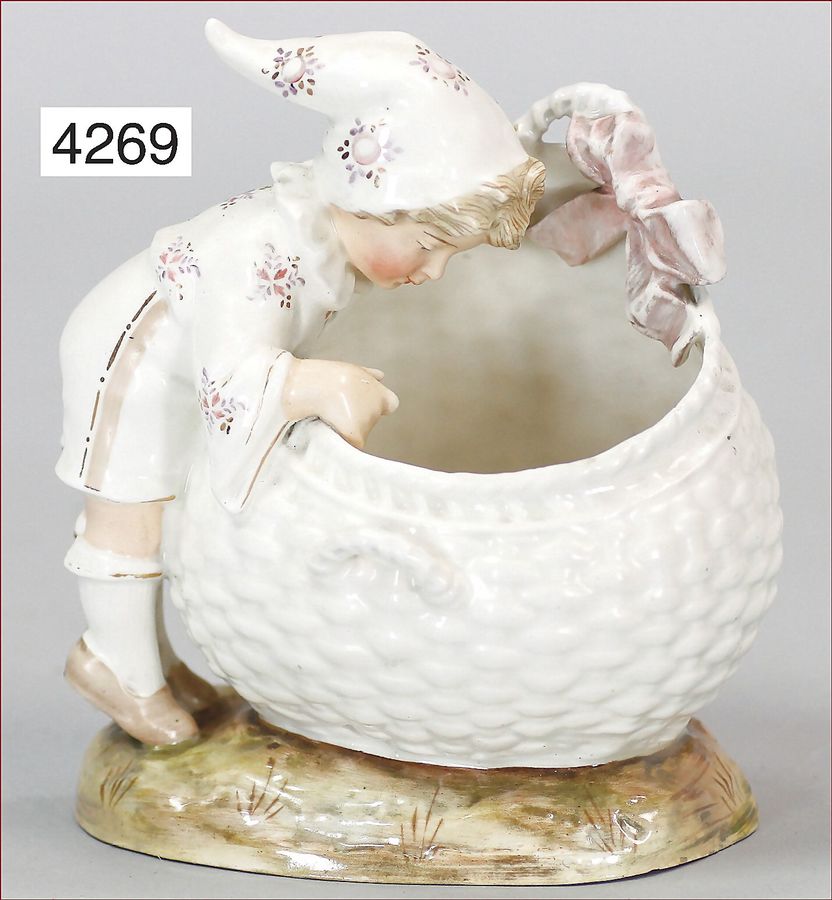 No. 4269
Spring auction on March 30/31, 2012
Limit: 60 €
ceramic boy with basket, marked Trade Mark, DEP., 13.5 cm tall, 12 cm long

---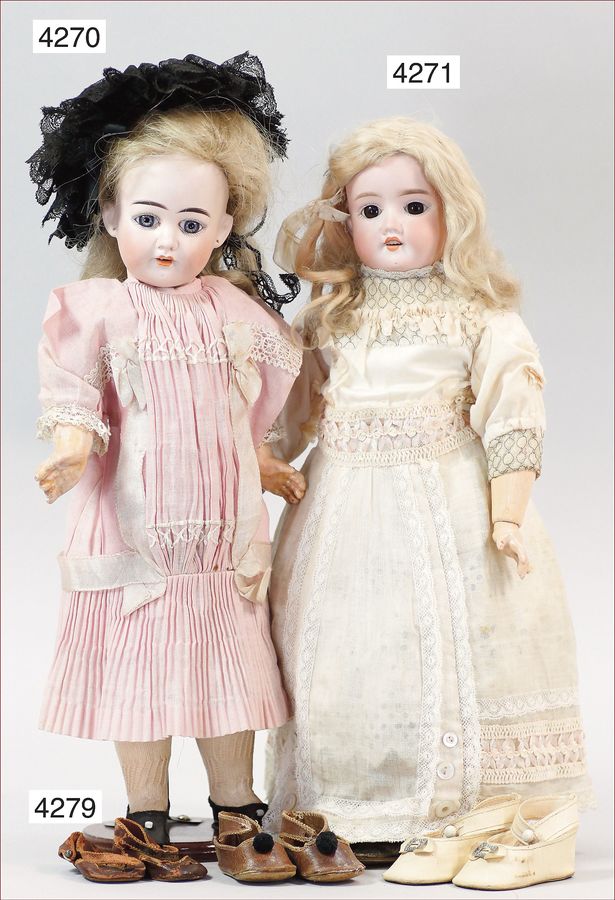 No. 4270
Spring auction on March 30/31, 2012
Limit: 160 €
doll with bisque head, probably France, marked JJ, 42 cm, socket head, blue sleepy eyes, opened mouth, upper teeth, dimple at chin, pierced ears, standing mass body, old clothes, underwear and shoes, real hair wig

---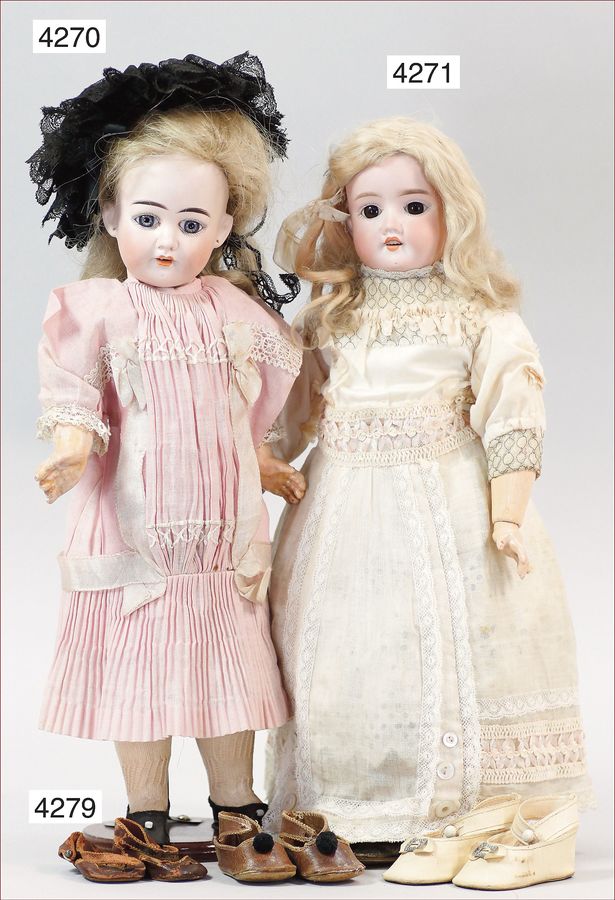 No. 4271
Spring auction on March 30/31, 2012
Limit: 180 €
SCHOENAU & HOFFMEISTER, 1909, doll with bisque head, 45 cm, brown sleepy eyes, opened mouth, upper teeth, dimple at chin, jointed body, old clothes, underwear, shoes and socks, the dress is caused of old age a little bit worn, nice old mohair wig

---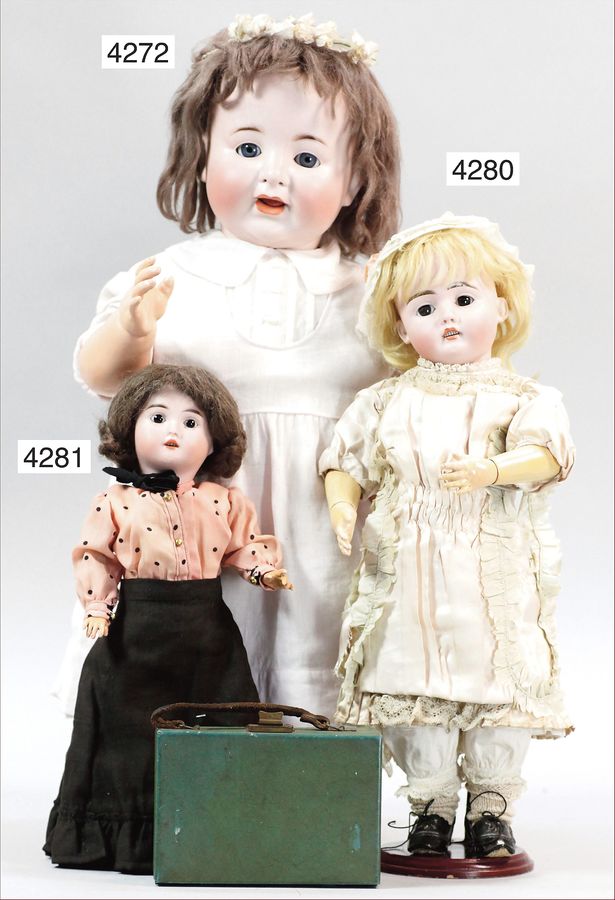 No. 4272
Spring auction on March 30/31, 2012
Limit: 160 €
ALT, BECK & GOTTSCHALK, 1361, No. 55, bisque character baby, 58 cm, socket head, blue sleepy eyes, opened mouth, teeth and tongue, pierced ears, baby with sitting body, mohair wig, old clothes and shoes, exceptional size

---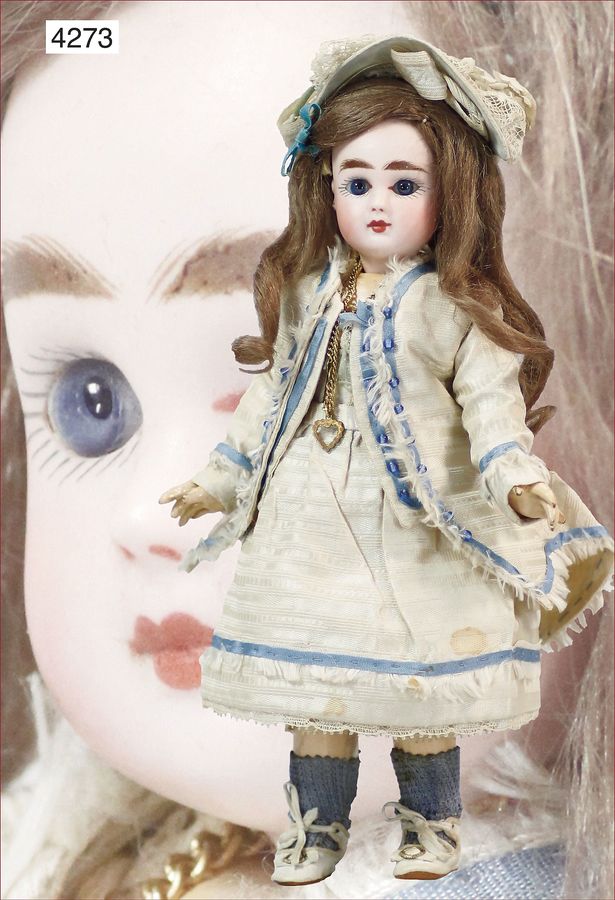 No. 4273
Spring auction on March 30/31, 2012
Limit: 650 €
STEINER, doll with bisque porcelain socket head, marked A.2, fix inset blue glass eyes, closed, mouth, pierced, ears, minimally chips at the top of head, standing body, fine modelled hands, mohair wif, old clothes and shoes, 27 cm, nice expression

---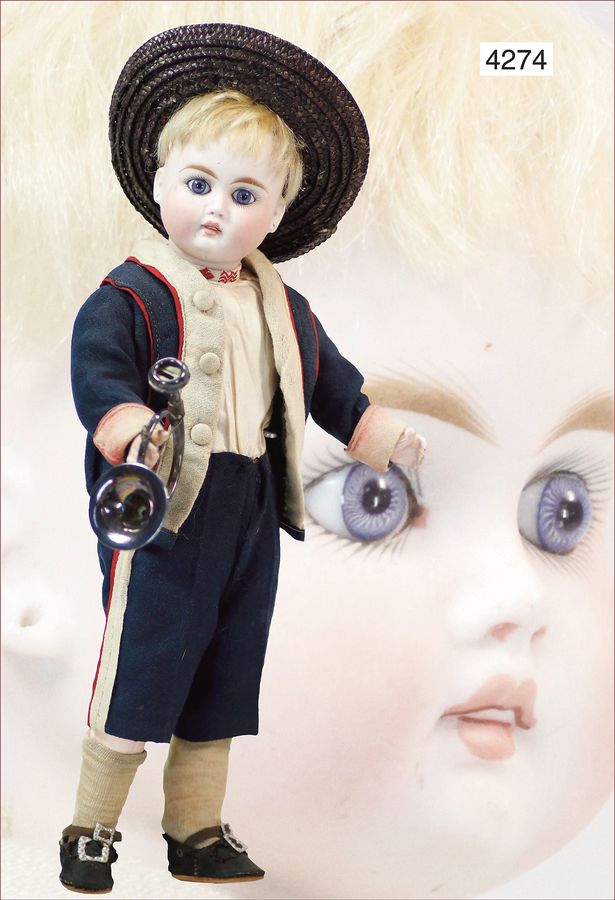 No. 4274
Spring auction on March 30/31, 2012
Limit: 450 €
Belton type, boy, bisque socket head, fix inset Paperweight eyes, closed, mouth, pierced, ears, small dust inclusions, bright porcelain, mohair wig was little bit losing hair, old clothes, jointed body, 33 cm

---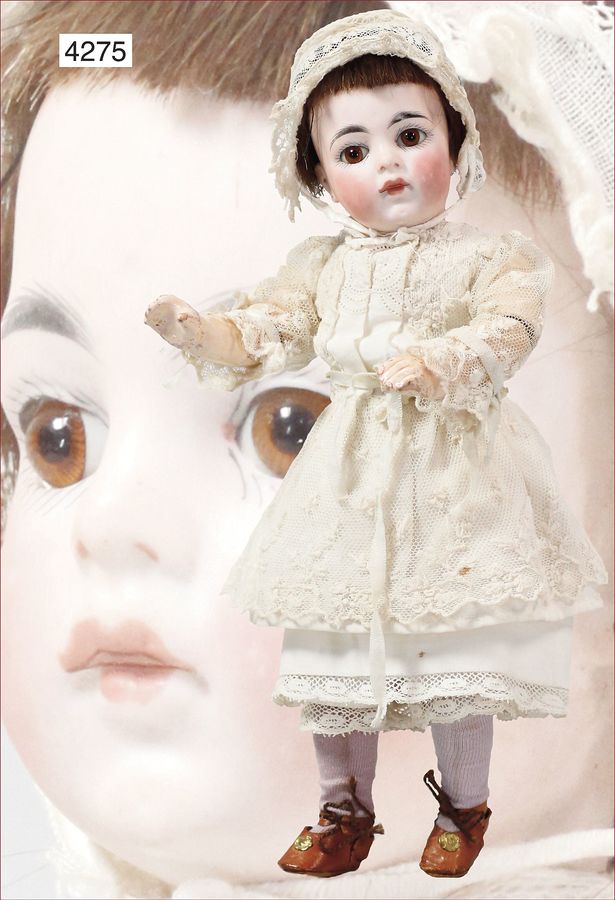 No. 4275
Spring auction on March 30/31, 2012
Limit: 1800 €
Belton type, bisque socket head, marked Elsa 1, fix inset brown glass eyes, slightly opened, closed, mouth with intimitated tongue, Bru type, pierced, ears, early jointed body with fix wrists, real hair wig, nice old clothes and underwear, shoes and socks, fine porcelain, unusual, 30 cm

---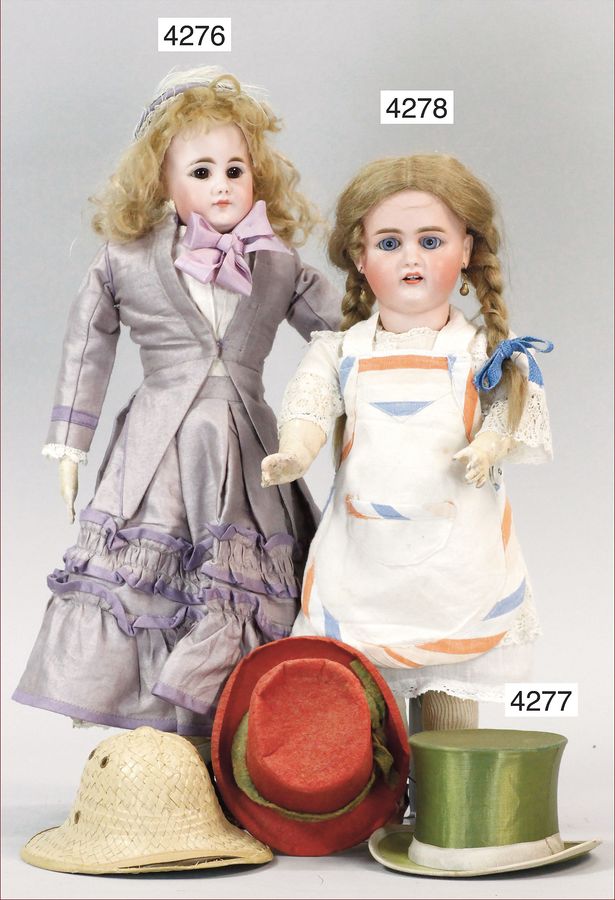 No. 4276
Spring auction on March 30/31, 2012
Limit: 450 €
SIMON & HALBIG, Belton type, bisque shoulder headed doll, marked S 7 H 950, fix inset brown glass eyes, closed, mouth, dimple at chin, pierced, ears, mohair wig, leather body with separate stitched down fingers, 45 cm, clothes were sewed of old fabric

---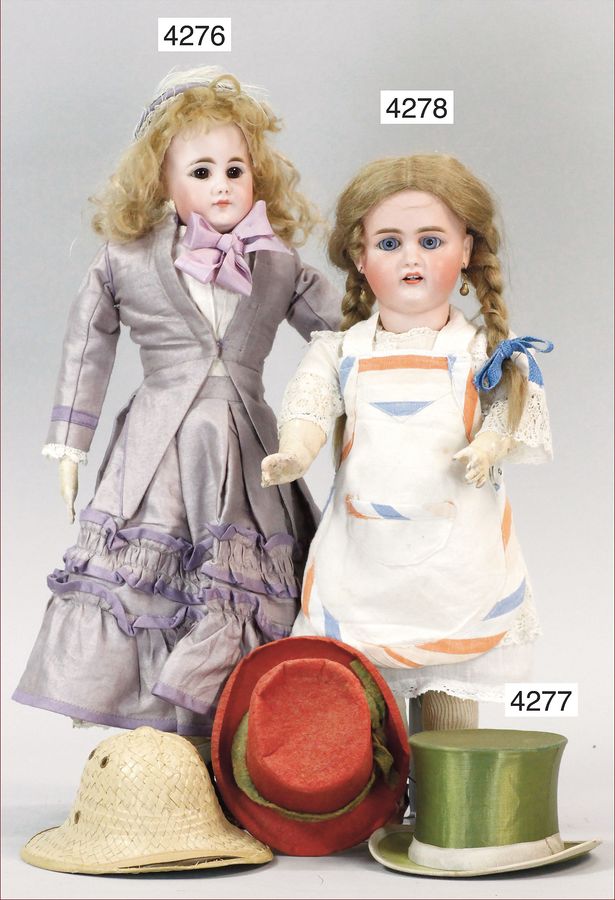 No. 4277
Spring auction on March 30/31, 2012
Limit: 40 €
mixed lot, 3 doll hats, 1x tropical hat, probably between '20s and '30s, with label Helmet Shape Pan Dan Palm, 12 cm dm, 1 x cylinder, green silk, folding mechanism, 9.5 cm, 1 x cylinder, red felt, 8.5 cm, a nice mixed lot

---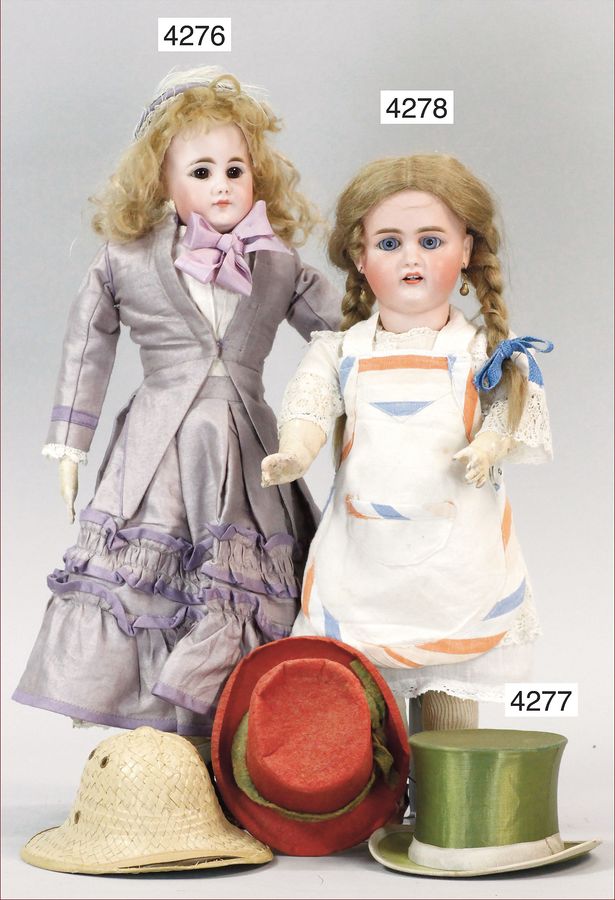 No. 4278
Spring auction on March 30/31, 2012
Limit: 380 €
SIMON & HALBIG, 979, doll with bisque head, before 1900, 40 cm, socket head, blue sleepy eyes, opened mouth, upper teeth, dimple at chin, pierced ears, early jointed body with fix wrists, real hair wig, nice old clothes, underwear, shoes and socks, nice modelled

---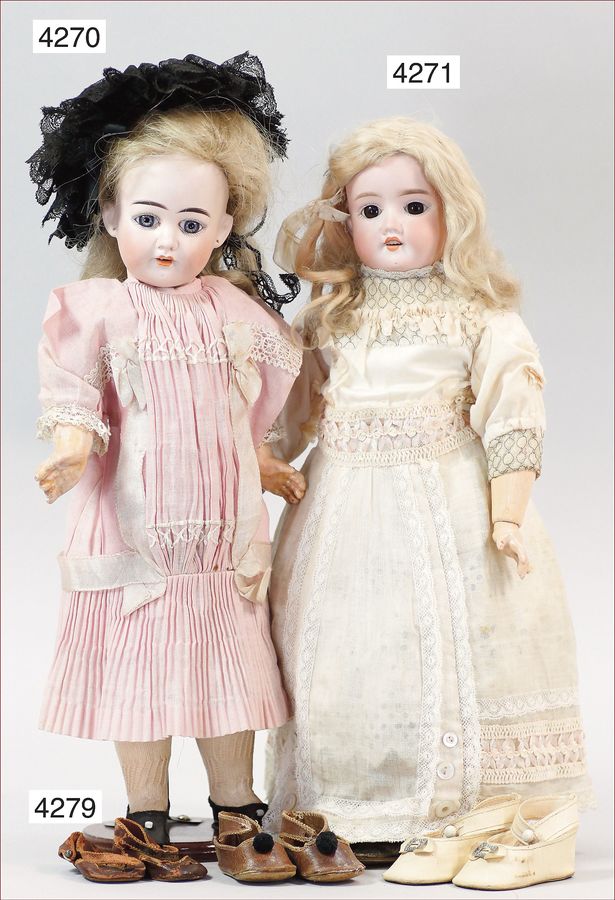 No. 4279
Spring auction on March 30/31, 2012
Limit: 40 €
mixed lot, 3 pairs of doll shoes, 1 x beige buckled shoe, 8.5 cm, 1 x brown leather shoes, tassels, 6.5 cm, 1 x brown leather sandals, marked size 6, strongly worn, small, glue rests

---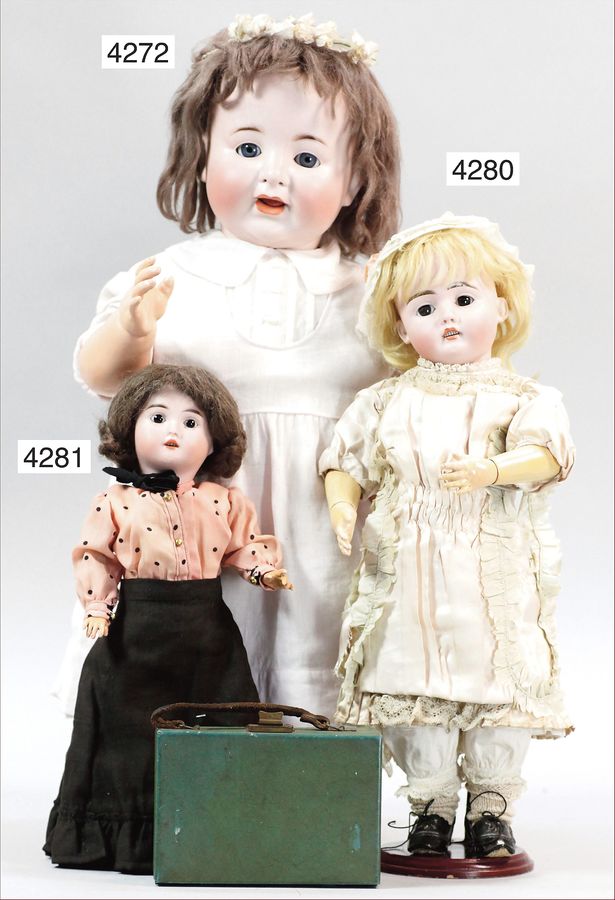 No. 4280
Spring auction on March 30/31, 2012
Limit: 180 €
BAEHR & PROESCHILD, 394, doll with bisque head, 43 cm, socket head, brown sleepy eyes, opened mouth, upper teeth, dimple at chin, jointed body, 1 arm was slightly repaired, old mohair wig, dress old or sewed of old fabric, old underwear, shoes and socks, soles on the shoes are missing

---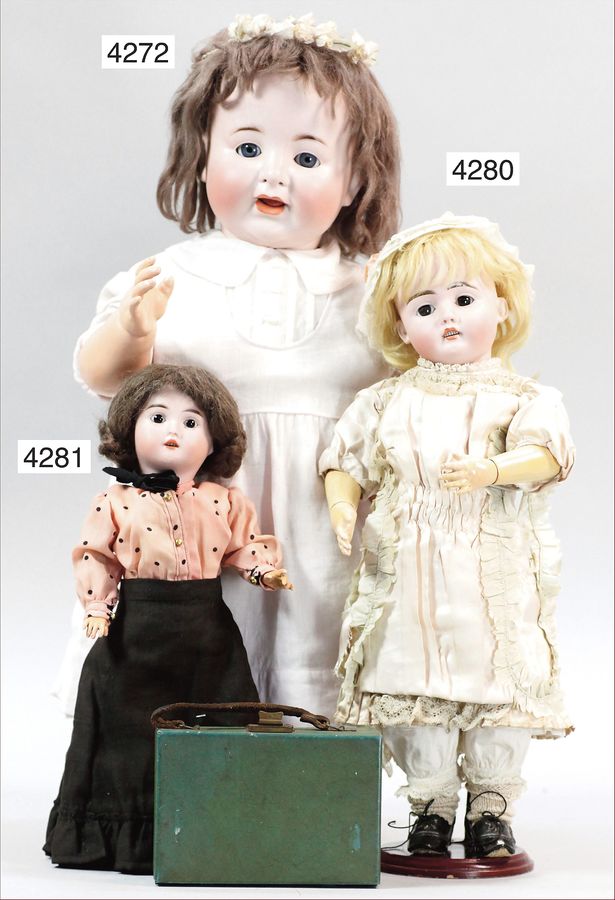 No. 4281
Spring auction on March 30/31, 2012
Limit: 140 €
doll with bisque head, probably France, marked 3/0 by, 35 cm, socket head, fix inset brown glass eyes, opened mouth, upper teeth, standing mass body, old clothes, underwear and shoes, in box, with tin suitcase

---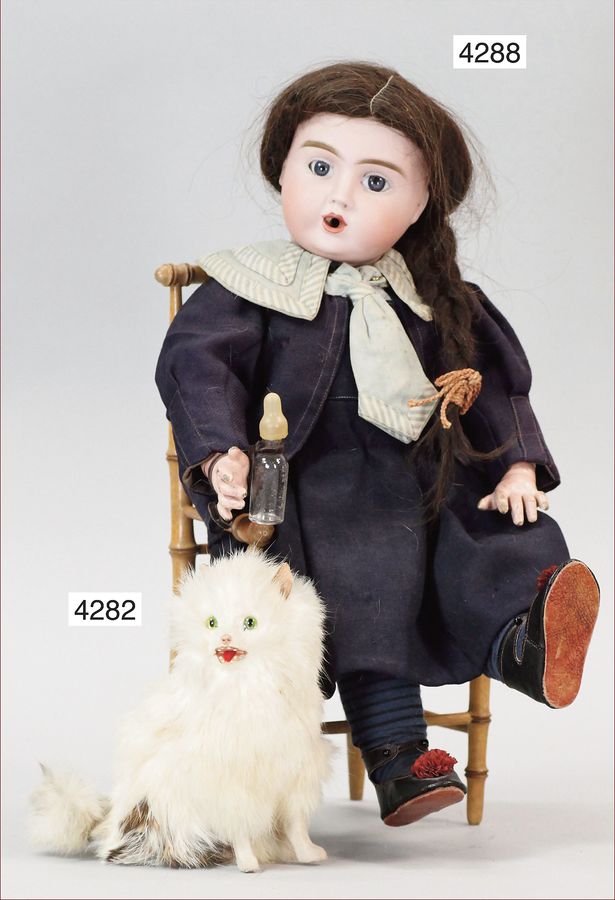 No. 4282
Spring auction on March 30/31, 2012
Limit: 60 €
pelt cat, 15 cm, mass snout, glass eyes, good condition

---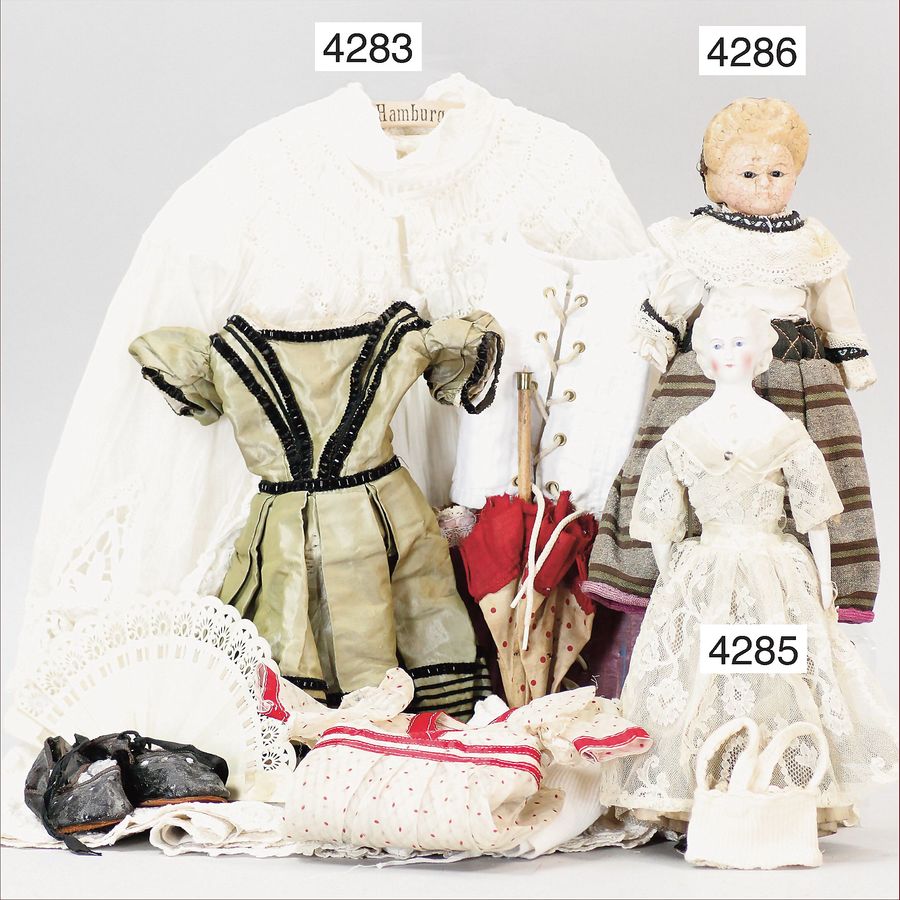 No. 4283
Spring auction on March 30/31, 2012
Limit: 90 €
nice mixed lot of doll clothes, 5 dresses, different size,s 3 bodices, 1 doll umbrella, small fan, 1 pair of doll shoes, size 11, marked IB

---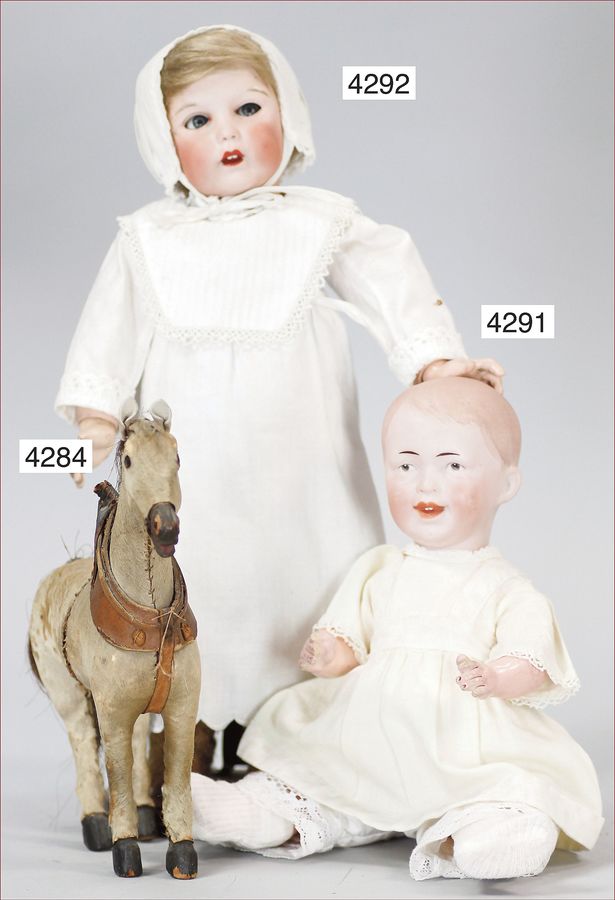 No. 4284
Spring auction on March 30/31, 2012
Limit: 60 €
small pelt horse, 19 cm, ears were supplemented, otherwise except of small places in good condition, unusual size

---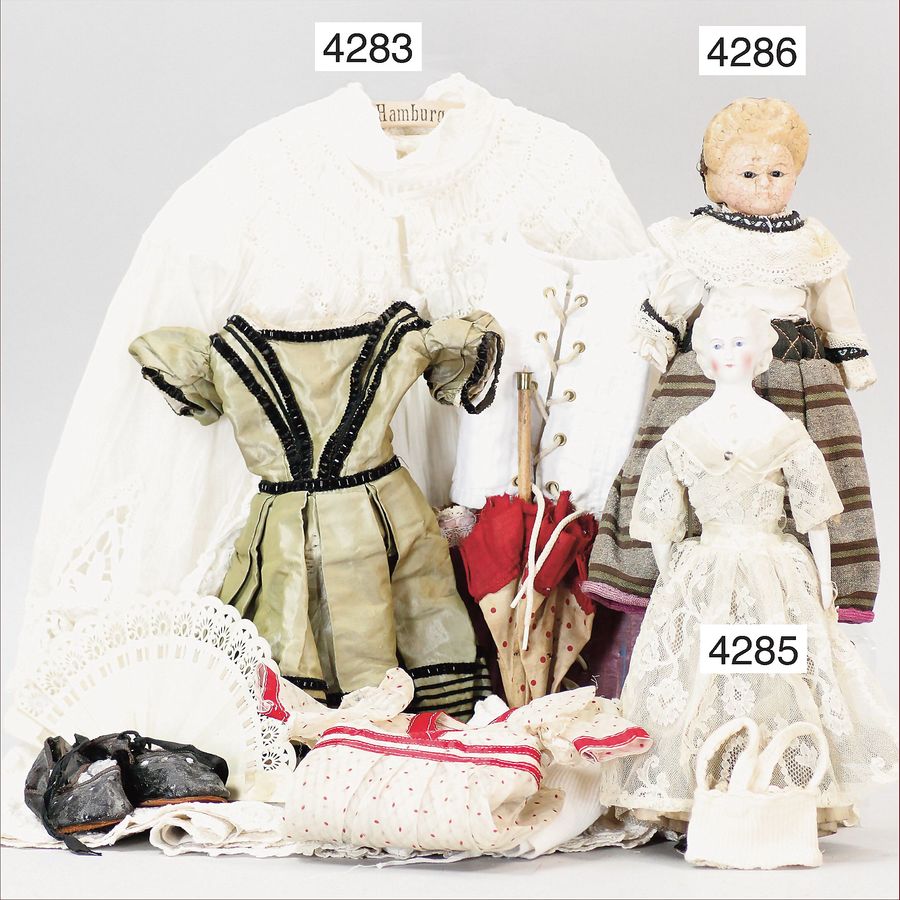 No. 4285
Spring auction on March 30/31, 2012
Limit: 120 €
Biedermeier, doll, Parian, bisque shoulder headed doll, fine modelled hair, blue painted eyes, modelled clothes, fabric body, bisque arms and legs, up-painted shoes, clothes old or sewed of old fabric

---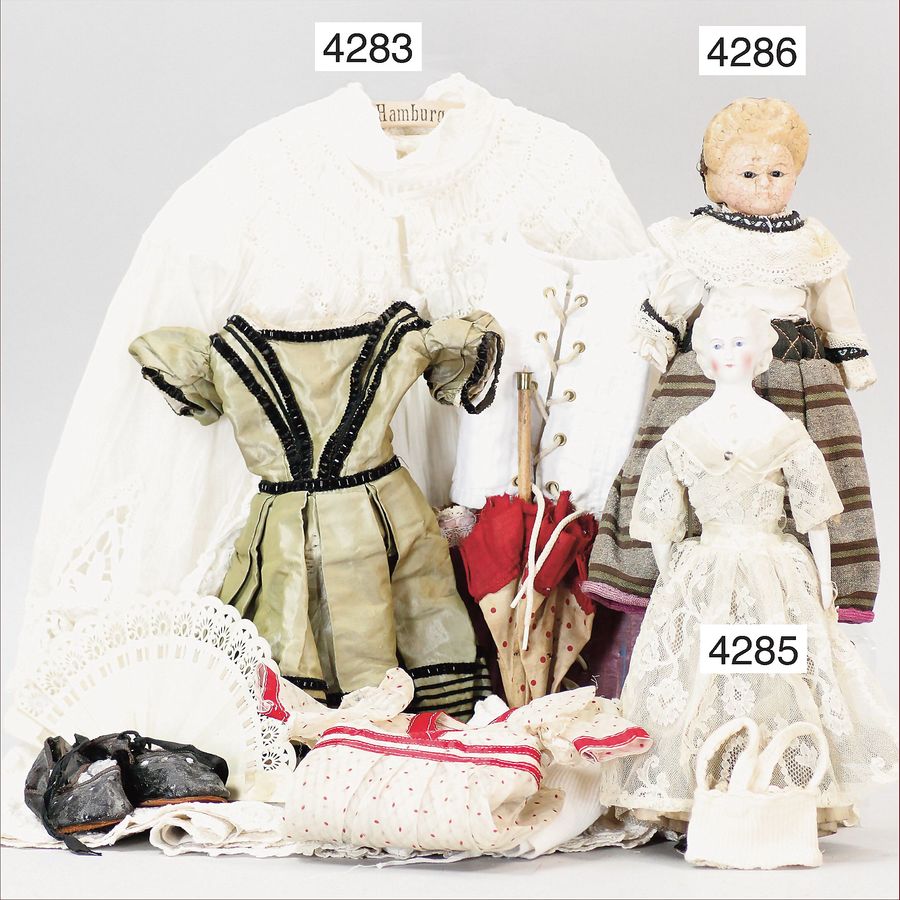 No. 4286
Spring auction on March 30/31, 2012
Limit: 60 €
wax coated papier mâché doll, England, 28 cm, fix inset brown glass eyes, fabric body, wooden arms and legs, in face stronger formations of spider lines

---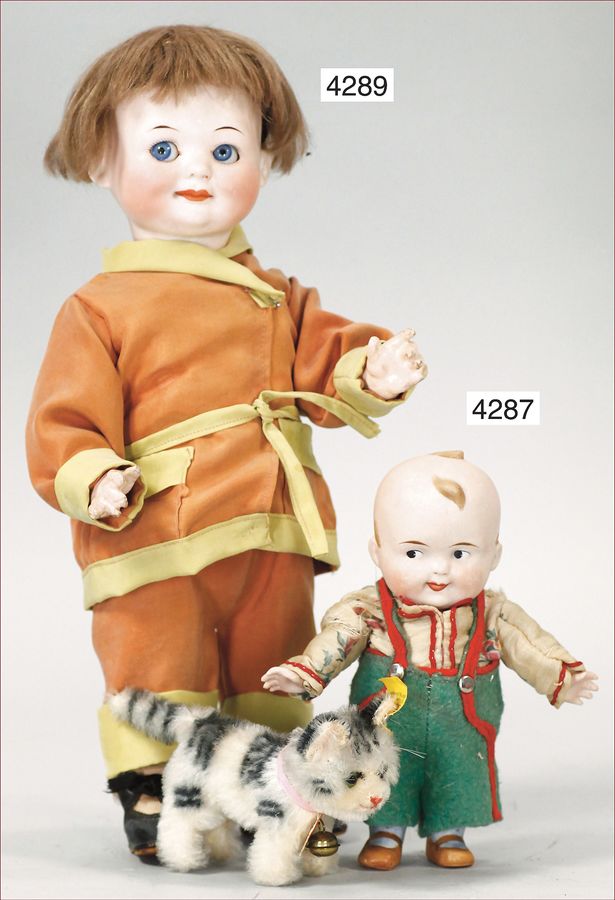 No. 4287
Spring auction on March 30/31, 2012
Limit: 60 €
bisque Kewpie, 16.5 cm, fix head, fix legs, modelled shoes and socks, jointed arms, fix appliquéd clothes

---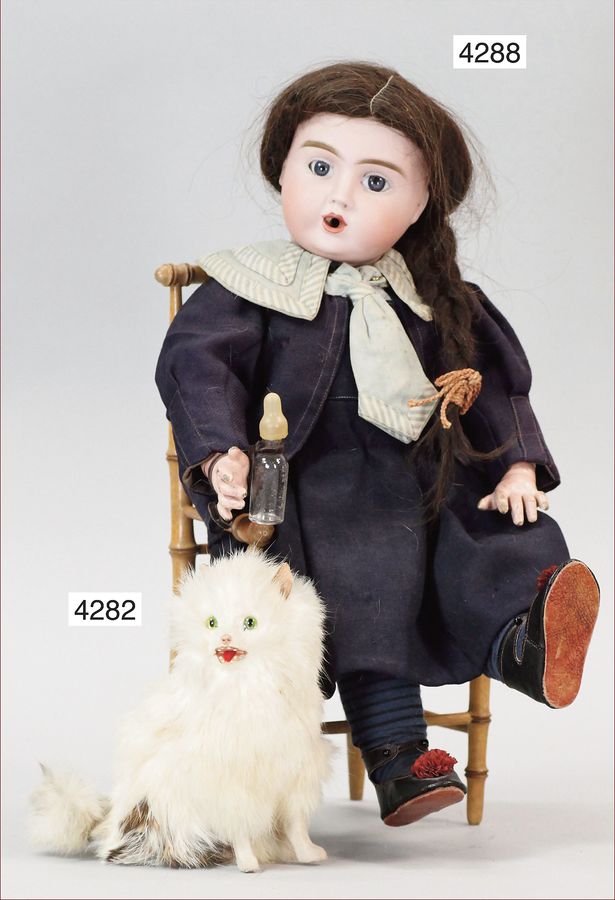 No. 4288
Spring auction on March 30/31, 2012
Limit: 900 €
doll with bisque head, France, type Téteur, 47 cm, socket head, fix inset blue glass eyes, (doll got a slight cast), inside lying bellows, opened mouth, with opening for feeding, French jointed body, with small typical flaked off mass parts, old clothes, underwear, real hair wig, unusual

---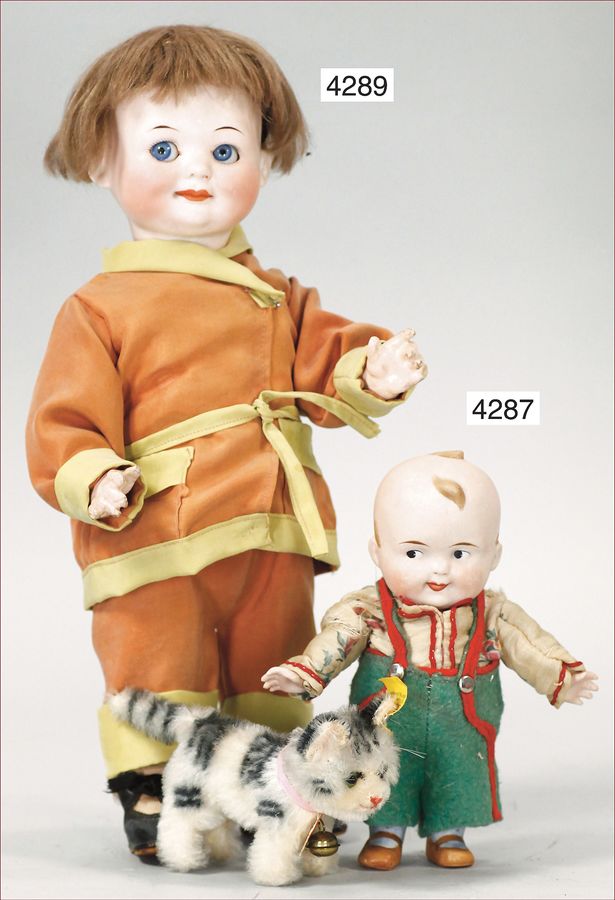 No. 4289
Spring auction on March 30/31, 2012
Limit: 260 €
AM, 325, Googly, 31 cm, blue to the side looking sleepy eyes, closed mouth, dimple at chin, crack on the forehead, small minimally break off part at the top of head, standing mass body, clothes were sewed of old fabric, old shoes and socks, mohair wig

---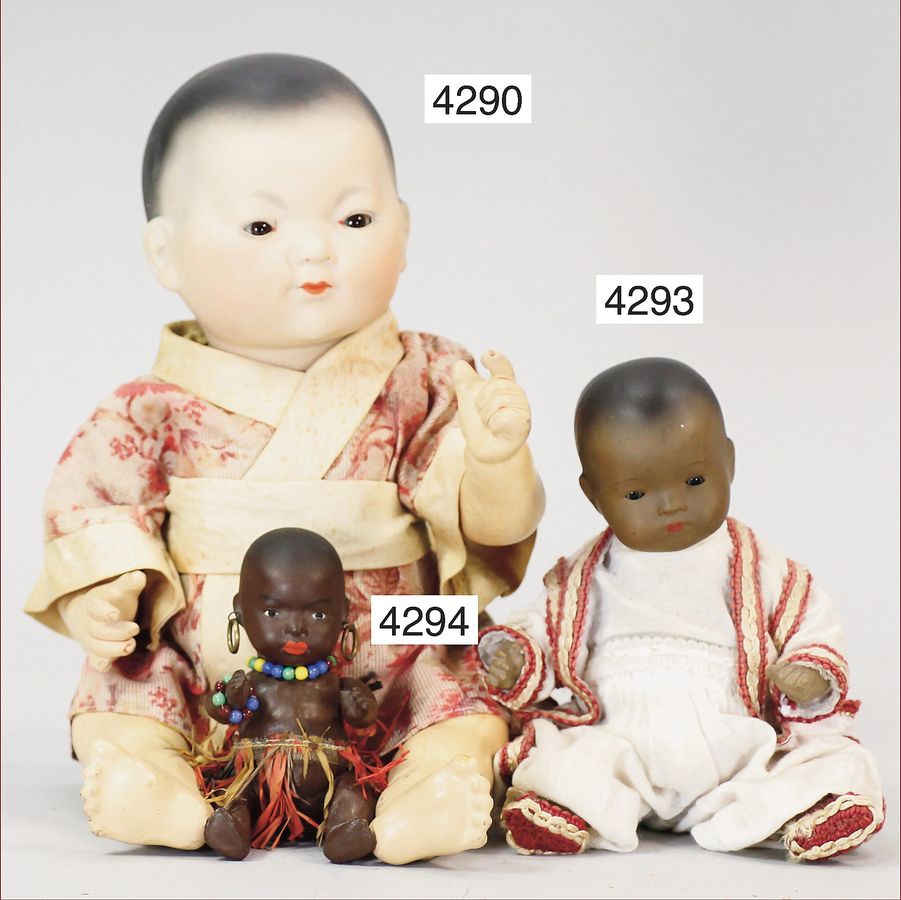 No. 4290
Spring auction on March 30/31, 2012
Limit: 380 €
AM, Oriental, marked AM in a star "Ella", Germany, bisque socket head, fix inset brown glass eyes, please note that it is risky to transport the eye mechanism, yellowish toned baby with sitting body

---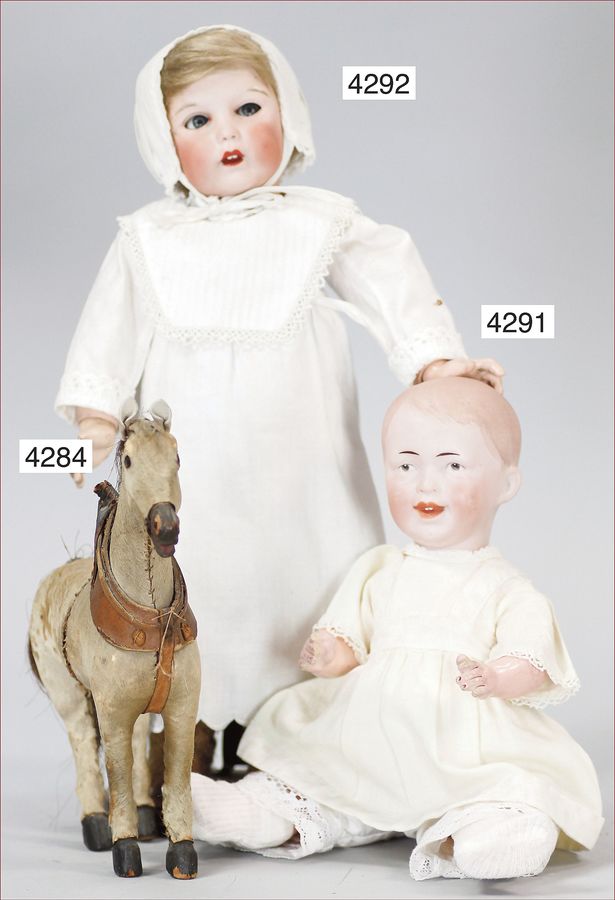 No. 4291
Spring auction on March 30/31, 2012
Limit: 280 €
bisque character boy, marked 235, 27 cm, socket head, modelled hair, Intaglio eyes, opened/closed mouth, with intimitated teeth, dimple at chin, mass baby body

---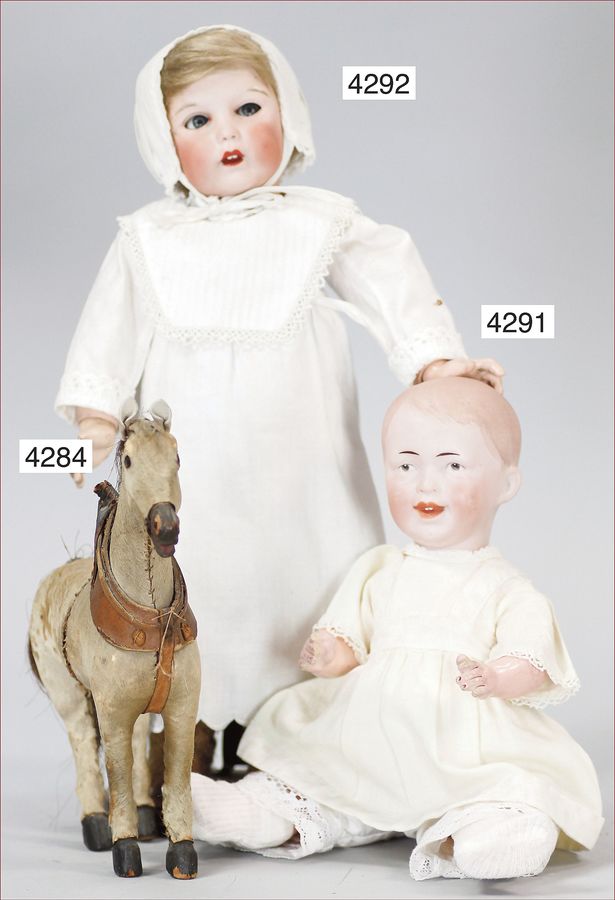 No. 4292
Spring auction on March 30/31, 2012
Limit: 240 €
UNIS FRANCE, 251 71 149 R in circle T, character doll, 32 cm, socket head, blue impish eyes, opened mouth, teeth and tongue, mohair wig, French toddler body, old clothes

---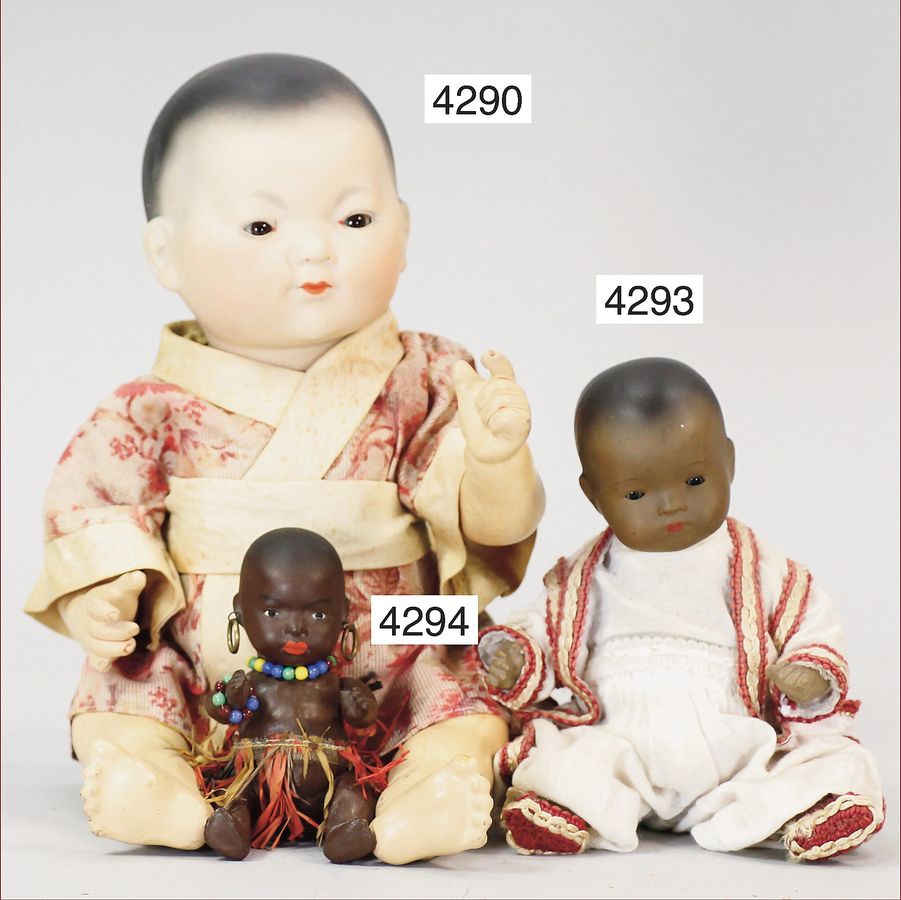 No. 4293
Spring auction on March 30/31, 2012
Limit: 160 €
AM, colored Dreambaby, 21 cm, squirted full head, brown sleepy eyes, please note that it is risky to transport the eye mechanism, baby with sitting body

---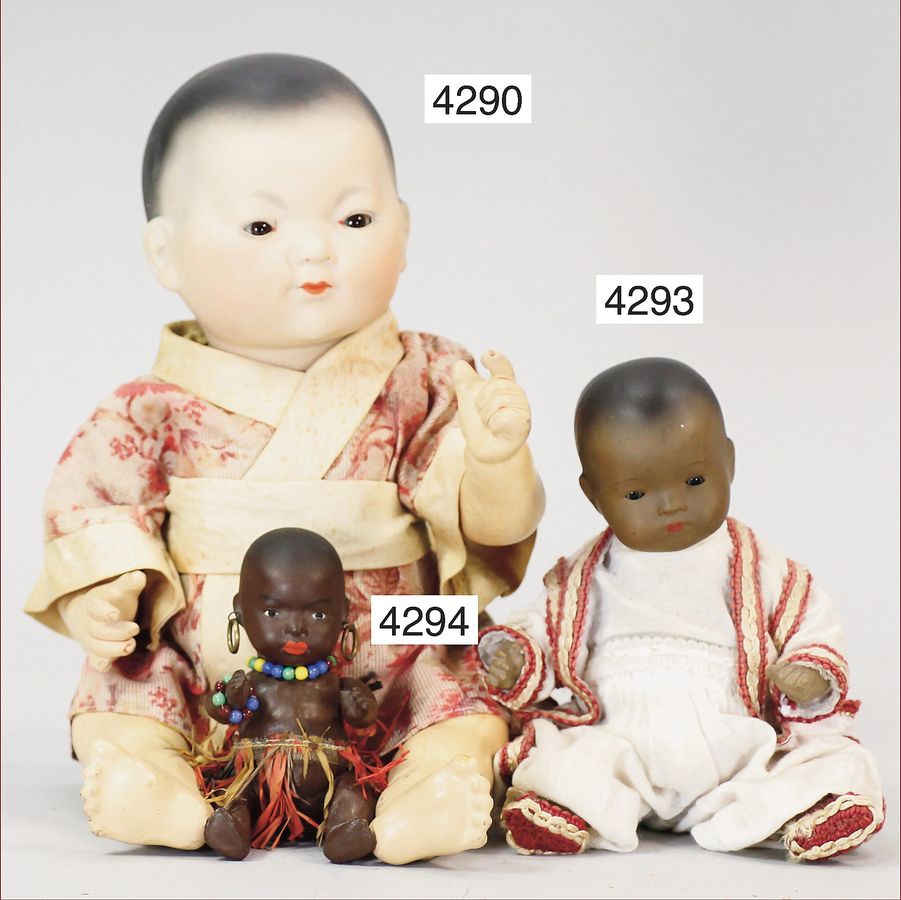 No. 4294
Spring auction on March 30/31, 2012
Limit: 120 €
AM, 399, colored Dreambaby, squirted porcelain head, painted eyes, mass baby with sitting body, nice original condition, unusual size

---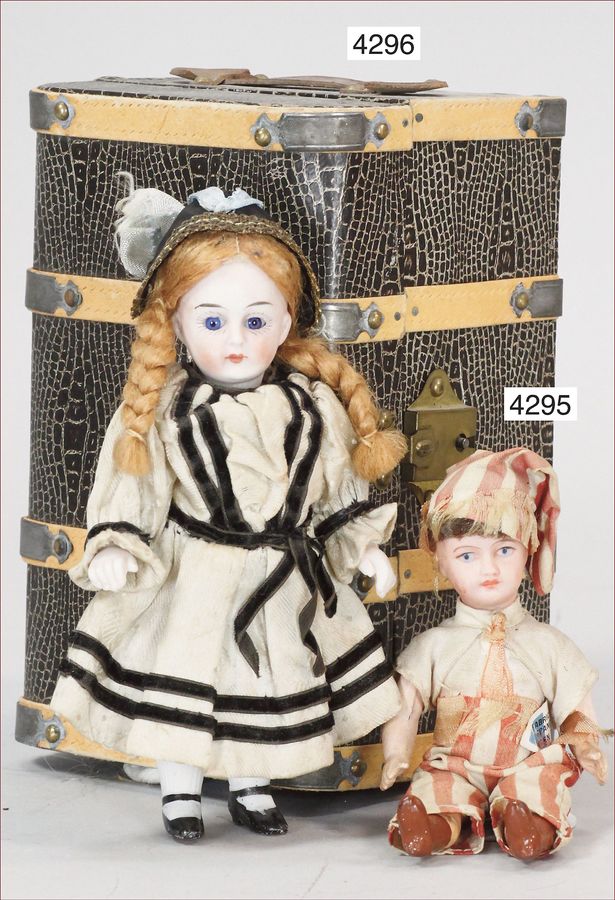 No. 4295
Spring auction on March 30/31, 2012
Limit: 180 €
UNIS FRANCE, boy, 14 cm, bisque socket head, blue painted eyes, closed mouth, standing mass body, with up-painted shoes, original clothes

---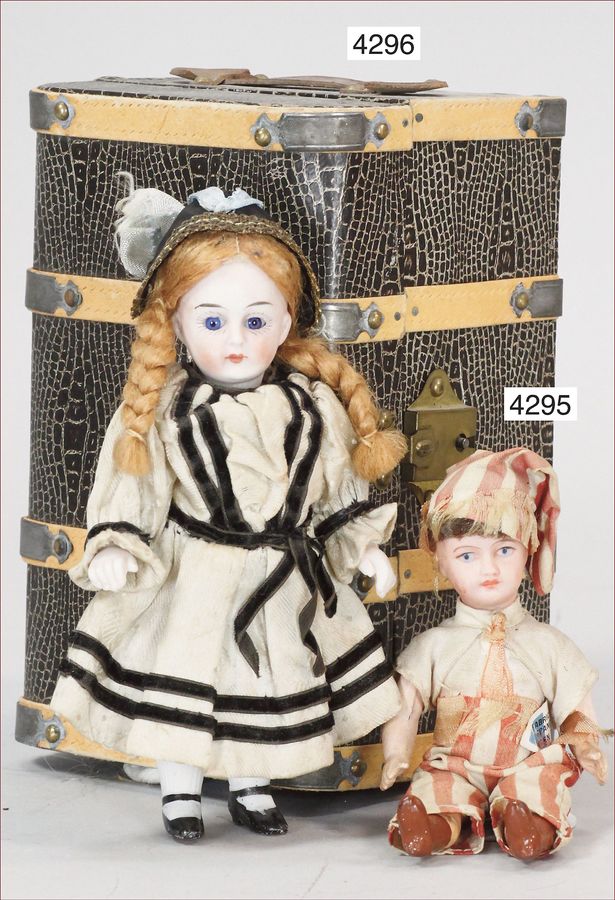 No. 4296
Spring auction on March 30/31, 2012
Limit: 260 €
small all-bisque doll, marked 2, 15 cm, socket head, fix inset blue glass eyes, closed mouth, jointed arms and legs, with modelled shoes, with small Trousseau suitcase, 17 cm wide

---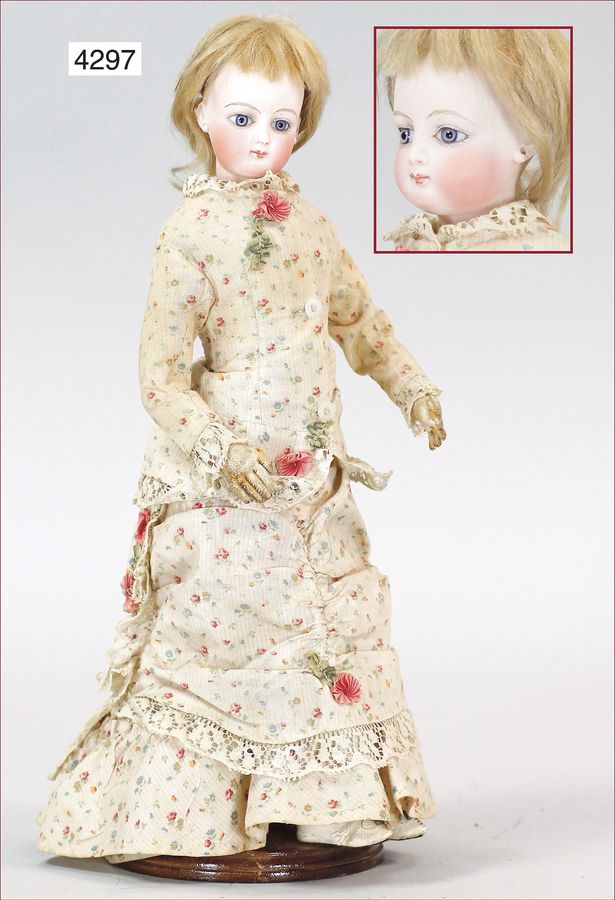 No. 4297
Spring auction on March 30/31, 2012
Limit: 900 €
Lady, France, marked 1, 34 cm, bisque socket head, big fix inset blue glass eyes, closed mouth, pierced ears, bisque breast plate, leather body, separate stitched down finger, slightly bent legs, old clothes, old mohair wig with cork cover


---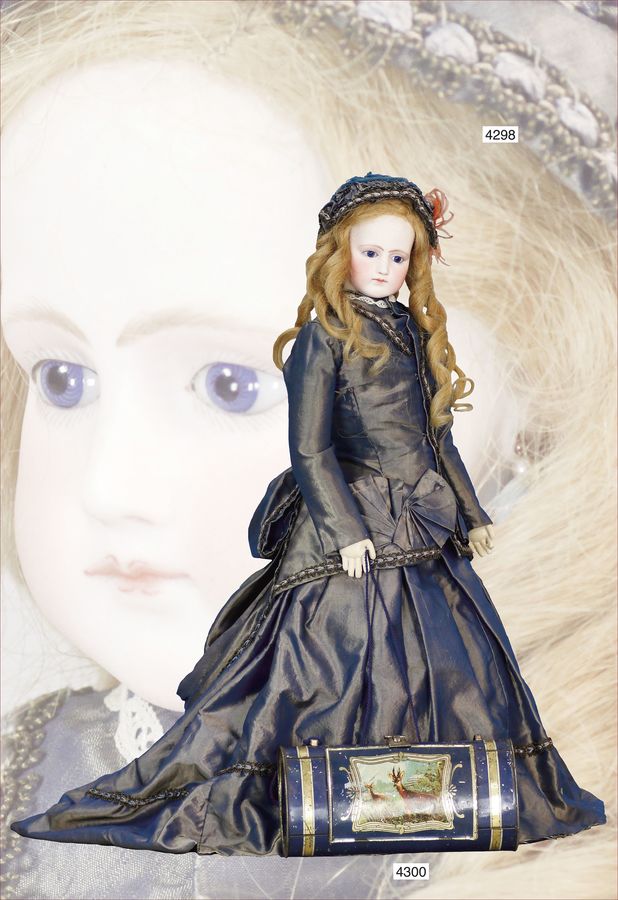 No. 4298
Spring auction on March 30/31, 2012
Limit: 3500 €
JUMEAU, portrait Lady, 52 cm, fix inset blue glass eyes, closed mouth, pierced ears, socket head, on a bisque breast plate, leather body with separate stitched down fingers, slightly bent legs, arms repaired and painted over, body with small repaired places, nice expression, wigis more recent, dress are sewed of old fabric, old underwear and shoes, very expressive

---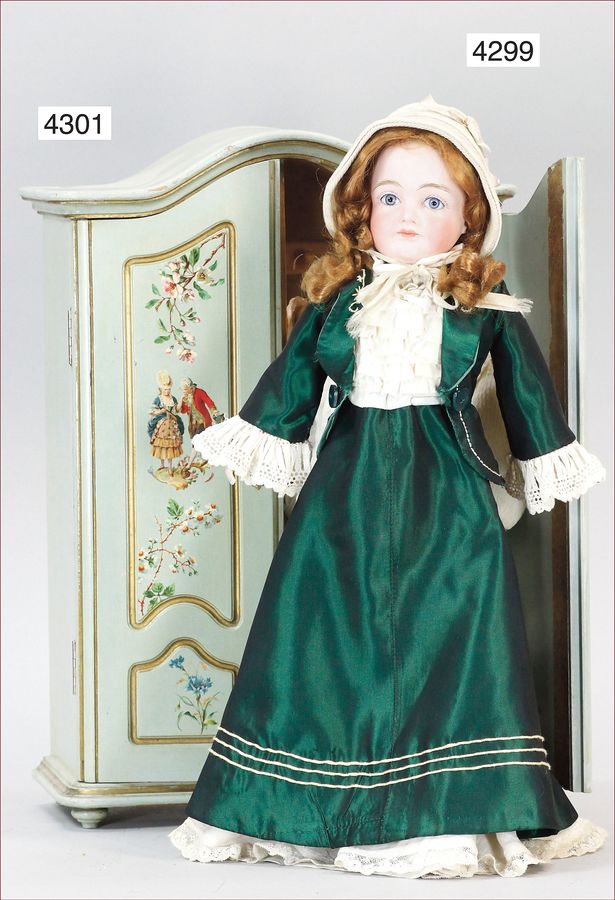 No. 4299
Spring auction on March 30/31, 2012
Limit: 380 €
KESTNER, bisque shoulder headed doll, marked No. 6, 43 cm, fix inset blue glass eyes, closed mouth, dimple at chin, the original plaster cover wasn't removed, leather body, bisque forearms, dress and wig are more recent, underwear, old shoes and hood, nice modelled

---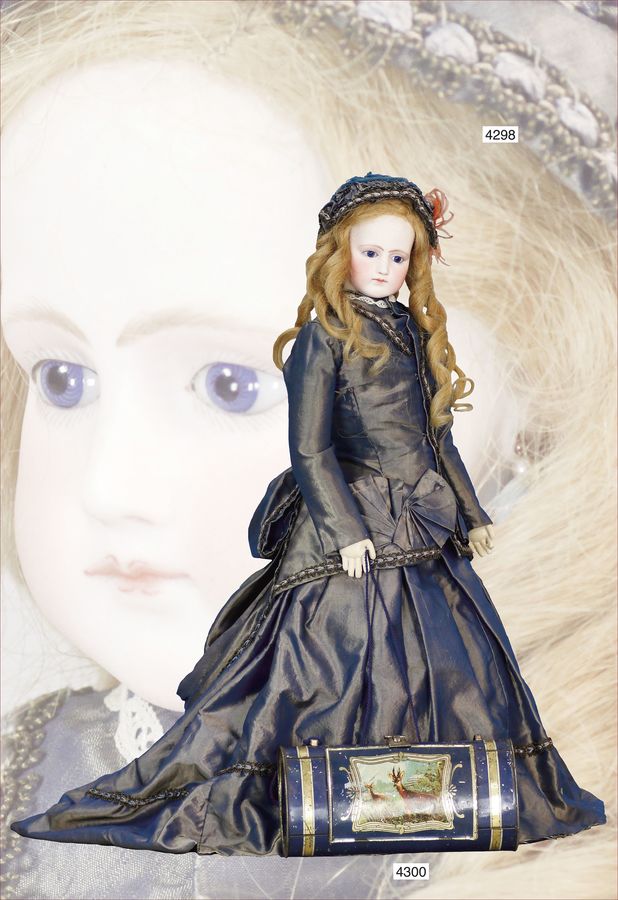 No. 4300
Spring auction on March 30/31, 2012
Limit: 40 €
botanize-barrel, tin with lithographed whale scene with stag and deer, floral design, 19 cm long, the small tender spots are caused of old age and color is wear down

---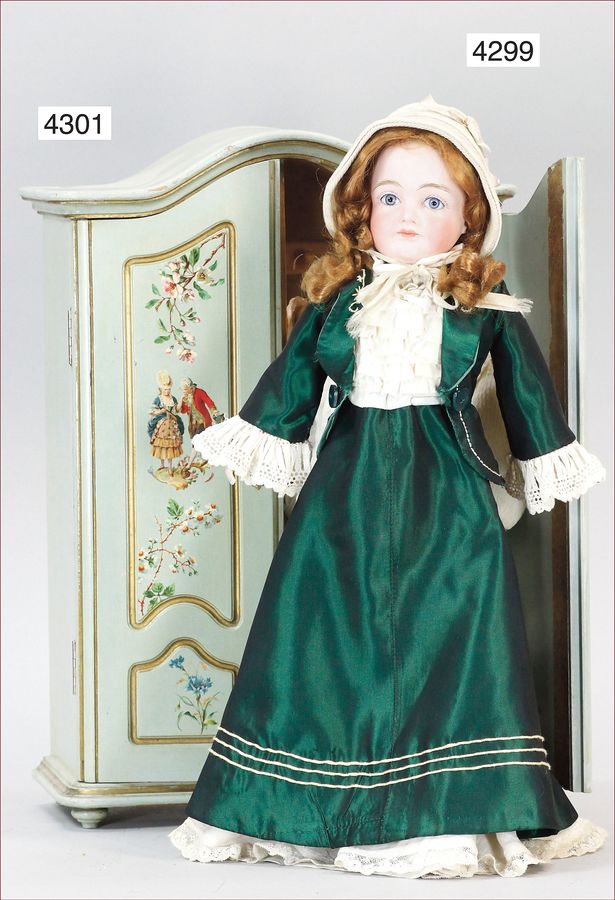 No. 4301
Spring auction on March 30/31, 2012
Limit: 140 €
decoration part for a medium sized doll, model cabinet, massive woodwork, handpainted, nice baroque scene, 40 cm tall, nice painted, with some pieces of clothing,

---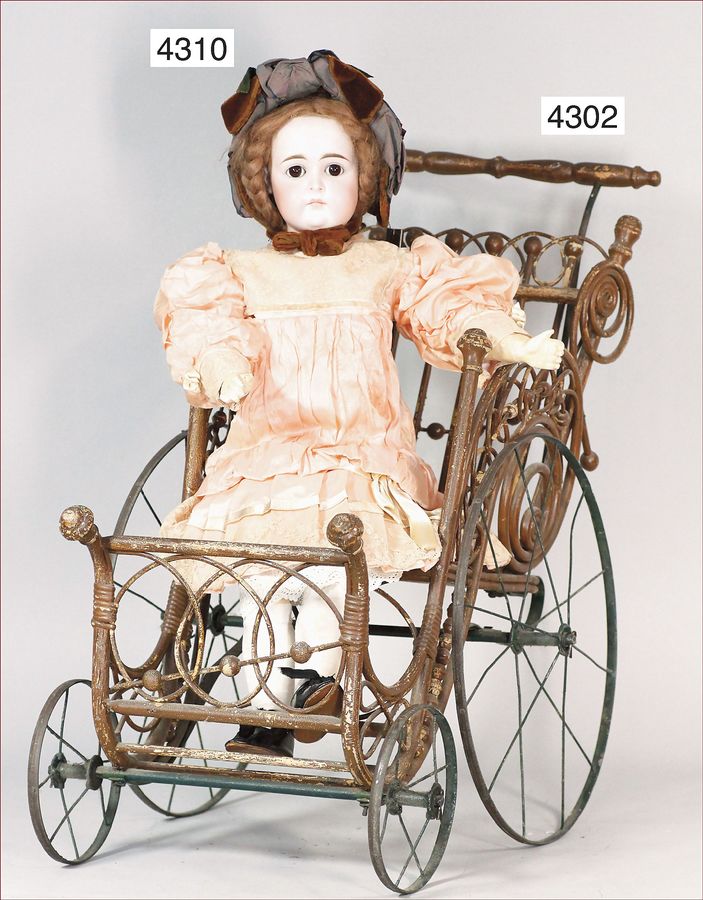 No. 4302
Spring auction on March 30/31, 2012
Limit: 180 €
außergew. Puppenwagen, Korbgeflecht, Gussspeichenräder, ca. 1880, Sitz altersbed. verschlissen, Orig.-Zust., Höhe 58 cm, schöne Puppendeko., schöne Gr.

---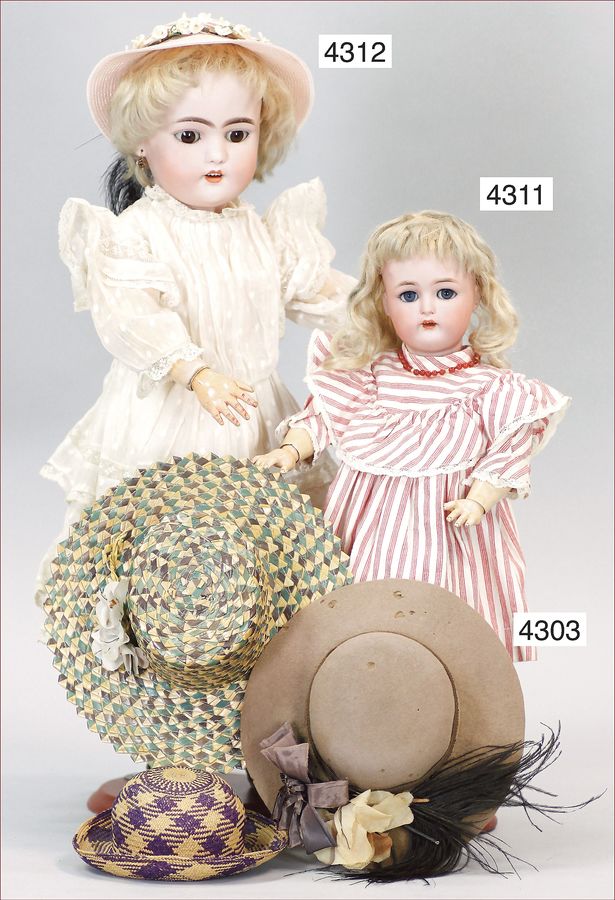 No. 4303
Spring auction on March 30/31, 2012
Limit: 60 €
mixed lot, 3 doll hats, suitable for small and middle sized dolls, 2 x straw hats, 1 x felt hat embroidered with feathers , smaller faults in the felt, a nice mixed lot

---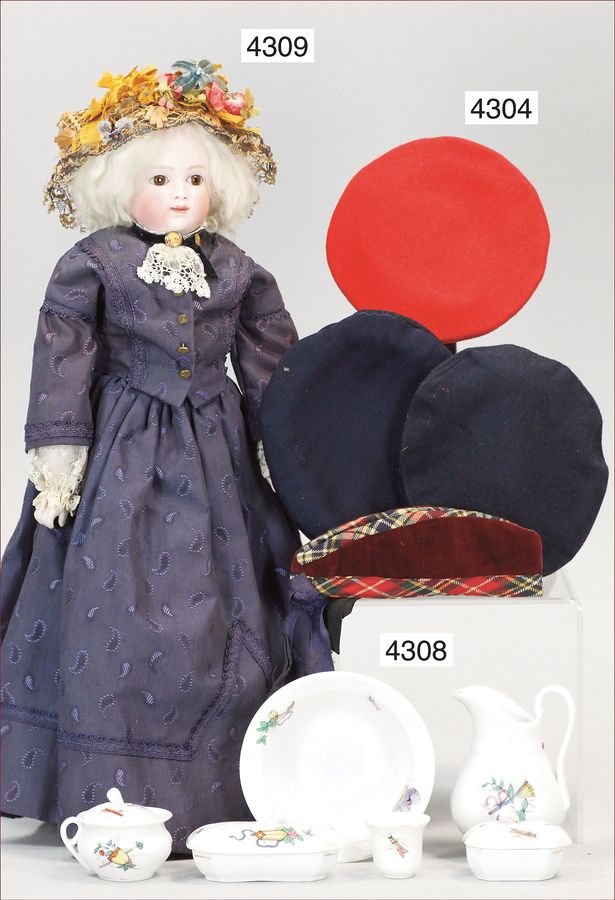 No. 4304
Spring auction on March 30/31, 2012
Limit: 60 €
4 doll's caps, suitable for middle sized dolls

---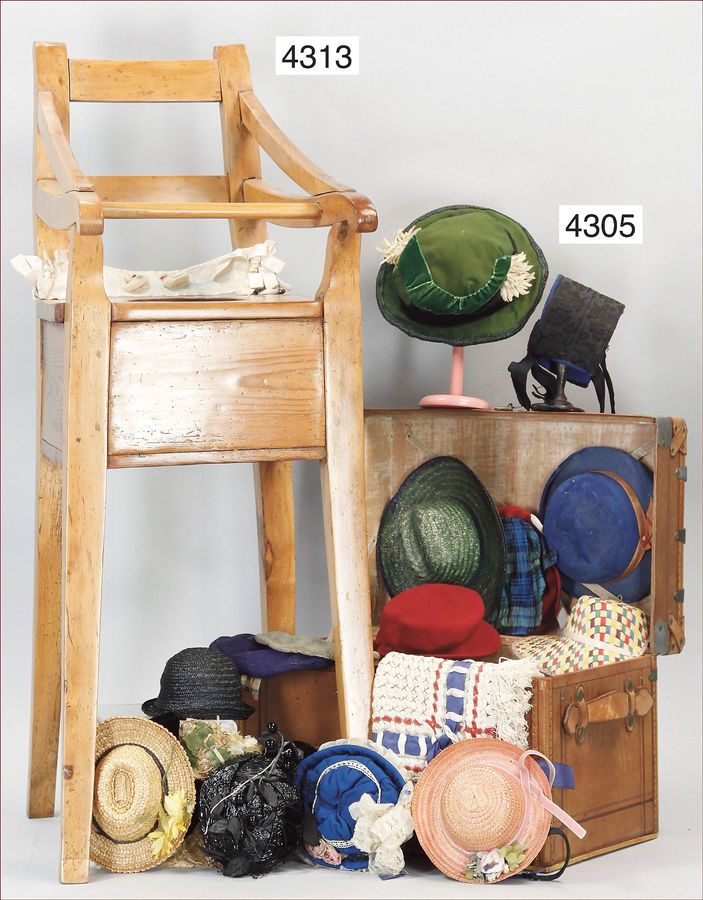 No. 4305
Spring auction on March 30/31, 2012
Limit: 180 €
Puppen Trousseau Koffer, Holz, Leder bezogen, mit Verschluss, 41 cm breit, 27 cm hoch, Dekorationsstück für Bebes, schön gearbeitet, 22 Puppenhüte und Mützen, unterschiedliche Größe teilw. älter und jünger, ausgefallen

---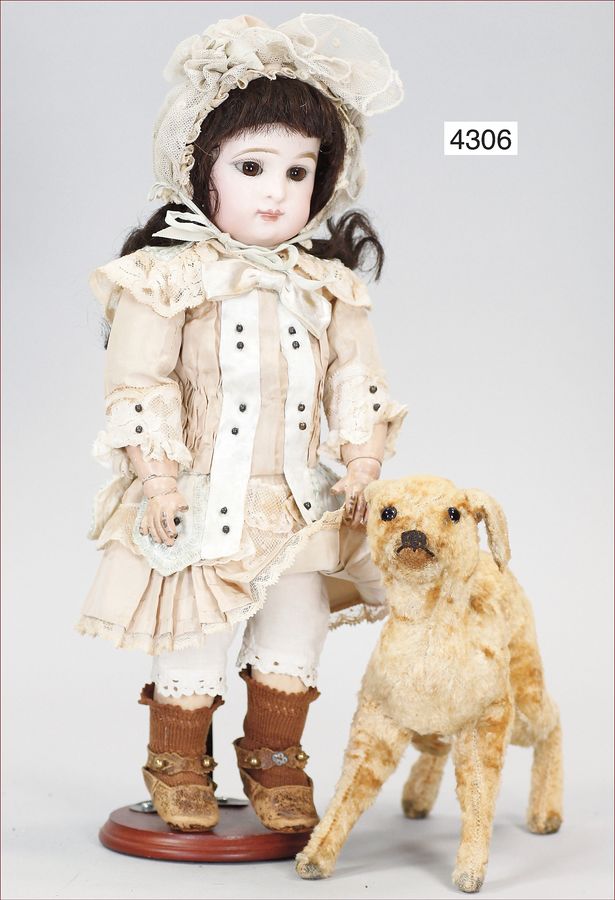 No. 4306
Spring auction on March 30/31, 2012
Limit: 1300 €
doll with bisque head, marked Téte Depose Paris, Bebe, No. 5, 36 cm, socket head, fix inset brown glass eyes, closed mouth, pierced ears, French jointed body, clothes old or sewed of old fabric, old shoes and socks, old real hair wig, nice expression

---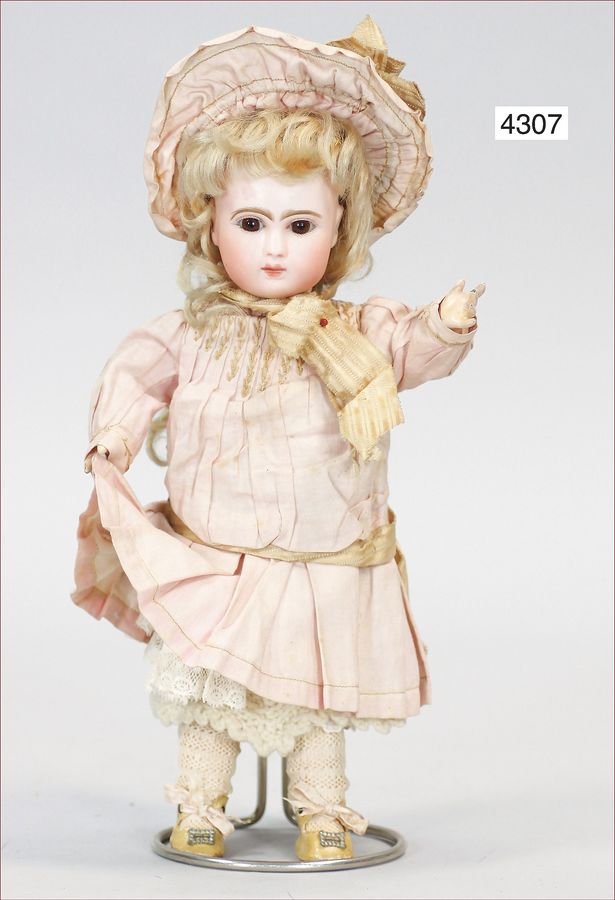 No. 4307
Spring auction on March 30/31, 2012
Limit: 1200 €
STEINER, doll with bisque head, France, marked A. 4. 5., red stamp, Leu Parisienne, among them Paris, 28 cm, French jointed body, socket head, fix inset brown glass eyes, closed mouth, pierced ears, small color defects on the forehead above the right eye, old mohair wig, old clothes, underwear, shoes and socks, nice size

---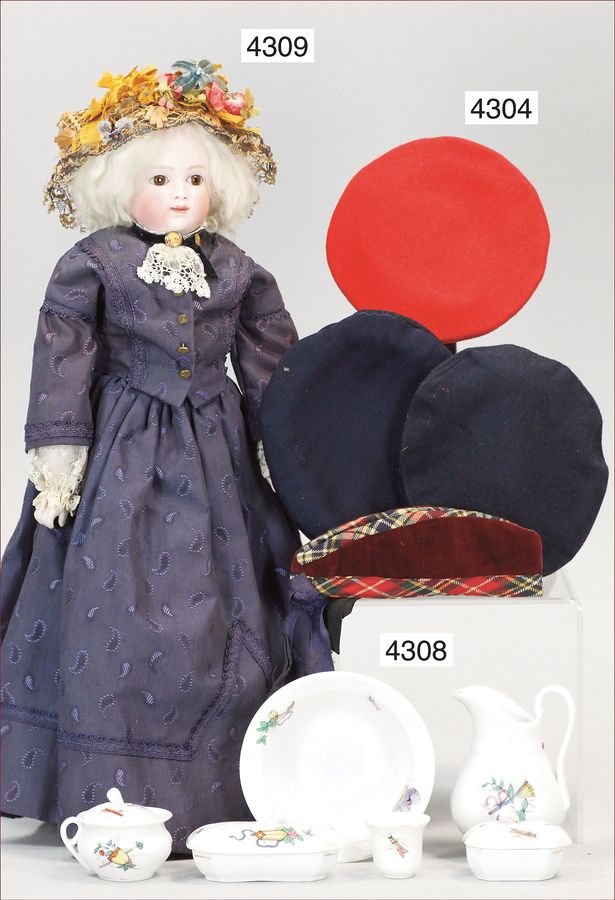 No. 4308
Spring auction on March 30/31, 2012
Limit: 60 €
dolls wash set, can, height 10 cm, bowl, with a diameter of 11.5 cm, chamber pot with cover, pot, 2 bowls with cover, exceptional design

---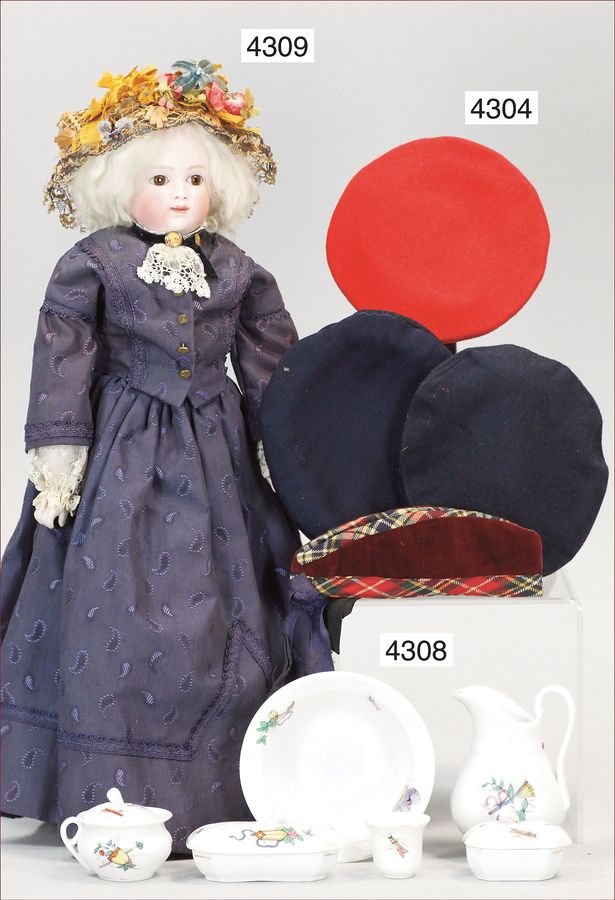 No. 4309
Spring auction on March 30/31, 2012
Limit: 280 €
bisque shoulder headed doll, marked C, 45 cm, fix inset brown glass eyes, closed mouth, stick on mohair, clothes were sewed of old fabric, old underwear

---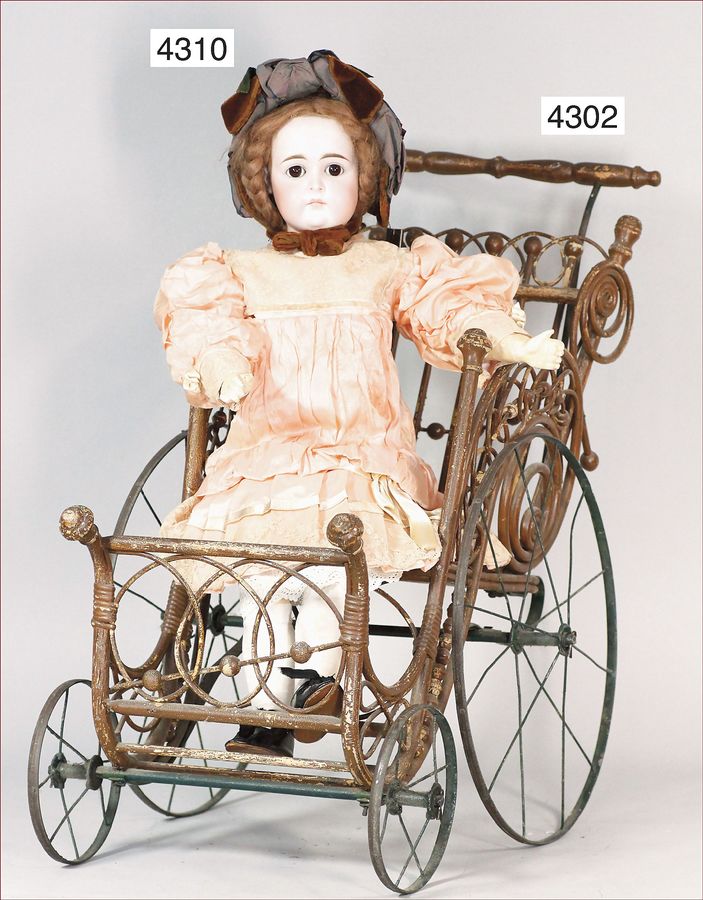 No. 4310
Spring auction on March 30/31, 2012
Limit: 850 €
KESTNER, doll with bisque socket head, size 13 1/2, 62 cm, socket head, brown sleepy eyes, closed mouth, dimple at chin, jointed body by AM, with long thighs and fix wrists, wig is more recent

---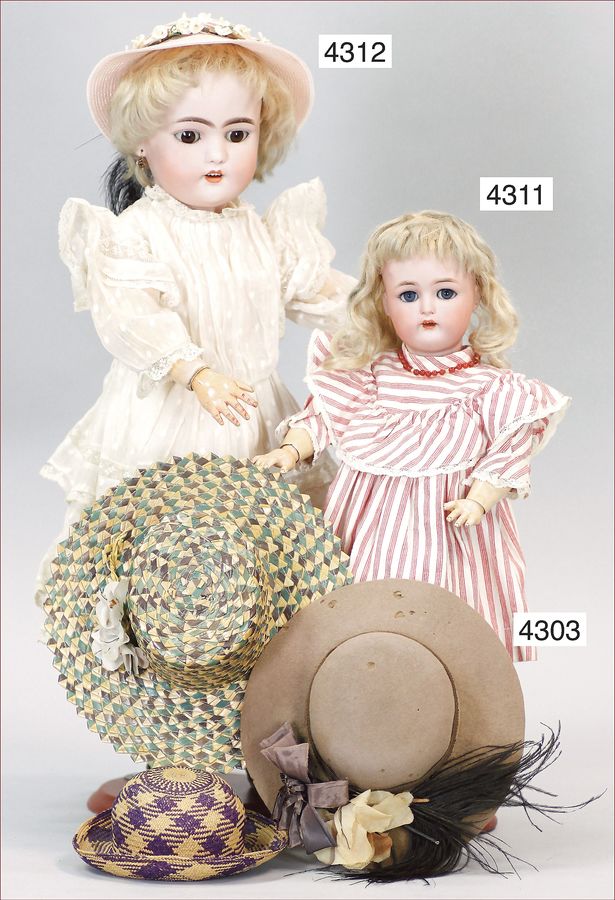 No. 4311
Spring auction on March 30/31, 2012
Limit: 220 €
K & R, doll with bisque head, 38 cm, socket head, blue sleepy eyes, opened mouth, upper teeth, dimple at chin, pierced ears, nice unusual jointed body, nice size, original mohair wig, dress old or sewed of old fabric, old underwear

---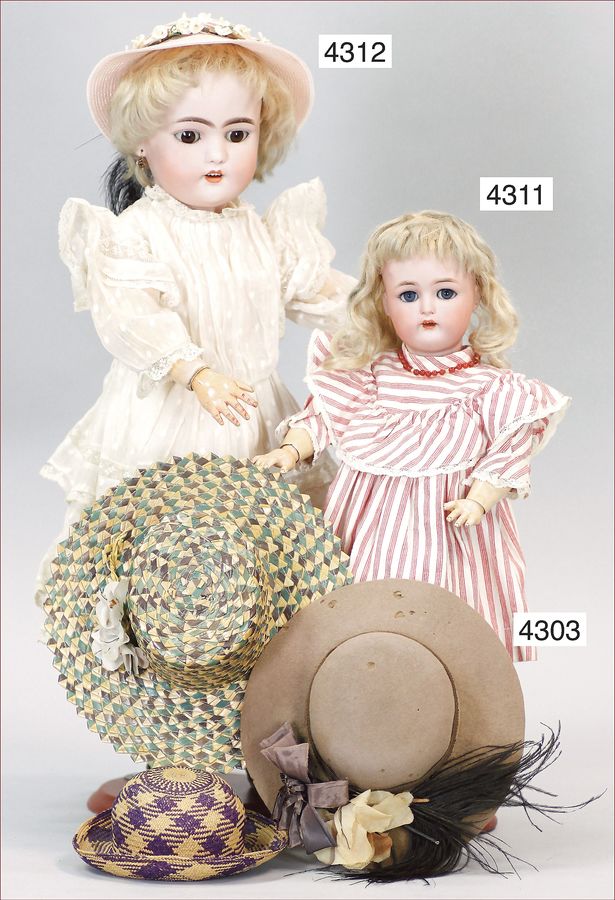 No. 4312
Spring auction on March 30/31, 2012
Limit: 220 €
SIMON & HALBIG, 1079, 8 1/2 Dep., 52 cm, socket head, brown sleepy eyes, opened mouth, upper teeth, dimple at chin, pierced ears, used jointed body, old mohair wig, old dress

---