Spring Auction 2018
Spring Auction 2018 - Page 17 / 38
Complete catalog (1864 items)
---
---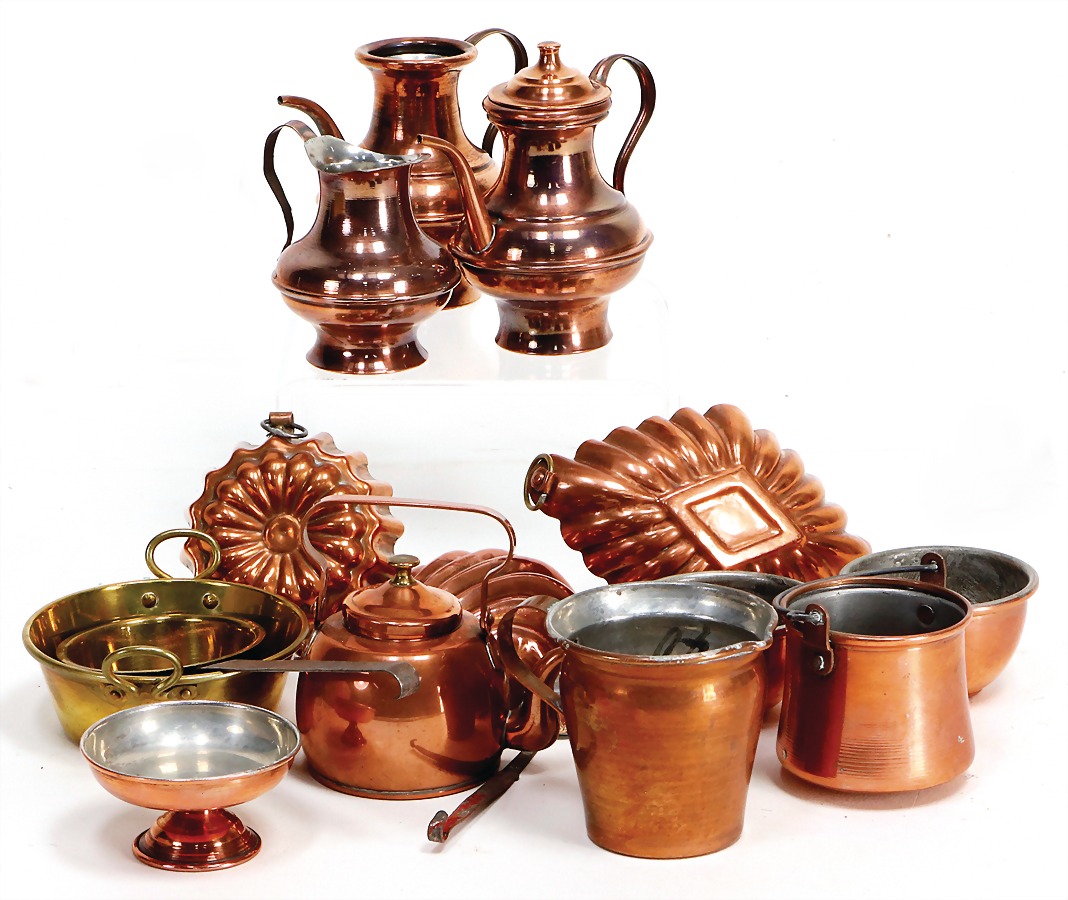 mixed lot of doll kitchen parts, copper, inside tin-plated, jugs, kettle, cake pans, with 1 brass bowl, 1 brass pan, for a middle-sized kitchen, height of can: 7.5 cm

---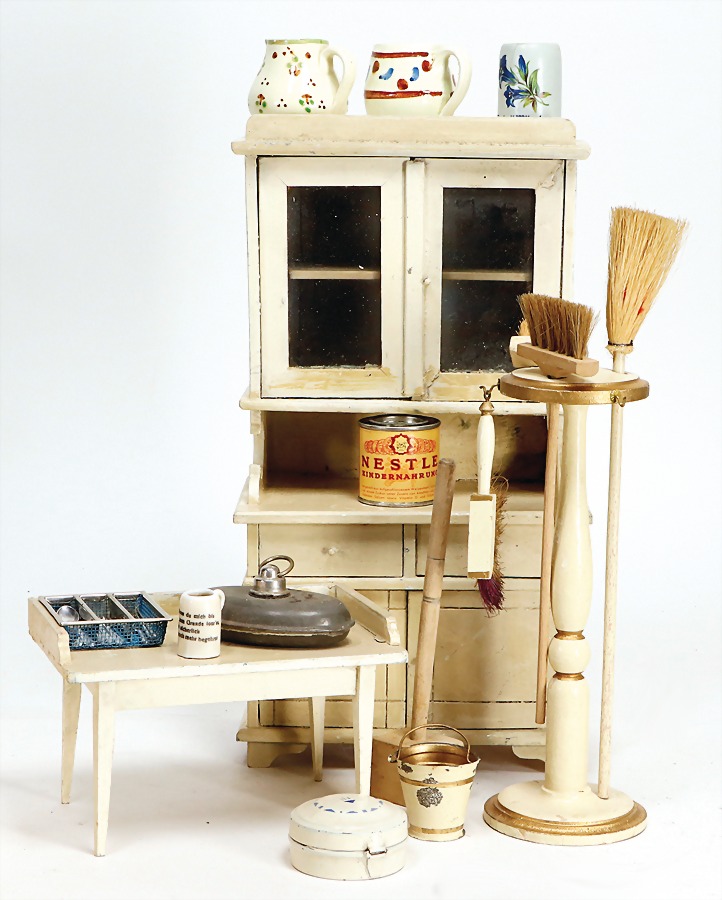 treasure chest, doll kitchen decoration pieces, porcelain, tin, ceramic, sheet metal, wood, some furniture, 1900 - 1920, for a larger up to a middle-sized kitchen

---
treasure chest, doll kitchen parts, tin, sheet metal, partially enameled, porcelain and wood, lenght of bathtub : 14.5 cm

---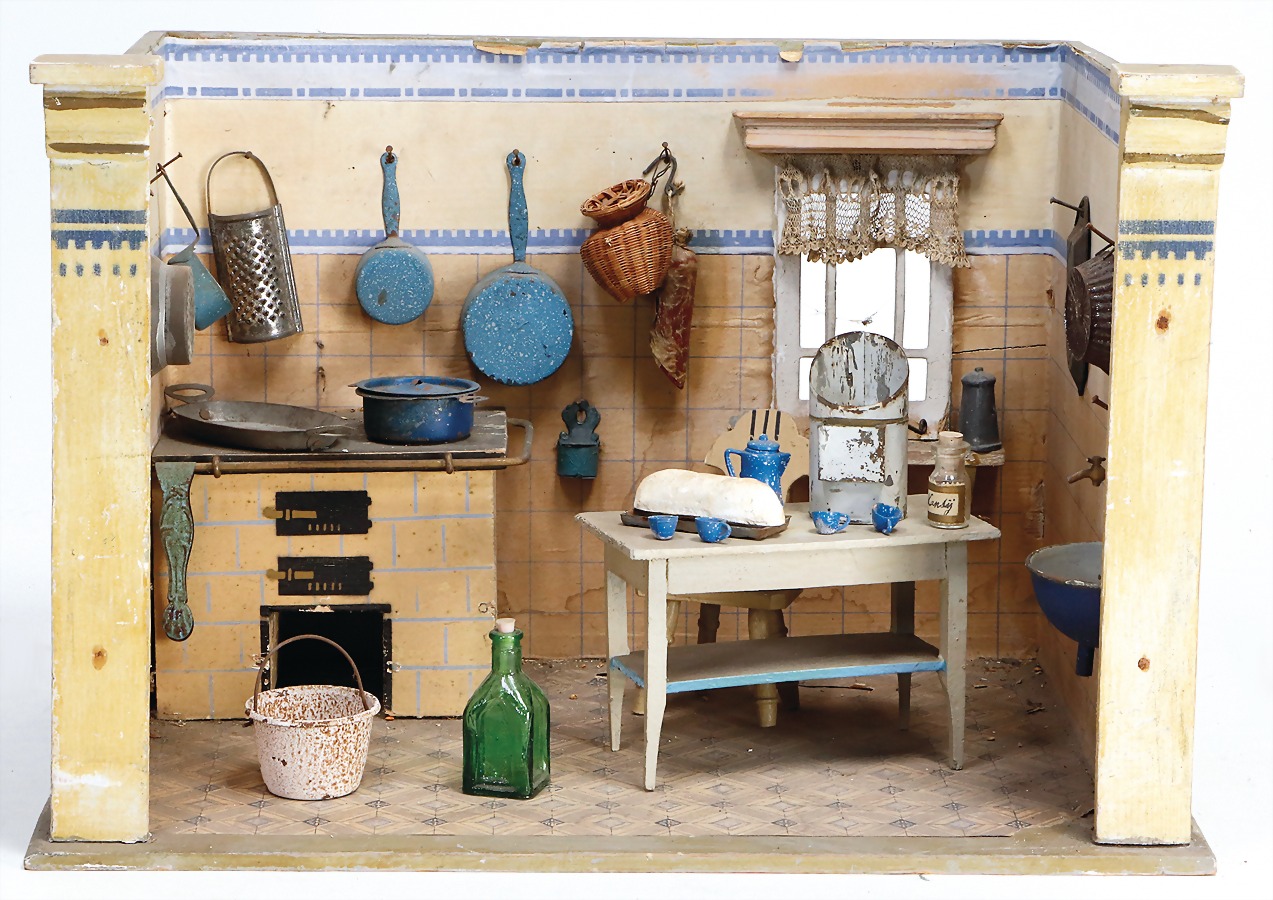 small dollhouse kitchen, 26 cm wide, 25 cm tall, manufacturing work, original wallpaper at wall and floor, original painting outside and at the front side, 1 windows, fix built-in stove, original condition, the small patches with flaws at the wallpaper are caused of old age , nice size

---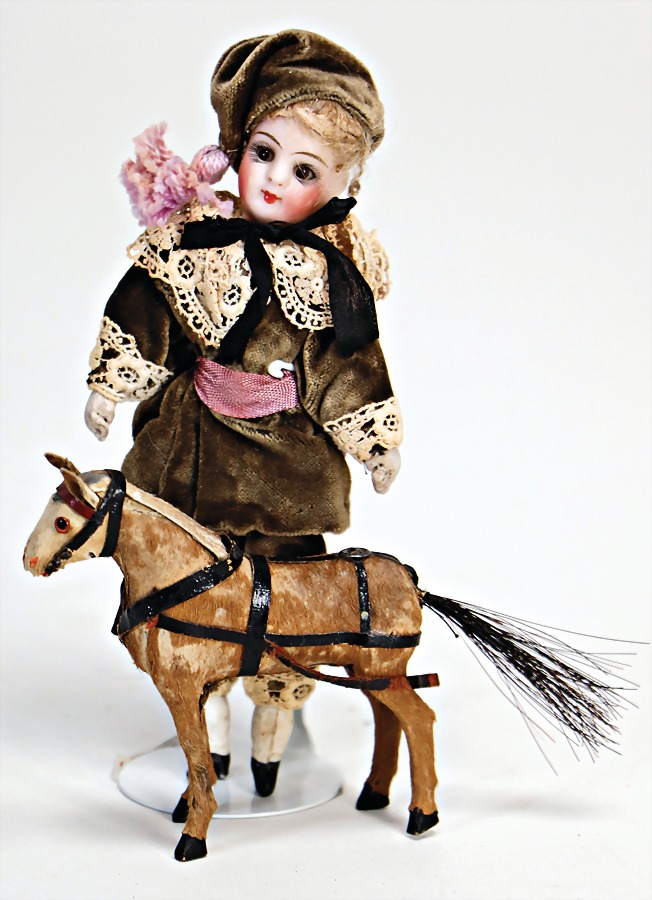 dollhouse doll, biscuit porcelain socket head, fix inset brown glass eyes, nice painting, fix put on wig, fabric body, bisque forearms, restored, modelled shoes, old silk clothes, 15 cm standing height, with a small wooden horse with real fur, height: 8 cm, nice lot

---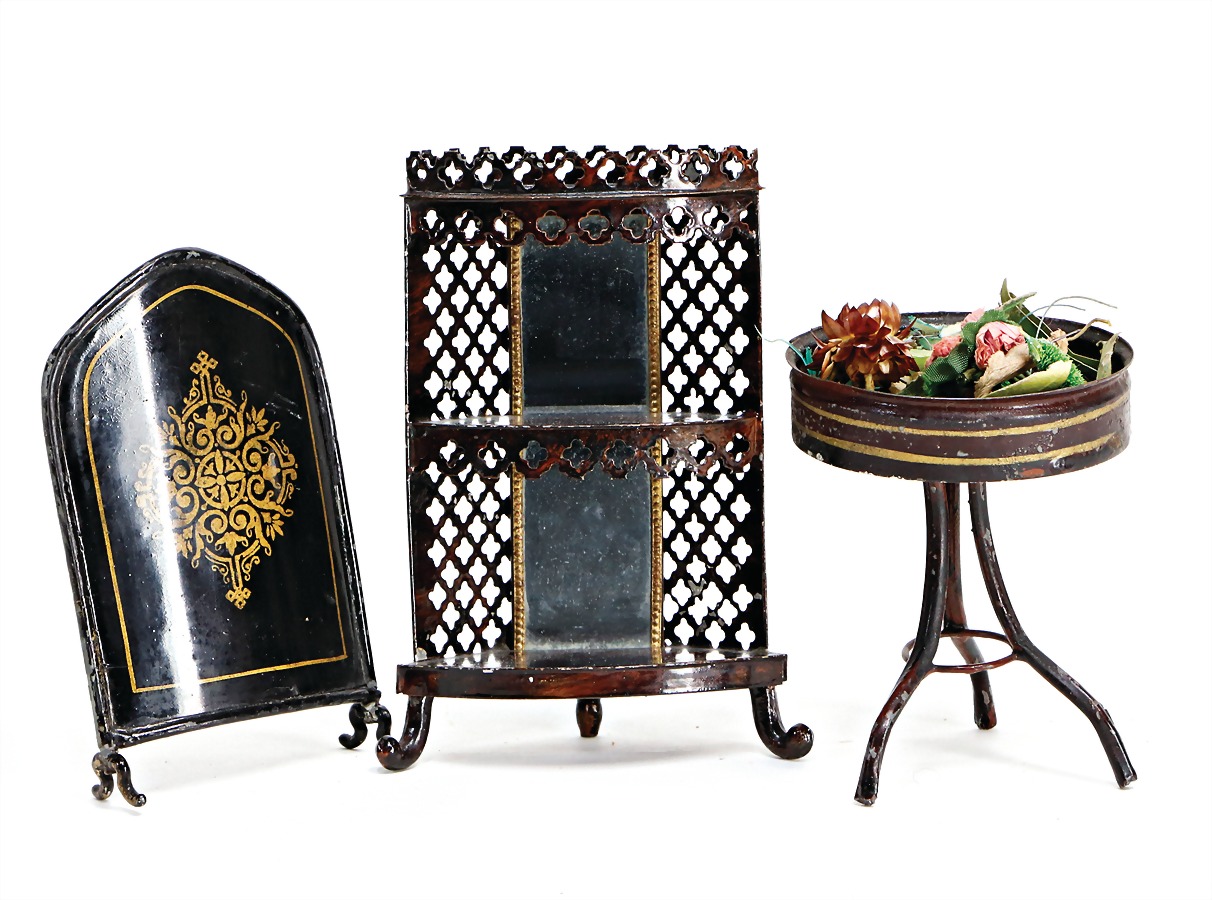 ROCK & GRANER, BIBERACHER BLECH
mirrored corner shelves, 12 cm, 1 fire screen, very good condition, with 1 flower table, handpainted sheet metal
---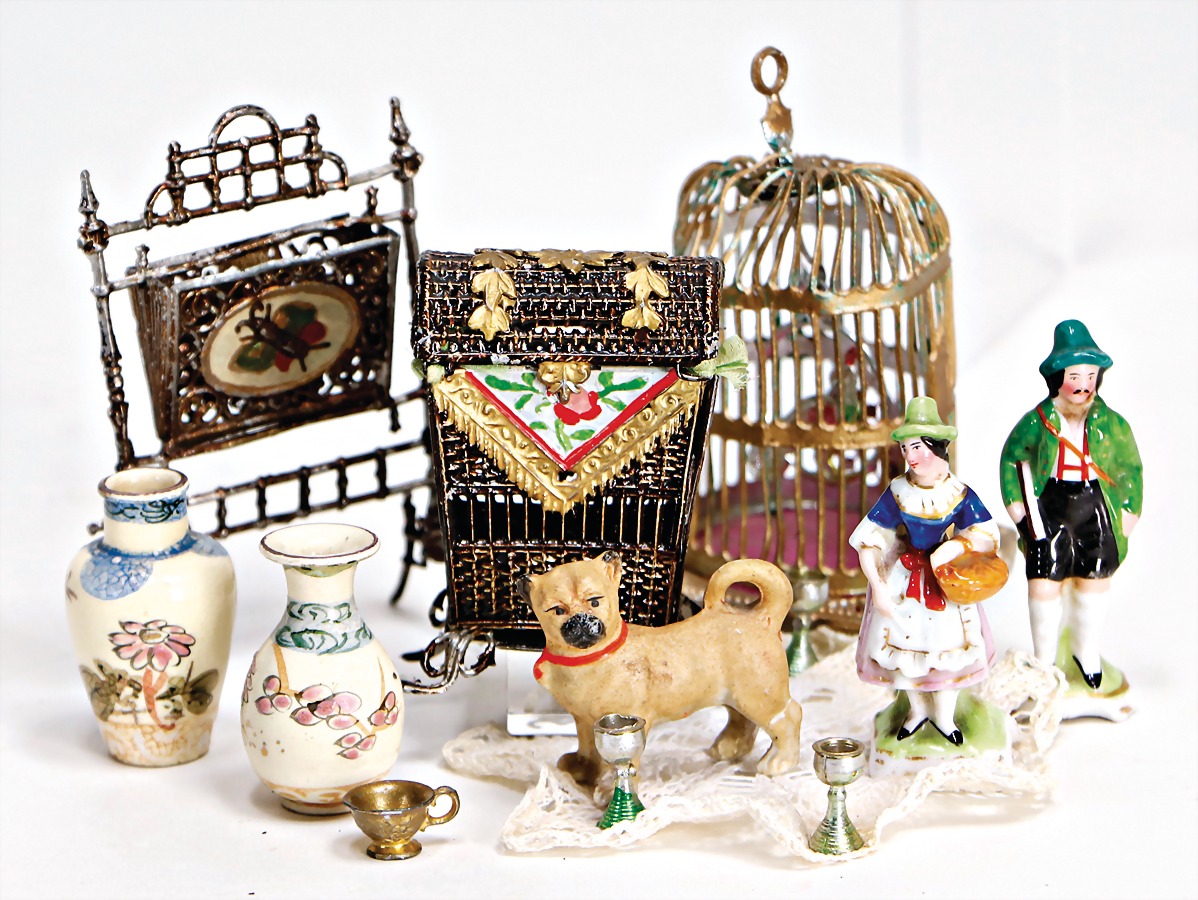 dollhouse decoration pieces, tin, birdcage (at the top slightly warped), 1 magazine rack, small umbrella stand, 1 foot missing, 2 ceramic vases, 2 porcelain figures, Bully, porcelain, 1 foot was glued

---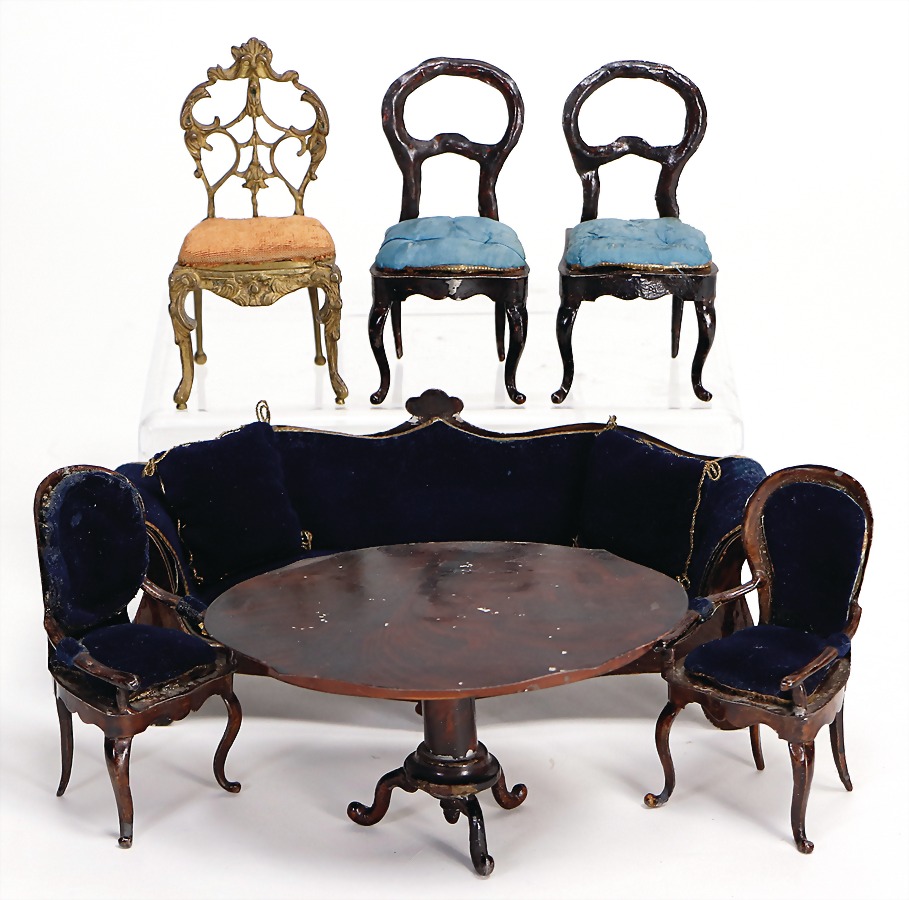 ROCK & GRANER, BIBERACHER BLECH
living room furniture, sofa, 21 cm, 2 armchairs, blue velvet cover, with 2 chairs, light blue silk cover, 1 chair made of casting
---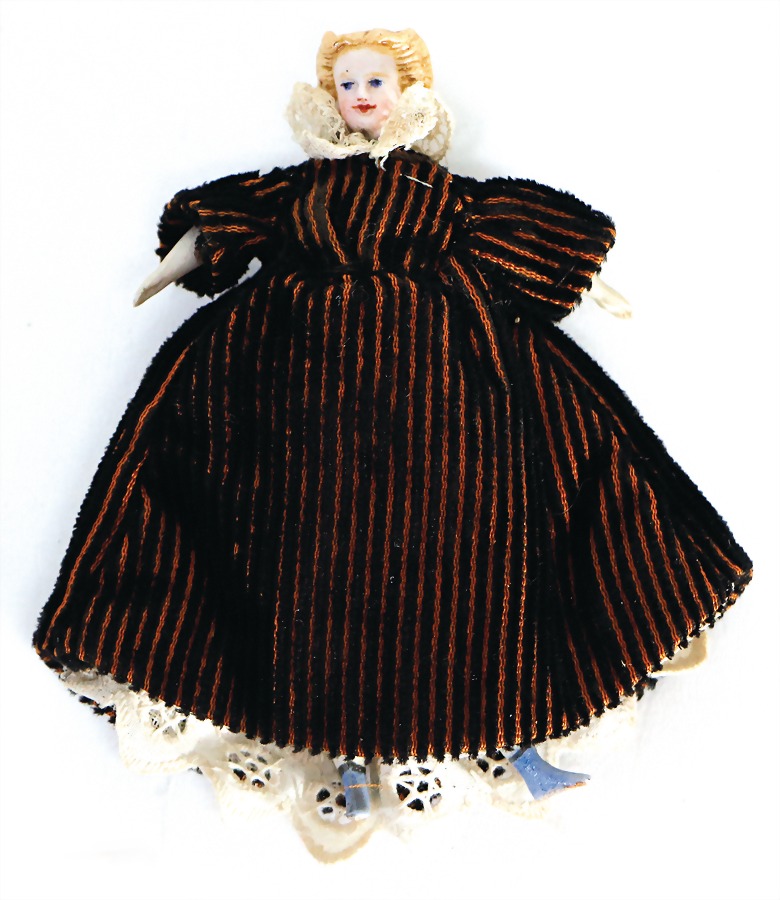 dollhouse doll, c. 1880, 10 cm, bisque shoulder headed doll, painted eyes, exceptional fine modelled hairstyle, fabric body, porcelain arms and legs, with up-painted boots, old clothes and underwear

---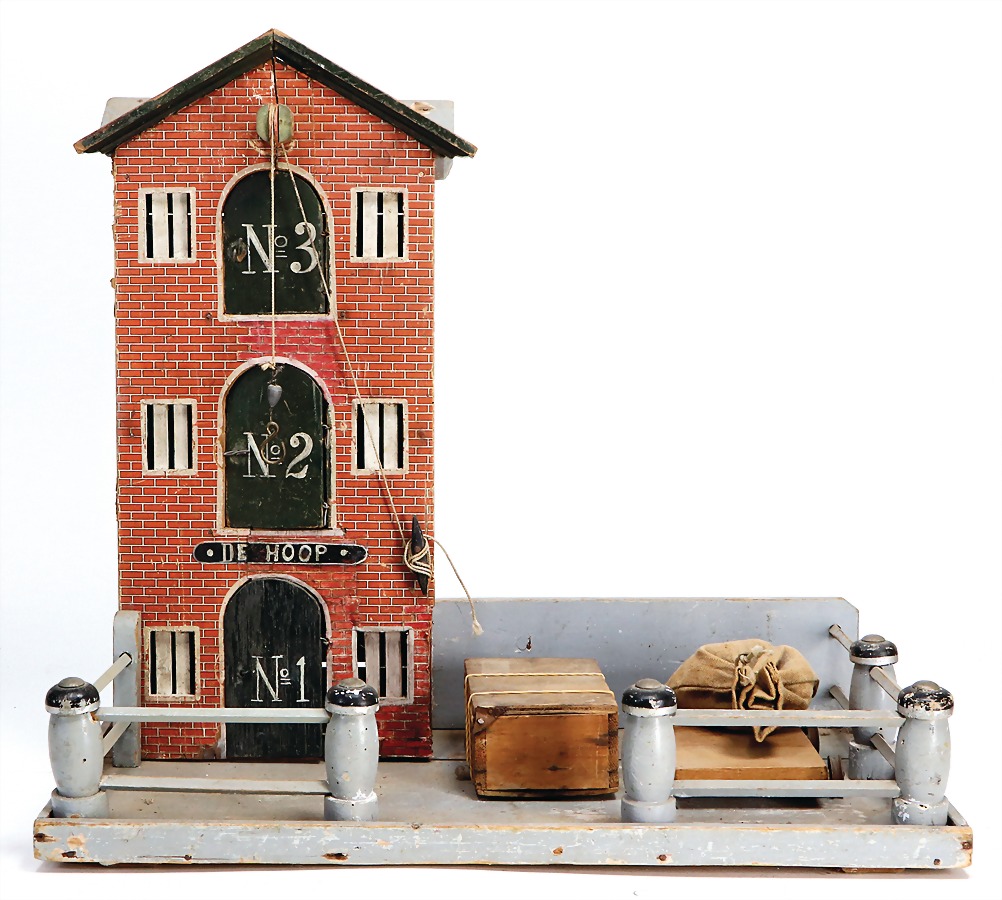 house, height: 71 cm, wood, stuck with brick pattern wallpaper, partially painted, used, original condition, the wallpaper  is caused of old age in worn condition

---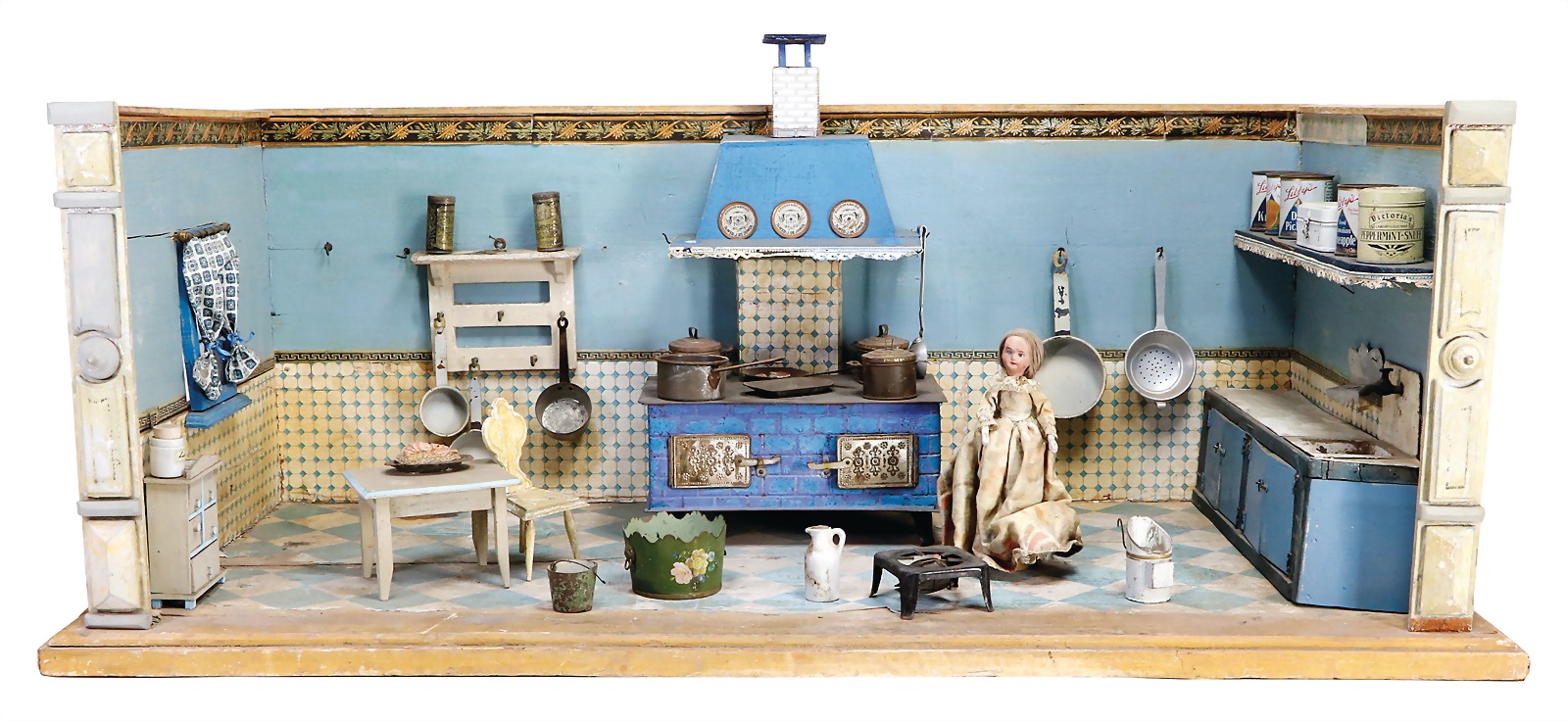 kitchen with chimney hood, 1.02 m wide, 45 cm tall, old wallpaper at floor is stronger worn, old painting, fix built-in chimney hood, without fire place, stove was probably afterwards supplemented, with equipment, front border parts were supplemented, cracks at ground, side walls are slightly loosely

---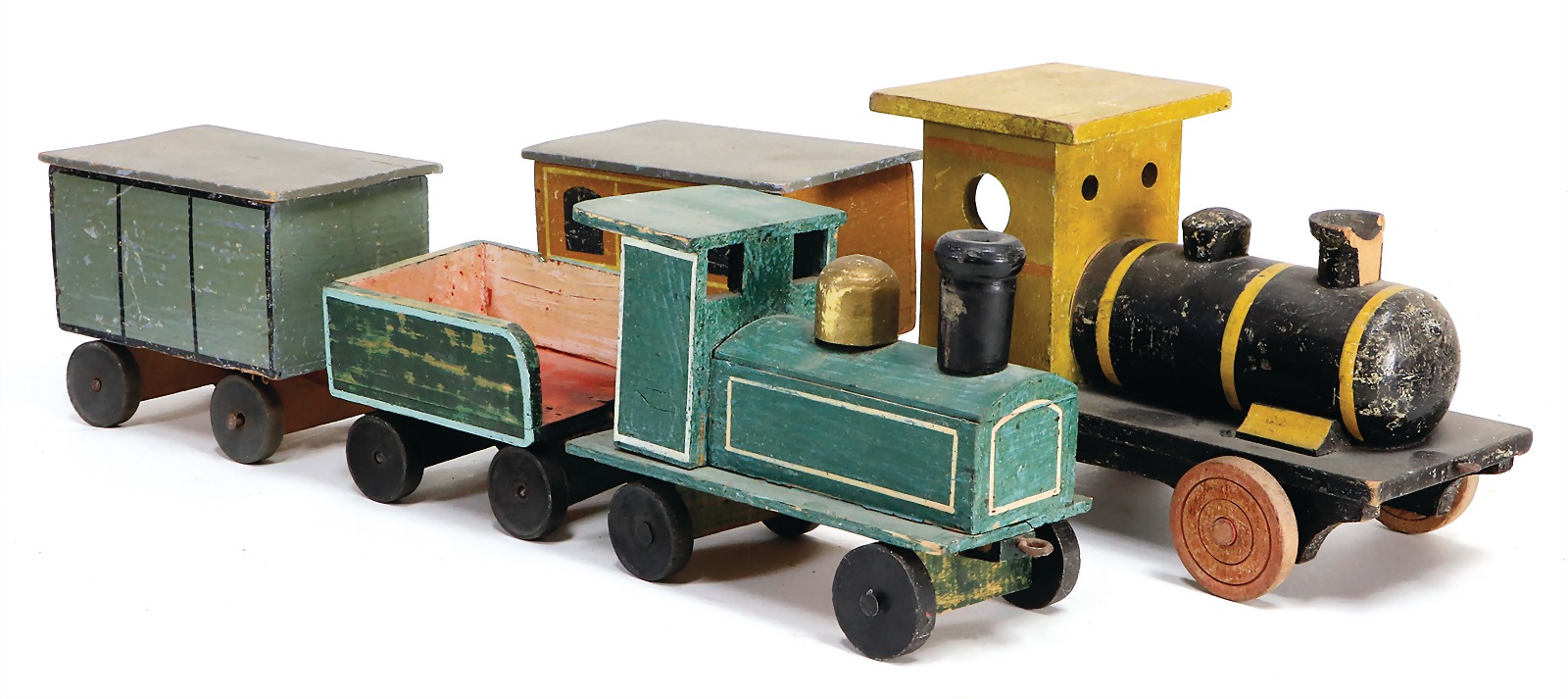 ERZGEBIRGE
train, wood, colored, steam locomotive with separate tender B, 30 cm, 1 freight waggon, 1 passenger coach, 1 locomotive without tender, a little bit taller, funnel is damaged, one corner at the roof of the driver's house is break off, original condition
---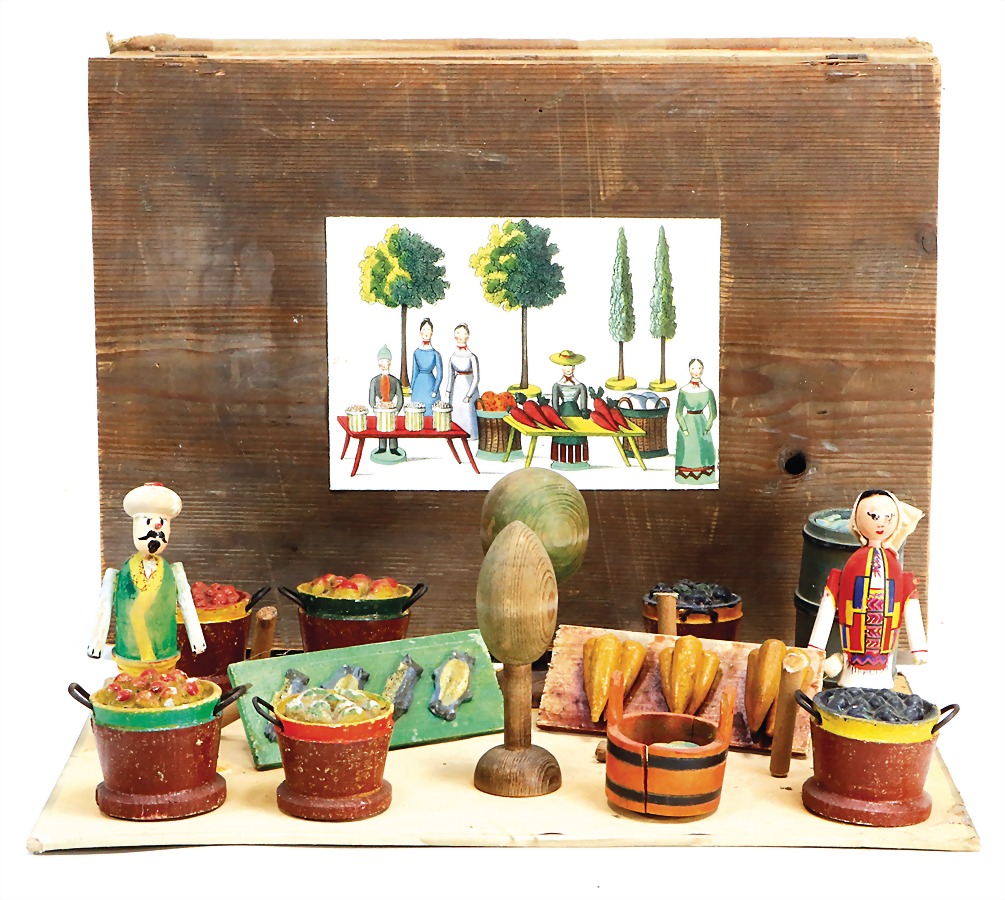 ERZGEBIRGE
stand, 2 Middle Eastern sellers, height 9.5 cm, 8 barrels, 2 tables, some table legs were glued, original condition, cover picture at wooden box was supplemented
---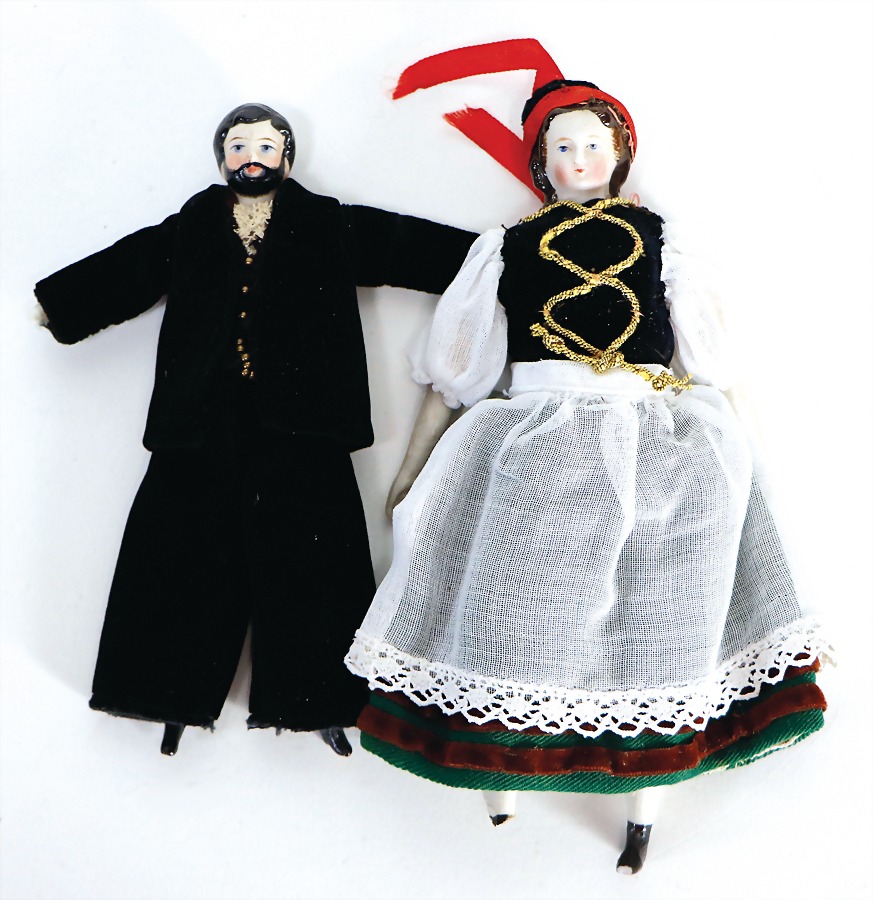 2 pieces dollhouse dolls, man, 13.5 cm, bisque shoulder headed doll, painted eyes, with beard, fabric body, bisque arms and legs, 1 foot was unhandsome glued, 1 dollhouse doll, lady, 10 cm, bisque shoulder headed, arms and legs, 1 tiptoe is knocked, 1 foot is break off, old clothes and underwear

---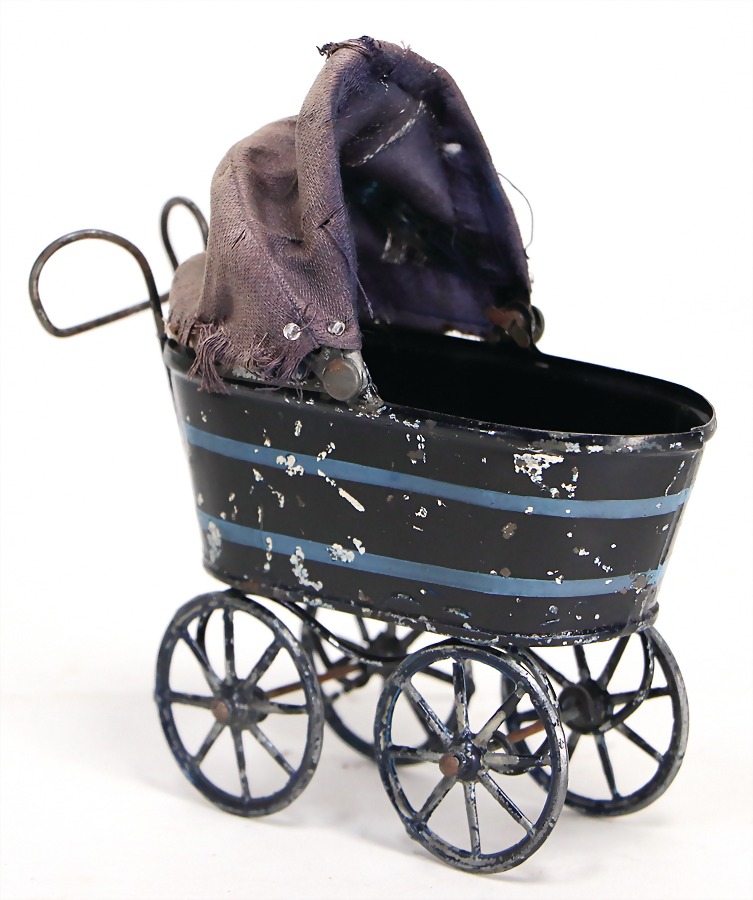 dollhouse pram, handpainted sheet metal, 12 cm, with original convertible top, fabric is caused of old age slightly worn, the scratches on the paintwork are caused of old age, around 1900

---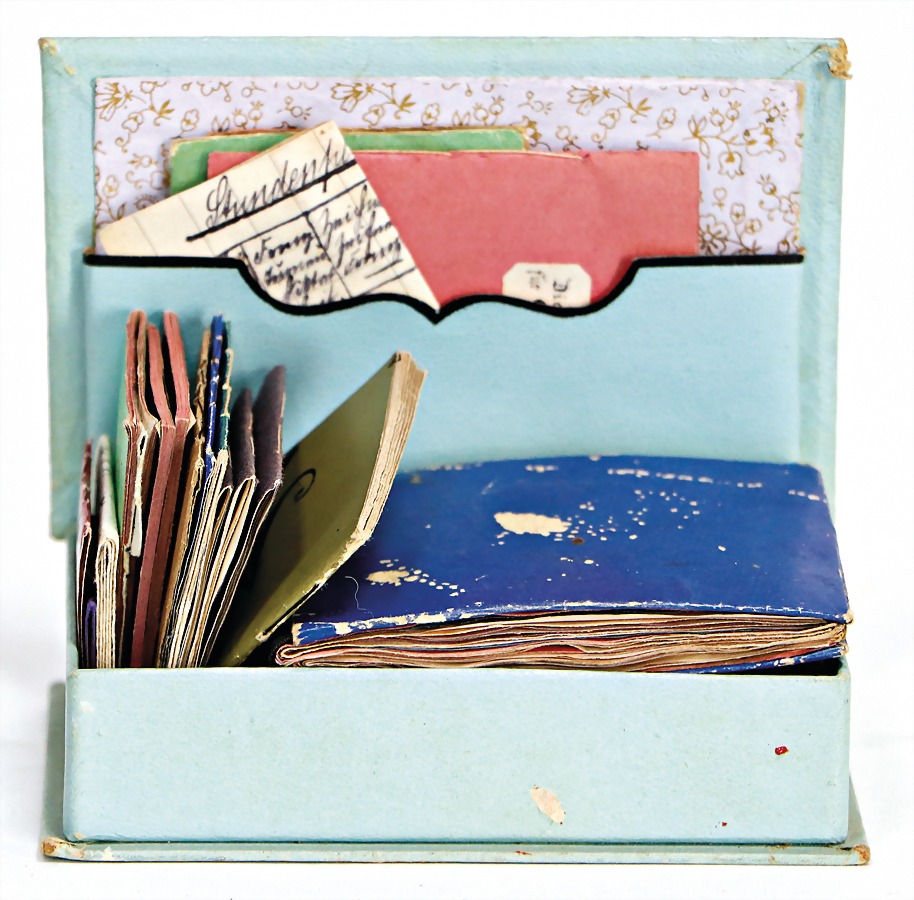 decoration pieces for a dollhouse school, booklets, timetable, small autograph book with early wafer pictures, unusual

---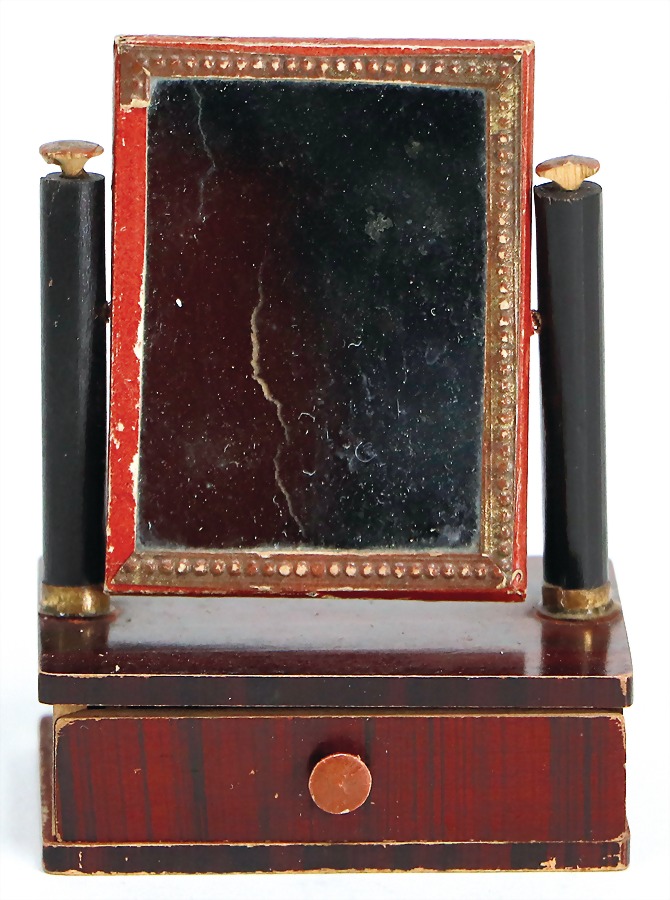 tiltable mirror with drawer, 7.5 cm, for a stately room or for a fashion shop

---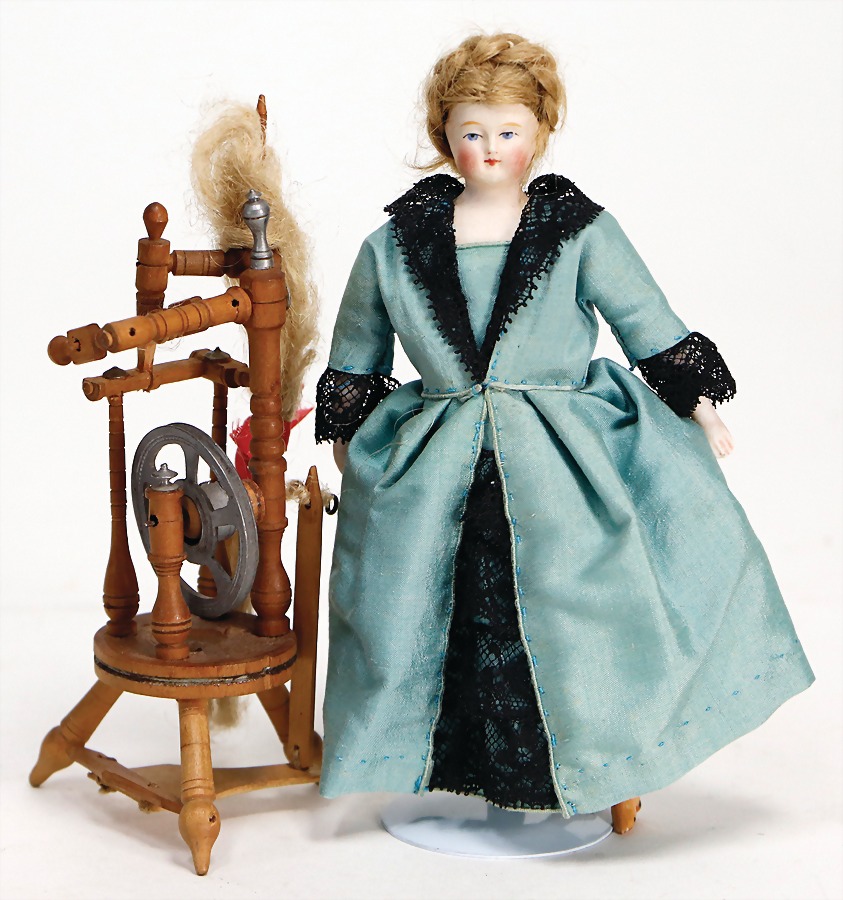 dollhouse doll, lady, 15.5 cm, bisque shoulder headed doll, painted eyes, closed mouth, bisque arms and legs, up-painted boots, 1 foot was glued, old clothes, with 1 spinning wheel, wood and tin parts, height: 14 cm

---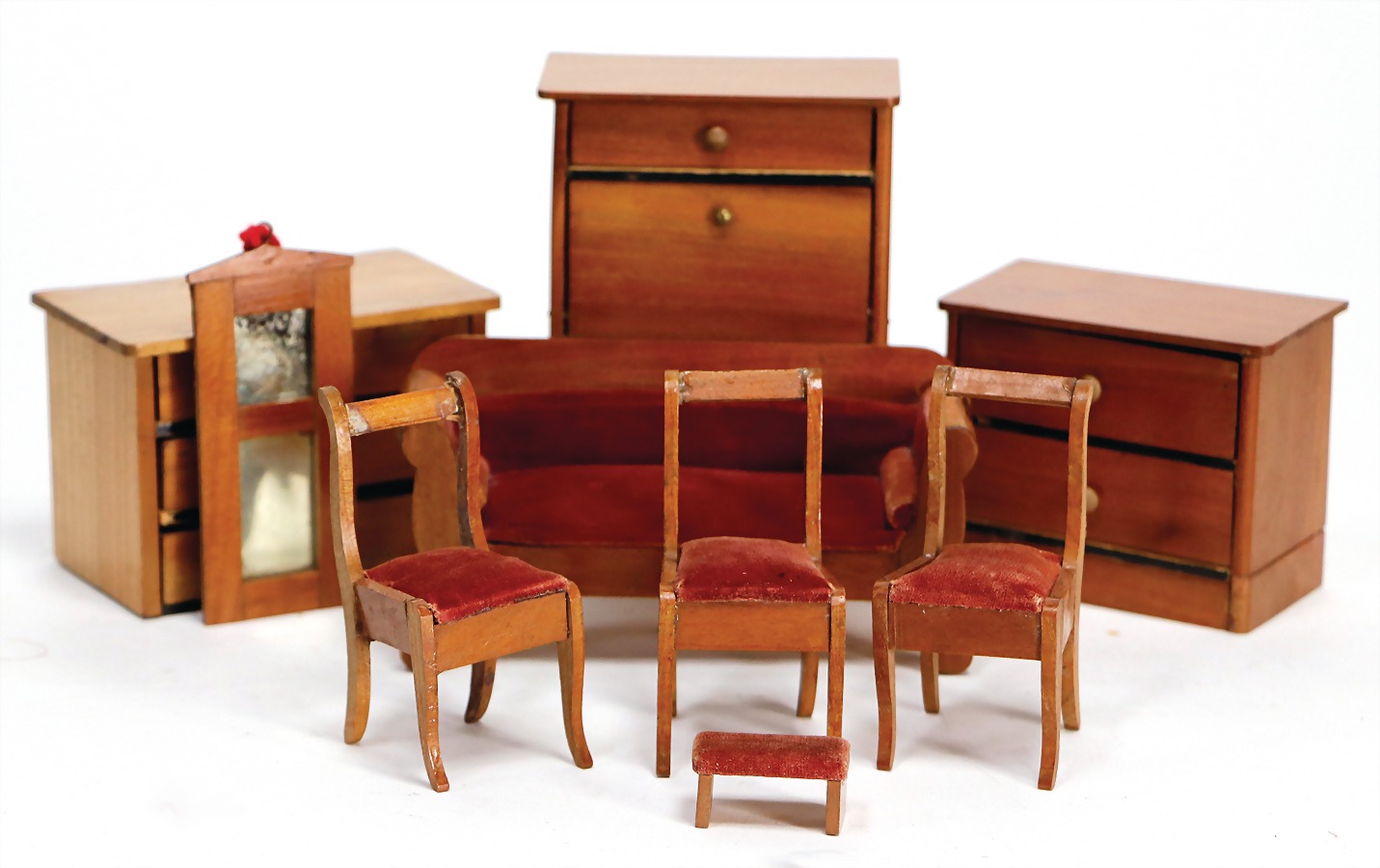 dollhouse furniture program, pear tree, bureau, height: 12 cm, living-room suite without table, 2 chests of drawers, mirror

---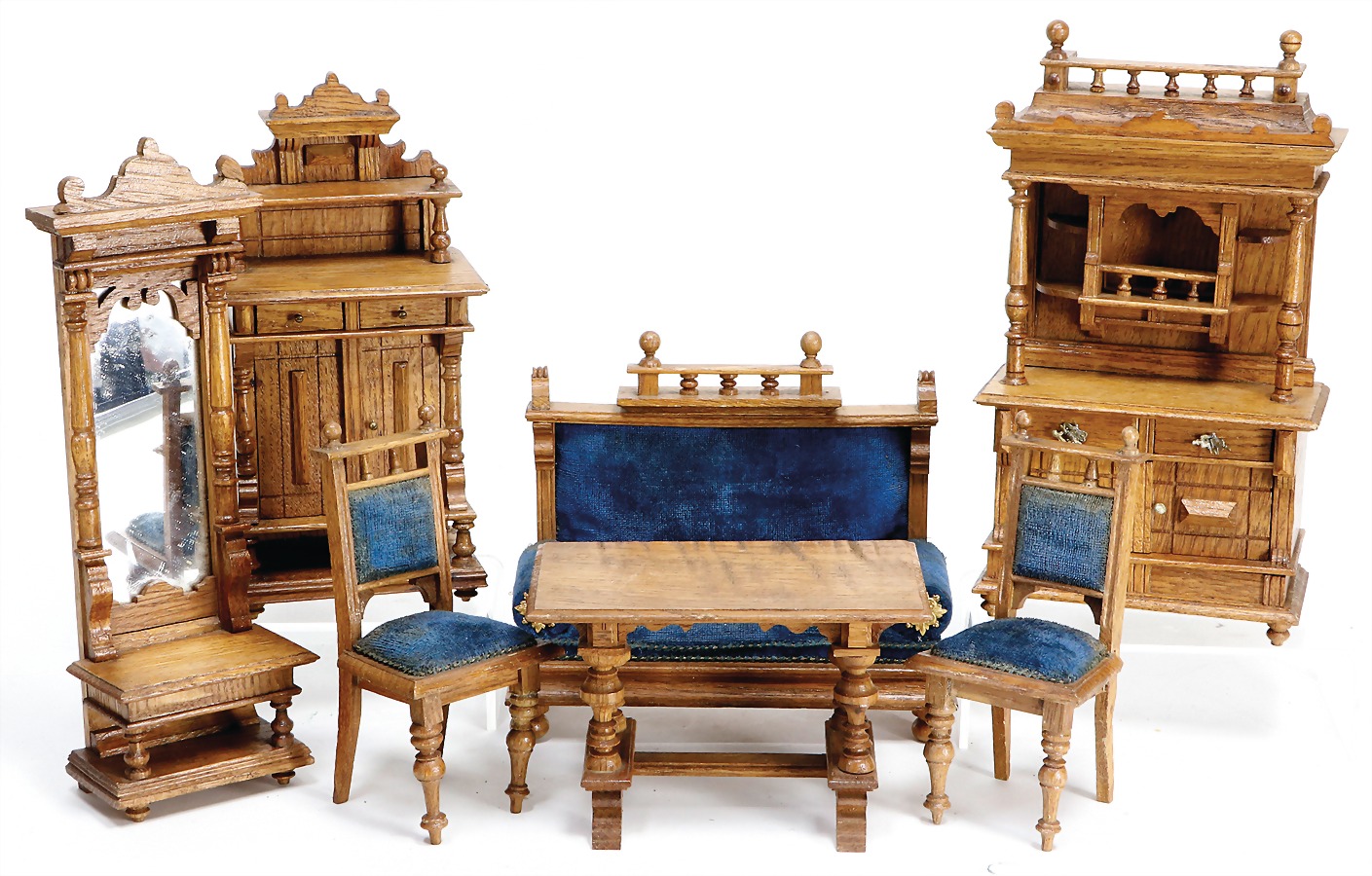 stately dollhouse Wilhelmine era furniture, living-room suite with sofa, height: 16.5 cm, mirror, cupboard, height: 25.5 cm, 1 chest of drawers, good condition

---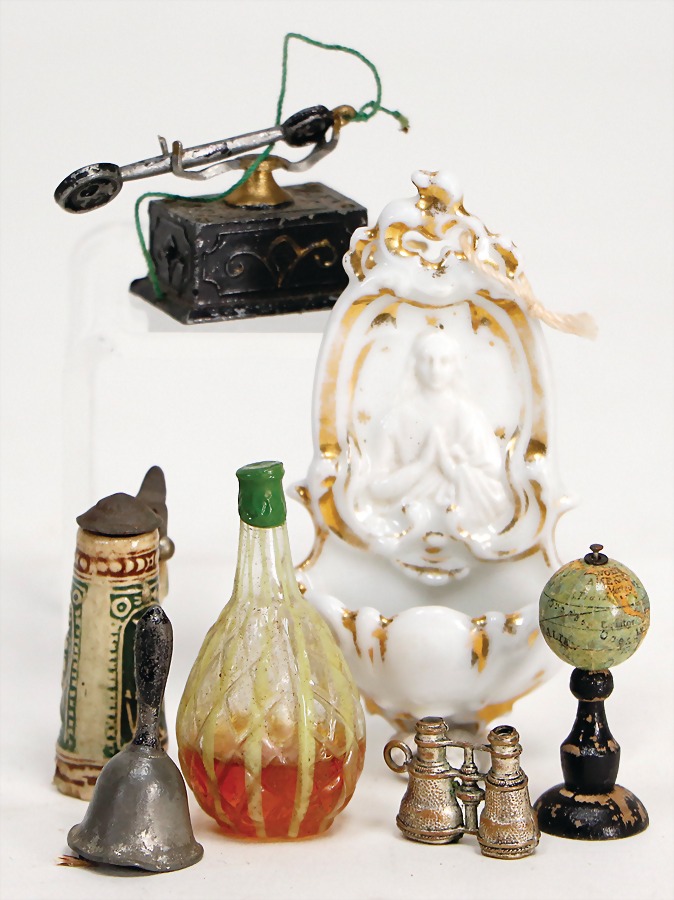 mixed lot of dollhouse decoration pieces, small globe, 4 cm, telephone, binoculars, bell, 1 jug with cover, 1 glass bottle

---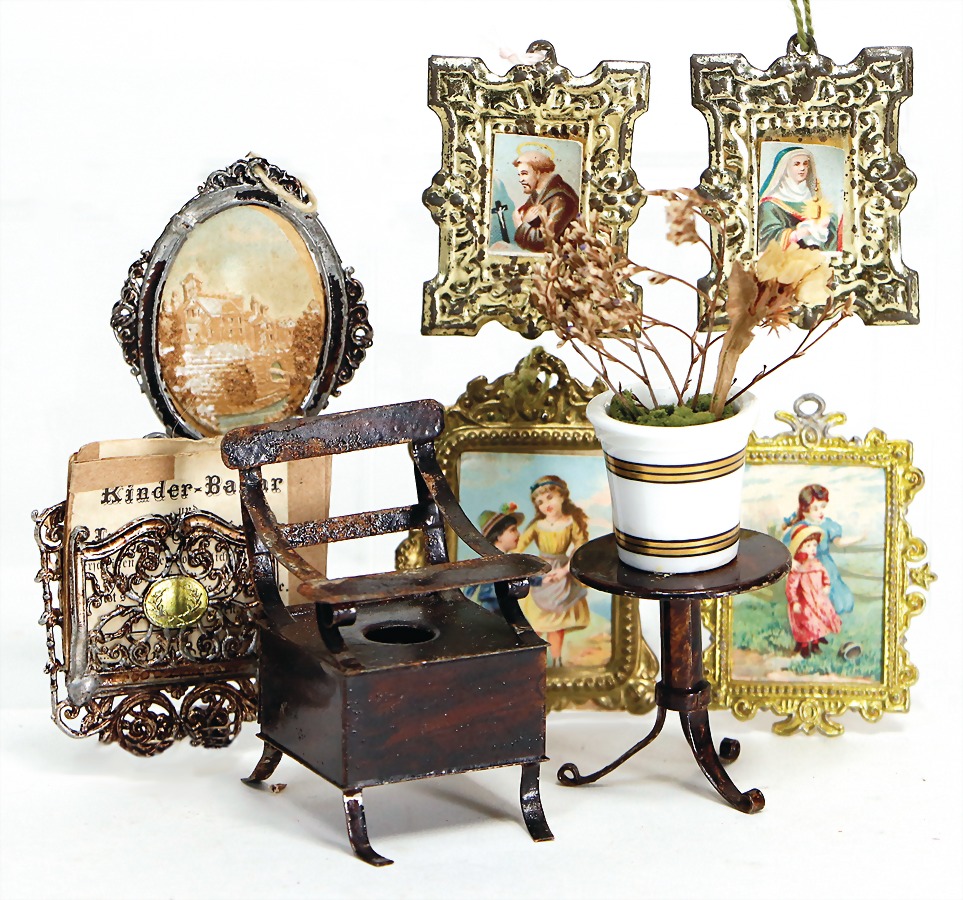 ROCK & GRANER, Biberacher sheet metal
nice lot Rock & Graner, Biberacher sheet metal, child chair, with a compartment for the chamber pot, the  scratches on the paintwork are caused of old age, small flower table, tin magazine rack, some dollhouse pictures, 1 mirror
---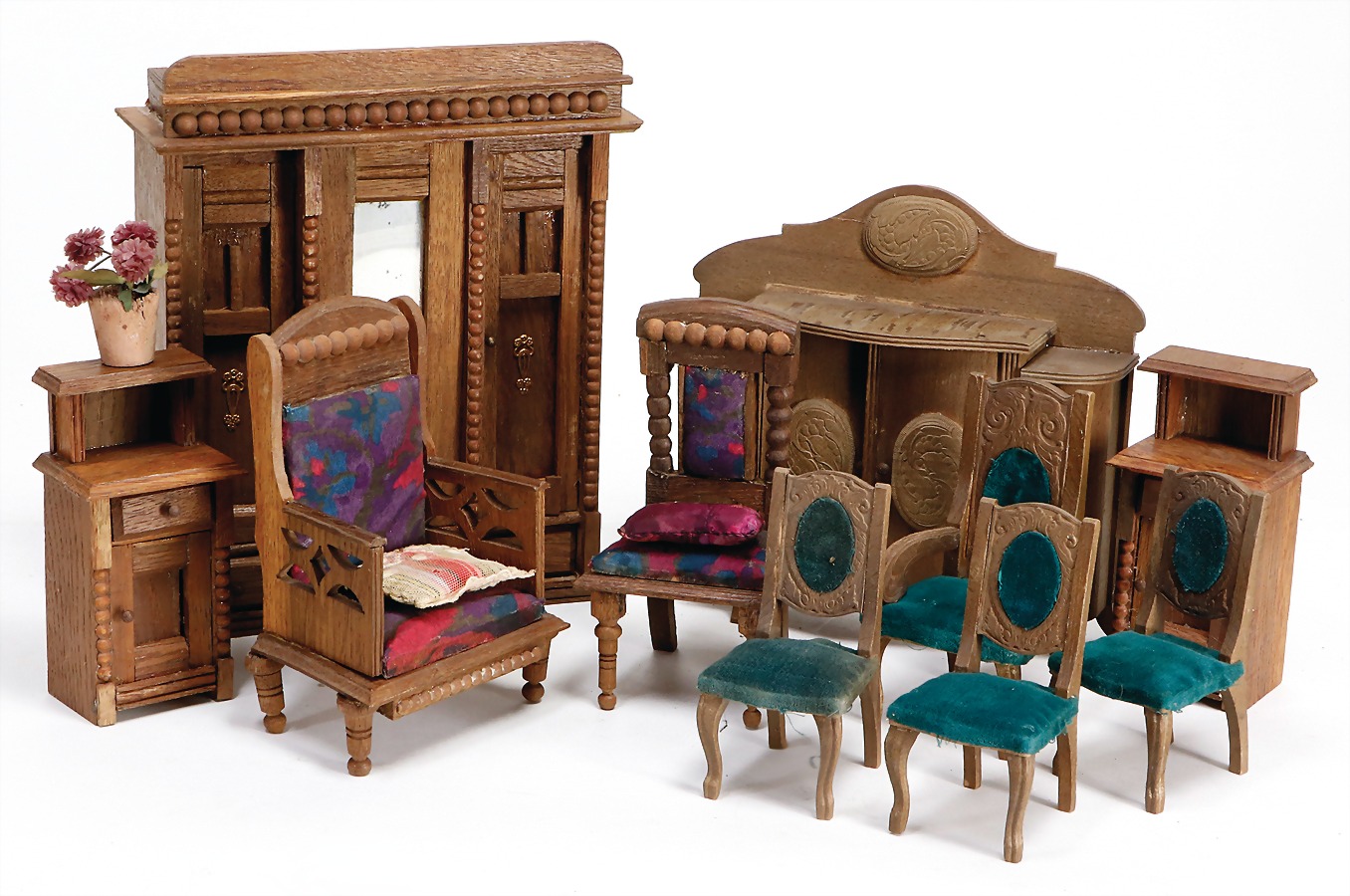 dollhouse furniture, Art Deco and art nouveau, vertiko, height: 19 cm, cupboard, height: 23 cm, chairs, 2 nightstands, mostly good condition, smaller pieces are falling apart

---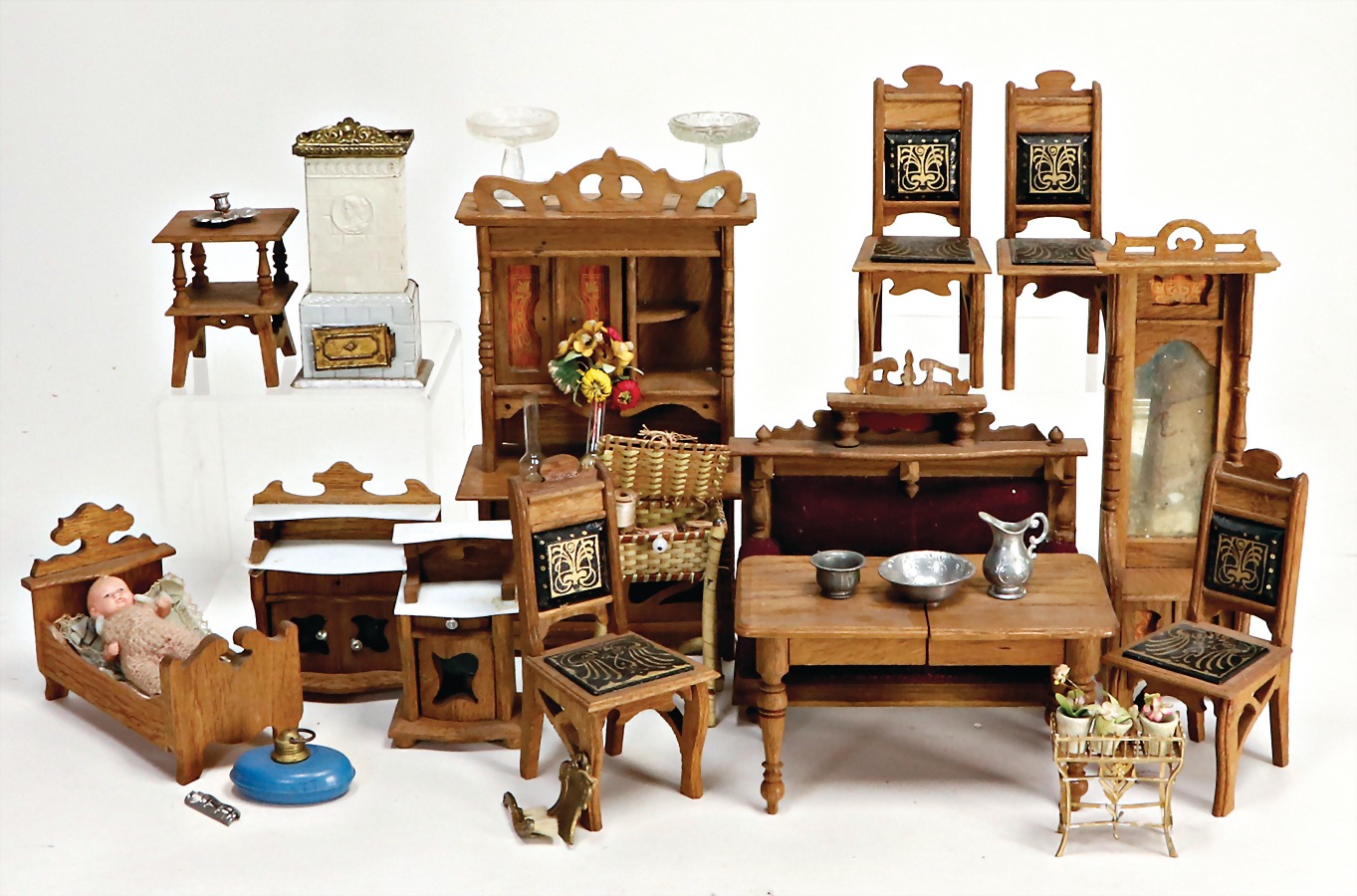 art nouveau furniture program, cupboard, height: 23 cm, sofa, chairs, table, mirror, cot, chest of drawers, 1 sheet metal stove, some accessories

---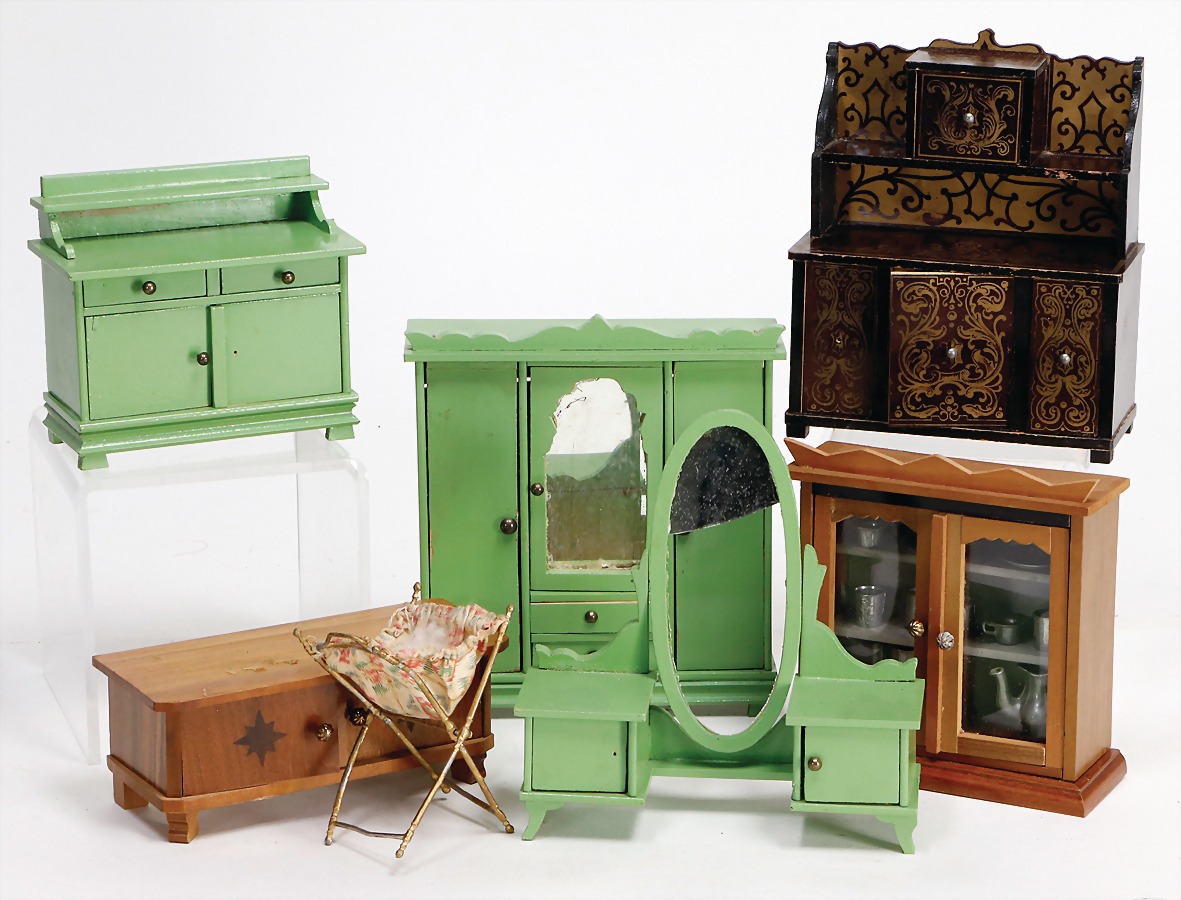 BOULE
mixed lot of different dollhouse furniture programs, cupboard, 14.5 cm, some cupboards are more recent, small tin work basket, some tin parts, mirror, glass is broken
---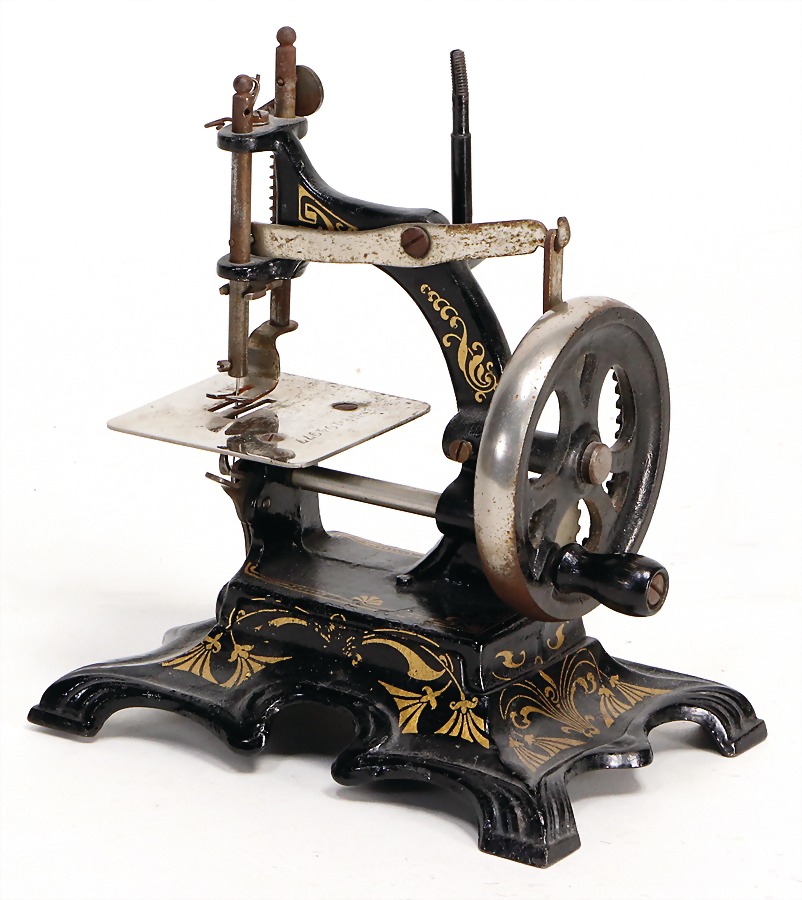 children's sewing machine, casting, art nouveau, 16.5 cm, twine is caused of old age slightly bent, nickel-plated pieces are partially slightly steamed up, otherwise good condition

---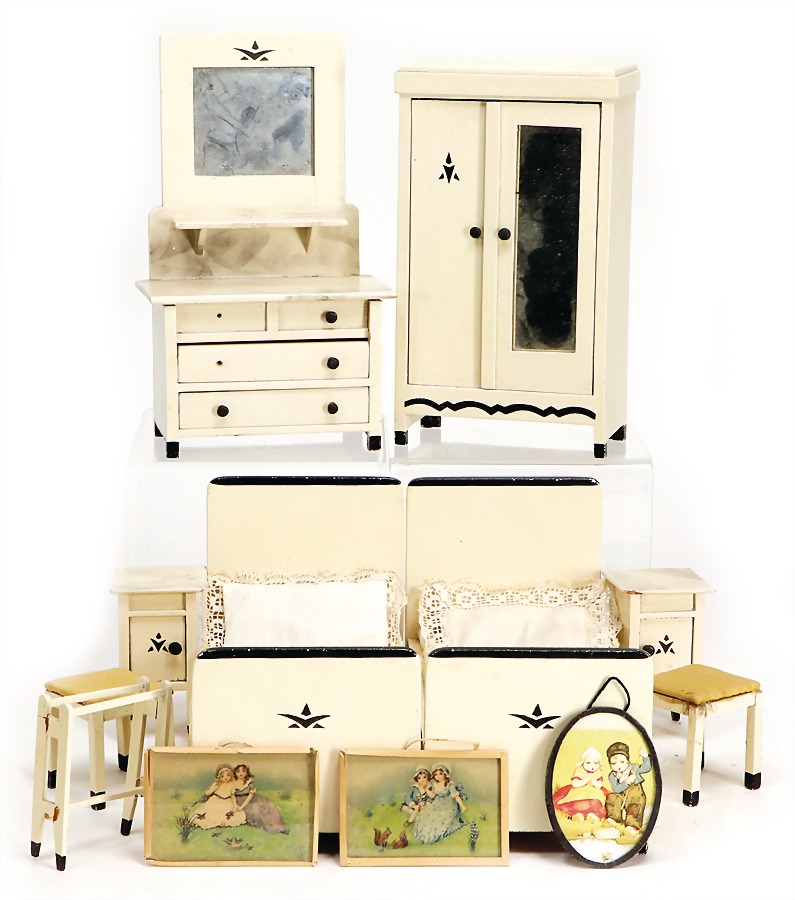 dollhouse furniture program, bedroom, c. 1920, cupboard, height: 18.5 cm, 2 beds, with beside locker, mirror bureau, good condition

---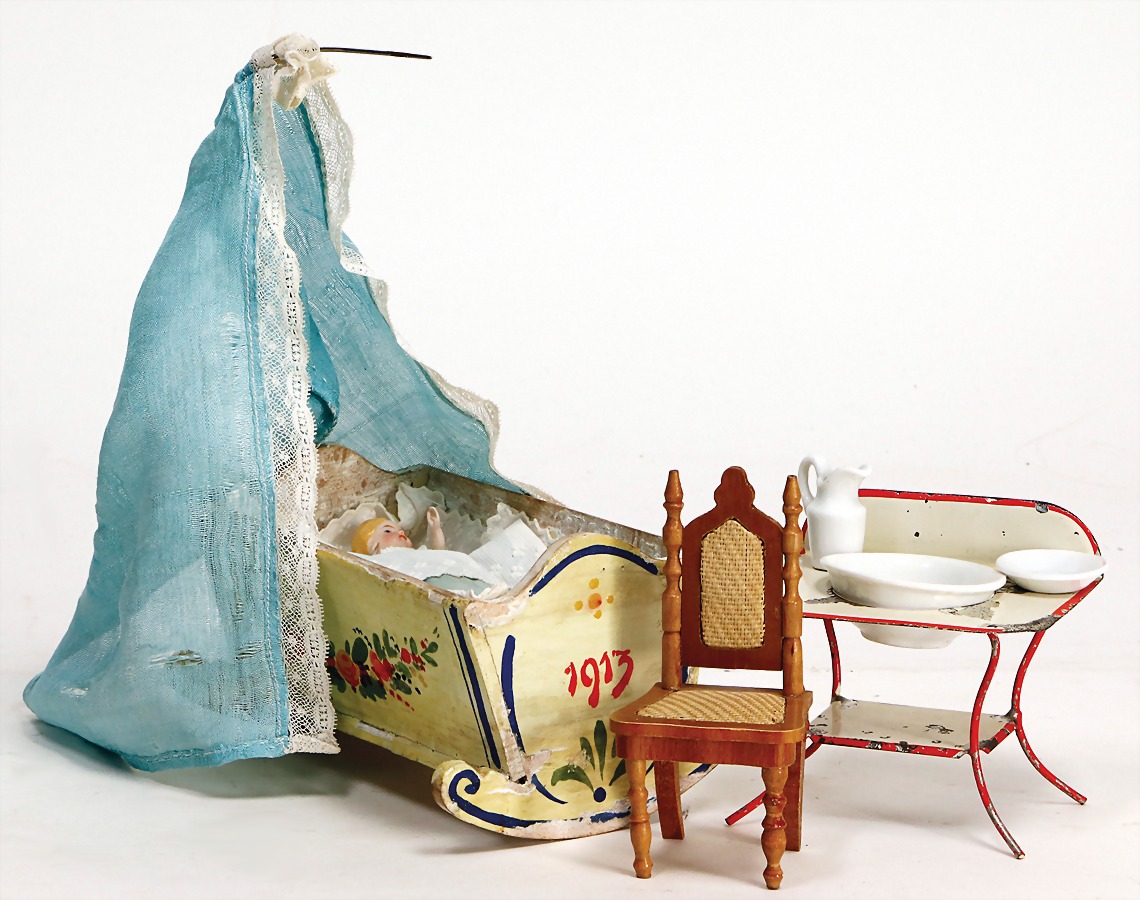 dollhouse cradle, wood, 1913, colored ,, 15 cm, 1 washstand, sheet metal, small porcelain child, 1 chair made of pear tree

---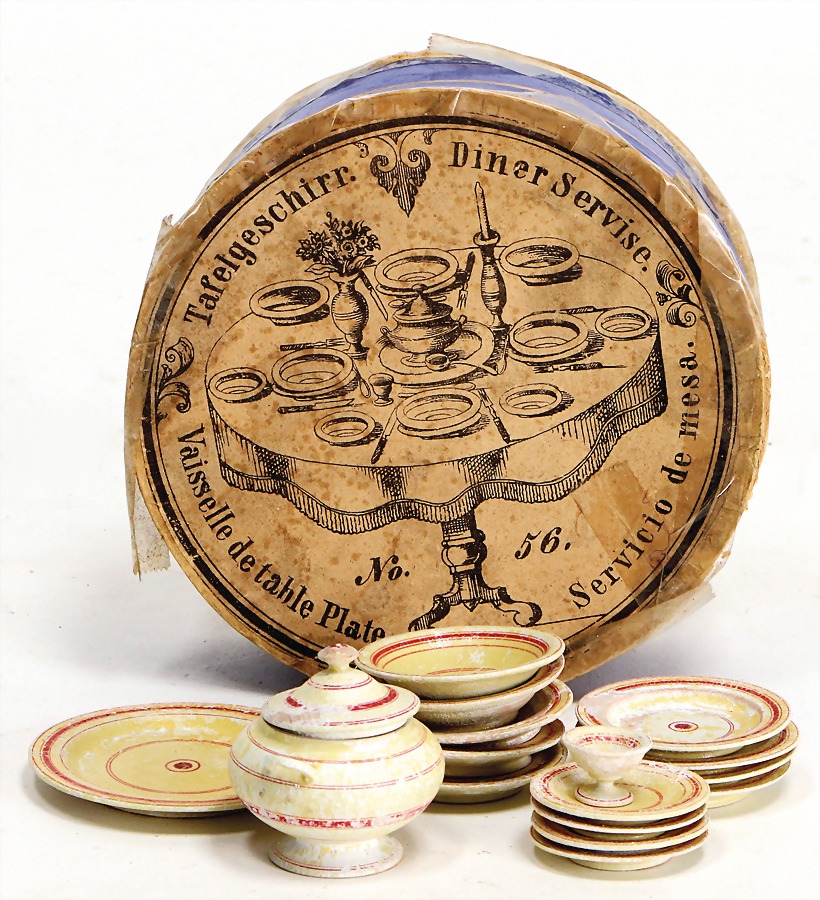 ERZGEBIRGE
dollhouse dinner service made of colored wood , soup tureen, plates, different sizes, 3 tin serviette rings, in original-box, box with adhesive tape at the side, the scratches on the paintwork are caused of old age
---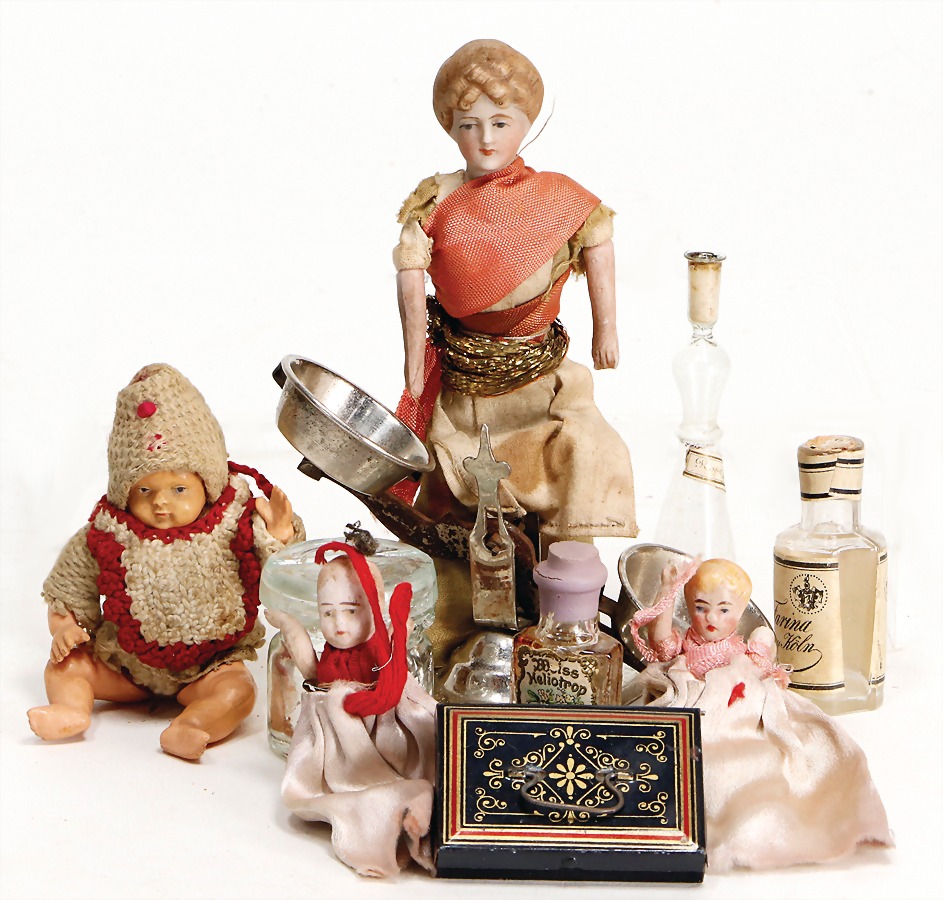 mixed lot of shop decoration pieces, small scales, 12 cm, 4 glass parts, small till, small celluloid doll, 3 small dollhouse dolls, porcelain, dolls with patches with flaws

---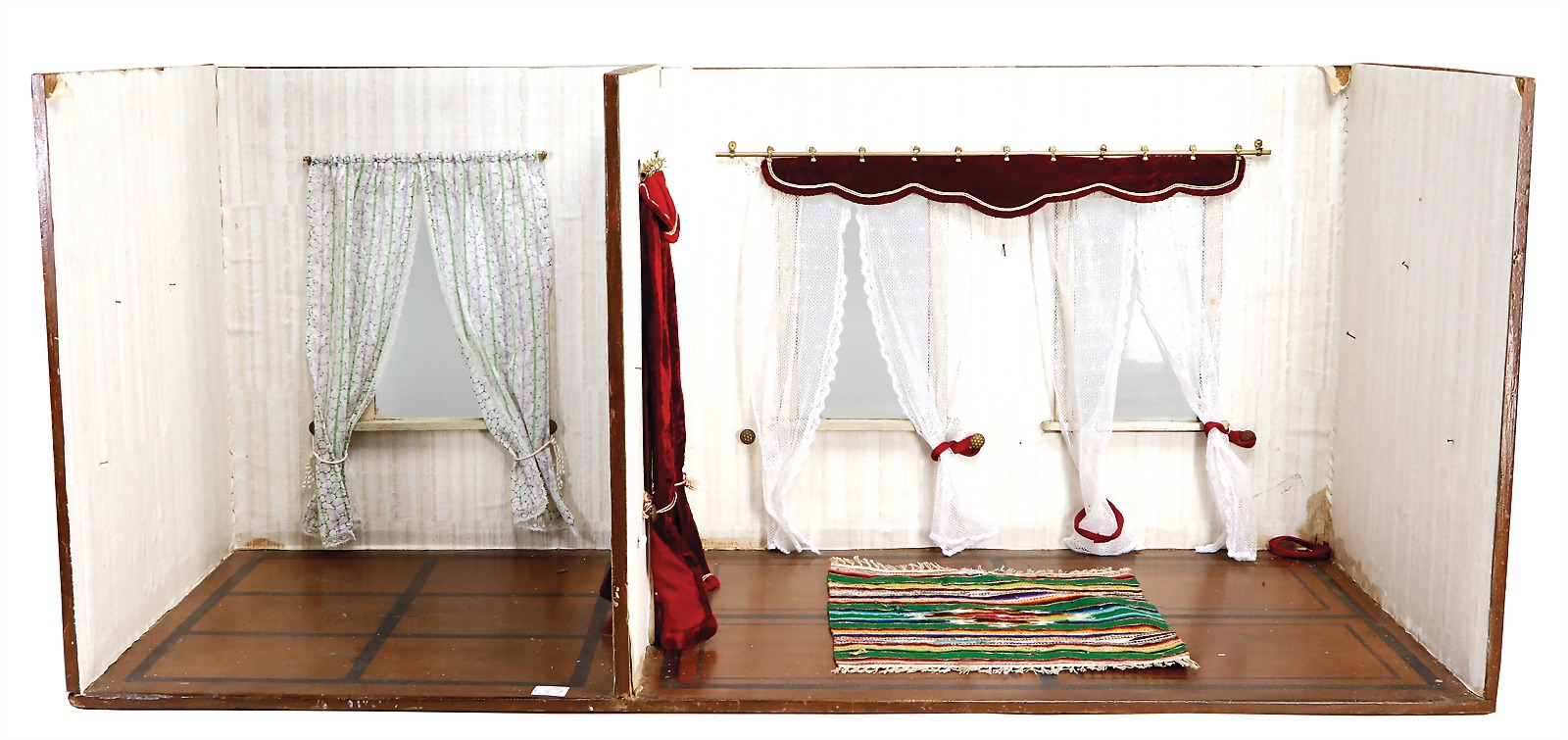 2-part dollhouse room, c. 1870, 84 cm wide, 82 cm tall, with passage, some curtain rods, gilded  brass/sheet metal, original floor painting, original paint outside, wallpaper is more recent

---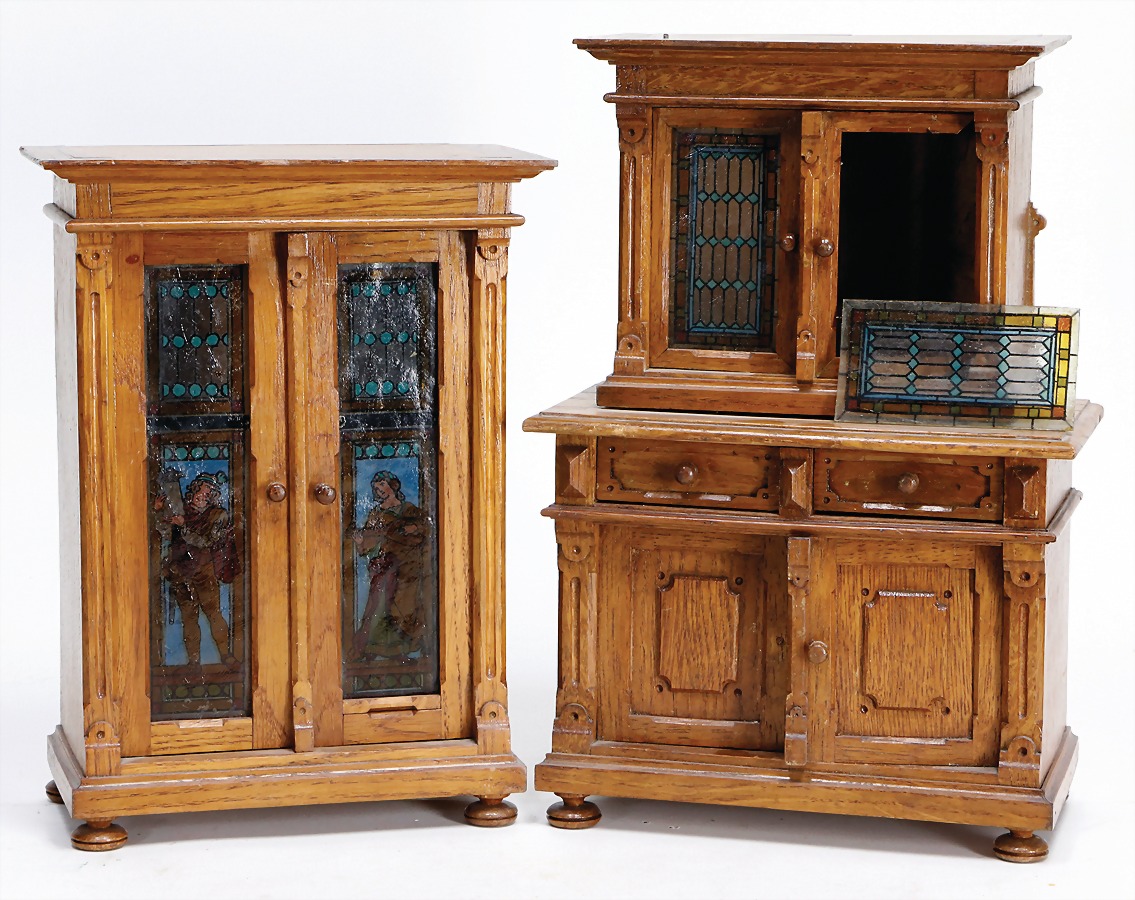 2 pieces dollhouse model furnitures, with up-painted lead glazing, Wilhelmine era, cupboard, height: 28 cm, 1 cupboard, height: 32 cm, oak, at 1 door is a border missing, for a stately big room or for a dollhouse or as doll decoration

---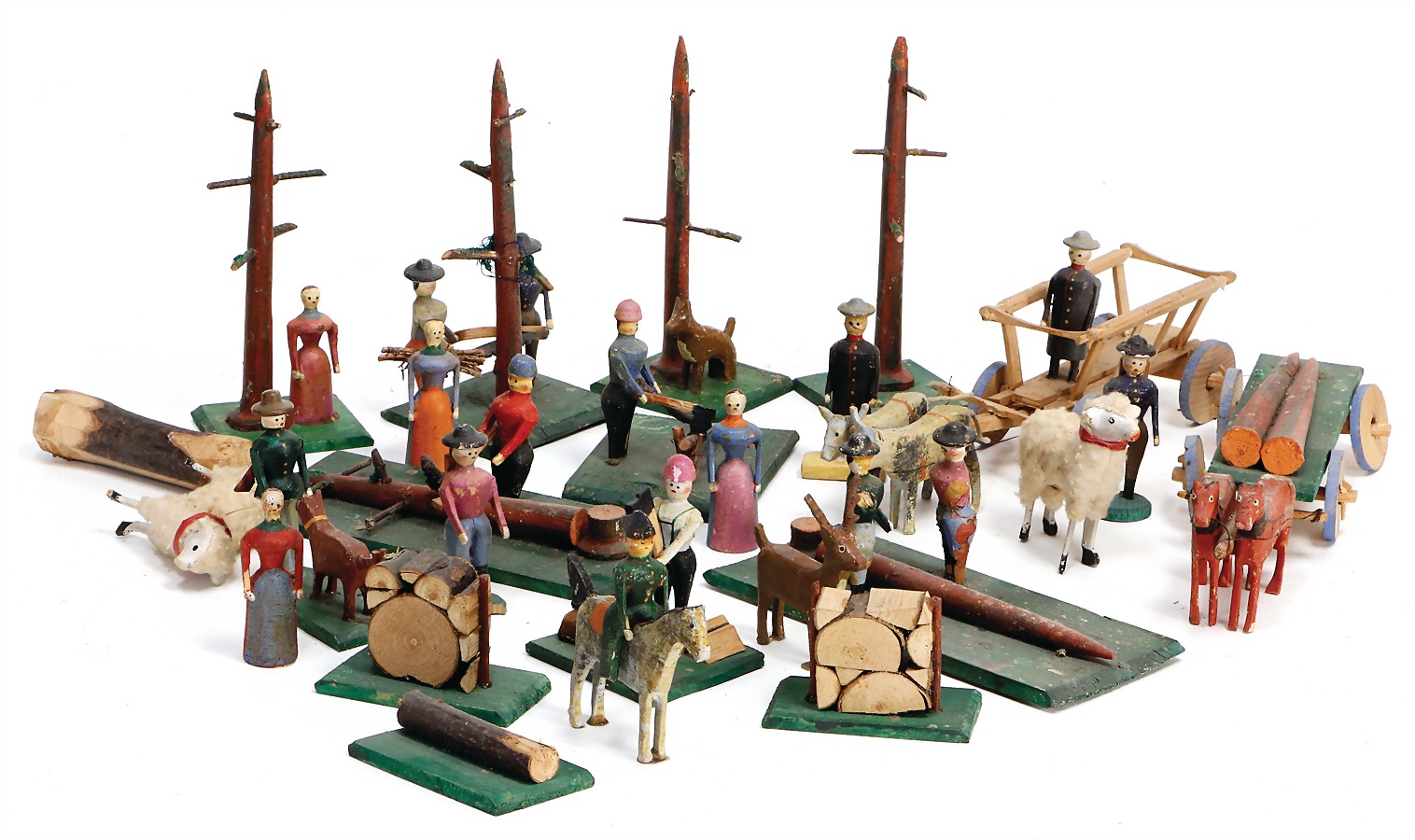 ERZGEBIRGE
cutting down trees, horse and carts, figures, trees, scenes of cutting down trees, in a box made of chipboard without cover, some small articles are missing or the pieces are falling apart
---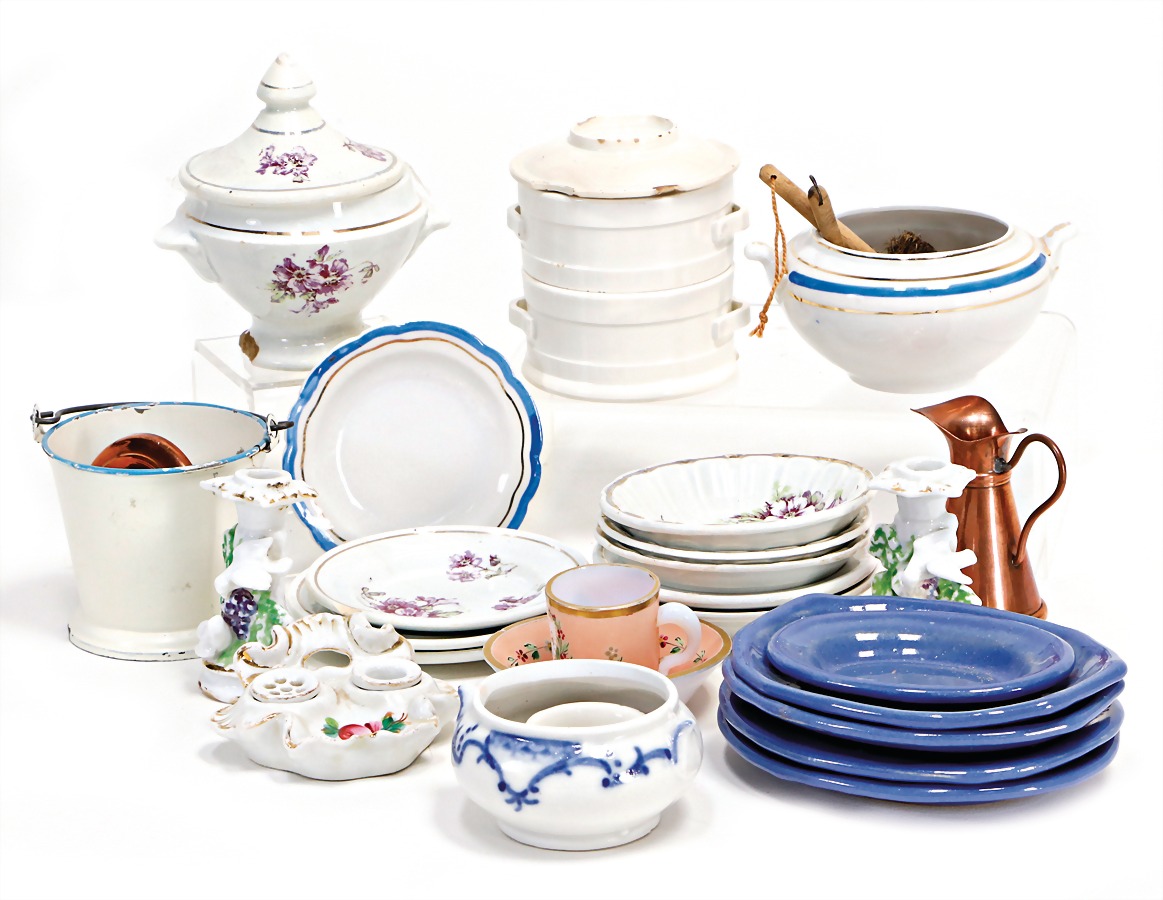 mixed lot of porcelain, ceramic and tin pieces, 2 candelabrum bowls, plates, 1 meal carrier, writing things, 7 cm wide, n.a.T.f.

---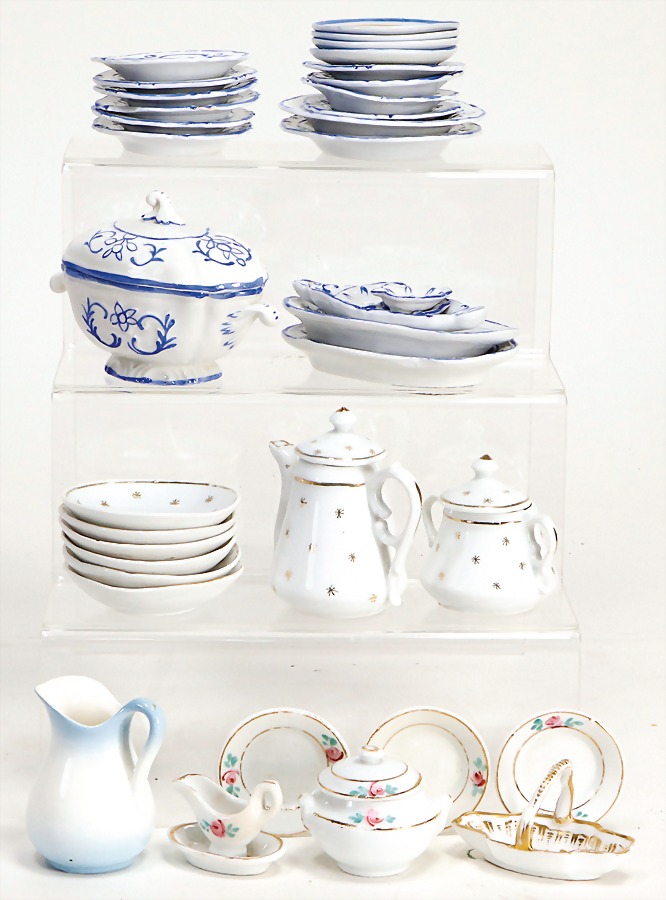 nice lot of doll kitchen parts, porcelain, dinner service, coffee set, 1 wash set, ceramic, height: coffee pot 8 cm, mostly in good condition

---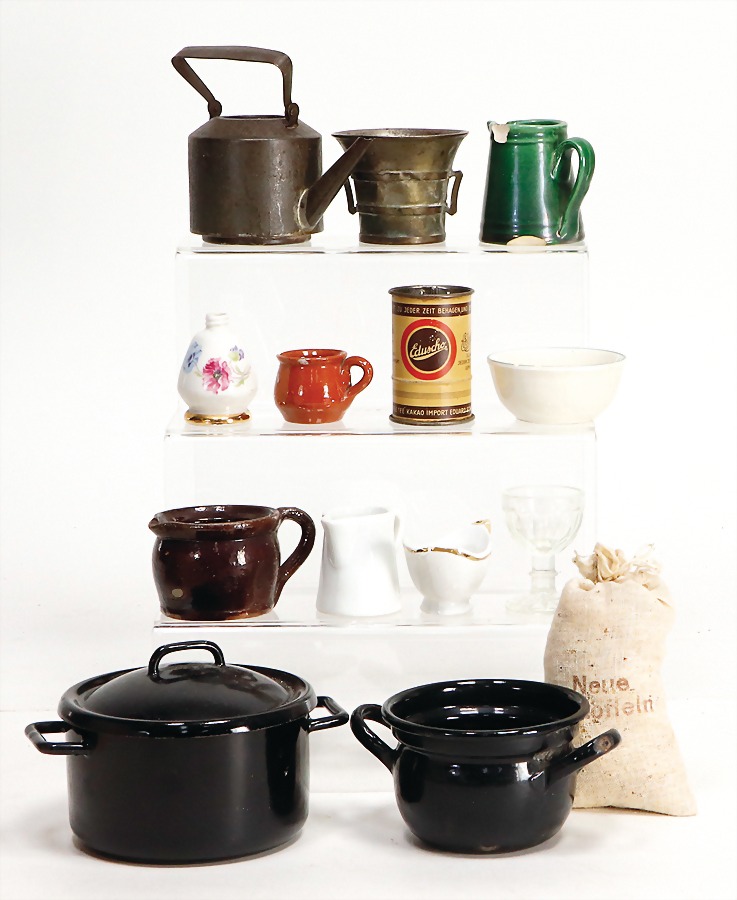 fr. mixed lot of doll kitchen parts, for mid except of larger kitchen, tinplate, enameledsheet metal, porcelain, wood, ceramic, with 1 children's small cookbook, usefull Christmas gift for girls, 1900 - 1920, n.a.T.f.

---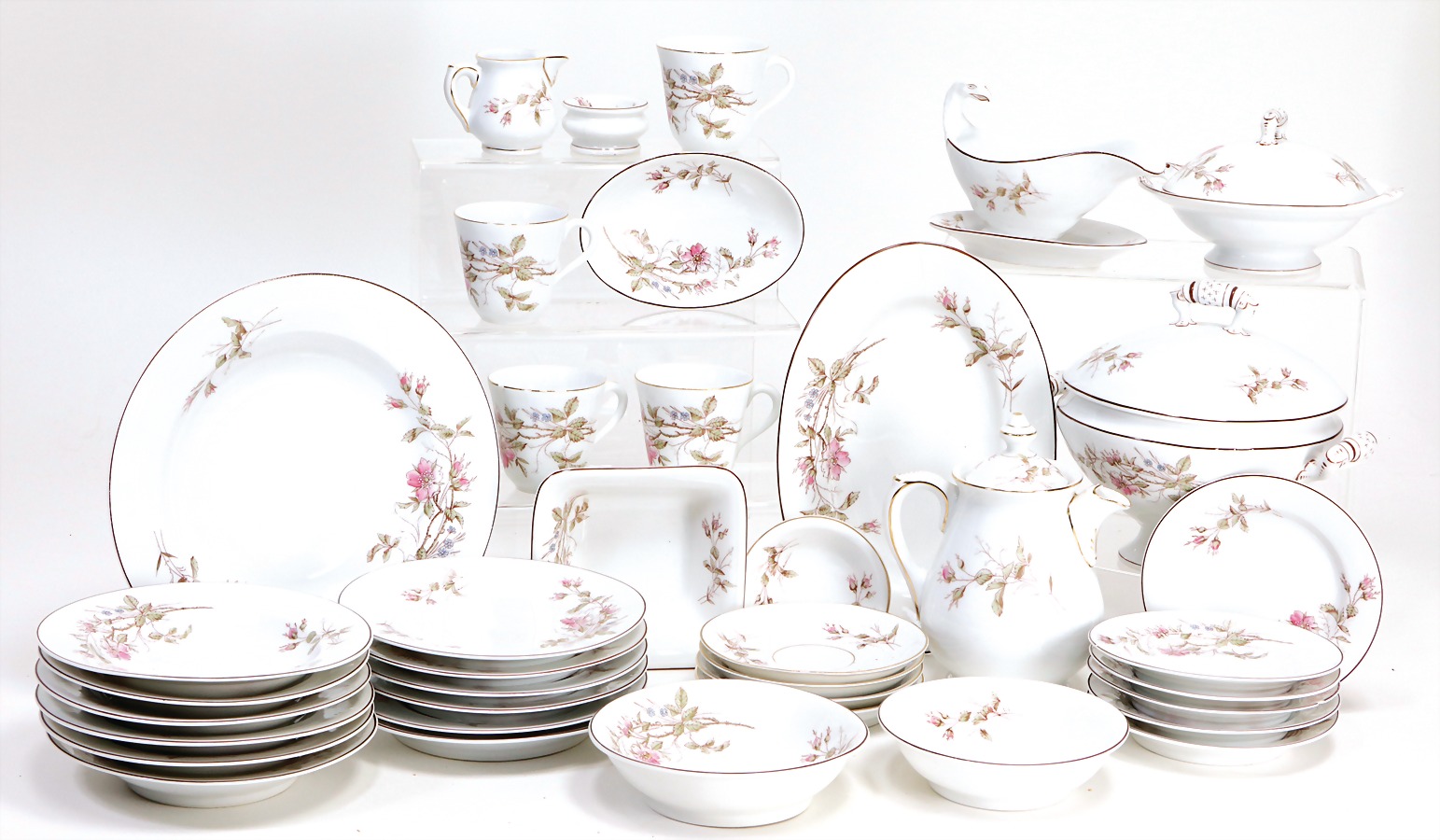 mixed lot of porcelain, children's dinner and coffee set, motive strawflower, soup tureen with a diameter of 14.5 cm, plates, cups, bowls, sauce boat was glued, coffee pot, milk can

---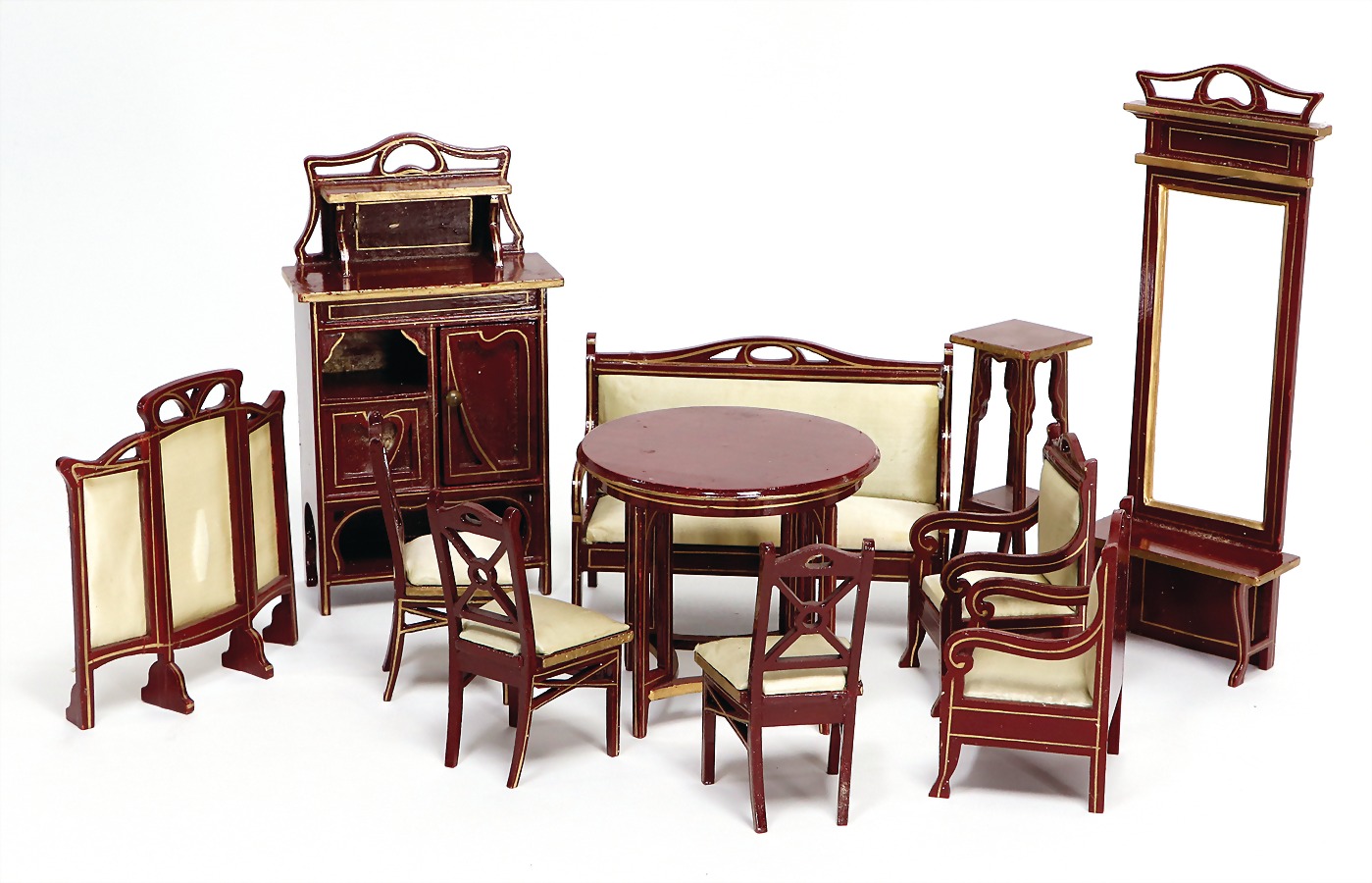 GOTTSCHALK
dollhouse furniture program, red painted, with golden ornamental lines, for a stately dollhouse room or dollhouse, with a diameter of table 12 cm, height: cupboard 20.5 cm, living-room suite, sofa, 3 chairs, 2 armchairs, 1 folding screen, small flaws in fabric, mirror, mirror glass broken, loosely add, 1 flower table, paint in exceptional nice original condition, silk cover in very good condition
---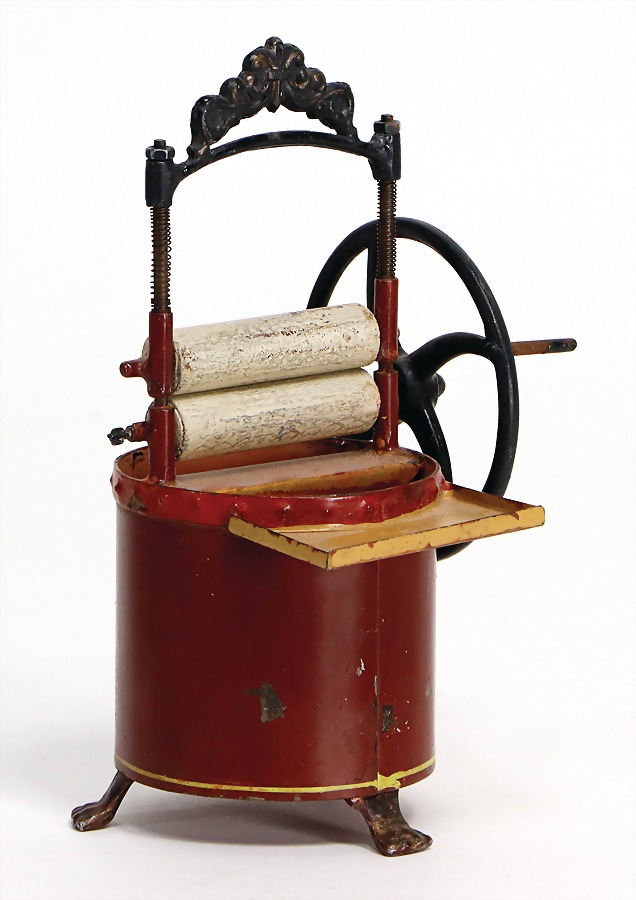 dollhouse mangle, handpainted sheet metal, 16.5 cm

---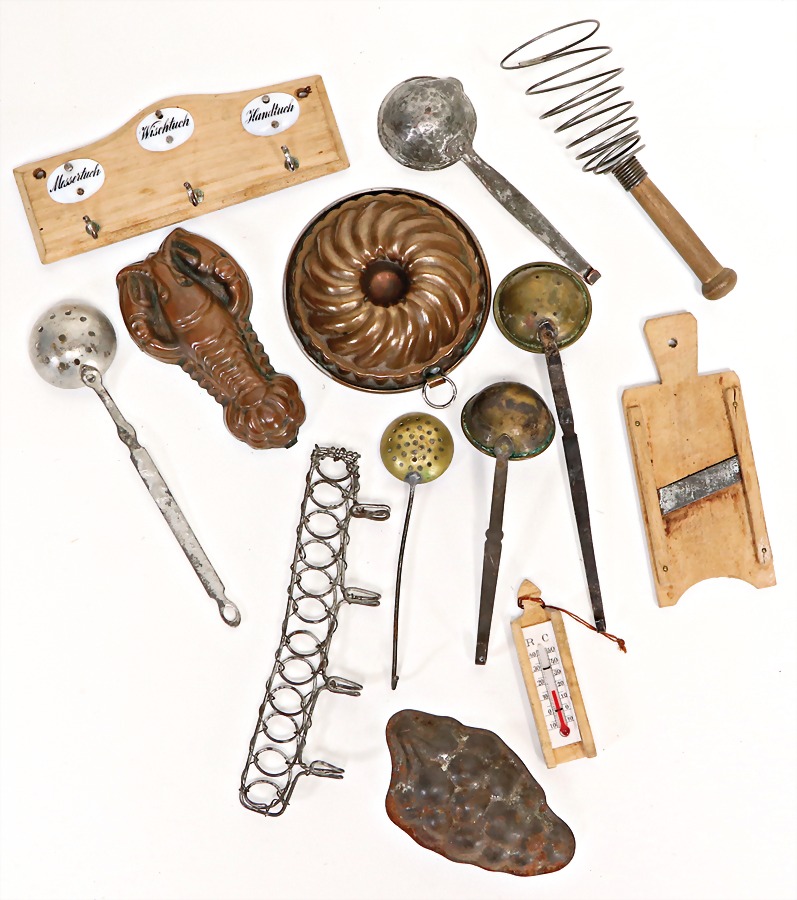 mixed lot of doll kitchen parts, lobster form, copper, 8 cm, ring is missing, ladles, cake pans, towel rack, small articles

---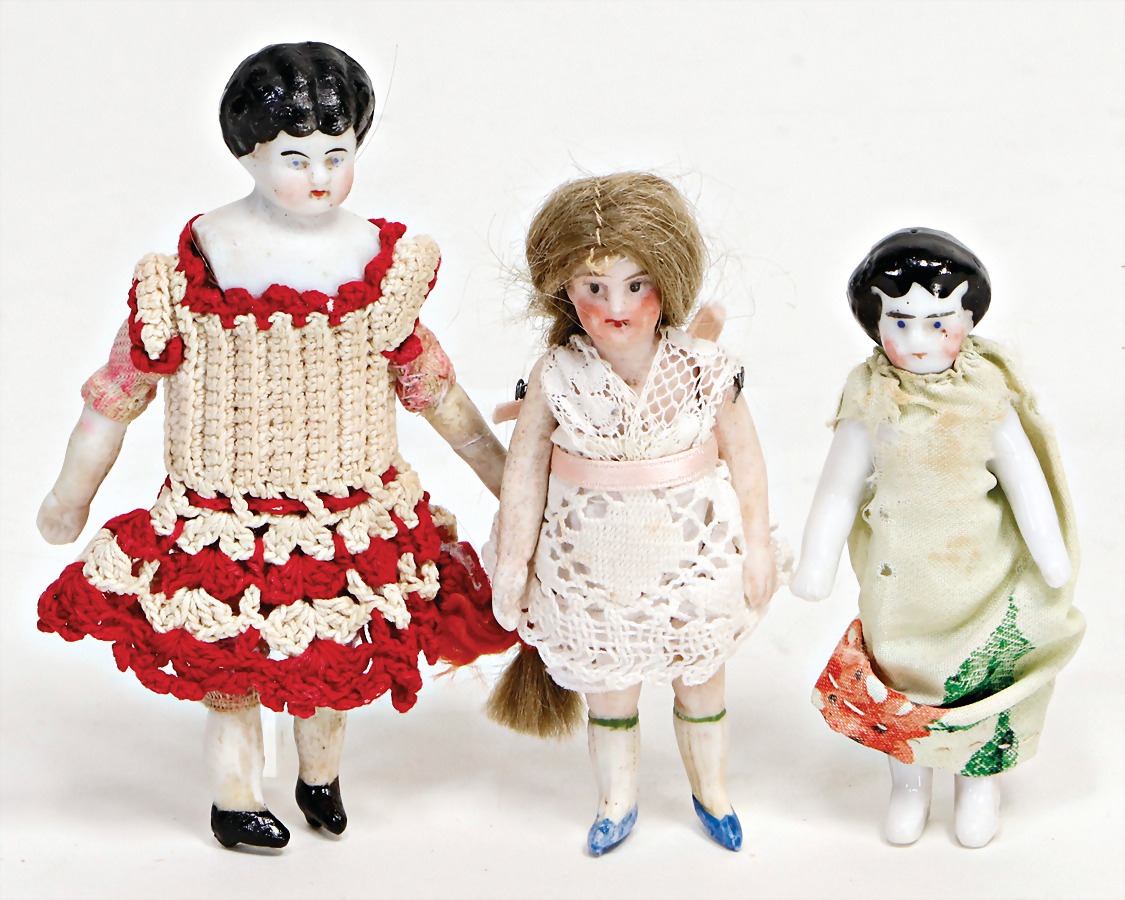 mixed lot of dollhouse dolls, 2 x all-bisque, bisque- girl, fix head, movable arms and legs, 1 enameled doll, 1 bisque shoulder headed doll, fabric body, bisque arms and legs, 9.5 cm

---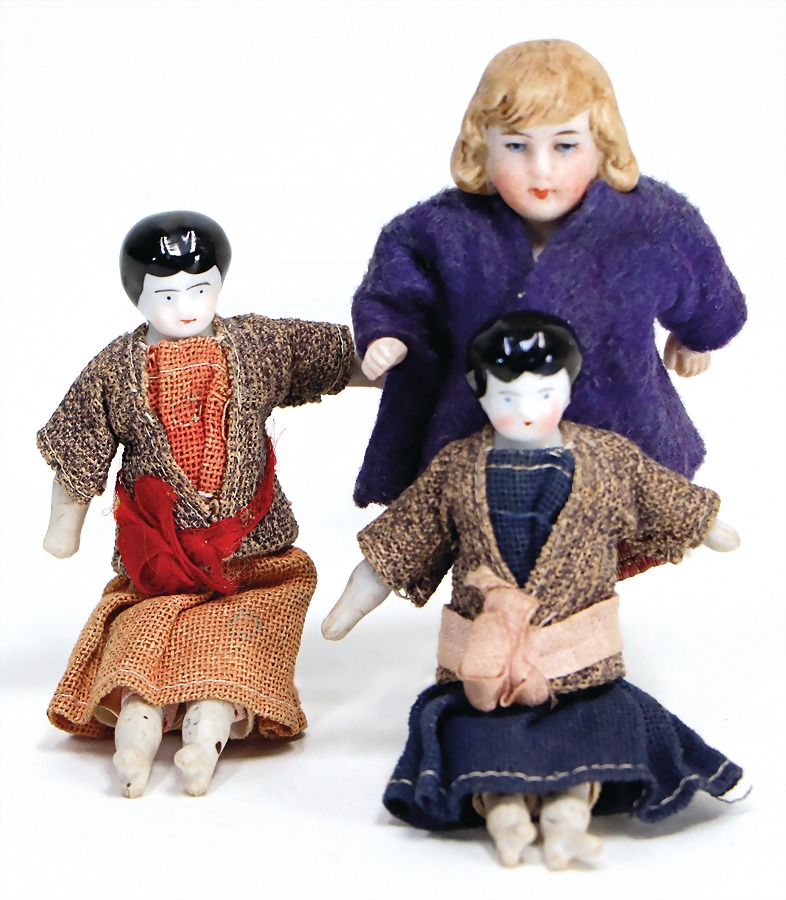 3 pieces dollhouse dolls, 2 x enameled shoulder headed doll, bisque arms and legs, fabric body, 1 all-bisque doll, 9.5 cm

---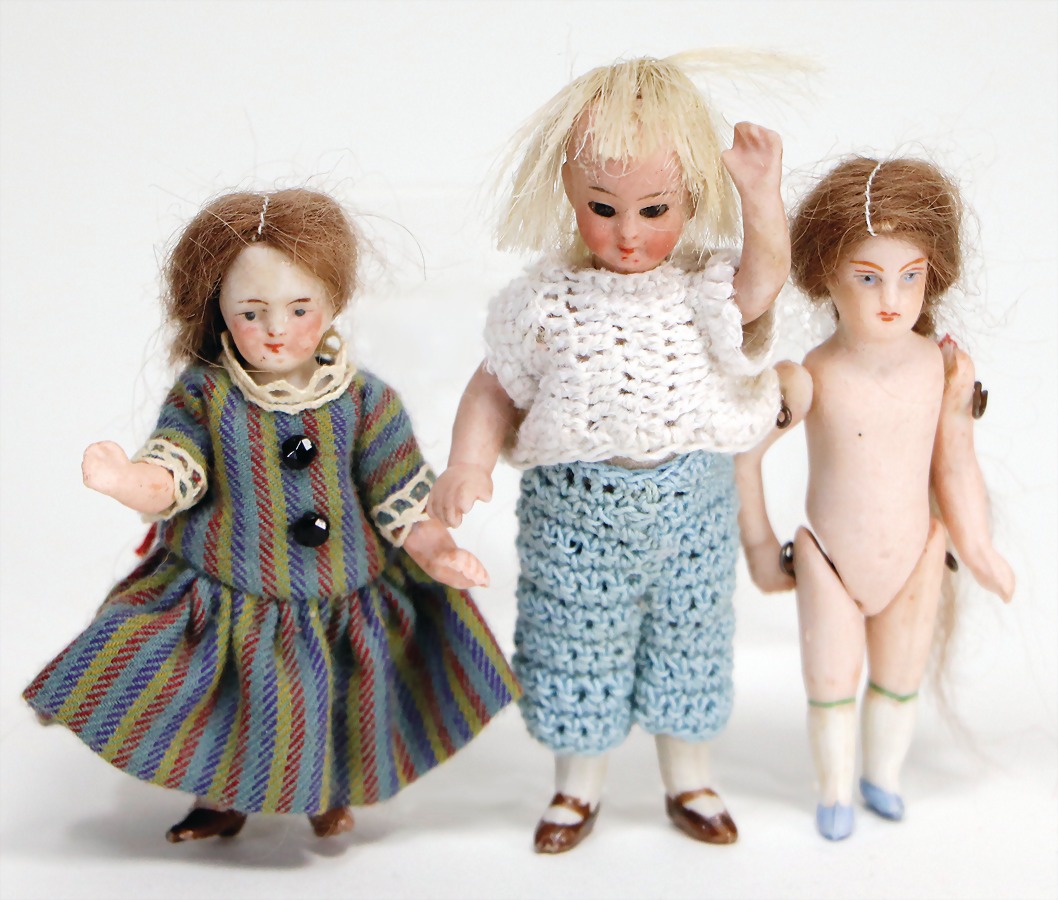 2 pieces dollhouse dolls, all-bisque, 8.5 cm and 9 cm, fix heads, 1 doll with fix inset glass eyes

---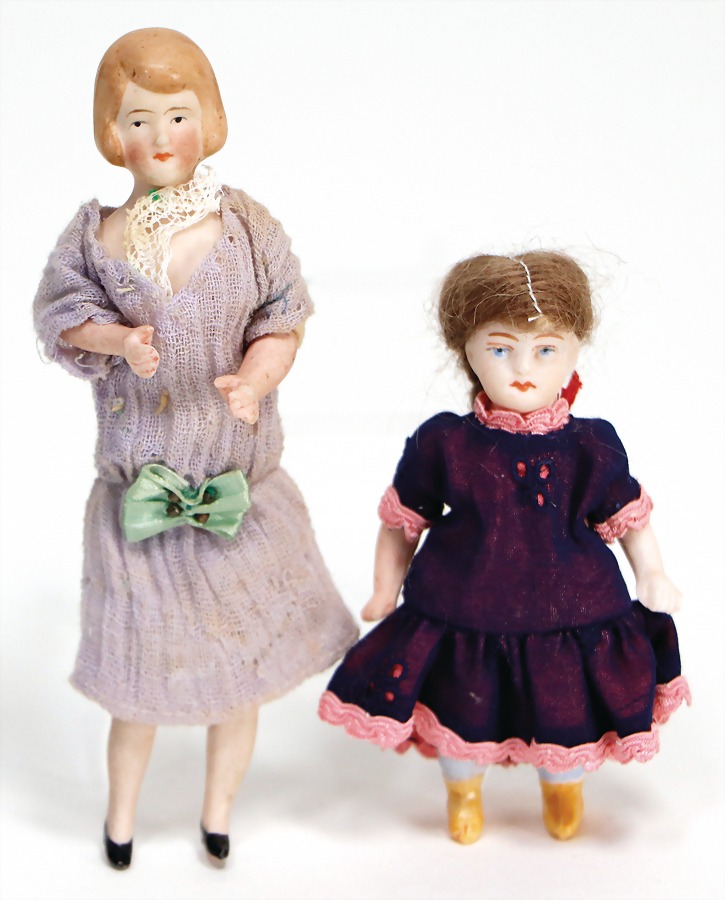 2 pieces dollhouse dolls, lady, 12.5 cm, bisque shoulder headed doll, arms and legs, fabric body, girl, all-bisque, fix head, jointed arms and legs

---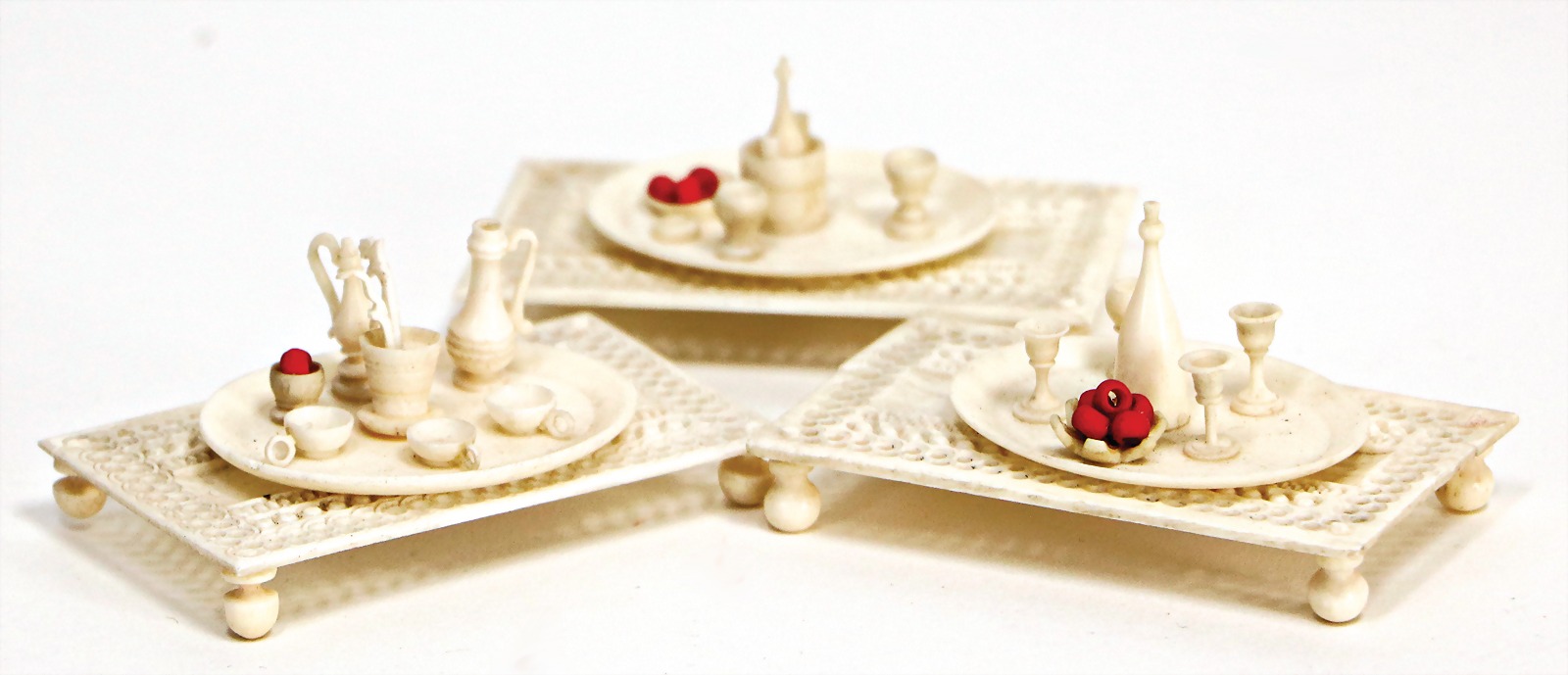 3 pieces made of ivory, around 1900, table decoration for a dollhouse room or for a Viennese café, tray on dish, 7 x 4 cm, small flaws at 1 dish

---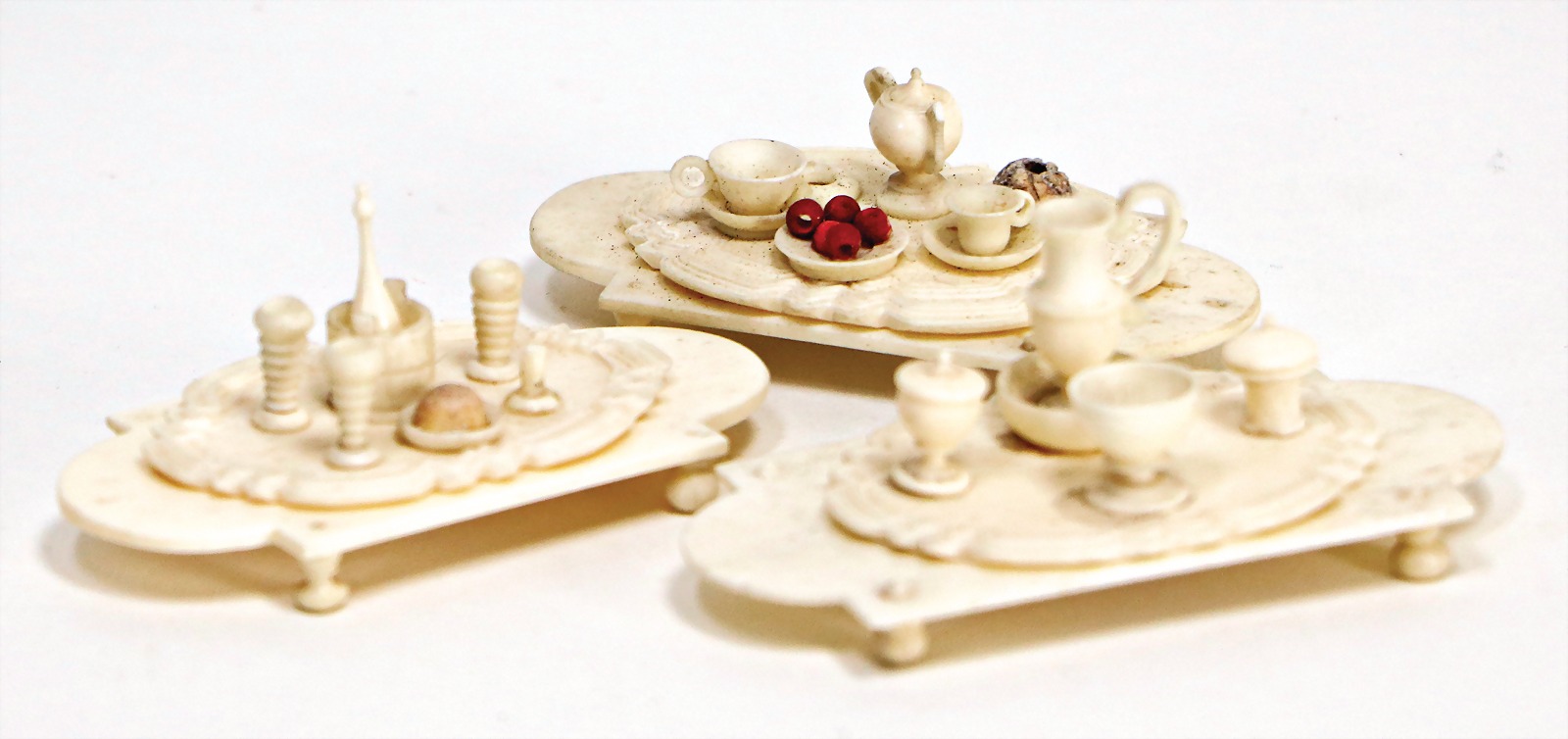 dollhouse table decoration, ivory, around 1900, for a Viennese café or dollhouse, dish 7 cm wide

---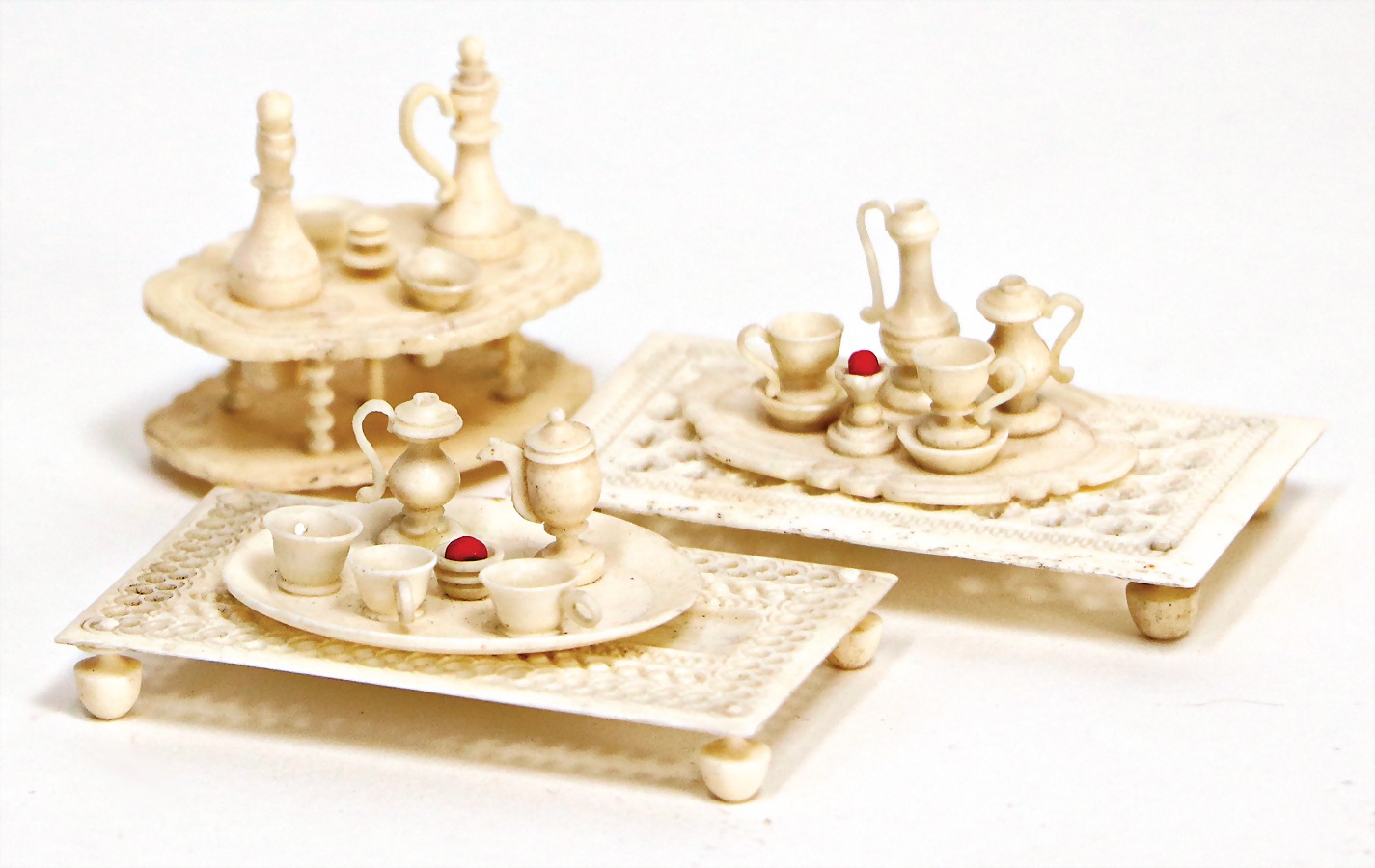 3 pieces table decoration, ivory, suitable for a dollhouse room or for a Viennese café, dish 6.5 cm, 1 vinegar and oil carafe with holder, 4.5 cm wide

---

3 pieces table decoration for a dollhouse room or Viennese café, ivory, around 1900, plate 7 cm wide, 1 corner part, 3.5 cm wide

---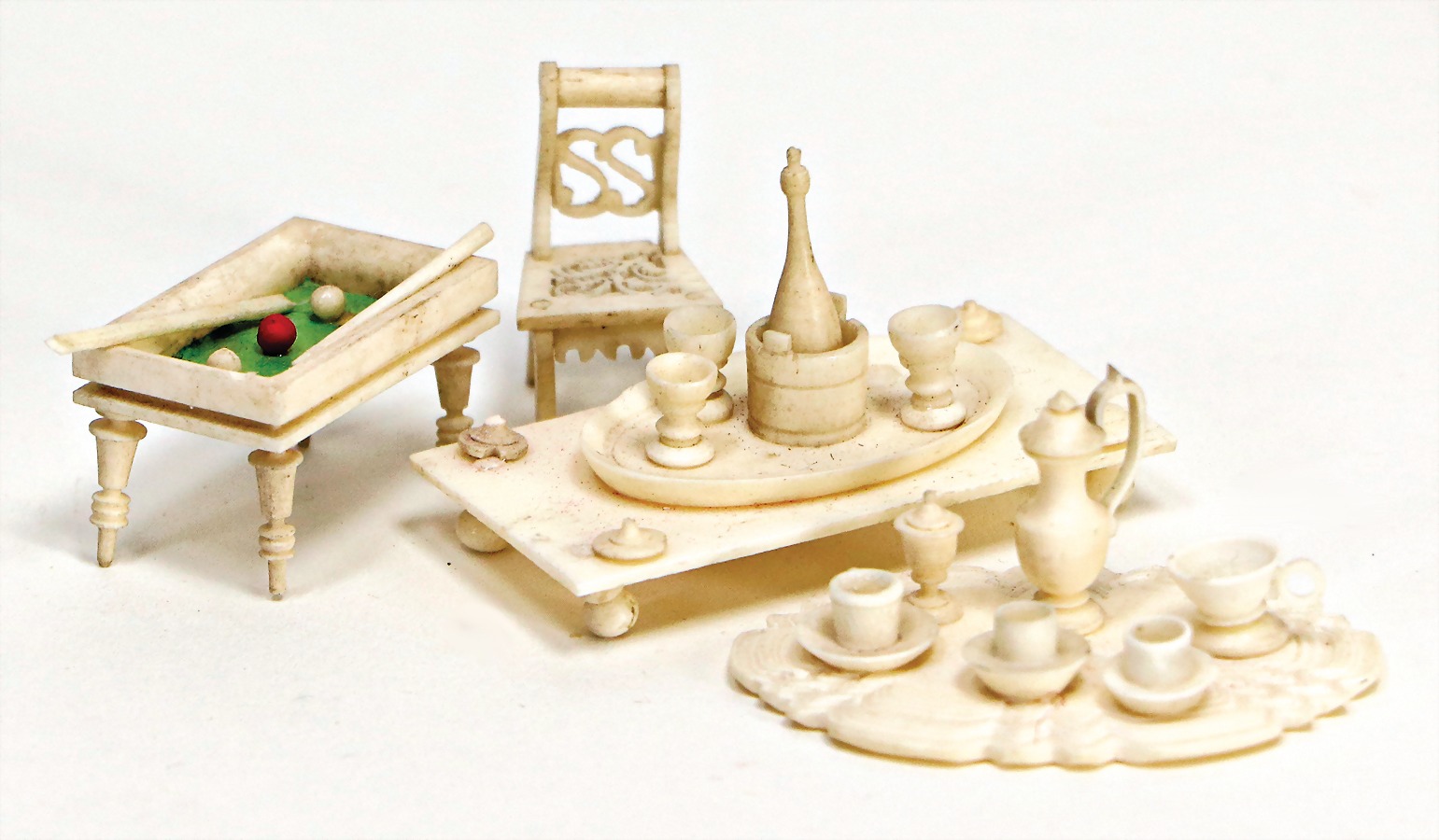 2 pieces table decoration, small billiard table, 3.5 cm, ivory around 1900, 1 chair

---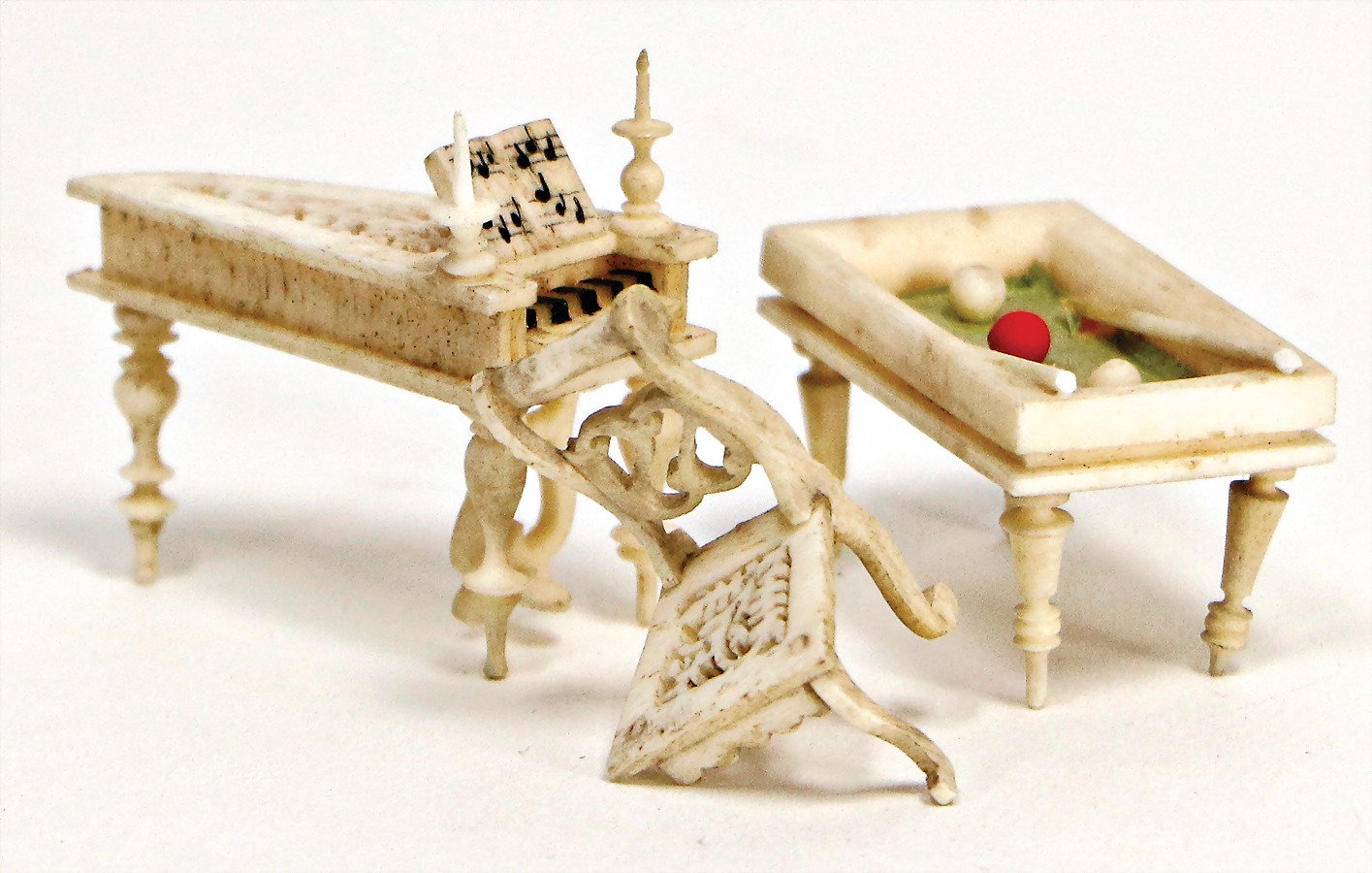 3 pieces made of ivory, piano, billiard table, chair, lenght of piano : 4 cm, around 1900

---